Echuca is a wonderfully dog-friendly destination to visit in the state of Victoria. With a whole list of dog-friendly recommendations from the local tourism board, there's no shortage of things to do with your pup in this historic town on the Murray River.
In particular, after the devastating floods of 2022 (which luckily didn't damage most attractions), it's a great idea to visit Echuca and support the town in 2023! Find out more about what's on offer in dog-friendly Echuca-Moama…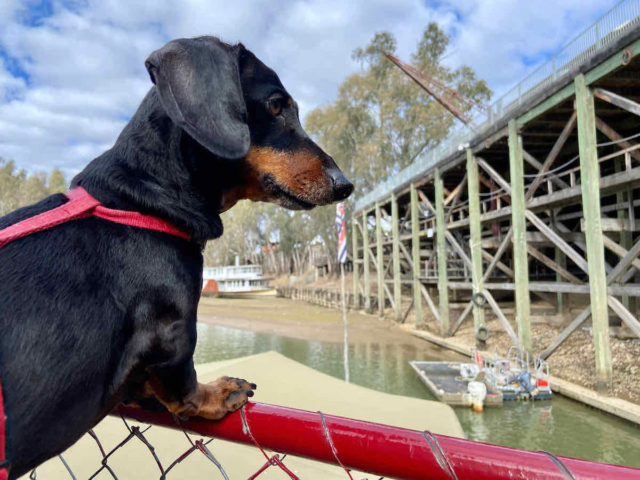 Dog-Friendly Sightseeing in Echuca
There's a wide range of dog-friendly sightseeing options on offer in Echuca-Moama, from the usual options to some unexpected delights.
Note that in the latest visitor guide, there is a page listing dog-friendly attractions and accommodation. I recommend picking up a copy in future years, so that you can find out about any new additions.
1. Explore the Historic Port of Echuca
Echuca is best known for its historic port and the role it played in the riverboat trade. During the late 18th-century, the town was the largest inland port in Australia.
With many of the old buildings and the wharf wonderfully preserved, it's a must to take a wander through the Historic Port district. And of course your dog is welcome to join you, as long as they stay on a leash.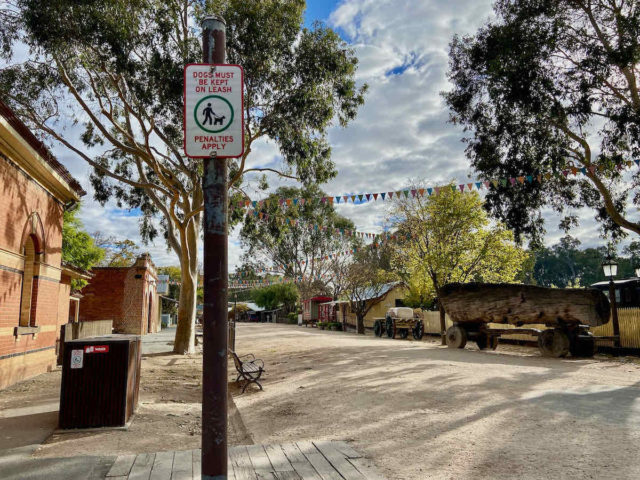 Additionally, there's at least one building that's also dog-friendly inside: the Discovery Centre. This free museum situated at the old wharf explores the history of the town, and includes displays of steam engines and trains. And welcomingly, dogs on a leash are welcome both inside and out. Just make sure your dog is well-behaved, so this privilege remains.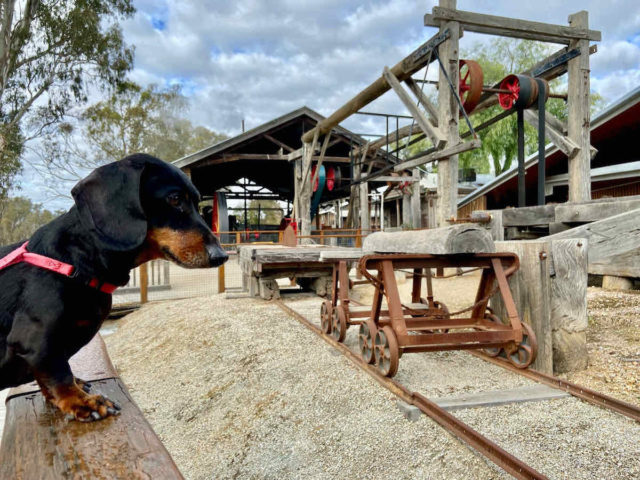 Dogs are also welcome on the Port of Echuca guided tours, including the Port After Dark Lantern Tours.
2. Take a Paddlesteamer Cruise
Echuca is also famous for its paddlesteamer cruises. The region is home to the world's largest operating paddlesteamer fleet and there's the chance to take a cruise on some of the original steamers, many built right on site. Luckily, some of the paddlesteamers are also dog-friendly, with your pup welcome to join you for the trip.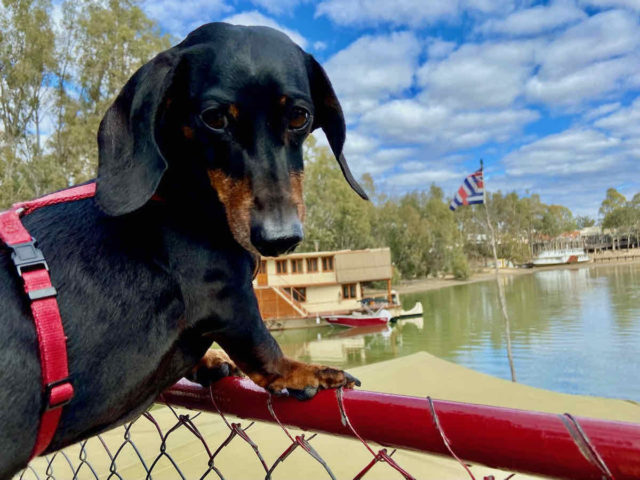 We took the 1-hour cruise on the PS Alexander Arbuthnot. Multiple cruises operate each day – check the latest timetable in advance, with tickets able to be purchase online from Echuca Paddlesteamers. Dogs cruise for free (as long as they're with a responsible adult) and receive a cute 'K9 Cargo Ticket'.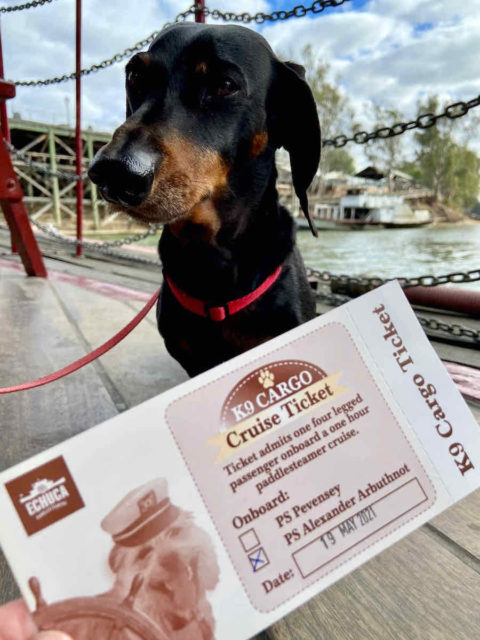 Note however, that dogs are not allowed on any of the lunch or dinner cruises.
Find out about more dog-friendly boat cruises in Australia
3. Visit the Holden Motor Museum
For a different land-based Australian icon, walk around the corner from the Port of Echuca to the National Holden Motor Museum. This superb museum has been running since 1993 and has over 50 Holdens on display, ranging from the earliest models to the latest cars. There's even a half-and-half-car that compares the old models to the newest ones, plus historical footage, memorabilia, prototypes and more.
This attraction in Echuca is also dog-friendly, with well-behaved on-leash dogs welcome to join you. Just mind that you don't touch any of the cars, with the same applying to your dog.
4. Visit the Great Aussie Beer Shed
For another touch of Australiana, head to the Great Aussie Beer Shed and Heritage Farm Museum, on the outskirts of Echuca. Unfortunately, we weren't able to visit as the museum is only open on weekends, public holidays and school holidays, but I've heard great things from other visitors.
5. Visit a Dog-Friendly Winery
The NSW side of the Murray River is home to the Perricoota Wine Region, plus there's also a few extra wineries on the Echuca side of the river. A number of the wineries are dog-friendly.
One of the best wineries to visit is Morrisons Winery, which can also be visited on the Wharf to Winery Cruise, which is also dog-friendly. There's also a brewery onsite.
Other dog-friendly wineries in the region include Cape Horn Vineyard in Echuca, Old School Winery in Womboota and St Anne's Winery in Moama.
6. See Some Silo Art
The Echuca area is home to some beautiful examples of painted silos, and a tour of them makes for a great dog-friendly road trip.
We visited the silos in Rochester, 20 minutes south of Echuca. The pair of silos were painted in 2018 by Jimmy Dvate, with magnificent portraits of a Squirrel Glider and Azure Kingfisher.
There's also some more great silo art in Colbinabbin, and another mural was added in 2021 at Kyabram.
7. Visit Cactus Country
For a taste of the American Mid-West, head an hour east of Echuca to Strathmerton and Cactus Country. This stunning farm of cacti plants has a number of walking trails, plus a cafe on-site where you can enjoy freshly made margaritas or Mexican beer, as well as sample some cactus ice cream or cake!
Dogs are allowed, but naturally must remain on a leash – some of those spikes are unforgiving! Note that they are usually only open Wednesday to Sunday.
8. Camp by the Mighty Murray
While there's multiple in-town dog-friendly accommodation options, there's also the chance to bush camp with your pup by the banks of the Mighty Murray River. Three of the dog-friendly campsites are Wills Bend, Betts Beach and Christies Beach.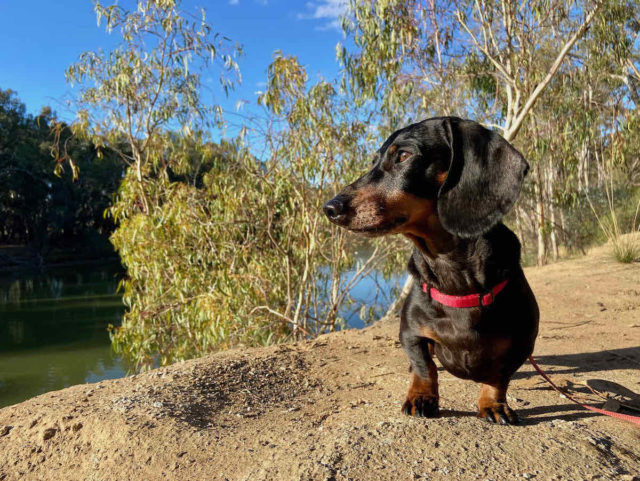 We spent the night at Wills Bend, located in the Murray River Reserve, about 17km west of Echuca. It was a wonderful peaceful spot with beautiful sunsets and sunrises, although the final 5km unsealed stretch of the access road (via O'Dwyer Road) was a bit rough. Betts Beach and Christies Beach are located about 8km east of Echuca, both accessed by Simmie Road.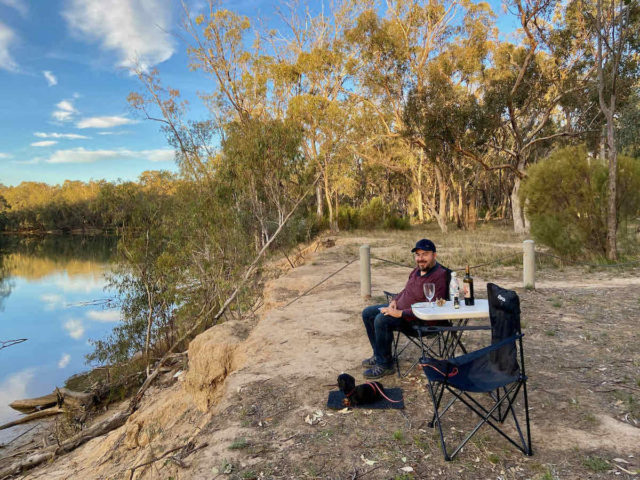 9. Get Out on the Water
Taking a cruise on a paddlesteamer isn't the only way to get out on the Murray River around Echuca with your dog. Both Echuca Boat & Canoe Hire and Echuca Moama Stand Up Paddleboarding offer dog-friendly hire options.
Dog-Friendly Walks in Echuca
There's a range of walking trails around Echuca and Moama that are dog-friendly.
For starters, the Banyule State Forest is right on the doorstep of Echuca. There's trails both around the outside and into the interior of the forest. The road into the forest is rather rough, so I recommend parking outside.
Other options include many of the trails at Moama Recreation Reserve leading down to Moama Beach and the 6.5km Scenic Drive Loop in Echuca.
Dog-Friendly Parks in Echuca
For an excellent off-leash dog park, head west along Perricoota Road from Moama, where an off-leash dog park was set up in 2020. Search for "Moama Off Leash Dog Park" on Google. Fully fenced, the huge park is wonderfully landscaped – a great natural environment for dogs to play or just sniff and explore.
Dogs are also allowed off-leash but under control in a number of parks in Echuca, including Aquatic Wildlife Reserve, Rotary Park, Paddlewheel Park (just north of the port area) and the dog park space at the Echuca East Recreational Reserve. Check the council website and the latest signage.
Dog-Friendly Dining in Echuca
Plenty of the cafes and pubs in and around Echuca offer up outdoor dining, with dogs generally permitted to join you on the footpath.
We choose to have lunch at Henry's Bridge Hotel, partially because of the big beer garden on the northern side, that has plenty of sunshine for wintery days (plus umbrellas for summer). The burgers are well-priced and tasty, and there's a great menu of beers and wines.
Dog-Friendly Accommodation in Echuca
Note: This post contains affiliate links, which means I may receive commission if you make a purchase using the links. See my full disclaimer.
If you've got your own tent, caravan or campervan, there's multiple dog-friendly camping options available right in Echuca and Moama. Two of the caravan parks that are dog-friendly year round, plus offer some dog-friendly cabins, are Murray River Holiday Park in Moama and Rich River Tourist Park, on the eastern side of Echuca.
We stayed at Murray River Holiday Park in Moama, just a short walk from the main street. While the park is small, we had a lovely grassy site. There's an excellent camp kitchen and swimming pool (although of course pups aren't allowed in either). There's a dog wash on site and a variety of walks are available in the adjacent Moama Recreation Reserve. Luckily the park survived the devastating 2022 floods!
Another camping option available near Echuca, if you're fine with pit toilets and not much else in the way of facilities, is one of the bush camping sites along the Murray. Head about 8km east of Echuca to Betts Beach and Christies Beach or 17km west to Wills Bend. Note that the final access roads are unsealed.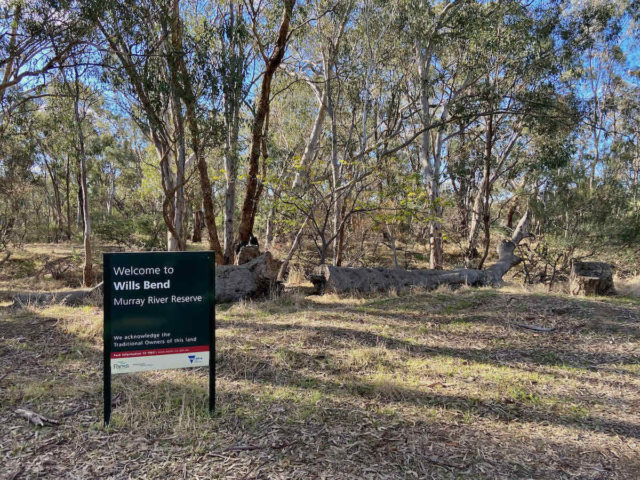 If you'd prefer something with more facilities, check out River Country Inn in Moama, which has a number of pet-friendly rooms. Make sure you select a room designated as Pet-Friendly when booking, plus contact the inn directly for the full regulations. Note that pets are not allowed on the bed or furniture, so bring your own dog bed.
Alternatively, get in touch with Echuca Holiday Homes. They manage around 25 holiday homes in both Echuca and Moama, with some of them permitting pets. Double check whether that includes pets being allowed inside.
You May Also Like