Looking for some fun and different to do with your dog in Victoria? I've gathered together this collection of fun experiences that are all very dog-friendly for your future enjoyment. Some of these I've personally done with my dog, while others I'd love to do on a future trip within Australia. Which of these dog-friendly things to do in Victoria do you want to do?
Check out my recommendations for dog-friendly stays in Victoria, including 6 country stays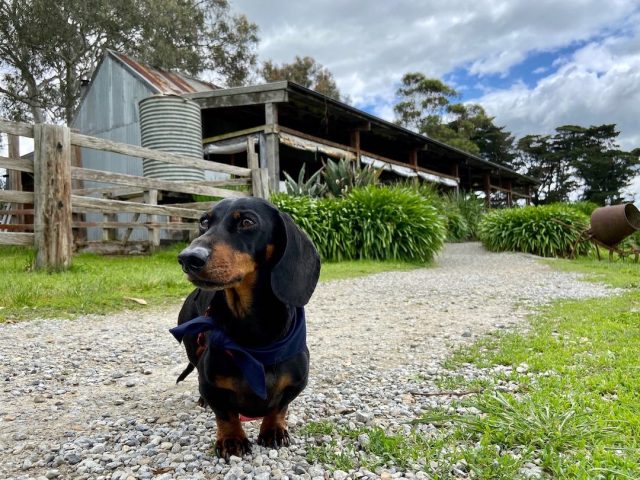 1. Dog-Friendly Winery Tour in the Yarra Valley
One of the highlights of my recent trip to Melbourne and surrounds was going on a dog-friendly winery tour in the Yarra Valley with my pup. Pooches and Pinot run private winery tours for small parties including dogs. It's the perfect luxe experience with your dog near Melbourne.
Both full and half day tour options are available. And I recommend adding on spending a night or two overnight in the Yarra Valley, to really make the most of your time. Pooches and Pinot can organise packages including accommodation for you.
Read my guide to visiting the Yarra Valley with a dog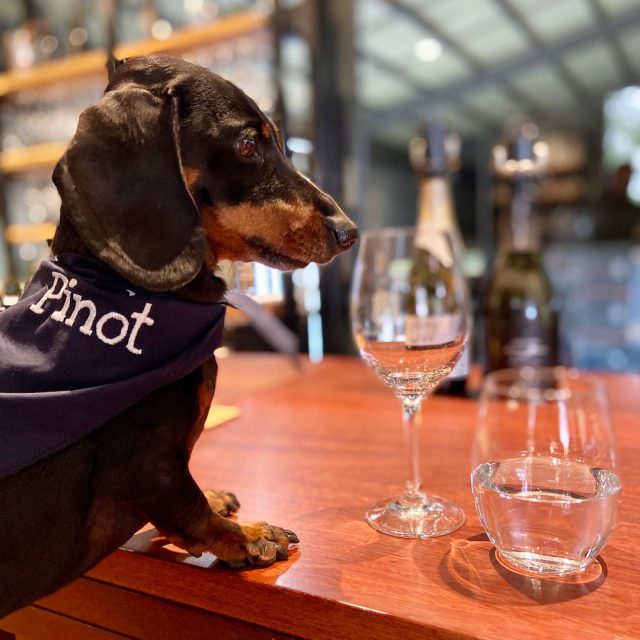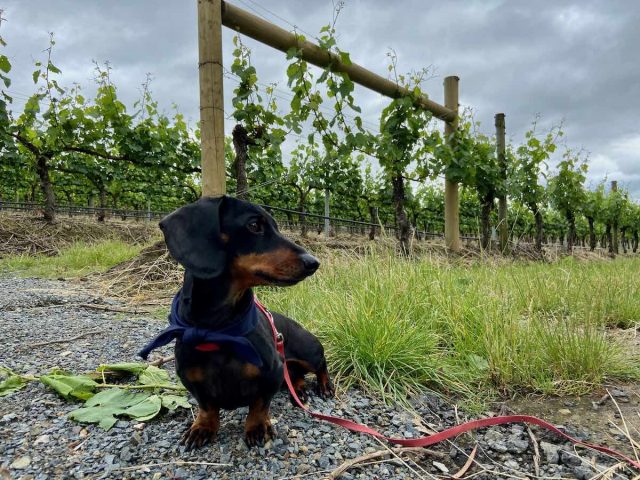 2. Ride a Paddlesteamer at Echuca
One of my childhood memories is of visiting the historic town of Echuca on the mighty Murray River and riding on a paddlesteamer. I still haven't had a chance to return, but when I do I'll be bringing my dog along.
Most of the paddlesteamers will let well-behaved dogs join you on board, as long as they aren't also a floating restaurant. For example, Echuca Paddlesteamers runs multiple one-hour cruises daily, on the historic PS Pevensey and PS Alexander Arbuthnot, and welcomes pets onboard. Just make sure you hold your pup close when the whistle blows!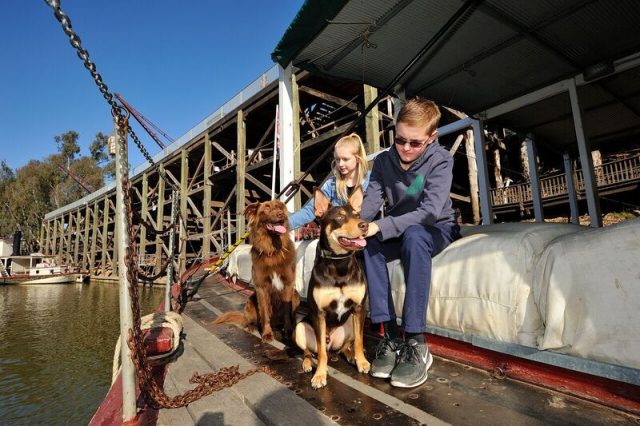 3. Visit the Holden Museum at Echuca
While in Echuca, it's possible to visit another icon of Australian history: the National Holden Motor Museum. The Holden brand has been close to the hearts of Australians since it was founded in 1856 (initially as a saddlery manufacturer), and will continue to be so, despite no longer being manufactured.
This museum has a huge collection of around 50 vehicles, both original and restored, along with historical footage, memorabilia, prototypes and more. It's located only 100m from the Port of Echuca, and well-behaved dogs are welcome to join you.
4. Roam through Cacti in Strathmerton
Now a cactus farm is not exactly something I would expect to discover in the Victorian countryside. But Cactus Country in Strathmerton is exactly that! Even if you're not already a cacti devotee, you're sure to be stunned by the beautiful display of impressive cacti plants!
The cactus farm is located about 3-hours north of Melbourne, or 1-hour east of Echuca. Dogs are allowed, but naturally must remain on a leash – some of those spikes are unforgiving! There's also a cafe on-site, where you can enjoy freshly made margaritas or Mexican beer, as well as sample some cactus ice cream or cake!
5. Enjoy the Winter Snow at Dinner Plain
The majority of ski fields in Australia don't permit dogs, whether due to being located in a national park or other restrictions. But Dinner Plain in the Victorian high country is the exception, meaning that your dog can join you for an adventure in the snow. This ski resort features gentle slopes ideal for beginners, or else enjoy some tobogganing or general fun.
Note that the village is surrounded by national park and is unfenced, so the majority of the time you will need to keep your dog on a leash. There are a few off-leash areas, as detailed on the website. Also check out the website for links to dog-friendly accommodation in the village.
6. Ride the Victorian Goldfields Railway Steam Train
While up on the Murray River the historic mode of transport are paddle steamers, closer to Melbourne you can have the chance to ride an old-fashioned steam train on the Victorian Goldfields Railway. This railway connects the goldfield towns of Castlemaine and Maldon.
When selecting your carriage, make sure you choose "Excursion class". (Only assistance dogs are permitted in the fancier First Class carriages, and note that permission for dogs in Excursion class is at the discretion of the Station Master, so make sure your dog is well-behaved.)
Excursion class features historic wooden carriages with family compartments that have opening windows, great for an authentic experience. Also consider skipping riding over the summer months from December to January, when a diesel locomotive is often used instead of steam for bush-fire safety reasons.
To enjoy a full-day out, catch the 12:00pm service from Castlemaine, which then returns from Maldon at 2:45pm, arriving in Castlemaine at 3:00pm. This means that you'll have two-hours to explore the small town of Maldon, with a dog-friendly lunch option being the Maldon Hotel with its beer garden. Castlemaine is a 90-minute drive from Melbourne, or connect with the V/line train for the full train experience (with small dogs in a carrier permitted, see here).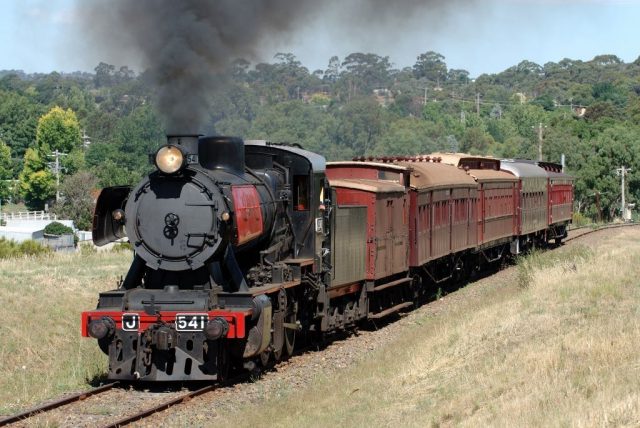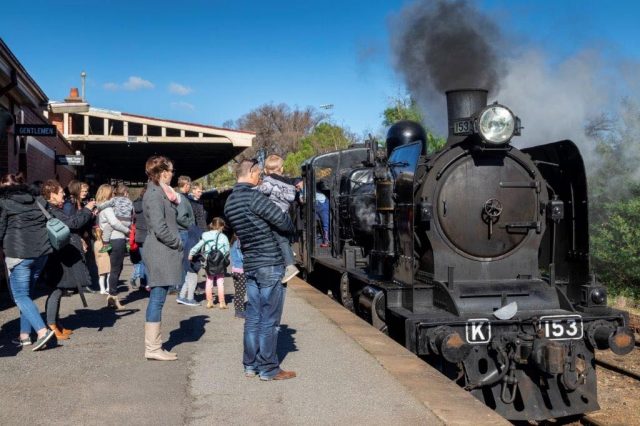 7. Drive Along the Great Ocean Road
Okay, as I discovered when driving along the Great Ocean Road with my dog, it's not entirely dog-friendly. In particular, there's not many dog-friendly accommodation options, and during the summer months many of the beaches are off-limits to pups.
But if you're prepared (and read through my guide to find out what is and isn't dog-friendly), it can be a great short or long road trip with your pup. In particular, I recommend visiting in the spring months, while many beaches still allow dogs, and making plans around where you will be staying.
Read my guide to driving the Great Ocean Road with a dog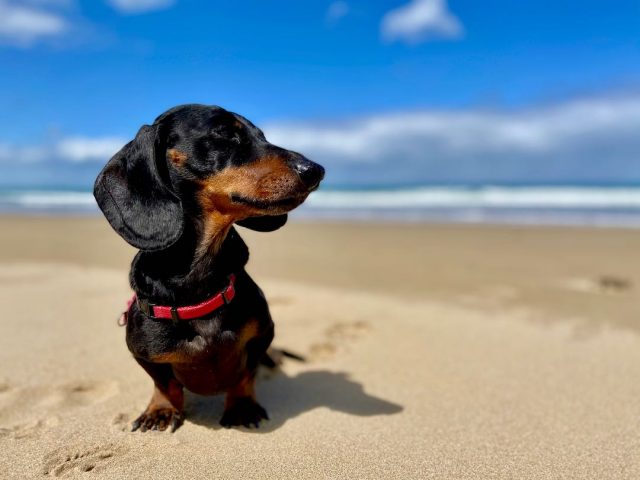 Inspired? Pin this to your Pinterest board!