Looking for something fun and different to do with your dog in country Victoria? No matter if you're looking for an outdoor adventure, to explore the state's fascinating history or to just enjoy some excellent wine (with your dog at your side), I've put together this collection of fun experiences that are all very dog-friendly, located throughout country Victoria. Which of these dog-friendly things to do in Victoria is at the top of your list?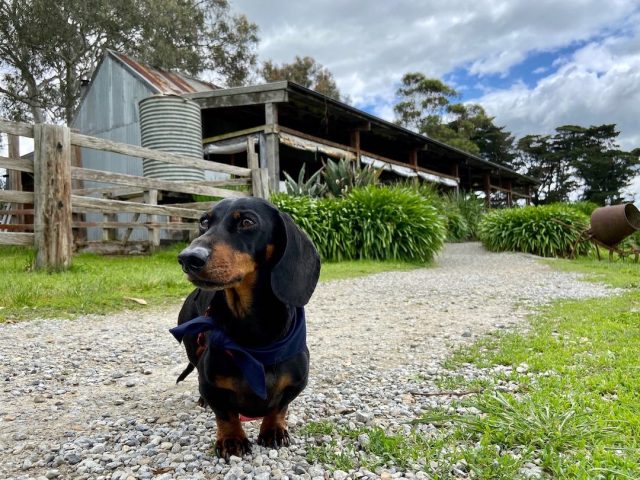 1. Go on a Dog-Friendly Winery Tour
One of the highlights of my trip to Melbourne and its surrounds with my dog was going on a dog-friendly winery tour in the Yarra Valley with my pup. Pooches and Pinot run private winery tours for small parties including dogs. It's the perfect luxe experience with your dog near Melbourne.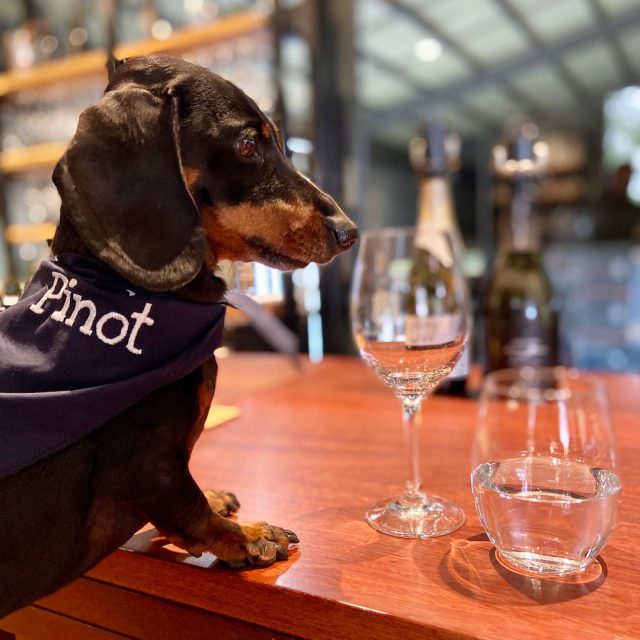 Both full and half day tour options are available. I also recommend adding on staying for a night or two overnight in the Yarra Valley, to really make the most of your time. Pooches and Pinot can organise packages including accommodation for you.
Read my guide to visiting the Yarra Valley with a dog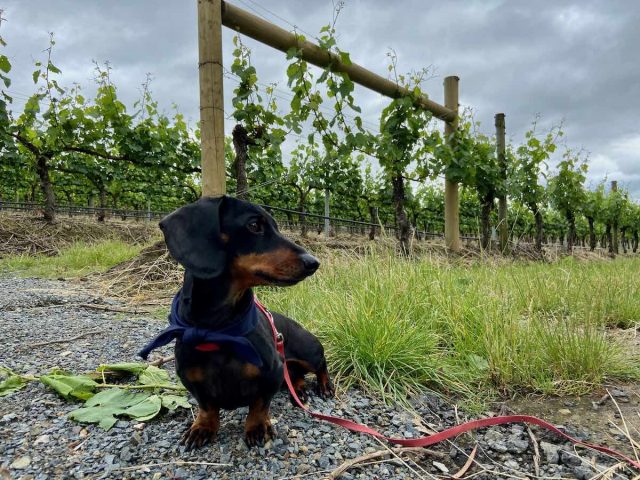 2. Ride a Paddlesteamer at Echuca
One of my childhood memories is of visiting the historic town of Echuca on the mighty Murray River and riding on a paddlesteamer. I finally managed to return in 2021, in between lockdowns, and of course I brought my dog along, too.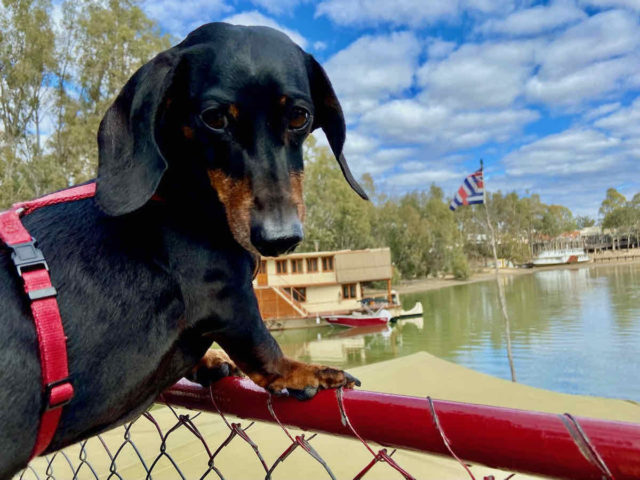 Most of the paddlesteamers at Echuca will let well-behaved dogs join you on board, as long as they aren't also a floating restaurant. For example, Echuca Paddlesteamers runs multiple one-hour cruises daily, on the historic PS Pevensey and PS Alexander Arbuthnot, and welcomes pets onboard. Just make sure you hold your pup close when the whistle blows!
There's plenty of dog-friendly attractions in Echuca, check out my full guide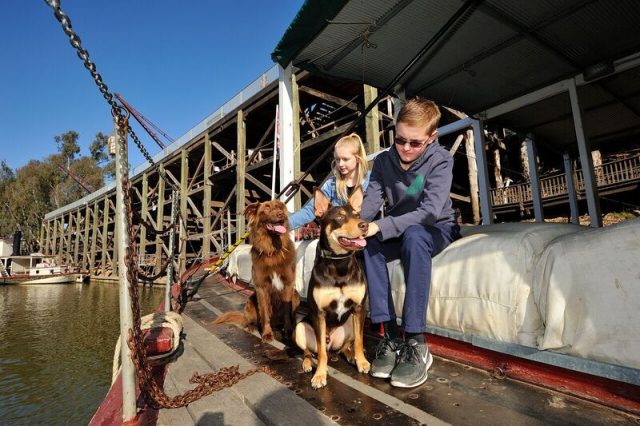 3. Explore the Historic Town of Beechworth
Victoria is blessed with many charming historic towns and cities, with one of the best examples being Beechworth, a 3 hour drive north of Melbourne. Beechworth is home to what is regarded as the finest group of provincial public buildings in all of Victoria, built in gorgeous local honey granite.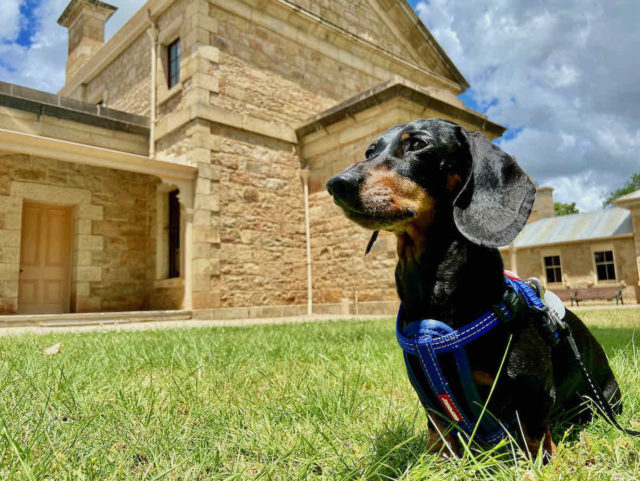 To best enjoy Beechworth with your dog, I recommend picking up the Self Guided Walking Tour brochure from the Visitor Information Centre for a small fee. Then follow the tour through the main streets of the town.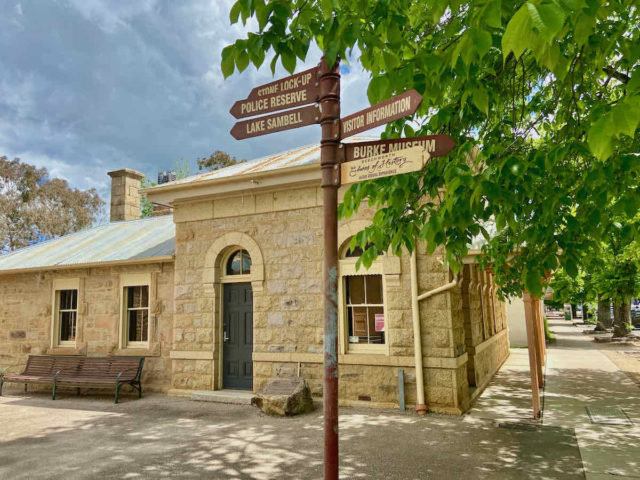 While in Beechworth, it's also worthwhile following the Gorge Scenic Drive through the Beechworth Heritage Park on the northern side of town. It's possible to drive it or else you can hike all or part of it on foot with your dog. Just make sure you keep them on a leash.
Find out more about visiting Beechworth with a dog
4. Have Fun in the Snow at Dinner Plain
The majority of ski fields in Australia don't permit dogs, whether due to being located in a national park or other restrictions. But Dinner Plain in the Victorian high country is the exception, meaning that your dog can join you for an adventure in the snow during the winter months. This ski resort features gentle slopes ideal for beginners, or else enjoy some tobogganing or general fun.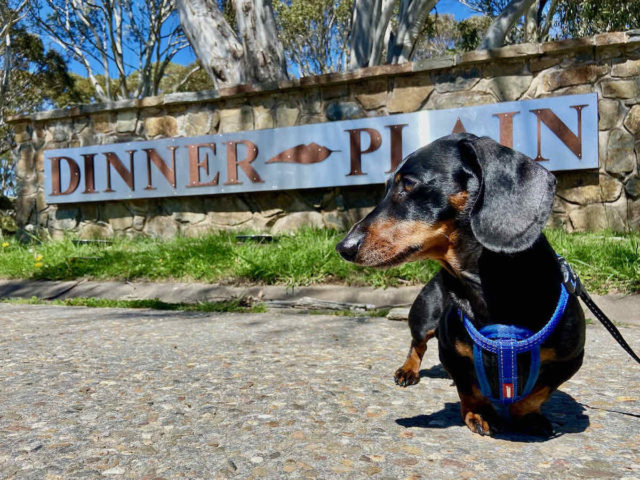 Note that the village is surrounded by national park and is unfenced, so the majority of the time you will need to keep your dog on a leash. There are a few off-leash areas, as detailed on the website. Also check out the Dinner Plains website for links to dog-friendly accommodation in the village.
5. Ride a Vintage Talking Tram Around Bendigo
While Melbourne may have plenty of trams on its city streets, did you know that there's a vintage talking tram in the city of Bendigo? It's a great option to explore this historic city, especially because well-behaved dogs are allowed to join you on the tram.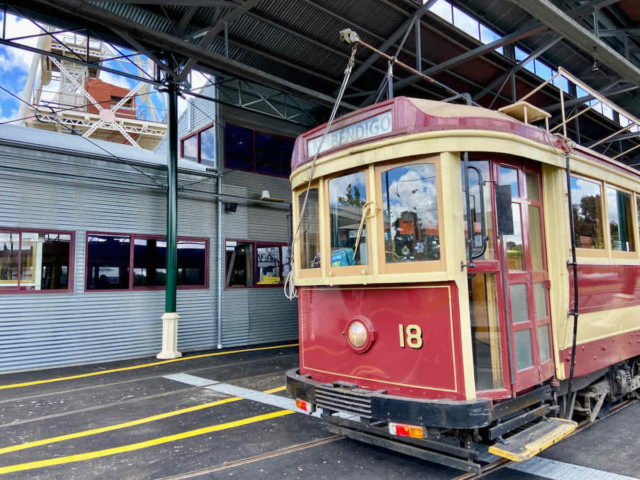 With commentary accompanying you along the way, choose between riding a loop of the city on a tram (which takes about 45 minutes) or else hop-off and hop-on as much as you like, with tickets lasting the entire day.
Along the way you'll pass by the Central Deborah Gold Mine (where dogs are allowed on the self-guided surface tour), the historic Law Courts and Soldiers Memorial Hall, plus Lake Weeroona (a great spot to walk your pup).
Find out more about the many dog-friendly things to do in Bendigo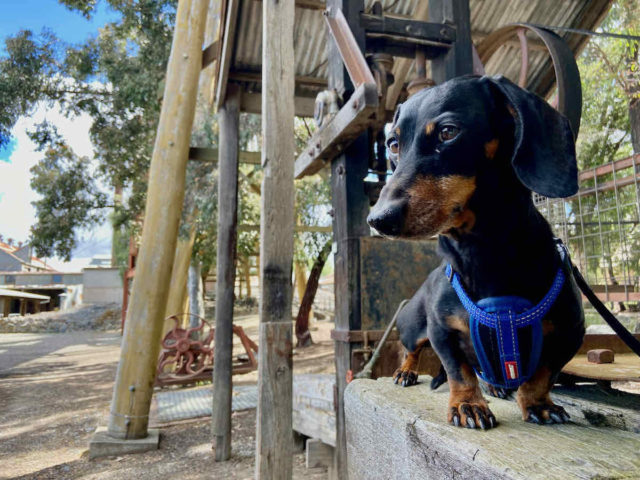 6. Go Bike Riding with Your Dog at Bright
Bright is an increasingly popular destination, including with dog owners. This small town in the High Country region has plenty of dog-friendly walking tracks to explore. But for something different, consider going bike riding with your dog.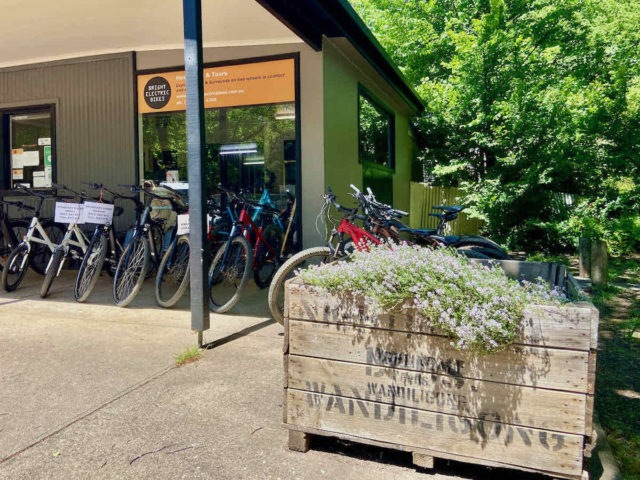 There's plenty of bike paths near Bright, including the Murray to Mountains Rail Trail which starts nearby. And if you don't have your own bicycle, there's multiple bike hire shops in town. At least one them, Electric Bikes, also offers dog trailers for hire, although the other shops may also have them available if you enquire directly. Double check any weight limits.
A popular option for inexperienced cyclists is the relatively flat cycle path to Wandiligong, which is only 5.5km from Bright and home to the Nightingale Bros Apple Orchard. Afterwards, enjoy a dip in the Ovens River or a local beer at the Bright Brewery.
Check out my complete guide to visiting Bright with a dog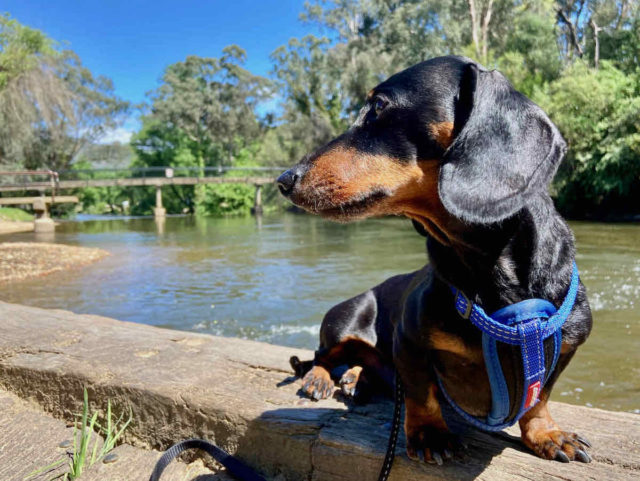 7. See the Koalas at Raymond Island
There's multiple places in Victoria where it's possible to see koalas in the wild, but one of the best is Raymond Island, located in East Gippsland not far from Lakes Entrance.
To get to Raymond Island, I recommend parking in Paynesville and crossing on the short ferry trip as a foot passenger, free of charge. The Koala Trail starts right opposite the ferry terminal, and it's best to complete it on foot, to have a chance to spot any koalas.
The main trail is 1.2km long, although there are some longer variations. To support the local volunteers, consider buying a brochure at the starting point or making a donation on the website. Make sure you keep your dog on a leash at all times, although if your dog is like our dog, they'll probably have no idea at what's sleeping up in the gum trees!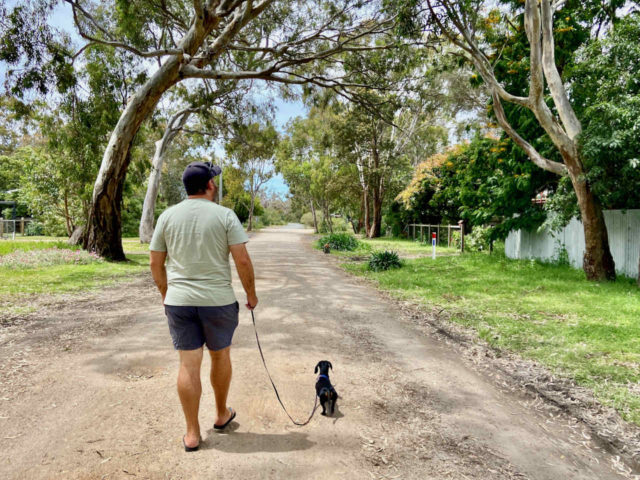 8. Hop on the Victorian Goldfields Railway
Paddle steamers aren't the only dog-friendly historic mode of transport in Victoria, with multiple dog-friendly historic train rides available. Close to Melbourne you can ride an old-fashioned steam train on the Victorian Goldfields Railway, which connects the goldfield towns of Castlemaine and Maldon.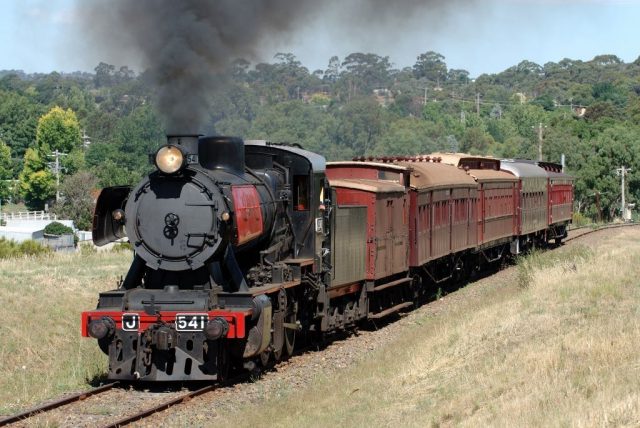 When selecting your carriage, make sure you choose "Excursion class" (only service dogs are permitted in the fancier First Class carriages). Excursion class features historic wooden carriages with family compartments that have opening windows, great for an authentic experience. Dogs travel for free, but make sure they are are well-behaved, with permission for dogs to board at the discretion of the Station Master.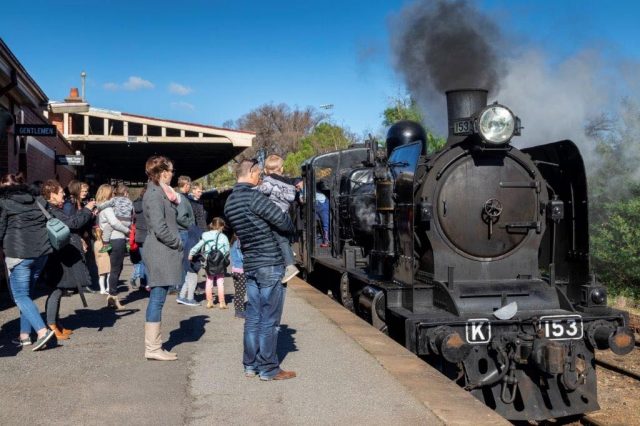 To enjoy a full day out, catch the 11:30am service from Castlemaine, which then returns from Maldon at 2:45pm, arriving in Castlemaine at 3:30pm. This means that you'll have 2 1/2 hours to explore the historic gold-mining town of Maldon. For a dog-friendly lunch option, head to the Maldon Hotel with its beer garden or dine at the tables outside one of the cafes.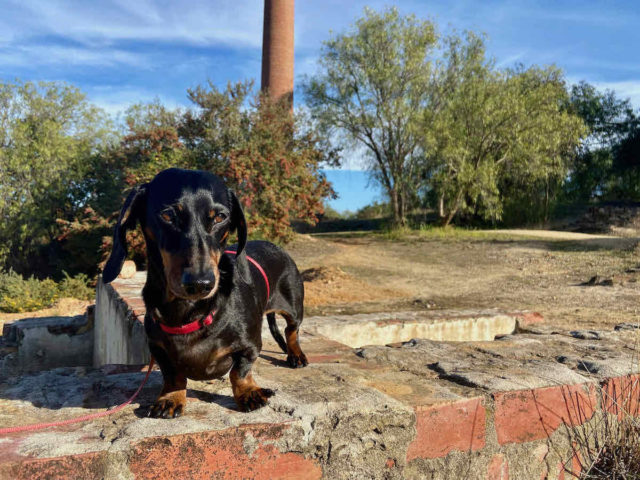 Castlemaine is a 90-minute drive from Melbourne, or connect with the V/line train for the full train experience (with small dogs in a carrier permitted, see here).
9. Head Underground at Walhalla
Maldon isn't the only historic gold mining town in Victoria where your dog can take an historic train ride. For another dog-friendly historic railway, head to Walhalla, about 2 1/2 hours east of Melbourne. But a ride on the train (diesel this time) isn't the only dog-friendly attraction in Walhalla…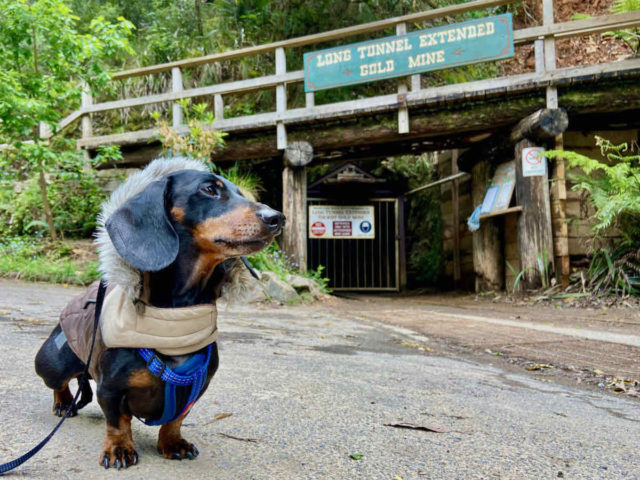 For something completely different, take a tour of the Long Tunnel Extended Gold Mine. Once one of the highest producing gold mines in Victoria, these days you can take a 50-minute tour along the main tunnel, visiting the original gold mining workings and hearing plenty of fascinating stories from your tour guide.
It's rather dark and at times damp inside the tunnel, so I carried my small dog during the tour. Decide in advance if you think your dog will be well-behaved and happy to join the tour. Advanced bookings are recommended due to group size restrictions.
There's plenty more to see in Walhalla, including exploring the village on foot and reading some of the over 30 signs explaining its history. Leashed dogs are also welcome to join you on the Tramline Walkway to the Long Tunnel Extended Gold Mine.
Check out my full guide to visiting Walhalla with a dog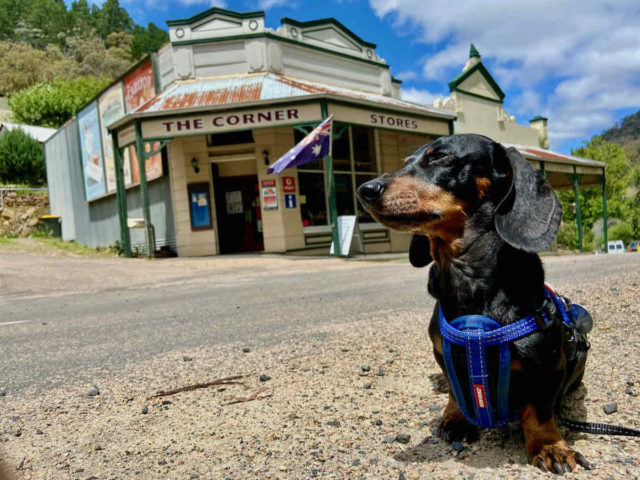 10. Drive Along the Great Ocean Road
If you're considering driving along the Great Ocean Road with your dog, I'll warn you in advance that it isn't entirely dog-friendly. Many of the most famous sites along the road, such as the viewing platform for the 12 Apostles, are off-limits for dogs. Plus many of the beaches also restrict dogs during the summer months.
However, there's still plenty to do with your dog, and it can be a great short or long road trip with your pup, especially if you're prepared. I recommend you read my guide in advance to find out what is and isn't dog-friendly, plus make advance bookings for your accommodation. If possible visit in the spring months or other cool months of the year, when a lot more beaches permit dogs on the sand.
Read my guide to driving the Great Ocean Road with a dog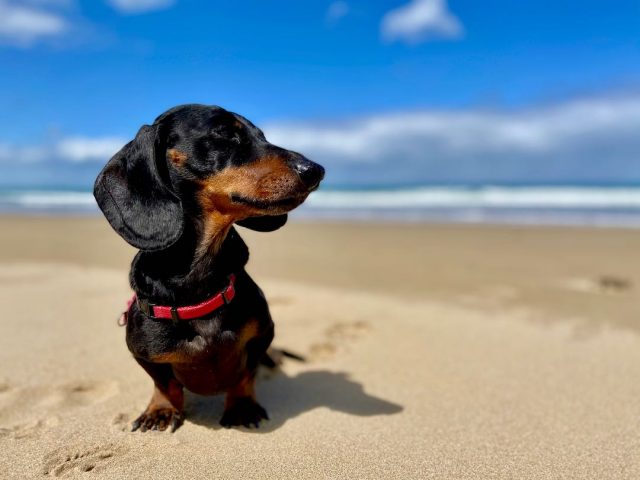 11. Follow the Silo Art Trail
For another terrific dog-friendly road trip, a fun trip to do with your pup is checking out the beautiful examples of silo art located around country Victoria.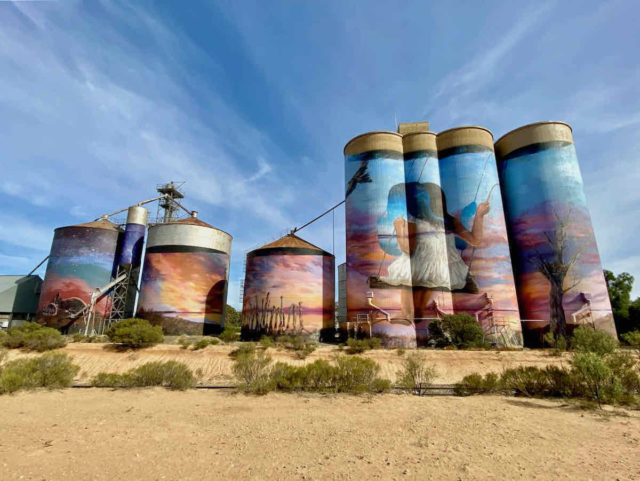 While there's example of silo art dotted all around Victoria, a great trail to complete is the original Silo Art Trail. The original trail runs for about 200km from Rupanyup to Patchewollock in western Victoria, but with new silos being painted, you can now do an entire loop. Two of my favourite silo art works along this route are in Sea Lake and Nullawil, also on the major highway to Mildura.
Generally there aren't any restrictions on dogs in the viewing areas for the silos, but always double check, as I've come across one example in South Australia accessed through sports grounds that wasn't dog-friendly. And it's certainly best to keep your dog on a leash, with cars coming and going.
You May Also Like
Inspired? Pin this to your Pinterest board!