This is a guest post from Isabella Jones
Sweltering summers are knocking on our doors already and we must answer the call with a beach vacation. The sand and the sea is just about everything you need to welcome the summer sunshine. But, just the idea of leaving your beloved four-legged pup shatters your happiness.
I fully understand, you don't like leaving your dog behind every time you vacay. Especially when you know your dog loves to splash around in the water and roll on the satin sand― just like mine does. I believe, sandy paws equals happy dogs.
But, not all beaches welcome dogs. However, you don't have to get disheartened. Your canine friend can frame its own Baywatch moment by heading out to some of the beaches in the USA that are completely dog-friendly.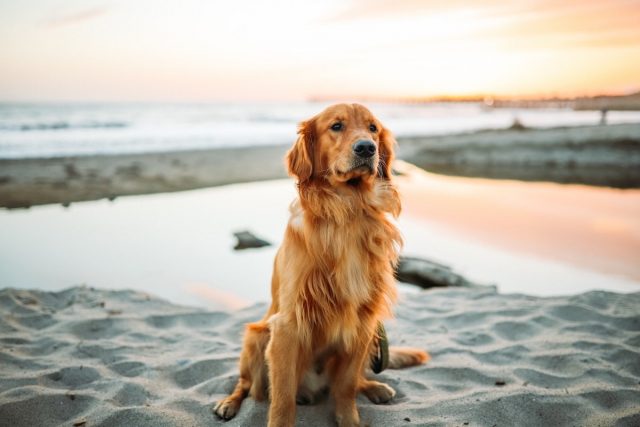 Yes, my love for my dog made me do all the research so that I could take him along for a beach vacation. I couldn't deal with the feeling of missing him every time I left for a vacation.
Sitting beside the water, imagining him playfully run in excitement on the beach was enough for me to try and find as many dog-friendly beaches as I could. Ok, I'll stop because I already feel like running to him and hugging him but then in doing all of that, this article shall never see its fate.
So, I'll hold on to my feelings for a tad bit and help all my fellow dog lovers who want to head out on a beach vacation with their dogs. Start looking for pet travel deals and do all the necessary arrangements because you and your dog are going to have one hell of a time.
Dog Beach, Fort Myers Beach, Florida
The name of the beach says it all. Right from when the sun spreads its shinning wings to when it's ready to head home and take a nap, you can bring your dog to this beach, also known as Bonita Beach Dog Park, and let him have all the fun.
You can take your dog off the leash and watch him play with others or make a video of him running swiftly as he chases those waves. Try and time your visit for low tide, so you can walk out further.
The beach is dotted with shower stations for dogs. So, you can always wash their salty paws before you step out of the sandy area.
Fort De Soto Beach Park, Tierra Verde, Florida
Another beach in Florida where I had a really great time with Oscar (my dog) is Fort De Soto Beach Park. This beach has signboards that are neatly marked, stating rules that dog owners must abide by to have an absolutely uninterrupted time of pure bliss.
Dogs are welcome but they have a designated area in the beach where they can jump around all they want. There are two fenced-in places where dogs can run about to their heart's content. But, if you want to show your furry friend the rest of the beach, you need to keep him on a leash.
Also, make sure that your dog is no less than four months old and is fully vaccinated. Otherwise, visiting the park with your dog is a big no-no.
Cannon Beach, Oregon
Cannon Beach is sure to grab your attention with its rock formations that are every bit spectacular. But, your beach bum dog is going to live it up by splashing in the water and rolling in the sand. You will just be in awe looking at his many cute moments. So, keep your cameras ready.
While your dog can run free all over the beach, make sure that at no point of time you leave him unattended. Keep him under control with your voice and stay close. And trust me, not just the beach but the whole town is very dog-friendly. Let the good times begin!
Double Bluff Beach, Whidbey Island, Washington
The scenic Double Bluff Beach is sure to cast its spell on you. But, at no times, should you be so lost in its enigmatic charm that you forget to look after your dog. While foraying in to the grassy picnic patches and barbeque areas, make sure that your dog is on the leash.
When you head further in to the beach expanse, you can let your dog get off leash and just play in the water and run about in all its freedom. You can simply lounge on the velvety sand and feel like an overjoyed parent seeing him run around places in his childlike innocence.
Montrose Dog Beach, Chicago, Illinois
Chicago dogs have a good time rolling for them as soon as summer hits; because their owners understand how badly their dogs must be missing a beach life after all those chilling winter months. Let summer usher in some warmth and you will see dozens of dog owners heading out to Montrose Dog Beach with their furry friends.
However, before you head onto the beach, make sure you get your dog the DFA (dog friendly area) tag from your vet. Then you can just watch your tiny tot leave his paw prints all over the beach.
Huntington Dog Beach, Orange County, California
Ah, the sight of the four legged ones surfing through the waves is going to make your day. And, if your dog is trained enough, you can let him live his beach fantasies as well. Oh, dogs definitely have them.
While Huntington Dog Beach in California was officially established as an on-the-leash beach, it is accepted these days to let your furry friend loose under your supervision.
Look around in any direction and it's all paw-sitive feelings. This beach is ideal not just for your dog but for you as well since you can meet other like-minded people there, while you watch your little ones play. Perfect definition of happiness, isn't it?
So, now that I have put down a few of the beaches in the USA that are dog-friendly, what's the wait for? Get your furry friend ready for a beach vacation. Pack everything that may come in handy for your dog at the beach and check with airlines that extend comprehensive assistance during air transport.
Once all these things are taken care of, you can hop on a last minute flight to any of these dog-friendly beaches where your furbaby is definitely going to have the most amazing time ever!
You May Also Like
Inspired? Pin this to your Pinterest board!