The city of Geraldton is located a 4.5 hour drive north of Perth on the coast of Western Australia. About the last outpost before the Outback truly begins as you head further north, it's a relaxing spot to stop while on a road trip, with plenty of facilities on offer. Find out what to do if you visit Geraldton with a dog, plus where to stay.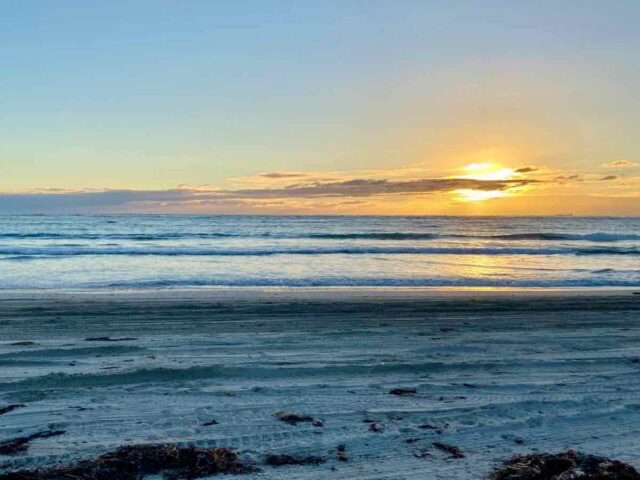 Dog-Friendly Sightseeing in Geraldton
Geraldton isn't home to that many big attractions, it's more of a destination to spend some time relaxing and enjoying the amenities. Consider
While Geraldton is not home to that many big attractions, it still has a number of great walks and beaches that you can visit with your dog. Check out these options for enjoying a relaxing time with your dog in Geraldton…
#1 Stroll Along the Foreshore
One of the top attractions in Geraldton is it's foreshore. Its foreshore is right next to its city centre, in between the port and marina. Its one long strip of parkland, criss-crossed with paths and dotted with playgrounds and cafes.
Make sure you go for a stroll along the foreshore in Geraldton with your dog. Dogs are allowed on leash on the footpaths and in the grassed area, outside of the playgrounds. Note though that they are prohibited from venturing onto the sandy beach here. (Instead head to the beaches further away.)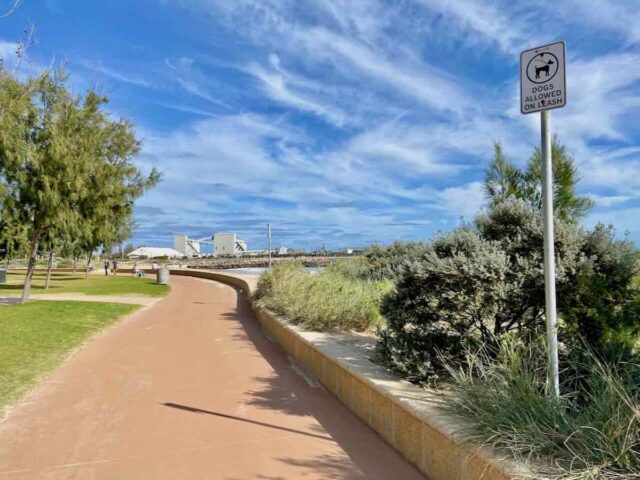 Don't miss heading out onto the Esplanade, at the western end just before the port area. At its end lies a 360 degree viewing platform, along with a chance of spotting the local sea lions.
#2 Head to a Dog-Friendly Beach
Dogs are not allowed on the main beach in Geraldton next to the city centre, known as Town/Champion Beach. They are also not allowed onto the nearby Pages Beach (just west of the Fishermans West) and Midalia's Beach (north of the marina). However, there are a number of dog-friendly beaches in Geraldton where dogs are allowed off-leash.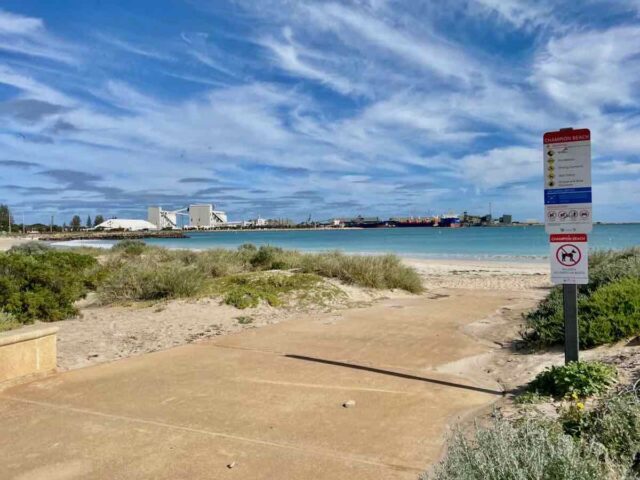 One of the best places to head close to the city centre is Point Moore. Dogs are allowed off-leash on the beach at Point Moore, starting just west of Pages Beach and the short breakwall. The off-leash area extends all the way south, along Greys Beach and past Separation Point to the northern end of Back Beach, a short distance north of the Surf Life Saving Club. The entire stretch of beach is a few kilometres long!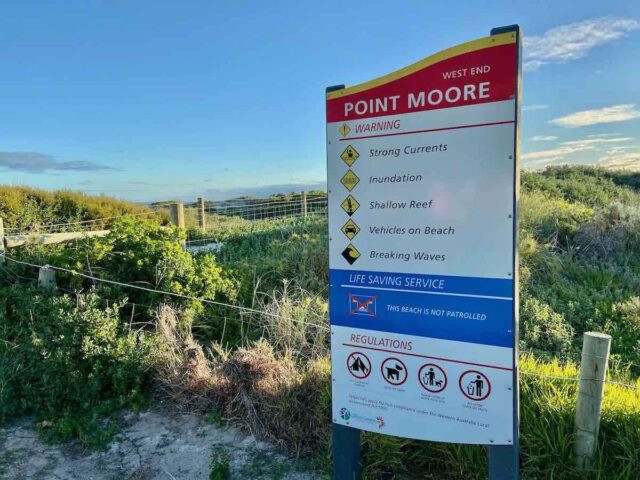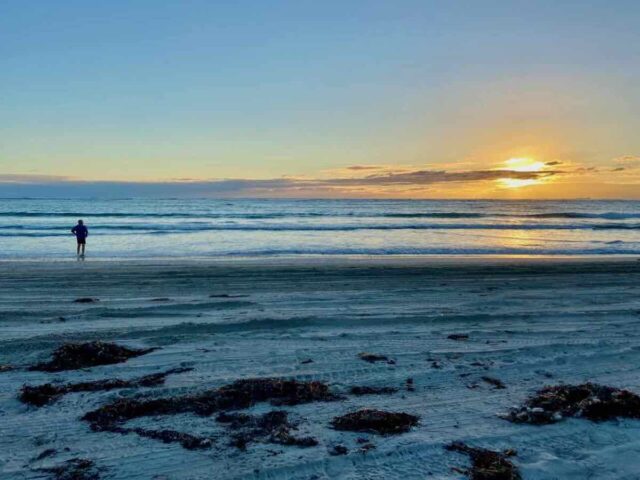 To the south of Geraldton, dogs are allowed off-leash on the beach next to the Southgate Dunes. The off-leash section is in between the southern end of Tarcoola Beach and the Greenough Rivermouth.
Dogs are also allowed off-leash on most beaches to the north of Geraldton. The off-leash section starts near Triton Place in Sunset Beach and extends along Glenfield Beach until the northern edge of Popes Landing.
The council website has a map showing which beaches prohibited dogs or allow them off-leash. Additionally, dogs are presumably allowed on-leash on the other stretches of unmarked beaches. If in doubt, double check the signs at all beaches.
#3 Follow the Greenough River Nature Trail
Cape Burney and the Greenough Rivermouth is about a 10 minute drive south of Geraldton. As well as the off-leash beach to the north of the Rivermouth, it is also the start of a popular trail, the Greenough River Nature Trail.
The entire nature trail follows one bank of the river, before looping back close to the highway, and then following the other side of the river to its mouth, which is often blocked by a sandbar. A mainly flat walk, dogs are allowed on a leash on it. Note that two sections of the trail are along a shared 4WD track.
While the entire walk is a rather long 17km and can take up most of a day, the most popular stretch is the initial 3.4km stretch to Devlin Pool. This riverside section is just a walking trail, and you can then retrace your footsteps the same way. You can also drive to Devlin Pool.
Are Dogs Allowed at the HMAS Sydney II Memorial?
Geraldton is home to a touching memorial to the HMAS Sydney II, which was sunk off the coast of Western Australia in 1941 with the loss of 645 lives, Australia's greatest naval tragedy. The memorial on a hilltop reserve is well worth a visit, with many symbolic elements.
Note however that dogs are strictly prohibited from the memorial. If you're not travelling solo, I recommend taking turns to visit the memorial.
Dog-Friendly Parks in Geraldton
As well as off-leash dog beaches, there are a number of off-leash dog exercise parks in Geraldton, perfect for days that you don't want to deal with a wet and sandy dog.
The best spot to visit is the recently constructed fenced dog park at the Olive Street Reserve in Tarcoola Beach, just south of the city centre. On Google Maps, search for the "Leonard T. Green Dog Park". The large grassed area has two separate fenced spaces, as well as drinking stations and waste bag dispenses.
There is also a second, older fenced dog park in Geraldton, at Wooree Park in Wooree, east of the centre of Geraldton. The park is near the the BMX Track. It is also used by the local kennel club for dog obedience and agility training.
Geraldton is also home to nine more unfenced dog off-leash exercise areas. To view the location of all these parks, check out the map on the council website.
Dog-Friendly Dining in Geraldton
There's plenty of cafes with outdoor dining areas in Geraldton where dogs are welcome to join you. In particular, there's quite a few lovely cafes along the Geraldton Foreshore.
A great spot to head on sunny days is Kai Lani Cafe, a small cafe on the foreshore mainly with outdoor seating and plenty of dog bowls. Well rated for its coffee, the cafe also serves up basic snacks, and is open daily until mid-afternoon.
At the other end of the Foreshore area head to Two Foreshore. Also open daily for breakfast and lunch, they have plenty of outdoor seating where dogs are allowed, plus a water bowl for dogs.
Dog-Friendly Accommodation in Geraldton
Geraldton is one of the most RV-friendly towns in Western Australia! The town is home to not one but three free areas for RVs to park up overnight, for up to 24 hours. Combined with excellent free wi-fi along the foreshore, it's definite worth spending the night in town.
Self-contained vehicles can park in multiple bays at the Francis Street Carpark, centrally located next to the Esplanade. There's also six bays for non-self-contained vehicles at Point Moore and another five bays for non-self-contained vehicles at John Batten Community Hall in Drummond Cove.
For longer stays or if you don't have a campervan, there are six caravan parks scattered around Geraldton, between Cape Burney and Drummond Cove. All of the parks welcome pets on sites, although Drummond Cove Caravan Park specifies small pets only.
If you're after a pet-friendly cabin, all of the cabins at Geraldton Caravan Park are pet-friendly. A basic park about 10 minutes drive of the city, the cabins are affordable and range in size from two-person cabins to family cabins that can sleep six. There is an additional fee of $10 per pet per night, and you must provide their own bed.
Double Beach Caravan Park, at Cape Burney near the Greenough Rivermouth, also has pet-friendly cabins. The one-bedroom cabins sleep up to four and have a self-contained kitchen and ensuite bathroom. Call to enquire about their full pet rules.
The BIG4 Geraldton Sunset Beach Holiday Park also has a few dog-friendly chalets, while Drummond Cove Holiday Park has a single pet cabin.
Head Next To