Rather than just walking the same route with your dog every day, have you considered heading out hiking with your dog? There's plenty of dog-friendly hikes available in the USA, and you'll both enjoy exploring somewhere new, seeing new sights, and sniffing new smells!
If you're not already experienced at hiking with your dog, it's best to start with shorter trails, generally 1-2 hour hikes, then build up to more adventurous full-day hikes. For some suggestions of the best dog-friendly hikes in the USA, read on…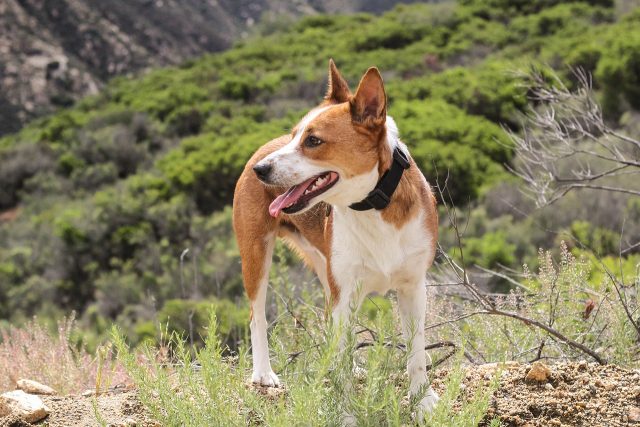 1. Colorado: Perkins Central Garden Trail, Garden of the Gods
Contributed by Rebecca Crawford of HikingMastery.com
Length: 1.1 mile loop
If you're ever in Colorado Springs and want to take your dog out on a short hike, this trail is the perfect one for beginners. Resembling more a stroll than an arduous hike, you'll definitely like the most beautiful park in the area that's also a National Natural Landmark.
If you're curious to learn more about the things and places you'll see on your trail, you can pop at the Visitor Center before your walk. You'll get maps and info about the roads, then set out on your hike, starting off with a heart-throbbing view of the place and the Pikes Peak right there at the Visitor Center.
With a little more than a mile of paved road and very gentle slopes, this park is generally well populated, so your dog should be kept on a leash. You'll love the red sandstone formations, though, along with the evergreen, juniper bushes, noisy jays and happy magpies.
And if that sounds like it's too easy for you, you can always leave your dog with someone from your group and try some more exciting activities, like rock climbing. Otherwise, you can just admire impressive landforms like the North Gateway Rock or the Kissing Camels, which provide a great contrast with the crisp blue skies.
2. Georgia: Kennesaw Mountain Trail
Contributed by Jordan Bradford of The Solo Life
Length: 2.1 mile return
A popular dog-friendly trail in Georgia, only 24 miles north of Atlanta, is the Kennesaw Mountain trail found at the Kennesaw Mountain National Battlefield Park. This trail is a moderately challenging 2.1-mile there-and-back hike up the mountain, which is worth the steep climb for the views alone.
Once at the summit, hikers and dogs will get some lovely views of the Atlanta skyline in the distance. Throughout the trail there are also historical markers and artifacts for those who are history buffs, since Kennesaw Mountain was the site of a Civil War battle.
The most rewarding part of the hike for your canine best friend is the uphill climb. Although challenging, your dog will practically drag you up that mountain (since it is an on-leash trail) and enjoy every minute of it.
There are some great spots along the way for photo opportunities as well, so don't pass those up. If you and your dog aren't tired after this hike, the park has many other dog-friendly trails to enjoy as well.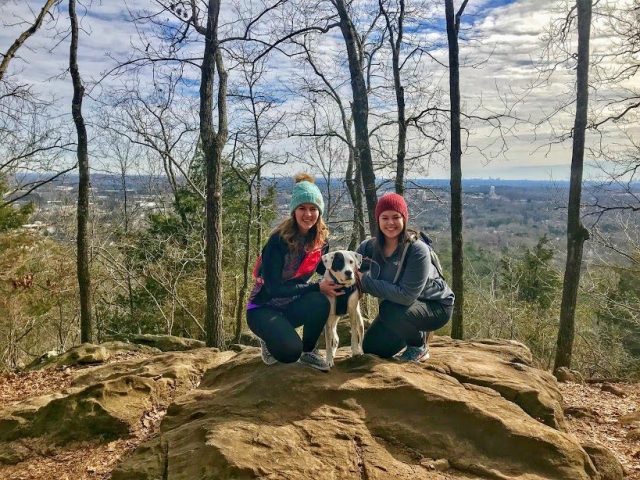 3. Maine: The Park Loop Road, Acadia National Park
Contributed by Rebecca Crawford of HikingMastery.com
Length: 27 miles, shorter options available
This trail is perfect for bringing Fido along because you'll both enjoy some exquisite scenery, even from your car. The entire trail is 27-mile long, starting in the northern part of Maine's Mount Desert Island, near Hulls Cove. But you don't have to do it all at once, you can easily park your car and get out for a short walk.
Your dog will love this diversity of smells brought along with each change in terrain, but he will also appreciate the challenge that comes with tackling forests and rocky ground as well as some lake areas. And if you have some cool dog backpacking gear, you can even give him some extra responsibilities and a means of carrying his own things.
This trip is well worth it though, with amazing vantage points, like those at Sand Beach or Otter Cliff, and the best part is that you can even go by car if you don't feel prepared enough to hike all the way through.
You should also do some obedience training first and make sure that your dog can wear the leash and obey basic commands. That's because the road gets quite narrow in certain portions, and you'll have to mind the cars. Besides, there's a lot of wildlife, which is great in terms of views and smells your dog can relish, but you should make sure he doesn't try running after the animals.
4. Vermont: Mount Philo Trail
Contributed by Erin Sullivan of PetCurve.com
Length: 1.4 miles return
If you're ever in the Burlington area with your pup, visiting Mount Philo in Vermont is a must! This short, dog-friendly hike offers amazing views at the mountain's peak of 968 feet. Be sure to keep your furry companion on a leash at all times!
Mount Philo state park offers 3.8 miles of trails to walk with your companion, but the 1.4-mile hike to the top is available to those looking for a short workout.
Hiking Mount Philo is an activity the whole family can be excited about. The hiking trail is a relatively low incline, with no difficult areas so even small children can hike it.
Can't handle the hike? No worries, you can drive to the top of Mount Philo State Park and take advantage of their multiple camping sites available. Choose between their 7 tent sites and 3 lean-to's if you plan on staying the night.
Mount Philo state park is a fantastic spot to spend the day with friends, family, dogs, or alone. The views of Lake Champlain and the Adirondack Mountains will leave you speechless. You definitely won't be disappointed by this short hike.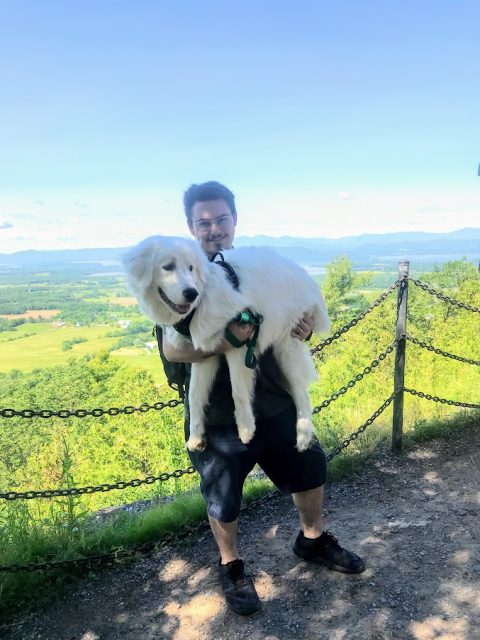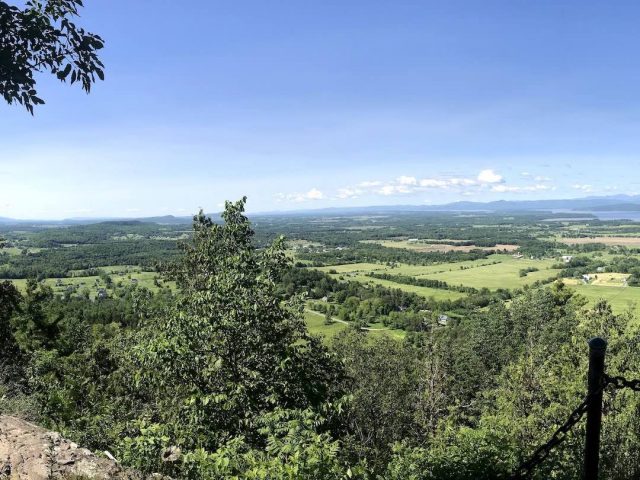 5. California: Devils Backbone Trail, Mt Baldy
Contributed by Jenny Kotlyar of Limitless Hiker
Length: 14 mile loop
If you're looking for a challenging hike to do with your pup that also prepares you for altitude, Mt. Baldy in Southern California is it! It's a 14-mile round trip hike with 4,268 feet when taking the Devils Backbone Trail.
During the summer months, the trail is snow free and during the winter months, it's a great mountaineering trail. Of course, you can make this trail shorter if you'd like, making it to the summit is not required.
There is a ski lift, but dogs are not allowed on the lift. So if you're hiking with your pup, make sure you and your dog can handle the miles and elevation gain.
The trail is exposed, so in the summer months, start early! Also, bring enough water for the whole hike. There is a restaurant at the top of the ski resort, but aside from that, there is no water on the trail.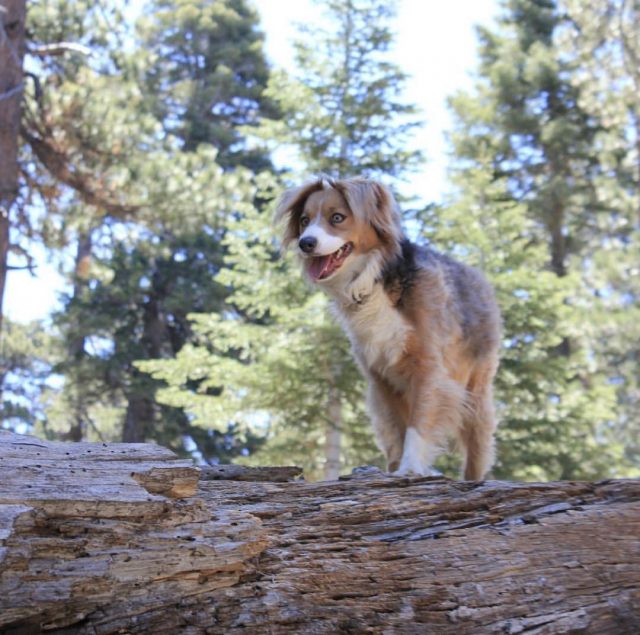 6. Oregon: Paulina Lake Loop Trail, Bend
Contributed by Jen Sotolongo of Long Haul Trekkers
Length: 7.8 mile loop
Located 25 miles south of Bend, the rainbow waters of Paulina Lake will make you think you've headed to the Caribbean. One of the twin lakes in the Newberry Crater, Paulina Lake is a caldera that formed as a result of 500,000 years of volcanic activity and sits at 6,331 feet above sea level.
The 7.8-mile loop around the lake only gains 200 feet of elevation, with just a few steep sections, otherwise the trail is generally easy. Starting from Lake Obsidian Campground will lead you to hot springs at the Inter Lake Obsidian Flow, or continue about another half mile to North Beach where you can dig your own pool if you bring a shovel.
Backcountry camping is available at North Cove Beach, just a mile past North Beach. Be sure to stop and enjoy the views of Paulina Peak, Diamond Peak, and Mount Thielsen between the two beaches.
Dogs need to be on-leash during this hike, but can certainly enjoy a swim or fetch in the lake.
7. California: Los Penasquitos Canyon Trail, San Diego
Contributed by Rebecca Crawford of HikingMastery.com
Length: 6.8 mile loop
This is a great trail for dogs who are well versed in leash walking, so you'll have plenty of views to take pleasure in here too. With grassy stretches and luxuriant vegetation, this 6-mile hike is definitely worth your time. The canyon is breathtaking with all its turns that wax and wane passing creeks and waterfalls, as well as some historic spots.
Take the Adobe Ranch House for instance; Fido will love getting to meet and greet the ranch animals, like the friendly goats and the talkative chicken. After that, you can hike further through forests of oaks and sycamores, each hiding new interesting fragrances for your dog and different vistas for you to admire.
You will also love the wide open fields, where you can have your dog running a bit more freely, although they will still need to be on leash. After that, there are plenty of rocky slopes that require some agility to navigate, and we're sure you'll welcome the challenge.
There are also some creeks you need to pass through, and that's another fun play for your dog, completely safe too since the water level isn't particularly high.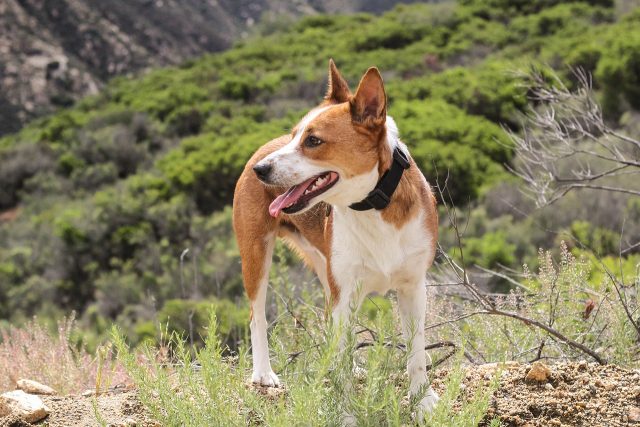 8. Utah: Wire Pass Slot Canyon
Contributed by Anna Liddell of My Travel Scrapbook
Length: Variable
The Wire Pass slot canyon day hike is a fabulous dog-friendly hike in the USA!
Wire Pass slot canyon is a beautiful slot canyon in the American South-West in the far south of Utah. To reach the start of the trailhead you must tackle 9 miles of dirt-track on House Rock Valley Road. Your efforts will be rewarded though as you reach a world of pink-orange hills and are close to an amazing dog-friendly hike!
Park up at the Wire Pass trailhead car park and collect your permit. If you are just hiking for the day, you can easily get yours and your dogs permit upon arrival. Fill in the forms, post in your money and you are ready to go!
Your dog is allowed off-leash and it will take about 20 mins from the car park to reach the slot canyon. Once you are there wander inside. Steep rocks encase you into an otherworldly landscape. You cannot hear any traffic or any other modern-day sounds. What a wonderful place to hike in the USA with your dog.
There is an obstacle which may require two people to safely lower the dog. Alternatively, you can go back out of the slot canyon and follow the small stones and climb into the canyon that way. Follow the Wire Pass slot canyon for as far as you like – you can go all the way to Buckskin canyon which is much wider or just stay in the narrow Wire Pass.
The terrain of the Wire Pass Canyon is quite sandy and rocky. Occasionally, sections of the slot canyon can be muddy too. You will also have to carry dog poop back out. As this is a desert landscape, bring plenty of water for your furry friend. There may be some poisonous snakes so keep your dog close by!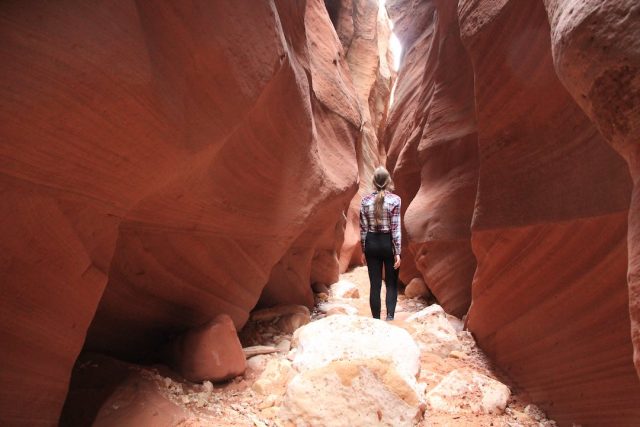 9. California: Mount Burdell Loop Trail, Novato Valley
Contributed by Rebecca Crawford of HikingMastery.com
Length: 5 mile loop
If you love oak trees and grasslands, this 5-mile trail will offer you a plethora of views, smells and interesting wildlife to admire. Situated in the lush Novato Valley, Mount Burdell has it all from forests to wide open spaces where cattle graze freely. In the forests, your dog will enjoy the occasional appearance of a deer or squirrel, so make sure you keep a firm hold on the leash.
However, there are plenty of dogs here too, walking alongside their humans, so you can benefit from their company. You might also be glad to know that there are some specific areas where you can take the leash off and let your dog breathe in the wild outdoor air, though he still needs to be close enough to hear you. You'll see both the off-leash as well as the on-leash areas well marked, which is another advantage.
This trail isn't for complete beginners though, with all its difficult ascents and narrow loops to navigate. The rolling hills and the changing weather along with the lashing wind might prove a challenge even for the most experienced hikers. But there are certainly some awesome vistas, like that from the Middle Burdell Fire Road, where the summit looks like a giant guarding over the whole area.
The South Gateway Rock knits two colors, which look great alongside the green juniper leaves. And with all their cracks and coves, these ancient rock formations are bound to make you contemplate the enormity of time.
You May Also Like
Inspired? Pin this to your Pinterest board!