Motel 6 is a budget motel chain with over 1400 locations throughout the USA and Canada. Thanks to its pet-friendly policy, I've often stayed at Motel 6 when traveling in the USA with my dog. Find out more about the Motel 6 pet policy and what it's like to stay at this motel chain.
Note: This post contains affiliate links, which means I may receive commission if you make a purchase using the links. See my full disclaimer.
What is Motel 6?
The Motel 6 budget motel chain was first established in the USA in 1962, offering motel rooms for just $6 per night. While the prices have certainly increased since then, room rates are still reasonable, with the brand aiming to provided "clean, comfortable rooms at the lowest price of any national chain."
Rooms are fairly basic, and generally don't include fridges, microwaves or coffee pots, although sometimes a microwave is provided in some rooms or the reception, along with coffee first thing in the morning. Tissues, shampoo and conditioner are also not provided, while hair dryers need to be borrowed from reception.
The decoration of rooms is basic, with wood-effect floors rather than carpet. Accent walls are colored orange, turquoise, lime green or more recently grey, with a matching strip of fabric on the bed. If you're from Europe, it's quite similar to the Ibis and Ibis Budget chains.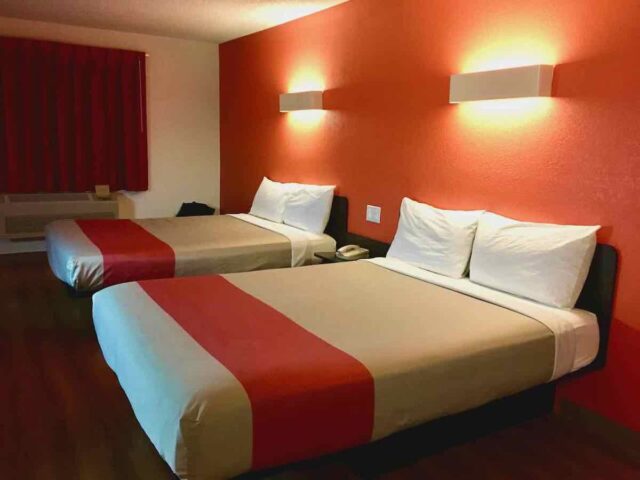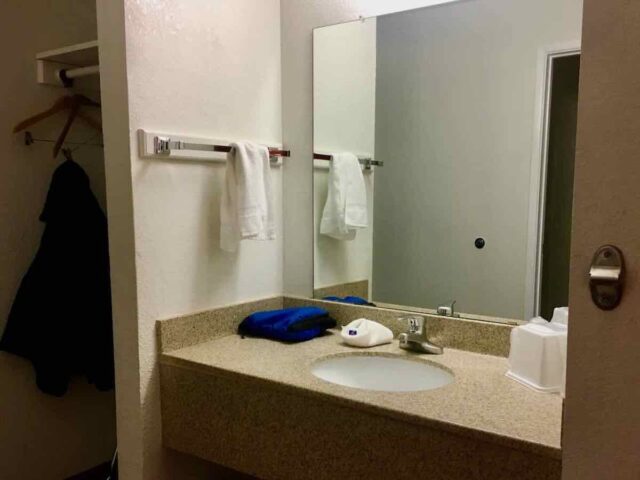 What is the Motel 6 Pet Policy?
What I love most about Motel 6 is that they are very pet-friendly. For starters, nearly all Motel 6s allow pets. It's a requirement that all Motel 6s must adhere to the brand's pet policy, except for where it is prohibited by the local state or municipality laws.
There are only a small number of Motel 6s that don't allow pets, meaning that you can virtually be assured they are pet-friendly, although it still does pay to double check, in case you are caught out by the few exceptions. And considering how many Motel 6s there are in the USA, there is likely to be a pet-friendly Motel 6 near your destination.
Does Motel 6 Allow Dogs and Cats?
Up to two pets can stay per room at Motel 6, with a total combined weight of 150lbs (68kg) or less. Both domesticated dogs and cats are welcome at Motel 6. The only pets that are not allowed are those that pose a health or safety risk, including pets that show signs of aggression.
Note also that Service Animals are naturally always welcome, even when pets are prohibited by local law.
How Much Does Motel 6 Charge for Pets?
The other great part about staying at a Motel 6 with your pet? Your pet stays for free! There is no charge for well-behaved pets staying at Motel 6 – no matter if you have one or two pets, or any location.
Considering how expensive some pet fees can be, often as much as the nightly room charge, it's great to know that the advertised price is how much you'll pay, even if you have a pet.
Probably the only exception to this is if your pet causes damage to the room, the same as if any other damage occurs. Naturally, in this case your pet would also be asked to leave.
What to Do When Staying at Motel 6 with a Pet
If you're planning to stay at a Motel 6 with your pet, the first thing you should do is advise the motel that you have a pet or two when you are checking in. This also applies if you have a service animal. You don't need to advise Motel 6 in advance, for instance at the time of booking.
When checking in with a pet, you'll then be presented with a copy of the Brand Pet Policy and Disclaimer. This details all the rules that you should be aware of, and you'll need to sign this.
During your stay, your pet should not be left unattended in your room or a vehicle. Disruptive or unattended pets may be asked to leave.
Your pet should be restrained on a leash or in a pet carrier when outside your room, plus of course you should clean up after them. Some Motel 6 locations have a handy pet relief area with poop bags – this has been the case at about half of the locations I've stayed at.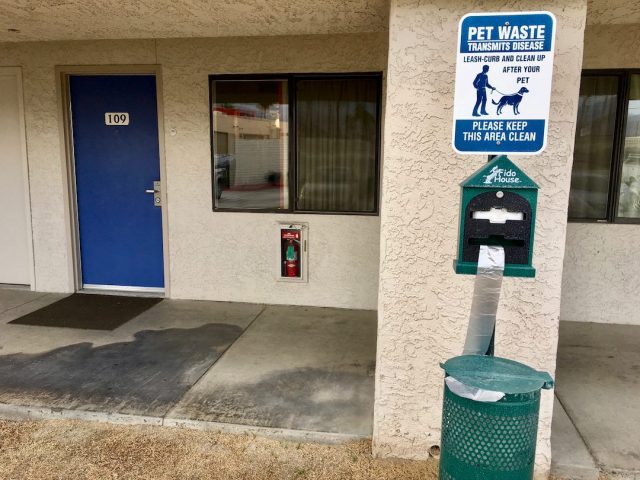 During your stay, you'll still need to provide access to your room for daily housecleaning. Cleaning is not possible with an unattended pet left in the room.
What is the Studio 6 Pet Policy?
In addition to Motel 6, the chain also operates the Studio 6 brand. These rooms are designed for extended stays, and include a kitchenette, unlike in Motel 6 rooms.
The Studio 6 pet policy is very similar to the Motel 6 pet policy, except for two major differences. The biggest difference is there is a charge for pets staying at Studio 6. A pet fee of $10 per day is charged (for either one or two pets), up to a maximum of $75 pet stay. Naturally, this doesn't apply to service animals.
The other difference with Studio 6 is that the housekeeping rules are slightly different. If staying for an extended stay at Studio 6, rooms only need to be serviced twice weekly, not daily.
Tips for Staying at Motel 6 with a Pet
I've stayed at multiple Motel 6 locations with my dog, while traveling around the USA. The reason I've stayed so often is that I know pets are allowed to stay at virtually all locations, for no extra charge. Additionally, the rooms are very similar from location to location, without much variation, so you know what to expect.
Here are my top extra tips for staying at a Motel 6:
Most Motel 6 locations have two floors. While ground floor rooms are easiest to access with your pet, especially if you can park right outside your door, we often asked for a first floor room. Sometimes in a ground floor room you could hear the person move above on the uncarpeted floors, which disturbed my dog. No-one above you means less noise.
Take advantage of the free wi-fi in all locations, plus expanded cable TV. Many locations also have swimming pools. A budget chain doesn't have to mean no perks!
While standard rooms don't have a fridge, sometimes you can pay extra for a room with a mini-fridge. Some Motel 6 locations also offer premium rooms, with a coffee maker, hair dryer and bathroom amenities. Keep an eye out if you're interested.
Double check if you can access a discount. All locations provide a Senior Rate discount and discounts to active and retired military personnel and their spouses. You also receive a discount for booking directly, plus look out for regular coupons.
You May Also Like