While dogs aren't welcome on most regular train services in Australia, except for if you're lucky enough to live in Melbourne, there are some historic train rides around Australia that permit four-legged passengers onboard! Fancy a fun day out on a train with your pup? Investigate taking a ride on one of these dog-friendly historic trains…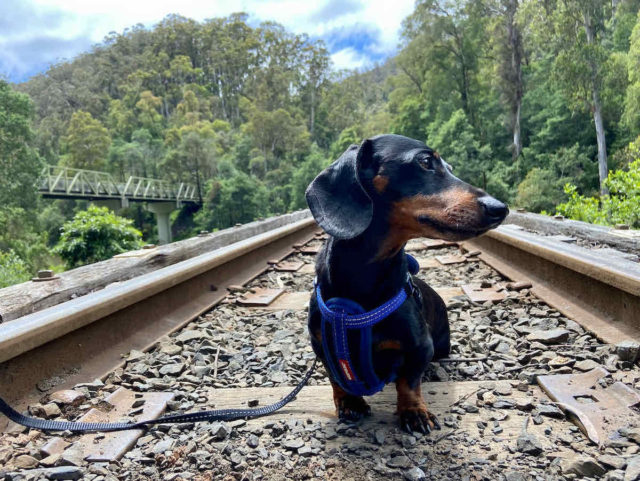 1. Walhalla Goldfields Railway, Walhalla, VIC
On our recent road trip around Victoria, we were delighted to enjoy a ride together with our pup on the Walhalla Goldfields Railway.
Walhalla is an historic gold-mining town in Gippsland, about 45 minutes drive north of Traralgon and 2 1/2 hours drive from Melbourne. The train track was only completed in 1910, just four years before the closure of its main gold mines left Walhalla a ghost town. After being abandoned for many years, the line was reconstructed and reopened in 2002.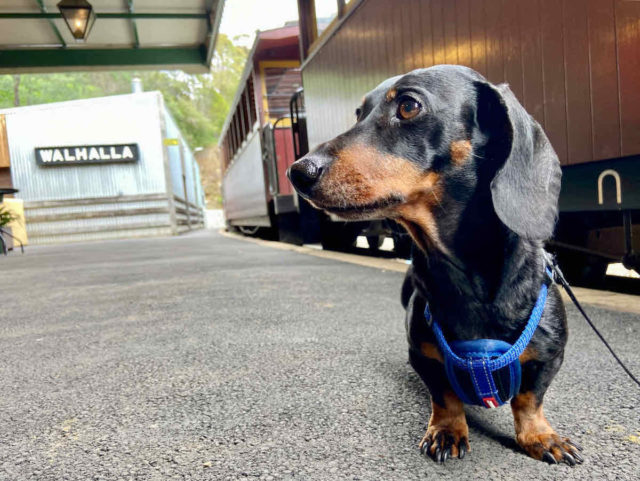 To enjoy a ride on the railway, make sure that you visit on a Wednesday, Saturday, Sunday or public holiday, outside of school holidays. During school holidays except the July school holidays the trips run daily. There's two or three journeys per day departing Walhalla Station, following the 4km-long section of track down to Thomson Station.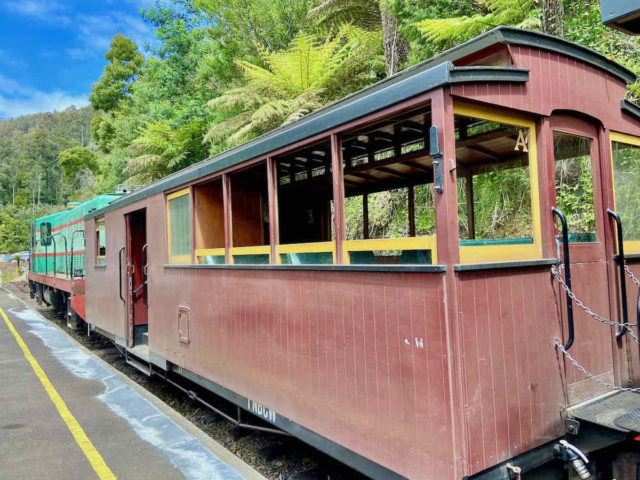 It's a very scenic ride, winding through a narrow gorge beside and sometimes above Stringers Creek, crossing eight bridges each direction. The journey each way takes about 20 minutes. Most passengers book a return trip, which takes about an hour, including time for a wander at Thomson Station.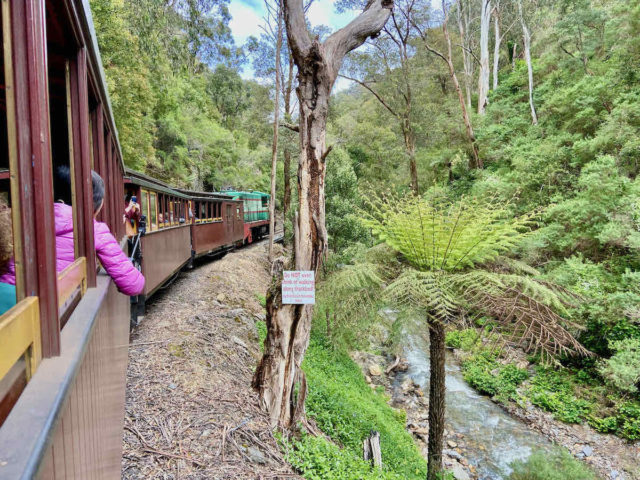 There's no additional charge for bringing along your well-behaved dog. At Walhalla Station, there was a sign indicating dogs would need to ride in the guard carriage, but on the quiet day that I visited the crew were very welcoming and we were free to sit in any carriage.
Read more about the many dog-friendly things to do in Walhalla
2. Victoria Goldfields Railway Steam Train, Castlemaine, VIC
The Walhalla Goldfields Railway isn't the only former gold mining town in Victoria with an historic train ride. Another excellent option is the Victorian Goldfields Railway, which departs from Castlemaine and travels 45-minutes to the historic village of Maldon.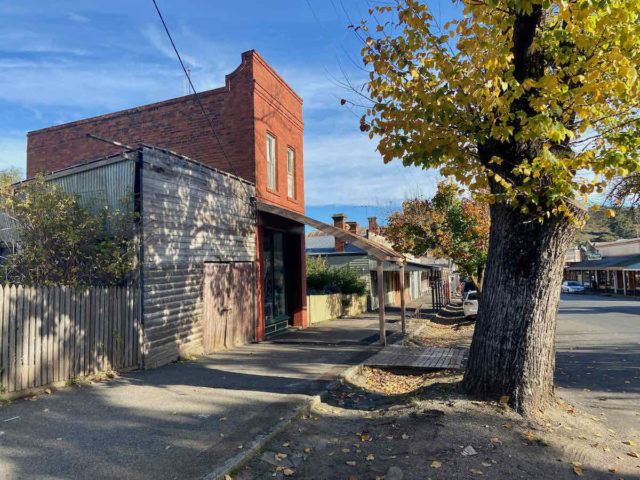 Castlemaine is a convenient 90-minute drive from the centre of Melbourne, making this an easy day trip. It's even possible to reach Castlemaine on the V/line train, if you have a small dog who can ride in a carrier, for a complete train day trip.
Pet dogs are permitted to join you in the Excursion Class carriages, at the discretion of the Station Master, for no additional fee. (Skip the fancier First Class carriages, where only assistance dogs are permitted.) Excursion Class uses historic wooden carriages with family compartments and opening windows, making for an authentic steam train experience.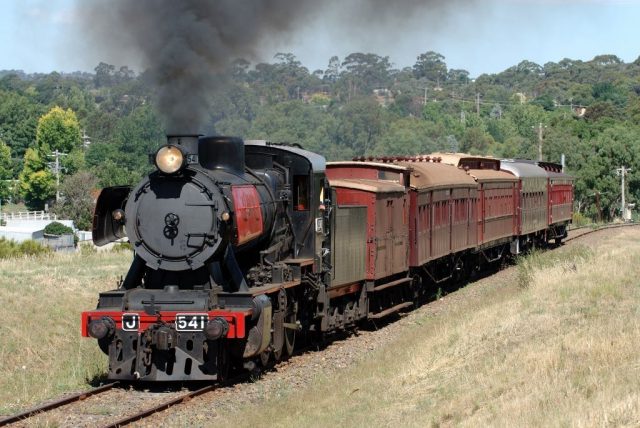 Note that the steam engines are sometimes replaced by a diesel locomotive in the summer months for bush-fire safety reasons – this is advertised in advance.
At the moment, there's generally one return trip per day, departing Castlemaine at 11:30am and returning from Maldon at 2:45pm. This allows you 2 1/2 hours to explore the small town of Maldon. Take a walk through the remains of its gold mining ruins, plus enjoy lunch. A popular pet-friendly option is the Maldon Hotel with its beer garden, or else some of the local cafes have tables out front.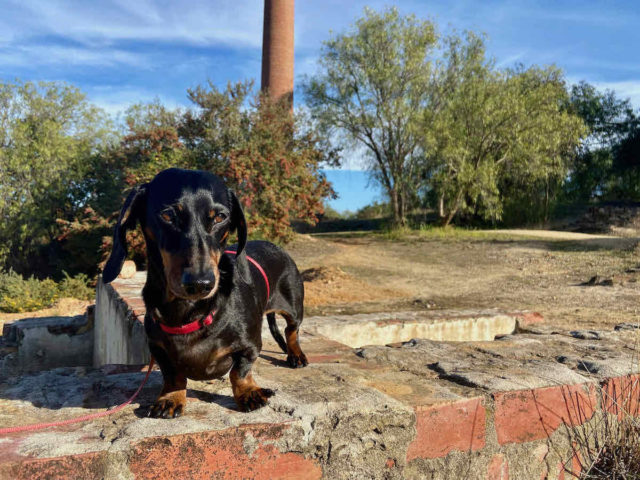 3. Puffing Billy Railway, Emerald, VIC
Victoria has plenty of historic train trips and another pet-friendly option is the Puffing Billy Railway in the Dandenong Ranges. Although pets are restricted to travelling on this train only one or two days per month, on the Puffing Billy Dog Express.
Advance bookings are essential for this dog-friendly train trip, with dates released one or two months in advance and quickly snapped up. Book your tickets together with your dog's ticket, priced at $15 each, with up to two dogs permitted per booking.
You'll be asked your dog's breed, so that you can be allocated to a suitable carriage compartment. All dogs should also be okay at being in close proximity to other humans and dogs.
The Puffing Billy Dog Express trains depart Lakeside Station in Emerald, about a 60 to 90-minute drive from the centre of Melbourne, at 12:15pm. It's a 40-minute journey onboard the train to Gembrook Station, meandering through the Wright State Forest and crossing over three historic timber bridges.
With almost 2 hours spent in Gembrook, there's plenty of time for a play in the adjacent J.A.C Russell Park or to walk a section of the Eastern Dandenong Ranges Trail. The return train arrives back in Lakeside at 3:20pm.
4. Mary Valley Rattler, Gympie, QLD
Victoria isn't the only Australian state with pet-friendly historic train rides, with two options also available in Southeastern Queensland. The most frequently running train ride is the Mary Valley Rattler, which departs from Gympie, a little over 2 hours north of Brisbane or a short drive from the Sunshine Coast.
Pet dogs are welcome to join you on the steam trains departing every Wednesday, Saturday and Sunday. Unfortunately, pets are not allowed on the Rattler Tasting Train that runs on Thursdays.
The Wednesday and Saturday train rides are a 3-hour experience between Gympie and Amamoor, with the journey each way taking an hour and an hour spent in Amamoor. While Sunday is an all-stations train, stopping at Amamoor and Dagun, taking 3 1/2 hours to return to Gympie.
It's essential to book in advance, with two specific booths available for families with pets. Up to six people along with two dogs from the same household can share each booth. There is an additional charge of $10 per dog.
5. Mary Ann Steam Train, Maryborough, QLD
Despite both trains containing "Mary" in their name, don't confuse the Mary Ann Steam Train with the Mary Valley Rattler. The Mary Ann Steam Train is a replica steam locomotive that is operated by the Maryborough City Whistle Stop volunteers in Maryborough, a 90 minute drive north of Gympie, and just half an hour from the popular tourist destination of Hervey Bay.
This is a great way to sample a steam train ride for the whole family, including your pet dog. Fifteen minute train rides are offered for the low price of just $5.
However, the steam train only operates on Thursdays (Heritage Market Day in Maryborough), between 9am and 12:30pm, plus on the last Sunday of the month, also between 9am and 12:30pm. The train operates from Macalister Station, located behind the Bond Store in the Wharf Street Precinct.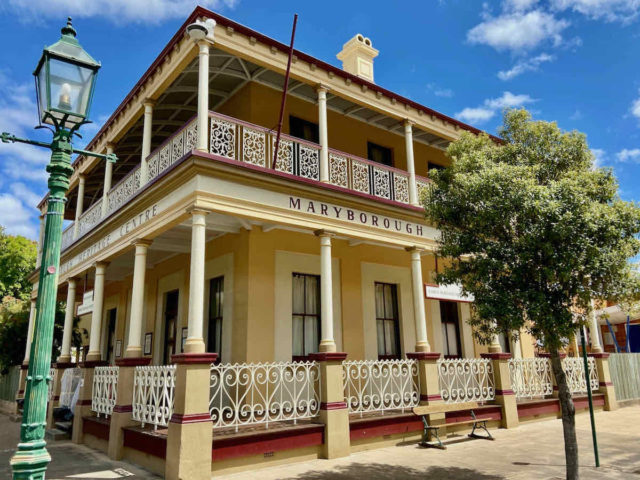 Maryborough is an interesting historic town with plenty to see, including many colonial buildings and the street installations that pay tribute to Mary Poppins and P.L. Travers, the character's creator, who was born in Maryborough. It's a worthwhile day out from Hervey Bay with your dog.
6. Moonta Mines Tourist Railway, Moonta Mines, SA
Finally, if you live in South Australia or are visiting the state with your dog, check out Moonta Mines and the Moonta Mines Tourist Railway. Located at the top end of the Yorke Peninsula, this historic Cornish copper mining site administered by the National Trust is a 2-hour drive from Adelaide.
The Tourist Railway is a small narrow gauge train with open air carriages, probably once part of the mining operations. It takes you on a 50-minute trip around the historic mining site, passing many of its landmarks and accompanied by an extensive commentary.
There's multiple train trips per day on Saturdays, Sundays, public holidays and during school holidays, plus a single afternoon trip on other Wednesdays. Note that the train may be cancelled due to extreme temperatures or wet weather. Tickets for adults cost just $12, with dogs riding for free and no special bookings required.
While at Moonta Mines, there's plenty more to see. As well as multiple walking trails, there's also a Mining Museum. Double check where dogs are and aren't allowed, but it seems fairly dog-friendly.
Tips for Riding with Your Dog on an Historic Train
Compared to modern trains, taking a ride on a historic train can be quite a noisy experience. Even if it isn't a steam train that whistles, old diesel engines can still be quite loud, not to mention the rattling of the carriages and windows. There's a reason they are sometimes called rattlers!
Before taking your dog on one of these trains, think about how your dog will react. If they are easily alarmed by noises, perhaps it's not the best idea. Even if they are fine with noisy and strange environments, they still might take awhile to settle down, like was the case with my pup. Give them a cuddle and reassure them.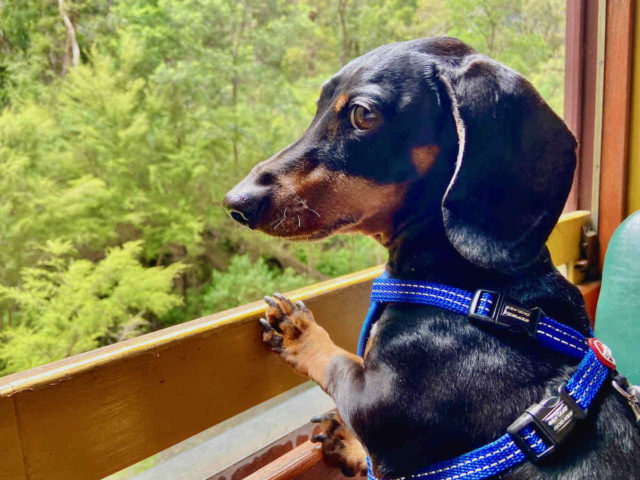 While boarding the train and once onboard, make sure you always follow the directions of the crew, especially the rules for travelling with a pet, so that these trains stay pet-friendly.