The capital of the island state of Tasmania, Hobart is a charming city to visit, plus an ideal base for many day trips across southern Tasmania. Find out about the best dog-friendly attractions to visit with your dog, plus where to stay and dine.
Are Dogs Allowed at Salamanca Market?
One of the most popular attractions in Hobart is the long-running Salamanca Market. The market takes place every Saturday, from 8:30am to 3pm, with a wide variety of locally made products and produce.
While dogs are usually permitted along Salamanca Place and at Salamanca Square, where the market takes place, they are prohibited during the market.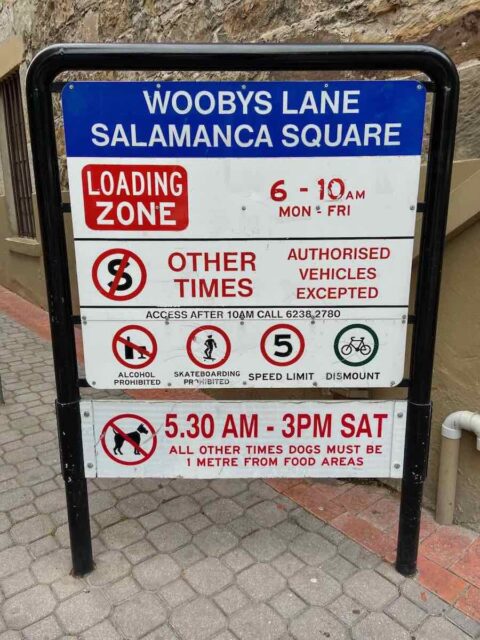 If visiting the market, it's instead possible to take advantage of the "puppy parking" for a set donation. Note that only a limited number of dogs are accepted at any one time and a time limit of two hours applies.
Dog-Friendly Sightseeing in and Around Hobart
For some alternative sightseeing attractions around Hobart where your dog is permitted, plus some great dog-friendly day trips, consider ticking off these while visiting Hobart with your dog.
#1 Explore Battery Point
Just up the hill from Salamanca Place is Battery Point. Hobart is the second oldest city in Australia and this historic precinct is home to many of the old buildings and houses that date back to the city's early days.
It's a delightful area to go for a stroll through along with your pup. One of the most picturesque spots is Arthurs Circus, with many historic homes lining the outside of the circular street. Just note that dogs are not allowed on the grass in its centre.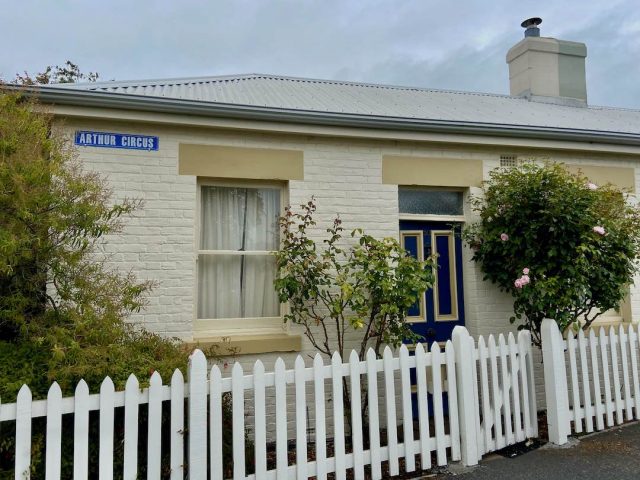 #2 Venture Up Mount Wellington
Looming high behind Hobart is kunanyi or Mount Wellington. It's a great spot to visit for stunning views over Hobart and the Derwent Estuary, plus to go hiking. Although if you're after views, double check first to see if you can actually see the summit – it's often shrouded in fog.
Dogs on a leash are permitted on selected tracks and trails in the Recreation Zone of Wellington Park, plus on the Radfords Track and the Pipeline Track between Fern Tree and Neika. For a clear understanding of where dogs are and aren't allowed, see this map and brochure.
Additionally, dogs are allowed to visit the Pinnacle, but only if they are confined to a vehicle. This means you can drive to the summit and enjoy the view, but you'll need to leave your dog in your car – ideally during cooler weather.
If visiting Hobart during the cooler months, snow falls on top of the 1200m high mountain are not uncommon (and can in fact occur any time of year). It's one of the easiest places to see snow in Tasmania – and also dog-friendly!
Allow about 30 minutes for the drive up Mount Wellington from the centre of Hobart. Note that the road can be closed due to snow or fires.
#3 Taste Tasmanian Wine
Tasmania produces some of the best cool-climate wines in Australia, and there's plenty of dog-friendly cellar doors that you can visit, including close to Hobart.
One of the most dog-friendly wineries in Tasmania is Wobbly Boot Winery, a 40 minute drive north of Hobart. Dogs are allowed inside, plus there's three off-leash areas and complimentary treats provided. Check the website for current opening hours. At times it is only open by appointment.
#4 Take a Day Trip to Port Arthur
One of the most popular attractions in Tasmania is Port Arthur, a former convict settlement on the Tasman Peninsula that is now World Heritage listed. While it's ideal to stay at least one night nearby to fully explore the area, it's also possible to visit the site on a day trip from Hobart.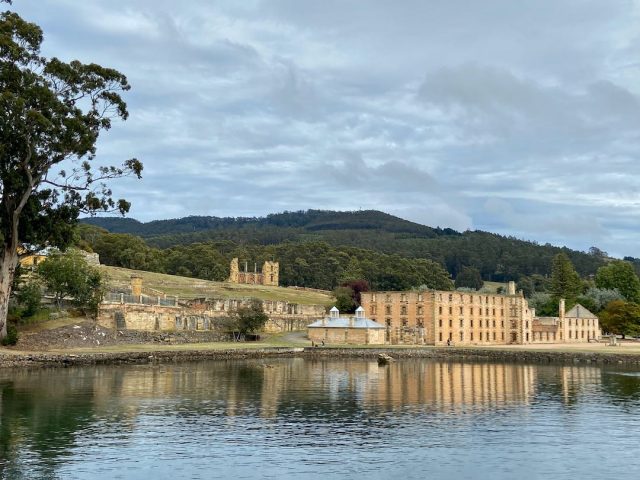 It's about a 75 to 90 minute drive from the centre of Hobart to Port Arthur, less if you are staying on the eastern side of Hobart near the airport. Just make sure you depart early in the morning to allow plenty of time to explore the site.
I was quite surprised to learn that dogs are allowed at Port Arthur, as most attractions of this type in Australia don't permit dogs. At the visitors centre, where dogs are not allowed, ask a staff member to guide you to the special entrance to use with your dog. Note also that dogs are not permitted on the harbour cruise (also best skipped if you are short of time) or in the house museums.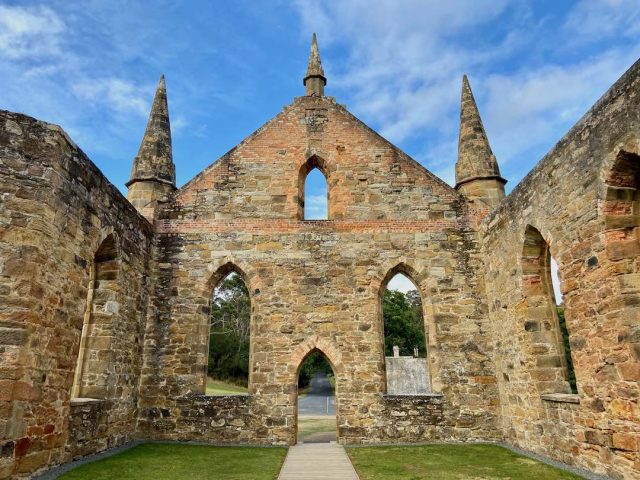 The majority of the buildings though, including the barracks and church, are in ruins and you can explore them with your dog. Naturally, keep your dog on a leash and pick up after them.
On your way to Port Arthur, a popular spot to stop for coffee is the Cubed Espresso Bar, located on Eaglehawk Neck, about 20 minutes before you arrive at Port Arthur. The coffee from this coffee van is highly rated, and seating is entirely outdoors.
#5 Or Head South to the Tahune Airwalk
Tasmania is also renown for its beautiful untouched wilderness. A substantial portion of the island is contained within national parks, where dogs are not allowed in Tasmania. However, you can get a taste of this wilderness by heading south of Hobart to Tahune Adventures.
About a 90 minute drive south of Hobart, the highlight of a visit to Tahune Adventures is venturing out on the Tahune Airwalk. You walk out on an elevated walkway about 30m above the forest floor, before stepping onto the cantilevered section, about 50m high. Surrounded by forest, regenerating after the bush fires of 2019, you'll also have glimpses of the peaks in the nearby World Heritage Area.
Best of all, leashed dogs are welcome to join you on the Tahune Airwalk. They are also permitted to join you on the two walks included in your ticket, the short Huon Pine Walk and the longer Swinging Bridges Walk. Just keep your dog on a leash. At the cafe, dogs can join you at the outdoor seats, with water bowls provided.
On your way to or from Tahune Adventures, stop off at Willie Smith's Apple Shed, just north of Huonville. Open daily, enjoy some of their award-winning Tasmanian cider, or order from their menu that focuses on local produce. Dogs are welcome at the outdoor tables.
Dog-Friendly Parks in Hobart
Hobart is home to a range of off-leash dog exercise areas. There are about 16 designated 24-hour off-leash areas, as listed on the council website. There are also another eight areas that are off-leash at certain times – see the Restriction Areas listing. In addition, dogs are allowed on sports field, as long as sport is not being played, plus their surrounds, except where prohibited.
One of the best dog parks in Hobart is located at John Turnball Oval, in Lenah Valley, north of the city. The fully fenced dog park has a separate area for small dogs, as well as agility equipment, a water fountain, lighting and bins.
Another interesting off-leash area to visit with your pup is Knocklofty Reserve. Dogs are permitted off-leash in part of the reserve during the day, between 6am and 8pm during daylight savings time, and between 7am and 5pm the rest of the year.
The off-leash area includes the tracks and trails between Forest Road car park, Poets Road, Fielding Drive reservoir and the walking track to the west. Dogs need to stay on-leash in the rest of the reserve and outside these hours.
Dog-Friendly Walks in Hobart
There's plenty of dog-friendly walks to do around Hobart with your pup. In addition to the walks at Mt Wellington and in Knocklofty Reserve mentioned above, check out these options:
Alum Cliffs Track: This coastal walk south of Hobart links the northern end of Kingston Beach (where dogs are allowed off-leash and there is a handy carpark) and the Shot Tower. The return walk is 8km long, with dogs allowed on a leash along the length. View a map.
Pipeline Track to Waterworks Reserve: Dogs are allowed along the majority but not all of this track, just outside of Wellington Park. Start at Fern Tree (where dogs are allowed outside at the Fern Tree Tavern) then turn-around at the dry Gentle Annie Falls. Along the way are interpretative panels highlighting historical features. The complete track is a 3.1km return walk. View a map.
Snug Falls Track: Drive 40 minutes south of Hobart to reach the carpark for Snug Falls, turning off the highway at the town of Snug. The track is about 1km each way to the falls, with an gradual ascent on your return trip. Allow about an hour in total. Dogs on a leash allowed.
Dog-Friendly Beaches in Hobart
For an off-leash dog beach in Hobart, head to Short Beach and Errol Flynn Reserve at Sandy Bay. Dogs are allowed on the beach and adjacent reserve off-leash all day long.
Dogs are also allowed off-leash on Nutgrove Beach further south, before 10am and then after 6pm during daylight savings time, after 3pm the rest of the year. During the rest of the day they are allowed on-leash on the beach.
Note that dogs are prohibited from a number of other beaches in Sandy Bay – namely Red Chapel Beach, parts of Blinking Billy Beach and Long Beach. Check the signs if you're not sure.
Further south of Hobart, a popular dog beach is the Kingston Dog Beach. Dogs are allowed off-leash on the northern end of Kingston/Tyndall Beach, north of the river entrance, but only on the sand.
Dog-Friendly Dining in Hobart
While exploring Battery Point with your pup, I highly recommend dropping into Jackman & McRoss Bakery. Renown for their scallop pies, they also offer a range of delectable baked goods in their display case. Grab one of the tables out the front, or order take-away and enjoy your baked goods in a nearby park.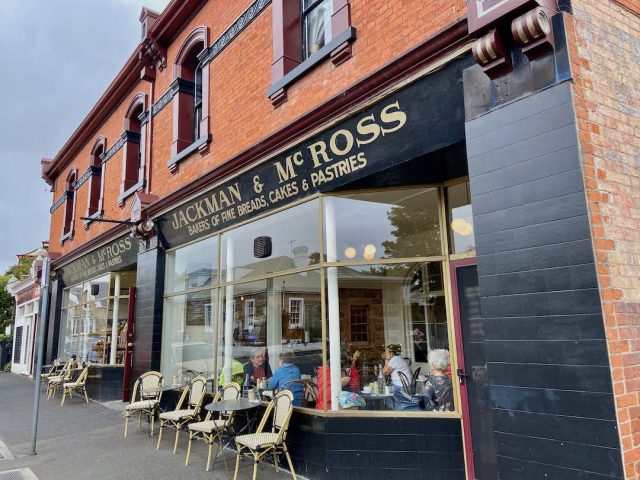 For lunch or dinner or just a beer, head to Preachers, just up the hill from Salamanca Place. This trendy bar is open until late seven days a week. On offer is a rotating range of craft beers on tap, plus a menu of tasty burgers and snacks, including specials on selected days. The beer garden out the back is popular with dog owners.
Another dog-friendly beer garden can be found at The Salty Dog Hotel, south of Hobart at Kingston Beach (not far from the Kingston Dog Beach). Open for lunch and dinner daily, it's a classic family-friendly pub directly opposite the popular beach.
Pet-Friendly Accommodation in Hobart
There are limited pet-friendly accommodation options around Hobart, particularly if you don't have your own campervan, caravan or tent.
One pet-friendly place to stay is Discovery Parks – Hobart. The closest caravan park to the centre of Hobart, pets are allowed on powered sites plus in selected budget cabins. These cabins are ideal for families (or just a couple), with a double bed and two bunks, plus a bathroom and full kitchen.
Another pet-friendly camping option is the Hobart Showground Motorhome Park. Tasmania's largest campground, there's a range of sites available, with all types of pets welcome, as long as they stay on a leash. Just note that major renovations are occurring during 2023, including a restriction of no tents until late 2023.
Alternatively, the three-star City View Motel has a number of pet-friendly rooms. This motel is located in Montagu Bay, across the river from the Hobart CBD. Direct bookings are essential if you want to stay with your pet.
For more pet-friendly accommodation options, I recommend looking on Airbnb or Stayz for pet-friendly holiday homes.
You May Also Like