Launceston, the second largest city in Tasmania, lies on the banks of the Tamar River in the north of the island. While there aren't many dog-friendly sightseeing options within the city itself, there's plenty of fun dog-friendly things to do in the surrounding countryside.
Read on to find out more about what to do, plus where to stay, when visiting Launceston and northern Tasmania with a dog.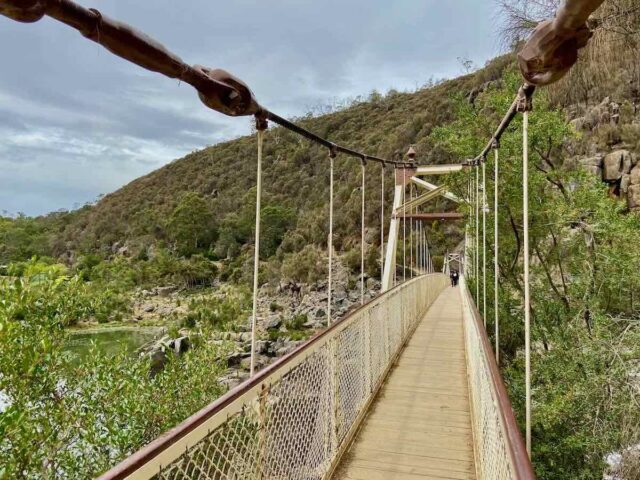 Are Dogs Allowed at Cataract Gorge?
One of the top tourist attractions in Launceston is Cataract Gorge. This recreational reserve just outside of the city centre contains picnic grounds, a restaurant, walking tracks, a gorgeous swimming pool and even a chairlift.
However, Cataract Gorge is off limits to dogs. There are multiple signs around the reserve stating that no dogs are allowed. There is one workaround though – dogs are permitted on some of the boat cruises that meander down through Cataract Gorge – see more below.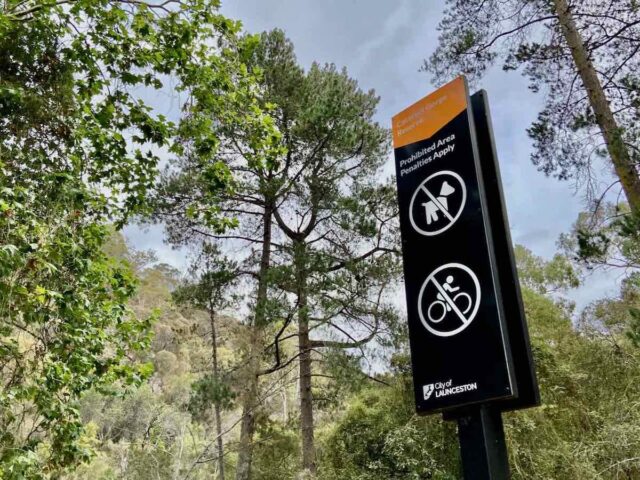 Dog-Friendly Sightseeing in and Around Launceston
Instead of visiting Cataract Gorge, check out these ideas for dog-friendly sightseeing ideas to do in Launceston, plus in the surrounding countryside.
#1 Cruise on the Tamar River
As I mentioned above, dogs are prohibited from visiting Cataract Gorge Reserve, one of the natural highlights of Launceston. However, this only applies to visits on land – it's also possible to visit the gorge by taking a cruise on the Tamar River, with dog-friendly options available.
Dogs are permitted on the Cataract Gorge Adventure Cruise operated by Tamar River Cruises. This cruise departs multiple times per day, year round. Operating on the Lady Launceston, a replica steam-boat, the short cruise lasts 50 minutes, the perfect time for a cruise with your leashed pup at your side.
#2 Taste the Local Sparkling Wine
Launceston is situated on the banks of the Tamar River, one of the main wine growing regions of Tasmania. In particular, the region is well-known for producing fine Tasmanian sparkling wines.
One of my favourite cellar doors in the region is Jansz. Located in Pipers Brook, about a 45 minute drive from the centre of Launceston, this winery pioneered the use of the traditional Methode Champenoise in the region.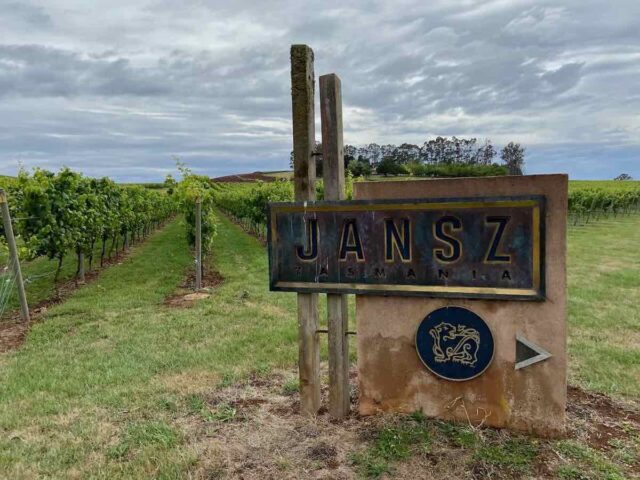 Dogs are permitted outdoors at their cellar door. Make an advance booking for a curated tasting of their sparkling wines, perhaps accompanied by a Tasmanian cheese plate, and enquire about options for visiting with your pup.
#3 Go Berry Picking
Sparkling wine isn't the only fine treat to enjoy while visiting the Tamar Valley region. The area is also dotted with a variety of farm door outlets, from cheese factories to nut orchards. One of my favourites is the Hillwood Berries Farmgate, just over 20 minutes from Launceston.
While dogs are not permitted to join you in between the rows of berries to pick them, they are fine to join you on the rest of the property, including the outdoor tables at the adjoining cafe.
If there's two of you, take turns filling up a punnet with luscious strawberries, blueberries, raspberries or blackberries. Generally pick-your-own operates from November to April. Or perhaps just enjoy the farm produce and desserts on offer in the cafe?
#4 Stroll Through Fields of Lavender
Just as summer is the best time of year to visit Launceston and pick your own berries, the height of summer is also the best time of year to visit Bridestowe Lavender Estate. This famous lavender farm is about a 45-minute drive northeast of Launceston, with peak flowering season between December and January.
If visiting during the flowering period when the fields are bursting with purple lavender, there is an admission charge to enter. Last time I checked it was $20 per adult, with under 16s and dogs free. Just make sure you keep your dog on a leash and pick up after them, so they can continue to be allowed in the fields.
During the rest of the year, you can still visit the shop and cafe, which specialises in lavender-infused products. My pick is the vividly coloured lavender ice-cream!
#5 Ride on the Don River Railway
Australia is home to multiple dog-friendly historic train rides, but the only one I'm aware of in Tasmania is the Don River Railway. Located in Don on the western side of Devonport, it's a 75 minute drive from Launceston and an easy day trip.
Multiple train rides operated daily, starting from the museum which is open from Thursday to Sunday. A variety of trains are used, with a heritage carriage set usually operating on weekends, hauled by a steam locomotive or a vintage diesel locomotive.
The train ride along the historic Melrose line between Don Village and Cole Beach lasts about 30 minutes. Entry to the museum and site is included with train ride tickets, or else it's possible to just buy a ticket for the museum and site.
While there isn't any mention of dogs on their website, many previous visitors report being able to take their dog along on the train ride. Perhaps call up in advance to double check, including the latest rules.
#6 View the Sheffield Murals
Another great day trip from Launceston is to the small country town of Sheffield, about an hour's drive west. This town is most famous for the many murals painted on its buildings all throughout the town, although there are also some great country-style cafes.
The first mural in Sheffield was painted in 1986, and these days there are over 200 murals in the town and the surrounding area. To locate them all, check out this handy map, or else visit the local visitor centre to hire a 45-minute audio tour.
Naturally, it's fine to wander around the streets admiring the murals with your pup by your side. Try and also spot the dogs in some of the murals!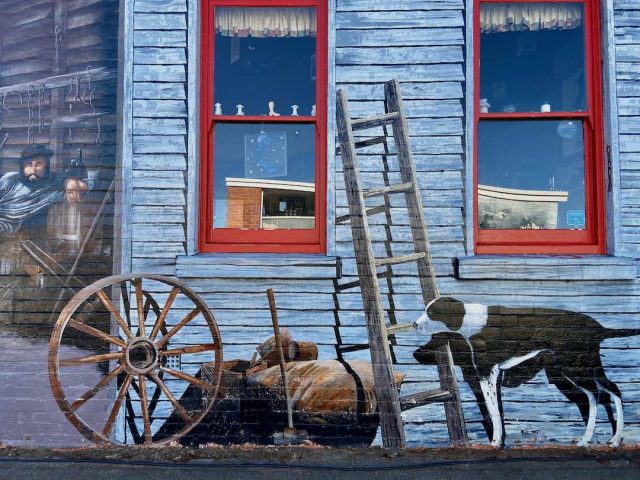 Dog-Friendly Parks in Launceston
Dogs are allowed on-leash in most parks in Launceston, although there are some prohibited areas and places where there are time restrictions. Additionally, there are ten off-leash dog exercise areas, of which seven of them are fenced.
To view the full list of off-leash dog parks in Launceston, use this webpage. On the right hand side, apply the "By Features" filter to search for parks with "Dogs Off Leash" and/or "Dogs Off Leash Fenced". (There's also an interactive map, but I found that tricky to use, as it also displays all dog bag dispensers!)
Currently, there are fenced dog parks at the following parks in Launceston:
Coronation Park in South Launceston
Hardwicke Street Reserve in Summerhill
Heritage Forest in Invermay
Hoblers Bridge Reserve in Newstead
Lawrence Vale Road Reserve in South Launceston
Rocherlea Recreation Ground in Rocherlea
St Leonards Picnic Ground in St Leonards
There are also unfenced off-leash dog exercise areas at these parks:
Arbour Park in West Launceston
Newnham Reserve in Newnham
Waverley Lake Park in Waverley
Dog-Friendly Dining in Launceston
There's plenty of cafes in Launceston where dogs are welcome at the outdoor dining tables.
In the centre of Launceston head to Cafe Mondello on Charles Street, which warmly welcomes dogs. Open daily for breakfast and lunch, the focus is on fresh, local ingredients. And importantly warm blankets and heaters are on offer in winter!
Another dog-friendly cafe is Maple Cafe, with two locations on Cameron Street in Launceston and Abbott Street in East Launceston. Also open daily for breakfast and lunch, both of the family-friendly spaces have spacious seating areas, including an outdoor area where dogs are welcome.
Pet-Friendly Accommodation in Launceston
Three out of the four caravan parks around Launceston are pet-friendly. Probably the most pet-friendly option is Discovery Parks – Hadspen, just west of the city. As well as being permitted on sites, dogs are also allowed in selected budget cabins. The cabins can accommodate up to four, with a double and bunk bed, plus a kitchenette and ensuite.
Another excellent option if you are self-contained is Old Mac's Farm Stay. Seasonally opened over the warmer months, the unpowered sites are very cheap. Powered sites are also available. While you don't need to be self-contained (toilets are available a short walk away, although no showers), note that tents are not permitted. Dogs need to stay on leash.
We also stayed the night at a free camping spot in Lilydale. A 30-minute drive outside of Launceston (and close to many of the other attractions of the Tamar Valley), overnight stays are permitted for up to 24 hours at the Lilydale Falls Reserve. There are toilets, but limited room for caravans or larger set-ups.
While camping at the reserve, don't miss following the short walking trail to the adjacent Lilydale Falls, with dogs on a leash welcome to join you. It's about a 5 minute walk to the falls along a fairly flat track.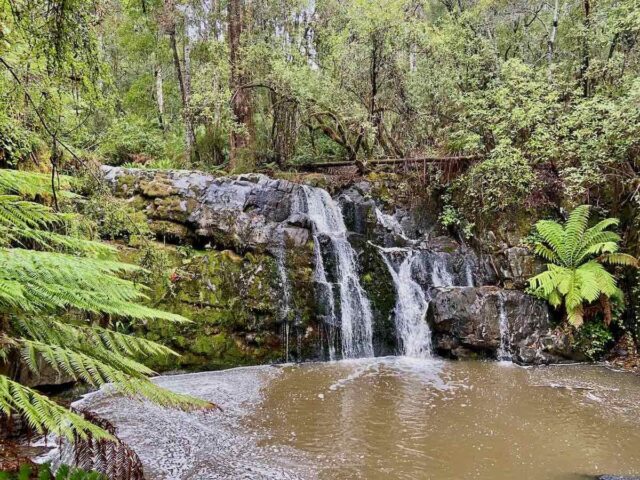 You May Also Like