Thanks to being an island state, Tasmania is the hardest part of Australia to travel to with a dog. While flying is a popular option for many visitors, flying in Australia with a dog is not so simple. Instead, the most common option for travelling to Tasmania with a dog is to take the ferry service operating across Bass Strait, the Spirit of Tasmania. Taking the ferry also means you can travel in your own car, campervan or caravan.
Read on to find out more about taking the Spirit of Tasmania with dogs, plus the details of the new ferries that will be taking over the route from 2024.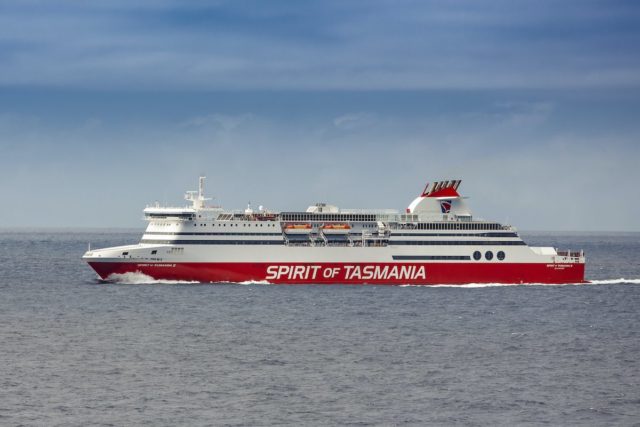 Travelling on the Spirit of Tasmania
The Spirit of Tasmania is the only service that operates across Bass Strait, connecting Tasmania to the mainland of Australia. These days it departs Victoria from Geelong, having recently relocated its terminal from Melbourne, and arrives in the port of Devonport, on the northern coast of Tasmania.
The journey time is about 10 hours, although check-in time closes 45 minutes earlier, even earlier for those with special needs. The most common voyages are an overnight voyage that departs 6:45pm from either port, with two ships operating the route.
During the warmer months, there are both day time and night time voyages on selected days, especially during the summer school holidays, with the night time voyages on these days departing later at night. There are also some days during the middle of winter when departures only occur every second day.
A wide range of cabins can be booked, especially on night time voyages. Alternatively, it's possible to spend the night in a recliner, or just wander the ship on a daytime sailing. Additional charges apply to bring a vehicle. Frequent sale fares are offered, especially outside the peak season.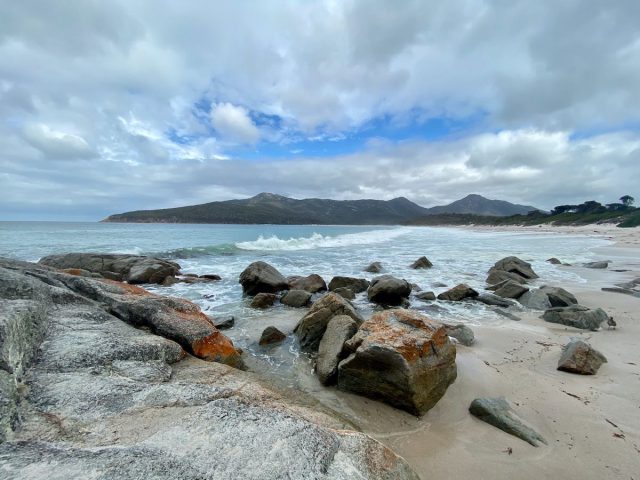 Travelling with a Pet on the Spirit of Tasmania
Pets are allowed to travel on the Spirit of Tasmania, including dogs, cats, rabbits, guinea pigs, ferrets, some birds, chicken and ducks. However, except for assistance dogs, no animals are allowed on the passenger decks or inside cabins on the Spirit of Tasmania. There are two options available if you are travelling with pets: book a kennel, or leave them in your own vehicle.
Booking a Kennel on the Spirit of Tasmania
The option recommended by the Spirit of Tasmania is to book a kennel for your pet. The kennels are located on a ventilated vehicle deck (Deck 5). They are similar to the kennels you'll find in veterinary clinics and vary in size, but are typically 70cm wide by 80cm high by 90cm deep.
Naturally, bookings are required for kennels, plus there is a charge of $22 per kennel per journey. You'll need to provide bedding for your dog, although a mat and bowl are provided. A Pet Attendant is on hand to help assign pets to kennels at the time of boarding, with an early boarding recommended for larger pets.
Unfortunately, access is not normally allowed to the vehicle deck and the kennels while at sea. Generally only the Pet Attendant can check on kennels during the voyage, plus top up water bowls. However, if your pet has special requirements, you can advise the crew at the time of boarding or provide a veterinary certificate at least 24 hour in advance, for approval to be accompanied to the vehicle deck.
Transporting Pets in Your Own Vehicle
Alternatively, it is possible to leave your pets in your vehicle or caravan, if you would prefer. However, it is stated that this is not recommended and you will need to sign an Indemnity and Release form, to be returned at least 24 hours before the sailing.
Despite this, many pet owners who are travelling with their pets, particularly in larger vehicles such as campervans and caravans on the overnight voyages, prefer to leave their pets in familiar surroundings.
Is it Safe to Transport Pets on the Spirit of Tasmania?
Questions have been raised after the safety of pets being transported on the Spirit of Tasmania in recent years, particularly following the death of a dog and some ponies. Many pet owners are also understandably concerned about leaving their pet unattended by them for a 10 hour voyage.
The company responded with this statement. It is certainly true that a large number of pets travel on the Spirit of Tasmania each year, mostly without incident. Pets will handle the voyage better if they are fine at being left alone in a kennel or your vehicle, without stressing – something to consider before deciding to travel to Tasmania.
Tips for Taking the Spirit of Tasmania with a Dog
In addition to considering whether your dog will handle taking a long voyage like on the Spirit of Tasmania before making a booking, there are a number of things you can do to best prepare your dog for the voyage.
Choice of Sailing Time
Firstly, carefully consider what voyage will best suit your dog. It can be tempting to book a day voyage, particularly as you can skip booking a cabin and there are often cheaper fares available. But in my experience from other ferry trips, often a night crossing is better for dogs.
On a night voyage, your dog can spend the majority of time sleeping in their bed, just like they would at home. They are also less likely to want to toilet during the night. Additionally, warm temperatures are less likely to be a concern, particularly during the summer months.
On the Day of the Sailing
On the day of the sailing, carefully consider how best to prepare your dog for their sailing. Ideally, don't feed your dog for at least four hours before boarding the ship. If sailing at night, feed them an early dinner or skip dinner entirely. Don't encourage them to drink too much water.
Make sure you arrive in plenty of time for checking if for your sailing, especially if you're heading to Tasmania and need to show evidence of having treated your dog for hydatid tapeworm as part of the state's biosecurity controls.
At the Spirit of Tasmania terminal in Geelong (but not in Devonport), after checking in you'll have access to a fake grass area with water, where you can walk your dog and get them to toilet before you board the ship. Alternatively, head to a nearby off-leash dog park for a run and to tire them out, so they're more likely to calmly settle.
Off-Leash Dog Parks Near the Geelong Terminal
The closest off-leash dog exercise area to the Geelong Terminal is the Moorpanyal Dog Area, also known as the North Shore Dog Beach, on The Esplanade. It's a 3 minute drive or 20 minute walk from the terminal, with plenty of parking and is fairly contained.
Alternatively, there's also a fenced dog park in Geelong close by, Stead Park Dog Park in Corio. This option is still only a 5 minute drive away and features two separately fenced areas, along with water fountains, seating, shade and even some agility equipment.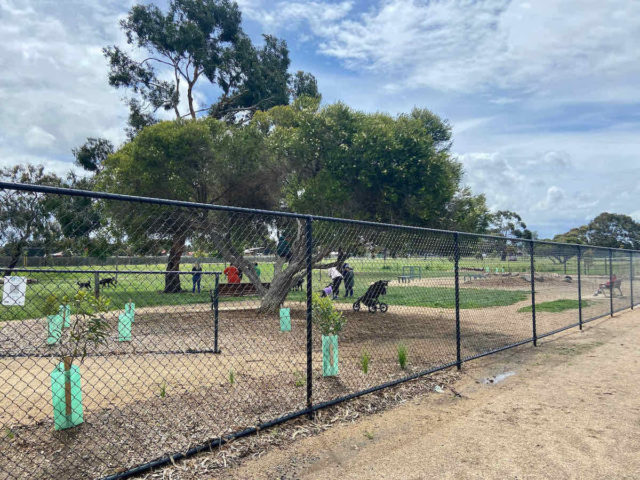 Off-Leash Dog Parks Near the Devonport Terminal
In Devonport, the closest off-leash dog exercise area is Shipwreck Beach. This stretch of beach starts at the end of Wheeler Street and continues through to the breakwater. It's only a few minutes drive from the Spirit of Tasmania terminal.
If instead you're after a fenced dog park, drive ten minutes to the other side of Devonport and the Devonport Dog Park. The park is located at 260 Steele Street, next to the Splash Devonport Aquatic And Leisure Centre. This secure space is enclosed yet huge, and has seating in the shade and agility equipment.
Boarding the Spirit of Tasmania with Your Dog
Particularly if you have a larger dog, its best to board the Spirit of Tasmania with your dog as early as possible, so that you can have your pick of the kennels. If necessary, kindly ask onboard to swap, if you need a larger kennel and they are all taken.
Make sure you bring along your dog's bed, so that they are comfortable in the kennel, and perhaps a toy, although a mat and bowl are provided. Encourage your dog to settle down, then it's time to head to the passenger deck.
Disembarking from the Spirit of Tasmania
If your dog is in a kennel, you'll be allowed early down to the kennel deck to collect your pet.
Most importantly, once you drive off the ship, don't forget to pull over and let your dog out as soon as possible, so that they can stretch their legs and do their business. It's easy to forget in all the commotion, but your pet will be grateful!
The New Ships in 2024
Currently, new ships for the Spirit of Tasmania are being constructed. These ships are expected to commence sailing in 2024, with one ship early in the year and the second ship arriving mid-year.
The Spirit of Tasmania website promises that they will feature improved pet facilities. Early media reports have indicated that the kennels will be accessible during the voyage, plus a CCTV channel will be available, so that you can view your pet remotely (without disturbing them).
Although pet-friendly cabins would be wonderful, I've travelled on overnight ferries with similar set ups in Europe, and it's a satisfactory compromise. It's great to check in on your pet at any time and see that they're sleeping in their kennel.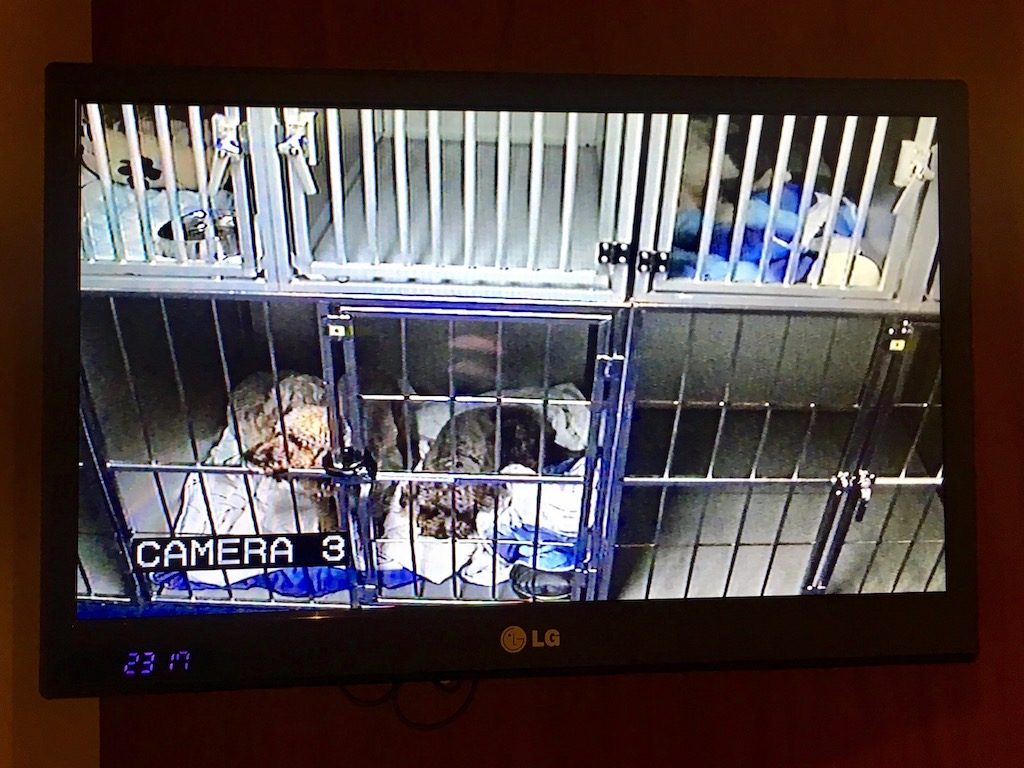 I'm planning on travelling to Tasmania with my dog in 2024 on the new ships, so I'll report back with more details once they're available!