In early 2020 I visited Tasmania, the southernmost island state of Australia, for the first time in many years. Unfortunately, I made the decision early on to leave my dog, Schnitzel, behind. It was only a quick trip and many of the key places we wanted to visit didn't allow dogs (such as national parks).
However, while continuing to plan and during our time in Tasmania, I was surprised to find more dog friendly options than I had been expecting. So, should you take your dog along when you travel to Tasmania?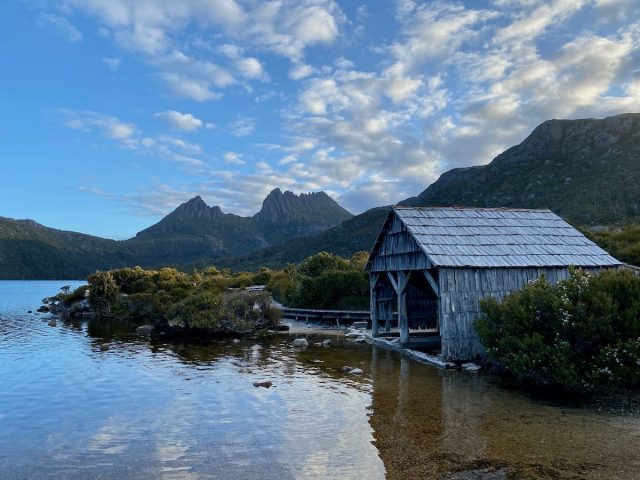 Is Quarantine Required for Dogs Travelling to Tasmania?
When dogs travel to Australia, they require multiple tests and a stay in quarantine, as thanks to being an island we've kept out many diseases that affect dogs elsewhere in the world. So, what about the island state of Tasmania? Technically dogs dogs travelling to Tasmania are subject to "quarantine entry conditions" and you need to complete a Declaration Form.
Firstly, most dogs travelling to Tasmania need to receive a treatment for hydatid tapeworm within 14 days of entry to Tasmania. This treatment doesn't need to be done at a vet, with the option to self-administer. Satisfactory forms of evidence are either an official statement from your vet, a statutory declaration or simply a pill packet and receipt.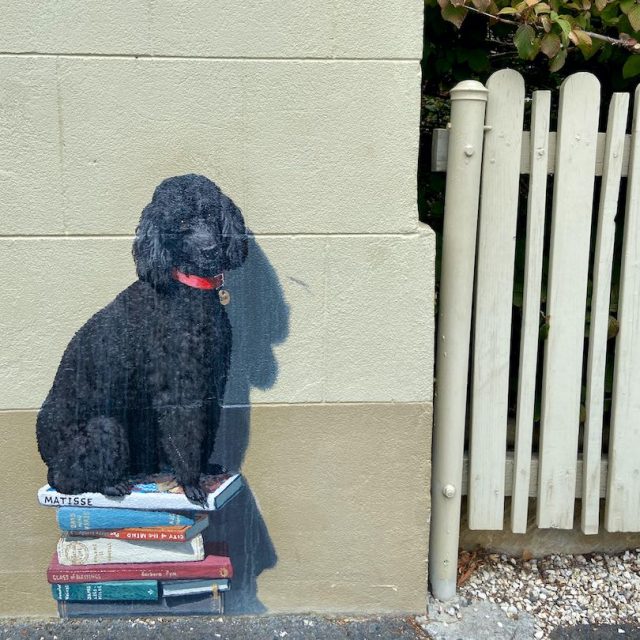 Secondly, since the discovery of the tick-transmitted Ehrlichiosis disease in northern Australia, dogs are now additionally required to healthy and free of ticks. You need to declare that you have inspected your dog. For more information, see this factsheet.
It's definitely not a reason to leave your dog behind! You'll likely be reminded on this Declaration Form when booking flights or a passage on the Spirit of Tasmania for your dog.
Flying to Tasmania with a Dog
The quickest way to get to Tasmania with your dog is by flying on a domestic flight from elsewhere in Australia. Qantas, Virgin Australia and Regional Express fly to Tasmania and allow pets on board, flying in the hold.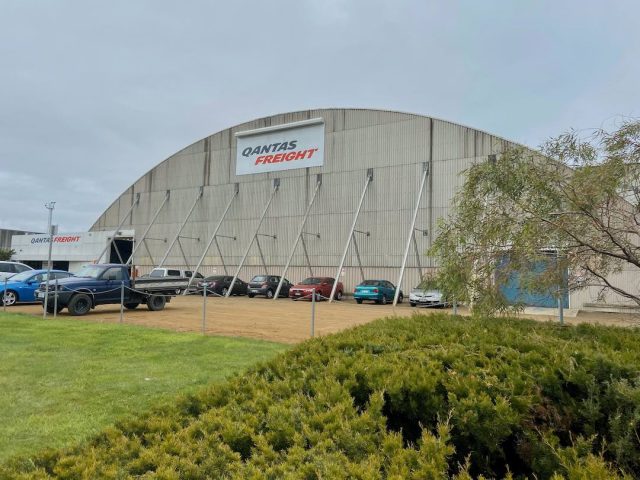 Check with the individual airlines for their current flight routes to Tasmania, including to and from Hobart, Launceston and Burnie. Note that Jetstar doesn't accept pets on any of their flights.
However, since 2020 and the many disruptions to travel in recent years, both Qantas or Virgin Australia have stopped accepting direct bookings for pets to fly on their planes. Instead, there has been the requirement to book through a pet transport company, a more expensive process. There is no sign of this being reversed.
For more information on flying with your pet, check out my guide to flying with your dog in Australia. Also, if you're heading to Tasmania over the summer, don't miss out on my tips for flying during the summer months. While Tasmania is cooler than the rest of Australia, heatwaves are still possible.
Pet-Friendly Flights to Tasmania
Since 2021, another more pet-friendly alternative has launched for flying pets to and from Tasmania. Pawmobile flies pets to Tasmania, but in the cabin of a plane not in the hold. Both dogs and cats fly in crates in the cabin accompanied by an experienced handler.
Pawmobile currently offers weekly flights from Melbourne (Essendon Airport) to Devonport, along with occasional flights to Hobart and plans to launch flights to and from Sydney and Brisbane. At this point, road transport from other Australia cities to or from Melbourne can be arranged.
Note that human passengers are not accepted as this time, unless you charter the entire plane (with the additional option to fly where you want, when you want). Additionally, this is a premium service with prices higher than those for flying pets in hold – but in return your pet is treated as a passenger, rather than luggage.
Taking the Spirit of Tasmania with a Dog
The other option for travelling to Tasmania with your dog is to take the Spirit of Tasmania ferry service in between Geelong and Devonport. The journey takes about 10 hours.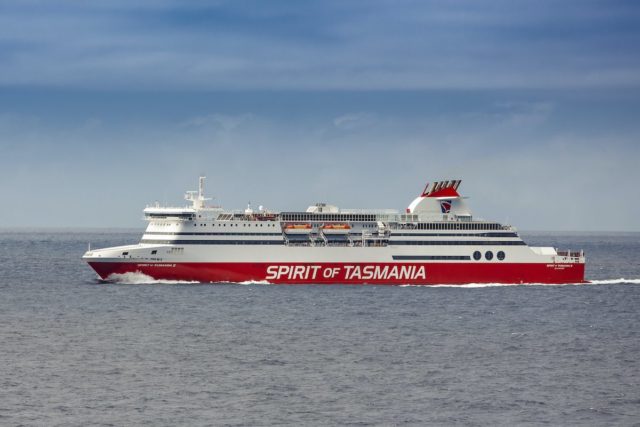 This option is probably more popular for people holidaying with their dogs. Not to mention taking the ferry means you can also travel in your own car, or even camper van or caravan.
However, no animals are allowed in the cabins or the passengers decks except for assistance animals. And there has been some controversy in recent years, following the death of a dog and some ponies, with this response from the company.
The company strongly recommends that you book a kennel for your dog, at a charge of $22 per journey. The kennels are located on a ventilated vehicle deck. They vary in size, but are typically 70cm wide by 80cm high by 90cm deep, and you need to provide your own bedding, although a mat and bowl are provided.
No access is allowed when the ship is at sea, but a Pet Attendant is on hand to help assign pets to kennels at the time of boarding, plus check on kennels during the voyage.
Alternatively, it is possible to leave your pets in your vehicle or caravan, if you would prefer. However, it is stated that this is not recommended and you will need to sign an Indemnity and Release form, to be returned at least 24 hours before the sailing.
Read more about taking the Spirit of Tasmania with dogs, including details about the new ships that should commence sailing in 2024.
Getting Around Tasmania with a Dog
If you don't drive your own vehicle to Tasmania on the Spirit of Tasmania, you'll need to find a dog-friendly hire care to rent. Check out my guide to which rental car companies in Australia allow dogs. There have been shortages of hire vehicles in Tasmania in the last few years, so book well in advance.
Alternatively, we hired a camper van for our trip to Tasmania. There are a number of pet-friendly campervans available to hire in Australia, generally for an additional cleaning fee. Check out Apollo, Britz and Camplify for pet-friendly campervan hire in Tasmania.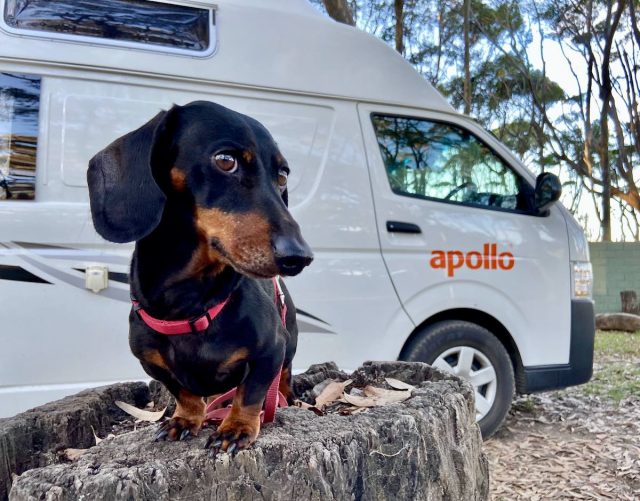 Dog-Friendly Holiday Ideas for Tasmania
Tasmania is home to some stunning national parks, from Cradle Mountain to Freciynet National Park. But if you're visiting Tasmania with your dog, you'll have to leave these off your itinerary. However, there are still plenty of wonderful dog-friendly places to visit in Tasmania.
1. Visit the Port Arthur Historic Site
I was very surprised to learn that the Port Arthur Historic Site allows you to visit with your dog. This World Heritage listed site is one of the best places to experience Australia's convict heritage. It's possible to visit on a day trip from Hobart, but I recommend staying locally so that you can spend a full day exploring the grounds (with tickets valid for two consecutive days).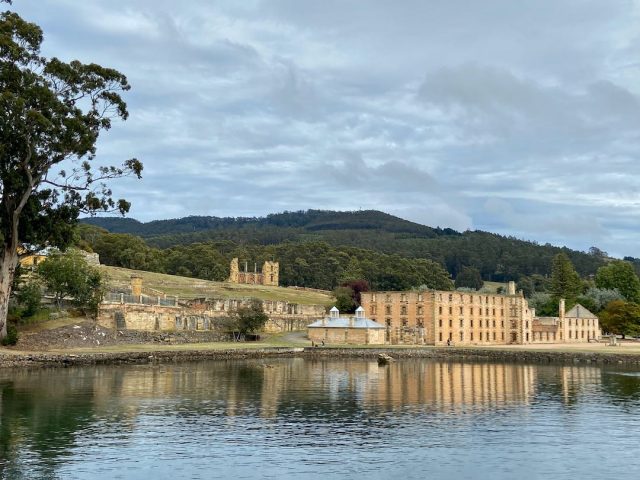 Dogs aren't allowed inside the visitor centre, so the website previously recommended purchasing your tickets first, then asking a staff member to guide you to a special entrance to use with your dog. Dogs are also not allowed in the house museums and out on the harbour cruise.
The majority of the buildings though, including the barracks and church, are in ruins and you can explore them with your dog. I'm not sure about admittance to the Solitary Prison, which I found particularly fascinating after the recent restoration; if possible take turns visiting with another member of your party.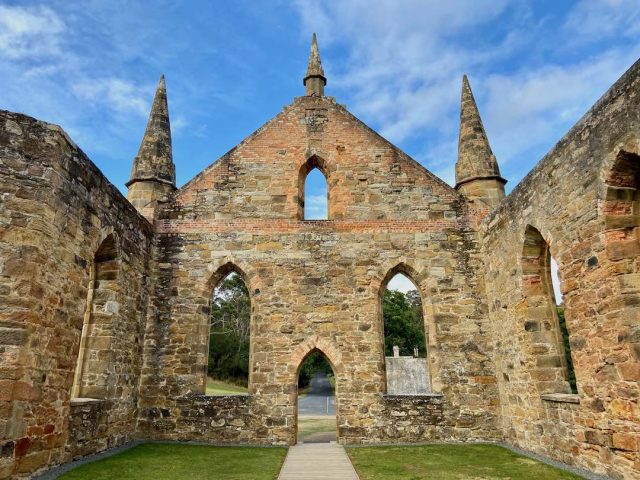 Naturally, dogs need to remain on a leash and you should pick up after your dog. I saw a couple of dogs the day I visited in the car park, but didn't seen them once inside the grounds. Double check the latest information on the website (currently no information is displayed, but I've heard recent reports of dogs still being admitted).
While you're in the area, there's another World Heritage site nearby, the Coal Mines Historic Site, about a 30 minute drive away. This site is far less visited, but contains some atmospheric ruins and multiple walking trails. Make sure you keep your dog on a leash and away from any mine shafts.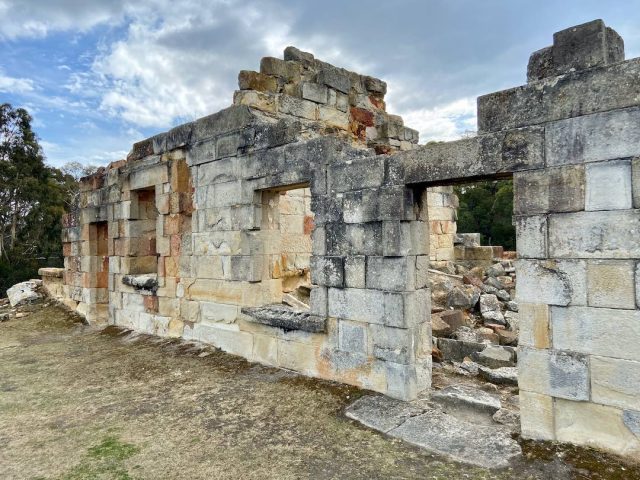 2. Taste Tasmanian Wine
Tasmania produces some of the best cool-climate wines in the world, and it's easy to drop into one of its many wineries scattered all over the island.
One of my favourite stops was Devil's Corner Winery, in eastern Tasmania. As well as both self-guided and guided wine tastings, the cellar door also has a cafe with wood-fired pizzas, an excellent seafood cafe (don't miss the local oysters!), and can sell you wine by the glass, as well as beers and coffees. It's perfect for a lunch stop.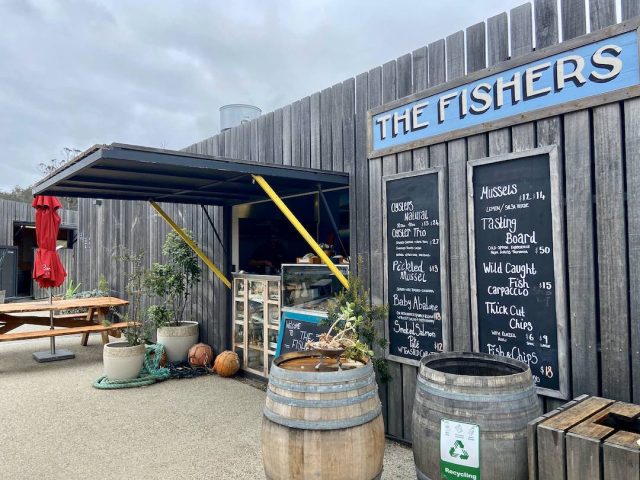 Dogs are allowed onsite, but it's best skipped during inclement weather. A sign requests that dogs are kept on the grass, rather than enter the sheltered courtyard or the buildings. There's only limited under-shelter tables, none of which permit dogs. On the day we visited, a border collie puppy unfortunately had to stay with his family at a rather wind-swept table next to the grass.
Unfortunately, we didn't get a chance to visit Wobbly Boot Winery, a 40 minute drive north of Hobart. This winery is by far the most dog-friendly winery in Tasmania. Dogs are allowed inside, plus there's three off-leash areas and complimentary treats provided. Check the website for current opening hours, at times it is only open by appointment.
3. Stroll Through Fields of Lavender
Tasmania is home to the largest lavender farm in the Southern Hemisphere, Bridestowe Lavender Estate, about 45-minutes drive north-east of Launceston. During peak flowering season, between December and January, it's magical to stroll through the purple fields.
During the flowering period there is an admission charge (currently $20, free for under 16s). Unfortunately, we were a bit late in visiting, during mid-February, but there's still a great menu of lavender-infused products year round, including lavender ice-cream.
Dogs are welcome to join you visiting the estate and walking through the fields. There's no entry fee for dogs, but it's requested that they are kept on a leash and pick up after them.
4. Or Fields of Tulips
If you're instead visiting Tasmania during the springtime, consider visiting Table Cape Tulip Farm in northwestern Tasmania. This farm and its fields are open daily from late September to late October each year.
After paying the entry fee (currently $15), stroll through the fields of tulips and explore all things tulip-related. Leashed dogs are welcome to join you in the fields.
5. Walk on the Tessellated Pavement
On the way to Port Arthur, you'll find a sign pointing to the Tessellated Pavement. This rock platform of fragmented rock is an interesting sight to see, both from up above at a look-out and right down upon the platform. It's located only a few hundred metres off the highway, accessed on a five-minute walk from the carpark.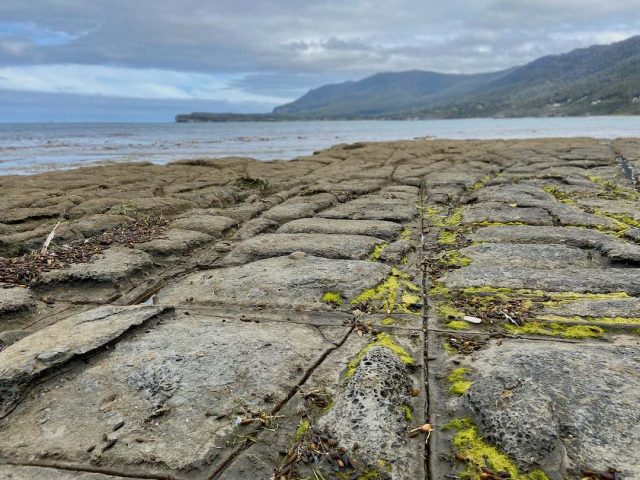 Dogs are permitted, with the rule that they need to remain on a leash. However, also check the signage for the location of the nearby off-leash exercise area.
Nearby there are some other natural sites to see, including the Blow Hole, Tasman Arch and Devils Kitchen. These areas are inside the Tasman National Park, so dogs are not technically allowed.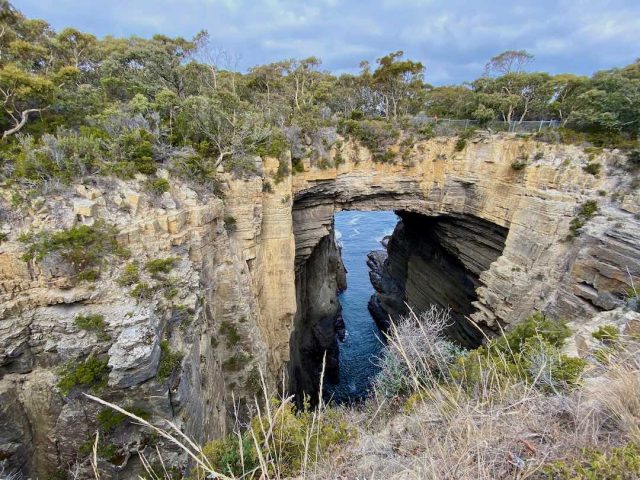 However, I did spot a dog being walked in the area, and there weren't any no dog signs, except for at the start of an adjacent walking track. There's no entry fee charged and the viewing platforms are right next to the carparks.
6. Venture on the Tahune Airwalk
Tasmania is home to endless beautiful forests, although much of it is contained within national parks, and so off limit to dogs. But for a gorgeous dog-friendly forest adventure, head 90 minutes south of Hobart to the Huon Valley and Tahune Adventures.
The highlight of your visit will be walking out on the Tahune Airwalk. You'll firstly venture upon an elevated walkway, 30m above the forest floor, before stepping out onto the cantilevered section, 50m high. There's glimpses of the peaks in the nearby World Heritage Area, and best of all leashed dogs can join you.
Dogs are also welcome on two walks included in your entry ticket, the short Huon Pine Walk and the longer Swinging Bridges Walk. Naturally dogs should stay on leash, but entry for four-legged guests is free. While dogs are not allowed inside the cafe, there are outdoor seats and water bowls outside.
7. Visit the Bay of Fires
Another gorgeous area in the Tasmania is the Bay of Fires. This bay was named for the fires of Aboriginal inhabitants spotted on the shore by early explorers, and is on the northeastern coast of Tasmania, a little under a 3 hour drive from Launceston.
The Bay of Fires is these days renown for its beautiful beaches, a mix of crystal clear blue water and striking orange lichen-covered boulders. Its an idyllic spot to laze around and just enjoy the scenery. And its not just one bay – the area of coastline stretches for 50km.
The majority of the bay is contained in the Bay of Fires Conservation Area. Luckily, unlike most national parks in Australia, dogs on lead are permitted within the area, including all campgrounds except for Jeanerette. Just avoid the northern area that lies within the Mount William National Park.
8. View the Murals in Sheffield
Sheffield is a small country town located in the north of Tasmania, just over one-hour west of Launceston. The town is famous for its murals painted on many buildings. The first mural was painted in 1986, and there are now over 200 murals in the town and surrounding area.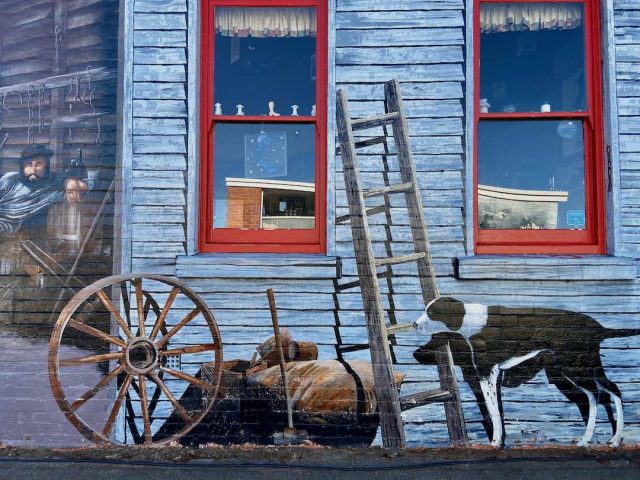 Naturally it's fine to wander around the streets along with your dog, spotting the various murals. There's a handy map of all the murals here, or else visit the local visitor centre to hire a 45-minute audio tour.
9. Cruise on the Tamar River
One of the natural highlights of Launceston is the scenic Cataract Gorge. And while dogs are strictly prohibited from the Cataract Gorge Reserve, with plenty of signs posted reminding you of this, it's still possible to visit the gorge with a dog another way – on the river.
Tamar River Cruises runs multiple cruises in Launceston, including a Cataract Gorge Adventure Cruise. And best of all, this short 50-minute cruise onboard a steam-boat replica, the Lady Launceston, is dog-friendly! The cruise departs multiple times daily, year round.
10. Explore Battery Point
Hobart is the second oldest city in Australia, and the historic precinct of Battery Point is home to many old buildings and houses dating back to the city's early days.
It's a delightful area to stroll through along with your pup. One of the most picturesque spots is Arthurs Circus, with many historic houses lining the outside of the circle. (Although note that dogs aren't allowed on the grass in its centre.)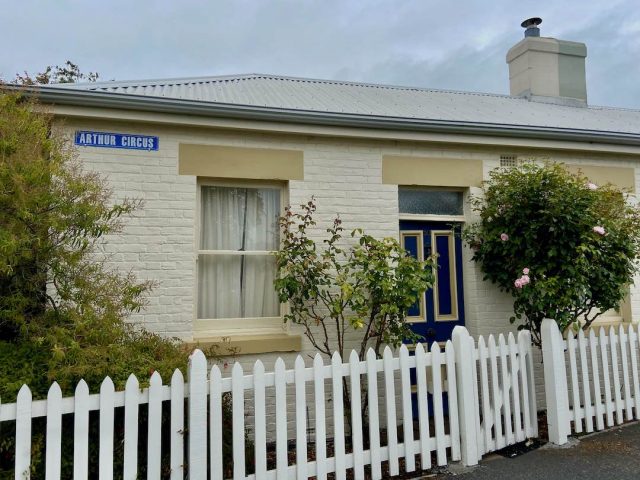 I recommend stopping by the nearby Jackman & McRoss Bakery for one of their famous scallop pies. Enjoy one at the tables out the front or order take-away.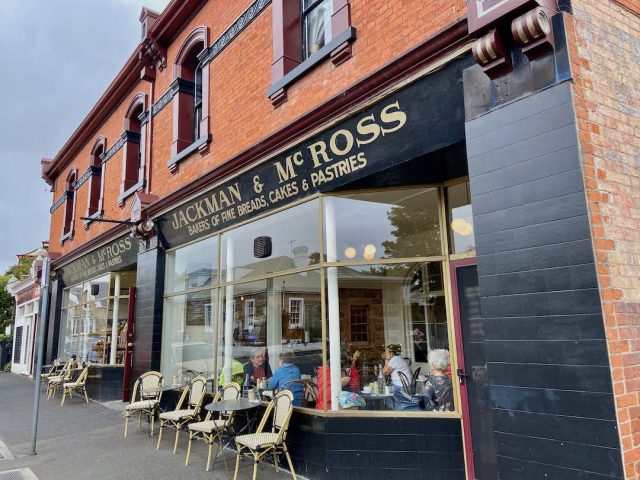 Note that while it's possible to stroll along Salamanca Place most days of the week with your dog, and I spotted many dogs in the area, during the famous Salamanca Markets on Saturday mornings dogs are not allowed.
My Verdict?
I give a big thumbs-up to Tasmania for being dog-friendly and permitting dogs in many places, at least outside national parks. If you're visiting and happy to skip going inside national parks (or happy to find a dog sitter while you make day visits), I recommend taking your dog to Tasmania.
You May Also Like
Inspired? Pin this to your board!