Just over two hours drive from Sydney, it's quick and easy to head to the Hunter Valley, whether just for the day or for a weekend. But don't think that your dog needs to miss out on the fun. Here's lots of tips on everything from dog-friendly wineries to dog-friendly accommodation, so that everyone can enjoy a getaway to the Hunter Valley.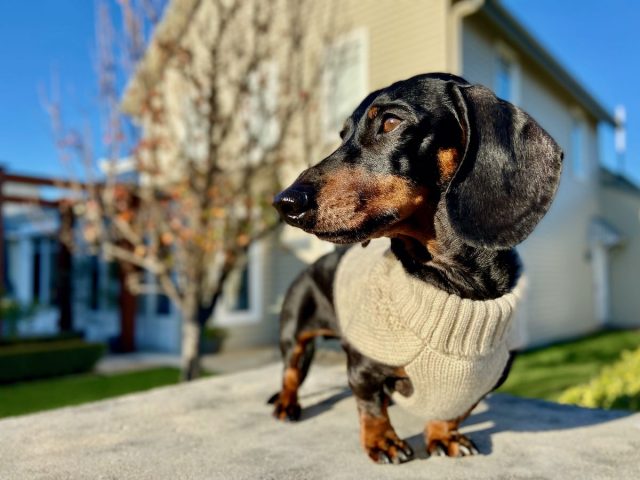 Dog-Friendly Wineries in the Hunter Valley
Many of the cellar doors dotted around the Hunter Valley welcome your dog to join you, whether for indoor or just outdoor wine tasting depending on the venue.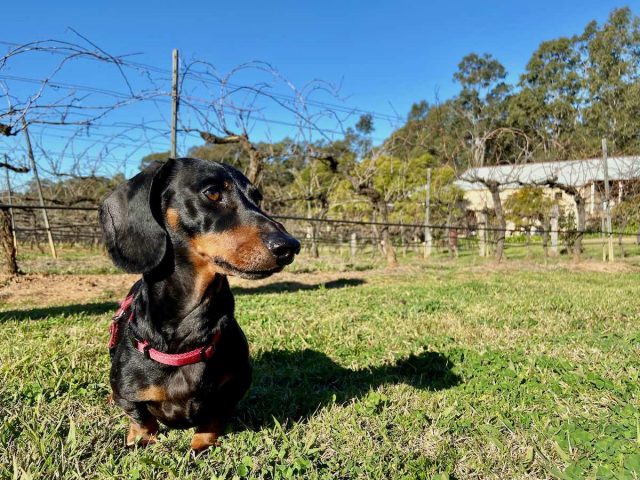 During our recent visit to the Hunter Valley we had a delightful wine tasting experience at Tintilla Estate with our dog. With their cellar door reminiscent of a Tuscan villa, right down to the beautiful sunshine during our visit, the north-facing outdoor tables are a beautiful option on sunny days. There's also a semi-enclosed space where dogs are welcome when the weather isn't so cooperative.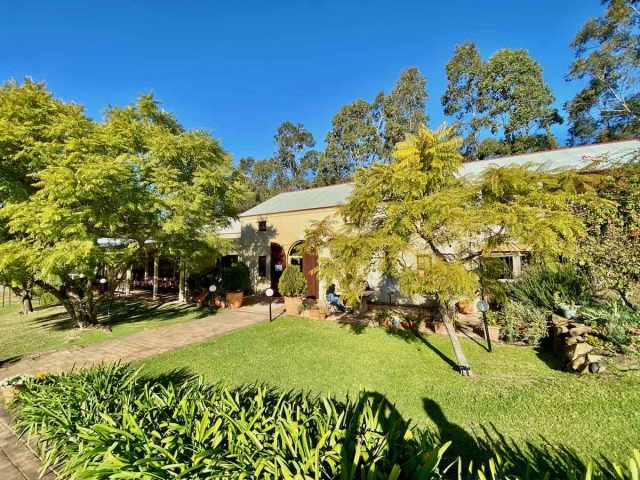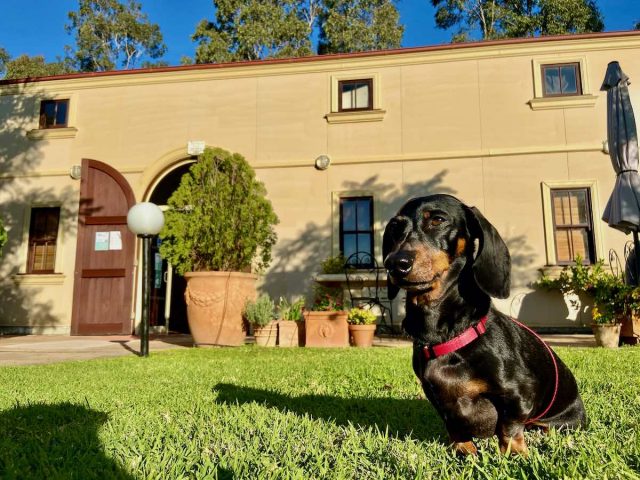 I'm a big fan of their Sangiovese, with a rosé and slightly sparkling blush style produced, as well as the traditional red style. Tintilla also grow their own olives. It's a must to book a tasting, especially on weekends, and I highly recommend choosing a VIP tasting that also includes a selection of their olive products and local cheese.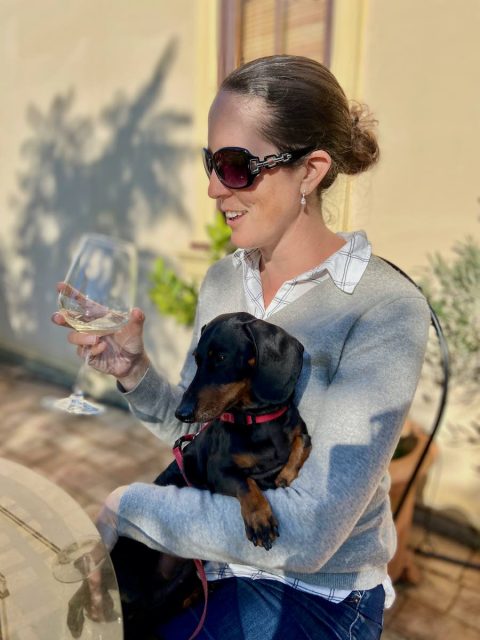 Unfortunately two of the most dog-friendly wineries, Lucy's Run Wines and Briar Ridge Vineyard, were closed during our mid-week in June. Briar Ridge Vineyard in Mount View is once again open daily and claims to be one of the most pet-friendly cellar doors in the valley. Alongside platters for humans, they also offer a Briar Ridge Pooch Platter, with some special treats from Jollie Gourmet Dog Treats.
Dogs are also welcome at the cellar "shed" of Lucy's Run Wines in Lovedale, generally open from Friday to Sunday. A special highlight is their Woof Woof wines range, created to raise money for PetRescue. (Just don't give the wine to your dog, it's strictly for human consumption!)
Some of the other pet-friendly wineries in Pokolbin include Hanging Tree Wines (with visiting dogs welcome to play with their wine dogs, Vodka and Bundy), Hungerford Hill Wines (dogs are welcome inside the cellar door as well as in the outdoor seating area), Mount Pleasant Wines (that also welcomes dogs inside the cellar door with you) and Pepper Tree Wines. Pepper Tree also hosts the annual Pooch Picnic.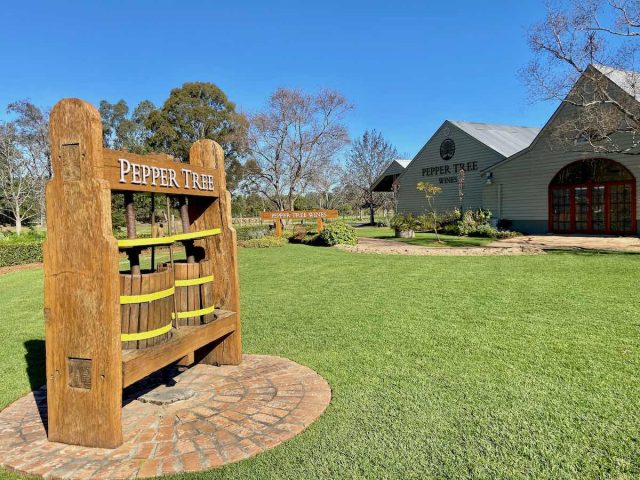 When visiting cellar doors in the Hunter at the moment, make sure you book ahead, especially on the busy weekends, or at least call ahead to check. Most wineries also charge a tasting fee, typically $5 or $10.
Dog-Friendly Accommodation in the Hunter Valley
There's plenty of pet-friendly accommodation options in the Hunter Valley, whether you're after a cottage for your family, or a luxury hotel room.
Hunter Valley Pet-Friendly Hotels
One of the newer pet-friendly options is the Voco Kirkton Park Hunter Valley. I stayed at the property multiple times back when it was a Sebel hotel, and loved the expansive gardens and grounds, perfect for walks with your pup.
There are two pet-friendly rooms available (contact the hotel directly to book), complete with private courtyards, although dogs are restricted to a maximum weight of 20kg. For an additional pet fee of $100 per night, pups will be pampered with their own bed, bowl and home-made treats. Your dog is welcome to join you at Epoch Bar Pizzeria, as well as all courtyards, balconies and on picnics around the grounds.
Another pet-friendly resort in the Hunter Valley is Estate Tuscany. Five rooms have been designated as pet-friendly, with a $25 fee per night applying. There's extensive grounds for your dog to explore on a lead, plus a designated pet-friendly table outside their onsite restaurant. They also offer a pet sitting service, in case you want to enjoy a fine dining experience elsewhere.
For a more rustic option, consider Hunter Valley Retreat. Located about 30 minutes drive south of Pokolbin, the retreat and conference centre offers basic double rooms, apartments and villas, all set in 81 hectares of bushland. Well-behaved and vaccinated dogs are welcome by arrangement.
Hunter Valley Pet-Friendly Cottages
Two of the best pet-friendly cottages in the Hunter Valley are Misty Glen Cottage and Wirral Grange. Misty Glen is a 3-bedroom self-contained cottage, with the rate varying depending on the number of bedrooms you book. Dogs are allowed inside the cottage, as well as in the large enclosed yard. Your can also take your pooch for an on-lead walk through the vineyard, or for a swim in the dam. A dog bed, toys, bowls and dog tags are included, plus owner Vicci is sometimes able to offer pet sitting.
The cottage at Wirral Grange Vineyard in Lovedale is also three-bedrooms, sleeping up to seven, and comes with breakfast supplies from their own farm. Well-behaved, immunised dogs are welcome to join you, with no charge as long as they have their own bedding. There's a fenced backyard where they can be safely left if you head out without them, plus onsite dams where they can enjoy a swim. (A shared saltwater swimming pool for humans is available during the summer.)
If you're planning a Hunter trip with a large group of family or friends, check out Vinden Estate Homestead. The winner of the "Best Accommodation – Hunter Valley" award from Gourmet Traveller magazine in 2020, this six-bedroom property is set in parkland grounds and is dog-friendly.
Inside are two open fireplaces, while outside is a swimming pool and BBQ. Make sure you request in advance for pets to stay, plus note that the property isn't fenced and the adjacent winery also has dogs.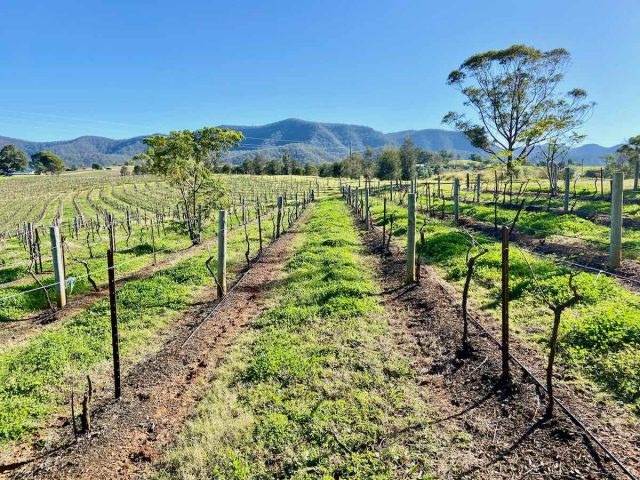 Hunter Valley Pet-Friendly Caravan Parks
If you're looking for a pet-friendly caravan park, both the Wine Country Tourist Park and Ingenia Holidays Hunter Valley are pet-friendly.
We stayed at the Wine Country Tourist Park, a small family-run park that's close to the vineyards, where small pets are allowed at the manager's discretion.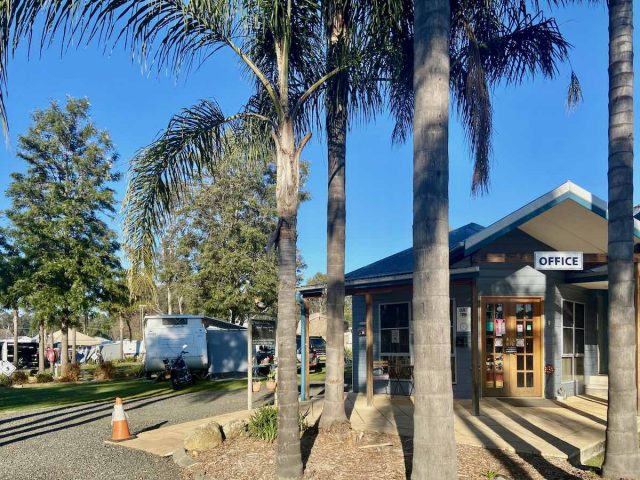 Ingenia Holidays has both pet-friendly sites and cabins available, although blackout dates may apply. Call or email to book a stay with your pet.
Dog-Friendly Dining in the Hunter Valley
Many of the restaurants and cafes scattered throughout the Hunter Valley have outdoor dining areas where you dog is welcome to join you. It's best to plan ahead, with bookings often recommended on weekends and only limited options open during the week.
One of the most popular dog-friendly spots is The Deck Cafe Lovedale. Open daily for breakfast and lunch, plus Friday and Saturday evenings for dinner, both lunch and dinner has a tapas style menu. Not surprisingly the restaurant is located on a deck overlooking a dam – enquire if your dog can have a quick dip after dining!
More dog-friendly dining spots include Ironbark Hill Brewhouse, the Matilda Bay Brewhouse, Brokenback Bar at Estate Tuscany, Two Fat Blokes, Restaurant Botanica, Amanda's on the Edge, and Fawk Food Kitchen and Bakery (also the spot to head for freshly baked sourdough). Even the French fine dining Bistro Molines permits dogs in their courtyard.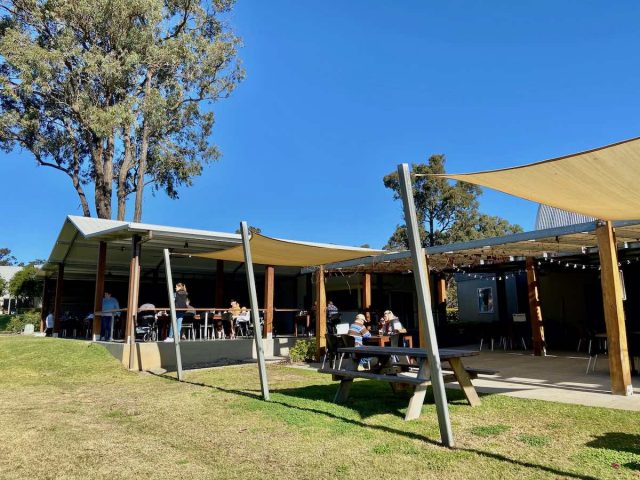 If you'd prefer to have a picnic instead with some of your freshly bought local produce, many cellar doors have plenty of space for a picnic after you enjoy a wine tasting. Alternatively, head to the Pokolbin Rest Area, situated on a hillside south of the Hunter Valley Gardens, with multiple sheltered picnic tables and vistas over the vineyards to the Brokenback Range.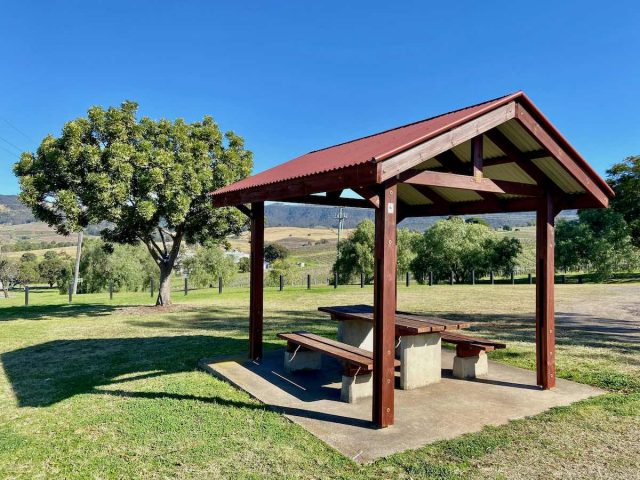 Dog-Friendly Parks and Walks in the Hunter Valley
If your dog is in need of some off-leash romping, there's two off-leash dog exercise areas in the nearby town of Cessnock. Manning Park is a large space east of Allandale Road, while Hall Park is a smaller space accessible from the end of Chidgey Street and Stephen Street.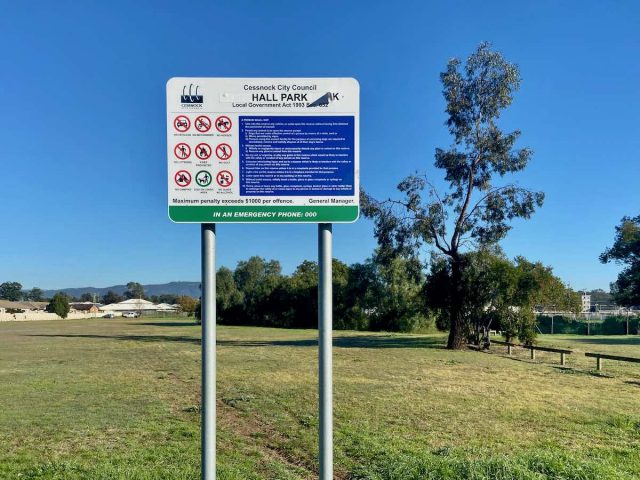 Curiously, both of the parks have signs stating that dogs are only allowed on leash. At Manning Park, there's an additional sign at the end of the Blackwood Avenue that states the entire area is off-leash. Here's the relevant council website that states both are off leash.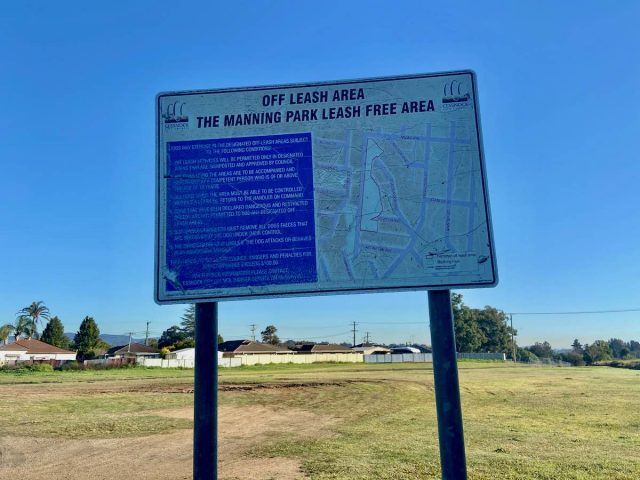 A popular spot for locals to head for a walk with their dogs (although dogs need to be kept on a leash) is Kitchener Dam, about 5km south of Cessnock. The adjacent park is home to a large Poppet Head, an interesting remain from the mine that was once on the site. There's a pleasant 1.2km walking trail around the dam, home to ducks and swans, plus another longer trail through the nearby bushland.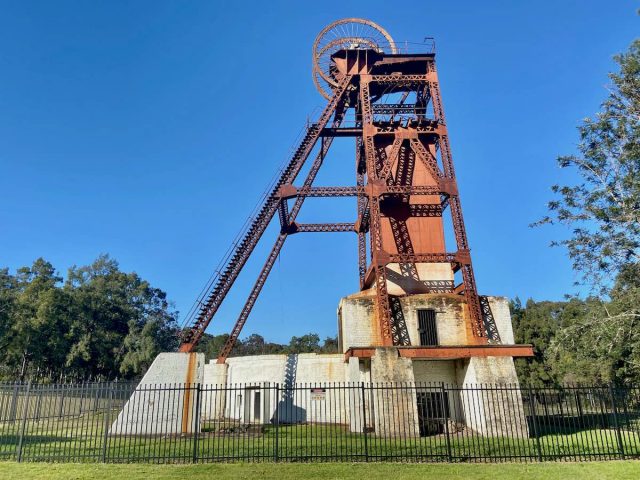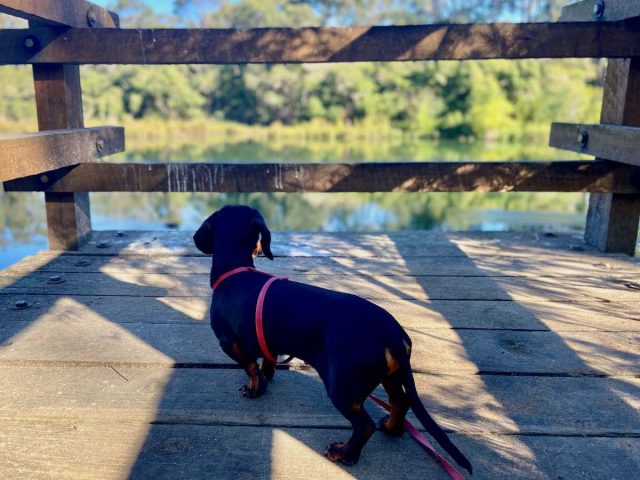 Note that the Hunter Valley Gardens has a strict no pets policy.
Inspired? Pin this to your Pinterest board!