Port Stephens is a fabulous beach holiday destination not far from Sydney. Just over 2 1/2 hours drive north from the centre of Sydney in NSW, it's perfect for a short weekend getaway from Sydney or a longer stay.
But what if you're bringing your dog along? There's no need to worry, as I cover everything needed for a wonderful dog-friendly getaway to Port Stephens, from where to stay to dog-friendly things to do with your pup.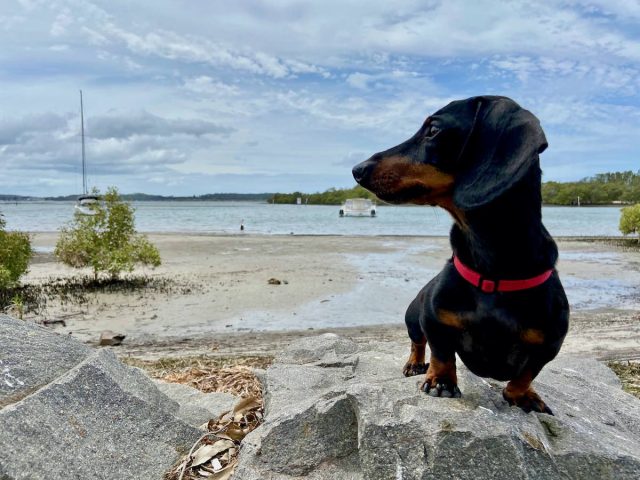 Dog-Friendly Beaches in Port Stephens
My favourite dog-friendly beach in Port Stephens is Bagnalls Beach, in between Nelson Bay and Corlette. This beach fronts on to the placid waters of the port, rather than the ocean, so its crystal clear waters are always calm, great for smaller dogs.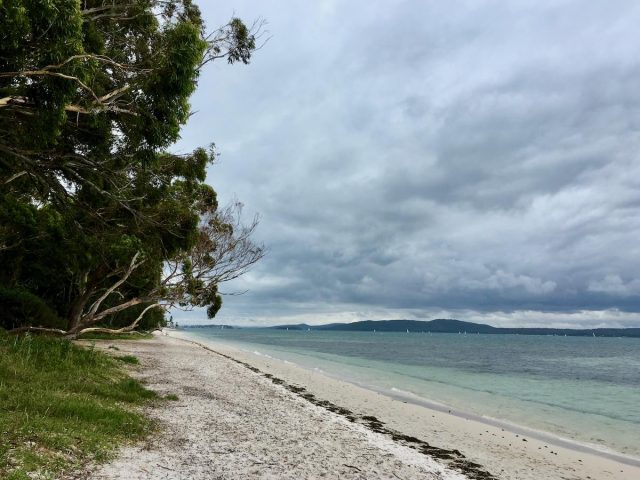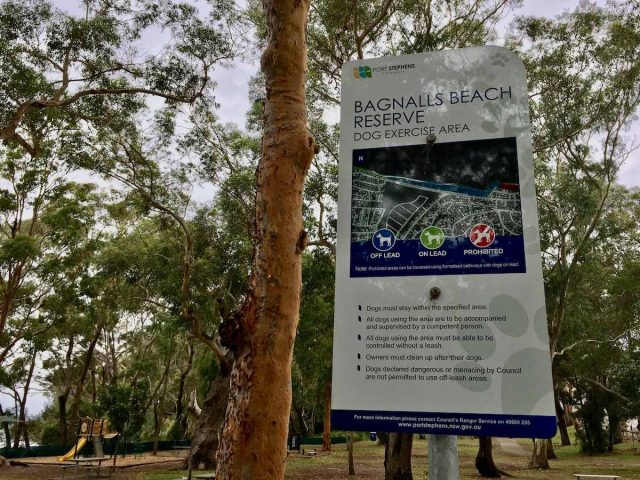 Best of all, the beach and adjacent reserve both permit dogs off-leash 24 hours, meaning that you can visit with your dog anytime of day. Note that Dutchmans Beach directly to the east prohibits dogs.
For a more wild experience, head to Birubi Beach, at the start of the massive expanse of Stockton Beach. Dogs are allowed on the 3km section directly south of Birubi Headland, including within Worimi Regional Park, except for within 100m of the patrolled section.
Note however this is a time-restricted off-leash dog area. Dogs are allowed off-leash on the beach all day long from May to September. However, between the warmer months of October and April, dogs are only allowed off-leash after 5pm or before 9am.
During the rest of the day, dogs need to stay on a leash, at least in the initial stretch. While on this beach, don't also forget to stay out of the way of the camel tours and 4WDs!
Another off-leash beach that is being temporarily trialed is nearby Boat Harbour Beach. Until the 4th February 2022, dogs are allowed on-leash on the beach all day long, plus off-leash after 5pm and before 9am. Check the latest signs at the beach to see if this off-leash area is retained. If it is kept, dogs will likely be allowed off-leash all day long between May and September, as at Birubi Beach.
Heading further west, another off-leash beach that I haven't yet checked out is Billy Beach, at Mallabula. This harbour beach is off-leash all day long.
Unfortunately, dogs are prohibited from many of the other beaches in Port Stephens, including Fingal Bay, Little Beach and Shoal Bay.
Dog-Friendly Parks in Port Stephens
In addition to the above beaches, there are a number of other places in Port Stephens where your dog can run about off-leash.
For starters, there are fenced dog parks just behind Fingal Bay Beach, at Lancaster Park in Soldiers Point (open 7am to 7pm) and Coachwood Drive Reserve in Medowie.
Some other good off-leash options for your pup include the North Headland in Boat Harbour, the reserve behind the PCYC in Nelson Bay, and Kooindah Park at Lemon Tree Passage. At Shoal Bay, dogs are allowed off-leash at Marrungbanga Reserve outside of 9am to 5pm. Dogs are also allowed off-leash at the Tanilba Bay Boardwalk.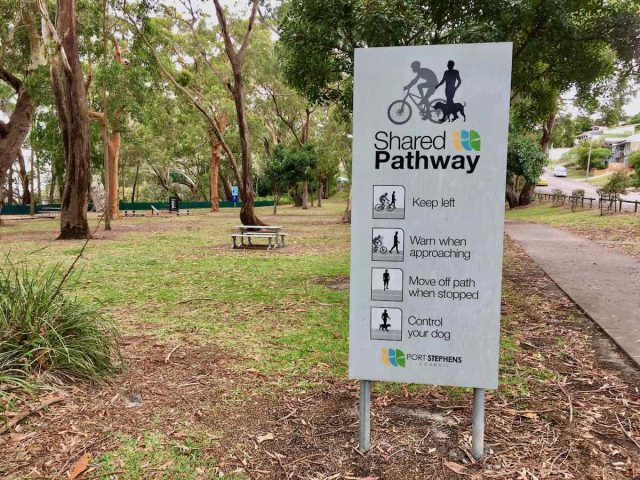 And of course many other parks and walkways allow your dog to join you as long as they stay on a leash. For full details and any changes, see the council website, which displays all the off-leash parks on a map.
Note that a number of sections of bushland at Port Stephens are included in the Tomoree National Park, including Mount Tomaree at the entrance to the port, which has a great walking track to the top with magnificent views of the area. Unfortunately, dogs are not permitted in the national parks, not even on a leash.
Dog-Friendly Sightseeing in Port Stephens
If you have a chance to take a boat out on the beautiful calm waters of Port Stephens, grab the opportunity! This is one of the best ways to experience fully the charm of the area and often your dog can join you.
Port Stephens Ferry Service operates multiple ferry trips across the bay between Nelson Bay and Tea Gardens, taking one hour in each direction. Well-behaved dogs are welcome on board. A popular option is the lunch offer, which includes a return ferry trip plus lunch at the Tea Gardens Hotel, which permits dogs in its outdoor beer garden.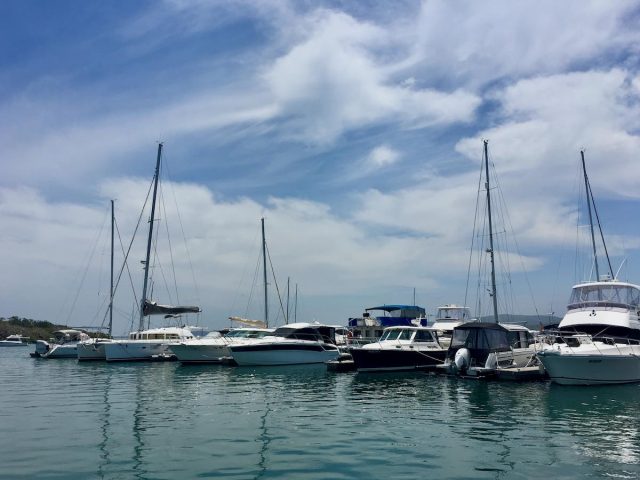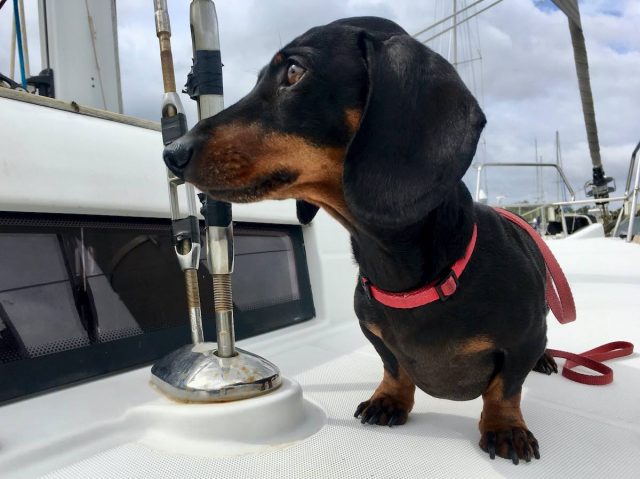 Another option is to hire your own boat or yacht, with dogs often allowed to join you on board – just check with the hire company. Soldiers Point Marina in particular is quite dog-friendly (just keep them on a leash), with "puppy parking" including a water bowl for when you go inside the office.
Don't also miss stopping at Murray's Brewery and Port Stephens Winery at Bobs Farm, just 15 minutes outside of Nelson Bay. There is a large outdoor dining area where we've sat previously with our dog to enjoy lunch – I particularly recommend the burgers! All menu options include a recommended beer and wine pairing, with many of their beers available on tap for tasting.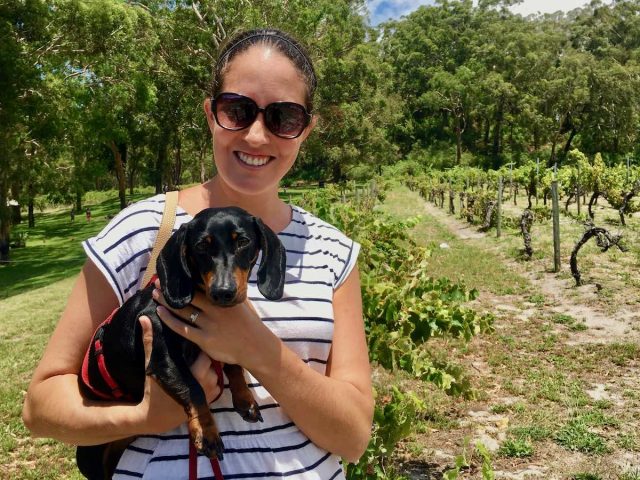 Dog-Friendly Dining in Port Stephens
Nearly all cafes in Port Stephens have plenty of outdoor seating to enjoy the sunshine, and will likely allow your dog to join you, as long as they are well-behaved. However, I recommend checking in advance, in case they don't allow pets (which is at the owner's discretion) or in case they wish for you to sit in a specific area. Plus, if it's very busy (frequently the case during the peak summer period), it might not be the best environment for your dog.
A particularly dog-friendly place, not surprising given it's name, is the Cheeky Dog in Soldiers Point. Serving up pub style food, or just a nice spot to enjoy a drink, there's a large dog-friendly outdoor area. I've also heard reports that if it's rainy, well-behaved dogs might be able to join you in the indoor sports bar area, although double check with the staff.
Another cafe that comes recommended as dog-friendly, but I haven't yet had the chance to try, is Lemon Tree Cafe at Lemon Tree Passage. There's plenty of water bowls for dogs, not to mention a few statues that might surprise your pup.
The cafe is open for breakfast and lunch, with affordable prices for great food, although I've heard reports the food can take awhile. Afterwards, head to the off-leash Kooindah Park.
Many cafes will offer you takeaway options, in case you want to picnic with your dog in one of the pet-friendly reserves of the area.
Dog-Friendly Accommodation in Port Stephens
There are a wide range of dog-friendly accommodation options available in the Port Stephens region.
Note: This post contains affiliate links, which means I may receive commission if you make a purchase using the links. See my full disclaimer.
Pet-Friendly Caravan Parks in Port Stephens
For starters, many of the local caravan parks permit dogs. The jointly-run Fingal Bay Holiday Park, Shoal Bay Holiday Park and Halifax Holiday Park (in between Nelson Bay and Shoal Bay) permit dogs when staying in your own tent or caravan.
There are no longer any exclusion periods during school holidays and long weekends (as is common in coastal areas of NSW), although there is a limit of one dog per site during school holidays and over public holidays. You do however need to request permission in advance. For their full pet policy click here.
Another delightfully pet-friendly caravan park is the Bays Holiday Park. As well as powered and unpowered sites, dogs are also allowed in selected cabins and caravans – see the options on their website. Advance approval is required and an additional cleaning fee of $50 applies for cabins. There's a free dog wash and washing machine for pet bedding onsite.
Pet-Friendly Hotels in Port Stephens
For something for luxurious, consider Bannisters Port Stephens at Soldiers Point. Their ground floor Ocean Deck and Luxury Suite rooms are dog-friendly. Stylishly decorated in subdued tones, these ground floor rooms open directly onto the resort's garden, plus offer easy beach access. For more information, check out their dog-friendly information.
Pet-Friendly Holiday Homes in Port Stephens
There's also many options for individual houses and holiday apartments scattered around the Port Stephens area that allow dogs. These are particularly good for larger groups.
An excellent dog-friendly holiday home in Nelson Bay is Dutchies. This spacious, well-appointed house sleeps up to six guests, with three bedrooms and two bathrooms. It's virtually across the road from the off-leash Bagnalls Beach, plus there's a fenced garden area. Dogs are welcome – just bring your dog's bed.
Another wonderful pet-friendly holiday home at the far end of off-leash Bagnalls Beach is this Beach Bungalow. With three bedrooms and two bathrooms it can accomodate up to 10 guests, with prices staggered based on the number of guests. Pets will love the beach and fully fenced yard. There's an additional surcharge of $100 per stay for pets, plus check the full terms.
You May Also Like
Inspired? Pin this to your Pinterest board!