My favourite Australian wine town is Mudgee. Just under 3 1/2 hours drive west of Sydney, it's close enough for a weekend trip, but far enough away to be a true Australian country town, with old-fashioned streets wide enough for turning a horse and cart. Best of all, it's a great dog-friendly destination.
Dog-Friendly Wineries in Mudgee
Many of the wineries around Mudgee are pet-friendly, with dogs allowed either inside or outside.
When you firstly arrive in Mudgee, I recommend picking up the Mudgee Region brochure from the tourist information centre on Market Street. In the back of the guide is a listing of local business from accommodation to cafes to cellar doors, including an indication of which ones are pet-friendly.
One of the most acclaimed cellar doors around, which is also very pet-friendly, is Lowe Wine. Renown for their organic wines, including a very impressive zinfandel, most of the tasting takes outdoors on the terrace, or else inside their rustic barn. You'll probably also spot their wine dog, Louie, during your visit. Your own dog is welcome as long as they are friendly with other dogs.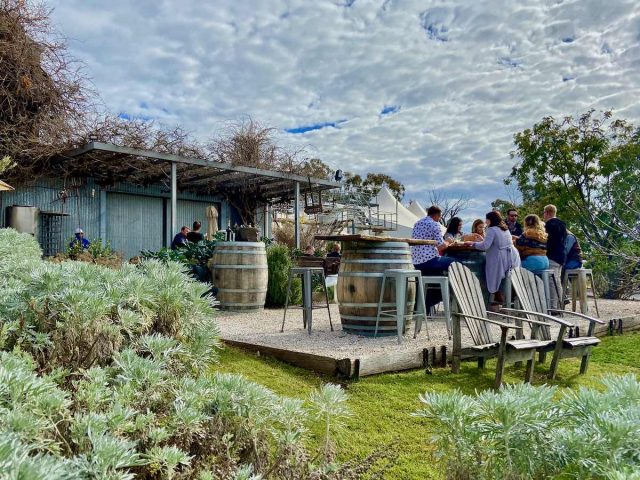 The weekend we visited in June most of their tastings were already booked out, but we still popped by to check out the winery. There's also a pair of restaurants on site, The Zin House and The Pavilion, plus the option to put together platters at the cellar door and enjoy on their grounds.
Another of my favourite wineries in Mudgee is Logan Wines, about 15km south of the town on the road from Sydney. It's a great spot to stop to celebrate the start of a weekend away, particularly with their French-style Vintage 'M' Cuvee. At the same time enjoy the beautiful views over the valley below from their modern cellar door.
If you're making a booking for a tasting with your pup, request to sit on the terrace like we did. On arrival the staff will direct you around the rear, rather than through the cellar door. Don't worry if you're visiting on a chilly winter day, there's multiple outdoor heaters, plus an outdoor fireplace.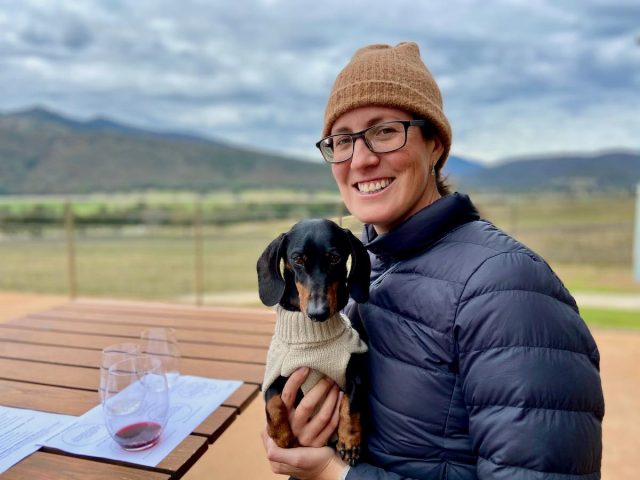 Two of the other pet-friendly cellar doors I recommend are di Lusso Estate and Moothi Estate. di Lusso offers Australia's largest range of Italian varietal wines, plus wood-fired pizzas over the weekend. Dogs are allowed to join you inside, plus there are water bowls in their outdoor seating area. Moothi has two friendly cellar dogs of their own, with dogs allowed to join you both in the air-conditioned indoor area and at the heated outdoor seating area.
Dog-Friendly Accommodation in Mudgee
Mudgee offers a range of dog-friendly accommodation options, from five-star luxury through to camping sites.
If you're wanting to camp, I've usually stayed at Mudgee Riverside Tourist Park. The park is a great location, just a few minutes stroll from the main street of Mudgee, with its cafes and brewery.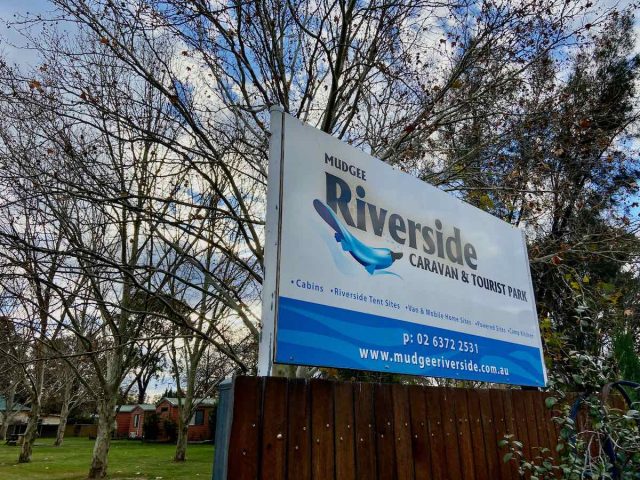 Dogs are allowed at the park with permission on both powered and site sites, but not in the cabins or villas. The recently constructed cycle path passes the back of the path. It's a great option for walking your dog on-leash, or it's less than a kilometre flat walk along it to the local off-leash dog park.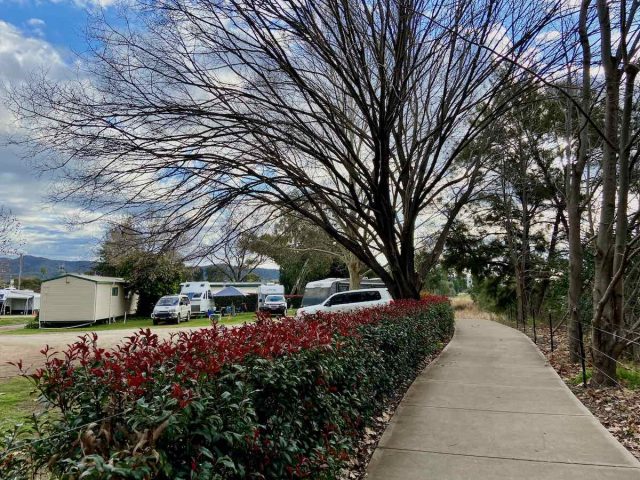 Another popular camping spot in the region is Turon Gates. A little over an hour south of Mudgee, so close enough for a day trip, it's located near Capertee, closer to Sydney. An authentic bush getaway, pets are welcome in both the Cottages and Cabins, as well as when camping.
Just be warned that access is via a dirt road, which is two-wheel drive accessible, although four-wheel drive is recommended for caravans and campervans, so we skipped visiting.
A more luxurious option in Mudgee is the five-star boutique accommodation at Evanslea. There are four luxury cottages, as well as the house available for larger groups. Surrounded by beautiful grounds and with a swimming pool onsite, each of the self-contained cottages also has a fireplace and on-site massages are available. If you wish to stay with a pet, make sure you enquire in advance when booking, to ensure that your pet is approved.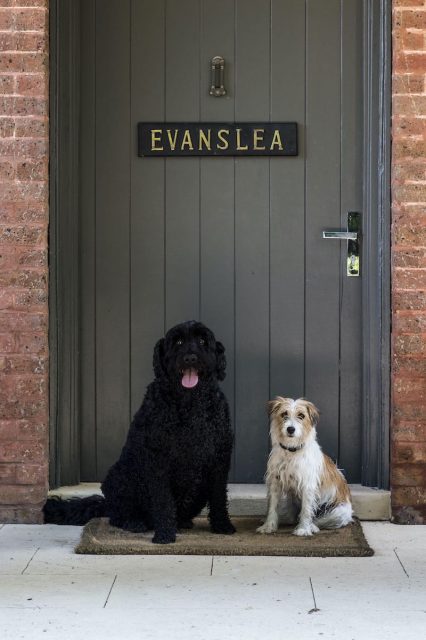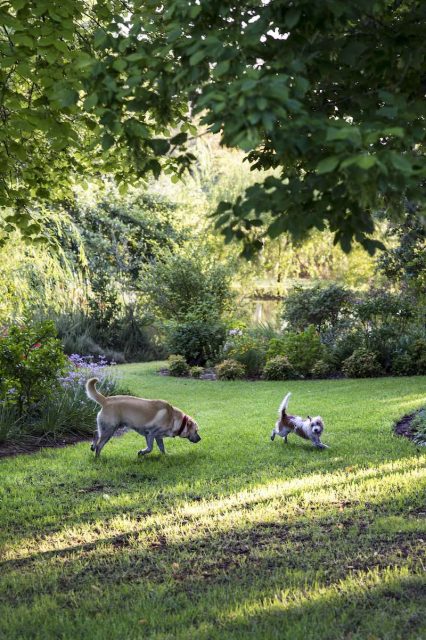 Dog-Friendly Dining in Mudgee
To find out which dining establishments around Mudgee are pet-friendly, I recommend picking up the Mudgee Region brochure I mentioned above, which has a helpful pet-friendly column in the listings at the back. There's a wide variety of pet-friendly cafes, pubs and wine bars around Mudgee and the surrounding townships.
One of the most popular options right in town is the Mudgee Brewing Co. Dogs are welcome in the outdoor courtyard. Drop in just for a tasting paddle, including the Loaded Dog red ale, or stay longer for a meal, with pizzas, burgers and pasta on the menu. They're even open for breakfast.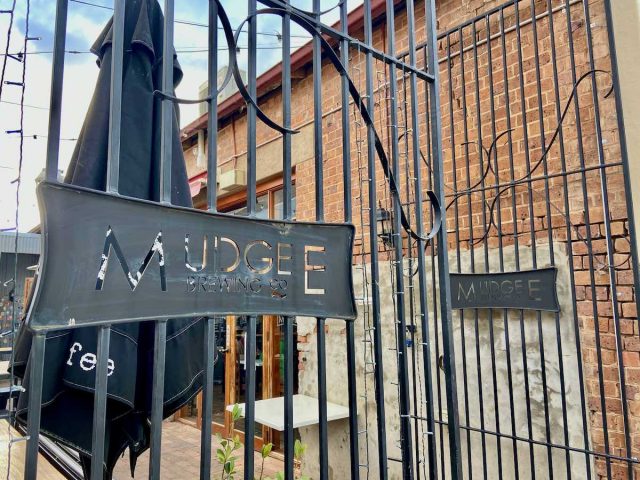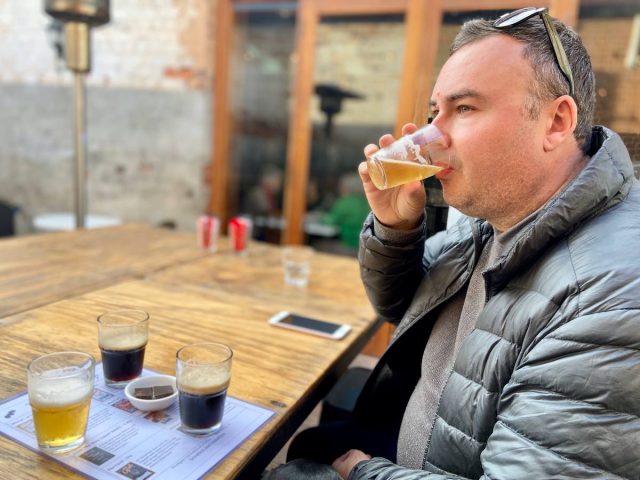 A beautiful looking spot also in the heart of Mudgee is Alby & Esthers, with its large cobblestone courtyard. At the moment during the winter months it's only open as a cafe during the day. However come September it will re-open as a wine bar during the evening hours, too.
Many of the wineries either have restaurants on-site or also offer platters along with their tastings. For instance, Di Lusso Estate offer lunch daily at their Cucina di Lusso, plus wood-fired pizzas from Thursday to Sunday and during school holidays, perfect to go with their Italian varietals.
Finally, the monthly Mudgee Farmers' Market is pet-friendly, with well-behaved on-leash dogs welcome. The market is held on the 3rd Saturday of evening month, from 8:30am and 12:30pm, in Roberston Park. We recommend picking up some of the local sourdough to enjoy a picnic lunch later.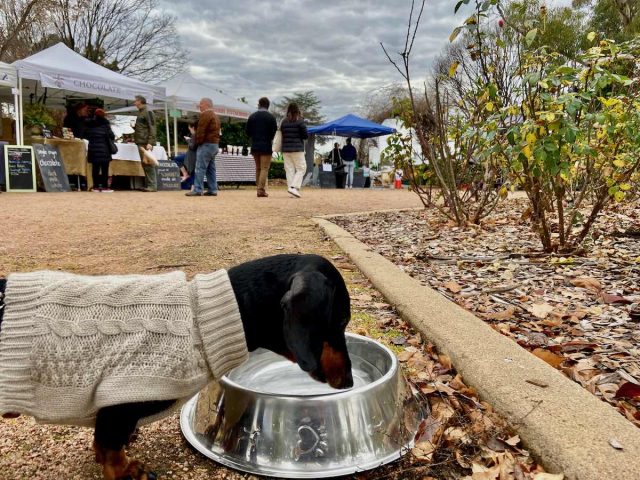 Dog-Friendly Parks in Mudgee
In Mudgee there is a single off-leash dog exercise area, at the Glen Willow Sporting Complex. The off-leash area is located on Pitts Lane near the netball courts, and includes a double-gate and seating.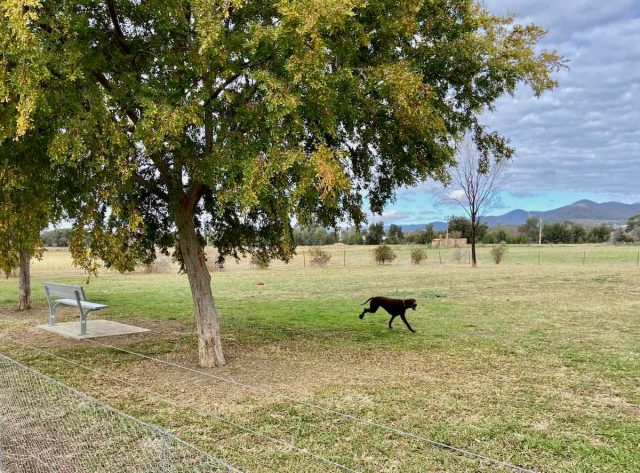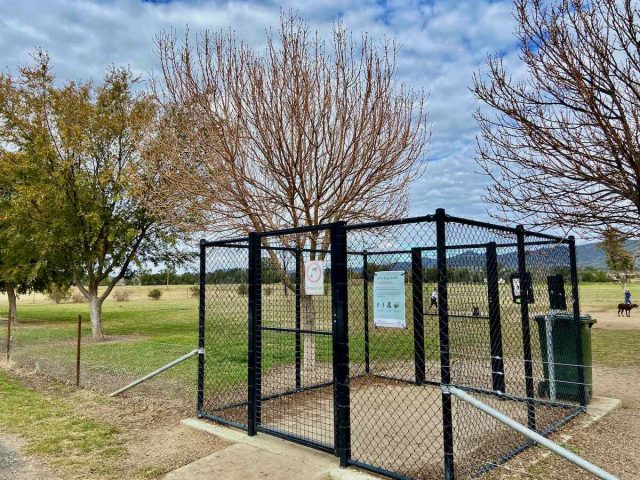 For more off-leash dog parks in the area check out the council website for details. In Gulgong, there's the Peoples Park in Wynella Street. Further afield in Rystone there's an area behind the Rylstone Showground, along the river to the bridge.
Other great spots for on-leash dog walking in Mudgee are Lawson Park and the recently constructed cycle path, which follows the river and then heads to the Glen Willow Sporting Complex.
Dog-Friendly Sightseeing in Mudgee
It's easy to spend a entire weekend away in Mudgee just wine tasting, but there are some other dog-friendly sightseeing options available, mainly focused on the history of Mudgee and surrounding towns.
1. Take a Day Trip to Hill End Historic Site
Just over an hour west of Mudgee are the remains of Hill End, once a thriving gold-mining town home to over 8000 residents. It's a great spot to visit on a day trip, or stay overnight at either of the campgrounds, both of which are pet-friendly.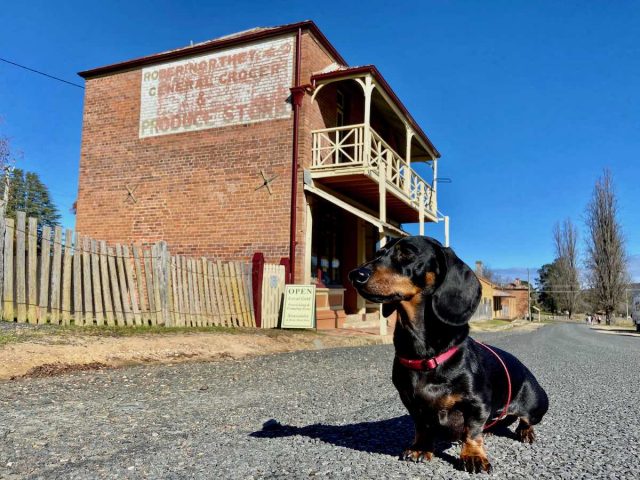 Only a fraction of the hundreds of buildings that once lined the streets in Hill End are still standing. At you walk along the streets, historic photographs show what the streets once looked like. The atmospheric location has also been immortalised by many Australian artists.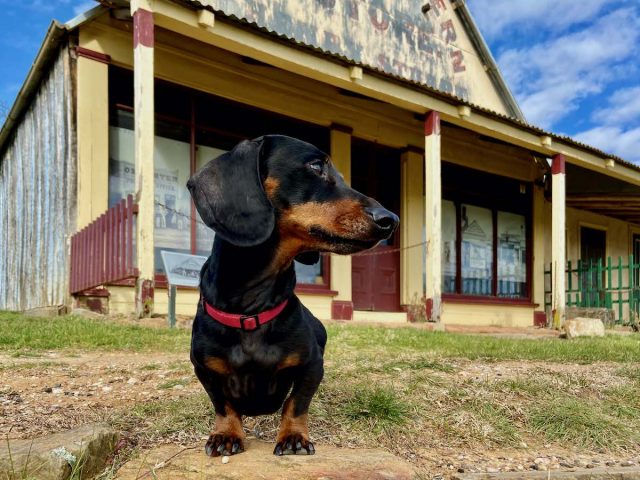 While the historic site is run by the National Parks and Wildlife Service, dogs are welcome to join you exploring the village, except inside the heritage centre. There's also no rules against dogs joining you on the walking track to Bald Hill Mine, or while fossicking at Tambaroora. I recommend stopping at Golden Gully to see the erosion resulting from the mining activities, although keep your dog on a short leash due to the unstable ground.
While in Hill End, drop by the Royal Hotel or the General Store, both still operating. At the General Store Cafe dogs are welcome in the outdoor seating area, with dog treats on offer.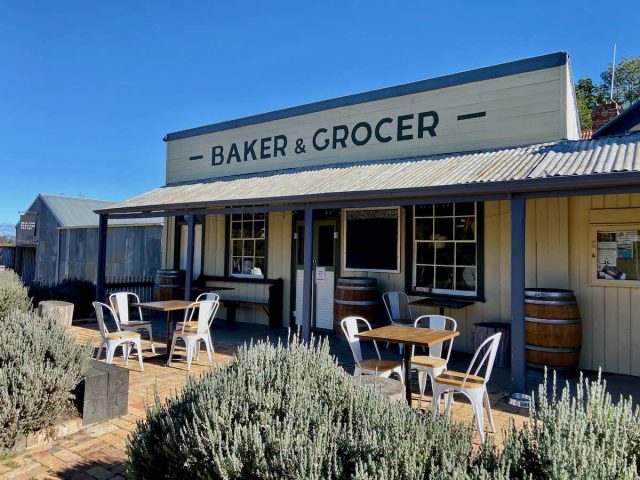 2. Visit Historic Gulgong
Gulgong is another historic gold mining town in the area, made famous for appearing on the old ten dollar note. Unlike Hill End it's still a proper town, although far smaller and quieter than it once was. It's located just 30km north of Mudgee.
While dogs are not likely allowed inside the fabulous Pioneers Museum or the many art galleries around the town, it's still worthwhile having a wander and checking out the historic buildings.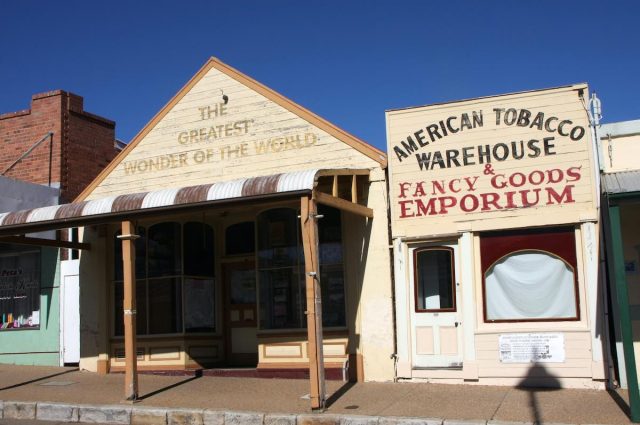 3. Take a Walking Tour Around Mudgee
Mudgee was established in the 1830s, even prior to the gold rush in the surrounding area, and is itself home to many historic buildings. The post office, police station, court house and Catholic Church all date to around 1860 and are heritage-listed.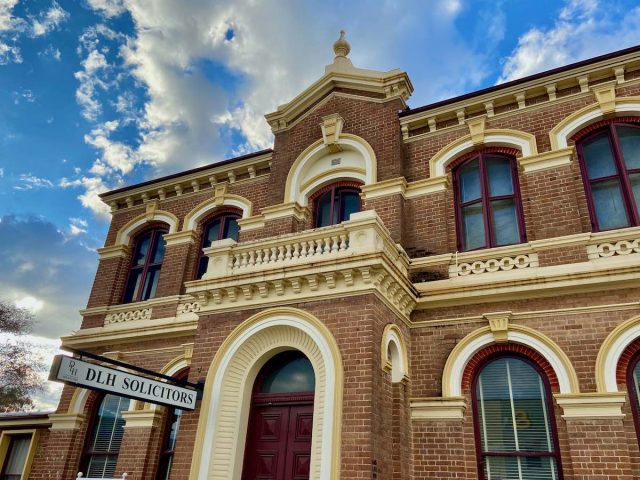 Every Saturday morning a Heritage Walking Tour is run around Mudgee, showcasing its beautiful heritage buildings and sharing fascinating stories about the town. Call up tour guide Ned to book (0467 506 273), then meet at 10am for the hour-long tour at the Clock Tower, on the corner of Market Street and Church Street. The tour is priced at $15 per adult, with kids free and dogs on a leash welcome.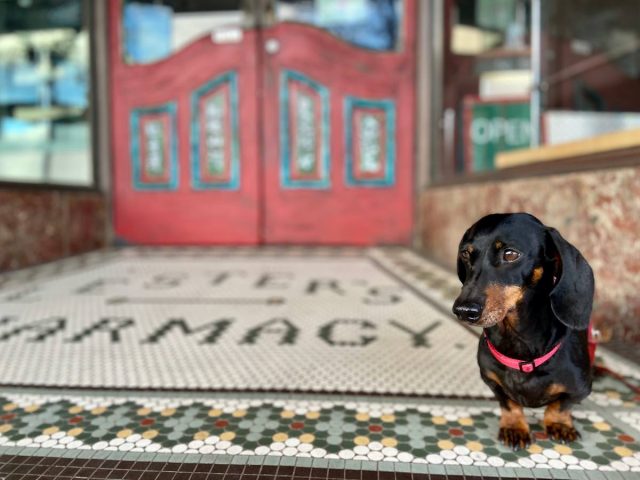 Inspired? Pin this to your Pinterest board!