Jervis Bay, about 2 1/2 hours south of Sydney, is renown for its beautiful white beaches. Best of all, many of the beaches are dog-friendly, with both off-leash and on-leash options abounding. There's also plenty of dog-friendly accommodation options, places to dine out, and easy walks. It all adds up to make Jervis Bay a great dog-friendly getaway option, for a beach weekend away from Sydney with your pooch!
Dog-Friendly Beaches in Jervis Bay
Unlike other parts of Australia such as Sydney, by default the beaches around Jervis Bay allow on-leash dogs (except for those in national parks where dogs are not allowed). This means that dogs are allowed to visit famous beaches such as Hyams Beach, famous for its white sand, as long as they stay on a leash.
But there's also plenty of other great beaches in the region that allow your dog off-leash during certain hours, with clear signage at each beach. Most of these also have gorgeous white sand and far more parking than Hyams Beach, which struggles with overcrowding in the summer months.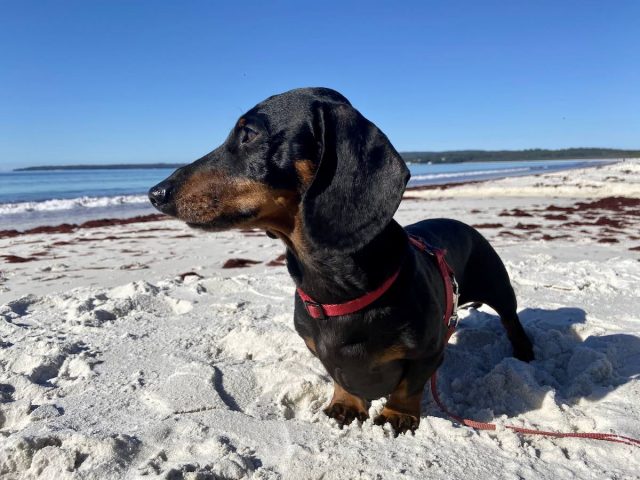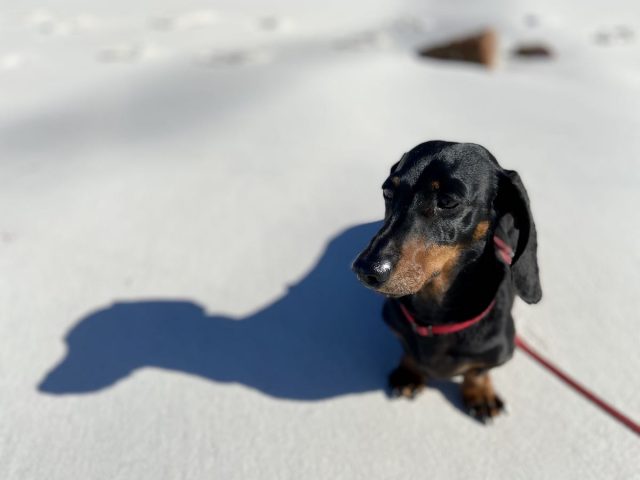 For each of the following beaches along the shores of Jervis Bay, dogs are allowed off-leash before 8am and after 4pm in the warmer months from October to April. From May to September, the hours are extended further to before 10am and after 3pm.
Nelsons Beach in Vincentia: Dogs allowed off leash restricted hours (Note that dogs are prohibited on Collingwood Beach, except on the cycleway, and on Blenheim Beach)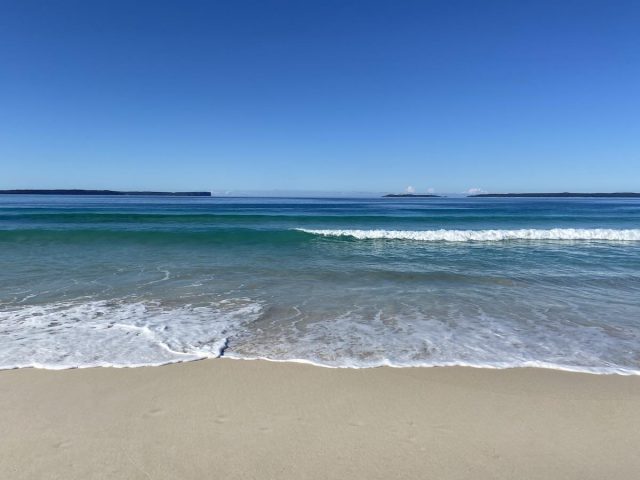 Huskisson Beach (between Nowra Street and Tapalla Avenue): Dogs allowed off leash restricted hours (Note that dogs are prohibited on Shark Net Beach, in between Nowra Street and the Sea Pool)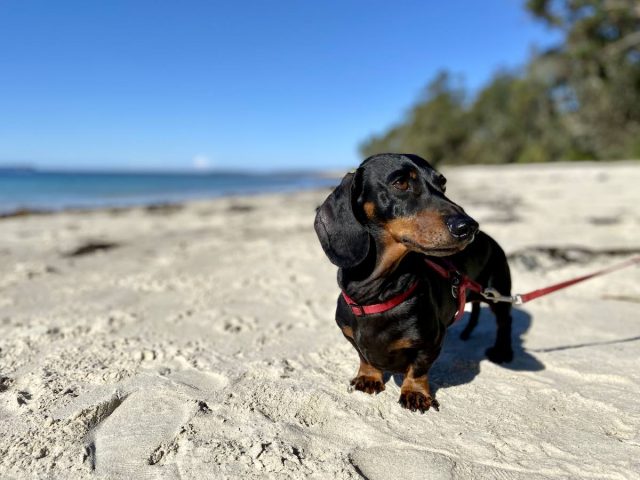 Callala Beach (except between Parkes Crescent and Centre Street, and south of the Beach Road car park on Myola Spit, where dogs are prohibited): Dogs allowed off leash restricted hours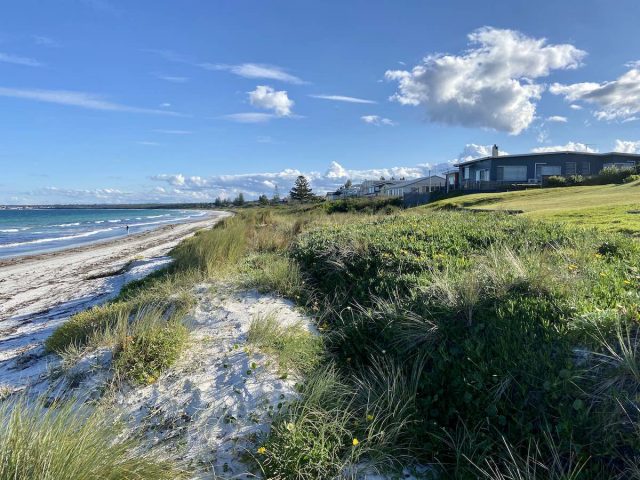 The following ocean-facing beaches just north of Jervis Bay also have the same off-leash rules:
Currarong Beach (from the creek to Peel St): Dogs allowed off leash restricted hours. While ocean facing, we still found this beach very gentle.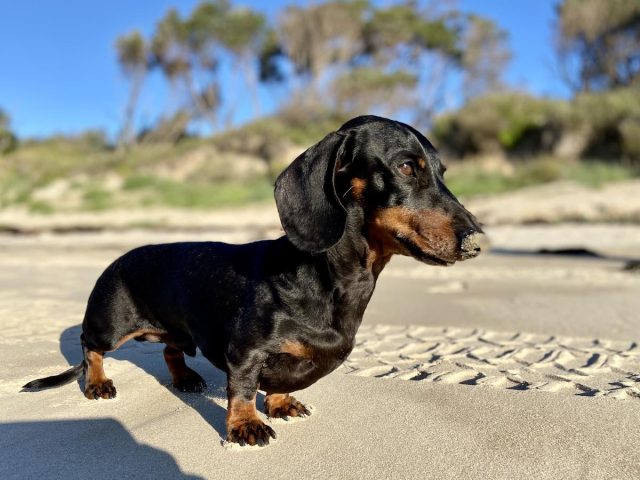 Culburra Beach (from Park Row to Tilbury Cove): Dogs allowed off leash on the beach and adjacent reserve restricted hours
For a full listing of dog rules for beaches in the region, click here.
The main exception are beaches inside national parks, such as Green Patch inside Booderee National Park, where dogs are strictly not allowed. When walking along Hyams Beach with your dog, there's a sign about the start of the NSW Jervis Bay National Park, but I believe this stretch of beach lies outside the park. Note that fines apply for taking dogs inside national parks.
Dog-Friendly Accommodation in Jervis Bay
There's a wide range of dog-friendly accommodation options located in Jervis Bay, although always check the relevant pet rules, as sometimes the definitions of dog-friendliness can vary, especially for holiday rentals.
Glamp With Your Pup near Jervis Bay
One of the most dog-friendly accommodation options around the Jervis Bay region is South Coast Retreat, located just north of Jervis Bay at Greenwell Point. Dogs are allowed in all accommodation options year-round. There's no peak summer block-out dates!
My pick at the retreat are the stunning African-style glamping tents. Gorgeous inside, they come complete with a stylish ensuite bathroom, small kitchen and your own deck with day beds or ecofurn chairs and your own BBQ. Naturally there's electric blankets and an electric heater for winter, plus fans and the natural sea breeze for summer.
Dogs are also permitted in the range of standard and deluxe cabins, as well as on powered sites. There's a limit of two dogs per glamping tent or cabin, with an additional charge of $20 per night. Pets stay for free on powered sites. Note that pets aren't allowed on the furniture or inside cabin bedrooms.
Pet-Friendly Holiday Homes in Jervis Bay
There's also plenty of holiday houses in the area that are pet-friendly. Two recipients of pet-friendly awards from Stayz are Hayes Beach House at Callala Beach and The Shack, just south in Myola.
Both of these houses are great for families or larger groups with dogs. Hayes Beach House has three bedrooms and two bathrooms, sleeping up to eight guests. It's only a few blocks back from the dog-friendly Callala Beach which is off-leash in the mornings and evenings.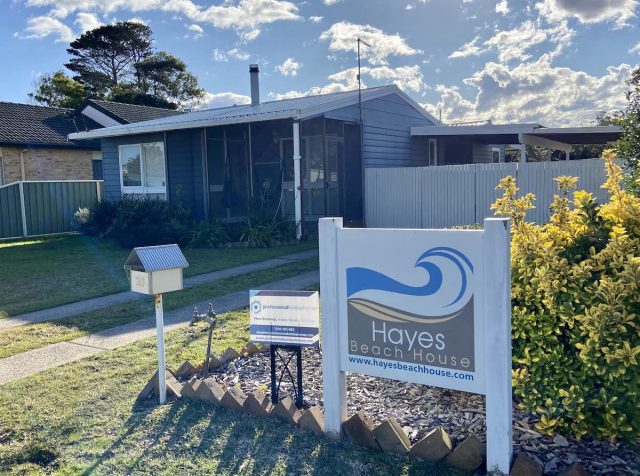 The Shack sleeps up to six guests in three bedrooms, with a single bathroom. Doggie guests are provided with Shack Dog Biscuits on arrival and a water bowl, plus there's a secure backyard and handy outdoor shower.
To get from Myola and Callala Beach to Huskisson, as there is no bridge across Currumbene Creek, normally it's a 25-minute drive via the highway. The quicker option during the summer season is to take the Husky Ferry, which usually operates hourly. I've heard reports dogs are allowed on the ferry, at no charge.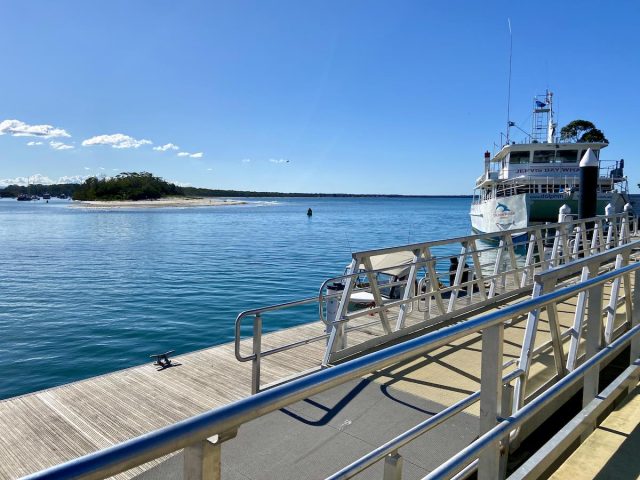 Pet-Friendly Caravan Parks in Jervis Bay
For a camping or caravanning option close to Huskisson, check out Jervis Bay Holiday Park in Woollamia. Well-behaved pets are allowed on powered and camp sites, and it's one of the few holiday parks in the region with no seasonal restrictions, although rates do get pricey during peak periods.
The park is located right on Currambene Creek, with swimming possible for both humans and dogs. It also has its own private boat ramp and pontoon, perfect for launching your own small boat or kayak.
Dog-Friendly Cafes in Jervis Bay
There's plenty of dog-friendly cafes in the Jervis Bay region, including many cafes along the main street in Huskisson that have outdoor seating and welcome well-behaved dogs. Getting takeaway fish 'n' chips is also a great option in this coastal region. At World Famous Fish N Chips in Huskisson the serving sizes are huge, and there's a great weekday lunch discount.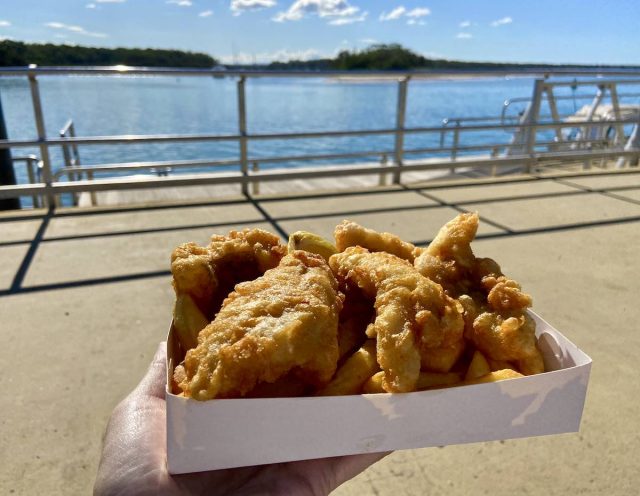 One particularly pet-friendly cafe is Albert N Miso in Vincentia. The cafe was named after two very important pooches and all dogs are welcome. They serve some great breakfast options and tasty burgers. There's multiple outdoor tables outside the adjacent shop and a water bowl for dogs.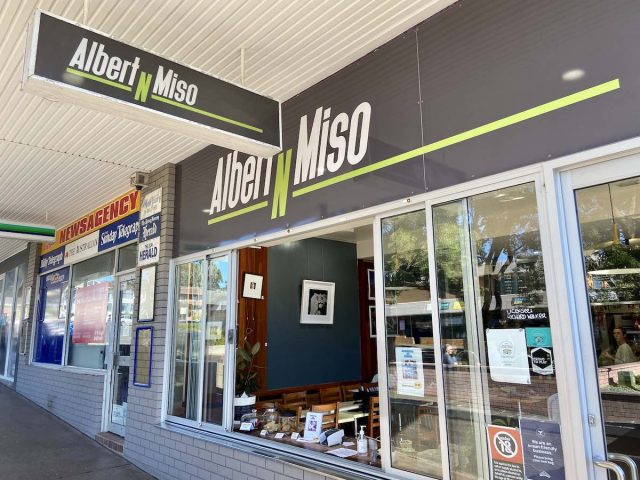 Alternatively, head to the recently opened Jervis Bay Brewing Co and their dog-friendly beer garden. They're open from Wednesday to Sunday, with food trucks every weekend. Check the website for opening hours. You can also stop in to buy takeaway beer from 4pm to 7pm daily.
Dog-Friendly Parks in Jervis Bay
The main areas where dogs are allowed off leash in the Jervis Bay area are the off-leash beaches listed above, during the morning and evening hours. There aren't many off-leash dog parks, until you head back into Nowra.
The one off-leash dog park close to Jervis Bay is at Clifton Park in Sanctuary Point. There is a fenced exercise area at the rear of the park. Make sure you keep your dog on a leash while walking past the playground and learn to ride area at the front of the park.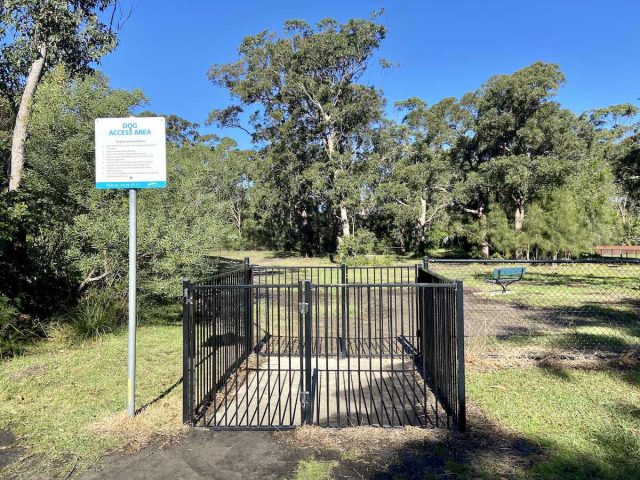 While heading through Nowra, the best off-leash dog option is Nowra Showground, north of Worrigee Street, except for during major events and Ben's Walk which passes through, which is on-leash only. There is also a dog agility park on the corner of West Street and North Street.
Dog-Friendly Walks in Jervis Bay
While some of the walks in the region don't allow dogs are they are located inside national parks, including both Booderee National Park and NSW Jervis Bay National Park, there are still some great dog-friendly walks available.
One of the longer options is the Abrahams Bosom Walking Track, that starts at the southern end of Currarong. There are two options here. The shorter Wreck Walk is an easy mainly flat 1-hour walk, with views of the wreck of the S.S. Merimbula and the chance to spot whales during season. Or head out on the longer Coomies Walk, a 3-hour long medium grade walk with panoramic views.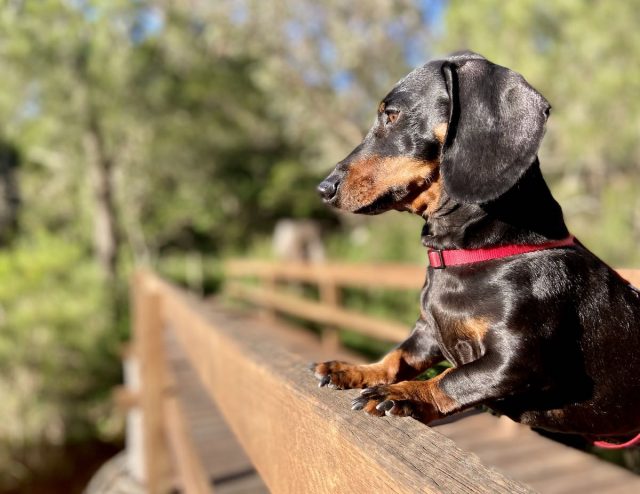 Just near Huskisson, a fun option is a stroll on the Mangrove Boardwalk near the Jervis Bay Maritime Museum. The boardwalk explores the wetlands at Currambene Creek and takes about 30 minutes to explore. There's also the option to walk through the adjacent forest, but I was warned it was muddy on the day I visited. It's best to park on Dent Street to access the boardwalk.
Another option is to walk on the Round the Bay Shared Pathway that follows the foreshore from Huskisson to Plantation Point. The full length takes about 2 hours return. Make sure you keep your dog on a leash and watch out for bicycles sharing the path.
Dog-Friendly Shopping in Jervis Bay
If you're after some retail therapy in Jervis Bay, there are multiple dog-friendly options available.
For starters, there are multiple outdoor markets in the region that welcome dogs on leashes. In Huskisson, the Huskisson Markets is on every 2nd Sunday of the month, while the Jervis Bay Maritime Museums Markets are on the 1st Saturday. Further north, the Pyree Village Arts and Craft Market is on the 4th Sunday.
Not far from Pyree is the Jindyany Mill, an historic brick building, which contains multiple pet-friendly shops selling antiques and homewares.
Inspired? Pin this to your Pinterest board!