Jervis Bay, about 2 1/2 hours south of Sydney, is renown for its beautiful white beaches. Best of all, many of the beaches are dog-friendly, with both off-leash and on-leash options abounding. There's also plenty of dog-friendly accommodation options, places to dine out, and easy walks. It all adds up to make Jervis Bay a great dog-friendly destination in NSW, especially for a beach weekend away with your pooch!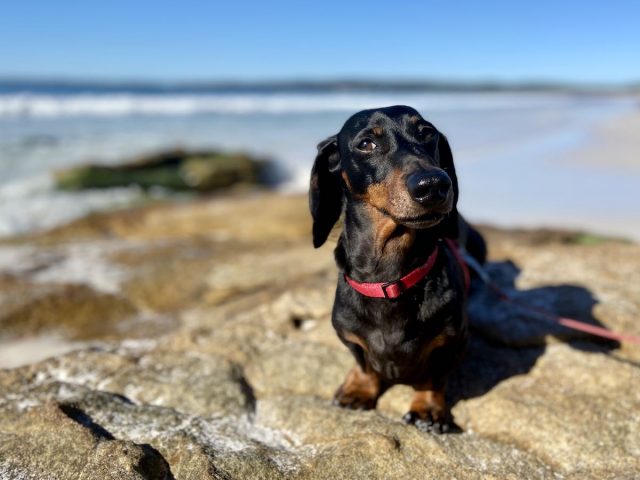 Dog-Friendly Beaches in Jervis Bay
Unlike other parts of Australia such as Sydney, by default the beaches around Jervis Bay allow on-leash dogs. The main exception are beaches in the nearby national parks, where dogs are strictly not allowed (such as Green Patch inside Booderee National Park), plus some of the other popular beaches in the area, which display dogs prohibited signs.
This means that dogs are allowed to visit Hyams Beach, one of the most famous beaches in the region, which is renown for its white sand. Dogs are allowed on Hyams Beach all day long, as long as they stay on a leash, whether they're walking along the beach with you, sitting on your towel or enjoying a paddle in the crystal clear water.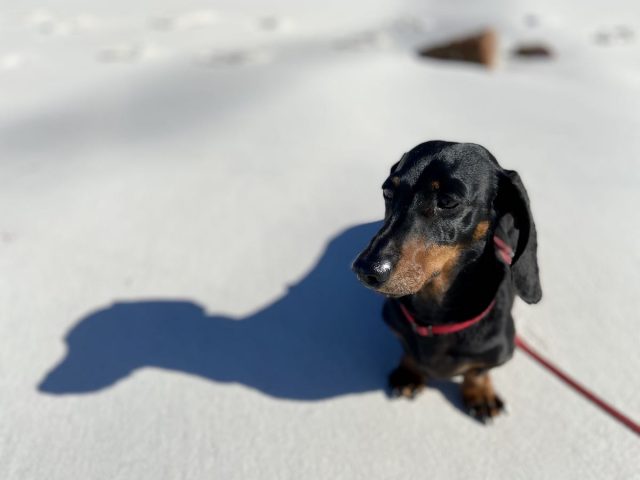 However, Hyams Beach isn't the only dog-friendly beach at Jervis Bay, with plenty of other terrific options in the region, some that even allow off-leash dogs during certain hours. Most of the other beaches also have gorgeous white sand and have far more parking than Hyams Beach, which struggles with overcrowding in the summer months.
To enjoy some off-leash beach fun with your dog at Jervis Bay, head to one of these dog-friendly beaches that allows off-leash dogs during selected hours. In between October and April, dogs are permitted off-leash before 8am and after 4pm. From May to September, the hours are extended to before 10am and after 3pm. During the rest of the day, dogs need to remain on leash.
Nelsons Beach in Vincentia: Dogs allowed off-leash restricted hours. (Note that dogs are prohibited on Collingwood Beach, except on the cycleway, and on Blenheim Beach.)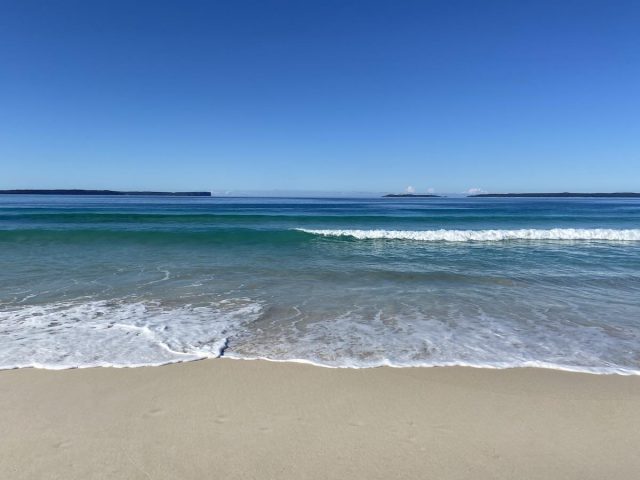 Huskisson Beach (between Nowra Street and Tapalla Avenue): Dogs allowed off-leash restricted hours. (Note that dogs are prohibited on Shark Net Beach, in between Nowra Street and the Sea Pool.)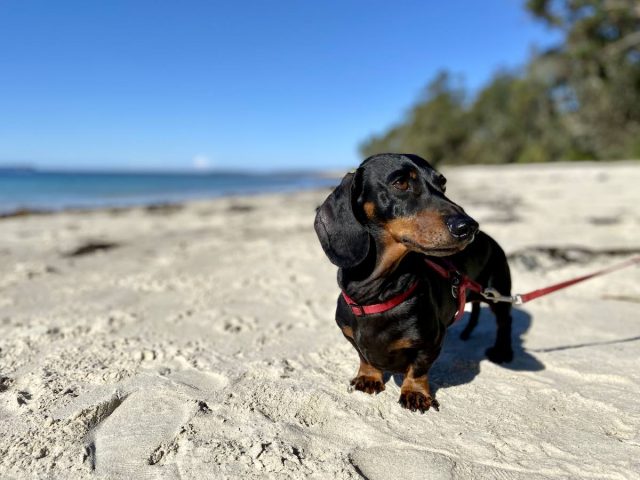 Callala Beach (except between Parkes Crescent and Centre Street, and south of the Beach Road car park on Myola Spit, where dogs are prohibited): Dogs allowed off-leash restricted hours.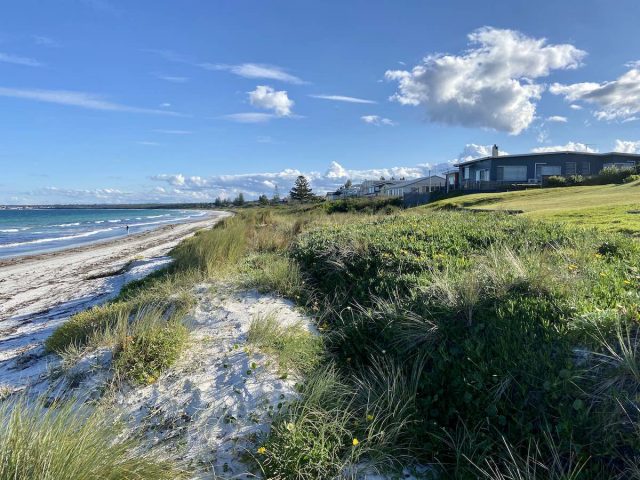 Currarong Beach (from the creek to Peel St): Dogs allowed off-leash restricted hours. While ocean facing, we still found this beach very gentle.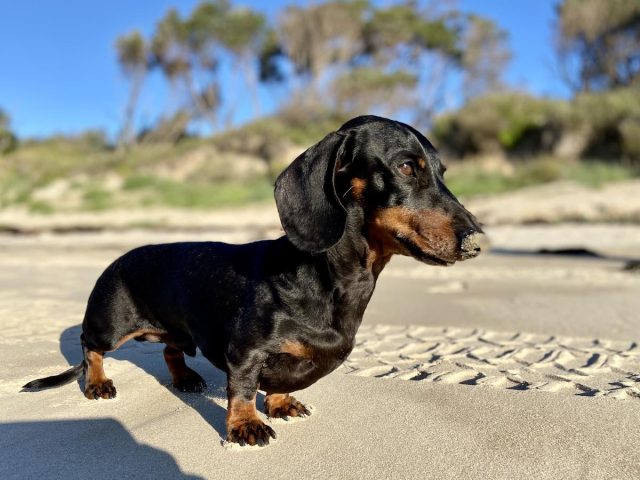 Culburra Beach (from Park Row to Tilbury Cove): Dogs allowed off-leash on the beach and adjacent reserve restricted hours. This beach is also ocean-facing.
For a full listing of dog rules for beaches in the region, click here.
Dog-Friendly Sightseeing in Jervis Bay
As well as visiting the beautiful dog-friendly beaches found around Jervis Bay, consider ticking off some of these dog-friendly activities…
#1 Go on a Dolphin or Whale Watch Cruise
While it's possible to spot dolphins from the beaches in Jervis Bay, the most reliable way to spot them is by going on a dolphin watching cruise. Until recently I thought that dogs were not allowed on these cruises, but I've recently discovered that Jervis Bay Wild allows small dogs on board, in addition to support dogs.
Enjoy a 90 minute dolphin watching cruise on the Port Venture, departing from the cruise terminal to the west of the Huskisson public wharf. Dolphin cruises depart year round. Alternatively, between May and November you can head out on a whale watching cruise. Dogs are also welcome on these two hour cruises.
One of my most magical memories as a teenager was going on a dolphin watching cruise at Jervis Bay, dolphins swimming next to the bow of the boat beneath me. I can't wait to experience it again with my pup by my side!
#2 Hike the Abrahams Bosom Walking Track
While many of the walks in the Jervis Bay region don't allow dogs are they are located inside national parks, including both Booderee National Park and NSW Jervis Bay National Park, there are still some great dog-friendly walks available.
One of the longer options is the Abrahams Bosom Walking Track, that starts at the southern end of Currarong. There are two options here. The shorter Wreck Walk is an easy mainly flat 1-hour walk, with views of the wreck of the S.S. Merimbula and the chance to spot whales during season. Or head out on the longer Coomies Walk, a 3-hour long medium grade walk with panoramic views.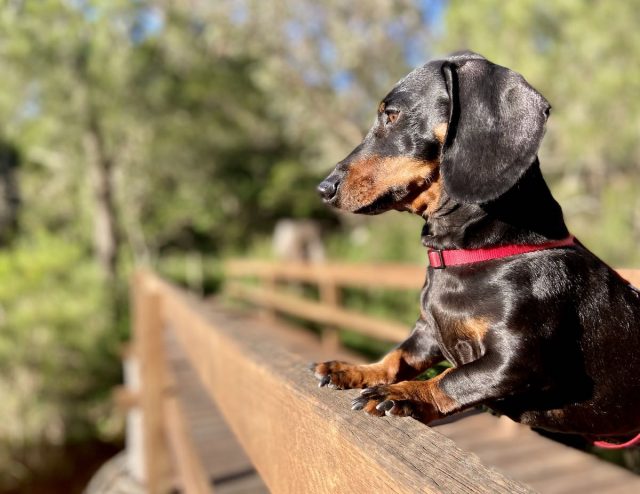 #3 Stroll Along a Mangrove Boardwalk
Just near Huskisson, another fun short walk is a stroll on the Mangrove Boardwalk near the Jervis Bay Maritime Museum. The boardwalk explores the wetlands at Currambene Creek and takes about 30 minutes to explore.
There's also the option to walk through the adjacent forest, but I was warned it was muddy on the day I visited. It's best to park on Dent Street to access the boardwalk.
#4 Or Around the Bay
Another easy option is to walk on the Round the Bay Shared Pathway that follows the foreshore from Huskisson to Plantation Point. The full length takes about 2 hours return. Make sure you keep your dog on a leash and watch out for bicycles sharing the path.
Dog-Friendly Parks in Jervis Bay
The main areas where dogs are allowed off leash in the Jervis Bay area are the off-leash beaches listed above, during the morning and evening hours. There aren't many off-leash dog parks, until you head back into Nowra.
The one off-leash dog park close to Jervis Bay is at Clifton Park in Sanctuary Point. There is a fenced exercise area at the rear of the park. Make sure you keep your dog on a leash while walking past the playground and learn to ride area at the front of the park.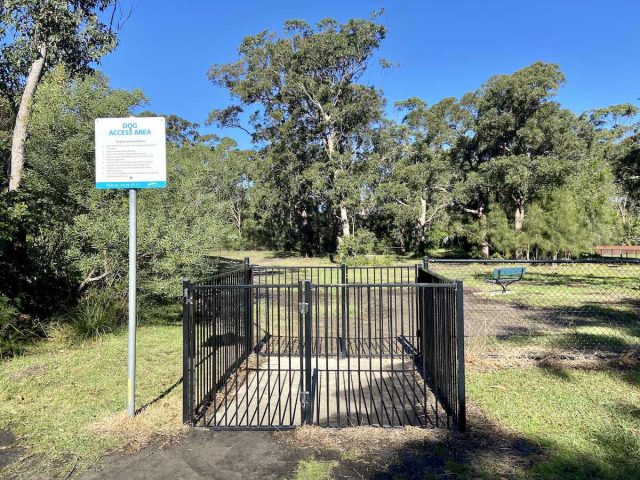 While heading through Nowra, the best off-leash dog option is Nowra Showground, north of Worrigee Street, except for during major events and Ben's Walk which passes through, which is on-leash only. There is also a dog agility park on the corner of West Street and North Street.
Dog-Friendly Cafes in Jervis Bay
There's plenty of dog-friendly cafes in the Jervis Bay region, including many cafes along the main street in Huskisson that have outdoor seating and welcome well-behaved dogs. Getting takeaway fish 'n' chips is also a great option in this coastal region, such as from World Famous Fish N Chips in the heart of Huskisson.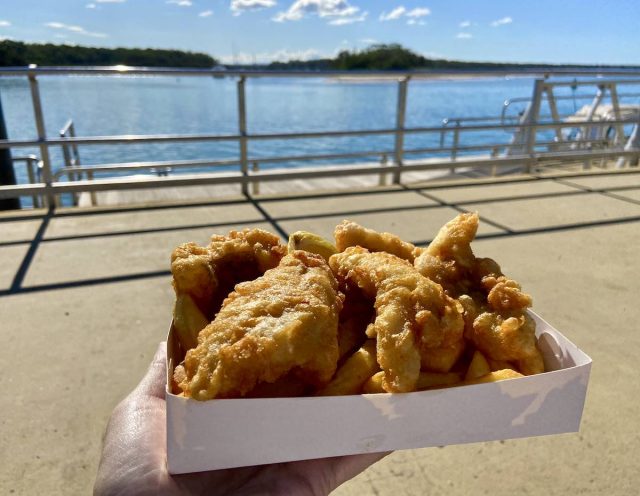 One particularly pet-friendly cafe is Albert N Miso in Vincentia. The cafe was named after two very important pooches and all dogs are welcome. They open daily and serve some great breakfast options and tasty burgers. There's multiple outdoor tables outside the adjacent shop and a water bowl for dogs.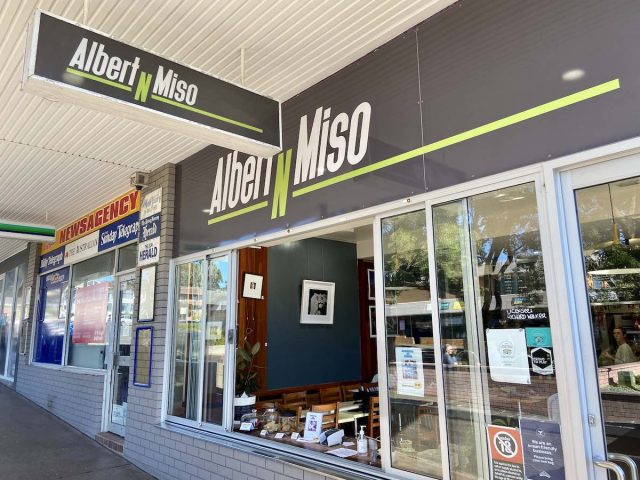 Alternatively, head to the one of the area's dog-friendly breweries, both located in the industrial area just west of Huskisson (and within walking distance of the pet-friendly Jervis Bay Holiday Park).
Jervis Bay Brewing Co opened in late 2019 and have a great dog-friendly beer garden. They're generally open from Wednesday to Sunday, with food trucks on selected days. Check in advance for the latest opening hours.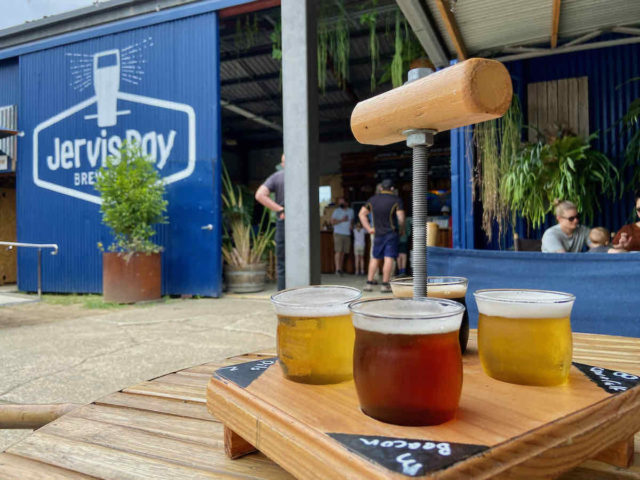 Another option to head to nearby is the more recently opened Flamin' Galah Brewing Co, that also has a dog-friendly beer garden and permanent food truck. Dogs are allowed both outside and inside until 8pm. (It's also only family-friendly until 8pm.) Perhaps head on a brewery crawl visiting both of them?
At the Huskisson Hotel, make a beeline for the Pavilion Terrace. While dogs are not allowed in the rest of the pub, leashed dogs are welcome in this area which doesn't take reservations. Enter the terrace via the side gate on the right side of the hotel at the bottom of the carpark.
Dog-Friendly Shopping in Jervis Bay
If you're after some retail therapy in Jervis Bay, there are multiple outdoor markets in the region that welcome dogs on leashes.
In Huskisson, the Huskisson Markets is on every 2nd Sunday of the month, while the Jervis Bay Maritime Museum Markets are on the 1st Saturday between 10am and 3pm. Further north, the Pyree Village Art, Craft and Handmade Market is on the 4th Sunday of the month.
Dog-Friendly Accommodation in Jervis Bay
There's a wide range of dog-friendly accommodation options located in Jervis Bay, although always check the relevant pet rules, as sometimes the definitions of dog-friendliness can vary, especially for holiday rentals.
Note: This post contains affiliate links, which means I may receive commission if you make a purchase using the links. See my full disclaimer.
Pet-Friendly Holiday Homes in Jervis Bay
There's plenty of holiday houses around Jervis Bay that are pet-friendly, including a recent recipient of a pet-friendly award from Stayz, Hayes Beach House at Callala Beach.
This beach house has three bedrooms and two bathrooms, sleeping up to eight guests. It's only a few blocks back from the dog-friendly Callala Beach which is off-leash in the mornings and evenings, and dogs are allowed inside, just not on furniture.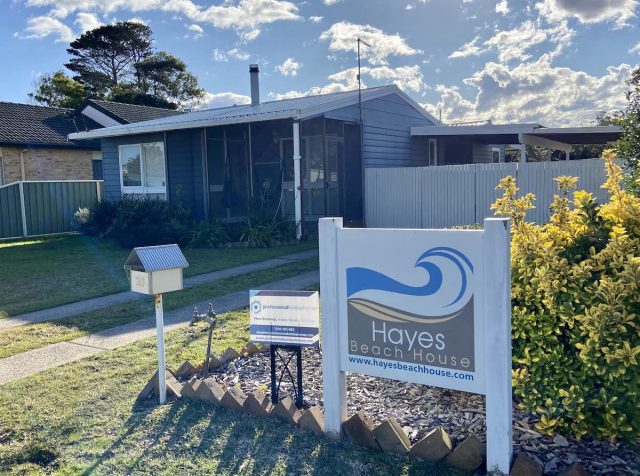 While Callala Bech is normally a 25-minute drive via the highway from Huskisson, as there is no bridge across Currumbene Creek, there is a quicker option during the summer season. Take the Husky Ferry from Myola Spit. It generally operates hourly and dogs are allowed on the ferry, at no charge.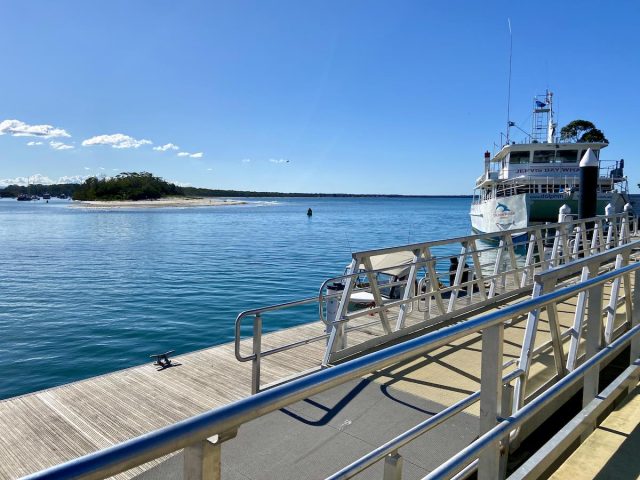 Another wonderful spot to stay the colourful Life's a Beach at Culburra. It's just metres away from the beach which is off-leash during the mornings and evenings. Accommodating up to eight guests with three bedrooms and three bathrooms (plus an outdoor shower!), there's an enclosed back yard, plus dog beds and toys included.
Another fabulous holiday home at Culburra Beach is Silvermere Coastal Retreat. With three bedrooms accommodating up to seven guests and its own fire pit, it's also just a minute away from the beach. Pets of all sizes are welcome, with a secure yard and water bowls, old towels and treats provided.
Alternatively, stay more centrally at the award-winning Jervis Bay Beach Shack in Vincentia. One pet is allowed to stay with you in this cute one-bedroom cottage, ideal for couples or small families. There's a fenced yard, but one of the fences is low so keep a close eye on larger dogs.
Pet-Friendly Caravan Parks in Jervis Bay
For a camping or caravanning option close to Huskisson, check out Jervis Bay Holiday Park in Woollamia. Well-behaved pets are allowed on powered and camp sites, or enquire about the pet-friendly villas. It's one of the few holiday parks in the region with no seasonal restrictions, although rates do get pricey during peak periods.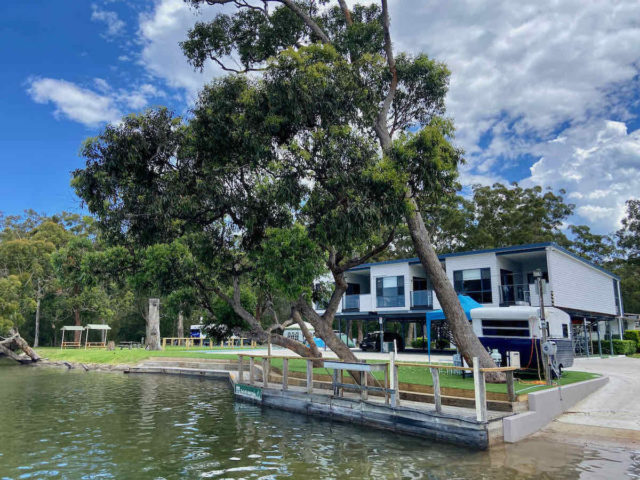 The park is located right on Currambene Creek, with swimming possible for both humans and dogs, depending on the tide. It also has its own private boat ramp and pontoon, perfect for launching your own small boat or kayak. The park is also within walking distance of two dog-friendly breweries.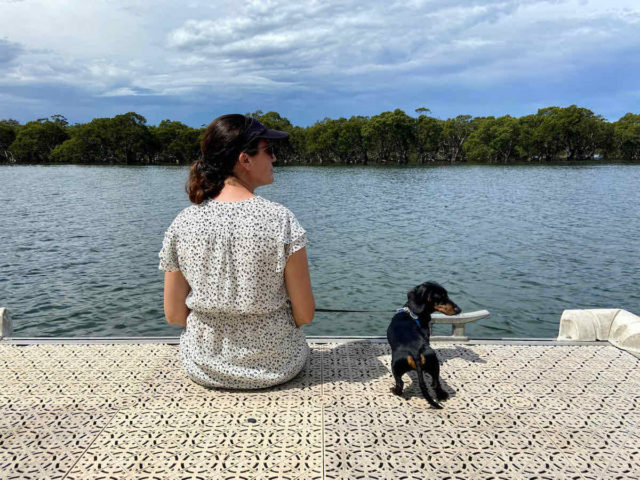 Glamp With Your Pup near Jervis Bay
Another dog-friendly accommodation option close to Jervis Bay is South Coast Retreat, located just to the north at Greenwell Point. Dogs are allowed in all accommodation options year-round. There's no peak summer block-out dates!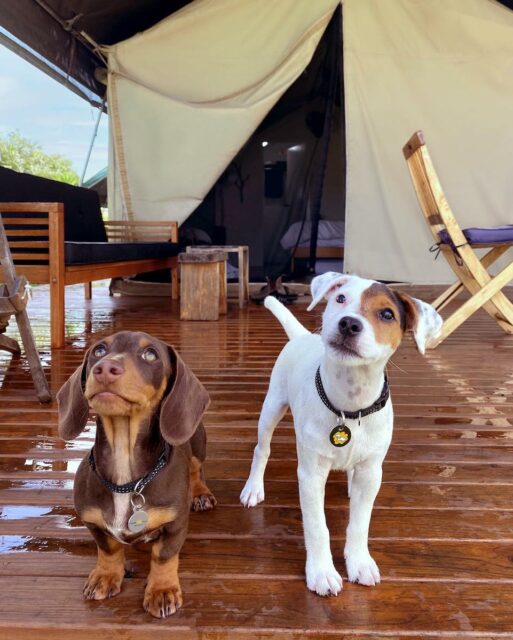 My pick at the retreat are the stunning African-style glamping tents. Gorgeous inside, they come complete with a stylish ensuite bathroom, small kitchen and your own deck with day beds or ecofurn chairs and your own BBQ. Naturally there's electric blankets and an electric heater for winter, plus fans and the natural sea breeze for summer.
Dogs are also permitted in the range of standard and deluxe cabins, just not in bedrooms or on furniture in any of the accommodation. There's a limit of two dogs per glamping tent or cabin.
You May Also Like
Inspired? Pin this to your Pinterest board!