Just over three hours south of Sydney, the neighbouring seaside towns of Ulladulla and Mollymook, and the surrounding region, is a great place to head for a dog-friendly holiday on the NSW South Coast. Along with plenty of dog-friendly accommodation options, the Ulladulla/Mollymook region also offers beautiful dog-friendly beaches, terrific dog-friendly dining and some great short walks, ideal for a relaxing getaway with your pup.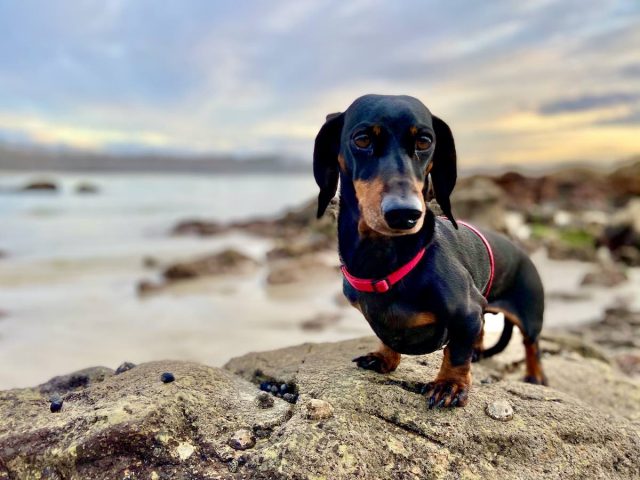 Dog-Friendly Accommodation in Ulladulla & Mollymook
There's plenty of dog-friendly caravan parks around Ulladulla and the surrounding lakes and beach towns. Alternatively, there's also a range of dog-friendly guest houses and holiday rentals, including the newly pet-friendly Bannisters Pavilion.
Dog-Friendly Caravan Parks in Ulladulla & Mollymook
When choosing a caravan park, note that some parks allow dogs year round, while others just permit dogs seasonally, generally with no dogs allowed during the peak periods, such as the Summer and Easter school holidays.
One of the best caravan parks that allows dogs year round is Kings Point Retreat, on the southern side of Ulladulla. As well as pet-friendly campsites, including ensuite sites, there's also pet-friendly cottages. Both Couple and Family cottages are available, with up to two dogs allowed per cottage. Dogs are allowed inside, plus some of the cottages have a fenced balcony.
While the caravan park isn't beachfront, it's still walking distance from multiple beaches (where dogs are allowed on a leash). Plus the park has plenty of facilities to keep you entertained, including two swimming pools, a magnificent children's playground and waterslides, a fire pit and more. Everything is brand new and the sites during our stay were beautifully grassed.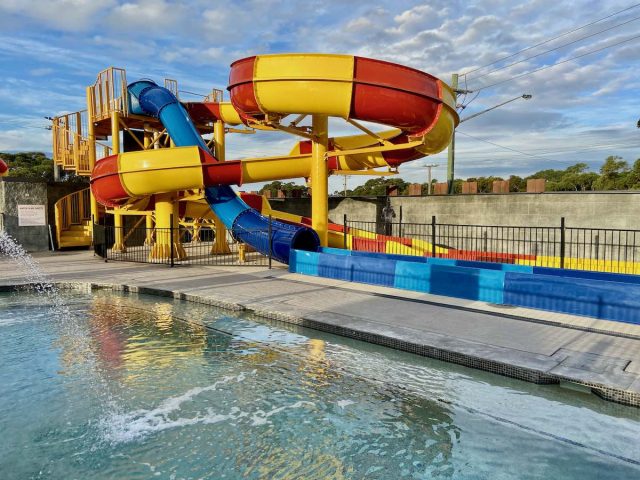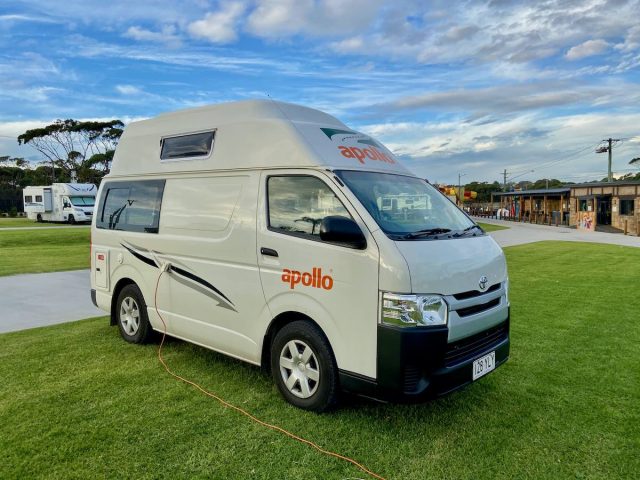 Another pet-friendly caravan park that we stayed at near Ulladulla was Holiday Haven Bendalong. This Holiday Haven park, along with the Holiday Haven parks at Ulladulla Headland, Burrill Lake and Lake Tabourie, only allows pets outside of peak and school holiday periods. Pets are allowed on selected sites, plus in selected cabins, at the discretion of the onsite mangers. It's best to call up and chat directly. See this page for more information.
We stayed at Holiday Haven Bendalong during the winter time, outside of school holidays, so had no issues with the restrictions. What we loved about this park was its peaceful location. Bendalong is just a small village and the park is next to beaches, including the off-leash Washerwomans Beach, which was lovely and calm and a delight for dog walks.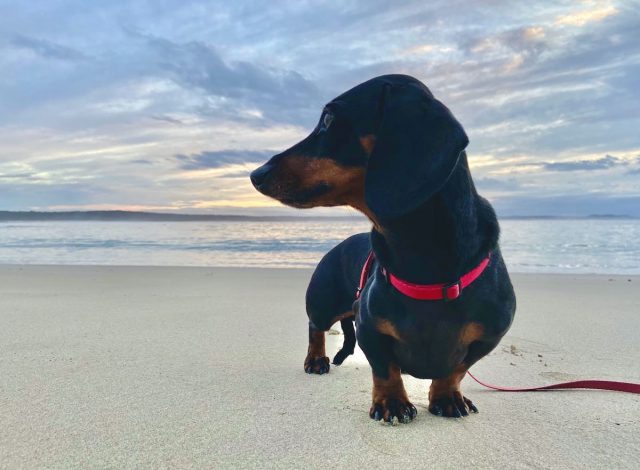 Other dog-friendly caravan parks around the Ulladulla area include Kioloa Beach Holiday Park (that allows pets year round on sites only), Ingenia Holidays Merry Beach (contact directly to find out the conditions since they became an Ingenia Holidays park) and the BIG4 Bungalow Park on Burrill Lake (conditional permission for pets on selected powered sites and 1-bedroom cottages, speak to staff first).
For a more rustic experience, head south than inland to Shallow Crossing Camping Ground. The camping ground is situated next to the Clyde River, surrounded by three different state forests, perfect for dog-friendly hiking, swimming and nights by a fire.
Dog-Friendly Hotels in Ulladulla & Mollymook
If it's a more luxurious experience you're after, Bannisters recently announced they now have pet-friendly rooms at Bannisters Pavilion Mollymook. Selected Classic rooms, with king-size beds and beautifully appointed bathrooms, now welcome four-legged guests. Situated in the heart of Mollymook just metres from the off-leash stretch of Mollymook Beach, Bannisters Pavilion is perfect for chic laidback escapes.
Alternatively, check out Ulladulla Guest House. Situated near the heart of Ulladulla, the rooms on offer range from 5-star executive rooms with spa bathrooms to self-contained units. There's also an onsite Wine and Mezze Bar, and a library. Contact the property directly to enquire about their pet-friendly rooms.
Dog-Friendly Holiday Rentals in Ulladulla & Mollymook
There's plenty of holiday homes located around Ulladulla and the surrounding towns, with quite a few of them permitting dogs, although always double check the rules, including whether dogs are allowed inside.
The Burrill Lake View Holiday Cottage is located next to Burrill Lake, just south of Ulladulla. A classic holiday home, but recently renovated with a new kitchen and bathroom, it has two bedrooms and can sleep four. Small pets are welcome, with many recent guests with pups leaving glowing reviews, especially about the large fenced yard.
Alternatively, head to Narrawallee, adjacent to Mollymook, and stay at Sage Coastal Cottage. This cottage also has two bedrooms and a fully enclosed yard, perfect for kids and dogs. Most of Narrawallee Beach, starting just near the cottage, permits dogs off-leash all day long.
Dog-Friendly Beaches in Ulladulla & Mollymook
The Ulladulla and Mollymook area has a great selection of dog-friendly beaches. Beaches in the area have been grouped into on-leash beaches, off-leash beaches and a handful of beaches where dogs are prohibited. The latest details and maps are provided on the council website.
The closest off-leash beach to the centre of Ulladulla is Ulladulla Harbour North Beach. Adjacent to the boat ramp on the north side of the harbour, it's a small and sheltered beach. There's lots of smells for your dog to sniff out from the fish cleaning station.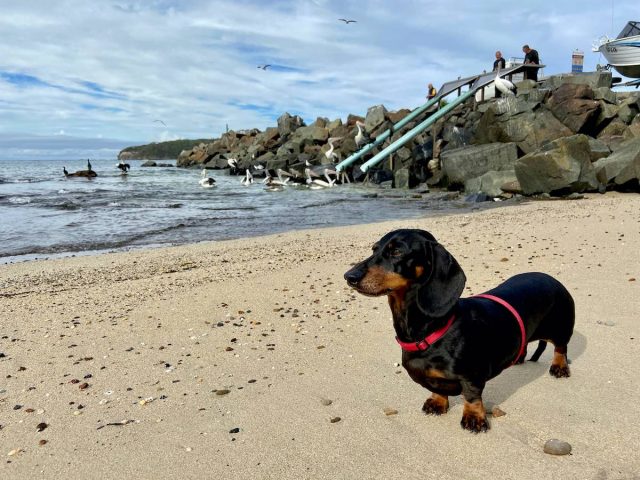 A little further north is Collers Beach in Mollymook. This small and calm beach is fairly quiet and isolated, great for off-leash romps. Access the beach from the steps down from Shipton Crescent.
For a more typical surf beach head to Mollymook Beach. The centre section of the beach, between the northern end of Donlan Road and Mollymook Creek, allows dogs all day, but they need to be kept on leash. Make sure to keep a close eye on your dog near the water, as the surf can be quite rough.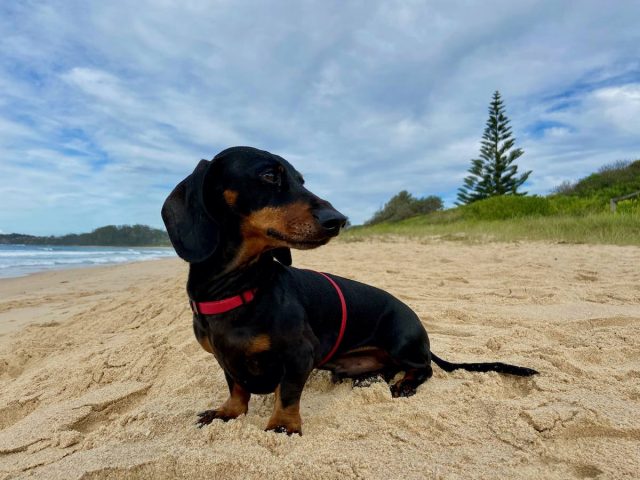 Just north of Mollymook is Narrawallee Beach. Note that dogs are only permitted on the beach during limited hours. From October to April, dogs are permitted before 8am and after 4pm, while over the winter dogs are permitted before 10am and after 3pm. Dogs are also limited to the section in between the beach access steps off Victor Avenue and the un-named island off the coast, although dogs are allowed to access the beach on-leash from Surfers Avenue, along a 10m wide access way. Dogs are not permitted at Narrawallee Lagoon.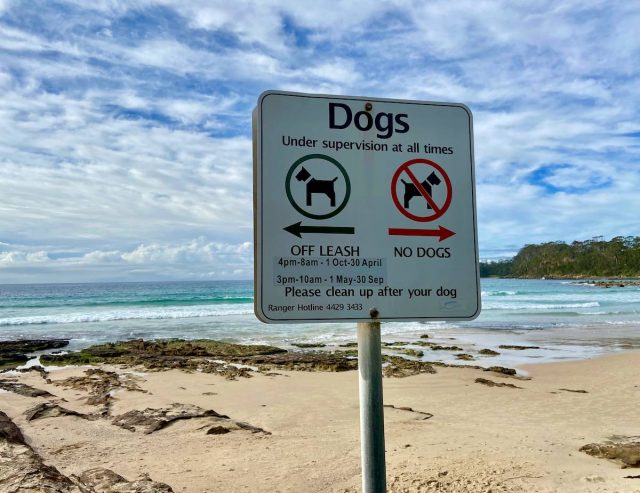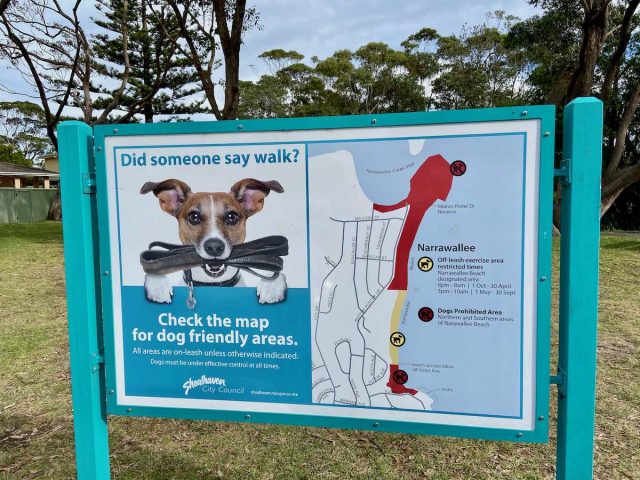 Heading further afield, dogs are allowed off-leash at Washerwomans Beach at Bendalong, on the north side of Lake Conjola. I loved this beautiful calm beach, close to the Holiday Haven Bendalong park where we stayed. I even spotted kangaroo prints on the sand early in the morning!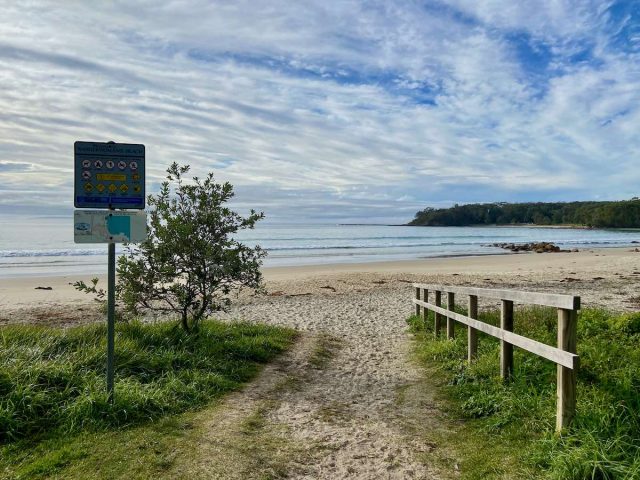 South of Ulladulla, dogs are allowed off-leash at Cormorant Beach at Bawley Point. It's about 25 minutes drive south of Ulladulla. This is the closest off-leash beach to the dog-friendly caravan parks at Kioloa Beach and Merry Beach.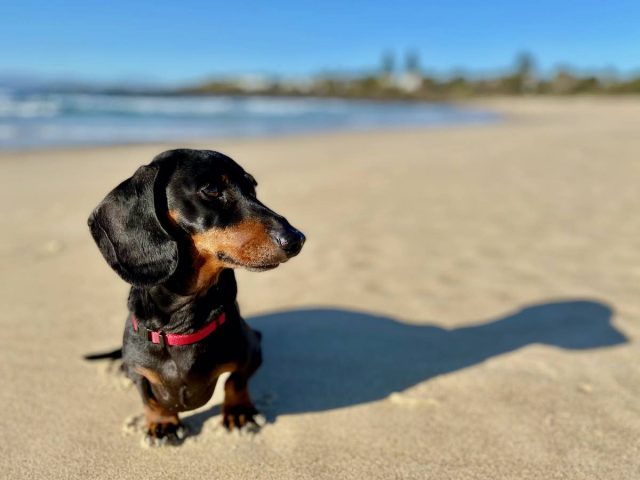 For more dog-friendly fun on the water, consider heading out in a boat or kayak on the many lakes around Ulladulla, perhaps going fishing. There's Lake Conjola to the north, plus Burrill Lake and Lake Tabourie south of town.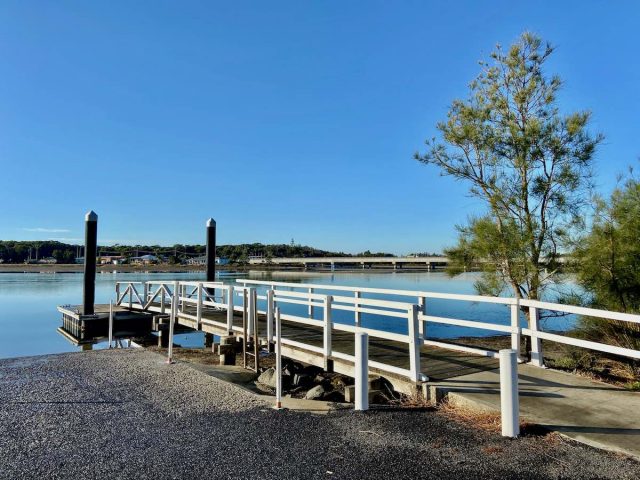 Dog-Friendly Parks in Ulladulla & Mollymook
While most of the off-leash locations around Ulladulla are beaches, there are also a pair of off-leash parks available.
At Mollymook, head to Mollymook Oval Reserve (listed as "Bill Andriske Oval" on Google Maps). Dogs are permitted off-leash in the area southeast of the buildings and playing fields, between 4pm and 8am between October and April, or between 3pm and 10am the rest of the year.
In Milton, just to the north, head to the Milton Showground Precinct, which also includes an agility area used by the local dog club. The area is off-leash 24 hours, except when major events are on.
Dog-Friendly Walks in Ulladulla & Mollymook
There's some great options for dog-friendly walks around Ulladulla, although dogs need to stay on leash for these walks.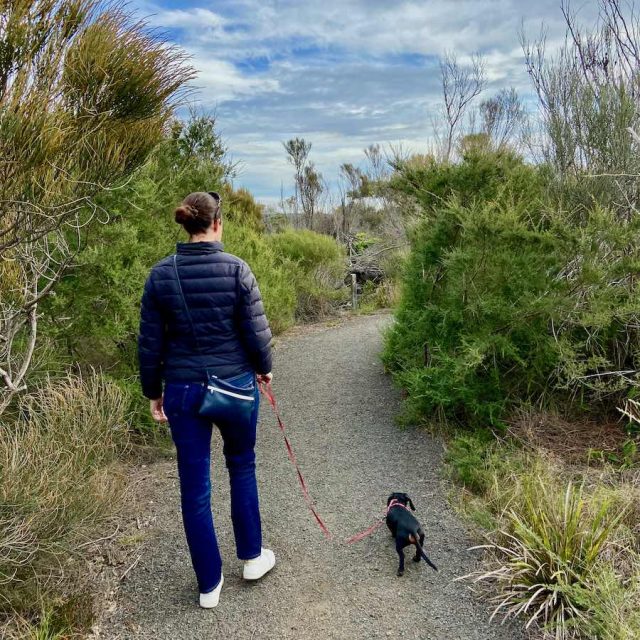 On the northern side of Ulladulla Harbour at Ulladulla Head, complete the One Track for All Aboriginal Cultural Trail. There's two 1km loops available, that can be walked separately or together. Along the way are beautiful carved signs with information on the local wildlife and Aboriginal history. Extend the walk by taking the Geological Time Walk down to Ulladulla Harbour North Beach, where dogs are allowed off-leash. The walking trails are an easy grade, either gravel or paved.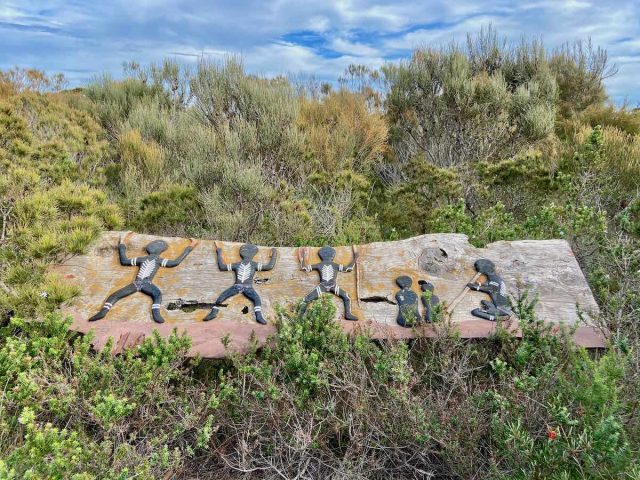 On the southern side of Ulladulla Harbour head to Warden Head. There's a variety of walking trails available on the headland, including the Coomee Nulunga Cultural Trail. A highlight is the Ulladulla Lighthouse, which is also the best place around to spot whales during their annual migration. There's multiple carparks along Deering Street, including at the lighthouse. Note that some of these trails are a medium grade, with some stairs.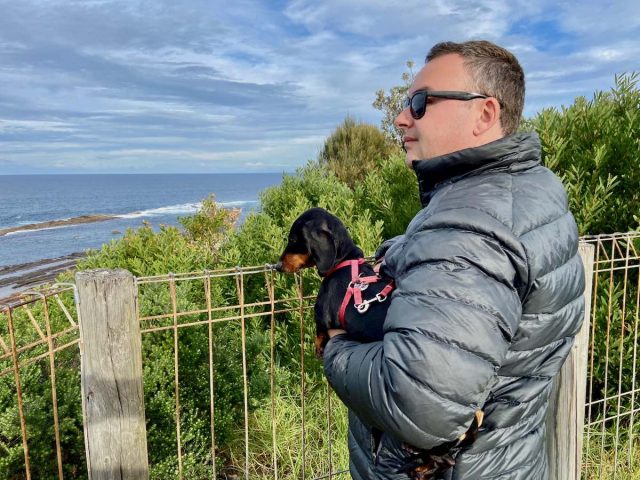 Another option for a dog-friendly walk around Ulladulla is the Ulladulla Wildflower Reserve. Starting on Green Street there are a number of nature walks, ranging in length from 900m to 1.5km. The walks are best appreciate during wildflower season.
Dog-Friendly Dining in Ulladulla & Mollymook
Ulladulla is renown for its seafood, with the town home to the largest commercial fishing fleet on the entire South Coast plus the annual Blessing of the Fleet festival. You should definitely try some of the local catch while in town. Perhaps grab some takeaway fish'n'chips at the Fishermans Wharf Seafood and eat them on a picnic bench around the harbour.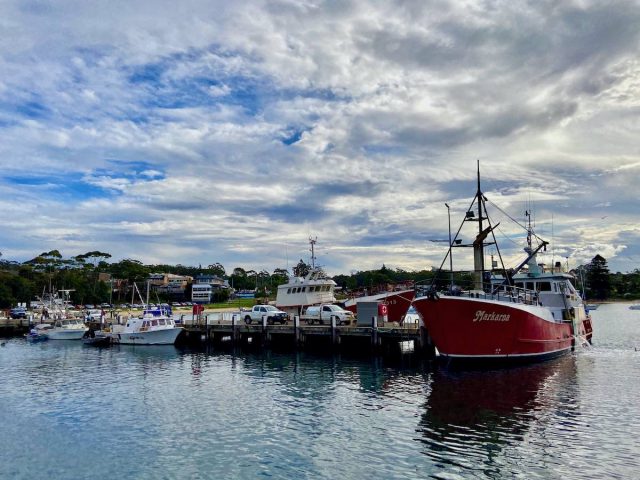 Not far away from the harbour is Treehouse Cafe, one block back from the main street in a renovated cottage, where we enjoyed a tasty lunch. There's lots of seating outside on the deck, with dogs welcome.
Highlights on the menu include the Mexi Bowl and Nourish Bowl, with plenty of vegetarian choices, along with a long list of cakes. At the moment the cafe is just open for breakfast and lunch, but it sometimes offers dinner as well.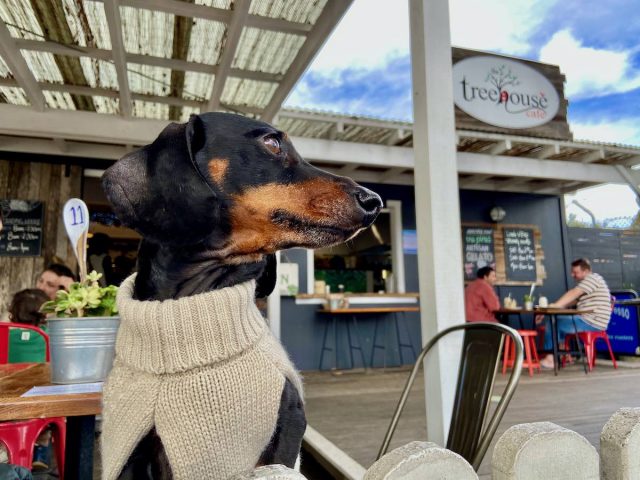 Unfortunately, we missed out on trying in person Milk Haus, a wholefoods cafe situated in the old Cheese Factory at Woodstock, near Milton. The cafe is open for lunch from Thursday to Monday, with a focus on home grown produce from their gardens. Dogs are allowed in the courtyard.
The historic village of Milton also offers more great cafes, most with some dog-friendly outdoor tables. Check out options like Annabel's Cafe and Pilgrims. Afterwards, take a stroll and check out the shops along and just off the main street.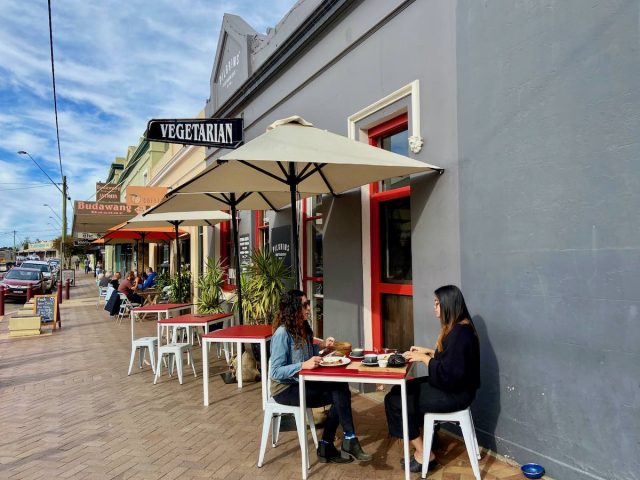 Another great option just inland from Ulladulla is Cupitt's Estate. As well as a cellar door, Cupitt's also has a microbrewery, fromagerie, fine dining restaurant and an alfresco bar onsite, overlooking their plantings of Sauvignon Blanc.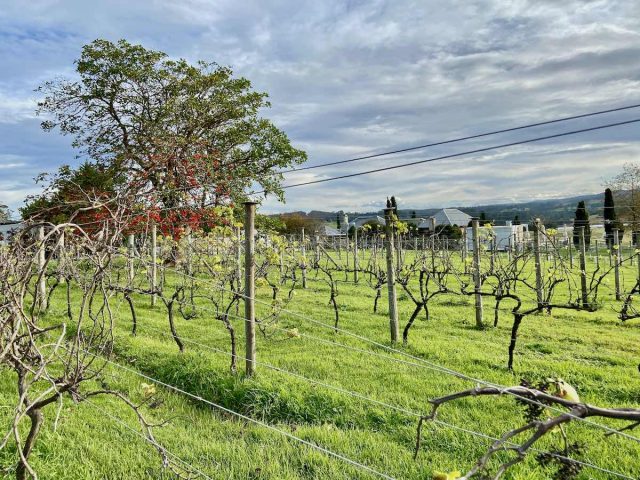 For a dog-friendly experience, your best option is to book into the casual dining at the bar area, although the restaurant menu can also be enjoyed outdoors midweek with advance booking. Sign up to their mailing list to be notified about their next Doggy Day Out. And I highly recommend picking up some of their beer for later!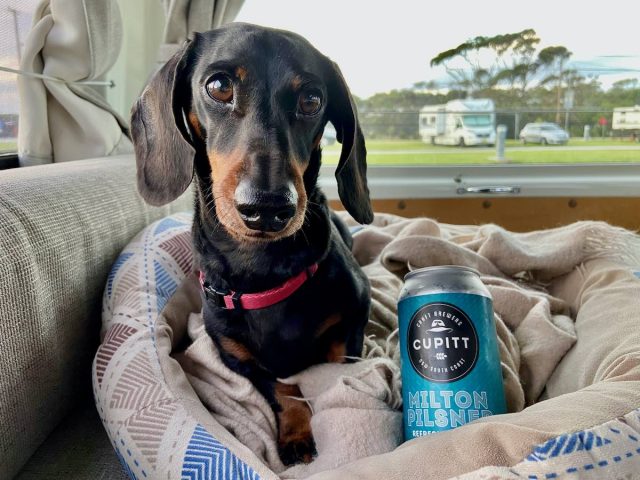 Dog-Friendly Shopping in Ulladulla & Mollymook
For some dog-friendly shopping in UIlladulla, head to one of the regular markets. Dogs are welcome to join you at the Ulladulla Harbour Markets, held on the 2nd Sunday of every month. I also assume dogs are allowed at the Mollymook Markets (the 5th Sunday of the month) and the Milton Showground Markets (1st Saturday of the month).
Inspired? Pin this to your Pinterest board!