Los Angeles in California is one of the most popular cities to visit in the USA. There's plenty of attractions that have made this city a popular tourist destination, and if you're travelling in the USA with your dog, you'll quite likely to pass through this city. So, how dog-friendly is Los Angeles?
Dog-Friendly Things to Do in LA
For starters, if you're visiting Los Angeles with your dog, there's plenty of dog-friendly things to do in LA. Check out these fun dog-friendly activities to fill the sunny days..
1. Hike in Runyon Canyon
One of the favourite activities of dog owners in Los Angeles, both of the celebrity and regular type, is hiking at Runyon Canyon in the Hollywood Hills.
Over half of the park permits dogs to walk off-leash (a massive 90 acres out of the total 160 acres). There are multiple walking trail options, many featuring great vantage points with panoramic views across LA.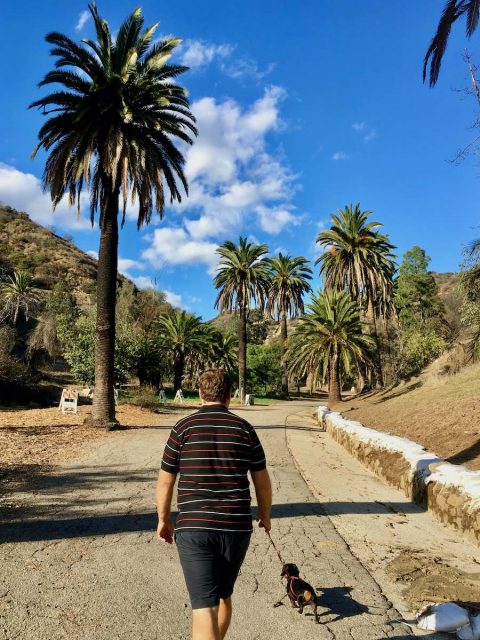 The southern entrance of Runyon Canyon Park is only a few blocks north of Hollywood Boulevard, and we easily found a free parking spot nearby. Alternatively, head to the northern entrance just off Mulholland Drive where there is a free parking lot.
Make sure to take a water bottle on warmer days, for both yourself and your pup. There's not much shade, so visit the park early or late in the day during summer.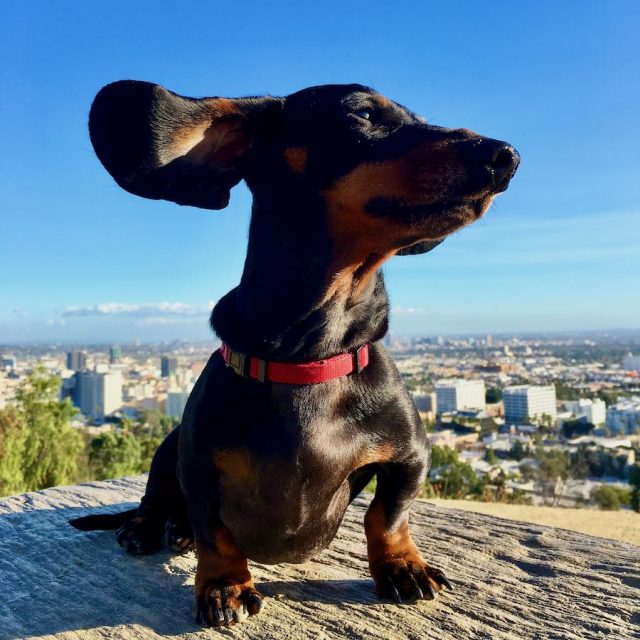 2. Or Hike Near Griffith Observatory
Another popular hiking spot in LA to head to with your dog is Griffith Park, surrounding Griffith Observatory, where miles of trails criss-cross the park. Check out many of the most popular trail options on All Trails.
Note that dogs need to stay on leash within Griffith park, except for at the designed off-leash dog park on North Zoo Drive.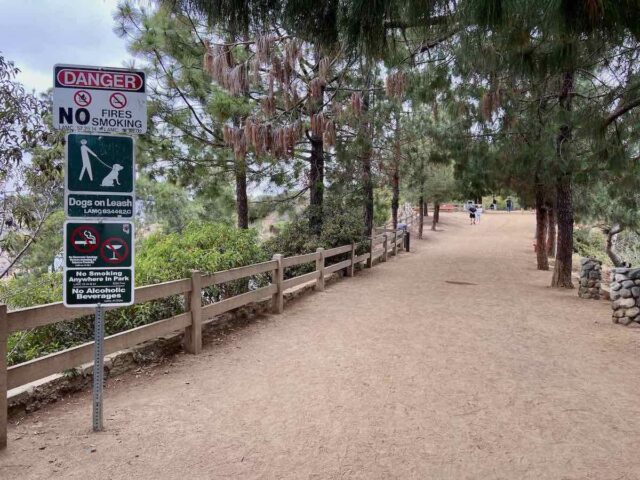 One of the most dog-friendly hikes is hiking up the observatory, from one of the lower carparks near the entrance. Note that parking near the Observatory itself is very expensive (we were charged $10 per hour on our visit in 2022!), so make use of the free carparks and hike up.
3. Visit the Hollywood Walk of Fame
What would be a first-time visit to Los Angeles without a stop at the Hollywood Walk of Fame? Stretching for 15 blocks along Hollywood Boulevard (between Gower Street and La Brea Avenue) and for 3 blocks along Vine Street, there are over 2600 stars embedded in the pavement.
While stretches of the walk can be busy, it's a fun activity to do with your pup on a leash, walking along and spotting the stars of your favourite stars. Not to mention your pup's favourite stars!
Don't miss out on also checking out the forecourt in front of the TCL Chinese Theatre with its signatures, handprints and footprints, including those of Marilyn Monroe. The Theatre is right on Hollywood Boulevard.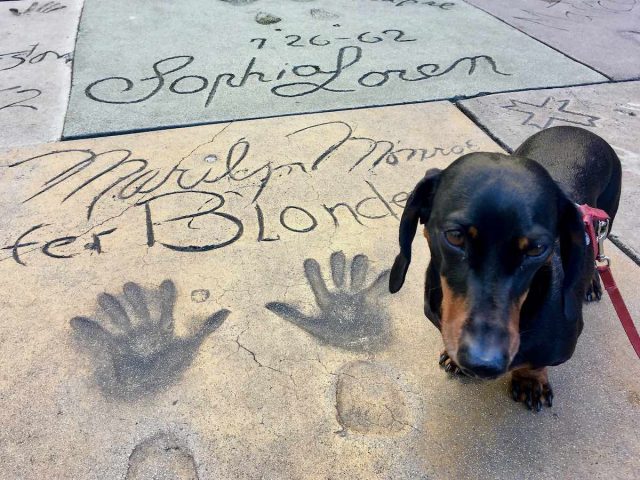 4. Check Out Rodeo Drive
Even if you aren't the type to splurge on designer outfits, it can be fun to hit up Rodeo Drive in Los Angeles. One of the most famous shopping streets in the world, this street in LA is home to glamorous designed boutiques, with some over-the-top buildings.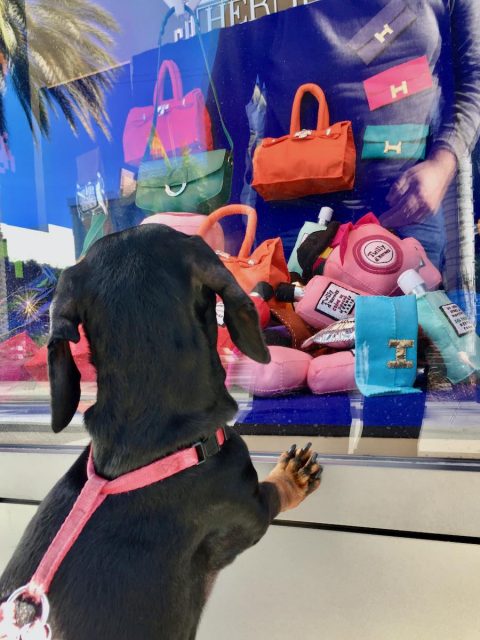 While I wasn't planning on doing any shopping myself, it was still fun to stroll along the street and outdoor mall with Schnitzel at my side, who would have probably been welcome inside some of the boutiques for some fussing over.
5. Hit Up Santa Monica
Although dogs aren't allowed to join you on the sand at Santa Monica, it can still be fun to head to this seaside spot and popular tourist destination with your dog.
Take a walk along the boardwalks behind the beach or head out on Santa Monica Pier. Dogs on a leash are allowed to join you on the pier, except for in the amusement ride section.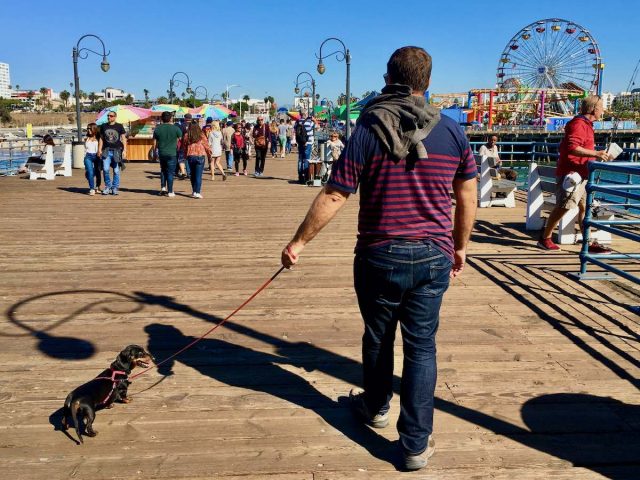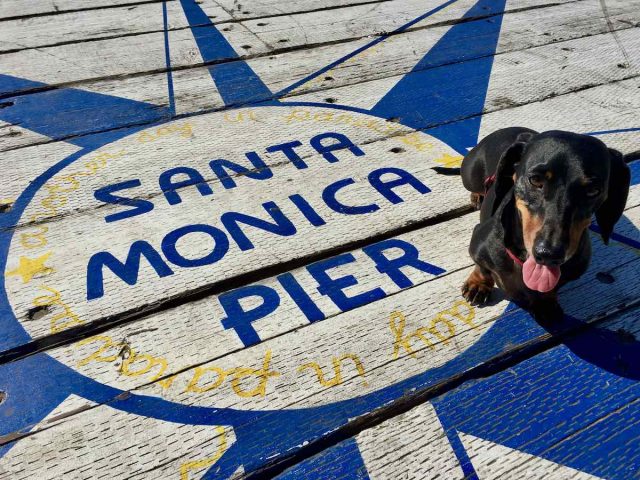 To enjoy some off-leash time with your pup in Santa Monica, detour down Pacific Street to Pacific Street Dog Park, on the corner of Main Street. There's a single large fenced area for all size dogs to enjoy some off-leash fun, along with a water station and benches.
6. Head to the Beach
If you're wanting to hit the beach in LA with your dog, there aren't many options, with dogs banned from most beaches, even if they are on a leash. Instead, for dog-friendly beaches, head south to Long Beach for Rosie's Dog Beach or further afield to Huntington Dog Beach.
Huntington Dog Beach is terrific for a morning or afternoon outing with your pup. The dog-friendly section of the beach extends from Goldenwest Street (where there are multiple signs indicating dogs are not allowed any further) north to Seapoint Street for 1.5 miles. Leashes are optional.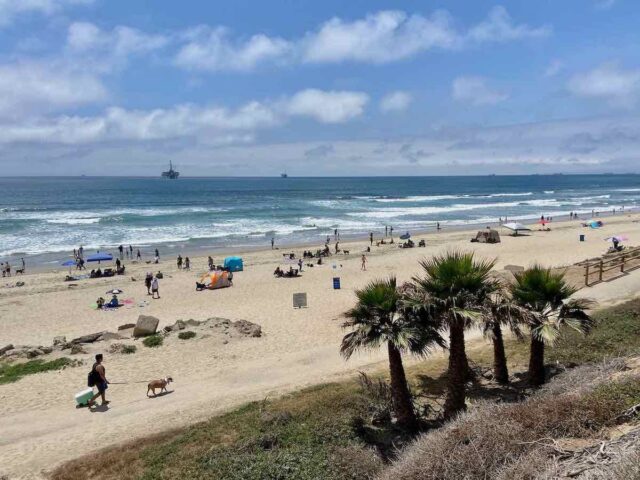 There are multiple carparks located along the beach, with a few dollars charged per hour. Note that there are only a few access paths down onto the beach (and please stick to them so you don't exacerbate the coastal erosion). Make sure you keep your dog on a leash until they are on the sand – there are many resident squirrels!
Even if it's not quite swimming weather, the Dog Beach is still a great place to have a long walk along the sand with your pup, or organise a get-together. Drinking fountains and dog waste bags are provided, with donations welcome.
7. Take a Dog-Friendly Day Trip
There's also plenty of other great dog-friendly destinations in the Los Angeles area that are perfect for a day trip with your dog. For plenty of ideas, check out this extensive guide to Dog-Friendly Day Trips in Southern California.
Can You Visit Disneyland with Your Dog?
As a first-time visitor to Los Angeles, naturally I wasn't going to skip visiting Disneyland. However, unless your dog is a trained service animal, pet dogs are strictly forbidden inside the gates of Disneyland – although there's nothing stopping you from getting a selfie with your pet outside the entrance!
Previously, there was a kennel that operated at Disneyland. We left our dog at the Disneyland Kennel Club, that we dubbed the "Happiest Kennel on Earth", while we visited Disneyland for the day. The kennel was located just outside the entrance to the Disneyland Park, next to the stroller hire, with a charge of $20 per pet for the day.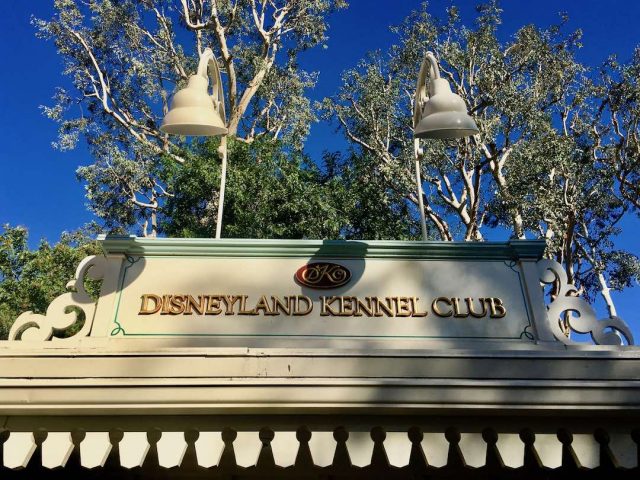 However, after the Disneyland Kennel Club closed along with the rest of the park during the pandemic, it never reopened. It has now been announced that it will not reopen – you'll need to find alternative pet-sitting or kennel arrangements for your pet.
Dog-Friendly Parks in Los Angeles
Los Angeles has some great dog parks for your pup to get in some off-leash exercise and socialise with other pups. It's easiest to search on Google Maps to see what is close by to you.
We were delighted to discover Bluff Creek Dog Park near our Airbnb, which has separate fenced areas for large and small dogs, plenty of grass (much of it artificial, so it doesn't turn into a dustbowl) and a drinking water stream. It's a very popular off-leash area on sunny weekends!
Another popular spot for dog owners is Lake Hollywood Park in the Hollywood Hills. While this park technically only allows dogs on leash, often this is overlooked. With views of the nearby Hollywood sign, this park is popular for puppy parties and meet-ups.
Make sure you keep a close eye on your dog, as the park is not fenced. Plus don't allow your dog to enter the playground area. On-street parking is available on the adjacent street.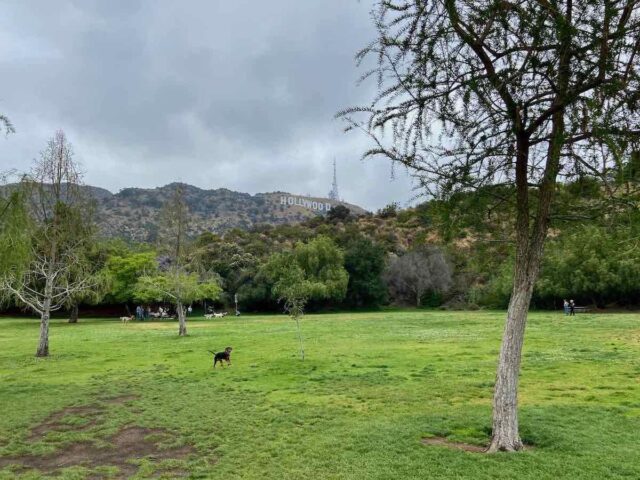 Taking a Dog on Public Transport in Los Angeles
While in Los Angeles we didn't use public transport, as we picked up a car at the airport (and dropped it off again when flying out). There is however a public transport system, known as the "Metro", with both trains and buses. This map gives a good overview of the system.
The Metro allows small pets secured in an enclosed carrier on board trains and buses. Although there isn't an actual size limit, considering pets need to be enclosed in a carrier, it's not feasible for larger pets.
The pet in its carrier shouldn't block the aisle or doorway, take up a seat (or stop someone sitting in a seat) and of course not interfere with the comfort of other customers. For more information, including detailed guidelines on what constitutes a service animal (who are exempt from the carrier rule), see this page.
Dining Out in Los Angeles with a Dog
Dogs are allowed to join you on the patio of cafes and restaurants in Los Angeles, although the owner of the establishment has the final say. Not surprisingly, given the number of celebrities residing in the city, there's plenty of five-star treatment for pampered pooches.
We didn't dine out often in Los Angeles, thanks to staying in some great Airbnbs with awesome kitchens, so I can't personally recommend many dog-friendly restaurants.
We did visit In-N-Out Burger multiple times, and I was disappointed to not find out until later that they offer a secret menu item for dogs. The "puppy patty" is an unseasoned meat patty, for about $1. Just be warned it is a bit greasy, so it's best as a special treat, especially for smaller pups.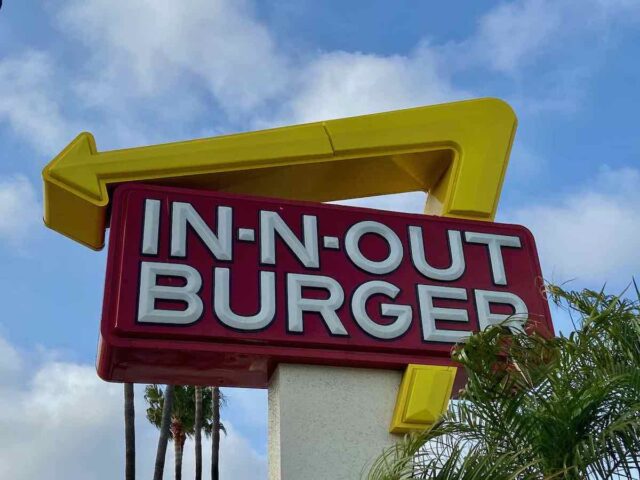 We did however give our Schnitzel a Puppuccino from Starbucks one time when we were stopping by. He devoured down the whipped cream concoction, which is complementary for pet owners (although a tip is welcome). Again be warned that this isn't a healthy item for dogs, so perhaps just allow your dog a small amount.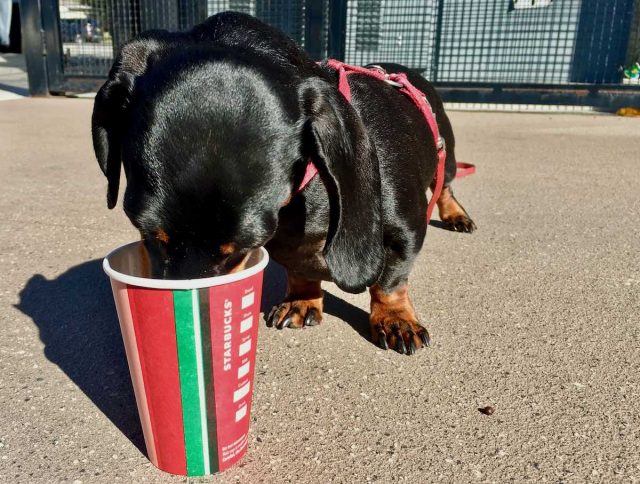 I've also heard great reports about Angel City Brewery, in the Arts District in Downtown LA, and want to visit on my next trip to LA. Well-behaved leashed dogs are allowed to join you for one of their craft beers, although skip the guided tours as pets aren't allowed in the actual brewing area.
Dog-Friendly Accommodation in Los Angeles
Note: This post contains affiliate links, which means I may receive commission if you make a purchase using the links. See my full disclaimer.
On our multiple visits to LA, we stayed at two great Airbnbs with friendly hosts. A pet-friendly Airbnb, whether a private room or entire property, is always an option. But there's also lots of pet-friendly hotels in Los Angeles. Consider these hotels for a special treat with your pup…
Kimpton La Peer Hotel
Kimpton is renown as one of the most pet-friendly hotel chains in the USA. Thanks to their policy of allowing any number of pets, of any breed or size, for no additional charge or deposit, your pet is guaranteed a warm welcome.
The Kimpton La Peer Hotel is located in the Design District in West Hollywood, with premium rooms featuring soaking tubs and furnished terraces. Pets are welcome at the nightly wine reception. Pets are provided with a pet bed loaner, bowls and a concierge list of recommendations, as part of a pet getaway.
Loews Hollywood Hotel
Just a few blocks away in Hollywood and with a heated rooftop pool, your pet will also be treated like a VIP at the Loews Hollywood Hotel thanks to the Loews Loves Pets program. Pet amenities include special treats, litter boxes and their own gourmet room service menu.
Up to two dogs or cats up to 75 pounds in weight are welcome to join you, for an additional pet fee of $100 per stay. There are also green spaces onsite at Loews Hollywood for walkies.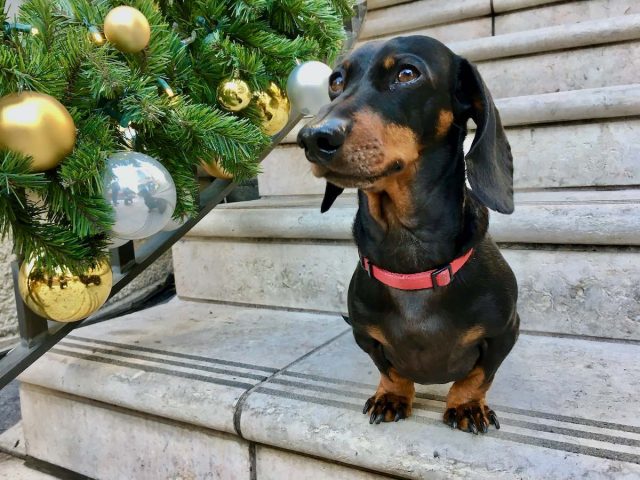 Paséa Hotel & Spa
Head south to Huntington Beach and the Paséa Hotel & Spa or so-called Paw-Séa. Rated as the best dog-friendly hotel in the USA multiple times, the hotel has its own private dog park, plus is close to the popular dog beach.
For a non-refundable deposit of $150 per stay, your dog will be provided with their own bed, bowls, a keepsake collar and toy, plus a complimentary entree from the Tanner's pet menu.
You May Also Like
About the Author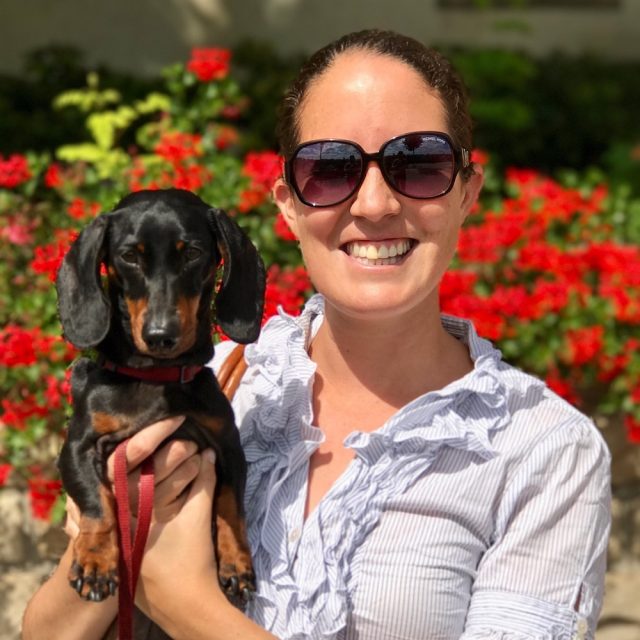 Shandos Cleaver is the founder of Travelnuity: Dog-Friendly Travel. She has travelled extensively with her Miniature Dachshund, Schnitzel, including to 33 countries across Europe, every state and territory of Australia except Tasmania, and 10 of the United States. She's passionate about providing inspiration and information to others wanting to travel with their dogs, whether close to home or internationally.
Inspired? Pin this to your Pinterest board!