One of the most unique national parks in the United States, Joshua Tree National Park is a must-visit park in southern California. Located not far from Los Angeles, it's the ideal destination for a weekend road trip or on a longer trip through Southwestern USA. But what can you do when visiting Joshua Tree with a dog? How dog-friendly is Joshua Tree National Park?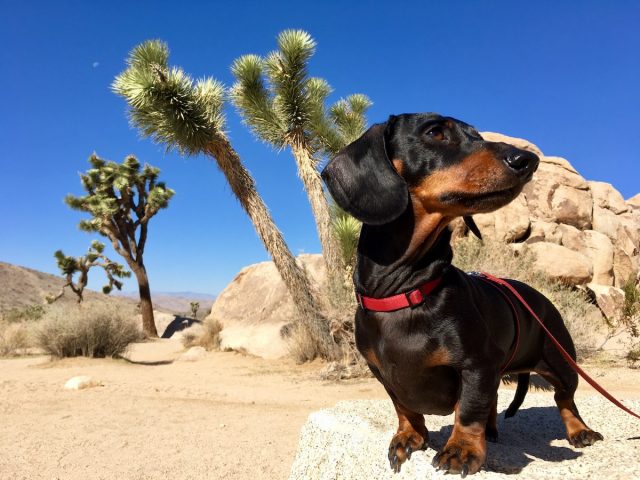 Driving to Joshua Tree National Park
The west entrance to Joshua Tree National Park and the town of Joshua Tree is about 125 miles east of Downtown Los Angeles. The drive takes two to three hours, depending on the time of day and traffic. With good traffic, it's close enough for a day trip, but it's better to spend a weekend in the area.
Rules for Pets at Joshua Tree National Park
Before visiting Joshua Tree National Park with your pet, realise that there are restrictions on where pets can go. Pets are not allowed on any unpaved hiking trails, in the backcountry or in park buildings.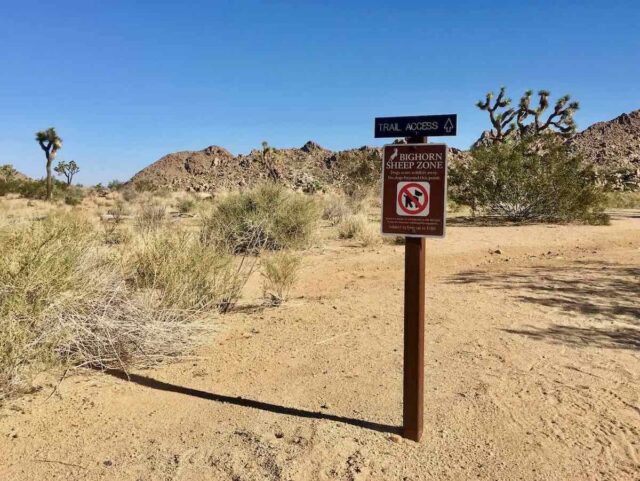 The standard rules for pets in all national parks in the US also apply. Pets must be kept on a leash at all times, no longer than six feet long. Pets must not be left unattended, including in vehicles while you hike. And naturally, pick up after your dog.
Dog-Friendly Sightseeing at Joshua Tree
So, if you can't go on most hiking trails in Joshua Tree National Park with your pet, or explore the backcountry what dog-friendly things are there to do?
#1 Drive Along Park Boulevard
The main road that passes through Joshua Tree National Park is Park Boulevard. The boulevard links the west entrance to the park, near the town of Joshua Tree, and the north entrance, in Twentynine Palms, both on Highway 62. It's about 35 miles long.
Driving along Park Boulevard is a great dog-friendly sightseeing option at Joshua Tree. Along the way you can see many of the highlights of the park, including Hidden Valley, Cap Rock, Ryan Mountain, Skull Rock and, of course, groves of the famous Joshua Trees.
In Joshua Tree, leashed dogs are allowed within 100 feet (30.5m) of roads and picnic areas, so you can venture slightly off the road and get some photos along with your pup.
#2 Continue Along the Pinto Basin Road
For a longer drive through Joshua Tree, start driving along Park Boulevard at the west entrance but then turn onto the Pinto Basin Road, exiting from the south entrance of the park onto Route 10. This route takes about 90 minutes to drive non-stop, but allow plenty of more time for stops.
We drove this route as we were road tripping to Arizona after our day in Joshua Tree National park. However, I didn't find this section of the drive through the lower elevation Colorado Desert as impressive as the earlier drive through the Joshua Trees.
One of the highlights along the drive is stopping at the Cholla Cactus Garden for the quarter-mile walk through a stand of teddybear cholla. However, this garden is strictly off limits to dogs – have you seen the length of some of the cactus spines?
I still recommend stopping at the garden if you aren't travelling solo. We took turns in the garden while the other looked after our dog in the carpark. Don't leave your dog unattended in your vehicle, especially during hot desert days.
#3 Detour to Keys View
Part way along the Park Boulevard is the turn-off to Keys View, a worthwhile 20 minute detour off the main drive.
This impressive viewpoint sits on the crest of the Little San Bernardino Mountains, with spectacular views of the Coachella Valley below. It also offers a birds-eye view of the infamous San Andreas Fault passing through the valley.
There is a short paved walk to the lookout point, with dogs welcome to join you.
#4 Hike the Oasis of Mara Trail
In addition to the short paved trail at Keys View, the only other dog-friendly hiking trail within Joshua Tree National park is the similarly paved Oasis of Mara Trail.
This easy half-mile long paved trail is located at the Joshua Tree National Park Headquarters in Twentynine Palms. We skipped visiting this spot as we exited the national park from the southern entrance.
A unique spot in the park, the oasis contains a large stand of honey mesquite and is the best spot to view California fan palm in the park. There are interpretive signs along the path.
Just be wary of hot pavements during the middle of the day – it might be better to complete this walk with your dog during the cooler morning or evening hours.
#5 Walk Along Unpaved Roads
One alternative option for hiking with your pet in Joshua Tree are the many unpaved roads located within the park. Any roads that vehicles can drive along, leashed pets are allowed on.
A list of the unpaved roads and their distances can be found on this page. Note that some of the roads are only accessible to 4-wheel drive vehicles, sometimes only high-clearance vehicles. One of the most popular dirt roads is the Geology Tour Road, which is partially accessible to regular vehicles.
Remember to keep an eye out for other vehicles and that pets are not allowed further than 100 feet (30.5m) off the edges of the road, plus need to stay leashed.
Keeping Your Dog Safe at Joshua Tree
Its a harsh natural environment at Joshua Tree National Park, so make sure you stay alert and keep your pet safe.
For starters, temperatures can rise quite high during the day in summer in the high desert. Consider visiting the park with your dog outside of the hot summer months. We visited in late October and found the conditions ideal. Alternatively, the best time to visit is early morning or during the evening.
Always bring plenty of water, both for yourself and your pet. I usually carry a collapsible water bowl for my dog in my bag. If you drink, also offer water to your pet.
Other dangers include cacti spikes, rattlesnakes, coyotes and mountain lions. Keep your dog close by on a leash, and follow the rules to stay out of the backcountry.
Are There Any Kennels at Joshua Tree?
There are no official kennels associated with Joshua Tree National Park, but there are kennels located in the surrounding towns. Check for options in Joshua Tree, Twentynine Palms and Yucca Valley nearby. There are also kennels in Palm Springs.
Dog-Friendly Accommodation at Joshua Tree
Joshua Tree National Park is home to eight campgrounds open to the public, with dogs allowed at each of these campgrounds.
Some of the campgrounds accept reservations, which are a must if you plant to camp during the cooler "spring" season from November to May, or on holidays or weekends year-round. Other campgrounds operate on a first-come, first-served basis. Some campsites close over the summer.
Facilities vary, with only Black Rock and Cottonwood Campgrounds having water and flush toilets. The other campgrounds do not have water – so bring your own or use the water refill stations.
There's also a wide variety of accommodation outside of the park, from basic campgrounds through to gorgeous Airbnbs and luxury resorts. We stayed the night in Palm Springs, a 45 minute drive from the west entrance.
You May Also Like
About the Author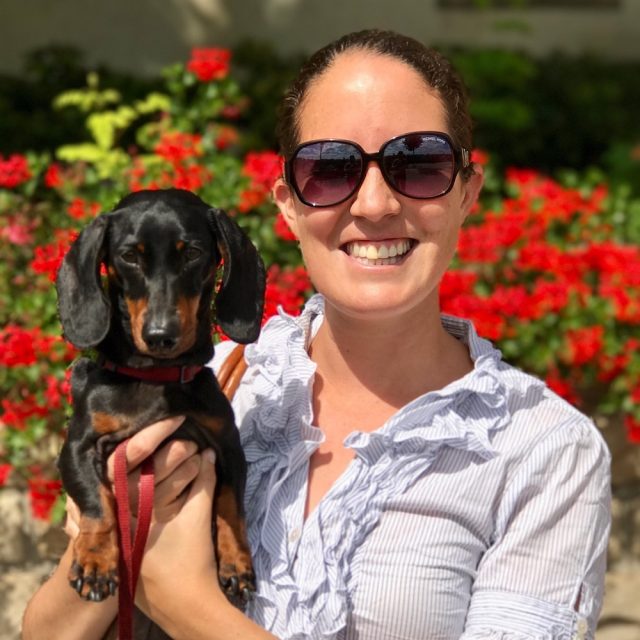 Shandos Cleaver is the founder of Travelnuity: Dog-Friendly Travel. She has travelled extensively with her Miniature Dachshund, Schnitzel, including to 33 countries across Europe, every state and territory of Australia except Tasmania, and 10 of the United States. She's passionate about providing inspiration and information to others wanting to travel with their dogs, whether close to home or internationally.