The second largest city in South Australia, Mt Gambier is located in the southeastern corner of the state, close to the Victorian border. A convenient stopping point when driving the coastal route between Adelaide and Melbourne, Mt Gambier is also popular due to its fascinating geographical features that reveal its volcanic past. Find out more about visiting Mt Gambier with a dog.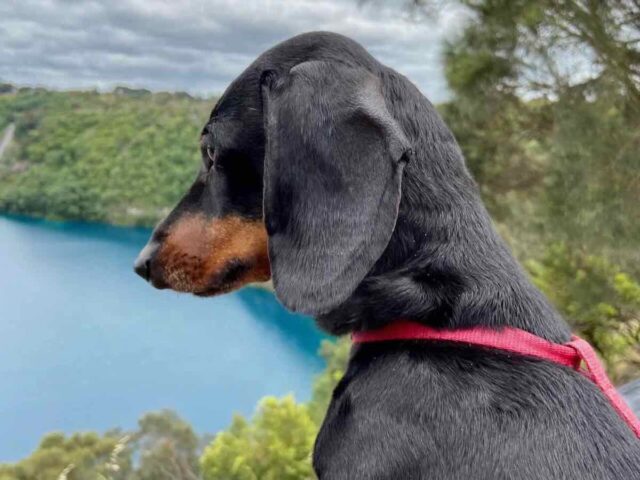 Dog-Friendly Sightseeing in Mt Gambier
Mt Gambier is named after the volcano of the same name, which is only dormant rather than extinct. The surrounding volcanic field is home to the youngest volcanoes in Australia, with Mt Gambier believed to have erupted as recently as 5000 years ago!
The region is dotted with remnants of its recent volcanic past, from craters and lakes to sinkholes and caves. When visiting Mt Gambier with your dog, make sure you tick off these dog-friendly attractions, located both in the city and close by.
1. Walk Around the Blue Lake
The top attraction at Mt Gambier is its iridescent Blue Lake, and you don't need to leave your dog behind when visiting the lake.
The lake is located in the old volcanic crater of Mt Gambier and between November and March each year it turns a stunning deep turquoise blue. The colour of the lake changes almost overnight and then persists until late February and March, when it gradually changes back to a duller blue for the rest of the year.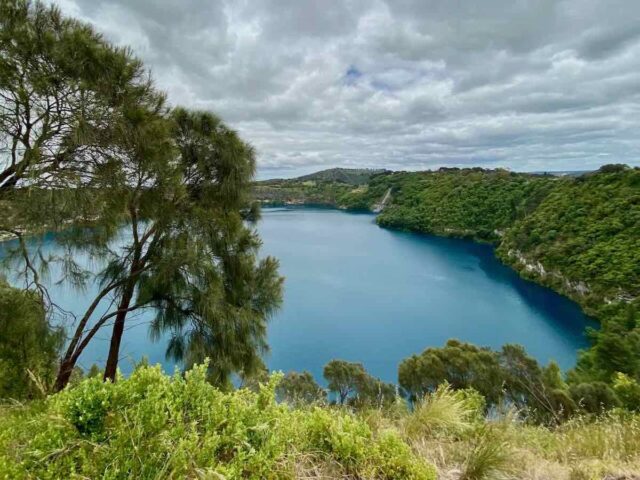 Head to one of the many lookouts overlooking the lake. There's multiple lookouts next to Bay Road, or follow John Watson Drive around the lake and stop at other viewing points.
Even better, go for a walk around the lake with your dog. There's a 3.6km long walking path the circles around the entire lake. Your dog just needs to stay on a leash and there's plenty of poop bag dispensers along the way.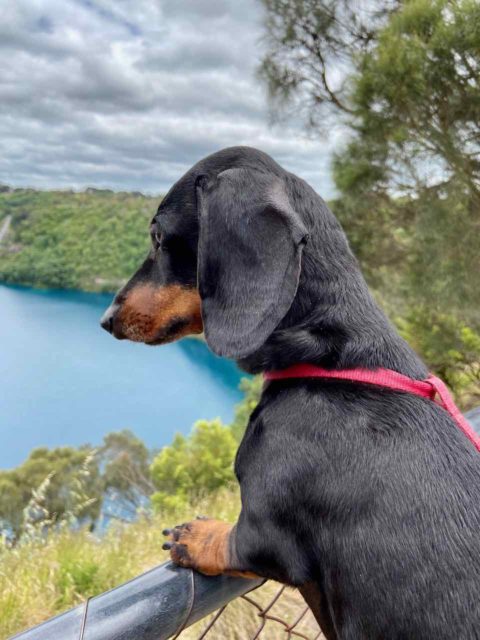 2. Visit Umpherston Sinkhole
Mt Gambier is dotted with caves and sinkholes that are reminders of its recent volcanic past. Another spectacular sight in town is the Umpherston Sinkhole.
This sinkhole is located right next to the Princes Highway on the eastern side of the city centre. Back in 1886, a stunning garden was created within the sinkhole, that you can still descend down into and explore.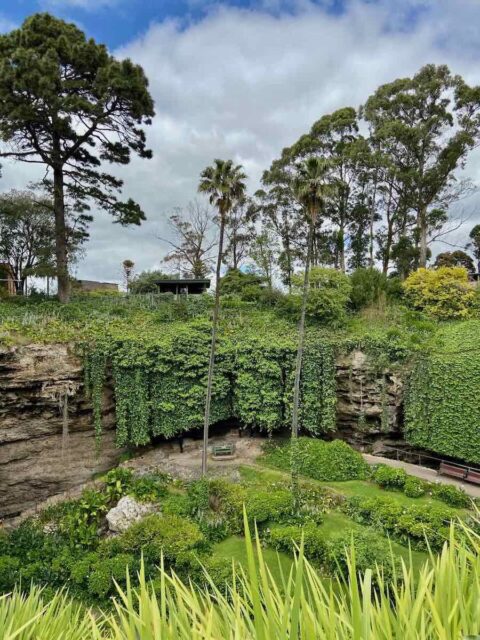 Unfortunately, dogs are not permitted to descend with you into the sinkhole, due to the wildlife that live there. I recommend you instead take turns visiting if you're not travelling solo. Your dog is fine to view it from above and explore the surrounding park, as long as they stay on a leash.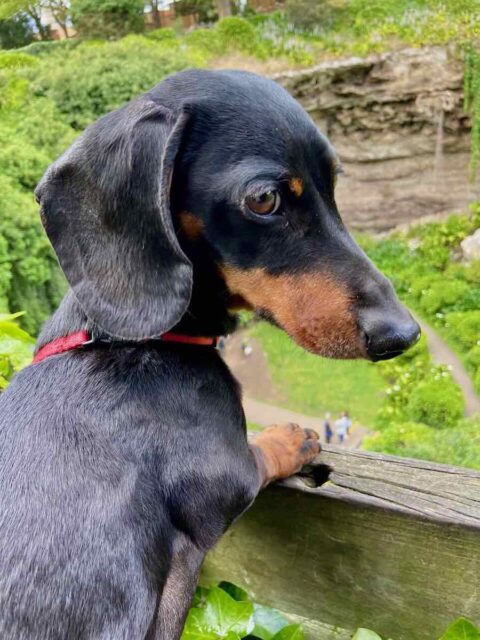 3. Walk an Extinct Volcano Rim
Another spectacular volcanic crater located not far outside of Mt Gambier is Mt Schank, which also erupted about 5000 years ago. This old volcano is located a 15 minute drive south of town, with access from Mountain Path Road.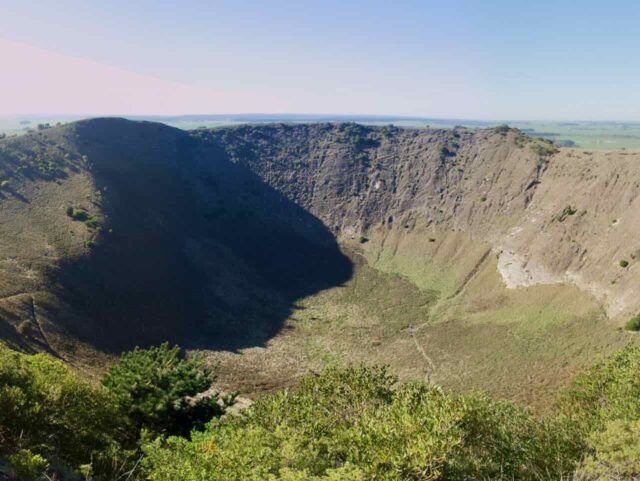 There is a well-formed path up to the rim of the crater, not so much steps but limestone slats to help you climb up. It's a fairly tough climb, but if you're reasonably fit it should only take about 10-15 minutes. Dogs are welcome to join you, but need to stay on a leash.
Once you reach the top, either just take in the view or you can choose to walk around the rim of the crater. This walking path is rather rough, but the views along the way are spectacular. Allow about 1hr for the complete 2.4km ascent, loop and descent.
4. Visit a Dog-Friendly Winery
It's only a 45 minute drive north of Mt Gambier to Coonawarra, one of the premier red wine regions in South Australia. So, it would be a shame to not visit to sample and purchase some of the local wines. Cabernet Sauvignon from the region is especially highly regarded.
This map indicates which Coonwarra wineries are dog-friendly, or check out this listing. Some of the dog-friendly wineries that are open daily include Balnaves of Coonawarra (with a beautiful deck overlooking the lake), Bellwether Wines, Majella Coonwarra, Rymill Coonawarra and Wynns Coonawarra (although tastings are only done inside and dogs are only allowed outside).
Most wineries only allow dogs in outdoor areas, but a few may allow them inside the cellar door, too. It's best to contact wineries in advance to confirm whether an appointment is required and that your dog is welcome. While in Coonawarra, grab a cute photo at the Coonawarra Siding with your pup!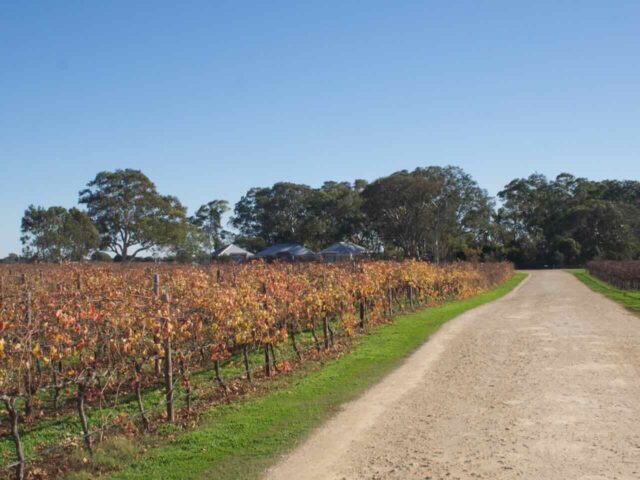 Dog-Friendly Parks in Mt Gambier
While most of these walks and attractions require dogs to stay on a leash, there are a number of parks around Mt Gambier where your dog can enjoy some exercise time off-leash.
The best dog park in Mt Gambier is located at Hastings Cunningham Reserve on Shepherdson Road. This fenced dog park has two areas, one for larger dogs, while the other is exclusively for small dogs. There's also a variety of obstacles for your pup to enjoy.
There are also four more off-leash dog exercise areas in Mt Gambier:
Blue Lake Sport Park on Jubilee Highway West
Corriedale Park on Wireless Road West
Don MacDonnell Reserve on Conroe Drive
Frew Park on Bay Road
Dog-Friendly Dining in Mt Gambier
If you're after a coffee for yourself and a puppachino for your pup, stop by the San Piero Coffee Bar in the centre of town. Open daily from Monday to Saturday, dogs are possibly even allowed inside with you while you order. Perhaps also grab one of their highly recommend egg and bacon brioche rolls.
Other dog-friendly cafes in Mt Gambier that welcome dogs at their outdoor dining area, usually with a handy water bowl, include Presto Eater, Bricks & Mortar Coffee Co and Molten Chocolate Cafe.
Dog-Friendly Accommodation in Mt Gambier
Mt Gambier is home to one of the most dog-friendly caravan parks in all of South Australia. Pine Country Caravan Park is located just south of Blue Lake and has plenty of facilities for dogs. Dogs are permitted on all camping sites (including ensuite, powered and unpowered sites), in two dog-friendly cabins and there's a large off-leash dog park onsite.
Both of the dog-friendly cabins come complete with dog bowls and a fenced yard for your dog's private use. The larger two-bedroom cabin also has an outdoor kennel. Up to two dogs are permitted per cabin. Dogs are allowed year round at the park, just notify the reception in advance that you'll be bringing dogs.
Another dog-friendly caravan park in Mt Gambier is the Limestone Coast Tourist Park, which also has an off-leash dog area. As well as on sites, dogs are also allowed to stay in One-Bedroom Holiday Units, although they must remain in the enclosed alcove area only.
At the Blue Lake Holiday Park right next to Blue Lake, they have a dog-friendly powered site area where free doggie bags are supplied. Up to two dogs are permitted per site. Dogs are also allowed inside selected accommodation, at the manager's discretion, with a limit of one dog per cabin.
Dogs are also permitted at the two other caravan parks located in Mt Gambier, although only on selected campsites, plus at the small showground camping area.
Head Next To