One of Victoria's most well-known attractions is the Great Ocean Road. Popular to complete as either a day trip from Melbourne or over multiple days, of course we added it to our road trip driving between Melbourne and Adelaide.
However, in the lead up and while driving it, we discovered that the Great Ocean Road isn't the most dog-friendly destination in Australia. Before you complete the road trip, I'll let you know where your dog is and isn't welcome, and how everyone can have a great time.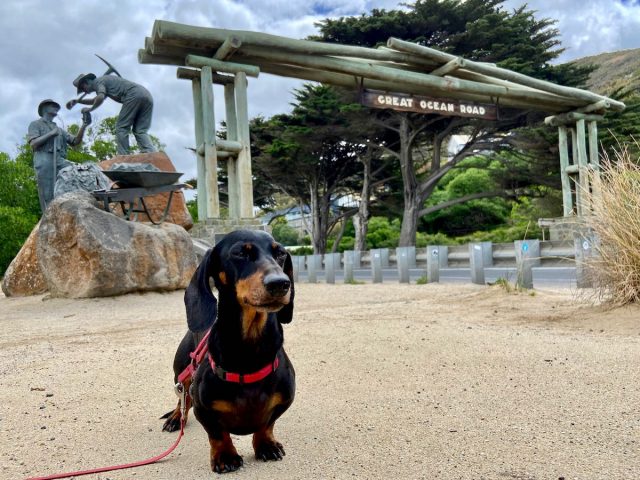 The Great Ocean Road and National Parks
The main difficulty about visiting the Great Ocean Road with your dog is that many of its attractions are located within national parks, principally the Port Campbell National Park and Great Otway National Park.
Many of the most famous formations along the western part of the Great Ocean Road, including the 12 Apostles lookout, are located in the Port Campbell National Park, where dogs are strictly prohibited.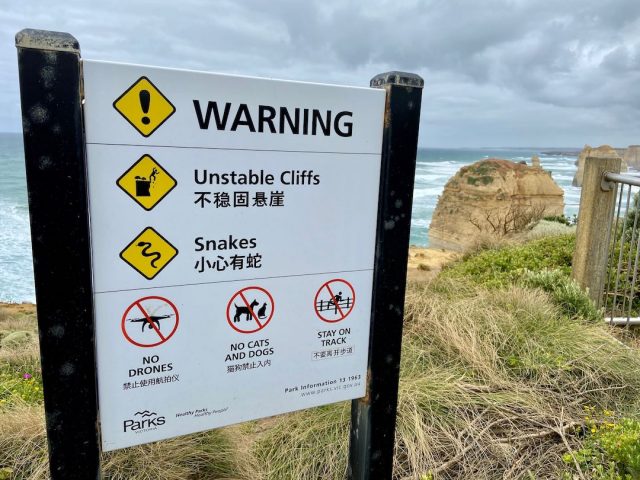 The Great Otway National Park meanwhile covers a large expanse between Torquay and Cape Otway and stretching inland, including most of the inland forests. However, this is one of the few dog-friendly national parks in Victoria, with dogs allowed at selected location.
Dogs on a leash are allowed at these locations in the Great Otway National Park, from east to west:
Around Torquay: Southside Beach and the adjacent clothing-optional Addiscott Beach, Ironbark Basin Picnic Area, Point Addis to Anglesea via beach and Surf Coast Walk
Near Aireys Inlet: Ironbark Gorge Walking Track, Ocean View Walking Track
Near Lorne: St George River Track
Around Forrest: Lake Elizabeth Visitor and Camping Areas and walking tracks
Johanna Beach
However, the Great Otway National Park still includes many sights and attractions along the Great Ocean Road that are off-limit to dogs. The nearby Otway Forest Park though permits dogs on-leash in all areas.
Where are Dogs Allowed Along the Great Ocean Road?
When driving along the Great Ocean Road with your dog, these are some of the places that you can visit and things you can do with your dog.
1. Drive Along the Great Ocean Road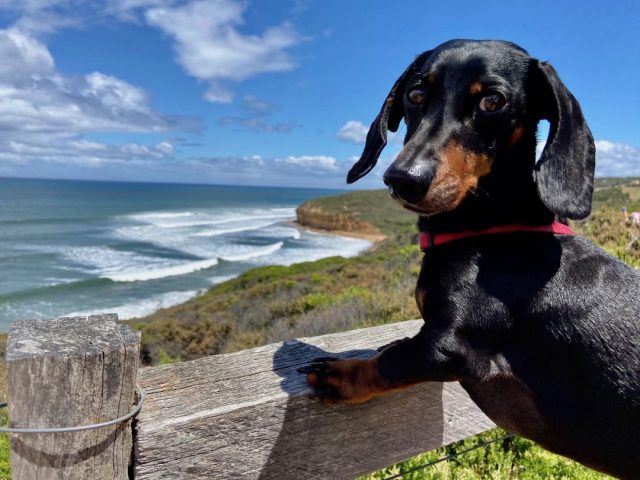 Dogs are permitted to join you in a vehicle driving along the length of the Great Ocean Road, even when the highway passes through areas of national park. This often includes stopping at lookouts along the way.
At least on the eastern half of the road, I didn't see any signage at the many lookouts prohibiting dogs. (See the section below about the famous formations on the western half of the road, including the 12 Apostles.)
2. Formations Along the Great Ocean Road
The Great Ocean Road is synonymous with the 12 Apostles and the many other natural formations lining the rugged coastline along its western half. Heading west after the 12 Apostles, there's also Loch Ard Gorge, The Arch, London Bridge, The Grotto, the Bay of Martyrs and the Bay of Islands.
The trouble when visiting with a dog is that the lookouts for all of these attractions, except Bay of Martyrs, are within the Port Campbell National Park or another area that forbids dogs.
At the time of my visit, the only formation that I knew it was okay for us to visit with our dog (as long as he remained in the carpark) was the 12 Apostles, whose carpark is likely just outside of the national park boundary. At the carpark there is only a sign forbidding taking dogs further at the start of the short walking path to the lookouts.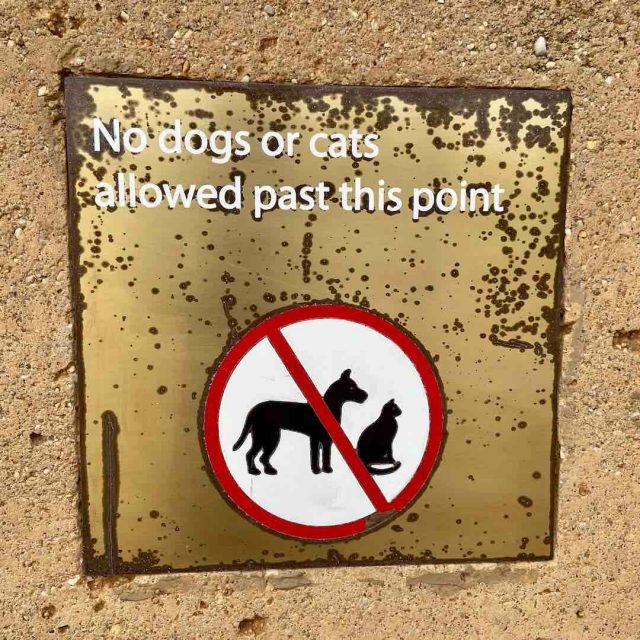 To visit the 12 Apostles, unfortunately without your dog, either take turns staying with your dog (if there are at least two of your travelling together), or if the weather is overcast and 14C like it was for us (despite being November), and if your dog is fine, leave them briefly in your car.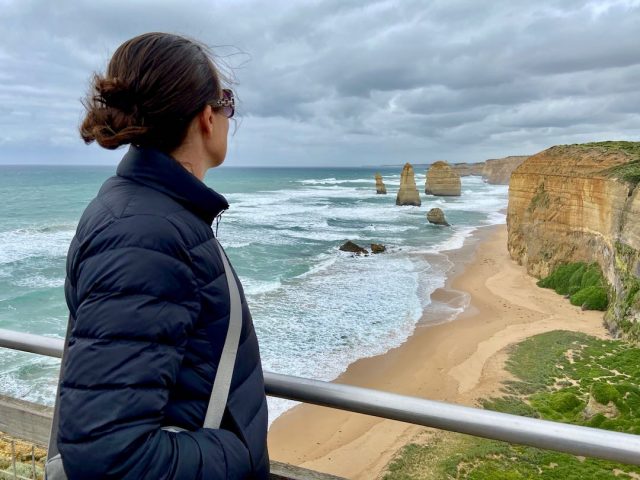 At most other formations along the road (Loch Ard Gorge, The Arch, London Bridge, The Grotto, Bay of Islands), there are signs in the carparks forbidding dogs. My understanding was that dogs aren't even permitted to be in the carpark in these locations. But according to the local tourism organisation, dogs are okay in the carparks as long as they are confined to your vehicle.
Just be warned though, that you should never leave your dog in a hot car, but instead take turns looking after your dog with the windows open on warmer days. Luckily for us, while the cold and cloudy weather didn't make for great photos, it meant our car was far from hot.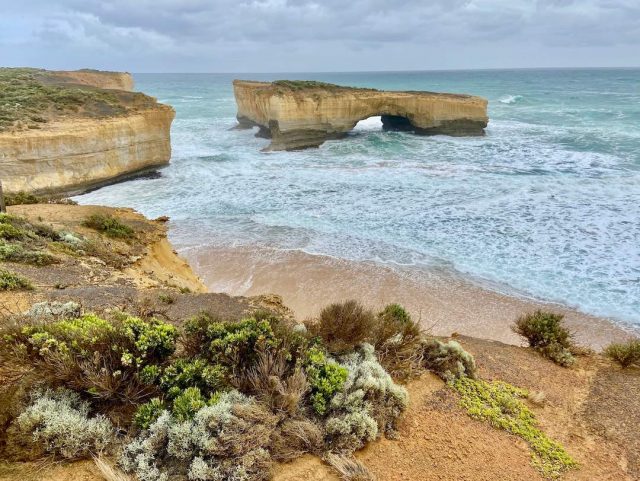 The most dog-friendly section of the coastline to visit is the Bay of Martyrs. Dogs are allowed on the cliff-top walkway in between Peterborough and the carpark at the far end (listed as Bay of Martyrs on Google Maps). Park at either end and take your dog for a walk on leash.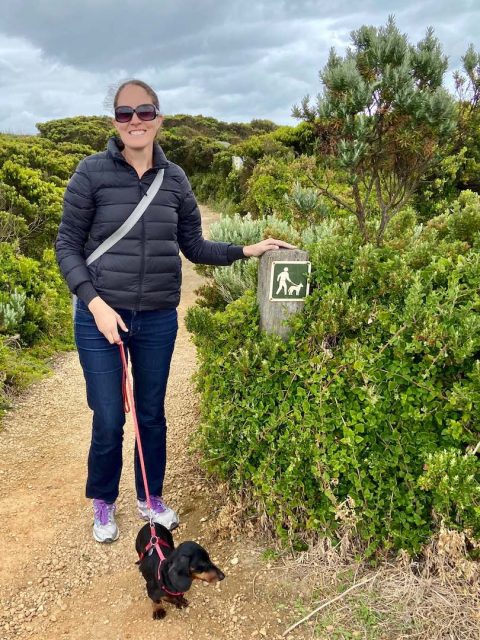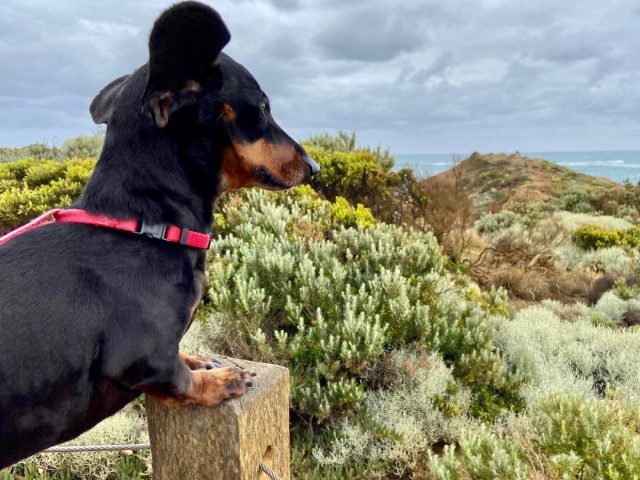 However, the lookout point also accessible from the same carpark as this dog-friendly walk had a sign saying no dogs – very harsh!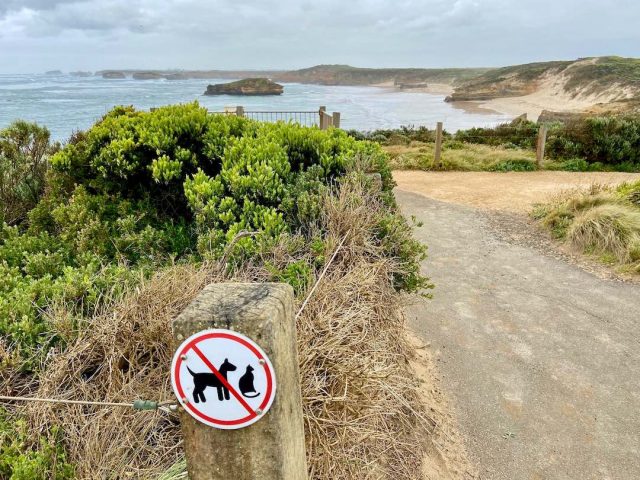 3. Beaches Along the Great Ocean Road
Many of the beaches along the Great Ocean Road are dog-friendly, at least if you visit outside of the peak summer months. For instance, when we visited Lorne during November, our dog was allowed to run along most of gorgeous main beach off leash. This was the case up until the end of November.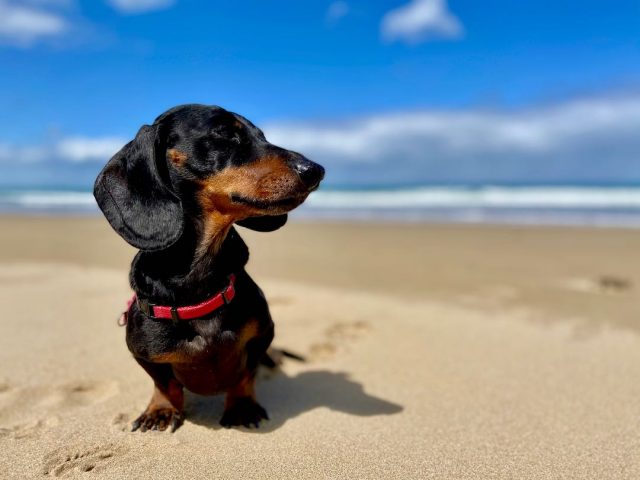 Generally, dogs are prohibited on many beaches during the summer months, either December to March or Christmas to Easter, except for after around 7pm and before 9am. Check the local signage for the exact dates and exact times, as this varies along the road, due to passing through different council areas.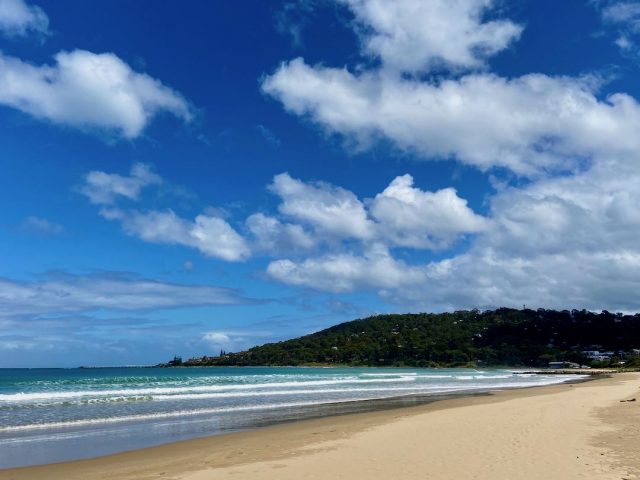 Also double check if dogs are allowed off leash, or still need to be on leash. Plus, outside of towns there are some beaches that allow dogs off-leash year round, all day long.
There are also some beaches that fall within national park areas, or may have restrictions due to nesting seabirds, where dogs are not permitted year round. Again, check the local signage.
But if you visit outside of summer, or are happy to visit beaches with your dog in the evening or first thing in the morning, you can still enjoy many beaches with your dog. Generally the beaches on the eastern half of the road are gentler, although some are still very rough with swimming not recommended.
4. Waterfalls Along the Great Ocean Road
The majority of the waterfalls located along the Great Ocean Road are located within the Great Otway National Park and no dogs are allowed. This includes the popular Erskine Falls near Lorne, plus Sheoak Falls just south of Lorne, accessible by a short walking trail.
The two main waterfalls that you can visit with a dog are Beauchamp Falls and Stevenson Falls. With both waterfalls, turn off at Skenes Creek and head inland, possibly rejoining the Great Ocean Road later at Lavers Hill. (Along the way you'll miss the turn-off to Cape Otway and its lighthouse, but dogs are not allowed to visit outside of the carpark.)
We considered visiting Beauchamp Falls. The falls are accessible by a 3km return walking trail through forest, which takes about 1hr to 1.5hr to walk. However, some reviews mention the trail is quite strenuous, with many steps that may not be suitable for small dogs, like my dog.
Plus, at least 3km of the access road is unsealed, which we technically weren't allowed to drive along in our rental car, so we skipped.
Stevenson Falls is accessible by a shorter walking trail, at least if you drive further on to the day-use area, rather than starting from the camping ground. However, the bridge to access it was closed for repairs during our visit, so we also skipped. (Plus, part of its access road is also unsealed, and it's a longer detour off the Great Ocean Road.)
5. Spotting Koalas along the Great Ocean Road
The Great Ocean Road is one of the best places in Australia to spot koalas in the wild. Both of the last two times that I've driven along the road I've easily spotted multiple koalas, as some of their favourite areas to hang out in are well-known.
Your best chance of spotting koalas is at Kennett River, north of Apollo Bay. Turn off and park outside of the aptly named Kafe Koala, then walk along the road behind the caravan park with the other tourists. Generally the easiest way to spot one is by seeing where the other tourists are standing and taking photos!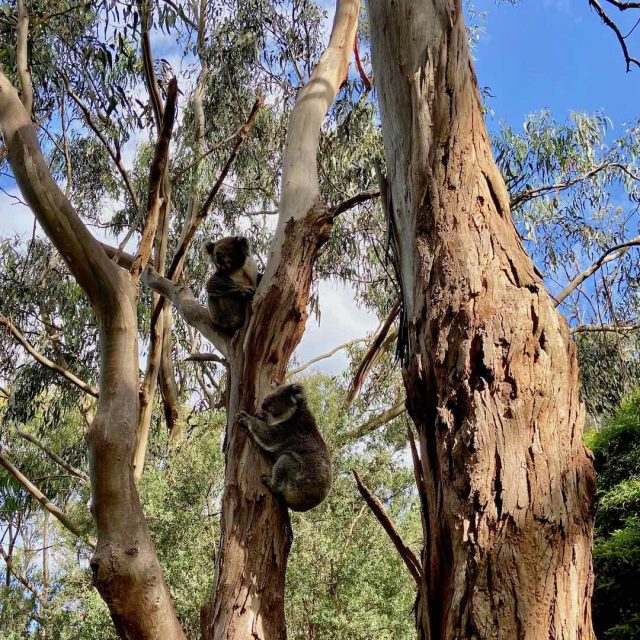 There's no restrictions with dogs in this location, so you can be joined by your dog, with care. Always keep your dog on a leash and remove them from the area if they become excited and start barking at these strange creatures. Don't allow them to run to the bottom of trees and scare the poor koalas! Our Schnitzel was somewhat excited by them, but some dogs will probably just ignore them.
Koalas can also be spotted elsewhere along the Great Ocean Road, with another popular spot being the turnoff to Cape Otway. We also spotted some just outside of Apollo Bay. Again, the best way to spot them is by spotting tourists stopped along the road taking photos. Keep your eyes open!
6. Attractions to Skip Along the Great Ocean Road
I should also mention here that dogs aren't allowed at two of the popular attractions along the Great Ocean Road, saving you a drive to their entrance.
Dogs aren't allowed to visit the Cape Otway Lighthouse, and must remain in the carpark if you take the 10km or so detour down to its entrance. Note that this is a ticketed attraction (with entrance around $20 per adult) and the lighthouse is not visible from the carpark, so I would recommend skipping.
Not surprisingly, dogs are also not allowed at the Otway Fly, a walk high up amongst the treetops. In this case, dogs are also not permitted in the carpark, so don't turn off for this.
Dog-Friendly Parks Along the Great Ocean Road
If your dog needs to burn some energy with some off-leash fun along the Great Ocean Road, there are multiple designated off-leash areas.
On the eastern half of the Great Ocean Road, in the Surf Coast Shire area, the majority of off-leash areas for dogs are some of the less crowded beaches, including O'Donohue's Beach in Anglesea, the beach on the southern side of Aireys Inlet, Moggs Creek Beach, and the northern end of Lorne Beach.
Dogs are also allowed off-leash Stribling Reserve in Lorne when events are not being held. It's best to look at the detailed maps put together by the council, taking note of what areas are off-leash year round and which areas are only off-leash on a timeshare basis.
On the western end of the Great Ocean Road, dogs are allowed off-leash at the Port Campbell Recreation Reserve. They are also allowed off-leash on Peterborough Beach, between the bridge and the monument at the carpark south of Irvine Street, except between 9am and 6pm from December to Easter Monday.
Dog-Friendly Dining Along the Great Ocean Road
There's plenty of dog-friendly dining options along the Great Ocean Road, meaning that no-one will go hungry.
An easy, traditional option is to buy takeaway fish'n'chips, with usually at least one fish'n'chip shop in most towns along the Great Ocean Road, and plenty of parks to enjoy your feast in. We stopped at the Apollo Bay Fishermans Co-Op, which had a great value deal for two. Plus our dog was fine to join us at the outdoor tables, where he helped keep the seagulls at bay.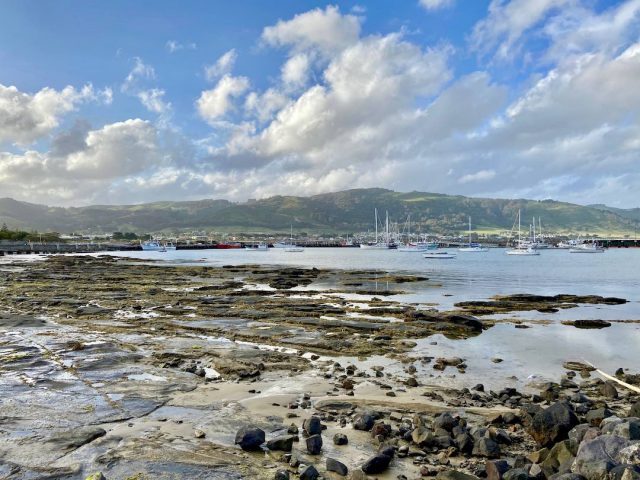 In Lorne, stop off at the Swing Bridge Cafe and Boathouse for a coffee or meal. We arrived just after they closed for the day, but it was a great spot to venture onto Lorne Beach with our dog, outside of the summer months.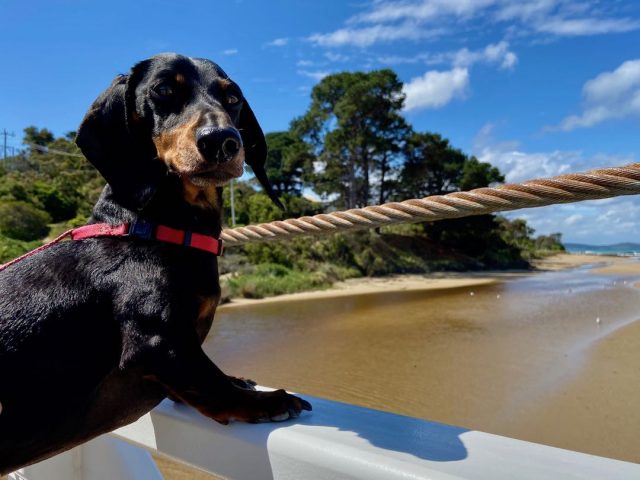 Another great dog-friendly spot is the Great Ocean Road Brewhouse in Apollo Bay. There's plenty of craft beers available, and dogs are allowed in the outdoor courtyard (as long as they well-behaved and on a leash), which was fully enclosed when we visited.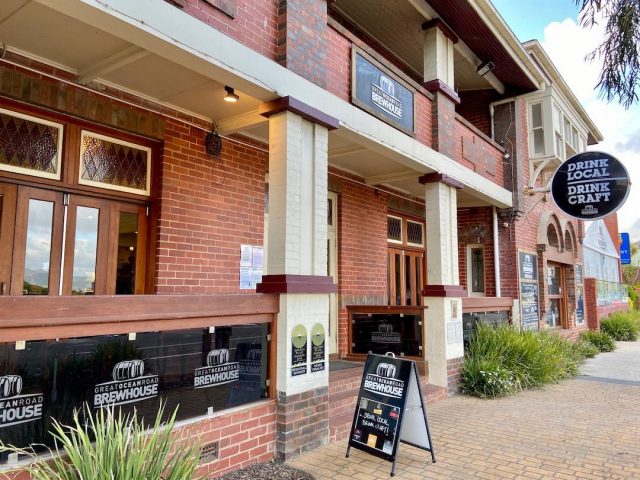 Dogs are also permitted to join you in the Tastes of the Region tasting room just behind the pub, where you can sample local wines and food, while they have their photo taken for the wall of fame. Perhaps treat your pup to their own PawSecco or Paw Blonde?
Heading further west, I highly recommend turning off just before the 12 Apostles or near Port Campbell to follow part of the 12 Apostles Gourmet Trail, including visiting the rural village of Timboon.
We visited Schulz Organic Creamery & Cafe and enjoyed a tasting from their range for a tiny fee. Dogs are welcome to join you in the gorgeous garden, if you order any of their food or drinks. (We enjoyed the Nachos topped with their own Quark.)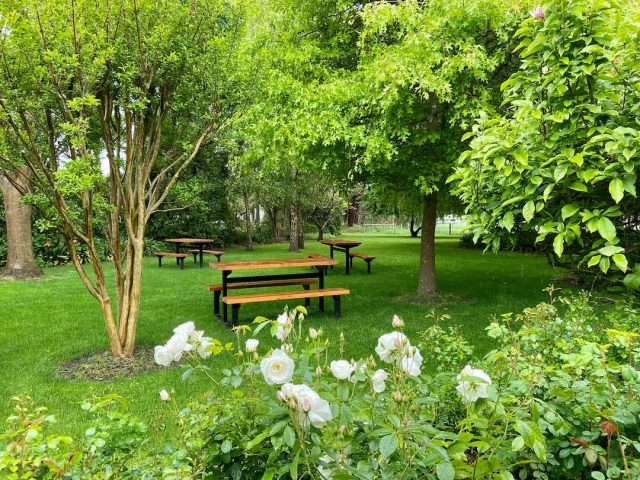 Also in Timboon is the Timboon Ice Creamery. Unfortunately, they didn't have any of their dog-friendly ice cream available when we visited, but they generously gave us a mini cup of vanilla ice cream for our dog, Schnitzel, to devour outside – he loved it, and we also loved our own cups.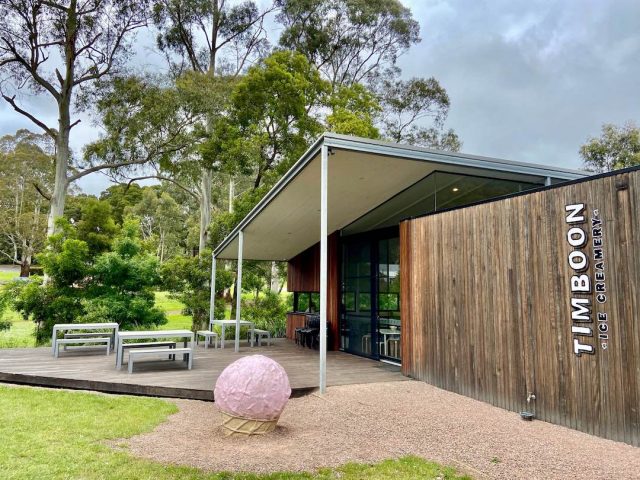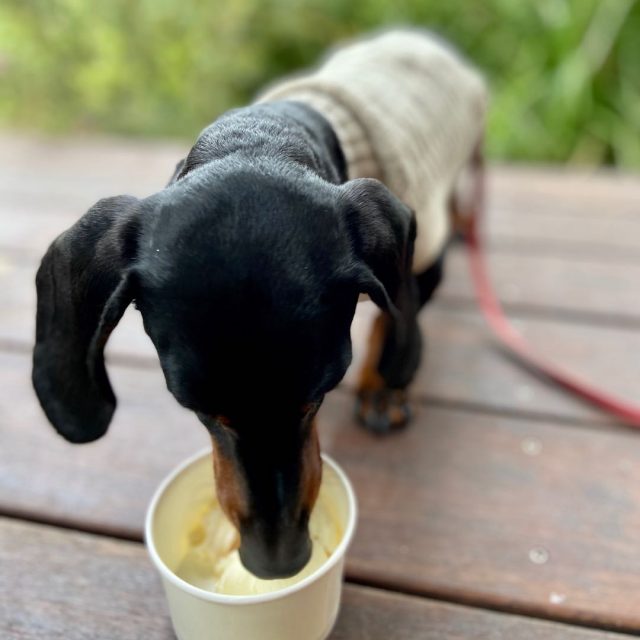 Close by is the Timboon Railway Shed Distillery. It's best to book if you're visiting with a dog, as they only have one dog-friendly table. Plus one more tip for Timboon – the Timboon Provedore had some excellent looking pies at their counter, which I'm disappointed I didn't have room to sample. I'm not sure if they had outdoor tables, but if not there's the nearby park.
Also, before embarking on your road trip, stop off with your pup at the Pure Paws Dog Bakery in Geelong. It's the perfect place to load up on treats for your dog on the road.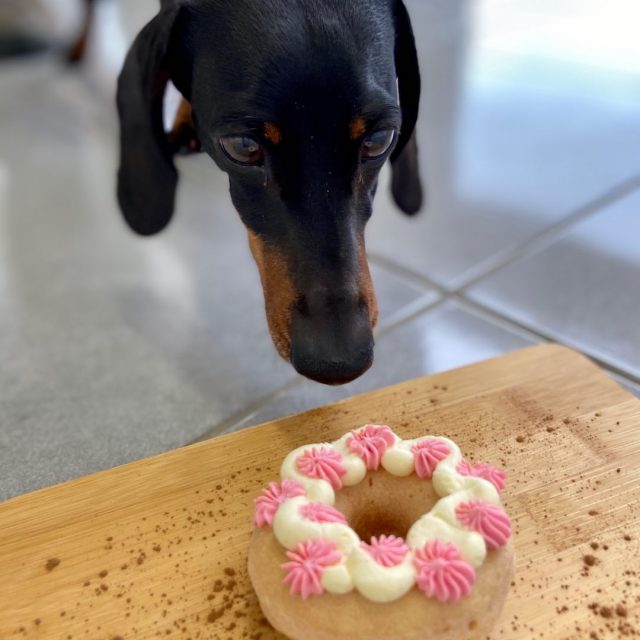 Dog-Friendly Accommodation Along the Great Ocean Road
The majority of dog-friendly accommodation along the Great Ocean Road tends to fit into one of two categories: pet-friendly sites at local caravan parks and camping reserves, plus some wonderful pet-friendly cottages, although they tend to be quite pricey.
Pet-Friendly Caravan Parks on the Great Ocean Road
There are quite a few caravan parks along the Great Ocean Road that allow dogs, but generally only if you're camping or bringing your own caravan. There are also often seasonal restrictions, with pets not always permitted during the busy Christmas and Easter holiday periods.
This listing of camping and caravan parks along the Great Ocean Road is quite extensive and notes which ones are dog-friendly. Double check with individual caravan parks for their full rules.
Additionally, three more affordable pet-friendly camping options are the Johanna Beach Campground (a rare dog-friendly section of the Great Otway National Park), Princetown Recreation Reserve and Port Campbell Recreation Reserve. Each of these permit pets year round.
Note however, that we didn't find any caravan parks that have pet-friendly cabins along the Great Ocean Road, particularly with bedding provided. We found one caravan park that allowed us to stay in an on-site caravan, but on arrival discovered we shouldn't have been permitted to stay without a two-night booking, plus it was a rather run-down park that I don't recommend.
On the other hand, there's plenty of dog-friendly caravan parks that also include dog-friendly cabins at the far end of the Great Ocean Road, around Warrnambool, Port Fairy and Portland.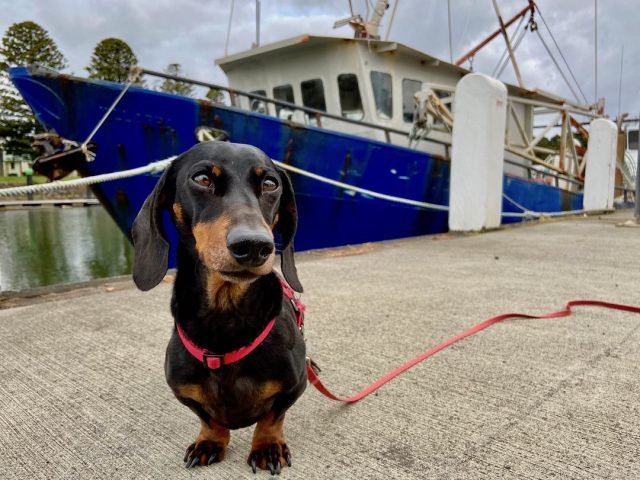 We stayed the night at the Gum Tree Caravan Park just outside of Port Fairy. The studio cabin was lovely and modern, with a great kitchen and ensuite bathroom, the owner of the park was friendly, and we were only charged an extra $10 per night for our dog.
Pet-Friendly Holiday Homes on the Great Ocean Road
Note: This post contains affiliate links, which means I may receive commission if you make a purchase using the links. See my full disclaimer.
There's plenty of dog-friendly holiday homes and cottages located along the Great Ocean Road. Choose to stay by the beach or head inland to the forests of the Otways.
Many of the cottages are truly gorgeous, although most of the accommodation in the region is on the pricier side. Make sure you book well in advance, with many booking out quickly, particularly during the warmer months of the year. Often there are also minimum stays of two nights or more.
One of the most popular pet-friendly options are Countrywide Cottages, a 25-minute drive inland from Lorne. There are four cottages, each with two- or three-bedrooms, fully self-contained and with a private fenced yard. Dogs are warmly welcome, with a cosy bed, blanket, dog bowls and home-made treats provided.
Further only the Great Ocean Road on the western side of Cape Otway is Glenaire Cottages. There's four cottages to choose from, each with a fenced yard for dogs. Only house-trained dogs are allowed (no puppies), with a $40 cleaning fee charged.
Alternatively, for a seaside option, check out Manta Ray One at Skenes Creek, just north of Apollo Bay. This architecturally stunning house sleeps up to seven guests and others breathtakingly beautiful ocean views. For your dog, there's an enclosed yard, a kennel and dog blankets are provided for inside.
You May Also Like
Inspired? Pin this to your Pinterest board!