A visit to Washington, D.C., the capital of the United States, can be fun for the whole family, including your dog. Naturally, the highlight for your dog is sure to be their extra long dog walk around the National Mall, taking in the many famous buildings and memorials. Here's everything you need to know about a visit to dog-friendly DC.
Note: This post contains affiliate links, which means I may receive commission if you make a purchase using the links.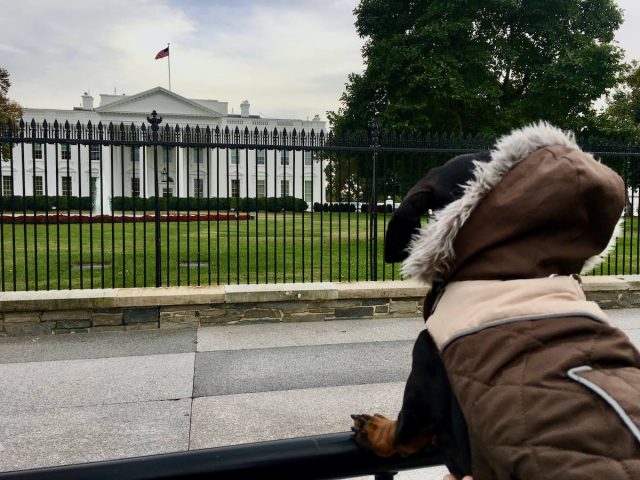 Dog-Friendly Accommodation in Washington, D.C.
There's a wide range of dog-friendly hotels available to stay at in Washington, D.C., including stylish options such as the Kimpton Hotel Palomar Washington DC or the Fairmont Washington DC Georgetown. At both of these hotels pets stay for free, and larger dogs may be allowed.
While we stayed at an Airbnb during our few days in Washington, D.C., we later stayed at the Red Roof Inn PLUS+ Manassas not far from Dulles International Airport, after a road trip in Virginia. Note that Dulles International Airport is a long way out of D.C. itself. Like all Red Roof Inn hotels, we were charged no pet fee, and we found our room affordable yet very comfortable.
Dining Out in Washington, D.C. with a Dog
Back in 2017, dogs were officially permitted at outdoor restaurant patios in D.C., after an outcry when authorities started to enforce the previous rule against them. There's plenty of restaurants scattered around that will allow your dog to join you at the patio, as long as they're well-behaved, of course.
The late-October weather was not on our side for outdoor dining, so we don't have any recommendations based on our experience. However, I have seen plenty of recommendations for the perfectly-named Wet Dog Tavern, near the African American Civil War Museum.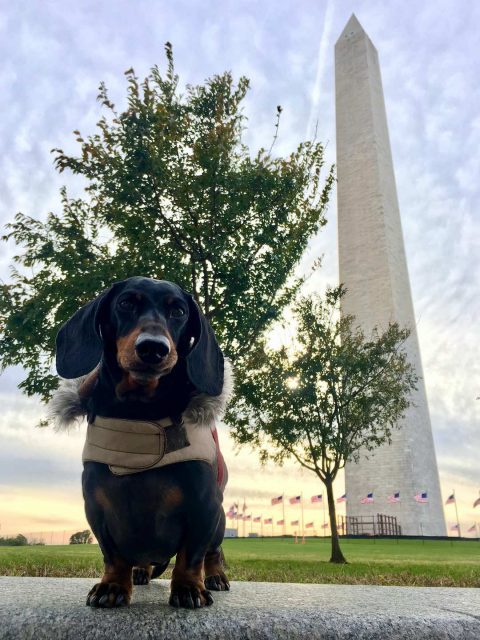 Another handy option are the food trucks scattered around the city. We spotted many pulled up on the National Mall near the Washington Monument.
Are Dogs Allowed on Public Transport in D.C.?
Small pets in a carrier are allowed to join you on public transport in Washington, D.C. We found the metro system clean and reliable, and used it multiple times to travel in between our Airbnb and our sightseeing destinations. Pets are allowed on both Metrorail and Metrobus, with the strict rule that they're in a secure container from which they cannot escape.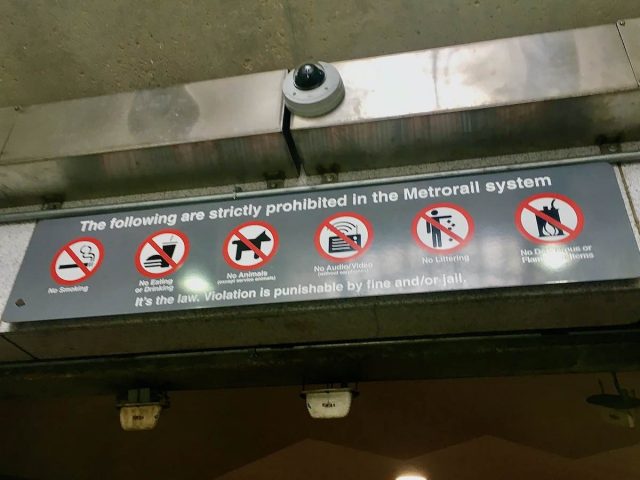 We did get a surprise when entering a Metrorail station for the first time, to see a sign above us stipulating "No animals". While waiting for our train, I quickly checked the rules again online to assure myself our dog in his carrier was allowed. I guess the sign just referred to unrestrained animals.
If you're considering taking the train to Washington, D.C. (we found the trains connecting New York City, Philadelphia and Washington, D.C. more convenient and cheaper than flying), keep in mind that small dogs in carriers are allowed on Amtrak trains.
Dog-Friendly Sightseeing in D.C.
A highlight of any visit to Washington, D.C. with your dog is the chance to walk along the National Mall. This is a huge area, far larger than you expect (it's over 2 miles from the Capitol Building to Lincoln Memorial), and it makes for a great all day or part day dog walk.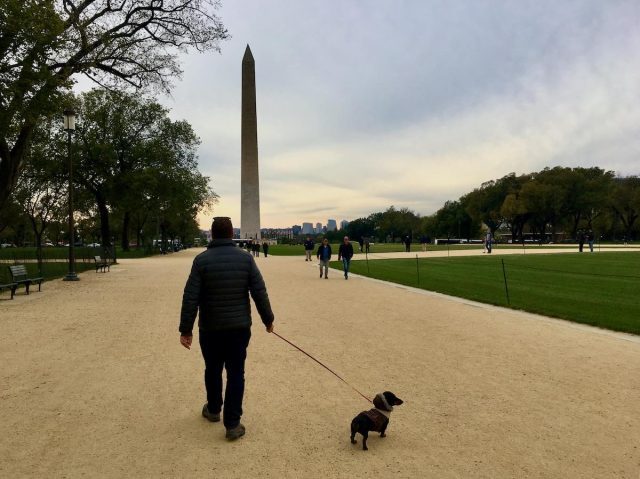 Don't forget that dogs need to be on a leash when walking on the National Mall, which is just as well if your dog likes to try and chase squirrels like mine. Dogs are also restricted from entering some of the memorials. They are also not allowed into the sculpture garden at the National Gallery, plus not surprisingly not inside the many buildings (including famous museums such as the Smithsonian and the National Gallery of Art).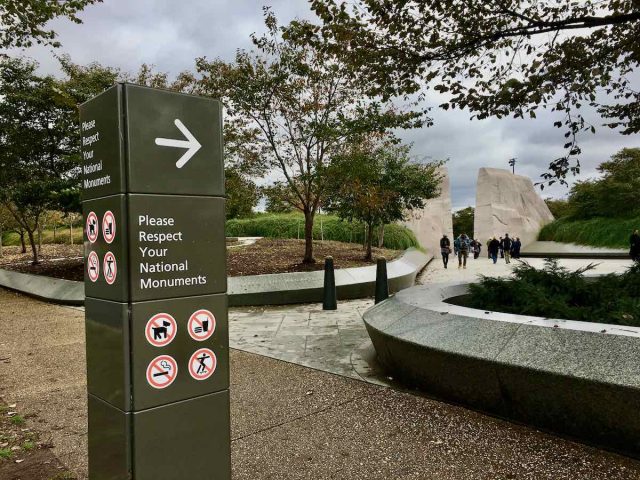 Don't miss ticking off the following highlights while walking the National Mall with your dog, starting from the eastern end:
Walk around the periphery of the Capitol Building
Admire the gorgeous exterior of the Smithsonian Arts and Industries Building, plus the Smithsonian Castle
It's hard to miss the towering Washington Monument (and consider swinging by early to snap up one of the free tickets to its recently-reopened observation deck, leaving someone behind on dog-minding duties)
View the White House from each side (we preferred the closer views from the far northern side)
Spend a moment of silence at Martin Luther King, Jr. Memorial (although dogs cannot enter the immediate area around the memorial)
Meet FDR's dog at the Franklin Delano Roosevelt Memorial
Walk along the Reflection Pool to the imposing Lincoln Memorial (dogs must be carried on the steps, and are not allowed inside)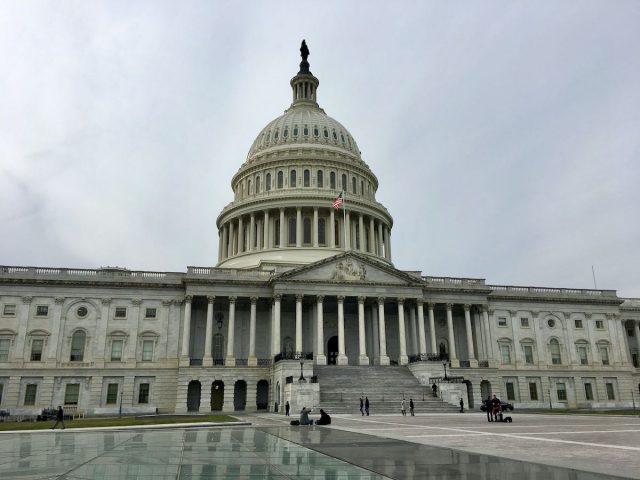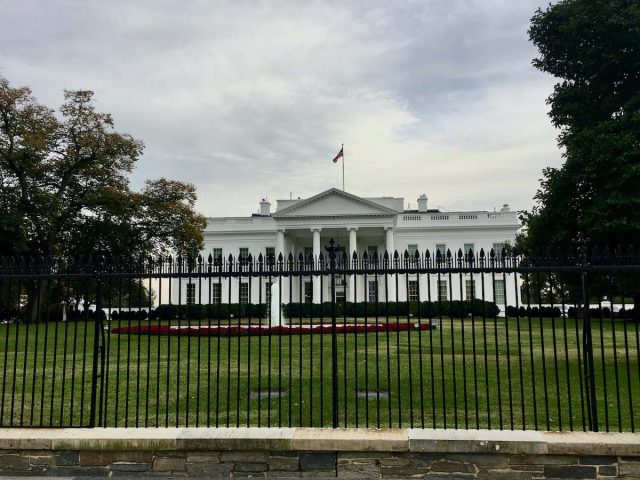 Other dog-friendly sightseeing options in Washington, D.C. include visiting the US National Arboretum in the northeast of the city and hiking along sections of the 18-mile long Mount Vernon Trail, which starts near Arlington Cemetery, just across the Potomac River in Virginia. Both of these locations require dogs to stay on a leash.
You May Also Like
Inspired? Pin this to your Pinterest board!