Your dog is part of your family, so why don't you take your dog on holiday when you travel within New Zealand? Find out more about what it's like to travel with a dog in NZ, including dog-friendly sightseeing ideas, tips on finding dog-friendly accommodation and transport options.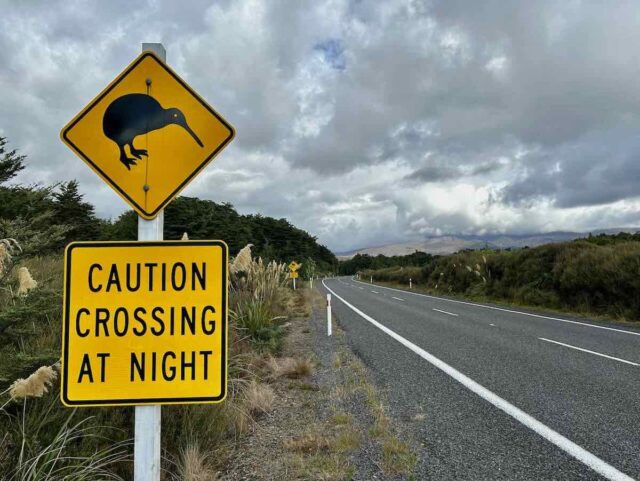 Dog-Friendly Sightseeing in NZ
Before travelling with your dog in New Zealand, keep in mind that your sightseeing options will be limited when travelling with a dog. Consider whether your dog will be allowed to join you on the activities that you plan to do.
Are Dogs Allowed in National Parks?
For starters, pets are not allowed in any of the 13 national parks in New Zealand, some of the most popular attractions in the country. This includes Tongariro National Park, Abel Tasman National Park, Aoraki/Mount Cook National Park and cruising Milford Sound in Fiordland National Park.
Pet dogs and cats are also prohibited from New Zealand's nature reserves and wildlife sanctuaries, to protect the country's precious wildlife, particularly birdlife. The one exception is that you can drive through national parks and nature reserves with your pet in your vehicle, without stopping.
Dog-Friendly Conservation Land
However, there are other areas looked after by the Department of Conservation where dogs are allowed. You can view a list of tracks and campsites where dogs are permitted.
On the above website, there are over 300 tracks looked after by the DOC where dogs are permitted to join you – a great source of inspiration. For instance, you can walk along the walking trails and visit the viewing platforms at Huka Falls near Taupo on the North Island.
Just make sure you keep your dog on a leash if requested, plus note sometimes a permit is required – double check in advance.
More Dog-Friendly Sightseeing Ideas
There are also plenty of other things you can do with your dog when holidaying in NZ. Consider these options for holidays with dogs in NZ:
Visit Dog-Friendly Beaches: There are many beaches throughout New Zealand where dogs are permitted, whether off-leash or just on-leash. Check the regulations on the local council website or with the local tourism authority.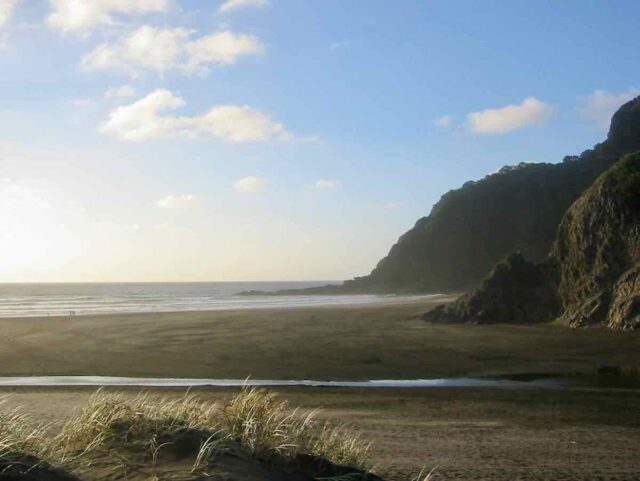 Visit Dog-Friendly Wineries: Many cellar doors welcome dogs to join you, at least in their outdoor areas. Check in advance whether your pup is welcome, plus whether you require a booking. If you're visiting Waiheke Island, consider making a booking with Wineheke Adventures, who can put together a tour for you and your pup. Plus read my tips on visiting dog-friendly wineries.
And Dog-Friendly Breweries: If you'd prefer to sip a beer than go wine tasting, your dog is likely also welcome to join you, even inside. In Queenstown, head to the Altitude Brewing Taproom.
Explore Art Deco Napier: One of the most intriguing cities in New Zealand to explore is Napier, thanks to its wealth of Art Deco buildings, after the city was rebuilt following a tragic earthquake. Explore the Art Deco buildings on foot with your dog by your side.
Head up Mount Eden: One of the best spots to visit in Auckland is Maungawhau / Mount Eden, with its stunning views of the city. Dogs are welcome to join you at the summit and on the walking trails. There's even a fenced off-leash dog "paddock", in between the Clive Road entrance and Summit Road, plus dogs are allowed off-leash in part of Tahaki Reserve, at the base of the mountain.
Play in the Snow: Your dog shouldn't miss out on adventures in the snow come winter time. A great dog-friendly option is Snow Farm, near Wanaka, where you can cross-country ski and snowshoe. Dogs are welcome to join you, with both dog day passes and season passes available. Dogs are allowed off-leash on some trails, but need to stay leashed on other trails.
Dining Out in New Zealand with a Dog
By law, dogs are allowed to join you in outdoor dining areas of cafes and restaurants throughout New Zealand. The relevant regulator is Food Safety Australia & New Zealand, who changed the rules in 2012 to permit dogs by default.
However, the final decision rests with the individual cafe or restaurant – some venues may choose not to allow dogs. If it isn't clear that dogs are allowed (such as a sign or dog bowls on the ground), check in advance.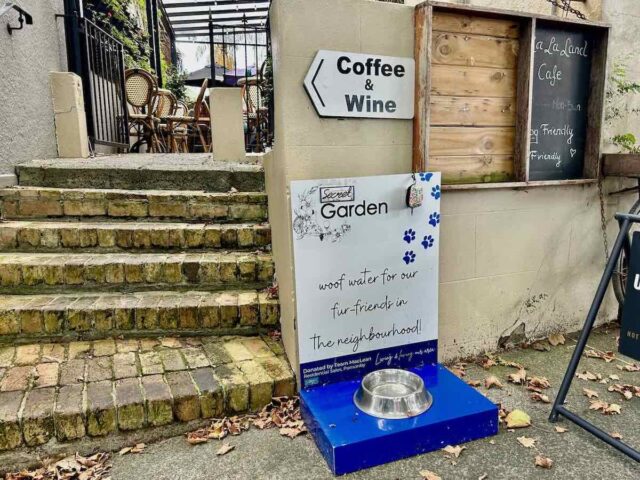 Dog-Friendly Accommodation in NZ
When holidaying with your dog in New Zealand, there's multiple dog-friendly accommodation options that you can choose from, including pet-friendly hotels, holiday rentals and caravan parks.
Pet-Friendly Hotels in New Zealand
While most hotels in New Zealand don't permit pets to stay with you, there is still a variety of pet-friendly hotels to choose from, including dog-friendly hotel chains.
One chain of pet-friendly hotels in New Zealand is JetPark Hotels. With three locations, at Auckland Airport, Hamilton Airport and Rotorua, make a direct booking for a Pampered Pet Package.
Your pet will be provided with their own bed, blanket, pet food pack and water bowl, plus a goodie bag with a treat and toy. There's also an outdoor dog wash at their Rotorua hotel.
You can even stay with your pet in a luxury hotel in New Zealand. All three QT hotels in New Zealand, in Auckland, Queenstown and Wellington, permit dogs to join you when you book a Pup Yeah! package.
One dog is permitted per booking, with a weight limit of 20kg. Naturally only house trained dogs are permitted, and they must sleep on the provided bed. An additional cleaning fee of $150 applies. In return, your pup will be treated to their own mini bar and in-room dining menu.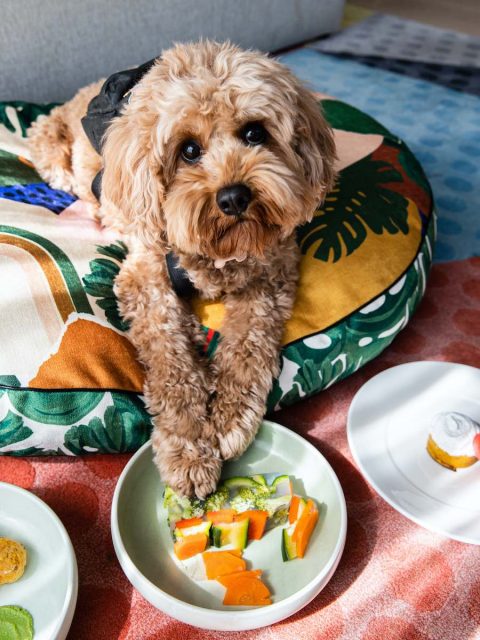 To find more dog-friendly hotels in NZ, search for pet-friendly hotels on Booking.com or Hotels.com. Note that some hotels require direct bookings if you are staying with a pet, rather than through third-party booking websites. Be prepared to pay an additional pet fee in most cases, whether per night or per stay.
Pet-Friendly Caravan Parks in NZ
There's plenty of pet-friendly caravan parks scattered throughout New Zealand. Note however that many caravan parks will only permit pets to stay on sites, when you are sleeping in your own campervan, caravan or tent, not in their park cabins.
To find pet-friendly caravan parks, I recommend using the WikiCamps New Zealand app on your phone. It's easy to search on the app for caravan parks and campgrounds throughout New Zealand, with two filters that you can use to find dog-friendly locations.
Either set "No Dogs Allowed" to "Hide" to filter out locations that don't allow dogs at all, but still show locations that allow dogs year round or seasonally. Alternatively, set "Dogs Allowed" to "With" to only show locations that allow dogs year round, but exclude locations that only allow dogs seasonally.
The DOC also maintain a list of campsites that they maintain where dogs are allowed.
Renting a Pet-Friendly Campervan in NZ
Renting a campervan is a popular option in New Zealand, especially due to the many options for free camping. It's possible to still rent a campervan or motorhome for holidays with dogs in NZ, with multiple rental companies allowing pets inside their vans. These are the policies of the main campervan companies:
Apollo: Pets are allowed to travel in selected Apollo, CheapaCampa and Hippie RVs with written permission at the time of booking. Up to two well-behaved, registered dogs or cats are permitted. A $250 pet cleaning fee applies, which can be added when booking online. See the full policy.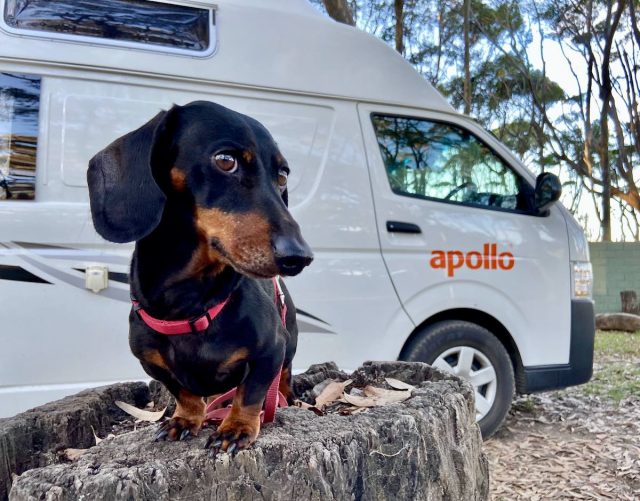 Britz: Britz also permits up to two well-behaved, registered dogs or cats to join you in Britz or Mighty campervans. A pet service fee of $299 applies and pets must be safely restrained in the vehicle. Note that no pets are allowed in maui motorhomes, only registered guide dogs. See the full policy.
JUCY: Jucy is currently trialling allowing pets inside their campervan. Eligible JUCY vehicles include Chaser, Condo and Crib vehicles. An extra fee of $299 applies, which can be added when you make a booking. Only two well-behaved dogs are allowed. Make a booking here.
Note that when travelling in a campervan, you still need to check whether dogs are permitted to join you at the campgrounds and caravan parks. For more tips, see my guide to hiring pet-friendly campervans in Australia (with similar rules applying in NZ).
Flying in New Zealand with a Dog
If you're travelling to another part of New Zealand for your holiday, it's possible to fly with your dog, although they need to fly in the hold, rather than in the cabin with you. These are the policies of the main domestic airlines:
Air New Zealand: Pets are allowed to fly as checked baggage in the hold on domestic flights, as long as your pet is in a suitable container. A charge of $75 applies for pets up to 25kg, $100 for pets over 25kg. Sometimes dogs need to fly as cargo, such as when they are flying unaccompanied or you want to fly with multiple pets on a regional route. For more information, including details on approved carriers, see their full pet policy.
Air Chathams: Air Chathams flies in between a few mainland destinations, as well as to the Chatham Islands. Pets are permitted to fly as part of your baggage, or alternatively as cargo when flying unaccompanied. Call up to make a booking for your pet to fly as part of your baggage. See their full pet policy.
Jetstar: Unfortunately, Jetstar doesn't permit pets to fly on its flights, only approved assistance animals, the same as when flying in Australia.
Dogs on Public Transport in New Zealand
Whether you fly with your dog in New Zealand or simply want to travel around the city without the hassle of a car, it can be handy to make use of public transport. In New Zealand, the rules for whether pets are permitted on public transport vary between cities.
In Auckland, pets are often allowed on public transport. Pets are allowed on trains during off-peak hours, either between 9am and 3pm or after 6:30pm or all day on weekends and public holidays. Small pets need to be in a carrier small enough to fit on your lap, while larger dogs need to be leashed and wear a muzzle. There is no charge for pets, but a limit of one per passenger.
Buses in Auckland aren't quite as pet-friendly. Small pets in a suitable carrier are now permanently allowed on buses during off-peak hours, after a successful trial. There was recently a trial of larger dogs, with no news yet on whether they will be permanently allowed onboard wearing a leash and muzzle. See the full details.
In Wellington, dogs are sometimes allowed onboard Metlink trains, buses and harbour ferries. Under the new Conditions of Carriage, pets are allowed onboard during off-peak times, either between 9am and 3pm or after 6:30pm, or all day on weekends and public holidays.
However, only pets that can travel fully enclosed in a suitable pet carrier are permitted onboard. No fee applies for pets and you may be asked to not board crowded services. See the full details.
In Christchurch, pets are unfortunately not allowed on board Metro buses, only official assistance dogs. Animals are also prohibited from InterCity buses, except for assistance dogs. For other buses, check with the relevant transport company.
Ferries tend to be more dog-friendly, with dogs usually allowed onboard. However, check with the specific operator in advance to make sure. Pets are often only permitted on outdoor decks and charges may apply.
Keeping Your Dog Safe in NZ
Both close to home and when travelling throughout New Zealand, 1080 poison is a risk to dogs. Although the poison is targeted at possums and rats, dogs can also inadvertently swallow the poison, which has no antidote and can only be successfully treated with quick action.
Keep an eye out for signs stating that 1080 poison is in use, and avoid those areas. This is another reason for keeping dogs out of national parks and nature reserves, where this poison is commonly used. Other preventative measures include keeping your dog leashed or in your sight, plus using a muzzle. For more information, see this factsheet.
You May Also Like