When planning to travel between different parts of Australia, whether for a holiday or some other reason, you'll probably consider flying. After all, Australia is a big country, and it takes days to drive from one side of the country to the other.
But if you're travelling with a dog, is it possible for them to also fly? What's involved when travelling with a dog and on what flights are they allowed? After flying multiple times in Australia with my dog, I share the steps you need to follow and lots of tips to make everything go smoothly.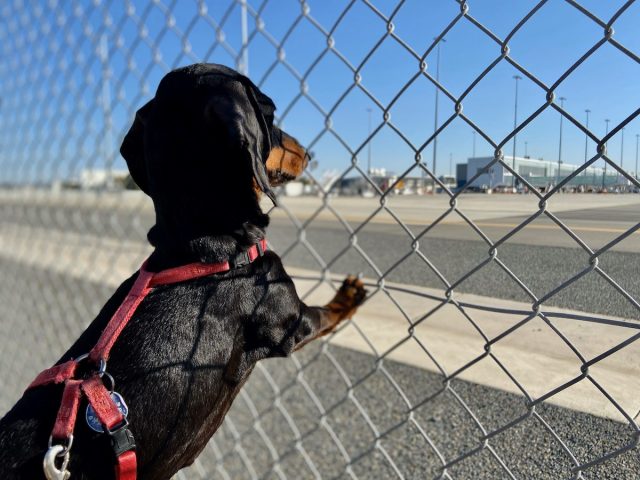 Are Dogs Allowed to Fly in the Cabin in Australia?
Late in 2021, a major regulation changed for flying with pets in Australia. Previously, dogs were not allowed to travel in the cabin on flights within Australia (as well as to and from Australia), unless they were a recognised service dog. This applied no matter how small your dog was.
However, in December 2021, the Civil Aviation Safety Authority (or CASA) changed the rules so that pets can now fly in the cabin, but only if individual airlines allow it. Unfortunately, as of June 2023, no airline has yet changed their rules to allow pets to travel in the cabin on regular commercial flights in Australia.
It is also likely that this rule change only applies to domestic flights, not flights to or from Australia, with pets not able to travel in the cabin on flights to Australia.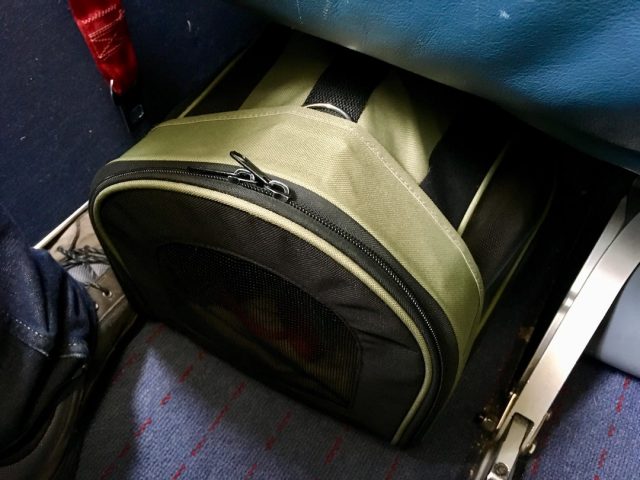 Pet-Friendly Flights in the Cabin to Tasmania
The one instance I've come across where pets are allowed to travel in the cabin are on the pet-friendly flights to Tasmania operated by Pawmobile.
Since early 2021, Pawmobile has offered weekly chartered flights from Melbourne (Essendon Airport) to Devonport, along with occasional flights to Hobart. Pets fly in the cabin of the small plane, in their crates, accompanied by an experienced handler.
Note however that human passengers are not accepted at this time, unless you charter the entire plane. Additionally, this is a premium service with prices higher than those for flying pets in the hold – but in return your pet is treated as a passenger, rather than luggage.
Pawmobile also has plans to launch flights to other destinations in the future. For now, connecting road transport from other Australia cities to or from Melbourne can be arranged.
Pets on Regular Commercial Flights in Australia
On regular commercial flights, for now pet dogs and cats can only fly in the hold of airplanes in Australia, generally as cargo. This means that you need to make a booking with the freight division of the airline (or a pet transport company) and drop them off at the cargo terminal. They're loaded along with cargo into the hold (but with extra care) and then you pick them up at the cargo terminal.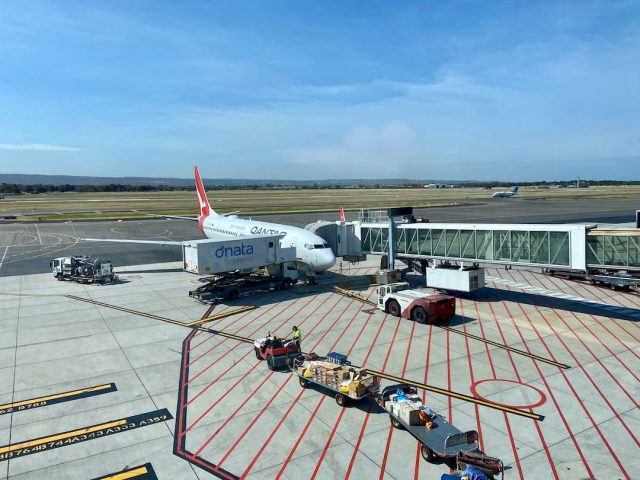 There is also a third way that dogs can fly, as "checked baggage". This means that they fly in the hold but you drop them off and pick them up inside the terminal, like oversized items. This is generally not possible in Australia, except with Regional Express (REX) on selected routes.
What Airlines Allow Pets to Fly in Australia?
When flying your dog domestically in Australia, there are three main options: Qantas (including Qantaslink), Virgin Australia and Regional Express (REX).
Jetstar, the discount airline run by Qantas, don't allow pets to fly on its flights. This is the same as many other discount airlines overseas, like Ryanair and Easyjet. This also extends to Qantas codeshare flights operated by Jetstar.
The latest discount airline to launch in Australia, Bonza, also doesn't fly pets or other animals, other than approved assistance dogs. Interestingly, they include the word "currently" in their FAQ, so maybe this will change in the future.
There's also a number of small regional airlines that operate in Australia, often just from one airport. Most of these airlines don't mention whether they transport pets, or just transport pets through Qantas freight.
Flying Pets with Qantas
Pets are allowed to fly on most Qantas flights within Australia. On Qantas flights, pets fly through Qantas Freight, the cargo division of Qantas.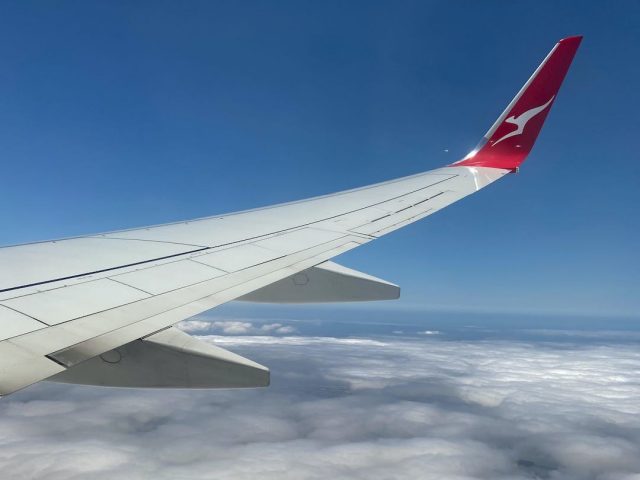 As of June 2023, it is once again possible to make bookings directly with Qantas Freight for pets flying accompanied (on the same flight as you) or unaccompanied (such as a puppy flying to its new home). (For a few years from 2020 to early 2023, bookings were only permitted through one of their preferred pet travel specialists, due to the many flight disruptions.)
Note that pets may not be permitted on some Qantas flights. In particular, there may be some regional airports that don't have the necessary facilities, or some flights may arrive or depart outside of freight terminal hours.
One other issue that you may encounter if you are flying a larger dog is that some of the smaller planes cannot accommodate the larger size crates. This is unlikely to be an issue if you are flying between the state capitals, but could be the case if you are flying on a Qantaslink flight in or out of a regional area.
Flying Pets with Virgin Australia
Virgin also flies pets within Australia, through their cargo division. Since 2020 they have required all pet bookings to be done through a commercial pet transport company, and this requirement still hasn't been removed as of June 2023.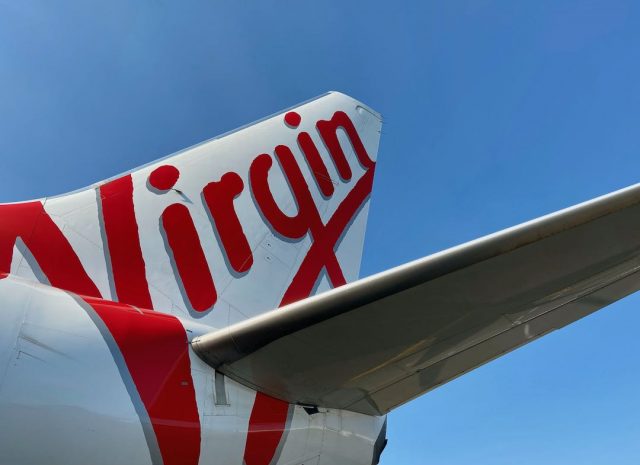 Unlike Qantas, Virgin Australia have a maximum weight limit for flying pets. This is 65kg including your dog's crate. Additionally, depending on the aircraft operating the flight, larger crates may not be accepted on some flights. See this page for various crates sizes that are or are not permitted on their different aircraft.
There are also some Virgin flights that can't accept pets on board. In particular, they have a couple of A320s they seem to mainly fly within Western Australia, that don't have the temperature control necessary for flying pets. They also only fly pets to and from the airports listed here.
Flying Pets with Regional Express (REX)
Regional Express, or REX for short, is a smaller airline that mainly operates flights from capitals and major cities to regional airports. They also fly pets within Australia.
As REX does not have a freight division, they either accept pets as "checked baggage" on some flights, or require other flights to be booked either through Qantas Freight or through a pet transport company.
At the moment, the only pet bookings that can be made directly with REX for carriage as "checked baggage" are regional flights within NSW and Victoria operated by Saab 340 turbo-prop aircraft. For these flights, pets are dropped off at the check-in in their crate and they fly as excess baggage, similar to flying a golf bag.
However, like for all excess baggage, there is a weight and size limit, otherwise your pet must fly as freight. The maximum weight of both your pet and crate is restricted to 30kg. The maximum crate size is restricted to 85cm high x 77cm wide x 131cm long. (And crates often need to be larger than you expect, to meet the IATA guidelines.)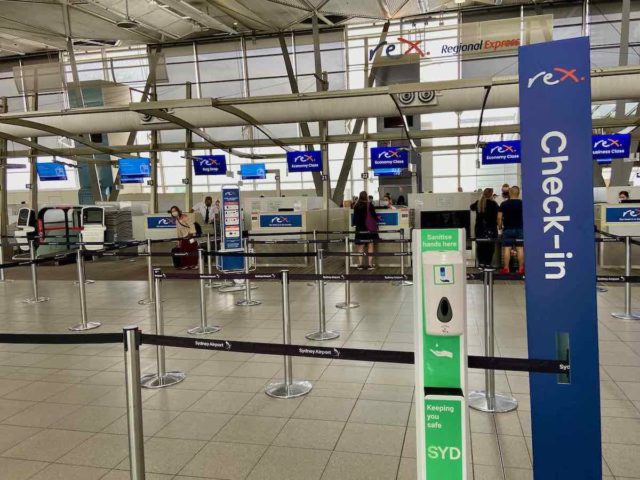 For regional flights in South Australia and Western Australia, you will need to book and lodge your pet with Qantas Freight. This is because both Adelaide and Perth Airports don't allow animals other than assistance dogs in the terminal.
For regional flights in Queensland, dogs are similarly not allowed in the terminals of Brisbane, Cairns, Gold Cost and Townsville Airports. For pets flying on these flights, you need to book and lodge your pet with Dogtainers, a pet transport company.
Finally, if you want to fly with your pet on the newer Boeing 737-800 jet operated flights between capital cities, you need to contact either Jetpets, Dogtainers or Moorholme Pet Transport.
Are All Dog Breeds Allowed to Fly?
The majority of dog breeds are permitted to fly in Australia, with some conditions.
Flying Dangerous and Strong Dog Breeds
There are a short list of dangerous dog breeds, that are prohibited from being imported into Australia, and are also not allowed to fly at all in Australia (if they are already in the country):
Fila Brasilerio
Japanese Tosa
Dogo Argentino
American Pit Bull and other Pit Bull Breeds
Perro de Presa Canario
Other strong dog breeds are permitted to travel as long as they travel in a special non-plastic crates, such as the CR-82 crate or an airline approved guard dog cage. Qantas singles out American Staffordshire Terriers as requiring these crates.
Flying Snub-Nosed or Brachycephalic Breeds
The second main category with special caveats for flying are snub-nosed or brachycephalic breeds, as these breeds are more likely to experience breathing difficulties and heat stress.
Some overseas airlines forbid these breeds from flying in the hold, but both Virgin Australia and Qantas permit them to fly, subject to extra conditions. (REX does not permit brachycephalic breeds to fly either as excess baggage or freight.)
With both Qantas and Virgin Australia, short-nosed breeds can only be booked through an approved pet transport company. The transport companies are aware of the additional regulations that may apply, including being restricted to early morning or evening flights, plus larger crate requirements.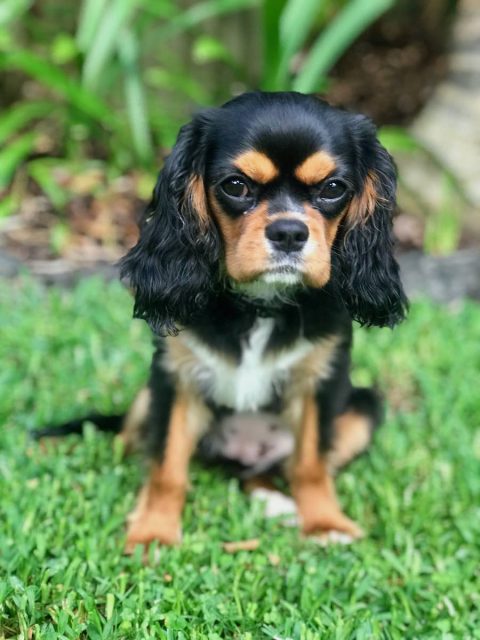 Both Qantas and Virgin have their own list of the affected breeds, with Virgin also including cross-breeds, while Qantas does not. Check the airline specific list.
Previously, when direct bookings were permitted for snub-nosed dogs, it was recommended that you check with your vet about the suitability of your dog travelling by air, plus use a crate one size larger than is standard – Qantas stated a crate twice the usual minimum size. Virgin recommended that snub-nosed dogs over the age of 5 years did not fly, while Qantas recommended snub-nosed dogs didn't fly above 20C.
Flying Large Dogs
If your dog weighs more than 65kg, including their crate, they may have additional restrictions. At the moment, pets over 65kg cannot be booked with Virgin, plus previously they couldn't be booked online with Qantas.
With online bookings once again in place with Qantas, the maximum size crate you can book online is 129cm x 62cm x 82cm, although they advise to call up if your pet and their crate weighs more than 50kg. With Rex, the maximum for pets to fly as excess baggage is 30kg.
Flying Puppies and Senior Dogs
Qantas will not fly puppies under the age of 12 weeks (due to the risk of dehydration). While for Virgin Australia, the cut-off is 8 weeks, with puppies between 8 and 12 weeks requiring a vet health certificate. A vet health certificate is also usually required for pets over 12 years old.
Booking Your Pet to Fly in Australia
If you're flying together with your pet, it's best to book their flight before making your own flights. There are two main reasons for this: the number of pets that can be accommodated on most flights are limited (sometimes only one or two on smaller planes), plus as detailed above there are some occasions where pets are not permitted at all (such as specific planes, airports and hours of the day).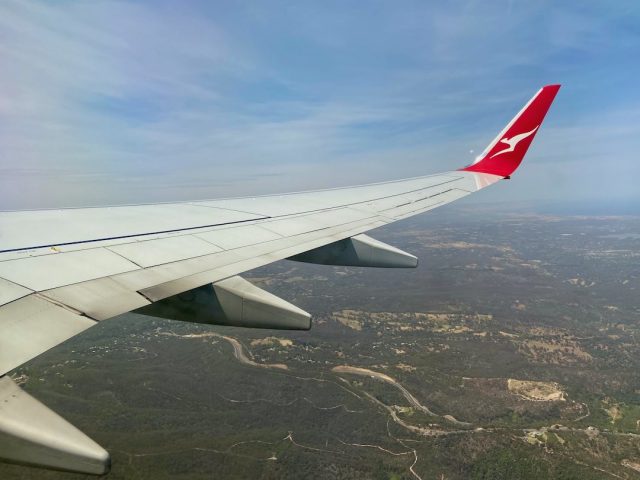 Cancellation and change conditions are also usually quite generous for pet bookings, compared to many human bookings. (For instance, when I flew with Qantas in 2019, pet tickets could be refunded up to 14 days before travel). Additionally, there is usually no variation in the cost of flying pets, even if you are booking last minute.
Note that before you book your pet, you will need to know the size of the crate and the combined weight, as this is used to determine if your pet will fit on the flight plus their ticket cost.
Booking Pets to Fly with Qantas
In the past, I've found Qantas the easiest airline to book for my dog, thanks to their online booking portal where you can book pets to fly, as long as your pet plus their crate is no larger than 129cm x 62cm x 82cm (and doesn't weight more than 50kg combined), and you don't have a snub-nosed pet. And as of June 2023, you can once again easily book pets online.
When flying with Qantas in the past, after booking our dog's flight online, we then booked our own tickets online on the regular booking site.
At the moment, you can only make bookings on the Qantas online booking portal up to around three months out. If you are attempting to make a booking for a date that isn't yet available, call the call centre (13 13 13) to discuss.
Booking Pets to Fly with Virgin Australia
With Virgin Australia, to make a booking for a pet prior to 2020 you instead needed to call their call centre (13 67 89). At least though we could book both our own tickets and our pet's flight together on the same call, without the usual charge for booking through a call centre.
However, as of June 2023, Virgin Australia is also only accepting bookings through a commercial pet transport company. No direct bookings are currently accepted.
Booking Pets to Fly with REX
If flying with REX and your pet is flying as excess baggage, there seems to be no requirement to book in advance. In particular, the fee calculated for your pet cannot be paid in advance, as it is calculated at check-in.
I would ring and double check in advance that your pet is allowed on your particular flight. Also, if they are flying as excess baggage, there is the chance that if there is no capacity, they will be bumped from the flight.
There is no mention on REX's website of not allowing direct bookings for pets flying as excess baggage. There is only the list of flights where a booking must be made through a pet transport company or Qantas Freight (or a pet transport company for now).
Cost of Flying Your Pet in Australia
Just as the cost of your own ticket varies depending on how much baggage your choose to purchase, the cost of flying a pet in Australia varies depending on the size or weight of your pet, or more accurately, the size of their crate or the combined weight of your pet and their crate. Additionally, if your pet is flying unaccompanied (you are not on the same flight), the rate is typically higher.
In recent years, the cost to fly with pets within Australia have substantially increased. This is particularly the case if you need to make a booking through a pet transport company, who typically charge a premium (though may include extra services such as pick-up and delivery). Although, hopefully the prices charged by pet transport companies have decreased since the highs during the border closures and flight disruptions of 2020 and 2021.
Cost to Fly Pets with Qantas
With Qantas, the cost to fly a pet is based on their crate size. The cheapest fares are for pets in a XS crate no larger than 48 x 33 x 38 cm. The most expensive fares are for pet in an XL crate up to 129 x 62 x 82 cm. (Note that the labelling of crates has charged since pre-pandemic.)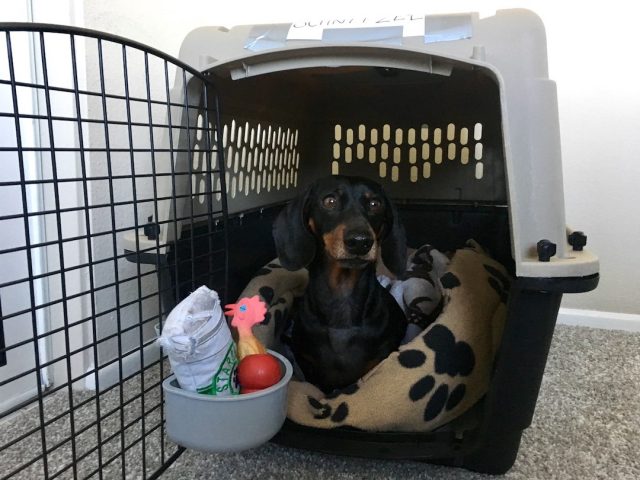 When we flew our dog with us from Adelaide to Sydney in late 2019, his crate fit in the current S category, the second smallest size. His ticket was $137.50, compared to about $140 each for our tickets.
However, the prices are now substantially more expensive. On the online portal in June 2023, I was quoted a price of $292.93 to fly a pet in this size crate from Adelaide to Sydney (with the same price for different dates) – over double the price previously!
Cost to Fly Pets with Virgin Australia
With Virgin Australia, when you could book directly, the ticket price was based on the combined weight of your pet and their crate. The smallest weight category was 1 to 10kg, followed by 11 to 20kg, etc.
When we flew our dog with us from Sydney to Melbourne in late 2019, the total weight was around 10kg. Our dog's ticket was $95, compared to our tickets which were $117 each.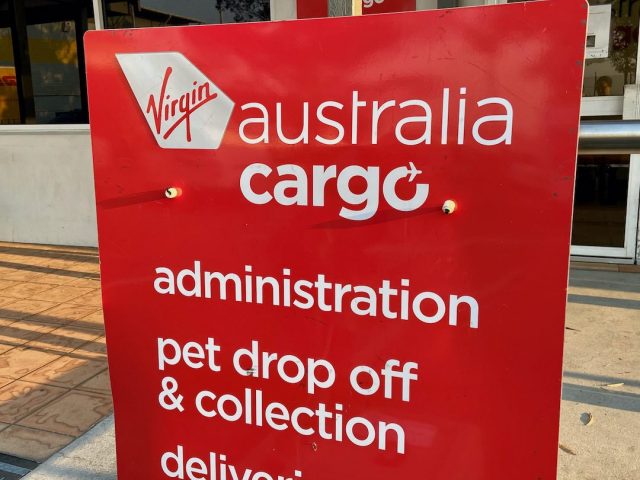 However, at the moment you cannot book pets to fly directly with Virgin Australia, only through a pet transport company, with higher prices charged. And once you can again book directly, the prices will likely increase, as for Qantas.
Cost to Fly Pets with REX
With REX, if your pet is flying as excess baggage, the price of flying your pet is based on the combined weight of your pet and their crate.
The fee is the same as the regular excess baggage charge, currently $5.50 per kilo according to their FAQ, with no charge to this rate in recent years. So, if you are flying a 5kg pet in a 5kg crate, the charge will be $55.00.
Rates for pets flying as cargo with REX likely differ.
Buying a Flight Crate For Your Dog
The biggest step to prepare your pet for their flight is choosing a crate. As I mentioned above, you need to find out the size crate your pet will fly in, plus often its weight, before booking your pet on their flight.
Crate Requirements
There are international guidelines on what size crate your animal should fly in. To determine the ideal size, check out this handy guide on the Qantas website.
Also check out the guidelines listed on the Virgin page for extra requirements, such that two-part plastic containers must have the top and bottom secured by screws or nuts and bolts, rather than plastic clips.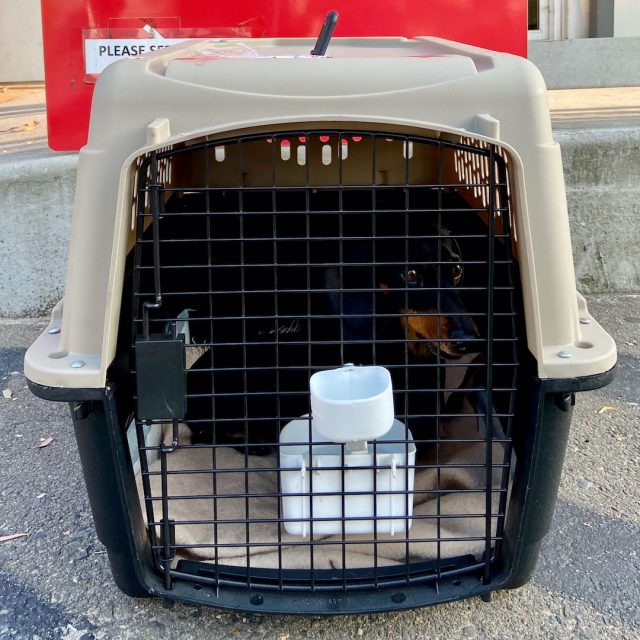 However, I also feel it is best to test out the size of a crate in person, before making the final decision. The guidelines stipulate that there needs to be enough room for your dog to stand, sit and turn around in the crate.
Buying or Hiring a Crate
For this reason, it's best to visit a large pet store with crates out on display, along with your dog. Qantas also have crates for purchase from selected domestic terminals, that they recommend picking up a few days in advance.
The other alternative to purchasing a crate, especially if you're just flying a single time with your dog, is to hire a crate. This is possible through some of the pet transport companies that operate in Australia (but only for domestic, not international, flights). It is also possible to purchase a pet crate from these companies.
Familiarising Your Dog with Their Crate
As soon as you get a crate for your dog, familiarise them with the crate. Ideally, they will have been crate trained while a puppy, even if they are now flying in a different crate. Our dog Schnitzel was readily comfortable in his flight crate for this reason.
Encourage them to spend time in their crate, including sleeping. One of the best training methods is to put their bowl at mealtimes in their crate.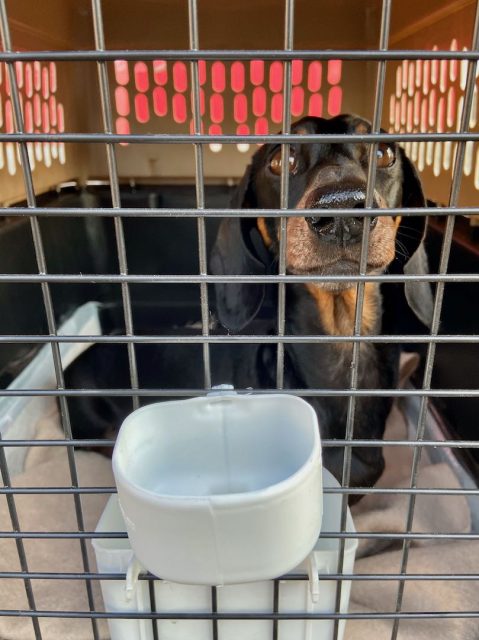 Preparing Your Dog For Their Flight
The biggest step to prepare your pet for their flight is to familiarise them with their crate, as mentioned above. This helps them to be comfortable in it, without stressing, while waiting for and on their flight.
Other steps that you should complete on the day of your pets flight include:
Take them for a walk, to help tire them out and increase the likelihood that they sleep on the flight
Only feed them a small meal or snack in the lead-up to their flight, ideally well before the flight.
Plus toilet them, as close to their flight at possible. I usually do this when dropping off my dog at the freight terminal – most have some nearby grass or gardens.
Put a water dish in their crate, that can be filled from outside – this is a requirement of air travel. Purchase this at the time you purchase their crate. Fill this up only when dropping off your pet, to minimise spillage. Or consider filling it with ice cubes, that will gradually melt during the flight.
Put something absorbent in their crate, such as a puppy pee-pad. I usually tape this to the bottom of the crate.
There are varying recommendations on whether to put anything else in your dog's crate, but I usually like to add my dog's favourite blanket, at the back of the crate away from the water dish.
On the top of your pet's crate, attach a sheet of paper with key details: your pet's name, your own name and contact phone number, the Airway bill number.
Don't leave your pet's collar, harness or leash attached when they are in the crate, as there is a risk these could be snagged and cause an injury (or worse) to your pet, while they are unattended in the plane's hold. (Virgin Australia actually recommends pets wear their collar, while their leash is attached to the outside by zip-ties.)
Note that while many people consider sedating their pets, this is not recommended, unless your vet has specifically recommended it and has supplied a vet certificate (check with the airline first). The reason for this is that pets are more likely to experience breathing difficulties or other issues when they have been sedated, and actually are at greater risk.
Dropping Off Your Pet Before Their Flight
If you are making a booking through a pet transport company, as it still required by Virgin Australia, you will likely drop off your pet at the transport company's office. They can advise you on where to go, the timings required and what they require you to bring along.
Otherwise, pets flying in cargo with a direct booing, generally need to be dropped off between 120 minutes and 90 minutes before your flight is scheduled to depart, although this can vary at some airports and for early morning flights.
You drop off your pet yourself at the relevant cargo office, which can be a fair distant from the passenger terminal (1km or more away), with their location varying between airport and airline.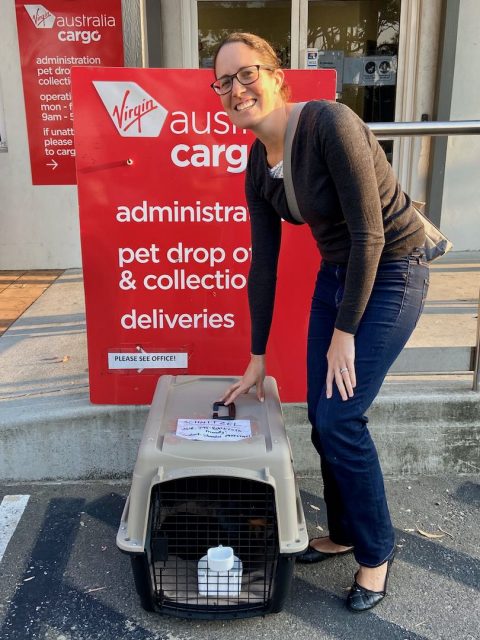 When we dropped off our pet to fly with Virgin when booking directly, we were required to already be checked-in online (and present our boarding pass), plus present the Airway bill number and the completed and printed AVI acceptance checklist (as provided with the booking confirmation).
Qantas has a similar list of requirements. You need to have a copy of your pet's booking confirmation, photo ID, the completed shipper's statement and acknowledgement form, and your flight details (e-ticket or boarding pass), if you are flying on the same flight.
When we flew with Qantas, it was okay to have the shipper's statement on our phone, although we ended up completing the paperwork on a tablet at the terminal instead.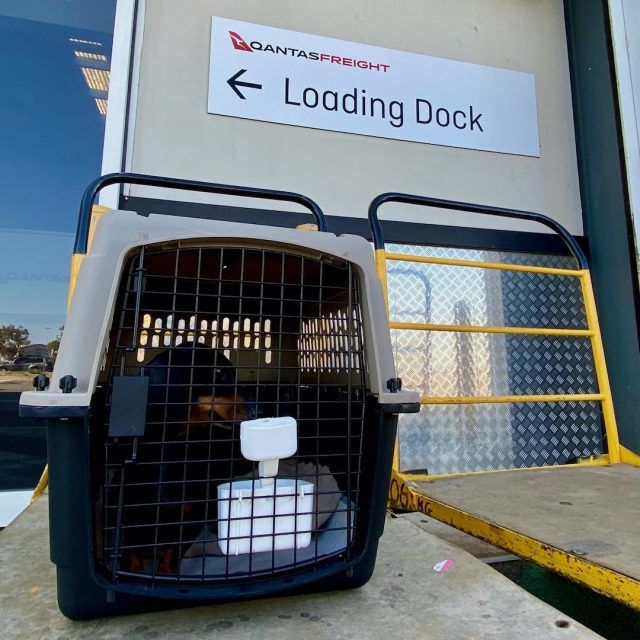 At the freight terminal, they will generally check over your paperwork, get you to sign any extra forms and weigh your pet in their container. Cable ties and stickers will generally be attached to your pet's crate.
If your pet is flying with excess baggage with REX, the process is simpler. Instead you simply head to the regular check-in counter. However, REX does recommend that you arrive earlier than usual.
Picking Up Your Pet After Their Flight
After your flight, for pets flying as freight and when you have made a direct booking, you pick up your pet at the freight terminal yourself. If you have booked your pet to fly through a pet transport company, check whether you will pick up your pet from their office afterwards or whether you can pick up your pet at the freight terminal yourself.
If flying your pet as excess baggage with REX, you will generally claim your pet from the oversized luggage area, although check with the airport staff if uncertain.
Picking Up Your Pet from a Freight Terminal
Generally, most freight terminals are at a distance from the passenger terminal, although this differs between airports and airlines. For instance, the Qantas freight building at Sydney Airport is only a few hundred metres from where you exit the Qantas domestic terminal, closer than the free pick-up area.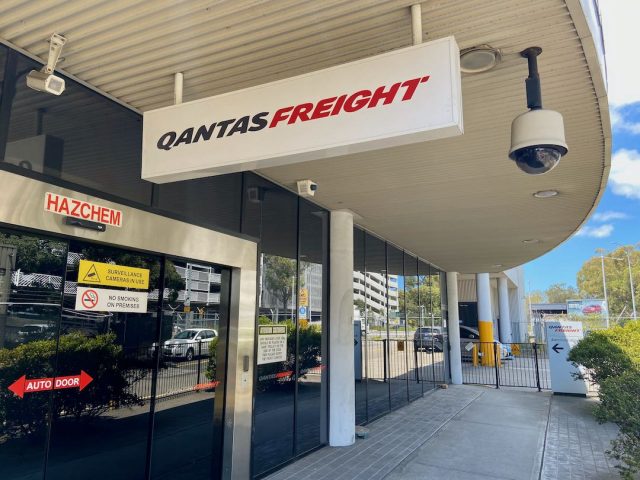 In contrast, at Melbourne Airport when picking up my dog after flying with Virgin I had to proceed to the Menzies Aviation building, about 1km away. I was even required to put on a high-vis vest to enter.
Expect it to take at least 30-40 minutes after the flight arrives before your pet is ready for pick up. Virgin state that it can take up to 30 minutes for your pet to be ready for pick-up. Qantas advise that it generally takes 45 minutes, or 10-20 minutes for regional airports.
Note that you don't want to leave it too late after the flight's arrival to pick up your pet. Virgin previously stated that they will only hold your pet for 90 minutes after your flight's arrival, after which they will contact a local pet care company (at your own expense), to minimise the period your pet spends in their crate.
If you are worried about running late, have the phone number of the freight terminal where you are picking up your pet handy.
What About Using a Pet Transport Company?
Currently, it is a requirement of pets flying with Virgin Australia, snub-nosed pets flying on Qantas, and on many REX flights that they are booked through a pet transport company. But even once this temporary policy is reversed, you may still want to consider using a pet transport company to fly your pet within Australia.
There are a number of reasons why you may want to consider this, including if you are unable to pick up or drop off your pet yourself before or after their flight, or if you'd prefer someone experienced in pet transport to handle the arrangements. A pet transport company may also be able to rent you a crate.
When my dog had to fly from Melbourne to Sydney following his stay in quarantine after flying back into Australia, I booked his transport and flight through Jetpets.
They were able to pick him up from the quarantine facility, drive him to the airport, put him onto the flight, then afterwards we picked him up from the Jetpets office in Sydney. In late 2018, this cost $230, compared to $115 for when he later flew accompanied with a direct booking to Melbourne. (However, note that prices have substantially increased since then.)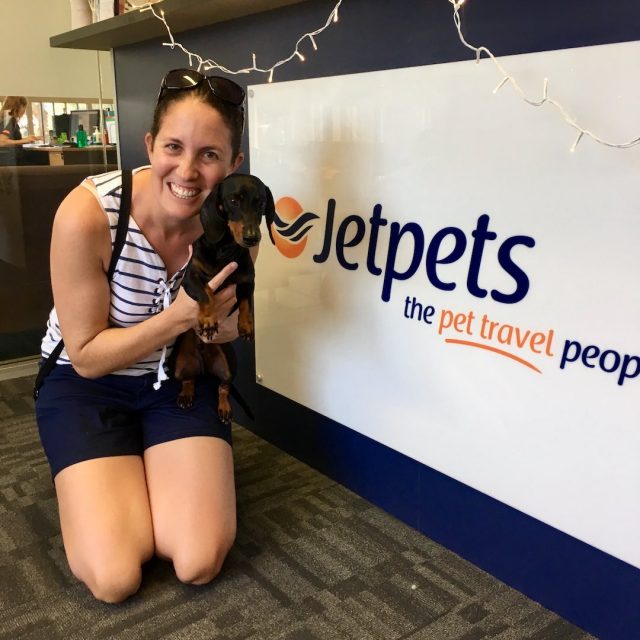 Find out more about whether you should use a pet transport company
My Thoughts on Qantas vs Virgin
I personally didn't find there was much difference between flying my pet with Qantas or Virgin Australia within Australia in 2019.
In both cases the procedures and steps were similar, although with slight differences. The prices were also fairly similar. The biggest difference between the two was that you could book your pet's transport with Qantas online, while you needed to call the Virgin call centre to book your pet.
Both experiences went quite smoothly. The biggest possible issue was that there was a heat wave in Adelaide the November day we flew back from Adelaide to Sydney. I called up the Qantas freight call centre a day or two before our flight, to see if I should move my dog onto an earlier flight, and ended up waiting over 30 minutes on hold. (After the wait, I knew why there was an option to press 1 if your pet was flying that day!)
The staff member I spoke to was reassuring (perhaps a little too reassuring!), and we ended up going ahead with the original flight, partially as I know my dog and that it's fine with warm weather. (He likes to sunbake himself even on hot, sunny days.)
At least with that flight I knew for certain my dog was on it! When flying from Sydney to Melbourne, due to the frequency of the early morning flights between the two cities, I was a little paranoid he may have ended up on the flight before or after. (I should have asked a flight crew member when boarding.)
But when boarding the Qantas flight, the crew member saw my dog's photo on my phone (where I had the boarding pass), and let me know he was safely onboard, and joked he had been asking for canapes!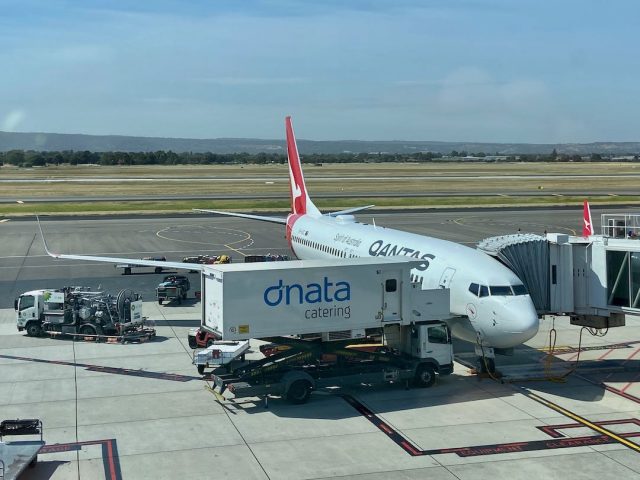 I recommend choosing the airline that you prefer, or that has flights at the best time of the day. During the summer months, plus year round in the tropical parts of Australia, it is best to fly early in the morning or in the evening, to avoid hot weather. If you're flying with your dog in summer, read my full list of tips.
Unfortunately, I haven't yet flown with REX, with or without my dog.
You May Also Like
Inspired? Pin this to your Pinterest board!