One of the best ways to holiday with your dog is to go away camping with them. You can enjoy relaxing and being close to nature, whether you choose to camp in a tent, campervan or off-grid caravan with your dog. After all, most dogs aren't that fussy, as long as they're having fun outdoors with you!
While there's lots of caravan parks you can stay at, NSW is also home to plenty of dog-friendly campgrounds and country stays that offer a more unique experience. To inspire you, here's my pick of the best dog-friendly campsites in NSW, from the beach to the bush.
#1 Delicate Campground, Crescent Head
There's not many dog-friendly camping grounds along the NSW coastline (most are in national parks that are off limits to dogs), but one of the only and a frequently recommended option is Delicate Campground, north of Port Macquarie and about a 5 hour drive north of Sydney.
The campground is located in the Goolwah Regional Park, where leashed dogs are permitted. Dogs are also allowed on the adjacent beach. Note that the regional park is next to the Goolwah National Park where dogs are not permitted, so be aware of the boundary lines and follow the signs.
At Delicate Campground, there's 40 unpowered campsites. Facilities include a mix of flushing and drop toilets, cold beach showers and unpotable bore water. There's also a campground manager onsite, who you can rent you a brazier.
While bookings were not previously possible, these days bookings are required, with the campground quickly booked out for peak periods. The current rate is $24 per night for up to two adults, with no extra charge for camping with dogs.
The best access to the campground is via Crescent Head. Up until recently there were some short unsealed sections on the road, but it has now been fully sealed. Note that the apparent "direct" route from Port Macquarie involves a ferry and 4WD-only track, so it's better to spend an hour looping around via South Kempsey and Crescent Head.
#2 Mystery Bay Campground, near Narooma
Another beautiful dog-friendly beachfront camping spot in NSW is Mystery Bay, just south of Narooma on the South Coast, about a 5 hour drive south of Sydney or 3 hours from Canberra.
The Mystery Bay Campground is run by the Euobodalla Council and is located right next to Mystery Bay Beach, a timeshare beach. Dogs are allowed on the beach before 9am or after 5pm from November to April, plus all day long during the cooler months from May to October.
Just make sure you don't walk with your dog past the end of Mystery Bay Road, where the Eurobodalla National Park starts (and is clearly signposted). And keep your dog on a leash elsewhere.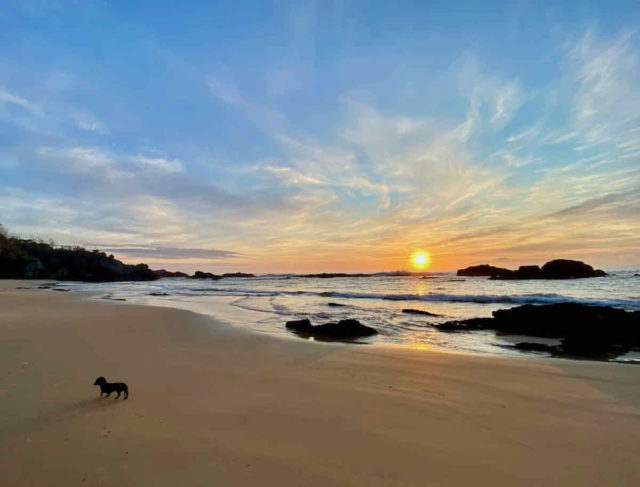 The facilities at Mystery Bay are basic. There are only pit toilets and cold showers, plus no powered sites. Up until recently bookings were not available, but now it's possible to book online in advance, although sites are unallocated. During peak periods the campground will be closed once it's at capacity.
During peak periods (Christmas holidays, Easter long weekend and October long weekend) it costs $18 per adult per night, while it is $12 per adult the rest of the year. This is still far lower than other parks along this popular stretch of coastline. Plus there are discounted rates for weekly stays and pensioners during off-peak periods.
#3 Riverwood Downs, near Barrington Tops
A popular place to camp in country NSW with your dog is Riverwood Downs. Located in the Barrington Tops region, 2 1/2 hours drive north of Sydney, while pets are not allowed in the nearby national park, they are warmly welcome at this resort.
Riverwood Downs offers a range of cabins and rooms to stay in with your pet, but there is also of course the option to camp. Pets are welcome on the Riverside and Parkland camp sites. These large unpowered sites are close to the river and camp fires are permitted, subject to bushfire warning levels.
There's 750 acres for you to explore at wit your pup, from manicured lawns to walking trails and a mountain river, great for paddling. In selected areas, dogs are allowed off-leash, as long as they're kept under your control.
It's not exactly roughing it, with the option to dine in the dog-friendly section of the onsite restaurant. Just be warned that the final stretch of road to the resort is a gravel road, plus it is also a popular venue for larger gatherings.
#4 Turon Gates, Capertee
Another popular destination for dog-friendly camping in NSW is Turon Gates Mountain Getaway. This huge country property is located near Capertee, midway between the Blue Mountains and Mudgee. It's the perfect spot for an authentic bush getaway with your pet, a little over 3 hours out of Sydney.
There's plenty of spots to camp along a 1km stretch of the Turon River on the property – pick your own site. All campsites are unpowered, although there are amenities onsite, including hot water showers, toilets and sinks with hot water. You can purchase firewood on site to enjoy a campfire under the stars, except during fire bans.
If camping in your own tent is too much, there are also pet-friendly cottages and cabins on site, although pets are not allowed in the majority of the glamping tents, only one.
Dogs are not required to be on leash, but keep them under control and it's best to leash them if there's wildlife around – kangaroos are regular visitors. Note that the final access road is a dirt country road. However, it is generally suitable for two-wheel drive vehicles, with four-wheel drive only essential for campervans or if pulling a caravan. Also be warned it can get busy on weekends.
#5 Wollondilly River Station, Wombeyan Caves
For a dog-friendly camp ground that's closer to Sydney but truly out in the bush, check out Wollondilly River Station. This farm is located down Wombeyan Caves Road, 50km west of Berrima on the Southern Highlands.
Allow about 2 1/2 hours for the drive from the centre of Sydney. Note that the final 45 minutes of the drive is along a windy and bumpy dirt road – consider whether your vehicle is suitable.
In return for braving the drive, you'll be rewarded with beautiful spread-out dog-friendly campsites, along both sides of the Wollondilly River. Previous guests have loved that dogs are allowed off-leash. The nightly rate for adults is $20, while pets stay for free.
#6 Billy Grace Reserve, Wee Jasper
I spent multiple weekends camping at Wee Jasper as a child, and this remote camping reserve is still a popular destination, including with dog owners thanks to being a dog-friendly campsite.
The Wee Jasper Reserves Trust operates four "primitive" camping reserves, with the Billy Grace Reserve the main site, including the location of their office and a kiosk – handy when the closest town is a long drive away!
While there are no powered sites, hot showers, flushing toilets, potable water, BBQs and even a playground are provided at Billy Grace Reserve. The campsite is also next to a wonderful river, great for swimming, kayaking and fishing.
I'm pretty sure that fees have increased substantially since I was a child, with the nightly rate per adult now $18, plus an additional $5 for each child over five. There's no fee for dogs, but they need to be registered as part of the booking, with advance bookings essential. Dogs should stay on a leash and off neighbouring properties.
#7 Murray River Reserve, Bringenbrong
After an afternoon spent driving through the spectacular scenery of the Snowy Mountains (unfortunately without the option of stopping along much of the route due to national park), we drove through the small town of Khancoban and after 20 minutes drive pulled up for the night at the Murray River Reserve.
This reserve is located right on the NSW edge of the Murray River, in the rural locale of Bringenbong. It's next to Towong Road and just across the bridge from the small hamlet of Towong in Victoria. (Don't mistake it with the reserve next to the Bringenbrong Bridge further upstream.)
The lush and shady reserve had plenty of room to pull up for the night, with the only facility a single dilapidated toilet. Make sure you don't camp too close to the river – the level can rise when water is let out of the dam upstream.
Just note that the adjacent bridge has been closed for repairs since 2022, with no estimated re-opening date. Access is only from the NSW side on a poorer quality road. Hopefully it re-opens later this year.
You May Also Like