The twin towns of Forster-Tuncurry, on the Mid North Coast of NSW, are an idyllic spot to head to for a getaway from Sydney. At 3.5 hours from the centre of Sydney, it's far enough to really escape the city, especially if you love visiting almost empty beaches, but still close enough for a long weekend.
And if you're wanting to bring your dog along, I've got all the tips that you need to have a fantastic dog-friendly getaway at Forster-Tuncurry, from the best dog-friendly beaches to where to dine out and stay with your pup.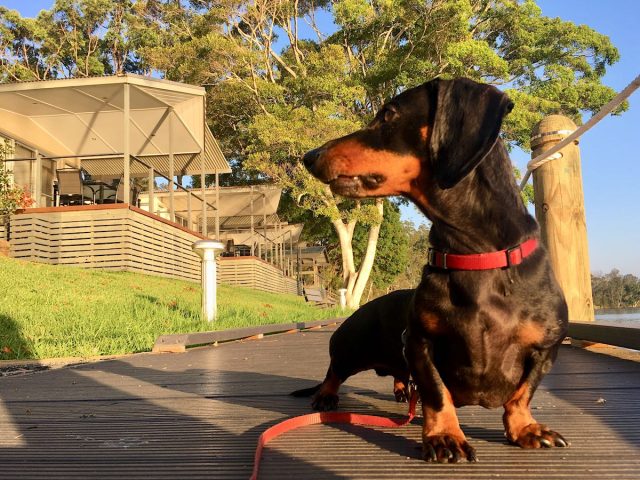 Dog-Friendly Beaches in Forster-Tuncurry
There's plenty of dog-friendly beaches around Forster and Tuncurry. My top pick is Nine Mile Beach in Tuncurry. The southernmost section of the beach only permits dogs on leashes from 5-9am and 5-8pm, but head north of the 4WD access road (just after the Beach Street Reserve dog park), and the beach is off-leash from dawn to dusk.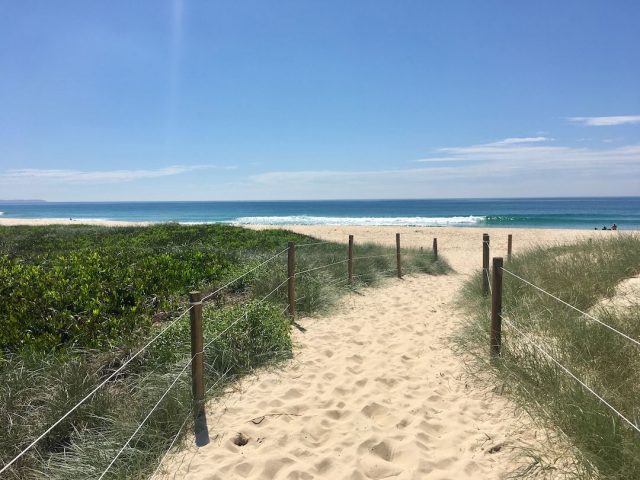 Be aware that the beach is unpatrolled and can be rough, so is not ideal for swimming, at least unexperienced swimmers. Also keep away from the path that 4WDs take along the beach. But the dog-friendly section goes on and on, great for walks and paddles!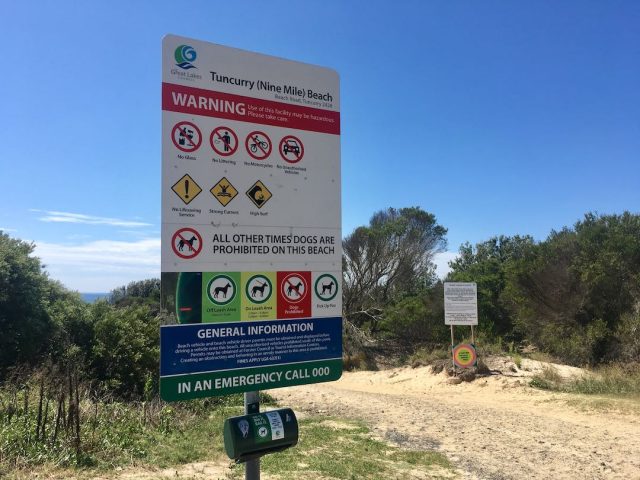 Another option right in Forster, if you're happy to visit during the early morning or evening, is One Mile Beach. Dogs are permitted on-leash on the southern end and off-leash on the northern end. However, they are only permitted in both sections between 5am and 9am and 5am and 8pm.
Other beaches in the Great Lakes area that allow dogs during the same time periods in the morning and evening include Boomerang Beach, Sandbar Beach at Smiths Lake, Blueys Beach, Bennetts Beach at Hawks Nest and Yaccaba. Check out the maps on the council website for the specific areas.
There's also additional dog-friendly beaches if you head north to the Manning Valley region. Dogs are allowed on- or off-leash on all local beaches, except for near patrolled areas, Little Tern nesting areas and in national parks. For a full list of rules, see the council website.
I recommend heading to Diamond Beach, parking at the end of Diamond Drive. When we visited, there was a handy dog water bowl at the parking area, plus a shower for rinsing off afterwards.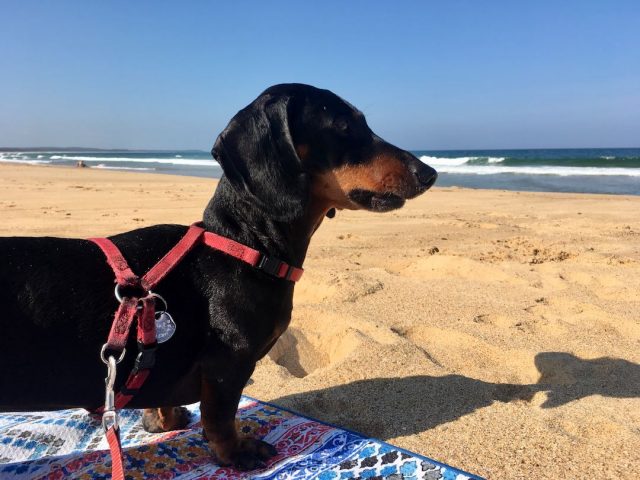 Dog-Friendly Parks in Forster-Tuncurry
The best off-leash dog park in the area is the Beach Street Reserve in Tuncurry. This park just near the off-leash dog beach is fenced and even has a dog agility course. During the day it's quiet but I'm sure there are plenty of other dogs for your pup to hang out with in the evening.
Another option is Pipers Bay in Forster, fronting onto the lake. The northern end of the park allows dogs off-leash between 6am and 8pm, while dogs are allowed on-leash in most of the rest of the park – just stay clear of the water's edge.
There's also many more off-leash and on-leash parks in the region. For more details about dog rules and off-leash areas in the Forster-Tuncurry area, check out the council website.
Dog-Friendly Sightseeing in Forster-Tuncurry
Still looking for more fun dog-friendly ideas in Forster-Tuncurry after you've hit the beaches?
The twin towns aren't only home to beautiful beaches, but also a large network of lakes. Get out on the lakes by hiring a stand-up paddleboard (SUP) at Waterline Boat House on Wallis Lake, then head out for a paddle with your pup. Double check they're still dog-friendly, and it's best to bring a lifejacket for your dog.
Alternatively, head inland on a 30 minute drive to the winery at Great Lakes Paddocks, just off the Pacific Highway. The winery is open from Thursday to Monday (it's best to check in advance they are open) and is family-friendly, including dog-friendly. Enjoy a wine tasting flight with cheese, or purchase from their range of local produce, including beef.
Dog-Friendly Cafes in Forster-Tuncurry
With many cafes in Forster-Tuncurry offering outdoor seating in the sunshine, there's plenty of dog-friendly options. Note that you should always get the permission of the operator first (as some outdoor areas still may not permit dogs), plus your dog should be on a leash, not fed and kept on the ground.
My top recommendation is Beach Bums Cafe, right on the main beach in Forster. While dogs aren't allowed onto the sand of this beach, everyone can enjoy the beautiful view across the beach to the baths on a sunny day. Nearly all the seating is outdoors, and a couple of dog water bowls are provided.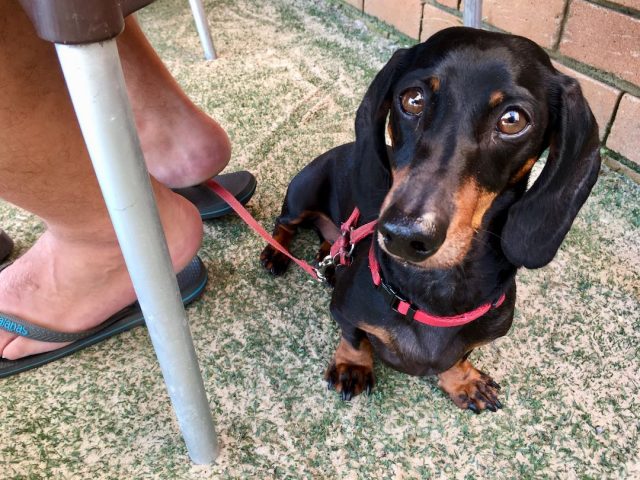 Beach Bums is open daily for breakfast and lunch. While the haloumi and avocado breakfast burger I enjoyed is no longer on the menu, there's still a wide range of choices for reasonable prices. They also have gourmet toasted sandwiches available all day.
Other dog-friendly options around Forster include the outdoor tables at Cafe Toscano, Paradise Marina and Tartt. Alternatively, head to The Deck in Tuncurry, close to the dog-friendly John Wright Park. Double check that these cafes are still dog-friendly before taking a seat.
While in Forster-Tuncurry, don't miss out on trying some of the fabulous oysters from Wallis Lake. We bought a take-away tray and enjoyed them while watching the sun set at our cabin that evening.
Dog-Friendly Accommodation in Forster-Tuncurry
There's a wide range of dog-friendly accommodation options around Forster and Tuncurry. During our visit, we stayed at Discovery Parks – Forster, but I also provide further recommendations below.
Discovery Parks – Forster
Note: The author was a guest of Discovery Parks – Forster. However, all opinions are entirely her own.
We thoroughly enjoyed our stay at Discovery Parks – Forster, an extra dog-friendly caravan park. At this park, it's not only people bringing along their own tent or caravan that are permitted to have a dog. Dogs are also permitted to stay in many of the cabins.
On the Discovery Park website, it's clearly listed for each type of cabin whether pets are permitted, along with other essential details such as the number of beds and what's supplied. Pets are even permitted to stay in the Deluxe Riverfront cabins. Perfect for those of us who aren't partial to roughing it!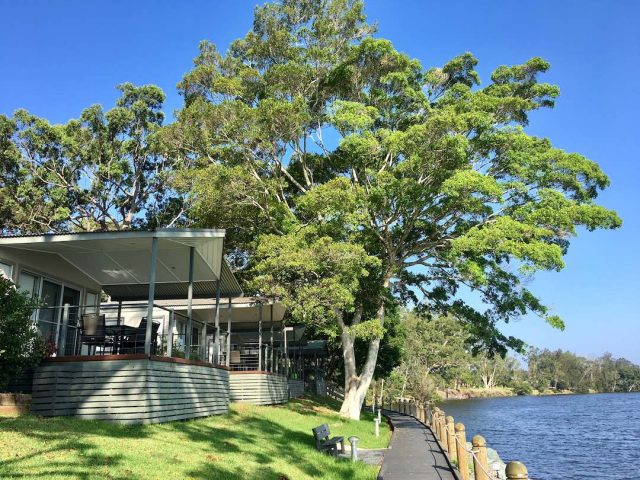 Our Deluxe Riverfront cabin was similar inside to a high-end hotel or holiday apartment. Everything was new and modern. Particularly welcome was the full kitchen, including an oven and cooktop, microwave, full-size fridge and dishwasher. There's a queen-size bed in the main bedroom, plus an additional bedroom with a pair of bunkbeds, perfect for kids.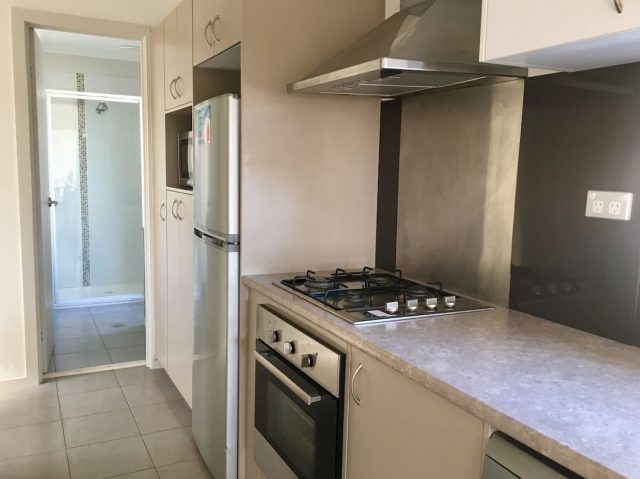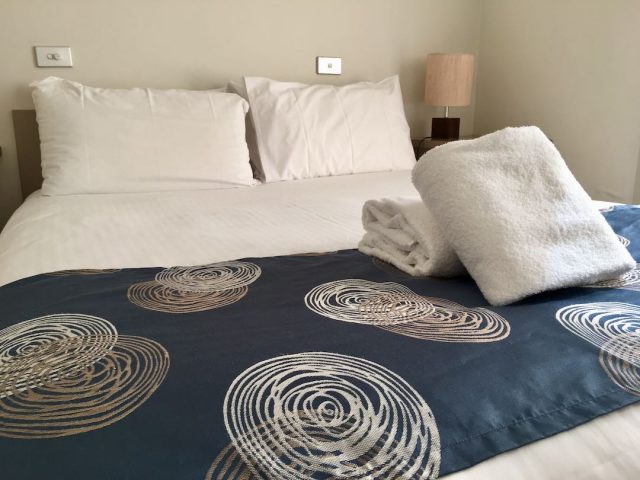 Linen and towels are included, along with toiletries in the spotless bathroom. But best of all is the large balcony out the front, looking directly onto the river. It's the perfect spot to relax any time of day, but particularly beautiful each evening at sunset, kookaburras laughing from across the river. Other inclusions are reverse cycle air-conditioning and a TV with DVD player.
Our dog, Schnitzel, was particularly intrigued by the "water dragons" sunning themselves along the riverbank in the afternoon. The boardwalk along the river was also the perfect place to take him for a walk, before heading down to the off-leash dog area at the other end of the park, which even has an area for smaller dogs. Also onsite is a self-service dog-wash, perfect for if your dog gets muddy or sandy during their holiday.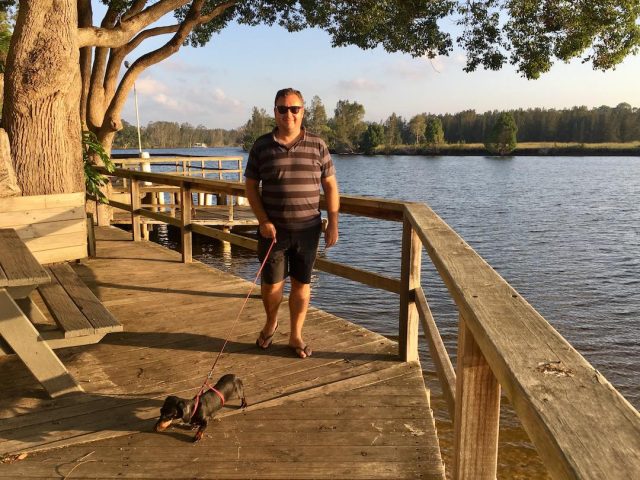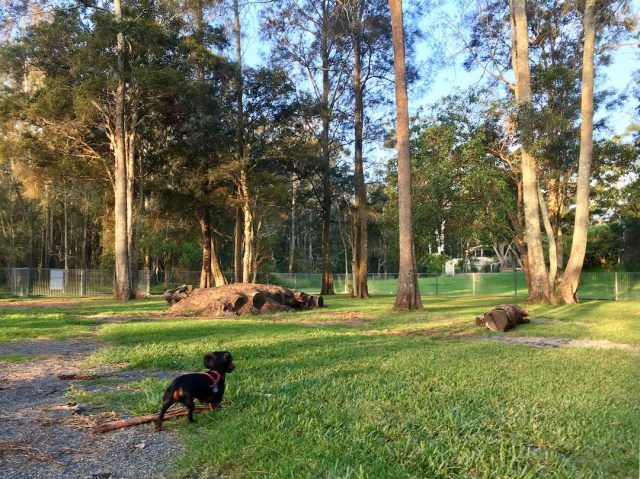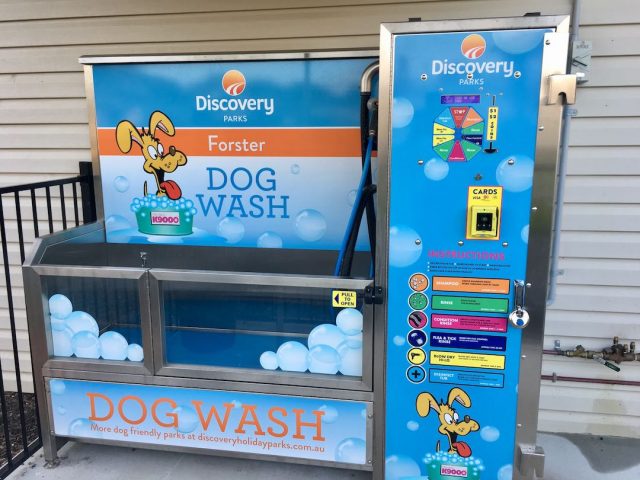 If you're planning on bringing your dog along, note that there are some rules. One dog per family is permitted, with possible management approval for a second dog. Dogs should be registered, microchipped and vaccinated, and not be left unattended at any time. With cabins, dogs are permitted to sleep inside at night on their own bedding, but need to be kept out of the carpeted bedrooms and off the furniture.
Dogs are permitted year-round at Discovery Parks – Forster. If staying on the weekend, there is currently an organised group/dog walk on Sundays, followed by drinks and nibbles.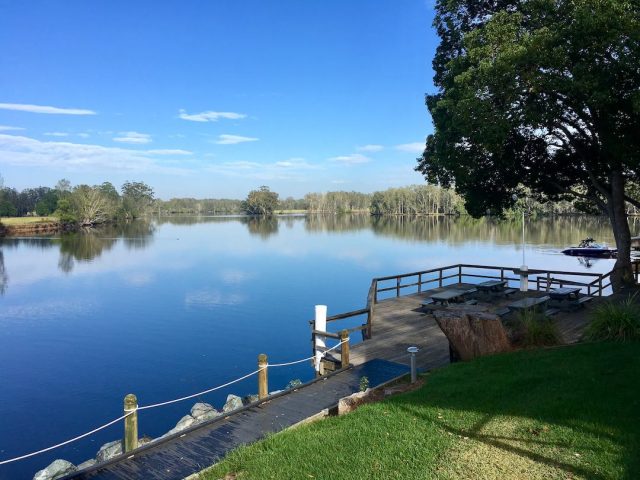 Other Dog-Friendly Accommodation Options
Note: This post contains affiliate links, which means I may receive commission if you make a purchase using the links. See my full disclaimer.
Another pet-friendly caravan parks that is regularly recommended in the region is Lani's Holiday Island, on the edge of the lake at Forster. As well as allowing dogs on campsites, they offer allow pets in selected cabins, with three different pet-friendly options available. Pets are welcome year round, with a maximum of two pets permitted per site.
A 15 minute drive south of Forster, Tiona Holiday park offers a range of accommodation options from camping to glamping to cabins in Pacific Palms, both beachside and lakeside. Pets are welcome to join you year round, with a mix of pet-friendly caravan and camping sites, cabins and villas.
For a more luxe option, check out Sea Horse Diamond Beach. This 5-star guesthouse sleeps up to nine people, or alternatively book the smaller Seafarers cottage, close to the dog-friendly Diamond Beach. Both properties welcome dogs of all sizes, year-round, inside and out, for no additional fee. Check out the dog-friendly features of both properties.
In the heart of Forster, the Forster Motor Inn is a more basic option, that has a number of pet-friendly rooms. Make sure you select a pet-friendly room option (which tend to be snapped up quickly!) and note that there is a limit of one pet per room, plus an extra charge likely applies.
Head Next To
Inspired? Pin this to your Pinterest board!