Riga, along with the other cities in the Baltic states, is an often overlooked destination in Europe. This includes for people travelling with a dog, particularly as Latvia isn't the easiest place to reach with a dog and without your own car.
But after visiting Riga last summer, I heartily recommend spending a weekend or longer here. There's a wealth of gorgeous art nouveau architecture, not to mention it's charming old town and affordable dining. It's also quite a dog-friendly destination. Find out how to get to Riga with your dog, plus what to do once you arrive.
Travelling to Riga with a Dog
As I mentioned when I discussed travelling to Tallinn with a dog, the Baltic region isn't well connected to Central Europe by trains, at least not until a new project for a high speed railway connection from Poland is complete, Rail Baltica.
Instead, many travellers visiting the Baltics by public transport (rather than in their own car), turn to buses – both to reach the region and to travel between the cities of Riga, Tallinn and Vilnius. However, this isn't an option if you're travelling with a dog, as I couldn't find any bus company in the region that says they allow dogs.
Instead, if you're travelling to Riga with a dog, I recommend using one of these dog-friendly transport options.
Fly with airBaltic
airBaltic, the flag-carrier airline of Latvia, accepts pets for travel in the cabin, as well as in the hold. You need to book in advance and standard pet rules apply, although their maximum weight has recently increased to a generous 12kg. There is a fee of €70 pet pet charged for each one-way flight.
After visiting Riga, we flew from Riga to Warsaw with our dog on an airBaltic flight and thoroughly enjoyed it. While it is a budget airline and food and beverages cost extra, the prices were reasonable and the food we ordered high in quality. Click here for the full airBaltic pet policy.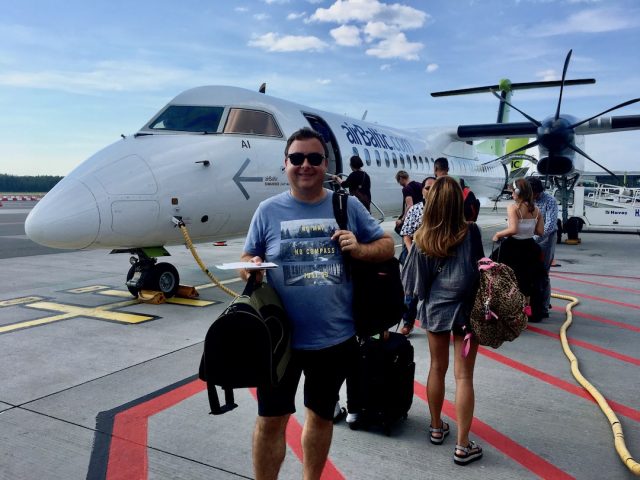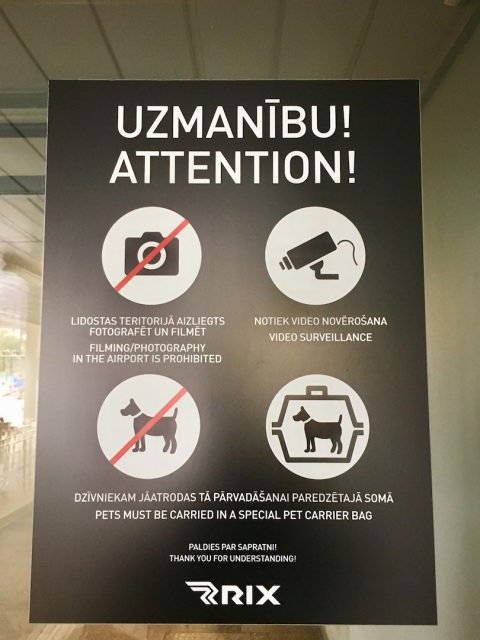 Take an Overnight Ferry from Stockholm
There are multiple ferries criss-crossing the Baltic, including a daily ferry running from Stockholm to Riga. This 16-hour ferry trip is operated by Tallink Silja Line and offers pet-friendly cabins. However, as of May 2022, it was temporarily cancelled, with no date for when it will restart – perhaps in 2023?
We took a similar overnight ferry from Stockholm to Helsinki, and I wrote about my experience on this pet-friendly Baltic cruise. I recommend booking well in advance to ensure you can book a pet-friendly cabin.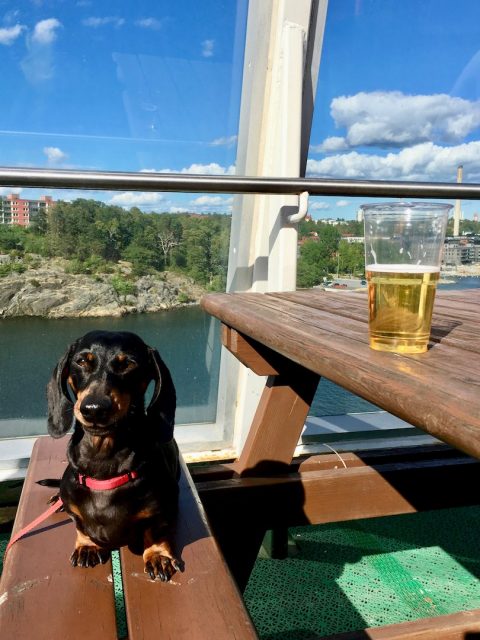 Take the Slow Train from Tallinn
While there is no ferry option from Tallinn to Riga, instead there is a passable train service, although it includes changing trains at the border. For the timetable and fares, check out the latest information at Man in Seat 61.
Unfortunately, the time tables of the separate Estonian and Latvian trains are not currently co-ordinated, unless you're lucky to catch the train from Tallinn to Riga on a weekend, with a multi-hour wait usually required.
In that case, I recommend walking to the nearby Lilli Restaurant in Valga for lunch. There is a large courtyard where we dined with our dog, but we also passed through the inside dining room, where I expect dogs would be allowed.
The Estonian trains were fairly new and modern, while the Latvian train was rather old-fashioned. Luckily though, both trains had a free and working wi-fi service.
Dogs of all sizes are allowed on both Estonian and Latvian trains, with larger dogs not in a carrier bag required to wear a muzzle and leash. I believe on the Estonian trains larger dogs are restricted to the vestibule. (The rules are only in Estonian, so I had some trouble understanding them. The rules for Latvian trains are also in English.)
Make sure you carry your dog's vaccination papers, plus double check whether a ticket is required. This is the case for all dogs on Latvian trains, with the fee depending on distance, but I'm not sure whether a ticket is required for small dogs on Estonian trains.
Is There a Train from Vilnius to Riga?
Unfortunately, there is no similar train connection to Vilnius in Lithuania, except via Daugavpils on Saturdays and Sundays, as described on Man in Seat 61. This requires a stopover of either a few hours or overnight, and is temporarily cancelled, as of May 2022.
Requirements for Taking a Dog to Latvia
The standard rules for dogs travelling to and within the EU apply for dogs travelling to Latvia. To travel to Latvia from other countries within the EU, your dog will require a microchip, valid rabies vaccine and pet passport.
If travelling to Latvia from outside of the EU, most dogs only require a microchip, valid rabies vaccine and health certificate, but double check the requirements for dogs travelling to the EU from your country.
Dining Out in Riga with a Dog
While staying in Riga, we dined out multiple times at restaurants that allowed our dog inside. However, we always made sure to ask first, and it didn't seem that common for dogs to join their owners. In summertime, there are many outdoor dining terraces, usually covered, and I recommend sticking to them.
Taking a Dog on Public Transport in Riga
Dogs are allowed on public transport in Riga. Small dogs in a carrier are allowed for free, while for larger dogs you'll need to buy a pet ticket for €1.50. No more than two dogs are allowed per person, on a short leash.
If you're flying in or out of Riga, there are regular buses that travel all the way to the airport on the edge of the city, with standard fares applying. It's a refreshing change to the usually exorbitant costs of travelling to and from airports, and entirely dog-friendly.
Dog-Friendly Accommodation in Riga
Roughly fifty-percent of hotels in Riga allow pets to stay with you, according to the survey that I did of hotel pet policies across Europe. This ranks Riga ahead of cities such as Paris. Always check to see if any additional rules apply, such as limits on size or number.
Dog-Friendly Sightseeing in Riga
While visiting Riga, I recommend adding the following dog-friendly sightseeing options to your itinerary.
1. View the Art Nouveau Architecture
The highlight of my visit to Riga was walking along Alberta iela, Strelnieku iela and Elizabetes iela and admiring the magnificent art nouveau buildings. These streets are outside of the Old Town proper, in the newer area developed in the early 20th century, and a significant reason for the city's World Heritage listing.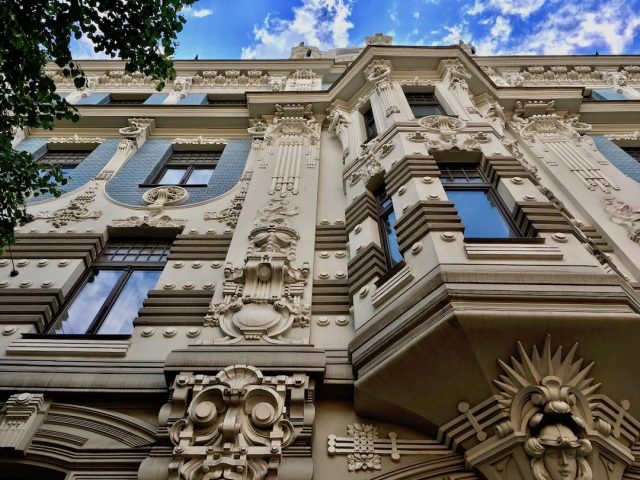 Viewing Riga's art nouveau architecture is a great activity to do with your dog, mainly because most buildings are privately owned, so can only be viewed from the outside. Both yourself and your dog have to stay out on the street.
The main building you can enter is the Riga Art Nouveau Museum, which naturally doesn't allow dogs inside. However, I recommend popping briefly just inside the building to check out the beautiful stairwell at the entrance. There's also a terrific art nouveau shop nearby that was okay with my small dog joining me inside.
2. Explore the Old Town
For more art nouveau gems, don't also miss exploring the Old Town proper in Riga. Although this section of the city is also home to a wealth of architecture from many different eras.
My favourite building was probably the re-built House of the Blackheads. Unfortunately, I didn't visit the interior, partially as not surprisingly four-legged friends can't accompany you inside. However, it's a must to admire its magnificent facade.
3. Hang Out in the Parks
Weaving through the centre of Riga is the Pilsētas Kanāls, or City Canal. You'll pass over this when walking between the Old Town and the main art nouveau district or the rest of Central Riga. It's the remains of the city's former moat, and these days is lined with multiple parks.
During the summer months, it's a beautiful area to retreat to and enjoy the plentiful shade and greenery, ideally with an ice cream from the many vendors. While there are no off-leash dog areas amongst the parklands, it's still a great spot to walk with your pup on a leash.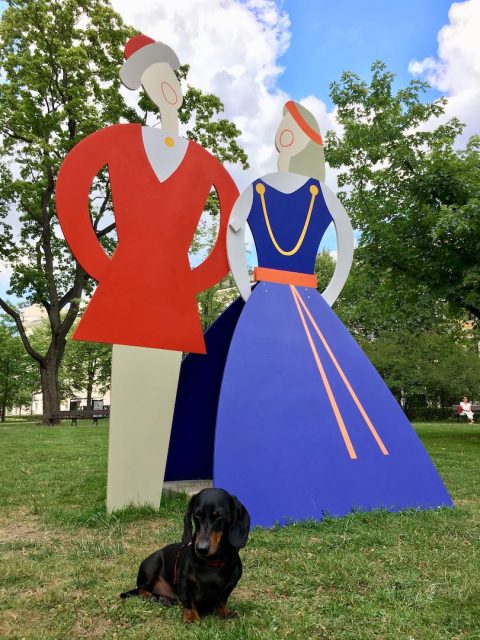 For an off-leash dog option, instead head further north to Viesturdārzs Park. Next to the formal park, in between Eksporta iela and the trainline, is a large off-leash dog park including agility equipment, one of the best dog parks in Riga.
You May Also Like
Inspired? Pin this to your Pinterest board!