Lithuania may be part of the European Union, but tucked away amongst the Baltic states, in between Belarus and the Russian enclave of Kaliningrad, it's easy to overlook this small country. So, what's it like to visit Lithuania with a dog? How dog-friendly is Lithuania?
Travelling to Lithuania with a Dog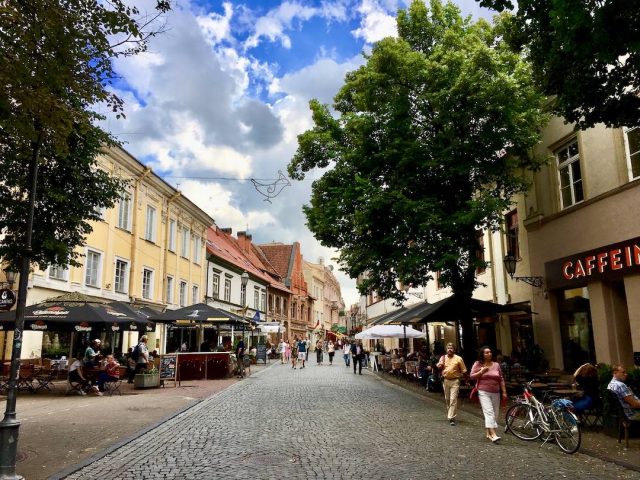 As I mentioned when writing about visiting Tallinn or Riga with a dog, the Baltic states aren't yet well connected to the rest of central and western Europe when it comes to public transport. Until the current rail project connecting Poland, Lithuania, Latvia and Estonia is completed in a few years time, the main option at the moment are buses, which aren't dog-friendly. Instead, consider the option of driving your car or flying, or plan around the limited train connections, see below.
The standard rules apply for dogs travelling to Lithuania. From elsewhere within the EU, your dog will require a microchip, valid rabies vaccine and pet passport. From outside of the EU, most dogs simply require a microchip, valid rabies vaccine and health certificate, but check the requirements for dogs travelling to the EU from your country.
Driving to Lithuania with a Dog
The easiest way to visit Lithuania with your dog from central or western Europe is by driving through Poland. Take one of the two highways that cross the 70km section of border between Poland and Lithuania, avoiding both Belarus or Kaliningrad, where you may require extra car insurance or a visa. If you are driving a rental car, make sure your rental car can be taken into Lithuania – you may need to pay an extra fee.
Train Connections to Lithuania
When it comes to public transport, there are some limited dog-friendly options. There are train services that run between Bialystok (in Poland) and Kaunas (in Lithuania), but only on weekends. This route can then be extended from Warsaw to Vilnius. Check out the relevant page on Man in Seat 61.
Similarly, there is a train connecting Daugavpils (in Latvia) and Vilnius, but again only on weekends. Continuing on to Riga involves either a few hours in Daugavpils or an overnight stay. Here are the relevant timetables on Man in Seat 61.
See below for relevant information on taking dogs on trains in Lithuania.
Flying to Lithuania with a Dog
The major international airpot in Lithuania is Vilnius International Airport, on the city's outskirts. However, Lithuania no longer has a flag-carrier airline, so the best dog-friendly airline depends on where you are flying from.
The largest number of flights are operated by the dog-friendly airBaltic airline, but there are also regular flights with other dog-friendly airlines such as Lufthansa and LOT Polish Airlines. Don't forget to check out my list of which flag-carrier airlines accept pets.
Dining Out in Lithuania with a Dog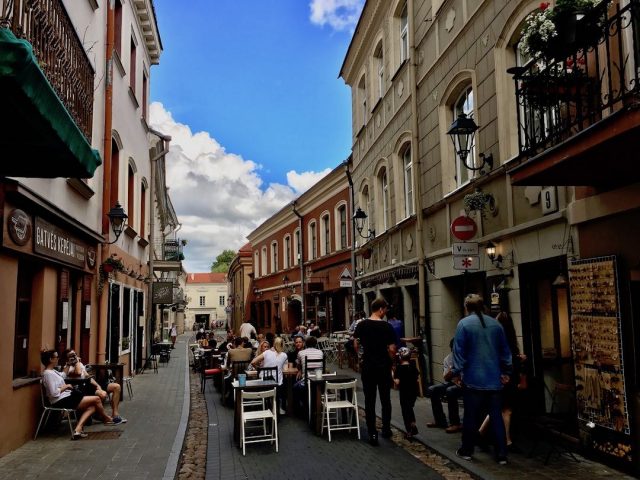 While visiting Lithuania, we mainly had lovely weather, so generally ate at outdoor dining terraces, where our dog was of course welcome to join us. Some restaurants in Lithuania also permit dogs inside, but I'm not sure how common this it, and I recommend to always ask first.
Alternatively, keep an eye-out for the below sticker at the entrance or search for pet-friendly restaurants on https://draugiskigyvunams.lt (Lithuanian only).
Taking a Dog on Public Transport in Lithuania
Generally we didn't make use of public transport in Lithuania, between having a rental car and the Old Town of Vilnius (where we stayed for part of our trip) being compact enough to walk everywhere.
If you do need to take public transport in Vilnius, pets travel on its public transport for free. Pets need to travel in a special container, otherwise they need to be on a leash (maximum length 0.5m), wear a muzzle and have their vaccination papers. An exemption for a muzzle is made for "decorative species"! (Unfortunately, the rules in English are no longer online.)
When it comes to taking dogs on trains in Lithuania, the relevant page summarising pet transport seems to imply only small pets in a container, with dimensions similar to those for bags in airplane cabins and a maximum weight of 8kg, are allowed. However, in the full rules, it's stated that you can carry up to two dogs without a special container, as long as they are on a leash and muzzle, plus kept within 0.5m of you. I would believe the latter.
Pets can only be transported in wagons marked with a pets allowed pictogram or indicated by an employee. Pets are not allowed at all in 1st class carriages. In 2nd class carriages they are charged a 30% fee, while in 3rd class carriages they travel for free.
Dog-Friendly Accommodation in Lithuania
We had no issues finding dog-friendly accommodation in Lithuania, staying in both this Airbnb wonderfully located in Vilnius's Old Town (complete with car space) and a basic hotel in Klaipėda. About 40% of all hotels in Vilnius accept dogs, although always check first for any conditions or fees.
Dog-Friendly Sightseeing in Lithuania
During out visit to Lithuania we discovered no shortage of dog-friendly sightseeing options to recommend.
1. Explore the Old Town of Vilnius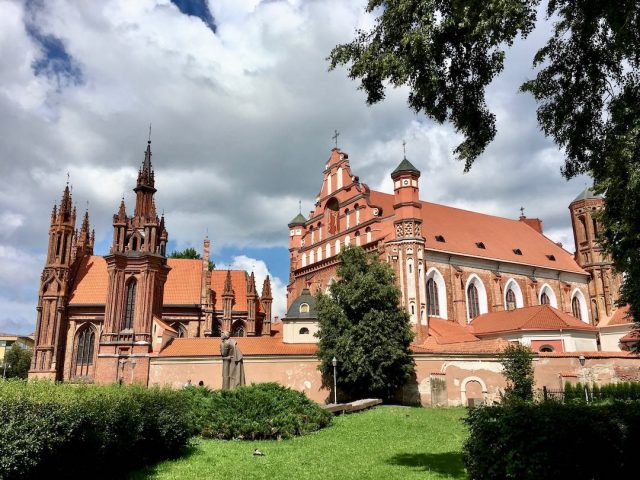 A visit to Lithuania isn't complete without visiting the capital city of Vilnius. The cobblestone streets of its Old Town is home to a diverse range of architectural styles and a large number of churches. When visiting with a dog, just skip heading inside the churches and enjoy their beautiful exteriors. I particularly loved the gothic St Anne's Church and the Gate of Dawn.
2. Visit the Breakaway Republic of Užupis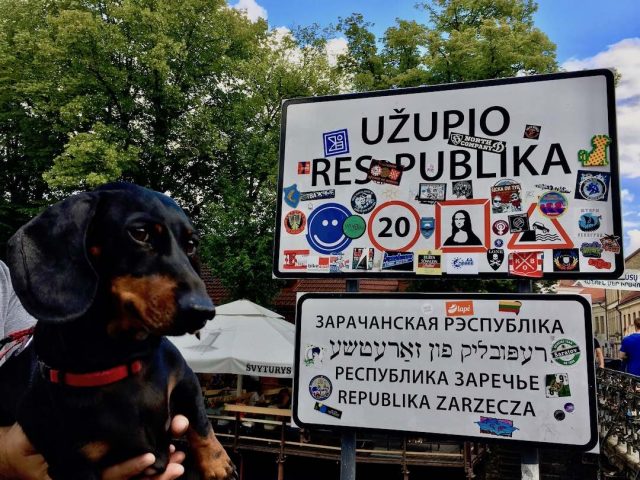 On the edge of Vilnius's Old Town is the independent republic of Užupis. A neighbourhood largely populated by artists, you don't require a visa to visit this republic (although you can apply for one across the border) and naturally dogs are welcome without any paperwork to follow. Fittingly, the national day is celebrated on the 1st April.
3. Head to Trakai and its Castle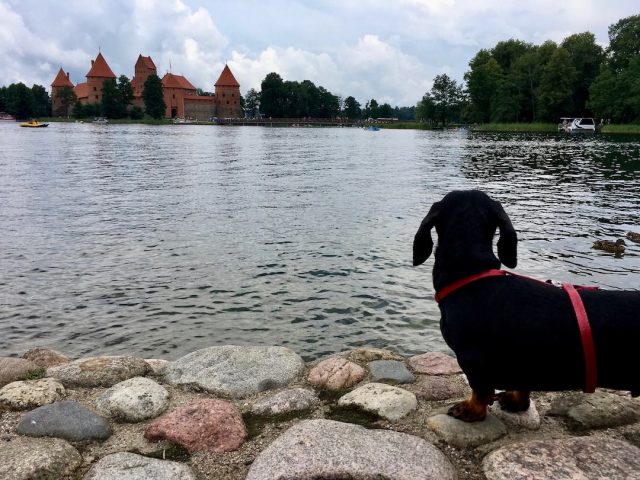 The town of Trakai, about 30 minutes drive west of Vilnius, is a popular sightseeing spot. The area is well-known for its unique lakes and the medieval castle complex standing on one of the islands in the lake.
While dogs are likely not allowed inside Trakai Island Castle or the other nearby castles (no mention is made on the website), it's still great to go for a walk and take some photos from the exterior. Don't also miss tasting the local speciality, kibinai: pastries stuffed with savoury or sweet fillings.
4. Visit the Kernave Archaeological Site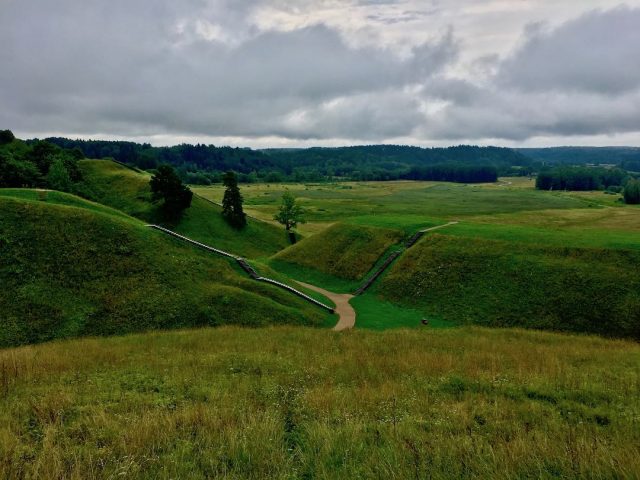 A little further away from Vilnius than Trakai (about 40 minutes to the north west) is the World Heritage listed archaeological site of Kernave. It was the capital of Lithuania during the medieval period, with the only visible vestiges these days being the artificially-shaped hills upon which stood the buildings of the fortified settlement.
While dogs are naturally not allowed inside the adjacent museum, the open-air site doesn't prohibit dogs and is free to visit. Some replicas of the medieval period buildings have also been constructed and are particularly interesting.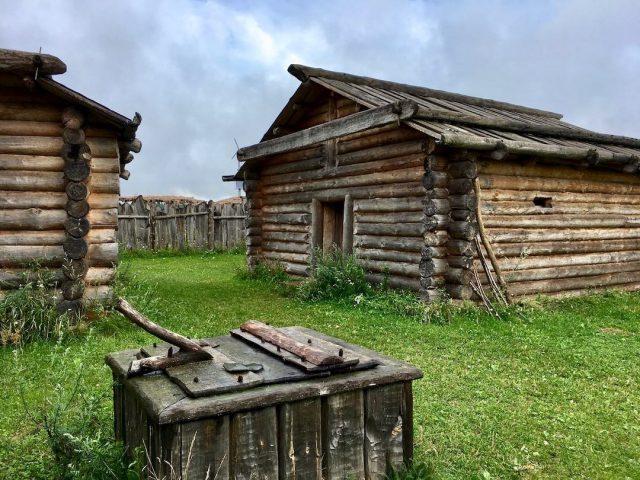 5. Make a Pilgrimage to the Hill of Crosses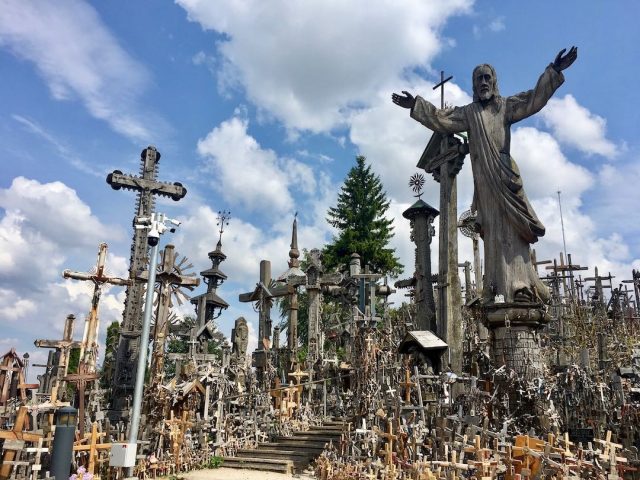 Located in northern Lithuania on a small hill north of Šiauliai is the Hill of Crosses. The hill contains a collection of over 200,000 wooden crosses, one of the most interesting religious sights in all of the Baltics.
The exact origins of the site is unknown, but the tradition of leaving crosses is likely to have occurred for around 200 years. There is no entry charge for the site, nor restrictions against dogs, but make sure you are considerate.
6. Visit the Hill of Witches on the Curonian Spit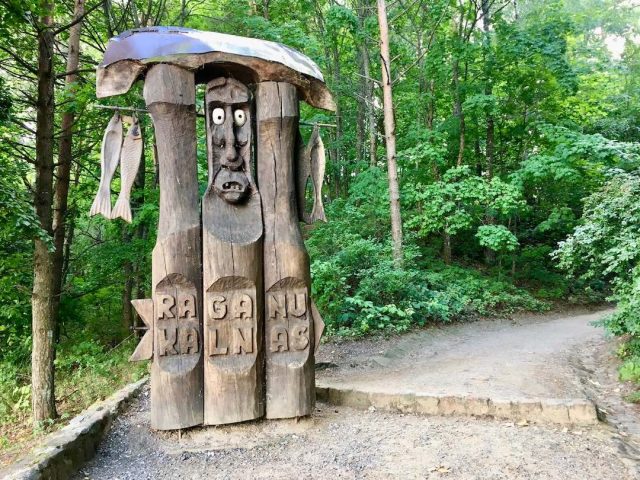 On the western coastline of Lithuania lies the Curonian Spit, home to many beautiful beaches. But my favourite site that I visited here was the Hill of Witches.
The site of festivals since ancient times, since 1979 a large number of wooden sculptures have been carved on the hill out of oak trees. The majority of sculptures have been carved in the Lithuanian folk tradition, paying homage fo the witches, demons and characters of Neringa legends. Additional sculptures have been added over the years.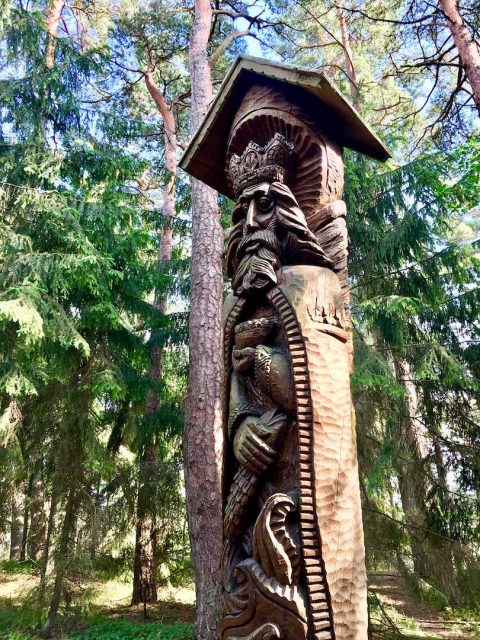 To reach the Curonian Spit, take the frequent vehicular ferries across from Klaipėda. There is no entry charge to visit the Hill of Witches and walk through the wooded hill among the sculptures.
Inspired? Pin this to your Pinterest board!