With its charming old town, hip cafes and bars, and affordable prices, it's no wonder that Tallinn in Estonia is becoming an increasingly popular European destination over the summer months. And after spending a delightful week there with our dog, I'm happy to report it's a very dog-friendly destination and perfect for a getaway with your pup.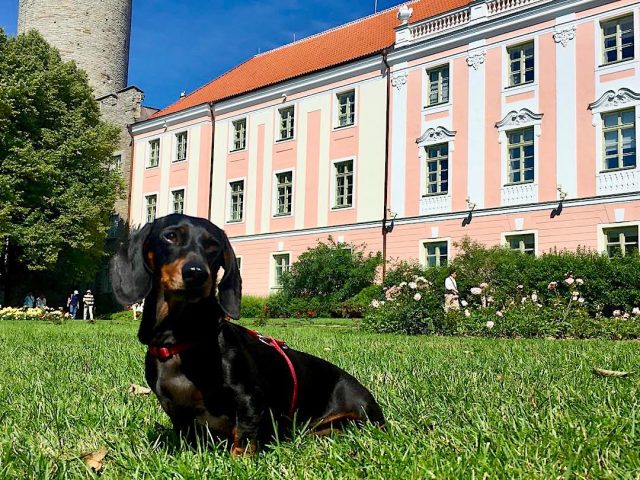 Travelling to Tallinn with a Dog
Despite being part of the European Union, Tallinn and the rest of the Baltic cities aren't as well connected as many other cities in Central and Western Europe. Historically, the train lines led to Moscow, and a project to connect the Baltic states with Poland by rail is currently in the early stages.
To get to the Baltic states and in between them, the most popular method of transport (other than your own car) is by bus. Unfortunately, after checking the details of every bus company I could find, none of them mentioned allowing dogs. Although, I didn't see if sweet talk could convince them to carry my small pup.
To get to Tallinn from neighbouring countries or elsewhere in Europe, consider using one of these transport options.
Fly with Nordica
The Estonian flag-carrier airline, Nordica, permits pets to travel in the cabin, as well as larger dogs to fly in the hold as check-in luggage.
In the cabin, there is a maximum weight of 8kg, with a generous maximum carrier size of 56cm long x 45cm wide x 25cm high. On one-way flights within Europe there is a €35 charge for pets in the cabin, while there is a €55 fee for larger pets flying in the hold.
Click here for the full pet policy. (Note: Currently the English page is untranslated and truncated – it is better to view the Estonian policy here and translate it in your browser.)
Take a Ferry from Helsinki
There are multiple ferry companies that make the quick crossing from Helsinki to Tallinn. We travelled with Tallink Silja Line, with our crossing taking only two hours.
Options on Tallink Silja Line ferries include leaving your pet in your vehicle (on Star and Megastar only, with no charge), booking a kennel (on Star and Megastar only) or booking a pet-friendly cabin. There is a €13 (daytime) or €26 (overnight) fee for the latter options.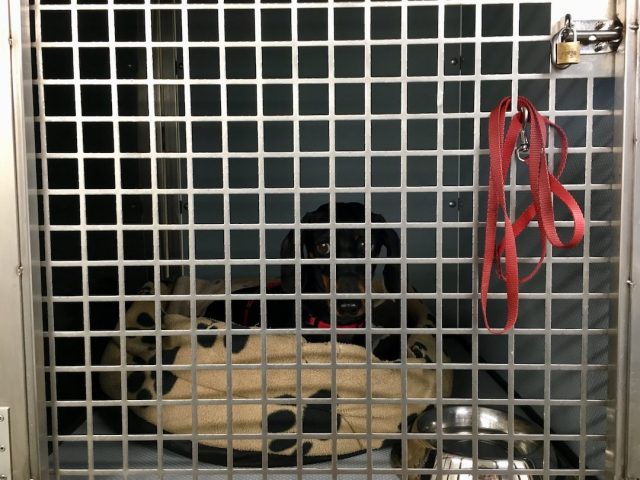 We found the kennels to be of an excellent quality, including a sand pit for your dog to do their business. Read more about transporting pets on Tallink Silja Line ferries.
Take a Ferry from Stockholm
There's also the option of travelling to Tallin on a longer ferry trip from Stockholm, generally overnight. We took a similar overnight ferry operated by Tallink Silja Line from Stockholm to Helsinki, staying in a pet-friendly cabin, and were impressed with the fun, pet-friendly experience. Read more about my experience.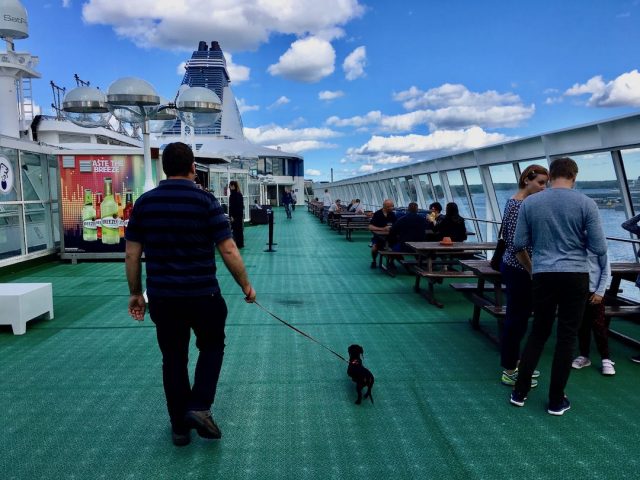 Take the Slow Train from Riga
Finally, if you're just travelling from Riga, there is the option of taking a train, albeit a rather slow train with a change at the border. At least the train on the Estonian side of the border was nice and modern, unlike the one in Latvia!
For more information on making this trip, check out the latest information at Man in Seat 61. As of 2022, there's a multi-hour wait when changing trains at the border in Valga, except for when catching the train from Tallinn to Riga on the weekend.
The rules for dogs on the trains in Estonia are only in Estonian, so I'm not 100% across them. Small dogs in a carrier bag are permitted, plus larger dogs wearing a muzzle and on a leash, although I think they need to travel in the vestibule. Animals are not allowed in first class.
You should carry your dog's vaccination papers, and move if requested by attendants. I don't believe we paid a fare for our small dog, but check with the attendants selling tickets on the train.
The rules for dogs on Latvian trains are clearer and quite generous – there is a limit of 10 dogs per wagon! Larger dogs not in a carrier bag need to wear a muzzle and be on a short leash. Plus carry your dog's papers. There is a fee for dogs, depending on the distance.
If you end up travelling on a train with a long gap like we did, fill up the break with lunch at the excellent Lilli Restaurant in Valga. There is a large courtyard where we lunched with our dog, but we also passed through the inside dining room, where I think dogs would also be allowed. The prices are even cheaper than in Tallinn.
Paperwork for Taking Dogs to Estonia
The standard rules apply for dogs travelling to Estonia as for other EU countries. Your dog will need to be microchipped, have a valid rabies vaccine and either have a pet passport (if travelling from another EU country or a number of other European countries) or an EU pet health certificate.
For more details, check out my guide to travelling with a dog between European countries and the rules to travel to Europe with a dog.
Dining Out in Tallinn with a Dog
We had no problem finding restaurants that allowed our dog to join us in Tallinn, whether inside or out. However, keep an eye out for the below dog-friendly sticker at the door or ask the staff before entering. If you get stuck in summer time, there are plenty of outdoor dining terraces, such as in the Town Square.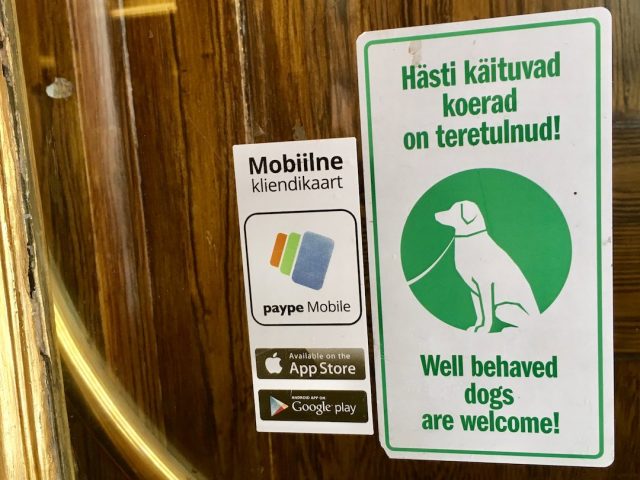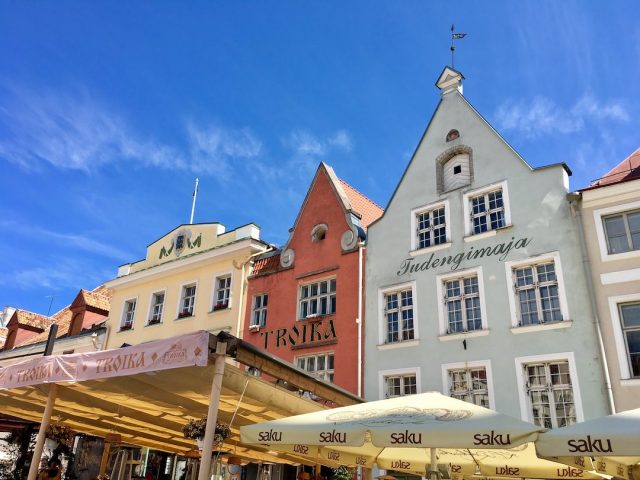 Some of the restaurants that we dined at and recommend:
Cafe Boheem: This relaxed and friendly cafe on the edge of the trendy Kalamaja neighbourhood offers affordable choices from pasta and salads to crepes. We were allowed to dine inside with our dog on a rainy evening.
Von Krahli Baar: If you're looking for a quiet spot with healthy food in the centre of the Old Town, I recommend heading to Von Krahli Baar. There's a lovely courtyard where you can sit outside without the noise from the street, especially when the town is packed with cruise ship visitors. It's perfect for a relaxed lunch – I recommend the Von Krahl bowls.
Kohvik Komeet: At the fourth-floor of the Solaris shopping centre (which allows dogs of all sizes inside), is one of the most popular dog-friendly cafes in Tallinn, Cafe Komeet. This cafe offers a range of hot meals, plus coffee and cake, and has a rooftop terrace with delightful views.
I also recommend heading to the Telliskivi Creative City district on the edge of the Tallinn, which has multiple restaurants with outdoor dining areas plus food trucks.
Taking a Dog on Public Transport in Tallinn
If you stay close in to the town centre of Tallinn, like we did, it's unlikely that you'll need to take public transport. But if you do find yourself catching the trams, trolleys or buses, you'll be happy to know that dogs travel for free. Note however that if your dog isn't in a carrier bag that it should wear a muzzle.
Dog-Friendly Accommodation in Tallinn
You shouldn't have any issues finding dog-friendly accommodation in Tallinn. If you're wanting to stay in a hotel, just over 50% of hotels were dog-friendly in my survey, ranking Tallinn in 11th place out of the European cities I investigated.
Many Airbnbs are also dog-friendly, and quite affordable. We enjoyed staying in this Airbnb in the Kalamaja neighbourhood, a predominantly student district next to the Old Town with many traditional wooden houses.
Dog-Friendly Parks in Tallinn
While in Tallinn, all dogs should remain on a leash in public areas, except if they are in a fenced dog park. Luckily, there are a number of such parks in Tallinn, as listed here.
The closest off-leash dog park to the Old Town is Toom Park, just next to the old city walls and containing the only remains of the old moat. Another great looking dog park is Tiigiveski Park, to the south of the Old Town. It includes some agility equipment for dogs.
Dog-Friendly Sightseeing in Tallinn
Not sure what to do in Tallinn with your dog? Consider these options for your visit. Also feel free to ask nicely at places that generally don't allow pets – one museum in the centre of Tallinn allowed us inside with our dog carried in our arms.
1. Explore the Old Town
Tallinn is home to one of the best preserved medieval old towns I've come across in Europe. I highly recommend wandering the streets of the old town, including heading up to Toompea Hill and taking in the panorama from some of the viewpoints.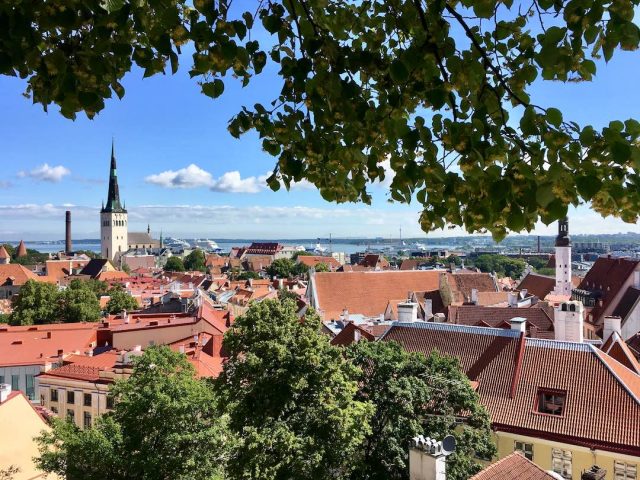 Much of the original city walls have also been preserved and one of the best places to view them is at Toom Park, just to the west of the Old Town. This park is a welcome green oasis on hot days, and even better has an off-leash area.
2. Hang Out in Telliskivi
If you want to escape the crowds, especially in the summer cruise season, continue west from Toom park and past the train station, to the Telliskivi district, an area that has recently had many re-vitalisation projects.
Just after the station is Balti Jaama Turg, an excellent outdoor-indoor market, which allows dogs in most areas. Further along, many of the former railway buildings now house a variety of funky cafes. There's also food trucks and lots of street art.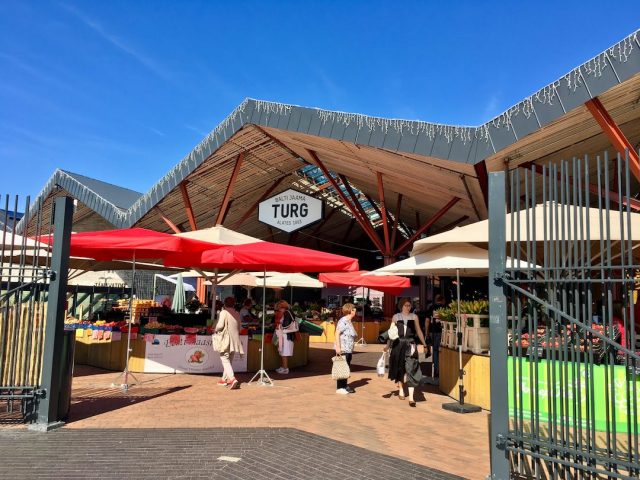 Dining out is already affordable in Tallinn compared to Scandinavia, but your euros will stretch even further in this precinct.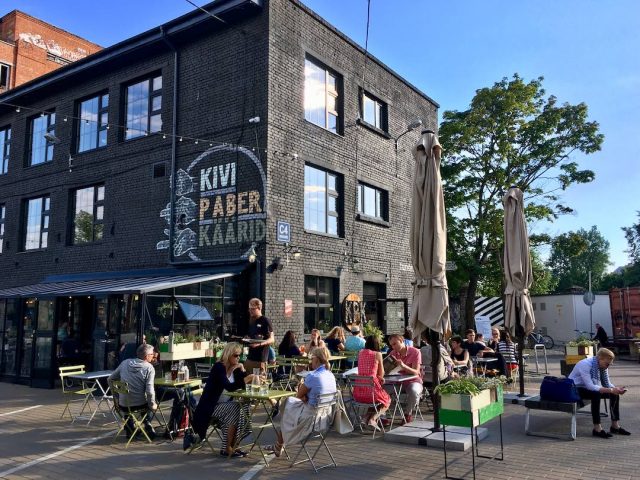 3. Hit the Beaches
I regret not finding time to head to the beaches around Tallinn with my pup, although I must admit he's a terrible swimmer so he's not that keen on entering the water.
In Tallinn, dogs are allowed to swim on all stretches of the sea shore and all lakes where this isn't a public beach and there are no signs prohibiting it. Some popular spots near Tallinn where dogs are permitted to swim are listed here, with a map on the Estonian page.
Head Next To
Inspired? Pin this to your Pinterest board!