The city of Rockhampton is located not far from the coast in Central Queensland, around 650km north of Brisbane. Located on the banks of the Fitzroy River, it has long been known as a centre of beef production. But if you're passing through Rockhampton while travelling in Queensland with a dog, what is there to do and where can you stay with your pup?
Are Dogs Allowed Up Mount Archer?
High above Rockhampton looms Mount Archer. At the top of the 600m high mountain is a lookout, including a recently built elevated boardwalk, with beautiful views over Rockhampton and the surrounding countryside. However, dogs are not allowed at Mount Archer.
Mt Archer is located within the Mount Archer National Park, and like all national parks in Queensland, dogs are not allowed within the park. This is one popular attraction in Rockhampton you'll have to skip visiting with your dog.
Dog-Friendly Sightseeing in Rockhampton
When visiting Rockhampton with your dog, instead consider ticking off these dog-friendly attractions in and around the city.
#1 Check Out Rockhampton's Historic Side
Rockhampton is home to a surprisingly charming historic centre, along the southern banks of the Fitzroy River. One of the earliest cities in Central Queensland, an impressive collection of historic buildings are still standing.
Some of the key buildings you should check out include the Customs House, the Criterion Hotel, the Rockhampton Post Office and the multiple Court buildings. Most of these heritage-listed buildings are located along the riverfront Quay Street, although the Post Office and Court buildings are a block back on East Street.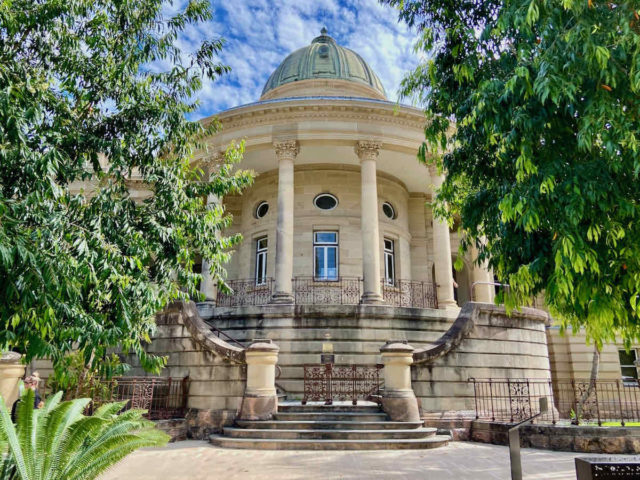 The Riverbank Precinct alongside Quay Street has recently been revitalised and it's a lovely spot for a stroll along the river with your dog, with plenty of shady trees to keep you cool. Just make sure you keep your dog on a leash.
#2 Stroll Through Kershaw Gardens
Another highlight from my visit to Rockhampton with my dog was visiting the Kershaw Gardens in North Rockhampton. While dogs are not permitted in the main botanic gardens in Rockhampton, including the adjacent zoo, dogs are welcome at Kershaw Gardens.
Don't miss the Waterfall area in the gardens, which features multiple man-made waterfalls beautifully cascading into a pool below, surrounded by lush palms (and home to many fast moving water dragons that attracted the attention of my dog!) The Waterfall area is closest to the High Street Car Park.
Unfortunately, some of the other parts of Kershaw Gardens including the Wetlands area are still in need of revitalisation, after they were majorly damaged by a cyclone a number of years ago. However, a fantastic new kids playground was recently completed, so the future seems promising.
At the southern edge of Kershaw Gardens is an off-leash dog exercise area, close to the Dowling Street Car Park. We didn't have a chance to check this area out, but we did park at the Charles Street Car Park, where there is a small fenced off-leash park with agility equipment.
#3 Visit the Beaches Around Yeppoon
It's only a 35 minute drive from Rockhampton to Yeppoon on the Capricorn Coast, where there are multiple beautiful beaches, including many dog-friendly beaches.
The default rule for the beaches along this coastline is that dogs are allowed on-leash on the beaches during the day, plus off-leash before 8am and after 4pm, unless otherwise signposted. So that means there's plenty of dog-friendly beaches! Naturally this excludes any beaches in national parks, such as Byfield National Park to the north.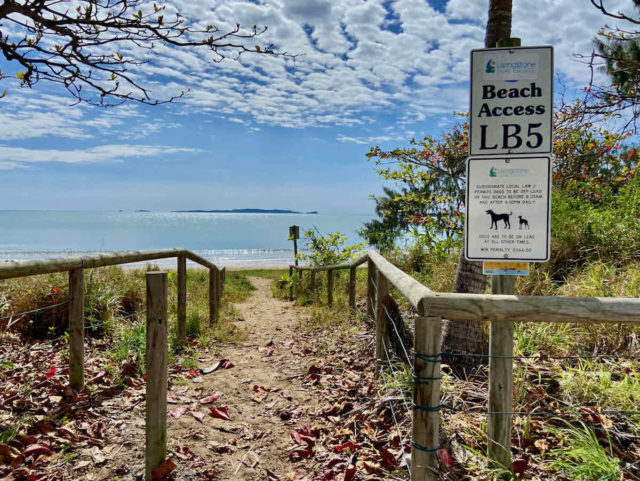 The two main exceptions are Farnborough Beach, north of Yeppoon at Bangalee, and Fishermans' Beach, south of Yeppoon at Emu Park. At both beaches, dogs are allowed off-leash all day long, but not on weekends or public holidays, when they need to stay on-leash. The off-leash section at Fisherman's Beach starts 150m north of the boat ramp.
Find out more about visiting Yeppoon with a dog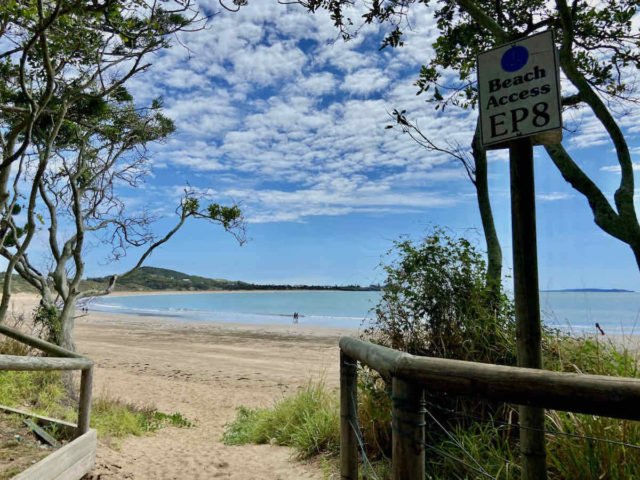 #4 Head to Great Keppel Island
While it's not as convenient to visit Great Keppel Island for the day if you're staying in Rockhampton, with the Great Keppel Marina only a 45 minute drive away it is definitely still possible.
The island, which is home to a defunct resort, is one of the most dog-friendly islands in Queensland. There's two dog-friendly ferries that you can take across to the island, Keppel Konnections and Freedom Fast Cats, taking about 30 minutes each direction.
Once on the island, there's no signs prohibiting dogs from any of its beautiful beaches, so they presumably have the same rules at beaches along the Capricorn Coast (with dogs allowed by default on a leash, plus off-leash before 8am and after 4pm). Don't miss the chance to go snorkelling, with Shelving Beach the easiest option.
Find out more about visiting Great Keppel Island with a dog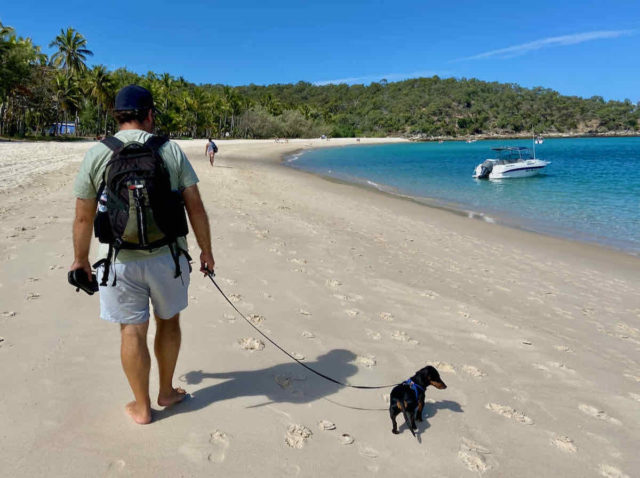 #5 Visit Historic Mount Morgan
A 30 minute drive southwest of Rockhampton along the Burnett Highway will find you in the historic town of Mount Morgan. Once a boom gold mining town, the charming town these days have a plethora of heritage-listed buildings, including its school, police station, railway station and the old mine.
Take a wander around town, admiring the buildings. Don't miss stopping at the Mount Morgan Historical Museum, which houses a collection of relics dating back to the town's foundation and is open daily. Previous visitors state the small entry fee is good value, plus dogs are welcome to join you.
If your dog is feeling restless after all the history, while there is no official off-leash dog park in Mount Morgan, the council website states that the Number 7 Dam is traditionally an off-leash area.
Dog-Friendly Parks in Rockhampton
If you're visiting Rockhampton, there's a number of off-leash dog parks scattered around the city. In South Rockhampton, head to Victoria Park, with access from Huish Drive. Alternatively, there are four options in North Rockhampton:
All Blacks Park, with access via Lakes Creek Road
Duthie Park, with access via Thozet Road, Marsh Avenue, Lawrence Avenue and Wiggington Street
Eddie Baker Park, with access via Rosella Court
Kershaw Gardens, with access via Charles Street
At Kershaw Gardens, as well as a designated off-leash area in the south of the gardens, there is also a fenced off-leash dog park next to the Charles Street Car Park. While small in size and lacking in shade, it's well set-up for practicing agility. There's a water tap with a bowl.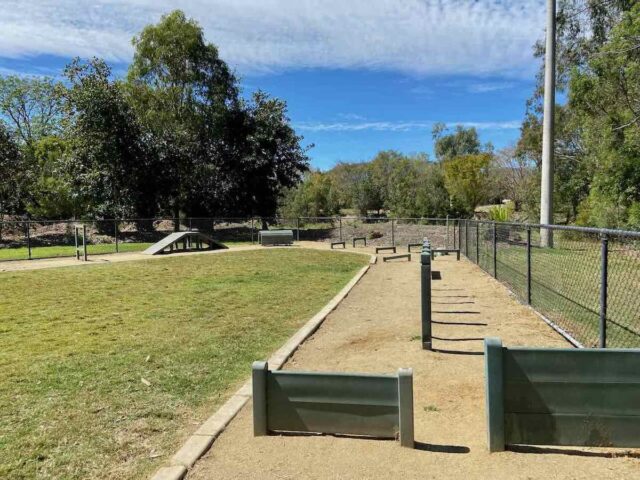 Dog-Friendly Dining in Rockhampton
A particularly charming cafe in Rockhampton is the Riverston Tea Rooms, located in a historic building on Quay Street opposite the Riverbank Precinct. Open from Tuesday to Sunday for breakfast, lunch or just a coffee, their pancakes are highly praised. Dogs are allowed at the verandah tables.
A couple of blocks back from the river, the Coffee Society Rockhampton is also highly rated. Opening early each morning (5:30am on weekdays, 6am on weekends), they are open seven days for breakfast, lunch and coffees. Dogs are welcome in their outdoor dining area.
Dogs are also welcome to join you at the outdoor tables at the historic Criterion Hotel. The hotel is open daily for lunch and dinner, plus from Tuesday to Sunday for breakfast. Or just enjoy a beer overlooking the river!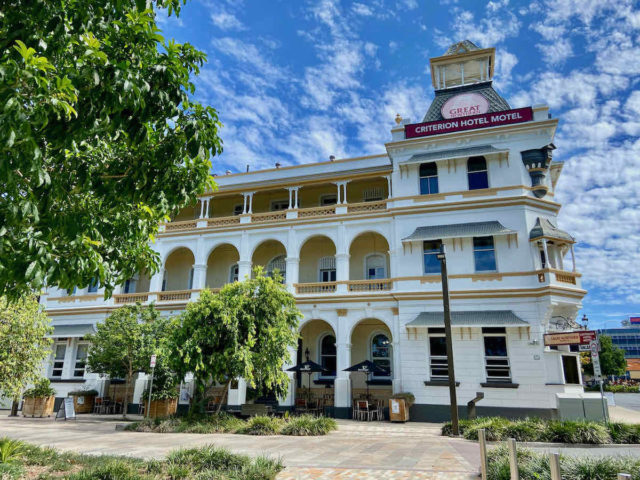 Dog-Friendly Accommodation in Yeppoon
Note: This post contains affiliate links, which means I may receive commission if you make a purchase using the links. See my full disclaimer.
There are a number of motels located within Rockhampton that have pet-friendly rooms. In the centre of the city, check out the Archer Park Motel, which has pet-friendly Queen rooms. Both are located on the ground floor, with no carpet. The motel has a swimming pool and is just a short walk from the riverfront.
Alternatively, check out the True Blue Motor Inn on the northern edge of the city. This property has two pet-friendly Standard Twin Rooms, each with a double bed and single bed. Both rooms even have a fenced and grassy private area outside their door! In both cases, I believe there is no additional pet fee, with higher room rates instead, but double check.
All five caravan parks located around Rockhampton are pet-friendly, at least when you are staying in your own vehicle or tent. Double check any rules directly. Additionally, if you are travelling in a fully self-contained vehicle, there is a free campground at the northern end of Kershaw Gardens, where you can stay for up to 48 hours.
Head Next To