It's coming up to Spring, a beautiful time to think about visiting one of the many wonderful gardens located around New South Wales. However, despite being located outdoors, and you'd think a great dog-friendly place to visit, many gardens located in NSW don't allow pet dogs on their grounds. However, I've dug out some of the beautiful dog-friendly gardens in NSW that do allow dogs.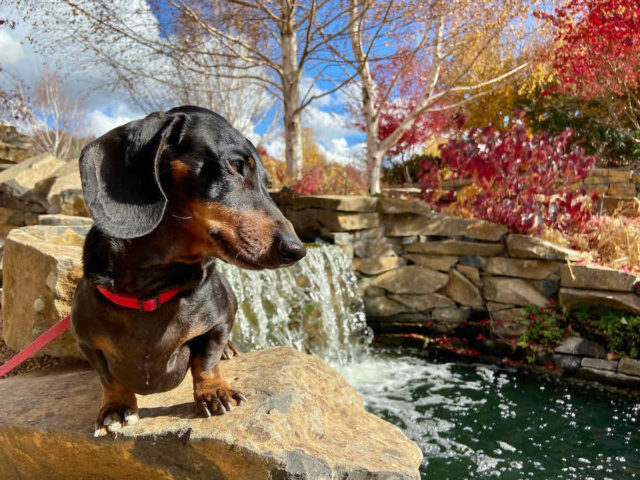 Are Dogs Allowed in the Botanic Gardens?
If you're referring to the Royal Botanic Garden in the centre of Sydney, unfortunately, the answer is no. Unlike the botanic gardens in other capital cities of Australia that permit dogs, such as Melbourne, Brisbane and Darwin, no dogs are permitted in these harbour side gardens, except for service animals.
This ban on pets also extends to the Australian Botanic Garden in Mount Annan and Blue Mountains Botanic Garden in Mount Tomah. Many other botanic gardens located around NSW that I have investigated also ban dogs (unlike botanic gardens in other states), although I have uncovered at least one botanical garden that allow dogs to join you…
Orange Botanic Gardens, Orange
Best time to visit: Year round
The only botanic garden in NSW that I've manage to find that allows dogs are the Orange Botanic Gardens. Dogs are allowed to join you on a visit to these gardens with free admission, as long as they remain on a leash.
The Orange Botanic Gardens were officially opened in 1988 for the Australian Bicentenary and feature a mixture of natives and exotic plants. We particularly enjoyed the small apple orchard and maple hill area (a must-visit location during Autumn), plus there were lots of jonquils flowering when we visited in June.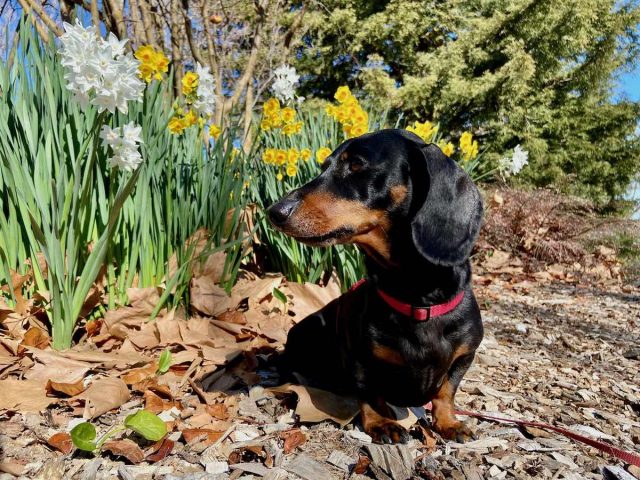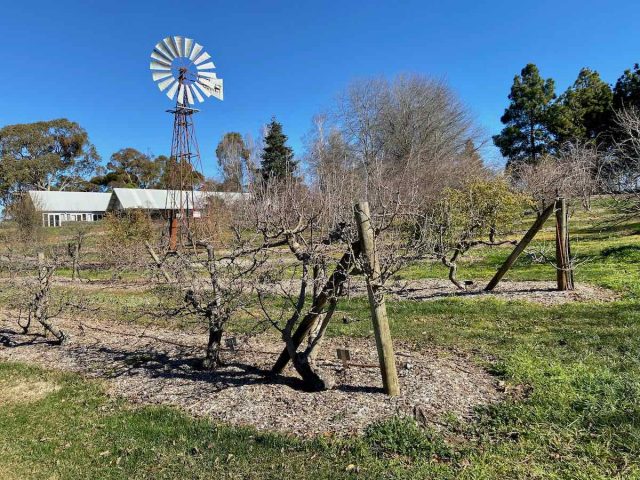 If you're visiting during the warmer months, there's plenty of shaded areas around the billabong. Located on the northern outskirts of Orange, about 3.5 hours west of Sydney, the gardens are open daily from 7:30am to dusk. Allow at least an hour for a stroll around the site.
Check out more recommendations for a dog-friendly visit to Orange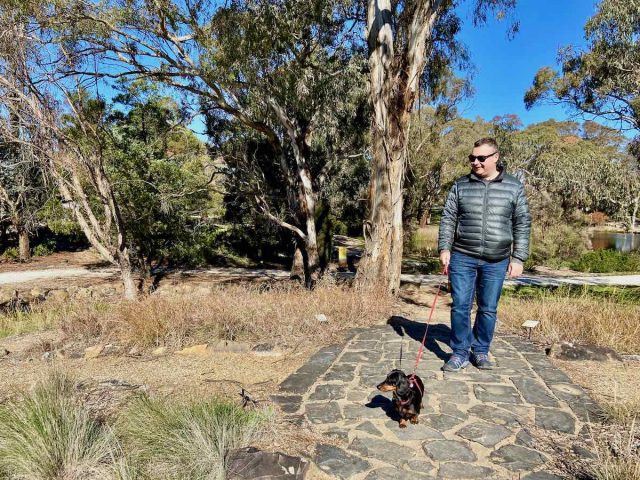 Cowra Japanese Garden, Cowra
Best time to visit: Late September to early October for cherry blossoms, or Autumn for the colourful leaves
The Orange Botanic Gardens aren't the only beautiful dog-friendly gardens to visit in NSW's Central West Region. Head just over an hour south to the town of Cowra to visit a garden with a very different feel, the Cowra Japanese Garden.
The Cowra Japanese Garden was built to symbolise the friendship that developed between the town and Japan, after a Prisoner of War Camp in the town during WWII was used to house Japanese Prisoners of War. Since then the gardens have become the largest Japanese gardens in the southern hemisphere.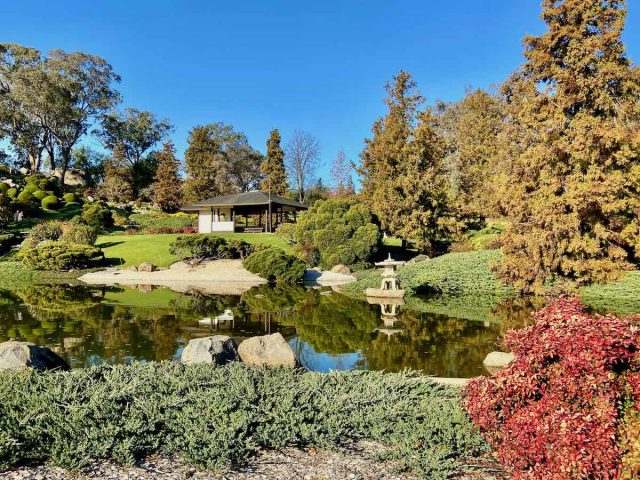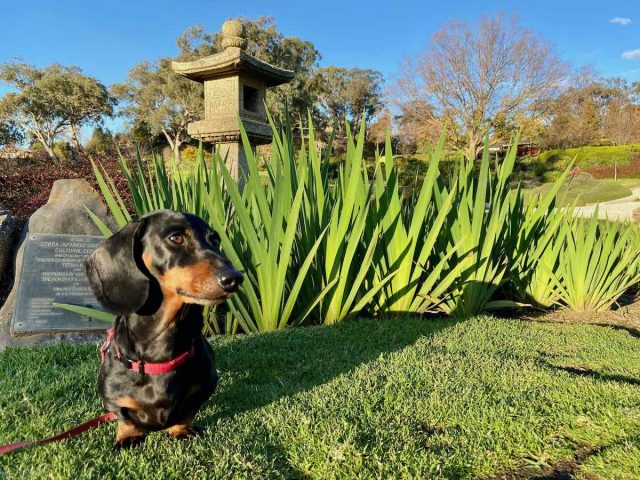 This beautiful site features a lake, water cascade and even a tea house pavilion. It's easy to spend an hour or two wandering around the complete site, especially if you stop to take photos. Afterwards, extend your visit at the adjacent cafe overlooking the grounds.
The gardens are at their most beautiful during the cheery blossom season (usually late September to early October), plus when the many deciduous trees change colour during the Autumn. But the gardens were still beautiful on the sunny winters day that we visited.
Note that an entry fee applies, except for dogs. Dogs are fine to enter through the gift shop with you, and it's best that dogs enter the outdoor area of the cafe through the gate on the garden side. Dogs need to stay on a leash.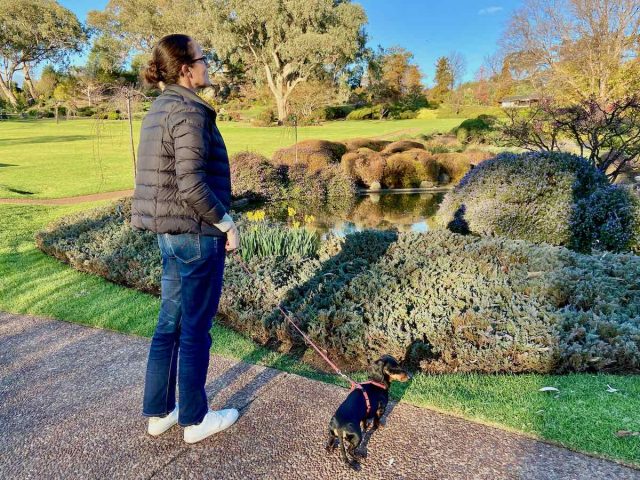 Mayfield Garden, Oberon
Best time to visit: Year round, especially during the seasonal festivals
One of the most spectacular dog-friendly gardens in NSW is the Mayfield Garden in Oberon. This huge privately run garden has been opened daily to the public since 2017, except for Christmas Day and Boxing Day.
Mayfield is actually two gardens in one: the publicly accessible Mayfield Garden and the larger Hawkins' Family Garden, which is only open to the public during seasonal festivals four times per year. The Mayfield Garden includes a water garden, a huge collection of maple trees and many follies to explore. The Hawkins' Family Garden also features an English Box Hedge Maze.
Allow plenty of time to explore, especially if you are also visiting the Hawkins' Family Garden. (A minimum of 4 hours is recommended.) Dogs are allowed on a leash, and while dogs bowls are provided in the outdoor areas of the cafe, make sure you bring your own poop bags. The gardens are located 2.75 hours west of Sydney, on the far side of the Blue Mountains.
I recently finally visited the gardens during May – perfectly timed to see the colourful display of the maples and other deciduous trees around the water garden. Another popular time to visit is spring, when the blossoms are out on show.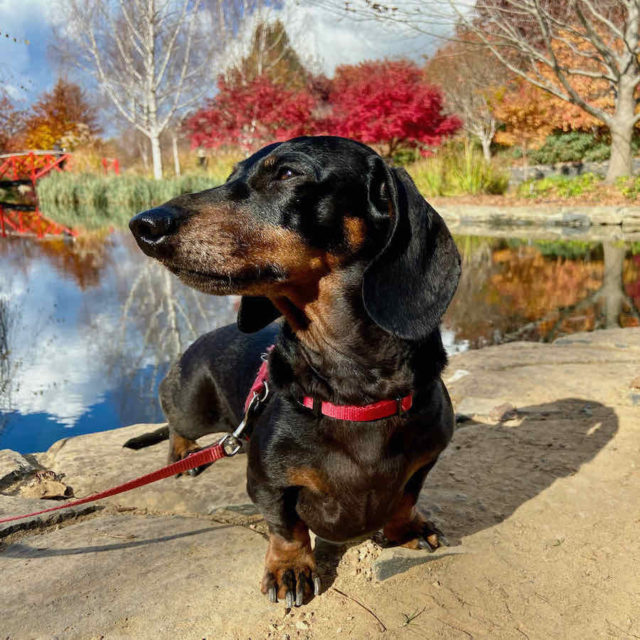 Campbell Rhododendron Gardens, Blackheath
Best time to visit: Early October to mid-November for the rhododendrons
The Blue Mountains are also a great destination to visit themselves for their many fine gardens. One of the best dog-friendly gardens to visit in the Blue Mountains are the Campbell Rhododendron Gardens in Blackheath.
The highlight of the Campbell Rhododendron Gardens are naturally their huge collection of rhododendrons. These magnificent blooms flower annually between Early October and mid-November, the ideal time of year to visit these gardens. During this period, the Rhodo Tea Rooms are in operation.
However, the gardens are also open year round, with entry to the volunteer-run gardens by donation. Autumn is also a great time to visit, as the gardens contain many maple trees and other deciduous trees, although we found most leaves had fallen by late May.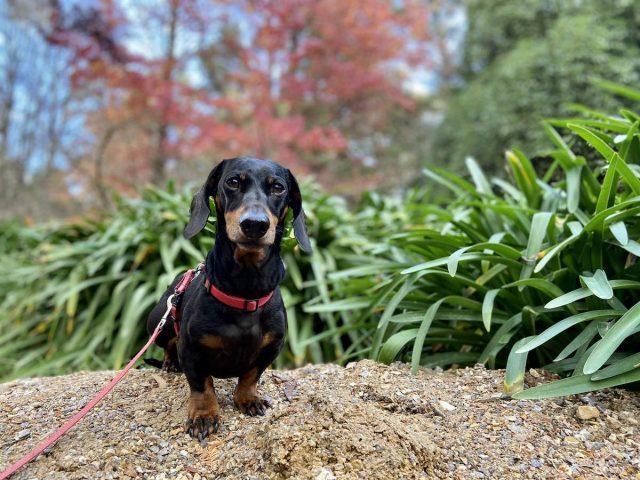 Dogs need to stay on a leash during your visit to these gardens. Blackheath is about 1.75 hours west of the centre of Sydney.
Breenhold Gardens, Mount Wilson
Best time to visit: Spring and Autumn
The rhododendron gardens are not the only dog-friendly gardens in the Blue Mountains. Head over to Mount Wilson off the Bells Line of Road for the Breenhold Gardens, another garden that allows dogs.
The Breenhold Gardens are one of the most extensive privately owned gardens in Australia. The gardens are over 45 hectares in size and contain thousands of exotic and native species planted over the last 40 years.
The focal point of the gardens are six stone walled gardens, some with pools and fountains. In late August thousands of daffodils and jonquils bloom on the lawns, while there's also walks through the avenues of pine trees and along terraced bush trails, leading to lookouts overlooking the Blue Mountains National Park.
The gardens are open seasonally, generally opening daily during Spring and Autumn. Check the website for the latest opening dates and entry fees. Dogs are welcome on a leash, and the gardens are just under 2 hours west of the centre of Sydney.
Check out more recommendations for a dog-friendly visit to the Blue Mountains
Illawarra Grevillea Park, Bulli
Best time to visit: Any of their open days, in Autumn, Winter and Spring
For a stunning collection of native Australian blooms, head south of Sydney to the Illawarra Grevillea Park in Bulli, about 70 minutes south of the centre of Sydney.
This 2.4 hectare park maintained by volunteers contains a rich collection of Australian grevilleas and other native species, including wattles and orchids. There's also a wonderful small rainforest area.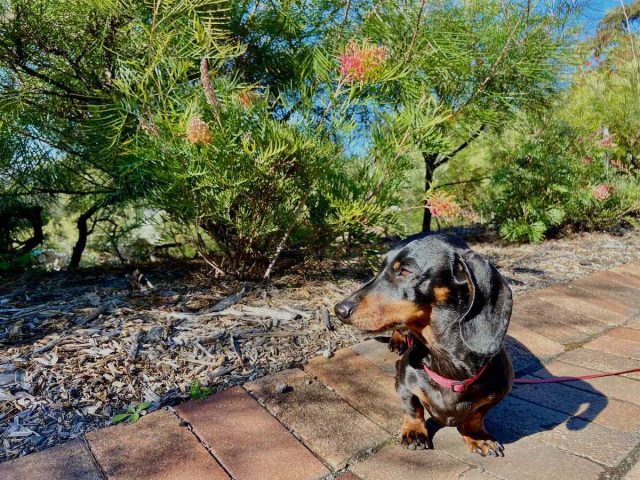 To find out when the park is next open, head to their website or Facebook page. They are generally open about six weekends per year, in Autumn, Winter and Spring. There's a small entry of $5 charged, plus native plants for sale.
Pick up or download the pamphlet with directions for a self-guide tour, pointing out the many diverse species of grevilleas. Allow at least an hour to explore the gardens, and make sure you keep your dog on a leash.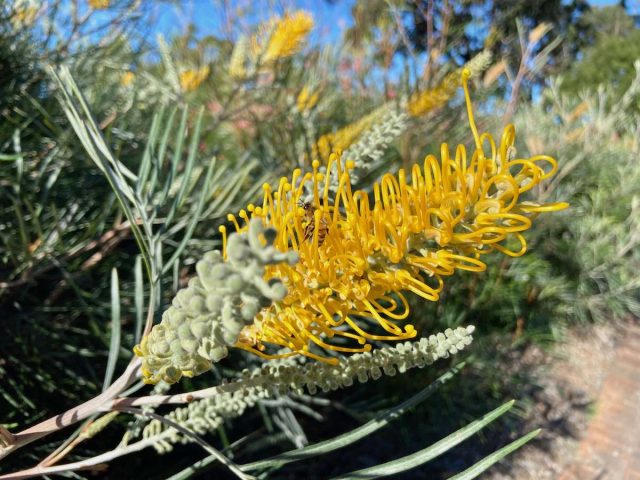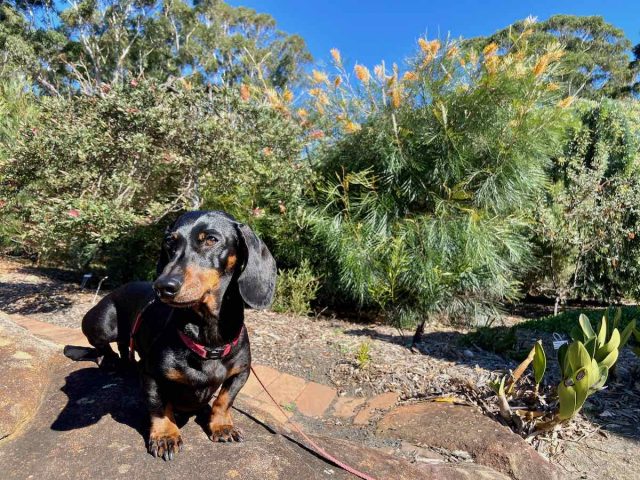 Wendy's Secret Garden, Lavenders Bay
Best time to visit: Year round
While the majority of these other gardens are located outside of Sydney, albeit many can be visited on a day trip, for a dog-friendly garden right in Sydney head to Wendy Whiteley's Secret Garden.
Wendy's Secret Garden is located in Lavender Bay, close to North Sydney station. While there aren't any signs pointing you towards the gardens, in an attempt to preserve their secrecy, the gardens have become increasingly popular in recent years.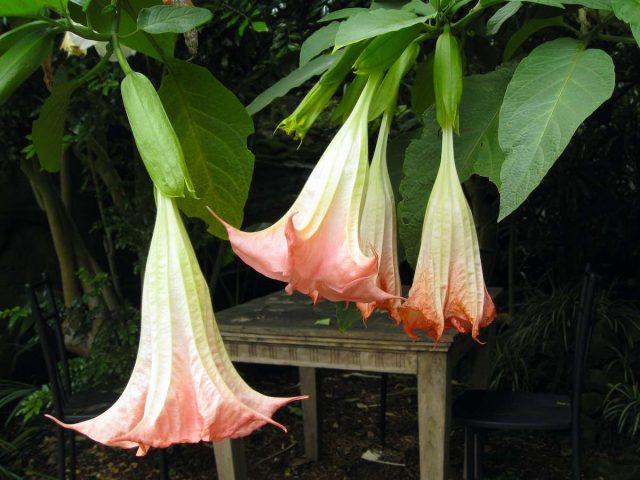 Originally a plot of unused railway land, the gardens were established over recent decades by Wendy Whiteley, the wife of the painter Brett Whiteley, who lives in the adjacent house. Paths wind through the garden, nestled amongst tall trees that help preserve a sense of privacy within.
In line with other parks and reserves in the North Sydney council area, dogs are allowed off leash in the garden, although Wendy kindly requests that they don't run through garden beds and you clean up after them. The garden is a great spot to visit combined with a walk along the foreshore down past Luna Park to Milsons Point.
BONUS: Tulip Time, Bowral
Best time to visit: Late September to early October
Another floral highlight each year in New South Wales is the annual Tulip Time festival in Bowral. Held over two weeks in the Southern Highlands town, the centrepiece is a mass planting of tulips at Corbett Gardens, although many other private gardens also join in the festivities.
While not every day of the festival is dog-friendly, there's usually a Dog Day Out designated each year, with dogs welcome to join you in visiting Corbett Gardens. (Outside of the festival, dogs are allowed in the gardens on a leash.)
However, due to the events of 2020, the festival has been cancelled for this year. I'm sure there will still be plenty of tulips blooming around town, so it's a great time of the year to visit the Southern Highlands, plus check out the details closer to the date in future years.
Etiquette for Visiting a Garden with Your Dog
While visiting these gardens with your dog, make sure that your dog is on their best behaviour, so that these gardens can remain dog-friendly.
Nearly all of these gardens that allow dogs require that dogs are kept on a leash. In particular, I recommend a fairly short leash, so that they stay by your side and under your supervision. This is not the time for running around, save that for an off-leash dog exercise area.
Always make sure you carry poop bags, in case you need to clean up after your dog, and don't let your dog dig, especially in garden beds.
Best of all, enjoy your visit together, and may your dog have plenty of interesting smells to sniff!
You May Also Like
Inspired? Pin this to your Pinterest board!