Red Roof Inn is an affordable pet-friendly hotel chain with over 600 properties, mainly in the United States. While travelling around the United States, I've stayed at both original Red Roof Inn and the higher quality Red Roof PLUS+ properties. Find out more about the Red Roof Inn pet policy and what it's like to stay at this motel chain.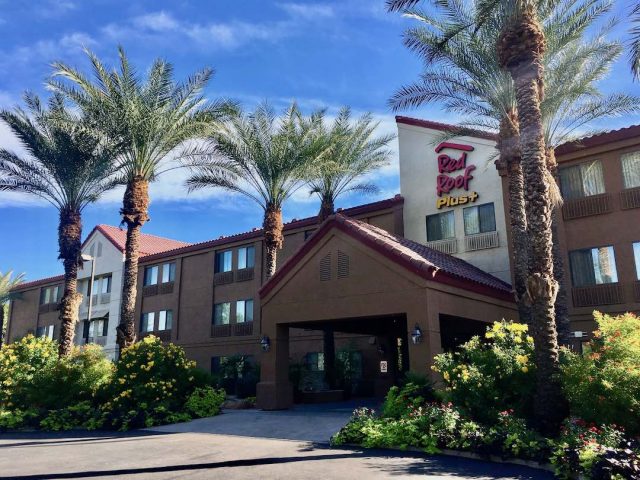 Note: This post contains affiliate links, which means I may receive commission if you make a purchase using the links. See my full disclaimer.
What is Red Roof Inn?
Red Roof Inn is an economy motel chain based in the United States. It's first location opened in Columbus, Ohio in 1973, and since then the chain has expanded to over 600 locations, mainly based in the Midwest, Southern and Eastern United States.
In 2014, a higher tier offering, Red Roof PLUS+ was also added, labelled as "upscale economy". While I haven't noticed many discernible differences between the Red Roof Inn and Red Roof PLUS+ locations that I've stayed at, Red Roof PLUS+ locations also offer Premium rooms, with amenities including Seattle's Best in-room coffee, a snack box, a microwave, a mini fridge and ironing board.
Comparing Red Roof Inn vs Motel 6
I've stayed at multiple Red Roof Inns and Motel 6s around the United States. Red Roof Inns are a step up from Motel 6. For starters, Red Roof Inns have hair dryers, shampoo, a packet of disposable tissues and coffee- and tea-making facilities in rooms.
Most Red Roof Inn locations also offer a selection between rooms with and without fridges and microwaves, for an extra fee of course.
Is Red Roof Inn Pet-Friendly?
Nearly all Red Roof locations allow pets, including Red Roof Inn, Red Roof Inn PLUS+ and Red Collection locations. Yes, Red Roof Inn is indeed pet friendly!
Currently, on their pet information page, there are only five locations that are listed as not allowing pets. These locations are:
Red Roof PLUS+ Washington DC – Oxon Hill
Red Roof Inn & Suites Philadelphia – Bellmawr
Le Voyageur
SPOT X Hotel – Orlando
Artel Hotel Times Square
Additionally, it should be noted that the pet policy for HomeTowne Studios by Red Roof varies by location. It's best to contact the property you are planning to stay at directly to confirm their pet policy.
In any case, it's always best to double check the details listed for the hotel before booking.
What is the Red Roof Pet Policy?
Both dogs and cats are welcome at Red Roof Inn. Generally, only one family pet is allowed per room. Double check the details for the hotel, as additional pets may be permitted, or call the hotel in advance to ask for permission for additional pets from the manager.
There is a weight restriction of 80 pounds (36kg) for pets at Red Roof Inn and Red Roof Inn PLUS+ locations, with a lower limit of 40 pounds (18kg) at the Red Collection hotels.
Naturally, service animals can stay for free at any Red Roof Inn location, without any restrictions such as weight restrictions.
How Much Does Red Roof Inn Charge for Pets?
One of the great things about staying at a Red Roof Inn with your pet, is that pets stay for absolutely free. There is no pet fee charged.
Note however that this does not extend to HomeTowne Studios by Red Roof, which have individual pet polices. It's best to contact the property directly to confirm.
Also note that if your pet causes any damage to the room, naturally you will be charged a fee.
Facilities for Pets at Red Roof Inn
In my experience, some but not all of the Red Roof hotels have a designated pet relief area. See below for a photo of the handy pet relief area at the Red Roof Inn PLUS+ that I stayed at in Phoenix, Arizona.
What to Do When Staying at Red Roof Inn with a Pet
Red Roof Inn requests that pets are always declared during check-in, or at your earliest convenience if you firstly forget. Despite no charge applying for pets, the hotel wishes to know what rooms have pets in them.
Pets are also not allowed to be left unattended in a room, except in an emergency. Disruptive or dangerous pets may be asked to be removed or for you to relocate to another hotel. You will be requested to leave contact details in case an issue occurs.
Outside of your room, your pet should always be kept leashed or in a carrier. Pets are not permitted in any dinette or restaurant space, the fitness center, pool area, or laundry facility.
When house cleaning is occurring, it is requested that you remove your pet from the room and take them for a walk. Alternatively, schedule a time for cleaning when you and your pet are not in the room.
BONUS! Save 10% off your next stay at Red Roof with VP code 628690
You May Also Like