If you asked me what we pack to travel with Schnitzel, my first answer would be not much. But when I unpack Schnitzel's bag (yes, he has his own special bag, as well as extras that don't fit inside it), it's surprisingly a lot! Packing everything you need (plus extras just in case), will make for a much happier dog travel experience, especially as having their familiar things around them will help them settle into unfamiliar environments. So, here's our dog travel packing list…
Note: This post contains affiliate links, which means I may receive commission if you make a purchase using the links. As an Amazon Associate I earn from qualifying purchases. See my full disclaimer.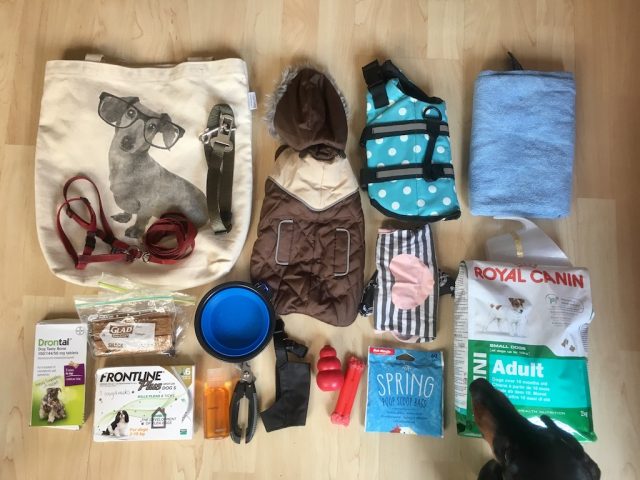 Dog Food & Treats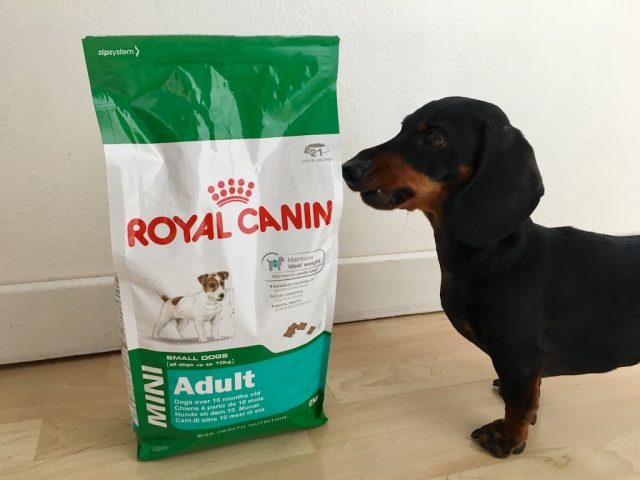 The most important essential for your dog is food. Every dog is different with its food requirements, with some dogs fussier than others, but the easiest option while travelling is to stick mainly to kibble (dry food). Make sure you don't run too low on supplies, in case when you go to replace your existing food it's not available, and you need to transition over to a different variety.
We switched to buying this Royal Canin variety on our trip, as it's high quality and we've been able to find it in every pet store that we've visited (so far in Spain, the UK and Belgium). Plus the 2kg (4.4 pound) bags aren't too big when we get a new one, although when you're carrying your luggage from the train station it sure makes a difference!
We also have some treats for Schnitzel, usually stored in a zip-lock bag (plus an extra small zip-lock bag for my handbag). A lot of his treats have been presents from Airbnb hosts!
Food & Water Bowls
For Schnitzel's food and water bowls, we simply brought along his existing pair of basic metal bowls. They're not too heavy and can be packed one inside the other. Plus, we added some silicone to the bottom of the bowls to stop them slipping around.
Click here to buy these metal bowls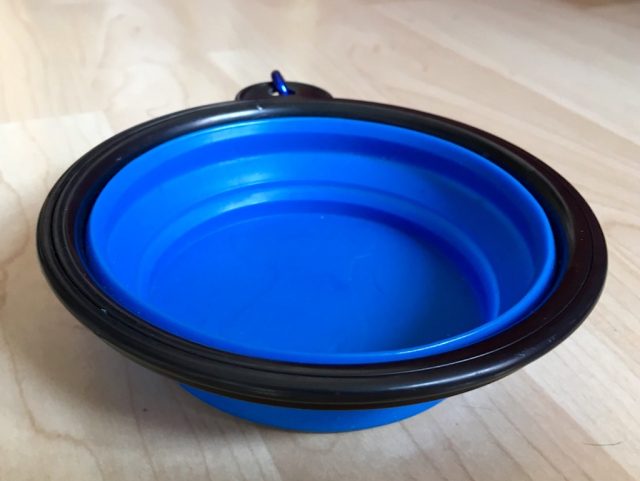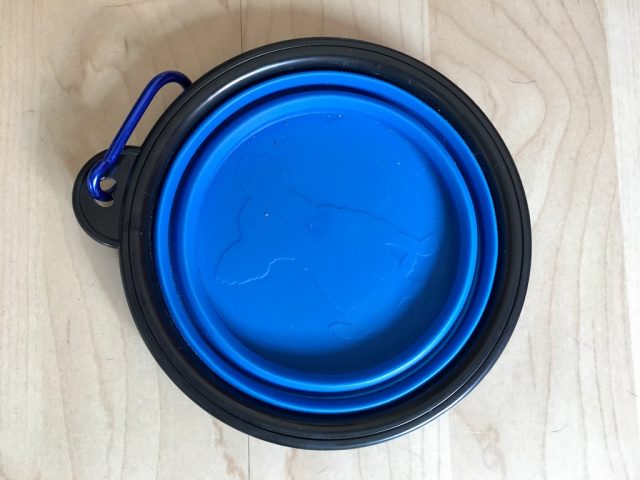 Additionally, I usually always carry a collapsible water bowl in my handbag. (I've always tried to carry a water bottle for myself, and also use this for Schnitzel.) This is especially important on warmer days.
Click here to buy a collapsible water bowl
Harness or Collar, Leash & Muzzle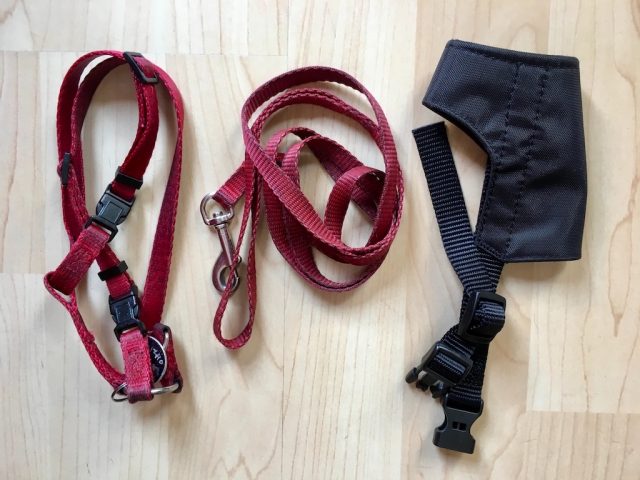 Naturally, you'll need to take your dog's harness or collar and leash. If you think Schnitzel's harness looks odd, you're right! It's actually a cat harness that we bought him as a puppy, as it was the only one that he our trainer could find to fit him. Make sure you have your dog has a tag with your contact details. We probably should replace Schnitzel's tag with one engraved with our current UK mobile number. But if something happened we'd switch back to our Australian SIM so that we could be contacted on the phone number engraved on his tag.
Click here to buy a small harness
We also specially bought Schnitzel a soft muzzle for our current trip. There are some train networks in Europe that require dogs to wear a muzzle, no matter their size or temperament. We try to avoid using it, especially as Schnitzel dislikes it, but have this soft muzzle in case.
Click here to buy a soft muzzle
Dog Bedding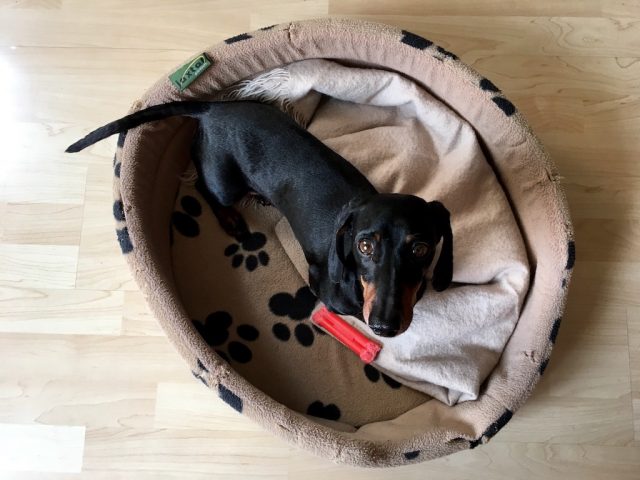 If possible, bring along your dog's bed from home, even if it is a bit bulky. They'll be much happier having their familiar bed while staying in an unfamiliar environment, think of it as their home away from home. We also use Schnitzel's bed on the back seat of rental cars – he loves to sleep while we drive along the motorway! (Plus, you'll have less hassle hiring a car if you return it with no sign that a dog was in it.)
Schnitzel also enjoys the comfort of an "alpaca throw" in his bed. It used to be my throw for cold nights on the couch watching TV, but someone else laid claim to it… When he's travelling on the train or a flight in his carrier bag, we also give him this.
Dog Carrier Bag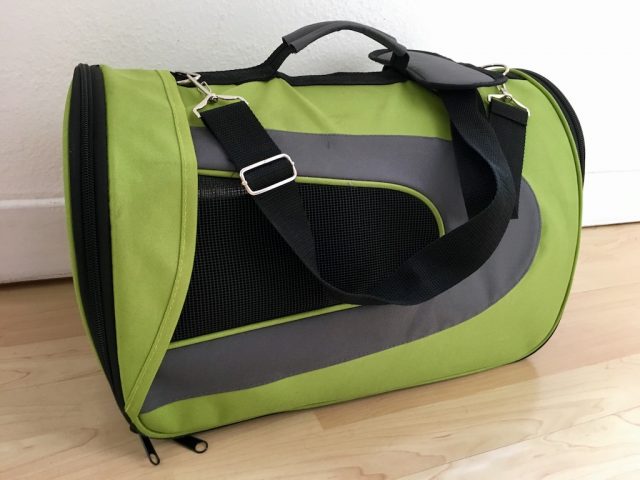 If you're going to be flying with your dog in the cabin of a plane or taking them on trains and they're a small breed, a soft carrier bag is essential. After flying Schnitzel to Europe in a huge rigid container, we got rid of it on arrival in Spain and found this bag at the local pet store. It's approximately the right size specified by most airlines and train companies. There was also a smaller size again, for extra small dogs. It's quite lightweight for when we're not using it (although often we pack either Schnitzel's luggage or groceries inside of it), and even folds flat for storage.
Click here to buy a similar carrier bag, or read my guide on buying the best carrier bag for your dog
Your dog will be much happier riding in a bag like this if they've been crate trained, like Schnitzel was. He's actually quite happy to get inside, even going into it unprompted when we unzip it and he senses we're about to leave. We add his blanket to make it more comfortable for him.
One extra tip: with some train companies in Europe, small dogs travel for free if they're in a carrier bag, otherwise they are charged a fee. For example, in Belgium Schnitzel usually travelled for free, except for one day when we did a day trip without this bag, and his ticket was €2.50 each way. The rules vary greatly from country to country, so always check in advance. Plus, another advantage is your dog wouldn't require a muzzle (if otherwise required) inside a carrier bag.
Dog Seatbelt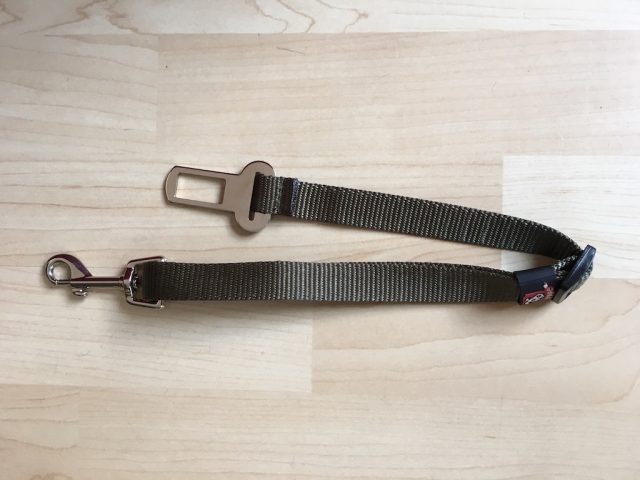 A dog seatbelt is a must if you're travelling by car, including a hire car. In many countries they are compulsory, but even if they aren't it's a good idea for the safety of your dog and the other occupants of the car. They're very compact to pack along with the rest of your dog's luggage. One end attaches to your dog's harness or collar, while the other clips into the regular seatbelt buckle. For the ultimate level of safety, consider buying a dog harness specifically for car travel that has been crash-tested.
Click here to buy a dog seatbelt
Towel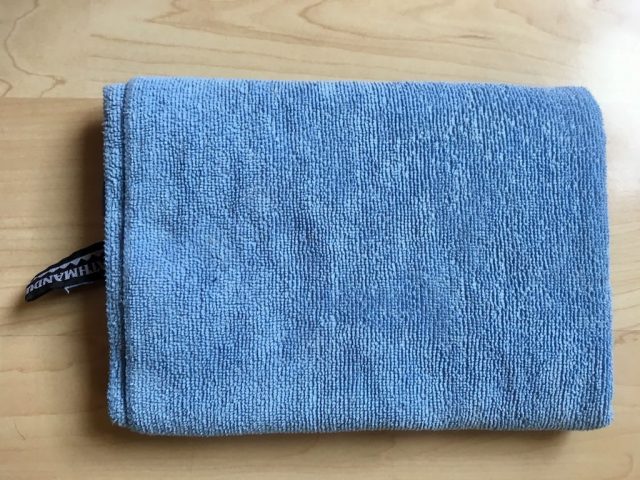 A towel is an extra handy thing to have when travelling with your dog. As well as using it for drying them after a bath or after a walk in the rain, it's also handy for providing warmth, being something more comfortable to lay down on when at a cafe terrace (if they're a princess like my Schnitzel) and even cleaning muddy paws. (Just make sure to wash it regularly!)
We use a small microfibre towel bought from a hiking shop (originally bought for human use!) It rolls up extra small (if we want to put in my handbag or a backpack) and is quick drying.
Click here to buy a microfibre towel
Dog Outfits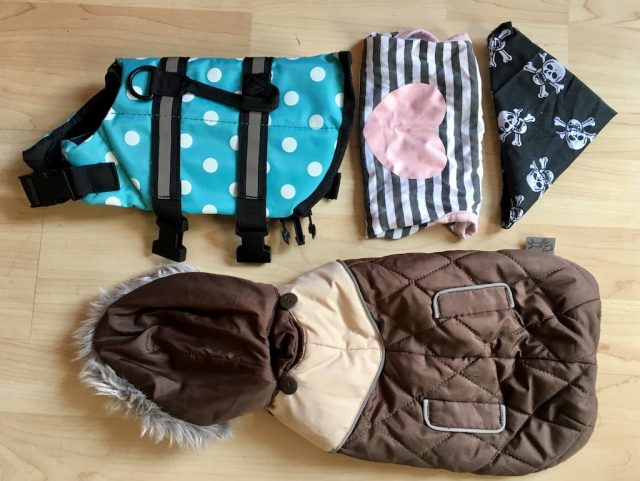 Okay, we don't usually dress Schnitzel up in dog clothes, but we bought along a couple of practical outfits for him, plus a few decorational ones.
Most importantly, we have a winter coat for him. As well as for cold weather (when arguably dogs don't need a coat if they're kept on the move), it's also handy for wet days. (With Schnitzel's stomach very close to the ground, it gets wet and muddy very easily.)
Click here to buy a similar winter coat
We also have a dog life jacket. Schnitzel's worn it before when swimming, to help him stay afloat. (He's a terrible swimmer, because he's surprisingly sturdy.) Additionally, it's an essential if we take him kayaking or for other water sports.
Click here to buy a dog life jacket
Dog Medicine & Grooming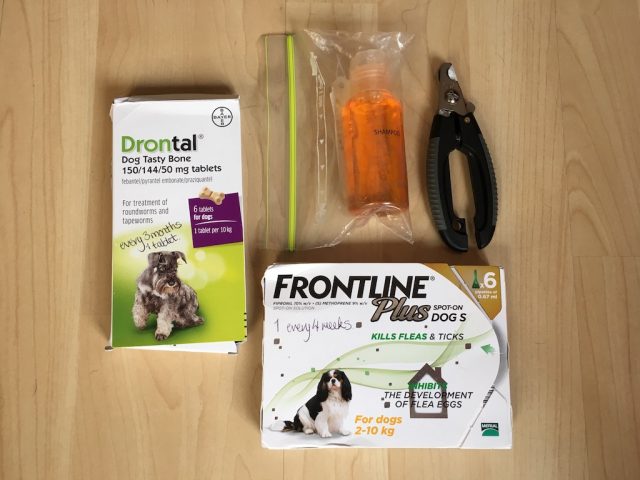 If you're going to be away for awhile or when your dogs tick/flea or dewormer medicine is due, make sure you take it with you. Ticks in particular can be a danger when you're spending a lot of time in nature, such as if you're hiking on your holiday.
As we're away for an extended period, we stocked up with extra supplies before leaving, but then easily bought both new tick/flea and dewormer products while on the road (albeit different brands).
Click here to buy a tick/flea prevention product for your dog
Click here to buy a dewormer for your dog
Obviously, if your dog takes daily medication, take that along too, plus some extra supplies in case you are delayed returning home.
Most dogs will require a brush, in particular if they'll be spending time walking in grassy fields or swimming. Schnitzel is lucky that he has short fur and doesn't require brushing.
However, he still sometimes needs a bath (usually after rolling in something smelly!), and we decanted some of his usual puppy shampoo into a small travel toiletry bottle. We always keep it in a zip-lock bag, in case of spills.
Click here to buy puppy shampoo
We also packed Schnitzel's nail clippers. No matter how often he walk him on concrete and hard surfaces, his nails always grow long, and need a regular trim. (His least favourite activity!)
Click here to buy dog nail clippers
Dog Passport & Paperwork
If you're travelling internationally, you'll probably require either a dog passport (as used in the EU) or other paperwork (such as a certificate of rabies vaccination). The requirements will differ from country to country, but make sure you're ready well in advance.
Poop Bags & Zip-Lock Bags
It goes without saying that you'll need a stash of poop bags, which are also easily purchased at most supermarkets. No-one likes a dog owner that doesn't clean up after their pup!
Click here to buy extra poop bags
It's also good to bring along a stash of zip-lock bags. Whether you use them for storing food, treats, wet items or the like, they'll come in handy somewhere. (On short trips, I usually measure out the exact amount of food required, but some extras, rather than take the big bag.)
Click here to buy some zip-lock bags
Favourite Toys
Finally, don't forget your one or two of your dogs favourite toys! I'm sure they'll be out and about a lot of the time having adventures, but whether it's to keep them entertained on quiet evenings, distract them with something to chew on while you eat dinner at a cafe, or just give them the comfort of home, they'll be appreciative. And isn't it your pets vacation, too? Schnitzel's favourite toys are his Kong Classic and his much-chewed tasty bone.
Click here to buy a Kong Classic toy
Click here to buy a tasty bone chew
Pin this to your Pinterest board!