Throughout much of the world, pets such as dogs are allowed on public transport. But what is the situation in Australia – are pets allowed on public transport in Australia?
In Australia, public transport is looked after by the state governments. This means the rules stating whether pets are permitted on board differs between each state. Read on to find out about the rules for pets on public transport in each state and territory of Australia.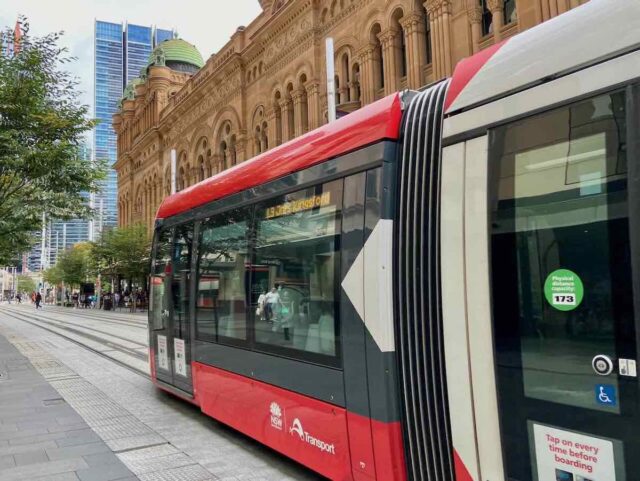 A Side Note on Assistance Animals
Note that this article only discusses pets, including pet dogs and cats, not assistance animals. Assistance animals are allowed on all forms of public transport throughout Australia, although the exact rules may vary, including what is defined as an assistance animal and the paperwork required. Refer to the individual state rules for more information.
Pets on Public Transport in the Australian Capital Territory
Canberra and the ACT is fairly pet-friendly when it comes to public transport, as long as you have a small pet.
Pets are allowed on both the new light rail line and buses, as long as you ask permission off the driver. However, they need to be in a box, basket or other appropriate pet container, which means this is only really an option for smaller pets.
Check out the full rules for pets on public transport in the ACT.
Pets on Public Transport in New South Wales
The rules for pets on public transport in NSW are similar to those in the ACT.
Pets are allowed on buses, light rail and ferries in NSW, albeit they need to travel in a suitable carrier at all times when on board. This means it is only really a practical transport option for small dogs and other small pets.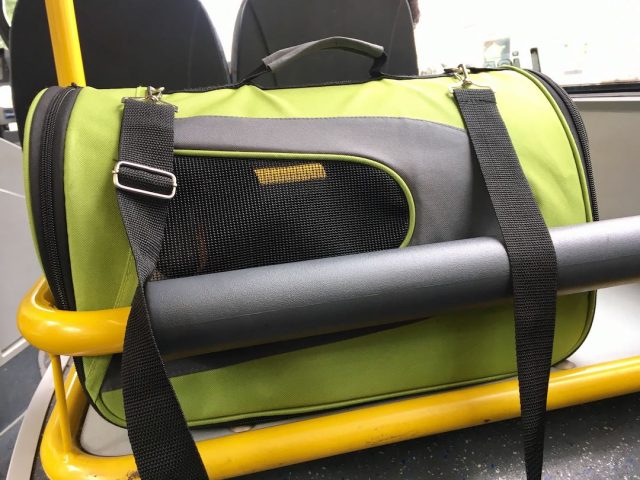 It's also a requirement to ask permission from the driver or crew, who, as long as your pet is in a carrier, are most likely to deny permission if the service is reaching capacity. (I recommend avoiding peak hour.) Animals may also be refused if they are unclean, seem vicious, or are likely to annoy or threaten other passengers.
Until recently, there was a de facto rule of allowing dogs on ferries on Sydney Harbour without being in a carrier, including larger dogs. But after a few incidents, the written rule that dogs need to be in a carrier is now being enforced. Pets also need to stay on the outside deck if available.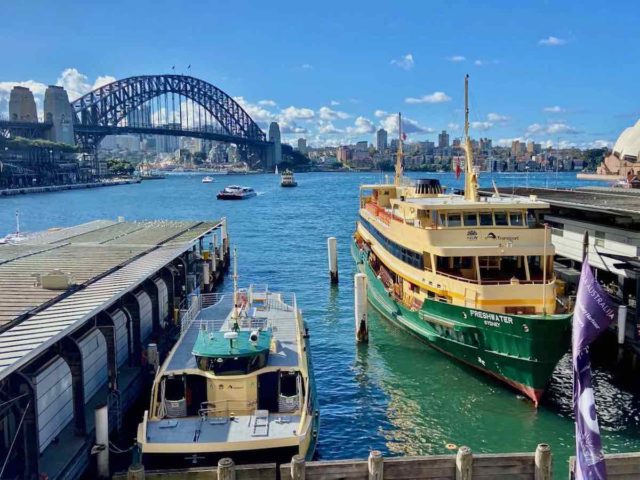 On privately run ferries in NSW, such as the Palm Beach Ferries, rules regarding pets tend to be more relaxed, with leashed dogs often permitted on board.
Unfortunately, dogs are not allowed on any of the state's trains, including the metro trains, plus on coaches, even if in a carrier. This means it's difficult to transport dogs longer distances using public transport in NSW, including between Sydney and the surrounding cities of Wollongong and Newcastle.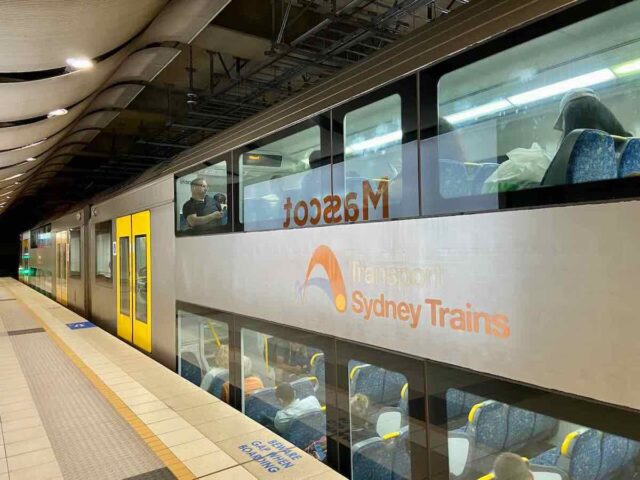 Check out the latest rules for NSW.
Pets on Public Transport in Northern Territory
A number of states and territories in Australia have a blanket ban on pets on public transport. The Northern Territory is one part of Australia that prohibits pets in its public transport rules.
Pets on Public Transport in Queensland
Pets have limited access to public transport in Queensland. At the moment, pets are only permitted to travel on the Brisbane River ferries and CityCats.
Unlike in Sydney, both small and large dogs are permitted, either in an enclosed carrier or wearing a leash and muzzle, on the outside deck. Dogs are also not permitted onboard during peak hours, 6:00am to 8:30am then 3:30pm to 7:00pm on weekdays. Plus if a service is full, you might be asked to wait for the next one.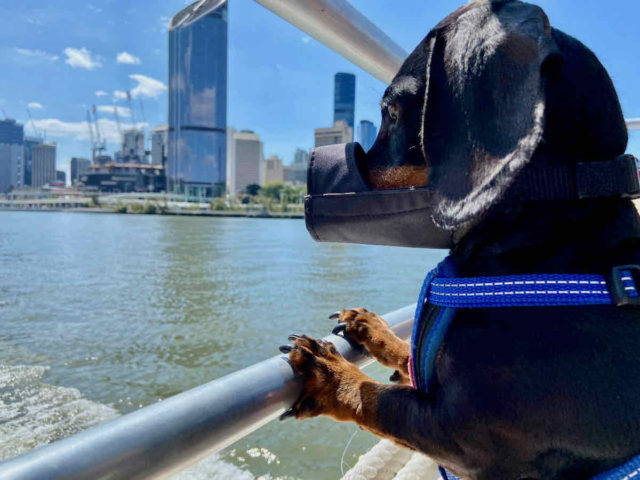 Dogs are also welcome on board the CityHopper service, a free ferry that runs roughly every half hour in between North Quay and Sydney Street, a fun option for a day of sightseeing in inner city Brisbane with your pup.
See the full rules.
Pets on Public Transport in South Australia
South Australia is another state that doesn't permit pets to travel on public transport in the state, only accredited assistance animals, as stated in the Adelaide Metro rules.
Pets on Public Transport in Tasmania
Pets are also not allowed to travel on public transport in Tasmania, as listed in the Conditions of Travel for Metro Tas.
Pets on Public Transport in Victoria
The most dog-friendly state in Australia when it comes to public transport is Victoria, with pets allowed on a wide range of public transport services.
The most dog-friendly public transport option in Victoria are metropolitan trains, with both small animals in a container or larger dogs wearing a leash and muzzle permitted. It's recommended though to avoid peak hour, between 7am and 9am and 4pm and 6pm on weekdays.
Small pets are also allowed on board trams, buses and regional V/Line train services, as long as they are travelling in a suitable container. On the V/Line train services, off-peak travel is also recommended, with pet containers to be stored in the luggage storage area on VLocity and Sprinter trains, or the conductor van on H Set and N Set trains.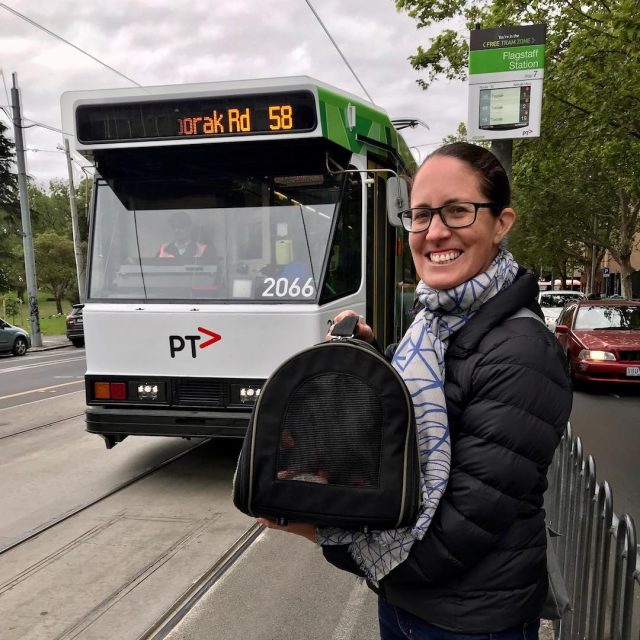 In Victoria, the only non-pet-friendly services are V/Line coaches, which only allow assistance animals. For more information, see the full guidelines.
Pets on Public Transport in Western Australia
Unfortunately, pets are not permitted on public transport in Western Australia, as listed in the Transperth rules.
Pet-Friendly Transport Alternatives in Australia
If you're visiting one of the states of Australia that doesn't permit pets on public transport, or travelling with a larger dog, there are some alternatives to consider.
Firstly, for shorter journeys, consider Uber Pet. One of the options displayed when booking an Uber in most Australia cities, selecting Uber Pet means you'll be assigned an Uber driver happy to transport your dog, for a slightly higher rate.
Up to one pet is allowed (at the discretion of the driver), with no size or breed restrictions. Bring along your own leash, harness or carrier to restrain your dog, plus ideally something to cover the car seat. No cleaning change should apply for small amounts of hair, but excessive hair or "accidents" will incur a cleaning fee.
Another pet-friendly transport alternative is one of the car sharing schemes that operate in Australia. GoGet permits dogs in selected pet-friendly vehicles, while PopCar allows pets in all its vehicles, just requesting that you clean the vehicle after transporting a pet.
You May Also Like