So you're living in the United Kingdom and want to head to the United States along with your dog, whether to relocate or because you're going on a holiday. But what are your options for taking a dog to USA from UK? I cover the different options available, plus the requirements for taking a dog to the USA. 9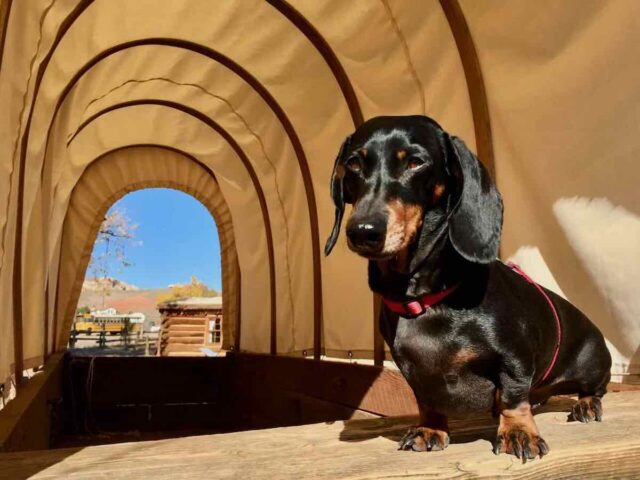 Flying to the USA with a UK Airline
If you're planning on flying to the USA with a UK airline, be warned that your pet will need to fly as cargo. British Airways doesn't fly pets in the cabin or even as checked baggage; pet dogs can only fly as cargo. Virgin Atlantic also previously flew pets as cargo, but temporarily suspended the service in 2020 and still shows no signs of reinstating the service in 2023.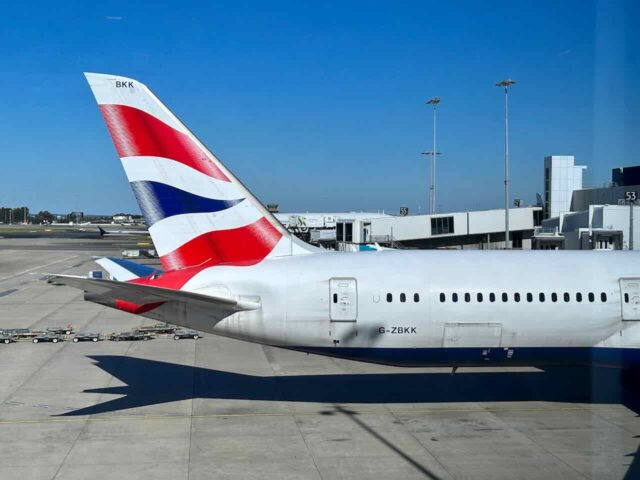 Flying to the USA with a US Airline
If you're hoping to instead fly with your dog in the cabin on an US airline out of the UK, you're also probably out of luck. There aren't any American airlines that state that they fly pets in the cabin on flights out of the UK.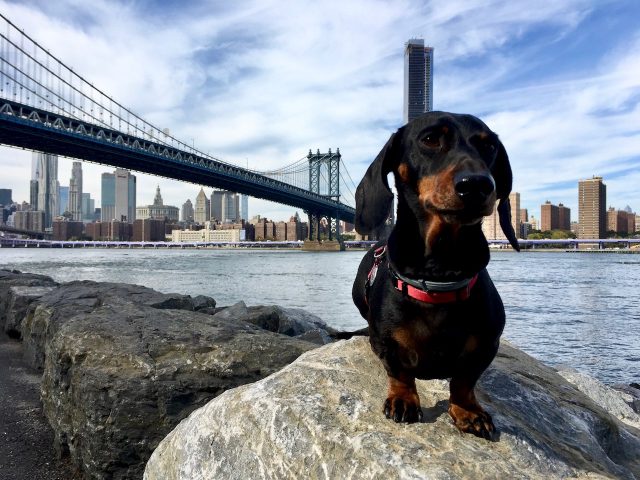 Both Delta and United Airlines clearly state on their websites that they don't accept any pets flying in the cabin (or as checked baggage) on flights out of the UK, despite both normally permitting pets on Transatlantic flights. (On the other hand, American Airlines doesn't fly pets in the cabin on any trans-Atlantic flights.)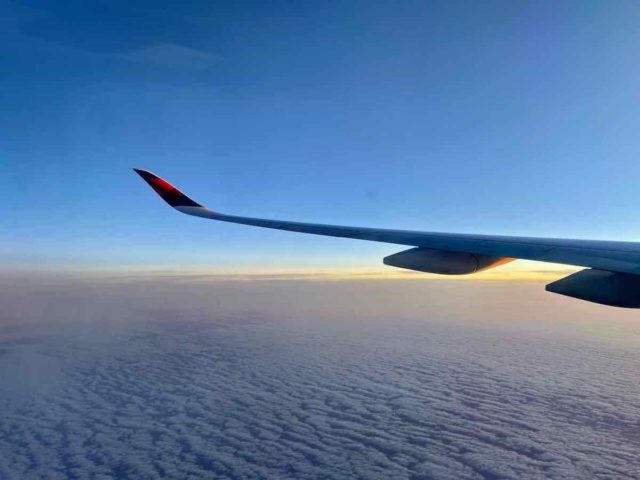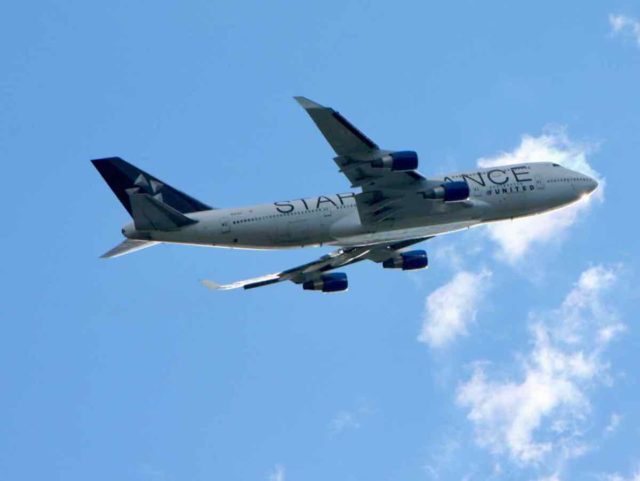 Confusingly, some Delta staff have informed pet owners that they can travel with their pet in the cabin out of the UK. However, when people have tried to book with Delta recently (as of early 2023), their pet booking has been rejected – although I know of someone who's booking was originally accepted, and only rejected later when they followed up!
I'm also aware of someone who has twice flown with United out of Heathrow in 2023, despite other travellers being told by the airline this isn't possible. Perhaps try and make a booking, but there is a high likelihood that you will be denied. It's not an ideal situation!
There are also limited options for transporting pets in the hold with American airlines. Both Delta Cargo and United Airlines (through United PetSafe) have not accepted bookings for pets since 2020. It's unclear if American Airlines Cargo is accepting pet bookings. There are some exceptions for active-duty US military and US State Department Foreign Service personnel travelling on official orders.
Flying to the USA via Canada
A great alternative for flying from the UK to the USA with a dog in the cabin is to fly via Canada. On the Air Canada website they specifically mention that they accept pets for travel both in the cabin and in the hold on flights from the UK. You can then book a connecting flight to the USA from Canada.
Another potential Canadian airline that you could use to fly out the UK with your dog is Air Transat. They permit pets fly in the cabin and in the checked baggage hold on flights departing from Manchester and Glasgow, but not London Gatwick.
Flying to the USA via Europe
Another potential alternative is to fly with a European airline that flies pets in the cabin out of the UK, transiting through a European city.
There are multiple European airlines that offer this option. Both Air Malta and TAP Air Portugal clearly state on their website that they allow pets on flights out of the UK, except for on flights departing Gatwick Airport due to airport limitations.
Other travellers also report flying out of the UK with Air France, KLM and Lufthansa. It's best to contact the airlines directly for confirmation and details.
Check out my full guide to airlines that fly pets out of the UK, including weight limits and any airport restrictions. Also be aware that your pet may require a European animal health certificate.
Travelling via Ireland
An increasingly popular option for travelling to and from the UK with a pet is to travel via Ireland. While many airlines don't fly pets in and out of Ireland, there is a short list of airlines that provide this option, include the American airline Delta. Delta permits pet dogs in the cabin on flights both to and from Dublin.
It's relatively easy to travel to Ireland from the United Kingdom, with multiple dog-friendly ferries including some with pet-friendly cabins, or the land border crossing with Northern Ireland. Be aware that you'll need an EU pet health certificate or EU pet passport to take a ferry to Ireland.
Travelling via Continental Europe
If you're wanting to fly from the UK to the USA with your dog in the cabin, the other alternative is to firstly cross over to Continental Europe, and fly from another airport such as Paris Charles de Gaulle Airport or Amsterdam Airport Schiphol.
Pets are generally permitted in the cabin on most airlines flying to the USA from Europe, except for American Airlines that doesn't allow pets on Transatlantic flights.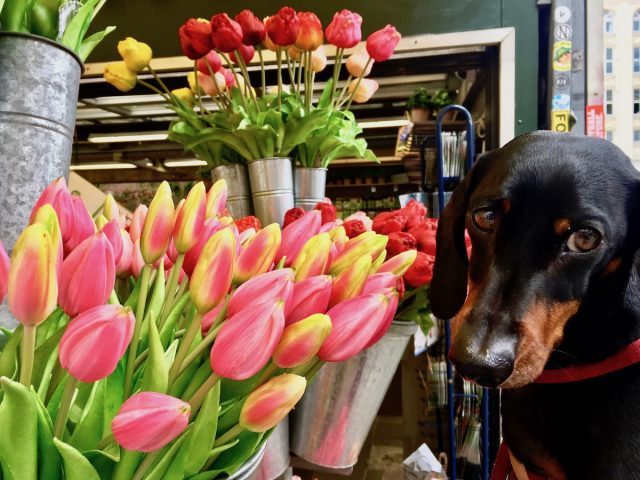 To get to either airport, the two options available to foot passengers without a car are a handful of ferries across the channel or else a pet taxi in the Eurotunnel, in combination with local trains.
For more details, see my post about travelling with a dog to the UK from outside of Europe, which details each of these options. Plus keep in mind you'll need an EU pet health certificate or EU pet passport.
What About a Trans-Atlantic Cruise Ship?
A final alternative for taking a dog from UK to USA is to book a crossing on the Queen Mary 2 across the Atlantic, from Southampton to New York. This option is particularly popular with owners of larger dogs, that are too large to fly in the cabin on any airline.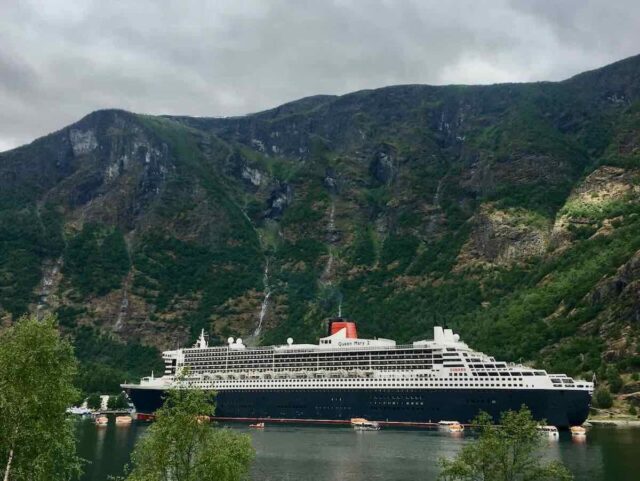 However, keep in mind there's a lot of demand for the pet kennels on the Queen Mary 2. In 2023, I've heard reports of the kennels being booked out for the next two years. However, it's usually possible to put your name down on a waiting list, in case a cancellation occurs – I've heard reports of some people successfully using this method.
Requirements to take a Dog to the USA from UK
The requirements to take a dog to the USA are quite simple, especially when they are travelling from the UK, or via another country such as France, the Netherlands or Canada.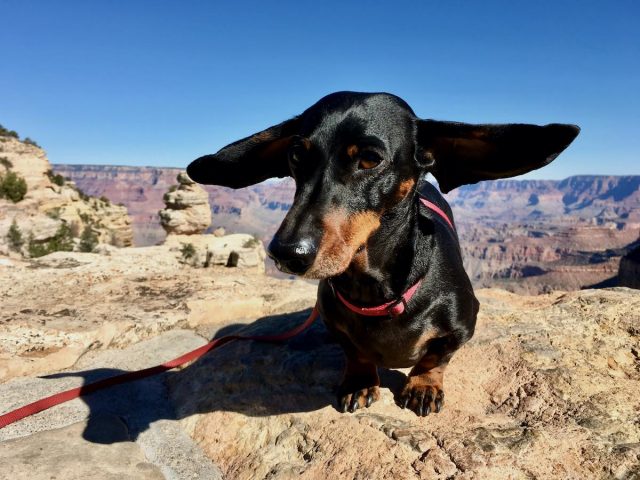 The main requirement is that dogs are healthy and immunised against rabies. Up until recently, dogs entering the USA required a rabies vaccination certificate.
However, as of December 2018, this was no longer required for non-high-risk countries. Dogs travelling from the UK, most European countries and Canada are exempt from requiring a rabies certificate.
It is also necessary to check the requirements for the state that you are travelling to, although these generally only apply for pets permanently relocating. For the relevant links, check out my guide.
A potential complication at the moment, is that the USA instated a temporary ban on the import of dogs from high-risk rabies countries, except with an import permit or where the dog had a rabies vaccination certificate from the USA. This also applies to dogs that have been in a high-risk rabies country in the last 6 months.
While this doesn't affect the UK, nor most European countries or Canada, some European airlines have been reluctant to fly dogs to the USA. Double check this in advance of booking.
Your airline may also require a health certificate or "fit to fly" certificate. Enquire with the airline or review their website for their requirements when making a booking.
Returning to the UK
If it's not a permanent move for your dog to the USA, also keep in mind your options for returning to the UK with your dog. Unfortunately, there aren't any options available for flying with a dog in the cabin or as checked baggage to the UK.
Instead you will need to fly your dog as cargo, or else travel via Ireland or Continental Europe, taking a ferry or pet taxi over to England. For full details, check out my guide on travelling with a dog to the UK from outside Europe.
You May Also Like
About the Author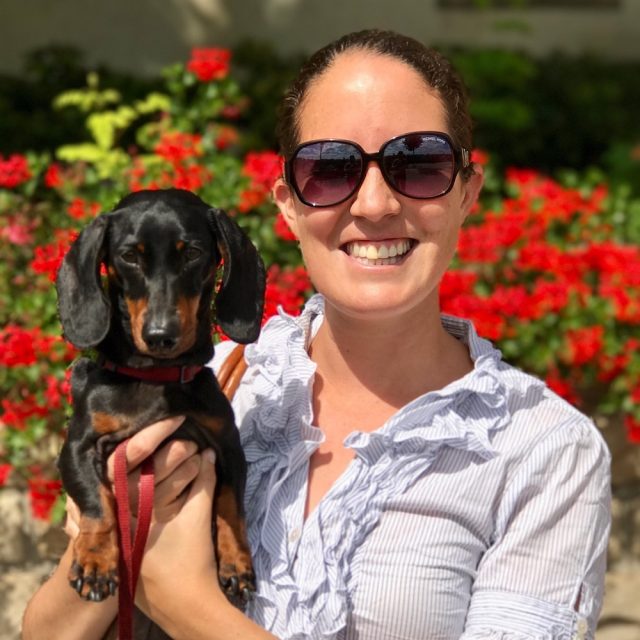 Shandos Cleaver is the founder of Travelnuity: Dog-Friendly Travel. She has travelled extensively with her Miniature Dachshund, Schnitzel, including to 33 countries across Europe, every state and territory of Australia except Tasmania, and 10 of the United States. She's passionate about providing inspiration and information to others wanting to travel with their dogs, whether close to home or internationally.
Inspired? Pin this to your Pinterest board!