If you're travelling to the United Kingdom with your dog, it's far more difficult than travelling with a dog to other countries in Europe. This is because pet dogs flying into the UK can only fly as cargo. For this reason, whether you're trying to fly a dog from the USA to the UK or from somewhere else in the world, you may want to consider some of the alternatives.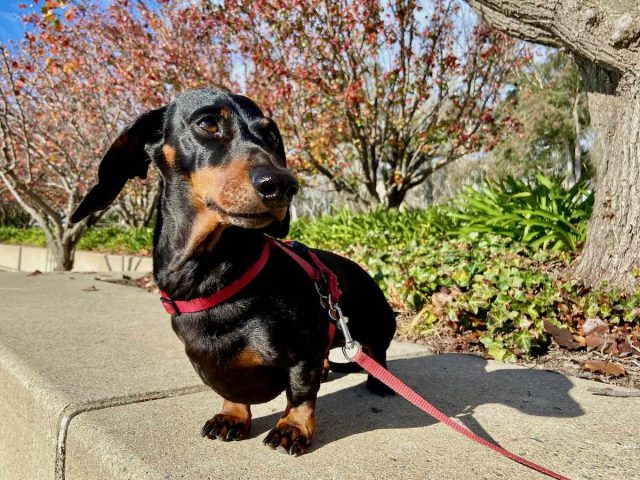 Note: This post contains affiliate links, which means I may receive commission if you make a purchase using the links. See my full disclaimer.
Can You Fly to the UK with a Dog?
Dogs are able to fly to the United Kingdom, but dogs are not able to fly into the UK in the cabin or as check-in baggage. The UK government only permits pet dogs to fly to the UK as cargo, using an approved carrier to an approved airport.
For many owners of small dogs who understandably only fly their dog in the cabin, at their feet, this poses a difficulty. But even if your dog normally flies in the hold as excess baggage, in comparison flying a dog as cargo is a more complicated and expensive process.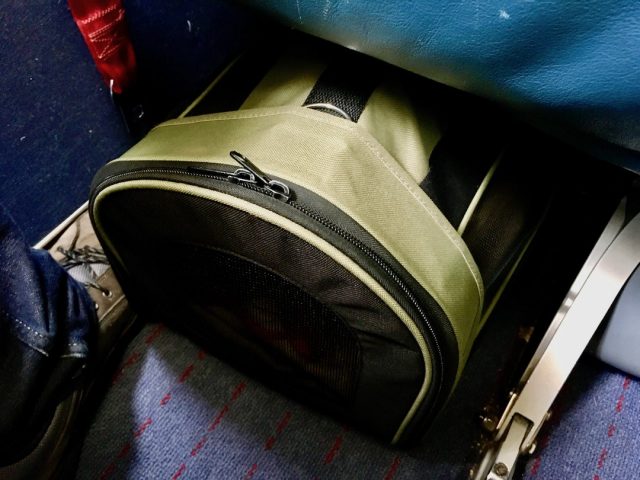 When flying as cargo, dogs usually need to be booked through the separate cargo division of the airline, or a completely separate freight company, sometimes through a pet transport company. The cost to fly a dog as cargo is often quite expensive, far more than the cost of flying a dog in the cabin or as excess baggage.
Additionally, when you fly to the UK with a dog from outside the UK, your dog will need to pass through customs clearance before you can collect it from the animal reception centre. You'll need to make a booking for this, possibly through a agent (or broker), if this isn't take care of by your pet transport company or freight company. Send an email to the National Clearance Hub ([email protected]) for more information.
During 2022, there were at times long delays for available slots at some UK airports, although I believe the situation has improved in 2023.
Naturally, customs clearance isn't free of charge. Expect the fees including agent fees and inspection fees to total up to £600. You will also be charged a value added tax of 20%, based on your pet's breed and the cost of their transport, although this can later be refunded. These charges don't apply for dogs crossing to the UK by ferry or car.
The cost of shipping a dog from USA to UK can be quite expensive when a dog flies directly to the UK. Along with cargo freight costs, many pets flying from the US are quoted a total cost of $3000 to $5000 USD.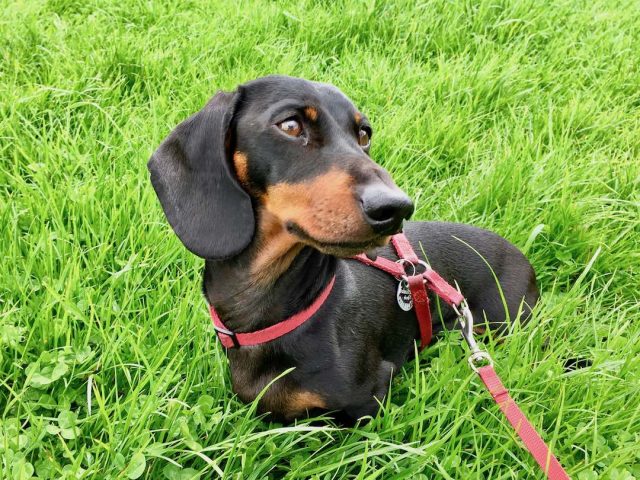 Consider Flying to Paris or Amsterdam Airports
Instead of directly flying to the UK with your dog, instead consider flying to another airport within Europe, then travel by another option across the Channel, to travel with your dog to the UK.
The most popular alternative airports to fly into within Europe with your dog are Charles de Gaulle Airport in Paris and Schiphol Airport in Amsterdam. As well as being busy airports with a large number of flights arriving from all around the world, both of these airports allow you to arrive with a dog in the cabin (or as checked baggage).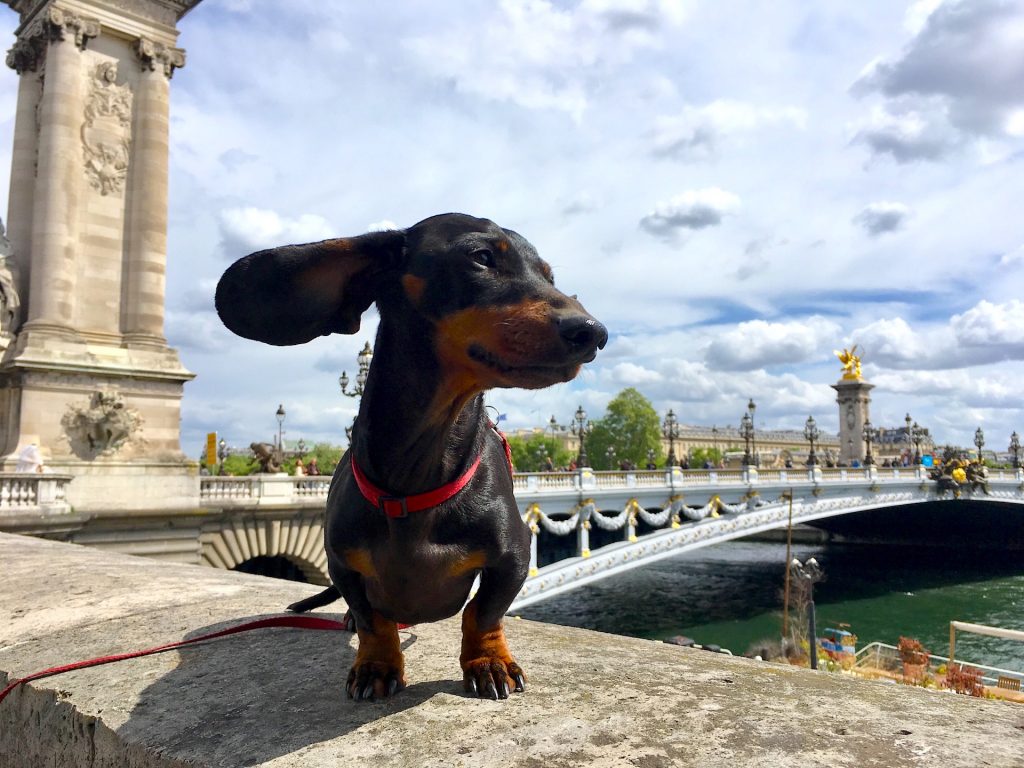 Additionally, there are feasible options to then travel onwards to the UK with your dog as a "foot passenger", without hiring a car. (With cars driving on the opposite side of the road in the UK compared to Continental Europe, forget about a one-way car hire to head to the UK!)
Check out my guide on flying to France from the USA with a dog
Taking a Ferry Across to the UK
Once you arrive in Paris or Amsterdam, there are multiple ferry options available to foot passengers with a dog to take you to the UK.
Taking a Ferry from France to the UK
From Paris, foot passengers with a dog are permitted on the DFDS Seaways ferry from Dieppe to Newhaven, on the southern coast of England. The ferry crossing takes about 4 hours, but once you add on the train journeys at either end the journey from Paris to London takes a full day. Read my review of completing this journey when I visited the UK.
Note that the other ferries between France and England do not permit foot passengers to bring pets onboard.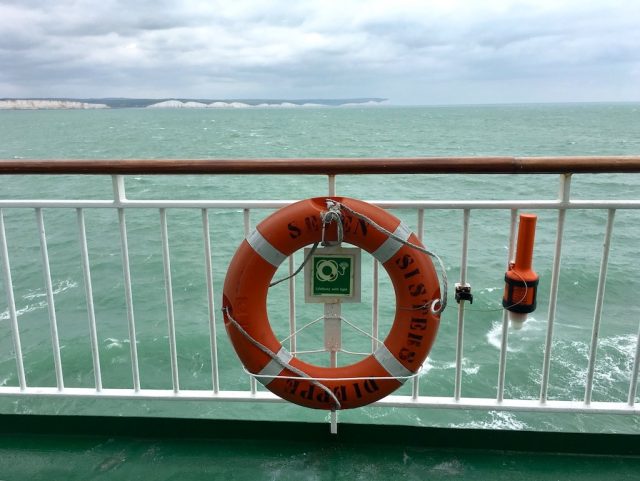 Taking a Ferry from the Netherlands to the UK
If you fly into Amsterdam Airport Schiphol, you have more options. Firstly, there is the Stena Line ferry from Hook of Holland to Harwich, on the eastern coast of England. There is an overnight or shorter day ferry crossing, with pet-friendly cabins and excellent pet kennels located onboard the ship. Read my review about taking this ferry or click here
to find out more.
Secondly, there is the DFDS Seaways ferry from Amsterdam to Newcastle, in northern England. This ferry has the pet-friendly cabins, as well as kennels. While a longer crossing, it's more convenient if you are heading to northern England or Scotland. Read this review by someone else taking the ferry or find out more about the DFDS pet-friendly cabins
.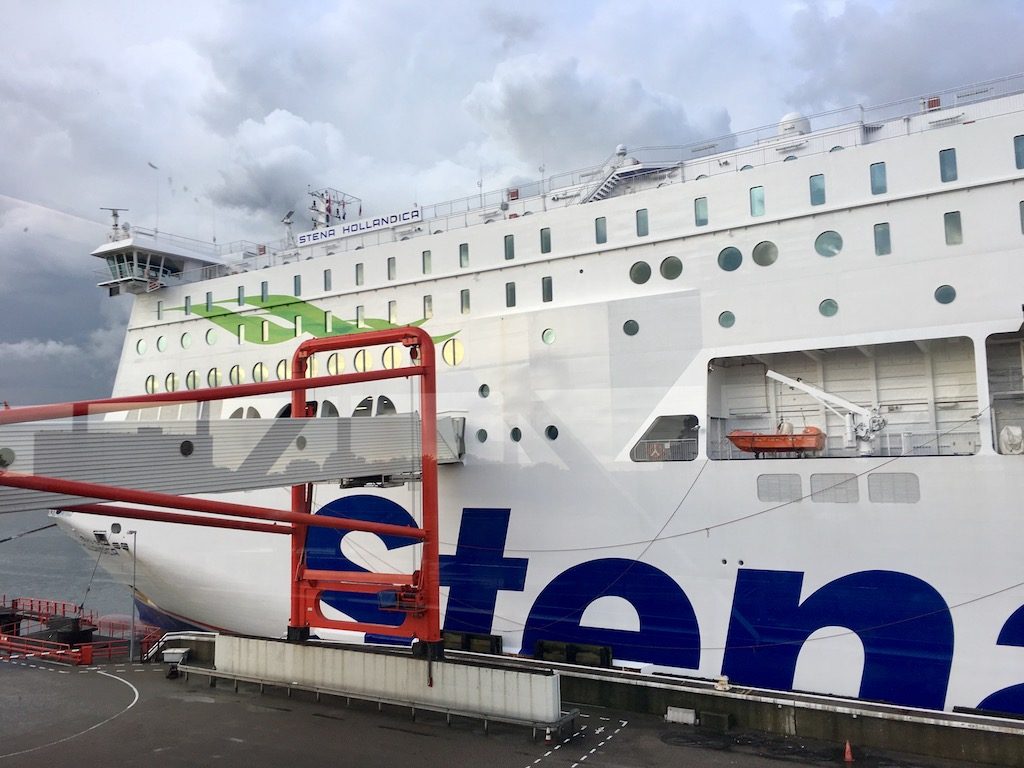 Finally, foot passengers can also bring a pet onboard the P&O ferry from Rotterdam to Hull. This ferry has recently added three pet-friendly cabins, in addition to their pet kennels. It even has pet exercise areas at both ferry terminals. It generally operates as an overnight crossing. Click here for further information.
A short train journey is required from the airport to any of the relevant ferry terminals in the Netherlands. Pets are allowed on trains in the Netherlands.
Using a Pet Taxi or Pet Transport Service
Instead of taking a ferry across to the UK with your dog, you could instead consider using a pet taxi or a pet transport service. These options are particularly popular for pets arriving in Paris.
With pet taxis, there are multiple providers that take advantage of pets being allowed in vehicles using the Eurotunnel, one of the quickest and easiest ways to travel with a pet in between the UK and France, as long as you have a vehicle.
Most frequently, people travelling with a dog just take a pet taxi between Calais Ville or Calais Fréthun and Folkestone Central stations. On either end, simply travel by train on the dog-friendly trains in France and the UK. The pet taxi typically costs about £100-200, on top of the normal Eurotunnel fees.
However, it's also possible to book a pet taxi for the entire trip from Paris to London, or another destination, at a higher cost. I've typically heard of fees around £700 for taxi all the way from Paris to London, although it can be higher due to the fluctuating cost of the Eurotunnel.
Two frequently used pet taxis are Folkestone Taxis (also known as Pet Travel Abroad) and Pet Moves. A newer option is Le Pet Express, which offers shared minivans, but only on weekends at this point.
There are also some companies that are specifically set up to transport dogs longer distances between European countries and the UK. These companies can pick your pet up from Charles de Gaulle or Schiphol Airports and transport your pet to your address in the UK, while you fly to the UK or take the non-dog-friendly Eurostar to London.
One DEFRA-certified company that I have heard a lot of happy reports about is Happy Saluki Pet Transport.
Or Fly to Dublin Airport
Another increasingly popular alternative to flying to Continental Europe, is to instead fly to Dublin Airport firstly with your dog. Depending on your final destination in the UK, this can make for a shorter journey, particularly as the ferry trip across the Irish Sea is shorter.
Quite a few airlines don't fly pets to and from Dublin in the cabin, despite there being no prohibition against this, but I have put together a list of airlines that fly pets in and out of Ireland. One American airline is included on the list – Delta.
Delta will fly pets in the cabin to and from Dublin Airport from a number of airports in the USA. Just note that pets cannot be flown out of Dublin as excess baggage as of 2023, due to an issue with the baggage system.
From Dublin, there are a number of ferries that cross to Wales, some with pet-friendly cabins. Alternatively, it's possible to cross the land border to Northern Ireland, with no pet documentation checks occurring at the border. You can then take a ferry across to Scotland. Check out my guide to the most pet-friendly ferries across the Irish Sea.
What About a Cruise Ship Across the Atlantic?
Another alternative if you're bringing a dog from the US to the UK, may be to book a crossing on the Queen Mary 2 across the Atlantic, disembarking at Southampton in England. This is particularly popular with owners of larger dogs, that are too large to fly in the cabin on any airline. The Queen Mary 2 is one of the few pet-friendly cruise ships.
However, keep in mind that there a lot of demand for the pet kennels onboard the Queen Mary 2, so the kennels are typically booked out a year or more in advance! (As of early 2023, I have even heard reports of up to two years.) However, it's possible to put your name down on a waiting list, in case a berth becomes available sooner.
Paperwork for Travelling to the UK with Your Dog
Due to the United Kingdom leaving the EU following Brexit, the rules and paperwork for importing dogs to the UK have changed. The main change is that pets travelling to Great Britain require a Great Britain pet health certificate, rather than the EU pet health certificate (Annex IV).
The remainder of the rules for importing dogs to the United Kingdom are essentially the same as for pets travelling to anywhere in the EU. Pets are required to be microchipped and vaccinated against rabies.
Additionally, the UK is one of the few countries in Europe requiring a worming treatment for dogs, administered by a vet between 24 hours and 5 days of arrival in the UK, with no change to this requirement. All of this needs to be documented in a pet passport or Great Britain pet health certificate.
If you are using a Great Britain pet health certificate that needs to be certified by the local authority, such as USDA in the United States, the worming treatment can be added to the certificate once it has been certified and returned to you.
For more details on bringing a pet to the UK, see the government website.
Requirement for Two Pet Health Certificates
If you're firstly travelling to the EU (including Ireland) and then onwards to the UK, things will be a little more complicated. You need to make sure you fulfill the requirements for your pet to travel both to the EU and to the UK.
In particular, you will need two pet health certificates, both an EU and GB pet health certificate. There are some reports of vets and governments in some countries refusing to issue two pet health certificates at the same time, although hopefully this becomes more accepted.
Getting an EU Pet Passport
One alternative if you cannot be issued two pet health certificates, is to just get an EU pet health certificate. Then when you are transiting through Europe, go to the vet and get an EU pet passport. This pet passport is used for pets to travel within the EU, and can be used in future to travel from the UK back to the EU.
To get an EU pet passport, you will need to allow time to visit a vet, before continuing on to the UK. At the same time have your pet wormed, at least 24 hours before entering the UK, and recorded in the pet passport. This may also be a practical alternative if you'd like to spend some time in the EU before completing your journey, and your dog cannot be wormed beforehand, due to the short time frame of validity.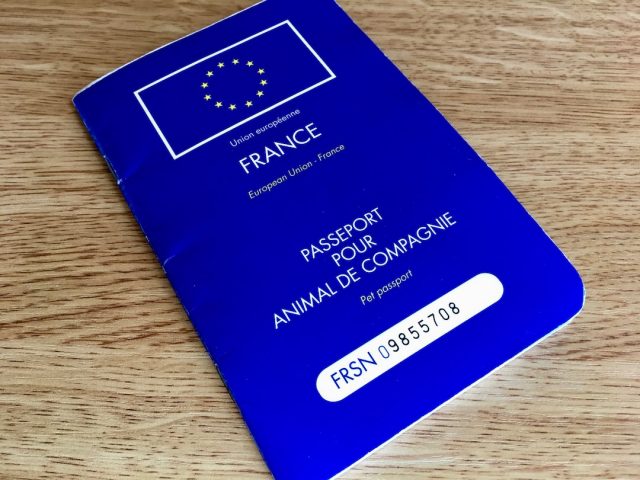 It's best to book an appointment with a vet in advance, and ensure they will issue you an EU pet passport. In particular, there are recent reports of vets in France no longer issuing EU pet passports to those without a locally registered dog.
Note that not all veterinarians will copy across your existing rabies vaccination (I've generally heard of this occurring in Germany) or that UK customs may question a rabies vaccination predating the pet passport, as was the case when I boarded my ferry to the UK. Either keep all your different paperwork as proof or consider getting a rabies booster shot in the EU, to be recorded on your EU pet passport.
The other alternative is to ask a vet in the EU to issue you with a GB pet health certificate, but this is not common within the EU, due to the usage of pet passports.
What About When Leaving the UK?
While there are no restrictions on pets flying in the cabin or as checked baggage when leaving the UK, only a few airlines offer this option. A few airlines specify on their website that they offer this option, while I have heard reports from fellow travellers of other airlines allowing this. Double check with your preferred airline, and consider crossing back over to Paris or Amsterdam to fly your pet out of Europe with more options.
I have checked with a number of American airlines, and none of them state online that they will fly dogs in the cabin when leaving the UK. American Airlines doesn't fly pets in the cabin on any trans-Atlantic flights, while both Delta and United rule out pets in the cabin on flights both to and from the UK. However, I have heard a recent report of United allowing this.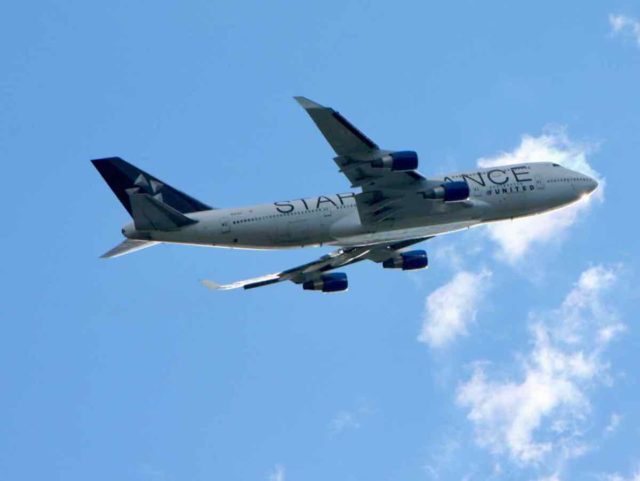 An alternative option for flying from the UK to the USA with a dog in the cabin is to fly via Canada, as it's possible to fly a dog from the UK to Canada. On the Air Canada website they specifically mention that they accept pets for travel both in the cabin and in the hold on flights from the UK. Air Transat also allow pets to fly out of the UK, out of Manchester and Glasgow, but not Gatwick Airport in London.
You May Also Like
About the Author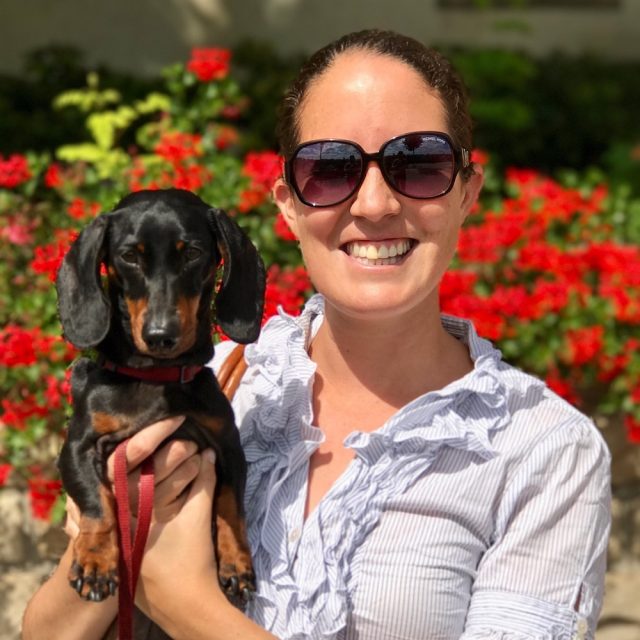 Shandos Cleaver is the founder of Travelnuity: Dog-Friendly Travel. She has travelled extensively with her Miniature Dachshund, Schnitzel, including to 33 countries across Europe, every state and territory of Australia except Tasmania, and 10 of the United States. She's passionate about providing inspiration and information to others wanting to travel with their dogs, whether close to home or internationally.
Inspired? Pin this to your Pinterest board!