If you're visiting Denmark in Europe with your dog, whether it's just a quick trip to Copenhagen or you're exploring the rest of the country by car, there's plenty of dog-friendly things to do in Denmark. Check out my top recommendations, particularly if you visit during the summer months of the year.
Find out more about visiting Copenhagen with a dog, from taking public transport to dining at restaurants and cafes with your dog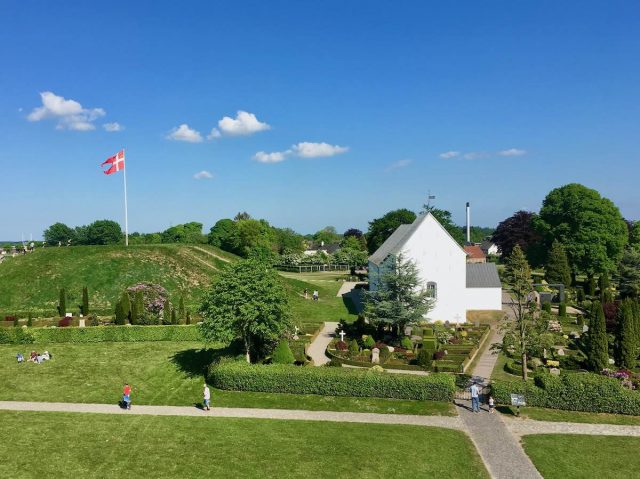 1. Visit Colourful Nyhavn in Copenhagen
A visit to Denmark isn't complete without a visit to the the picturesque district of Nyhavn in Copenhagen. Stretching along the sides of a canal, it's packed full of colourful houses that make for the best photo spot.
These days many of the buildings are home to restaurants, generally with expansive outdoor terraces on the northern side. Alternatively, grab a take-away beer to enjoy along the canal, or visit the annual Christmas market in winter time.
Your dog will enjoy a stroll through this district just as much as you.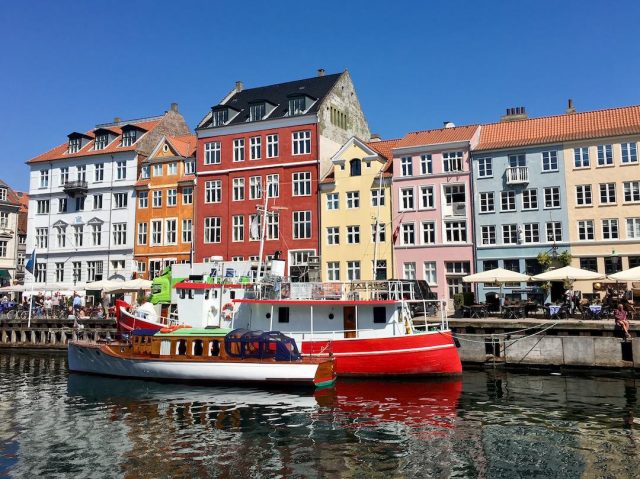 2. Take a Cruise on Copenhagen's Harbour
While you're at Nyhavn, you can jump onto a harbour cruise around Copenhagen at the top of the canal. A cruise will take you down to the main section of the harbour, past the Little Mermaid statue, past Our Saviours Church, and around Christiansborg Palace. It's an easy way to see much of this harbour city, without tiring your feet, particularly when the weather is hot.
The main cruise operator is Stromma. Choose between a 1-hour guided cruise for DKK 99 per adult, or else buy a hop-on-hop-off pass valid for 48 hours for DKK 199 per adult. Small, well-behaved dogs are allowed on their boats, as long as they can fit in a bag. They are also allowed on their hop-on hop-off buses, but must stay on the top deck.
Alternatively, just down the canal on the right-hand-side you can hop on a boat with Netto Boats for a cheaper price – the cruise is still DKK 50 per adult (as of 2022). Our dog was welcome on their boat.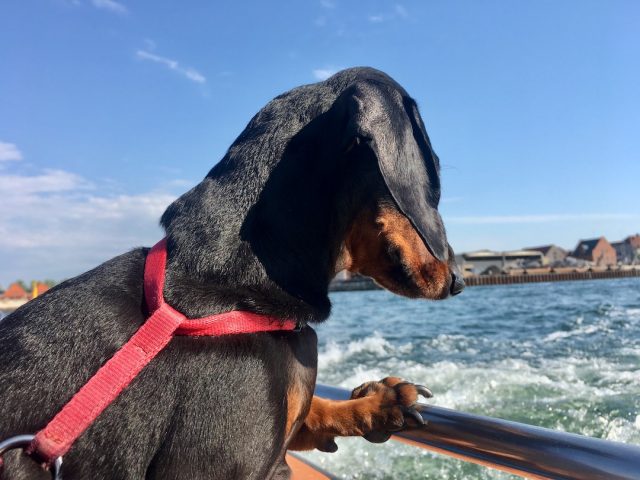 3. Head to Historic Jelling
The small village of Jelling in Jutland, on the Danish mainland, is famous for its historic monuments from the Viking era, including the Jelling Stone. There are actually two rune stones side by side at Jelling, the smaller erected by King Gorm and the larger more significant stone by Harald Bluetooth.
On the larger stone, Harold Bluetooth's achievements are listed, including his unification of Denmark. The stone has been dubbed the "birth certificate of Denmark". The stone also contains the oldest depiction of Christ in Scandinavia.
Both stones are free to visit, protected behind plastic boards. It's possible to walk up to them with your dog, although naturally keep your dog on a leash and be careful at this historic site.
The site also contains two burial mounds constructed by Harald Bluetooth in memory of his parents, and underneath lies the remains of a Viking period ship. Both mounds can be walked upon. There is also an historic church and museum on site, although no pets are allowed inside.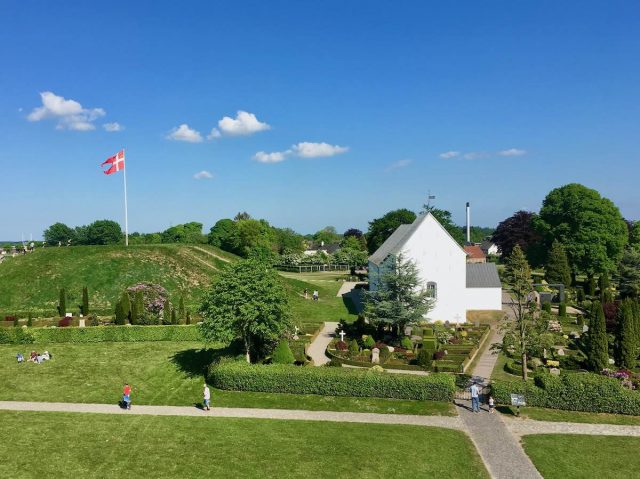 4. Visit the Site of Hamlet
Shakespeare's famous play Hamlet was set in Denmark, in the fictional castle of Elsinore. It's widely believed to be based on Kronborg Castle, in the similarly named town of Helsingør, which is now UNESCO World Heritage listed.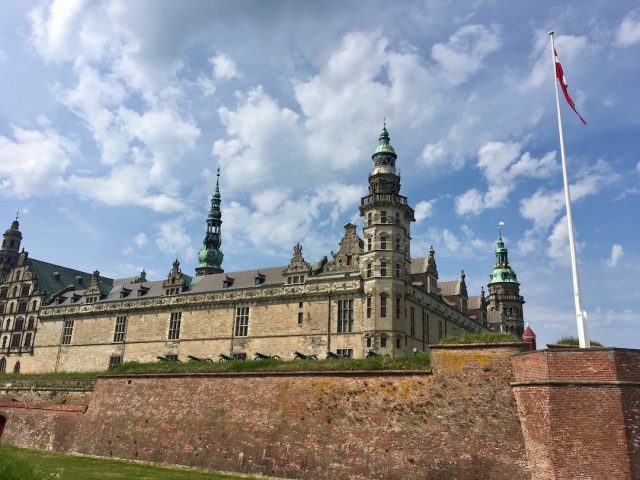 While dogs are not allowed inside the castle, both dogs and humans are free to roam around the outside grounds around the castle. It's set right on the sound separating Denmark and Sweden, with the Swedish town of Helsingborg visible across the water.
Helsingør is easily reached by a 45 minute train from Copenhagen Central Station. At the time of my visit in 2018, it was cheaper to buy a combined train and museum ticket, but I don't believe this is available any longer. If you plan on visiting multiple attractions, a Copenhagen Card might be worthwhile.
Kronborg Castle is then a scenic 10 minute walk from Helsingør train station.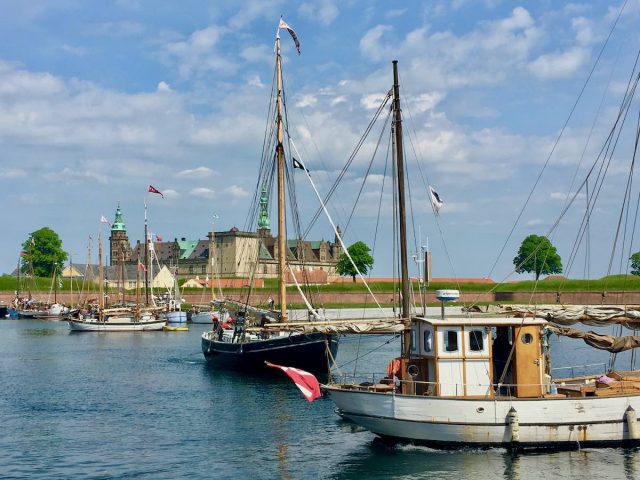 5. Visit Roskilde Viking Ship Museum
Just outside of Copenhagen at Roskilde there's two big attractions: Roskilde Cathedral, the burial site of most Danish kings and queens, and Roskilde Viking Ship Museum. While the cathedral naturally doesn't allow dogs, dogs are welcome in the outdoor areas of the Viking Ship Museum, although they aren't permitted in the Viking Ship Hall.
Roskilde is a quick 25 minute train from Copenhagen Central Station. Buy a day ticket for the train, which is marginally cheaper than 2 single tickets. It's then a 20 minute walk to the Viking Ship Museum.
6. Visit Jægersborg Deer Park
To the north of Copenhagen is the large deer park of Jægersborg, Jægersborg Dyrehaven. Originally set up for the king to hunt deer, the park is still home to a large population of deer, and it's easy to get up close to them, as they're used to humans being around.
The park these days is popular for walking and with cyclists, plus it's home to a golf course. Dogs are allowed in the park, albeit on a leash, due to the presence of the deer. The park is accessible from Klampenborg Station on the southern corner, or there are multiple car parks surrounding it.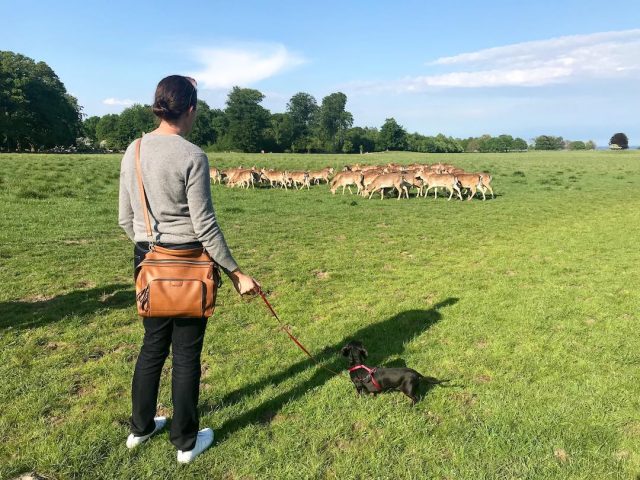 If you're looking for somewhere nearby for your dog to run around off leash (and you're driving), head a little further north to the neighbouring forest of Jægersborg Hegn. There's an off-leash dog park between Strandvejen and Kystbanen railway in the northern part of the forest.
7. Drive to the Island of Mandø
When I say drive to an island, I really meaning driving to an island! Mandø is one of the Wadden Sea islands located not far off the west coast of Denmark, near the historic town of Ribe. A 4km-long gravel causeway connects the island to the mainland.
While the causeway can become inaccessible at high tides during storms, it is fine to drive across in a regular vehicle during low or mid tide. I recommend driving across to the island at low tide, so you can best see the surrounding mudflats and spot the prolific birdlife.
The actual island is quite small, with some quaint houses and windmills. It's a relaxing spot, although there's a couple of cafes located on the island, where you can sit at an outdoor table with your dog.
The island can also be visited on a tractor bus, that drives out onto the mudflats, although we just drove across and went for a walk with our pup.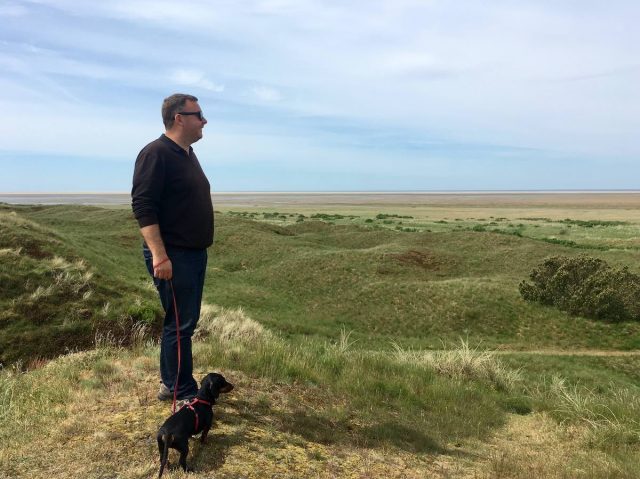 8. Explore Historic Christiansfeld
The town of Christiansfeld was founded in what is now Southern Jutland in the late 18th century. It was founded by the Moravian Church and planned to represent the Protestant urban ideal. At the town's centre is the Church and its square, with the buildings throughout the town a homogenous and unadorned yellow brick with red tile roofs.
The town is exceptionally well preserved and has recently been listed on the UNESCO World Heritage list as an example of a religious settlement.
Stop off and pick up a map of the town, then head out for a stroll, with dogs on a leash permitted except for inside the opened buildings, such as the Church. Don't also miss out on picking up some of the traditional honey cake from the local bakery.
9. Relax in the King's Garden
For a relaxing time in Copenhagen head to one of its many wonderful parks. Dogs are allowed inside most parks, so take your pick.
Our favourite in the city was Kongens Have, or the King's Garden. It's also known as Rosenborg Castle Gardens, as it was originally the private gardens of the King's Rosenborg Castle, right next door. It's the oldest and most-visited park in central Copenhagen, and a great spot to enjoy a picnic.
You May Also Like
Inspired? Pin this to your Pinterest board!