Before visiting Copenhagen, I had heard reports that it wasn't that dog-friendly, including that restaurants and cafes don't allow dogs inside. However, after recently visiting the city with my dog, I found it to be welcoming to dogs – you just need to know the rules and norms, which can be stricter than elsewhere in Europe.
It's a beautiful city, especially when it's warm and sunny like when we visited, so if you are planning to soon visit Copenhagen with your dog, here's my tips.
Visiting Copenhagen without your dog? Check out the top things to do in Copenhagen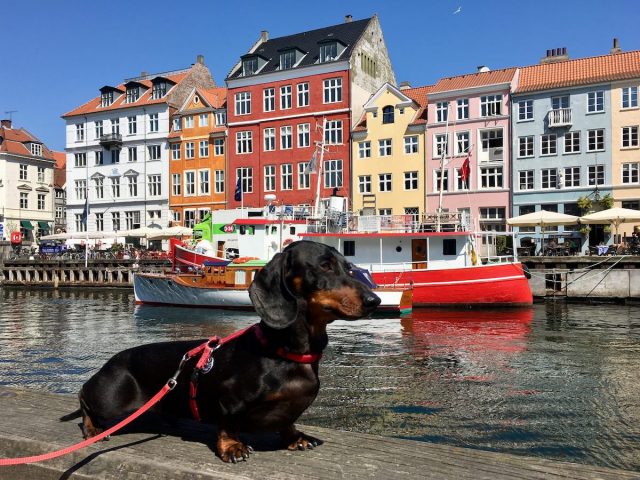 Travelling to Denmark with a Dog
The standard EU rules apply to travelling to Denmark with your dog. If you are travelling to Denmark from another EU country or Norway, your dog will need to be microchipped, have an EU (or Norwegian) pet passport and have been vaccinated for rabies at least 21 days before crossing the border.
If you are flying to Denmark from outside of the EU, as well as a microchip and valid rabies vaccine, your pet will require an EU health certificate (also known as the Annex IV) and in some cases a rabies titre test. Check out the full details on travelling to Europe with a dog.
Dining Out in Copenhagen with a Dog
On our second day in Copenhagen, we were heading to lunch on its outskirts when the heavens opened, and a furious downpour began. After sheltering in the carpark until the worst was over, we ventured out and were concerned about where we'd eat. We were wanting a nice sit-down lunch as it was my husband's birthday, but surely no restaurant would allow us inside with our dog?
Standing outside a restaurant that would normally have an outdoor terrace, but that was now soaking wet and not possible to dine in, we tentatively asked the waiter at the door.
He welcomed us inside, stating that there's no law against allowing dogs inside restaurants inside Denmark, and that we weren't the only ones dining there with a dog. We'd just have to make do with a limited menu, as the storm had knocked out the electricity!
So, when you're visiting Copenhagen, feel free to ask restaurants and cafes if they would allow your dog inside. Not all places will allow dogs, but it's certainly worthwhile trying. Although when it's sunny, there's no better places to dine out than the many outdoor terraces, such as in the Nyhavn District.
Two other recommendations for eating well, but on the cheap, while in Copenhagen. Firstly, the Danes have turned the humble hotdog into an artform, and you'll find hotdog stands scattered around the city, with varied toppings available. Perfect for a quick meal eaten on a park bench, with your dog at your feet!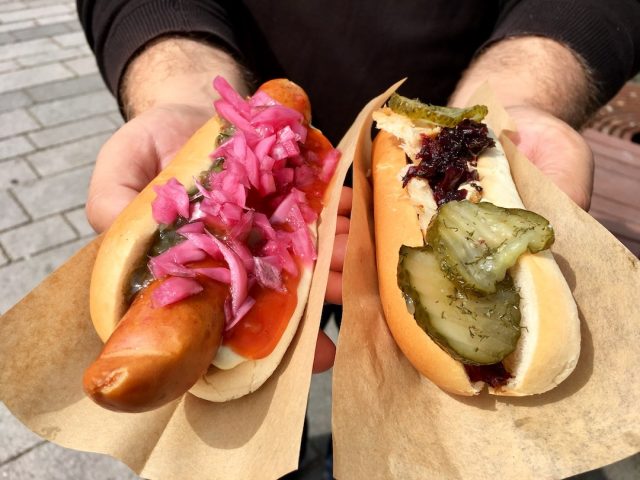 Secondly, there's some great food markets scattered around Copenhagen, with a mixture of fresh food and ready-to-eat lunch options. We visited Torvehallerne, near the Nørreport train station.
While dogs weren't allowed inside, there's plenty of benches scattered around outside to bring your food back out to. I recommend trying the Smørrebrød, a type of Danish open sandwich that is seriously tasty!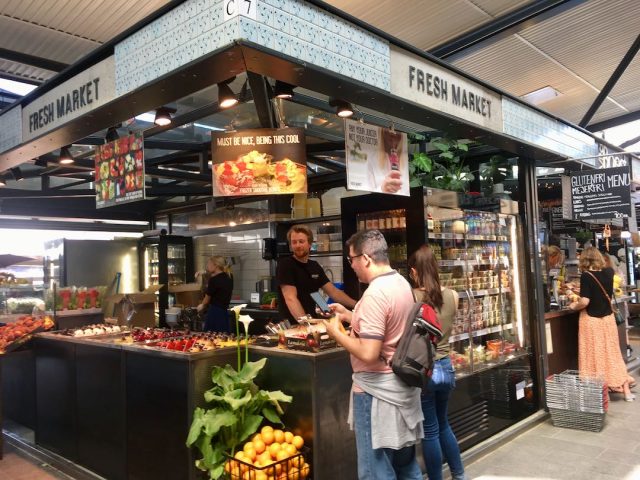 Taking a Dog on Public Transport in Copenhagen
Taking dogs on public transport is one of the more complex areas of dog rules in Copenhagen. While dogs are generally allowed on public transport, there are different rules depending on the type of public transport.
These are mainly for the benefit of allergy sufferers – to keep sections of public transport dog free. If in doubt, just look for the signage or ask a local to help translate – most Danes speak excellent English.
Tickets and General Rules for Dogs on Public Transport
Across the metro, buses and trains, the same rule applies to ticketing. Small dogs and other pets in a carrier (not exceeding 100 x 60 x 30cm) can ride for free, while larger dogs need to have a child's ticket.
Public transport prices are quite expensive in Copenhagen, so consider a day ticket or multi-day pass, particularly if you're travelling to Roskilde or Helsingør.
Larger dogs not in a carrier need to be on a leash, although there's no mention of muzzling in the rules. Also note that there's generally a limit of one dog per passenger.
Dogs on Trains in Copenhagen
During our time in Copenhagen, we mainly stuck to the local S-trains, as we were staying near an S-train station. Dogs are allowed on all S-trains, but only in selected carriages.
When boarding, check the markings on the outside of the carriage. Roughly half the carriages will have a dog crossed out on the outside, meaning no dogs allowed, while about every second carriage will just have a dog symbol, meaning dogs are allowed. I found it best to look for the dogs allowed carriages as the train slowed down, so I had time to move to where they were stopping.
I'm not 100% sure whether the carriage restrictions apply to dogs in carrier bags, but just to be on the safe side I also stuck to the dogs allowed carriages when my dog was in a carrier bag.
Dogs on the Metro in Copenhagen
We didn't take the metro while in Copenhagen, as at the time there were only two lines. However, two new lines have since opened in 2019 and 2020, greatly extending its reach.
When travelling on the metro in Copenhagen with a dog, dogs are not permitted on the six front and back seats of these shorter trains. Double check the symbols on the door before boarding.
Dogs on Buses in Copenhagen
The least dog-friendly public transport option in Copenhagen are the buses.
Dogs are generally not allowed on A-buses (bus numbers that end in an "A"). However, this doesn't apply in Køge, Roskilde, Næstved, Ringsted, Holbæk and Helsingør. Also, small dogs in a carrier bag are exempt. (This wasn't clear at the time of my visit, so I skipped taking the bus in favour of the S-train).
On other buses in the Greater Copenhagen area that allow dogs, larger dogs are not allowed in peak hour (7am to 9am and 3:30pm to 5:30pm on weekdays) in zones 1-4, 30-33 and 40-44.
The final more simple rule is that dogs must travel in the back half of the bus. The front half is kept dog-free for allergy sufferers.
Dogs on Regional Trains in Denmark
If travelling further afield to Roskilde or Helsingør, you'll take the regional trains. Similar to local trains in Copenhagen, these trains also have dog-free areas, marked with a crossed out dog. Also stay clear of the quiet zone, plus dogs aren't allowed in first class, except for small dogs and other pets in a carrier bag.
When booking a ticket with a seat reservation, make sure you avoid these sections and get a seat in the standard section. It's also possible to buy a place ticket for your dog, so there is room for larger dogs to sit on the floor in front of the booked seat.
Additionally, some Swedish trains run into Denmark, particularly on the stretch between Copenhagen Airport and the city centre. These trains have a specific dog section (follow the arrows), that you should sit in.
Dog-Friendly Accommodation in Copenhagen
When I recently investigated the percentage of dog-friendly hotels in different European cities, I found that Copenhagen performed surprisingly well, with 41% of hotels on Booking.com allowing dogs (although probably with restrictions, particularly limiting dogs to certain pet-friendly rooms).
However, I suspect that many of these dog-friendly hotels are more expensive hotels, of which there seem to be plenty in Copenhagen. Accommodation prices in Copenhagen are quite high, and most of the budget hotels don't seem to allow dogs.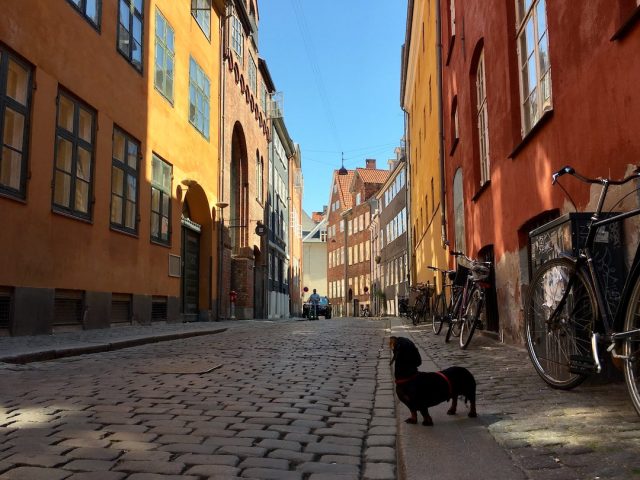 If like me you're having trouble finding affordable dog-friendly accommodation, it's worthwhile checking out Airbnb, more so the suburbs surrounding Copenhagen, rather than the city centre.
Ideally look for something serviced by an S-train (given the restrictions for dogs on buses), and budget for the cost of public transport. Car parking though is easy and usually free, and there's lots of green parks, which Schnitzel enjoyed.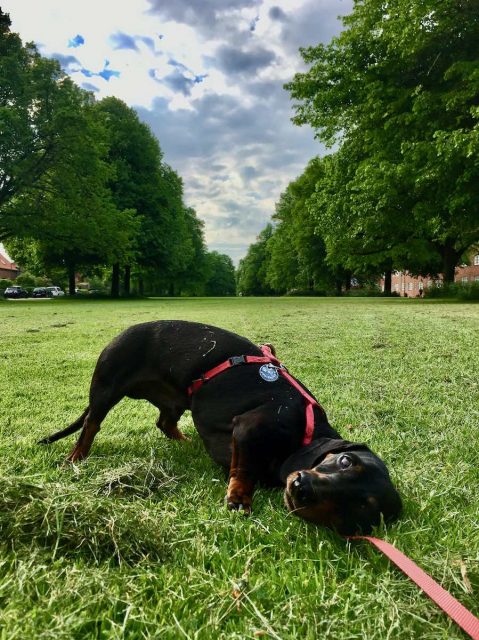 Dog-Friendly Parks in Copenhagen
Copenhagen is home to many wonderful parks. Whether it's the sizeable parks in the city centre (we visited both Kongens Have and Ørstedsparken), the many greens parks in the suburbs or the deer parks and forest to the north of Copenhagen (such as Jægersborg Dyrehave).
We only found one park that didn't allow dogs – the botanic gardens, unsurprisingly. In other parks dogs are allowed, although usually with the signage "Hund i snor", meaning dogs are to be kept on a leash.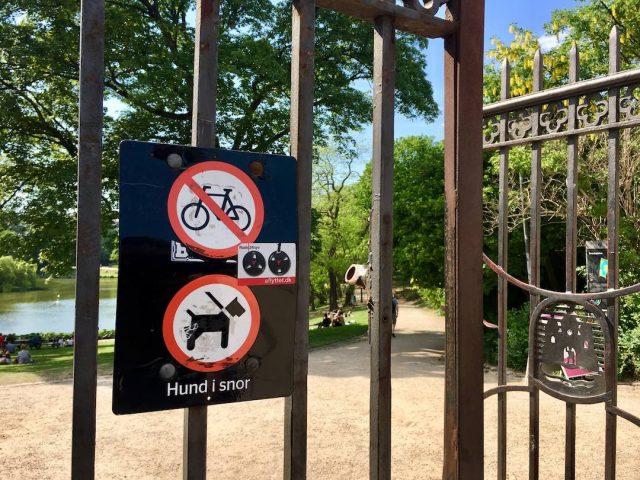 Dog-Friendly Sightseeing in Copenhagen
Copenhagen is a wonderfully walkable city, and your dog will love joining you on your explorations of the city, whether that's strolling through its historic streets, taking a cruise on the harbour or relaxing in the parks.
There's also some great day trips available from Copenhagen where your dog can join you, such as heading to Helsingør, the site of Hamlet's castle, or visiting the Roskilde Viking Ship Museum.
Check out my full list of dog-friendly things to do in Denmark.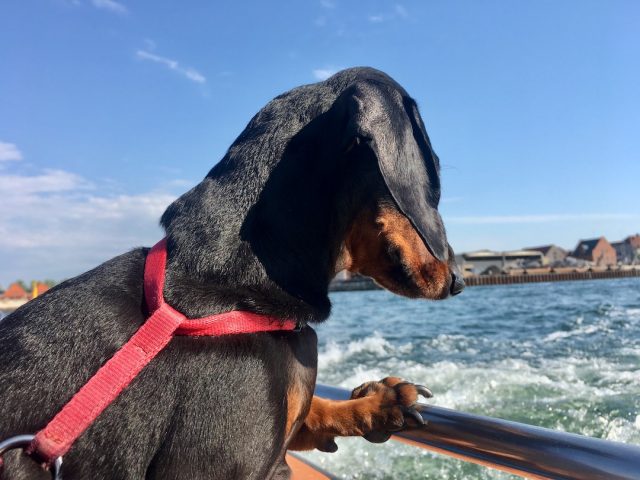 Alternatively, for something different, for one day a year the Tivoli amusement park welcomes dogs. The historic amusement park is one of the most popular attractions in Copenhagen. While we missed out on visiting as dogs are not usually allowed inside, for one day each year, the doors are open to well-behaved dogs on the annual Dogs' Day in Tivoli.
The day is generally a Sunday in late August – in 2021 it was on Sunday 21st August 2021. Dogs are required to be on a leash and normal admission fees apply for human visitors, but there's plenty of treats in store for both two- and four-legged family members.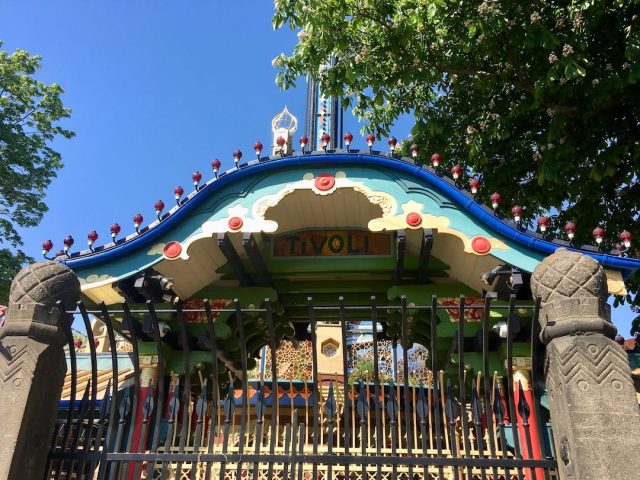 You May Also Like
Inspired? Pin this to your Pinterest board