This is a guest post from Jen Sotolongo of Long Haul Trekkers.
With the nation's highest dog park per capita (33 in total), it's clear that Portland, Oregon loves its dogs. There are plenty of pet-friendly restaurants, parks, and accommodations to find in the City of Roses, so it's not surprising that Portland is regularly named among the most dog-friendly cities in the United States. In fact, here's a list of 99 things to do in Portland with your dog. Below are a sample of some of our favorite places to eat and play in Portland.
Note: This post contains affiliate links, which means I may receive commission if you make a purchase using the links. See my full disclaimer.
Dining out in Portland with a Dog
As with most US city regulations, Portland does not allow dogs inside establishments that serve food. This can be a drag during the wet and chilly winters, however, there are plenty of breweries and restaurants with covered patios to hit for year round dog-friendly dining.
Food Cart Pods
Well known for its food cart pods located throughout the city, dog are always welcome at these outdoor establishments. They're great for sampling a variety of foods from all over the world at a much lower price than what you'll pay in a restaurant. Most have covered patios and many even have fire pits to keep you warm during the winter months.
The Knock Back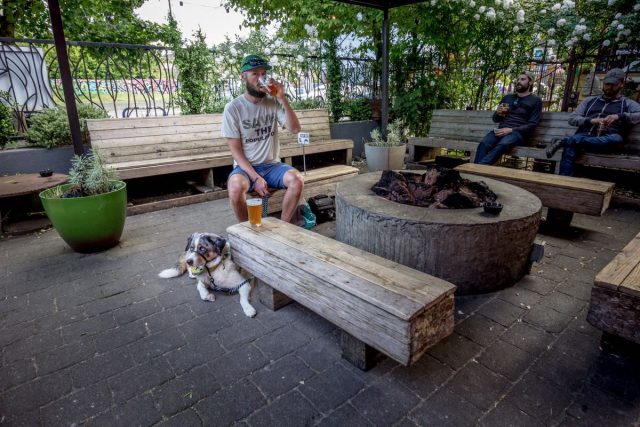 The giant fire pit beneath the patio roof guarantees no one will go cold, no matter the temperature outside. The Knock Back offers a great happy hour menu with food and drink specials that can accommodate all dietary needs.
Bye and Bye
The Bye and Bye, located in the Alberta Arts District is a favorite establishment of ours. We never visit town without stopping in at least once. The back patio is covered and allows dogs year round (just know that it's also where the smokers hang out). A rotating list of craft beers promises no one will go thirsty, or try one of the fun house cocktails instead. Bye and Bye serves vegan bowls with a variety of toppings. All of them cheap and delicious.
Tin Shed
Tin Shed is the place to go in Portland if you have a dog. They even have a dog menu that includes a dessert pups can share with their human, if they're being a good girl or boy. The heated and covered patio means year-round dining and every Tuesday after 3PM is Doggie Love Night, which means dogs eat free when their human orders a regularly-priced item off the menu. Tin Shed is super popular, especially for breakfast, so arrive early or prepare to wait!
Base Camp Brewing
For most of the year, Base Camp Brewing extends their indoor space by means of a giant, insulated tent with fire pits meaning dogs are welcome in all weather. Catering to the outdoor enthusiast, Base Camp brews a host of delicious beers for seasonal adventures. Order food from one of the rotating food carts on site and have it delivered to your seat.
Dog-Friendly Accommodation in Portland
Portland hotels love when dogs come for a visit and often provide special treats just for their four-legged guests.
Hotel Monaco
Located in downtown Portland, right smack in the middle of all the action, Hotel Monaco welcomes dogs with open arms. Part of the Kimpton Hotel family, Hotel Monaco makes pets feel welcome with amenities like a cozy bed, bowls, and treats. They're even welcome to join their humans at the nightly wine reception. The best part is that there is no pet fee!
Click here to check rates and availability
McMenamins Kennedy School
This former neighborhood school was renovated to become the hotel that sits there today. All McMenamins hotels allow dogs and welcome them with a feeding station and plenty of treats. Located in NE Portland, the Kennedy School is walking distance from a number of great parks and dog-friendly neighborhood restaurants and bars.
Click here to check rates and availability
Hotel Rose
Hotel Rose makes traveling with pups super easy with their Pineapple Pup Package that includes 50% savings on the daily pet fee, water bowl, treats, a dog waste dispenser with bags, and a dog bed for the visit. The cozy bed and robes mean you and your dog may just want to stay in and snuggle all day!
Click here to check rates and availability
Dog-Friendly Parks and Activities in Portland
With an abundance of parks throughout the city, no matter where you are staying or spending the day, there is bound to be a great park to visit for a walk, hike, or run. Just a short drive from Portland, visitors can also enjoy beautiful beaches and world class wines in the company of their dog.
Forest Park
This gem of a park is one of the largest urban forests in the country. With over 70 miles of trails, you could spend hours in Forest Park and not cover them all. The well-labeled trails make you forget that you're in a city and if you start in the right spot, it's not rare to have the trail entirely to yourself, even on the weekend.
International Rose Test Garden
Open and free year round, dogs are welcome to join their humans on a walk through the 4.5-acre International Rose Test Garden. June is the ideal time to visit for peak bloom. Bring a picnic lunch and enjoy the view of Mt. Hood surrounded by dozens of rose bushes.
Mt. Tabor
Head to Mt. Tabor for a sunset picnic and enjoy the beautiful skies over the downtown Portland. About eight miles of trails wind around this dormant volcano, including to the large dog park on the south side of park.
Head to the Coast
The entirety of the Oregon Coast is public land, which means no fees, no private home or hotels can claim sections of the land, and it's all dog-friendly. This isn't your sit in the sun and enjoy a colorful cocktail type of beach. It's rocky and rugged and blustery. And it's the the perfect place to let your dog burn some energy. Manzanita, Oswald West, and Fort Stevens are all beautiful spots just an hour and a half drive from Portland.
Go Wine Tasting in the Willamette Valley
Oregon produces world class Pinot Noir just a short drive from Portland. Unlike restaurants, dogs are welcome inside the tasting rooms of many of the Willamette Valley wineries. Keeler Estate in Amity produces biodynamically-grown wines and for $15 wine club members can add Pinot & Puppies, which includes organic treats, puppy play dates at the vineyard, and a chance for a dog of the month feature. In Dundee, Sokol Blossor, one of the original Oregon wineries, allows dogs on their beautiful covered deck that overlooks some of their 72-acre vineyard.
Author Bio
Jen Sotolongo is the writer and owner of Long Haul Trekkers, a blog about adventure and outdoor travel with dogs. Her favorite dog-friendly activities include running long distances on trail, camping under the stars, and discovering new places to venture together around the world. She lives in Granada, Spain with her husband, Dave and their two rescue dogs Laila and Riia.
Inspired? Pin this to your Pinterest board!