A visit to Jungfraujoch is one of the highlights of a trip to Switzerland. This saddle high up in the Swiss Alps, dubbed the "top of Europe" and home to year-round snow cover, is easily reached by anyone thanks to a crazily-constructed rack railway tunnelled through the mountains.
That anyone includes dogs, who are allowed on the railway and inside most parts of the facilities at the top. (What else would you expect in dog-friendly Switzerland?) Find out everything you need to know about visiting Jungfraujoch, with or without a dog.
Looking for a dog-friendly hotel near Jungfraujoch? Check out the best hotels in Interlaken for all budgets, most of which are dog-friendly.
The Cheapest Way to Visit Jungfraujoch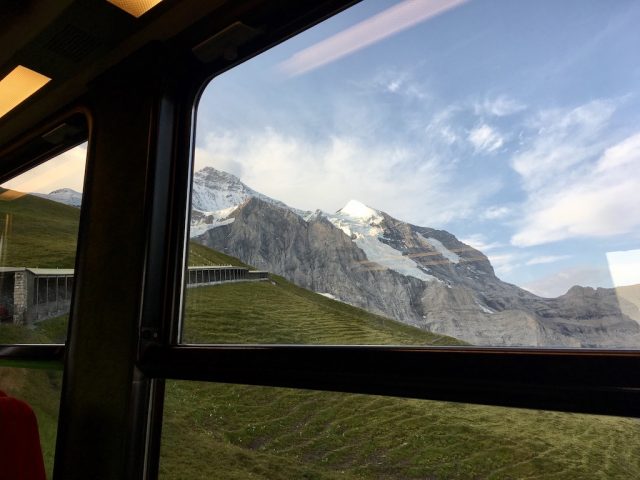 Thanks to the rack railway constructed to Jungfraujoch, the main way to get to Jungfraujoch (short of hiking through the mountains) is by train. There are two components to the train to go up Jungfraujoch.
Firstly, there's the regular railway from Interlaken Ost to Kleine Scheidegg, via either Lauterbrunnen or Grindelwald. You'll need to change trains at either Lauterbrunnen or Grindelwald. Plus, it's possible to start your journey from one of the intervening stations. (I started from Grindelwald Grund, near where we were staying, where there's a convenient large carpark.)
Secondly, there's the actual Jungfrau Railway in between Kleine Scheidegg and Jungfraujoch. This is the rack railway that is tunnelled through the mountains – an impressive feat and part of the attraction of a visit here!
Unfortunately, it is very expensive to take the train up Jungfraujoch, especially if you don't have a Swiss Rail Pass or similar. My husband and I were faced with paying about 190 CHF per person to travel from Grindelwald up to Jungfraujoch and back.
Note that this price varies during the year. (When we were visiting in late August, it was more expensive than during the off-peak period.) Plus the cost varies slightly depending on where you start and end the journey.
To save a large amount of money, buy the Good Morning Ticket, if it is still available. This saved us about 30% off the regular ticket price, about 60 CHF each. This ticket is available between May and October, when tickets are more expensive.
To buy the Good Morning Ticket, you need to purchase it on the Jungfrau website. Plus there are two conditions to the ticket. Firstly, you need to catch one of the first two trains up from Kleine Scheidegg, at 8:00am or 8:30am. If leaving from Interlaken Ost, the connecting trains leave at 6:35am and 7:05am.
Secondly, the last train you can leave from Jungfraujoch is at 1:13pm. (You are however able to pause for awhile at Kleine Scheidegg on your return journey.)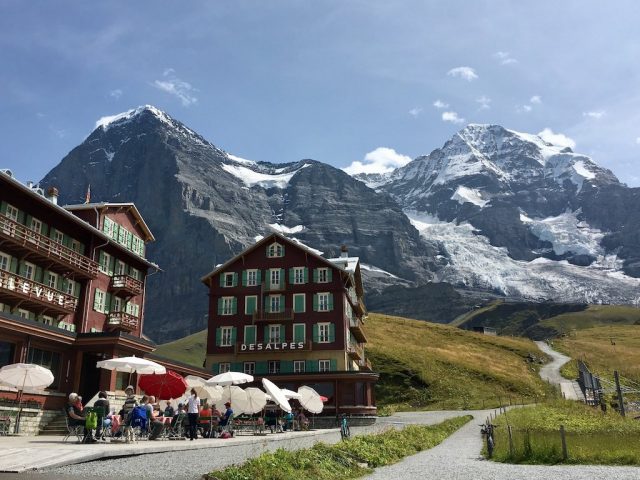 If you're worried about not getting on the required train, you can also reserve a seat on the Jungfrau Railway section. This means that you have priority of boarding the train. This costs an extra 5 CHF per person per trip (or 10 CHF return).
My husband and I paid for this, but on the day we visited in late August the trains weren't full. But we did cut it fine getting on that return 1:13pm train!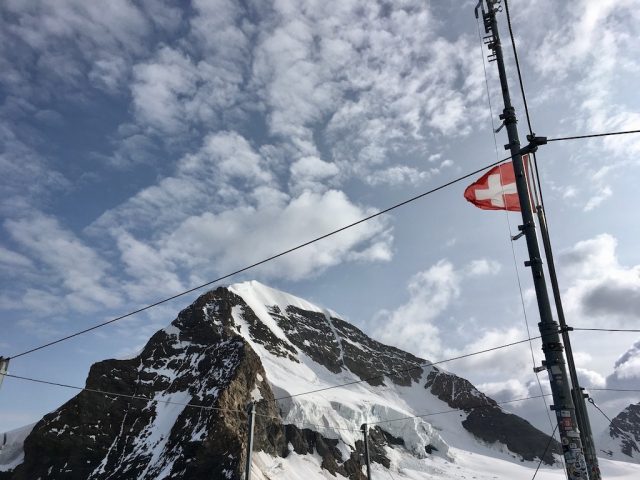 There's also a secret advantage to the Good Morning Ticket: you get to explore Jungfraujoch without crowds of people. In particular, it was excellent being the first people on the Sphinx Observatory viewing platform. Plus, when we went for our glacier hike (more below), the snow was still firm and easy to walk on.
The Cost of Taking Your Dog Up Jungfraujoch
As the tickets to go up Jungfraujoch for humans are quite expensive, it's a pleasant surprise that it's free for small dogs and not too expensive for larger dogs.
Firstly, the regular railway from Interlaken Ost to Kleine Scheidegg, via either Lauterbrunnen or Grindelwald, is completely free for all dogs. For a full list of the free routes, click here.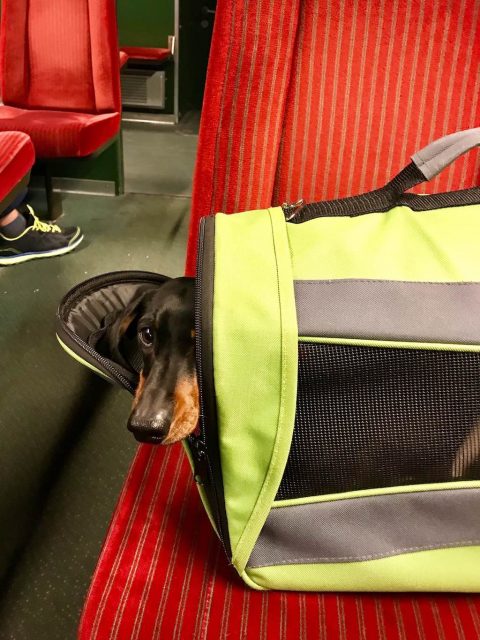 Secondly, the actual Jungfrau Railway in between Kleine Scheidegg and Jungfraujoch is free for small dogs, up to 30cm shoulder height, that are in a crate or other suitable container. (This is how we transported Schnitzel, like we have on many other railway journeys.) For larger dogs, there's a set fee of 35 CHF. It sounds expensive, but it's far cheaper than the adult ticket prices.
Note: There's now an alternative way to shorten your journey to Jungfraujoch, by taking the Eiger Express Cableway from Grindelwald to the Eiger Glacier Station, then transferring onto the Jungfrau Railway. I can't find any definitive information that dogs are allowed on the Eiger Express Cableway, or the cost, but they are likely permitted, perhaps for free.
What to do at Jungfraujoch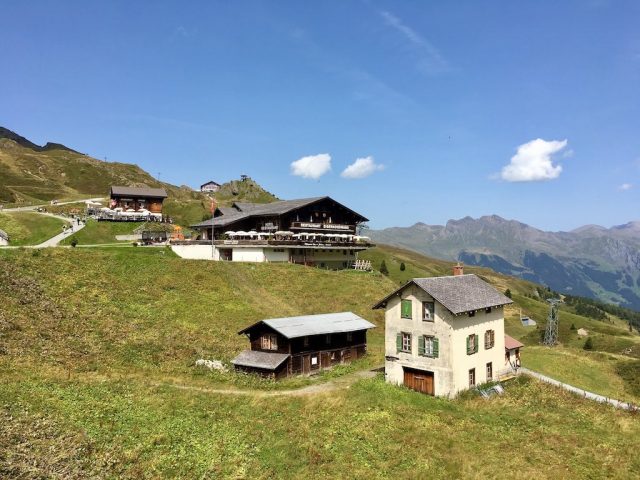 Part of the experience of visiting Jungfraujoch is the train ride itself. The sections of the railway heading up to Kleine Scheidegg are very scenic. And while much of the Jungfrau Railway journey is in a tunnel, there is a stop along the way at the Eismeer station to view a glacier, plus it is amazing to realise the tunnel and railway was constructed over 100 years ago, cutting through these huge mountains.
At the top, I recommend firstly heading to the Sphinx Observatory viewing platform. There's an elevator to take you up, to an even more impressive 3571m above sea level. You'll have some of the most impressive views of the Aletsch Glacier and the surrounding peaks of Jungfrau and Mönch. And if it's chilly, it's easy to head back inside behind the glass walls.
As I mentioned above, one of the best advantage of using a Good Morning Ticket is getting up to this observatory first thing in the morning before it gets crowded. Perfect for mountain selfies!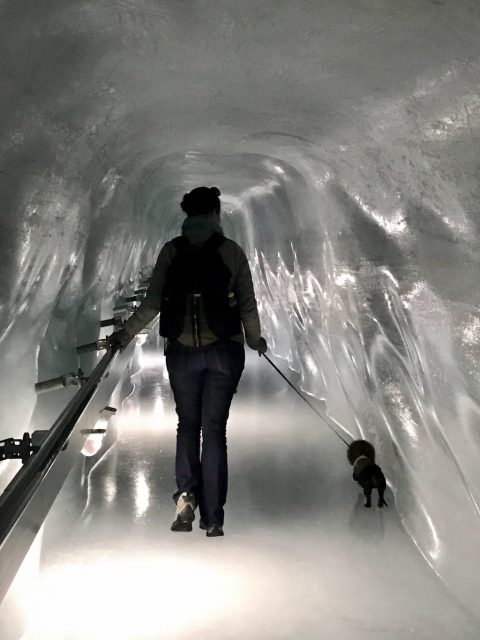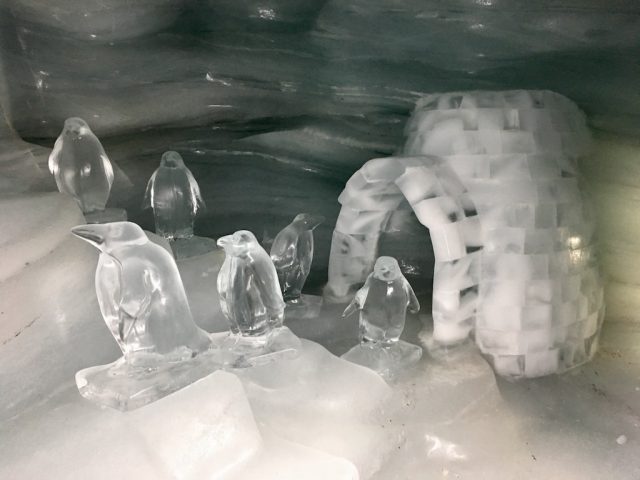 Next up I recommend the Ice Palace (free for all visitors). Walk carefully through the tunnels constructed in ice, with ice sculptures and great photo opportunities along the way. It's least slippery first thing in the morning, though there are handrails to hold onto the whole way and make sure you don't slip.
Dogs are welcome to join you in this part of Jungfraujoch. We weren't sure how our dog would handle the ice, but I think his claws actually made it easier for him.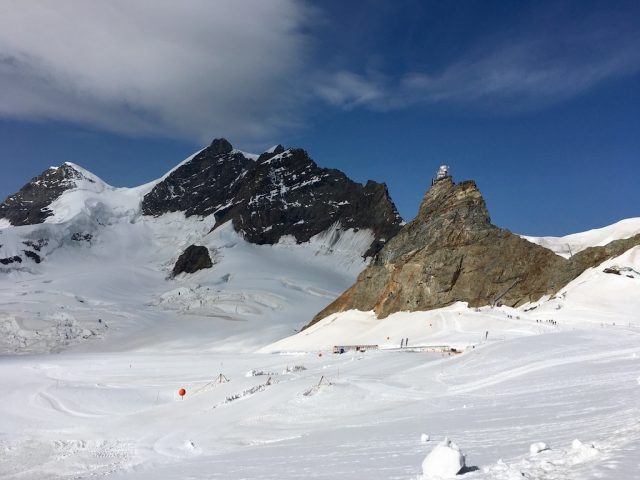 Just after the Ice Palace is a small area where you can head out onto the snow. However, there's a far larger area accessible near the Sphinx Observatory elevator, at the Snow Fun Park. Here you'll have the opportunity to ski, snowboard, ride on a sledge or snow tube, or ride a zipline.
All activities cost extra, with the option of purchasing an all-day pass or paying for individual rides. On the day I visited it was closed in the morning (I'm not sure why), but opened by lunchtime when we were departing.
However, we didn't even consider visiting the fun park (as it wasn't an option with our dog) and instead hiked to Mönchsjochhütte.
Hiking to Mönchsjochhütte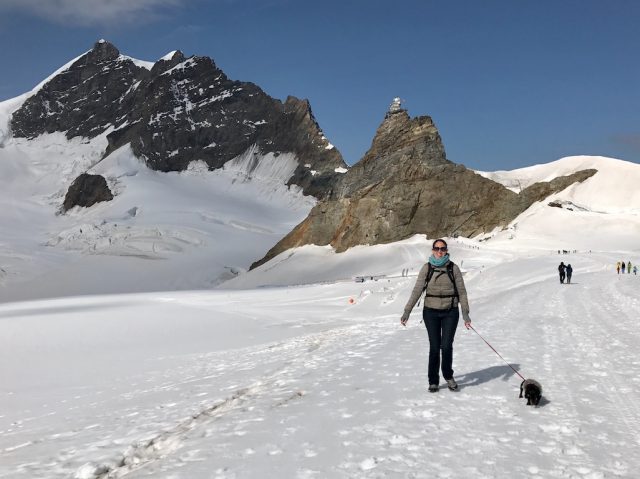 The highlight of our visit to Jungfraujoch, other than the amazing views from everywhere of the surrounding mountains, was hiking to Mönchsjochhütte. It's the highest altitude serviced hut in Switzerland, at 3650m altitude (so, yes, you'll be hiking up hill).
The hike is listed at taking about 45 minutes, but I recommend allowing 1 hour each way if you're not used to walking in the snow. There's a couple of handy markers along the way letting you know how much further it is to the beer at the hut!
If hiking this trail, it's best to head up Jungfraujoch early in the morning, using a Good Morning ticket. When we hiked the trail around 9:30am, it was still fresh and firm. This in particular made it easy for our dog, Schnitzel, who at only 5kg, barely left a dent in the snow. We were worried about how he would manage, but it seemed easier for him than us pair of snow-newbies.
However, by the time we returned, the snow was already softening in the sun, and would have been tough if we were heading up hill.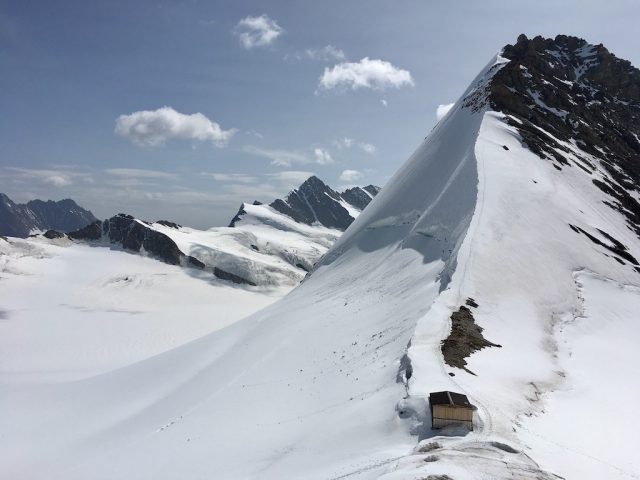 Along the way and once you get to the hut, there's some more beautiful views of the surrounding mountains. It's a lot quieter and more serene than at Jungfraujoch itself.
Fortunately there's no restrictions on dogs entering the dining room. While it's a bit early for lunch if you need to return using a Good Morning ticket, it's a great spot for a scenic coffee or beer, plus to warm up in the cosy interior. Schnitzel was happy to snuggle up inside his carrier bag with his blanket!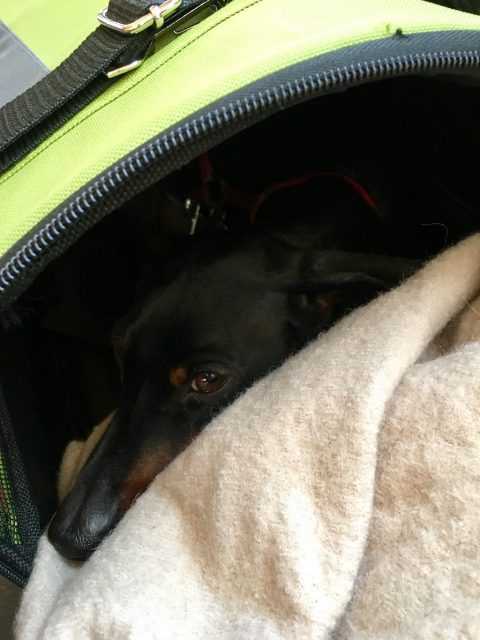 Food and Beverages at Jungfraujoch
Just like everywhere in Switzerland, dining out is not cheap at Jungfraujoch. As we were leaving early and missing the normal breakfast hours at our B&B, our host kindly packed us breakfast, which ended up being large enough for lunch, too. Alternatively, I would recommend packing your own food, courtesy of the Coop supermarkets the day before.
Restaurant options at Jungfraujoch include the Crystal restaurant, a self-service restaurant, a Bollywood-themed Indian restaurant and a simple cafe. However, I do believe dogs are not allowed in most of these venues. In contrast, dogs are fine in the dining room at Mönchsjochhütte.
Should You Take Your Dog Up Jungfraujoch?
There are two main reservations that some people have about taking a dog up Jungfraujoch: the altitude and the cold.
The altitude of Jungfraujoch is 3466m above sea level. In particular, it's a large climb up from Grindelwald, down in the valley, which lies only at 1034m. This means that it's possible to suffer from altitude sickness.
For humans, this means taking it easy and trying to not over-exert yourself, particularly if you notice that you're easily out of breath. This varies between everyone, with many people not affected, but some affected.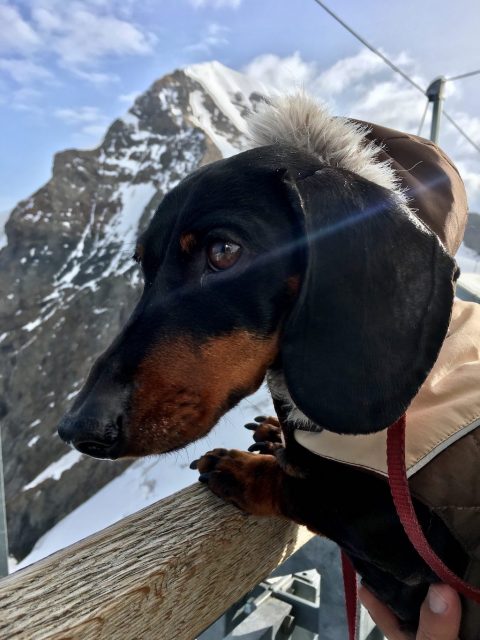 With your dog, they can't tell you if they're affected, in which case you should keep a close eye on them. If they seem reluctant to be active, take it easy with them and consider returning sooner rather than later down the mountain.
When it comes to cold, some dogs from places that experience a cold winter will already be used to cold temperatures and snow on the ground. But if you come from a warm place (for instance, Sydney, like I do), snow and such cold weather could be quite a surprise for your dog.
Most dogs should be fine to cope (for instance, in cold places most dogs still don't wear jackets), but do take a jacket or jumper and bootees for your dog if you are concerned. If they're small, picking them up and cuddling them into you can help them warm up quickly.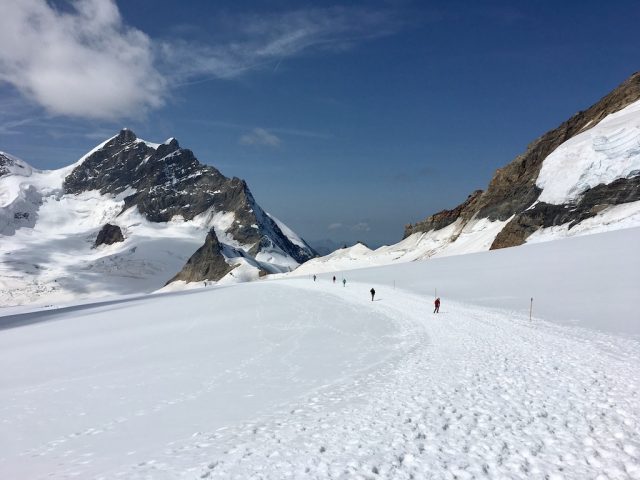 Our dog Schnitzel seemed to not be affected by the altitude. And while when we first headed outside he seemed unhappy with the cold (although that could have also been the wind), when we later went for a hike he seemed fine.
I was mainly concerned with his feet getting cold (he had on a jacket), so I occasionally picked him up and warmed up his feet. We also took along a towel for him in case we needed to dry him off or wrap him up. Plus as we had carried him in his carrier bag, he had his blanket inside of that.
My Verdict?
Visiting Jungfraujoch was a great experience, and we loved being able to share it with our dog, Schnitzel, especially the hike to Mönchsjochhütte. It's a fun adventure in Europe, in particular if you haven't often visited ski fields and experienced snow before.
Just one extra tip: it's best to leave buying tickets to the day before. Wait and see what the weather forecast is like, as it's not worthwhile spending so much money if it's going to be cloudy with low visibility. Luckily the forecast was good for us, and the day was beautifully sunny and clear.
Have you visited Jungfraujoch with your dog? Let me know your experience below!
Inspired? Pin this to your Pinterest board!