Compared to travelling around the rest of Europe, it's a lot harder to travel to the UK with a dog. With pet dogs not allowed on the Eurostar train or to fly in the cabins of planes, there's not many options available to people travelling to the UK with a dog.
Additionally, many ferries only allow passengers with a vehicle to take pets with them, making it even harder for foot passengers. However, there are a couple of ferries that allow foot passengers to travel to the UK with a dog, including the DFDS Seaways ferry between Dieppe and Newhaven.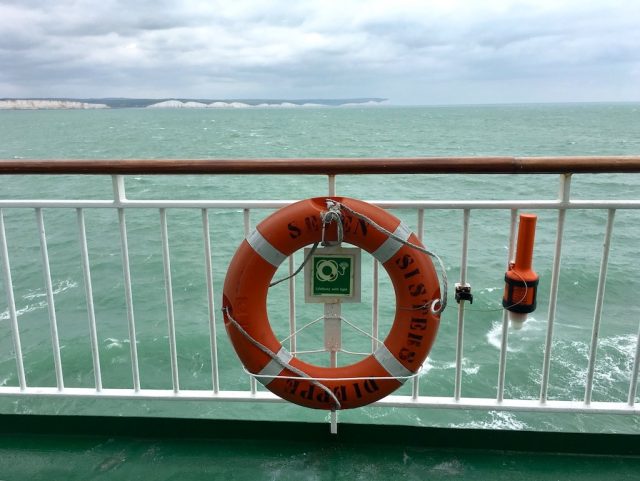 Note: This post contains affiliate links, which means I may receive commission if you make a purchase using the links.
Why We Choose the DFDS Ferry
When we headed from Paris to the UK with our dog Schnitzel in May 2017, it made sense to take the DFDS Seaways ferry leaving Dieppe. At the time it was the only ferry option between France and England that allowed foot passengers to take dogs, which remains the case.
Dieppe is only a few hours on the train from Paris, while Newhaven is also connected by a fairly short train ride to London, with dogs allowed on each of the trains. Additionally, the crossing is fairly quick (although not as quick as some channel ferries), at just 4 hours.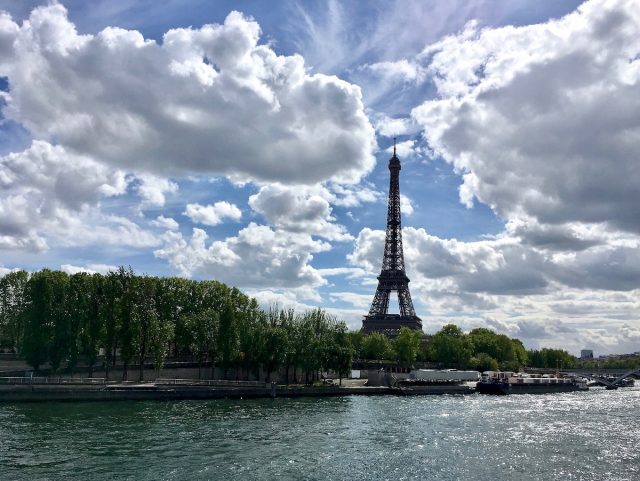 Booking the DFDS Seaways Ferry
At the time of our booking, it was still possible to book online to take a pet on the ferry, even if you were travelling as a foot passenger. However, this is no longer the case, with only motorists permitted to book pets online. Instead, foot passengers with a pet need to call up to make a booking.
The fee to take a pet onboard is still listed as £18 in each direction but I have been informed it has increased to £22. The prices for foot passengers have certainly increased. While our crossing in May 2017 was £41 for two adults, these days it is generally £62 for two adults. The fares can vary depending on the day and time.
During summer time there are usually three ferry crossings in each direction, reduced to two crossings daily in the winter. Back in 2017, we choose the convenient 12:30pm departure in the middle of the day, which then arrived at Newhaven at 3:30pm, once you allowed for the 1-hour time difference.
Unfortunately, the timings of the crossing are no longer as convenient for those taking a train at either end. The daytime crossing is now at 11am, with check-in closing at 10:15am. There is also an evening and overnight crossing.
Arriving at the Ferry Port in Dieppe
After catching a train at Paris St-Lazare just before 8am and changing once, we arrived at Dieppe train station at 10am. From there it was a short taxi ride to the ferry terminal, which we shared with a friendly gentleman who was familiar with the route.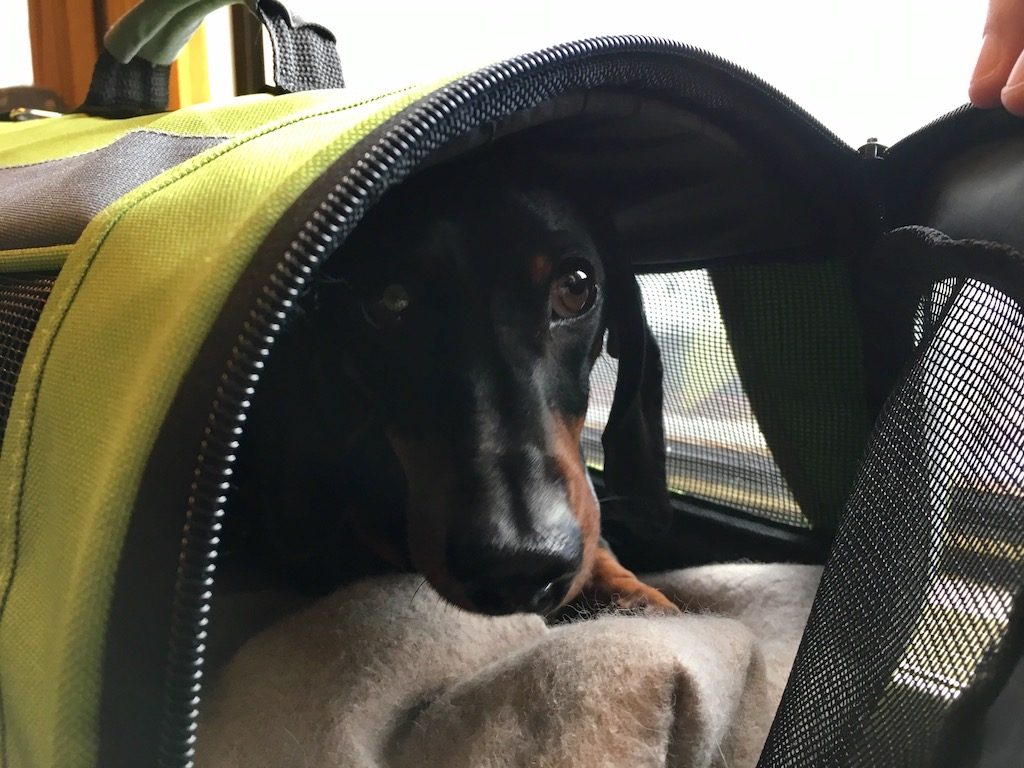 The check-in time normally closes 45 minutes before departure. We made sure to arrive well before the cut-off time, as we were relying on trains and also travelling with a dog.
Additionally, we had to allow time for the formalities for checking in our dog. Schnitzel's pet passport, which he had just gotten at an English-speaking vet in Paris, was carefully checked. They checked both his rabies vaccine, plus the worming treatment that is specially required by the UK.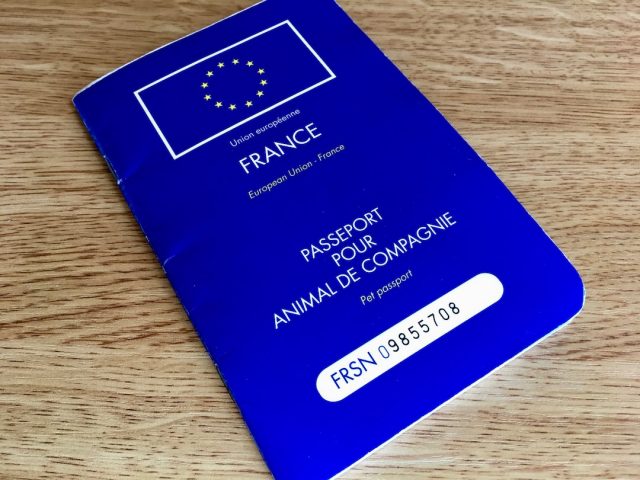 Boarding the DFDS Ferry
During embarkation, all the foot passengers took a bus to the ship's ramp and entered through the car deck. It's a requirement to have a travelling case for your dog for this stage – confirm when booking.
It was then time to leave our dog behind in one of the two or three kennels provided on the car deck. On our crossing, Schnitzel was the only dog – it didn't seem like it was common for foot passengers to have dogs.
It was sad to leave Schnitzel behind by himself in the kennel area, but at least it was just a 4 hour journey ahead of us. For us, it went quite fast, between having lunch at the onboard restaurant and using our laptops in the lounge area.
The facilities are quite comfortable, with either regular seats, tables or reclining seats, and food and beverage prices are reasonable. It's also possible to book a cabin, but we felt it wasn't necessary for a 4 hour journey.
At the time of our crossing, it was not possible to visit the vehicle deck during the journey. However, the DFDS website these days states that those travelling with a vehicle can visit their pet in their vehicle during the crossing if accompanied by a crew member, except during the first or final hour of the crossing. Presumably the same applies to pets in the kennels, although they can't leave the car deck.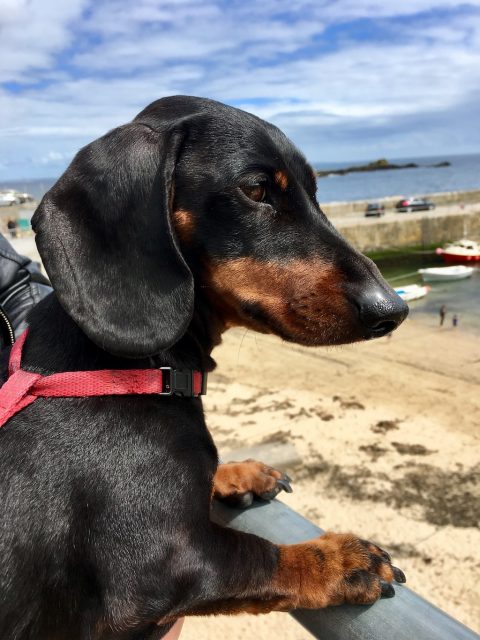 Disembarkation at Newhaven
When we headed downstairs once we reached Newhaven in England, it was a bit confusing. The foot passengers were disembarking from a different deck, and no-one directed us to the kennel area. Upon reaching Schnitzel, we put him back into his carry-bag and then we were taken by ourselves in a mini-bus to the arrival area.
Once we had passed through immigration, it was then a short walk to Newhaven Town station. The train with 1 change to London's Victoria Station isn't too long, at 1 1/2 hours. Although once you took into account the metro trips in both Paris and London at either end, it was about 13 hours of travel time for both of us and our dog!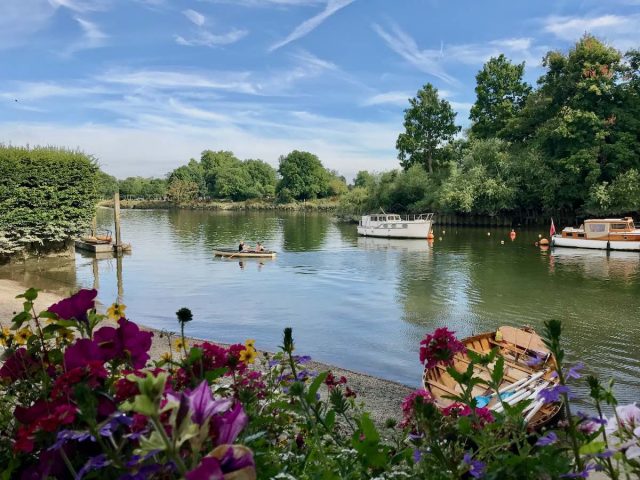 Overall Cost of Our Journey
It's worth noting that the costs for trains at either end aren't included in your ferry fare and can add up. Our trains cost a total of £57 in France and £17 in the UK, both for two adults, and would have cost more if purchased on the day.
As I noted above, our ferry fare in 2017 was £59, including the £18 charge for Schnitzel. The grand total for our journey between Paris and London for two adults and one dog was £133, plus a small amount extra for metros at either end.
Find out more about travelling with a dog on DFDS Seaways
You May Also Like
Inspired? Pin this to your Pinterest board!