One of the best things about travelling in Europe with a dog is that it's usually so easy! Generally you don't require any paperwork for travelling from country to country and most transport options allow dogs. However, this isn't the case if you're departing the UK to travel to Europe with a dog, or on the other hand you're trying to travel to the UK with a dog.
For starters, dogs aren't allowed on the otherwise-so-convenient Eurostar, almost the only train service in Europe that doesn't allow any size pet dogs. Additionally, pet dogs are also not allowed to fly into the UK in plane cabins, only as cargo, and there are limited flight options when leaving the UK. So, how do you take your dog from the UK to continental Europe, or vice versa?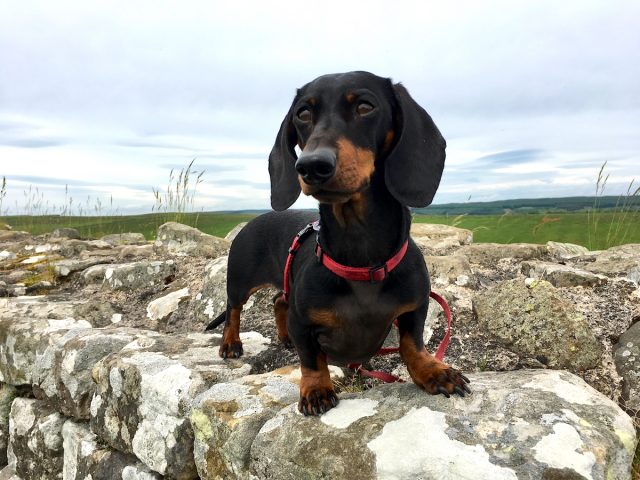 Note: This post contains affiliate links, which means I may receive commission if you make a purchase using the links.
Looking for information on travelling to or from a specific country? Check out my guides on:
Can You Take a Dog on the Eurostar?
It would be wonderful if you could quickly and easily head from England to France, Belgium or the Netherlands with your pet dog on the Eurostar! Unfortunately though, no pet dogs are allowed on the Eurostar. The only dogs that are allowed on the Eurostar are assistance dogs, and even then they need to be booked in advance.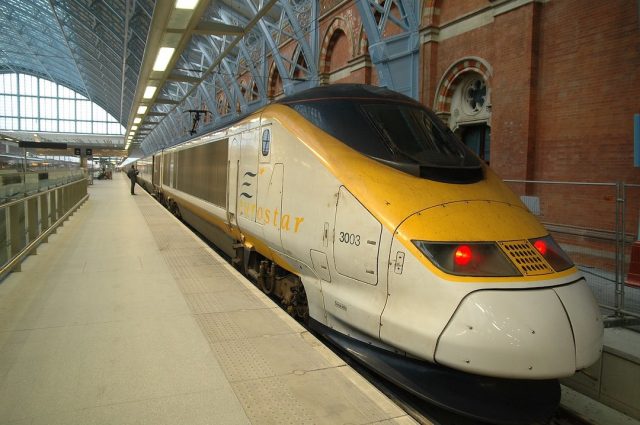 It would be terrific if this changed to allow pets on the Eurostar, but there are currently no plans for this to change. It's especially perplexing given that dogs are allowed on trains in both the UK (for free!) and in France.
Taking a Dog on the Ferry as a Foot Passenger
Generally, most of the ferries that travel between the UK and continental Europe only allow passengers with a vehicle to bring along dogs. This is because most of the time pets must stay in the vehicle, or they do not have facilities for the boarding of foot passengers with pets.
There are only a handful of exceptions, with the following four ferries allowing foot passengers to take a dog. Best of all, most of these ferries now have pet-friendly cabins available.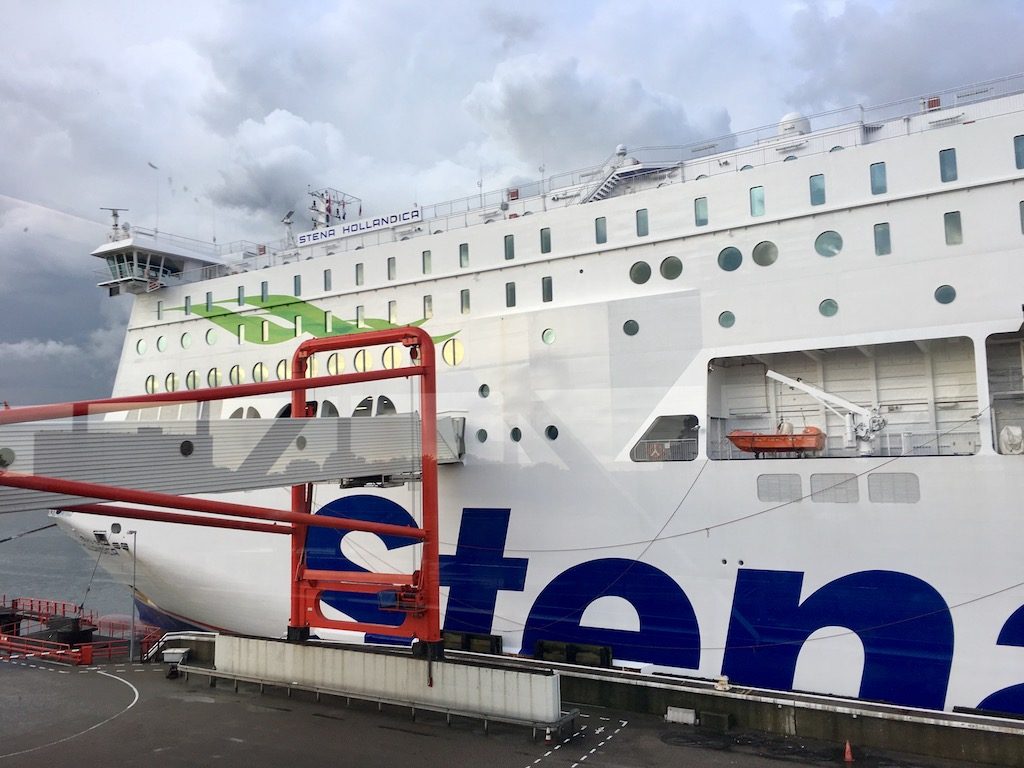 Ferry from Newhaven to Dieppe (DFDS Seaways)
This is the only ferry between England and France that allows foot passengers to bring their dog. A charge applies, which was recently £22. The journey is about 4 hours (longer than the shorter Dover to Dunkirk or Calais routes) and dogs are kept in kennels on the car deck for the entire journey. Pets must be carried on board in a pet carrier.
Read my review of taking this ferry (plus multiple trains) to travel with my dog between Paris and London without a car or read more
about the rules for pets travelling on DFDS Seaways Ferries. (Note: I previously booked online as a foot passenger with a pet, but you now need to call up to book to travel with a pet, if you do not have a vehicle.)
Click here to book this ferry (if you are travelling with a vehicle)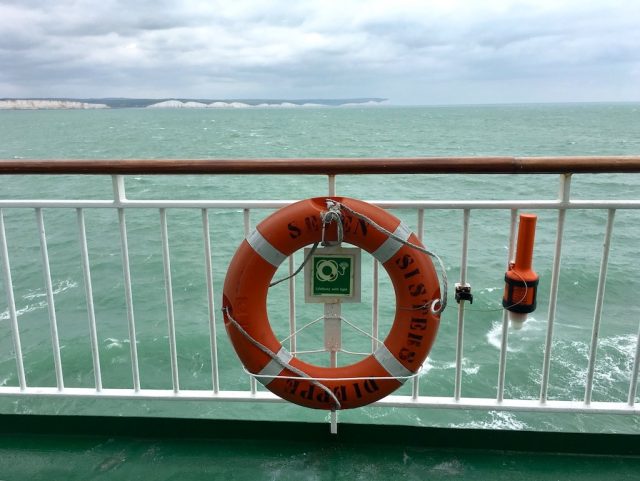 Ferry from Harwich to Hook of Holland (Stena Line w/ Pet-Friendly Cabins)
This longer crossing takes up to 9 1/2 hours (with shorter crossings during the day), but is quite popular with dog owners as it is more pet-friendly.
Recently, pet-friendly cabins were introduced on the ferries. Choose between two-berth inside or outside cabins, or larger five-berth cabins with a window. Up to three small pets under 15kg are permitted in each cabin, or two medium-sized dogs under 30kg, or one large dog over 30kg.
Additionally, there is also the option of booking a kennel, with two kennel rooms that remain accessible during the voyage, plus a TV channel showing CCTV footage from the kennels. Outside on the deck is a pet exercise area, although be warned it is just bare deck.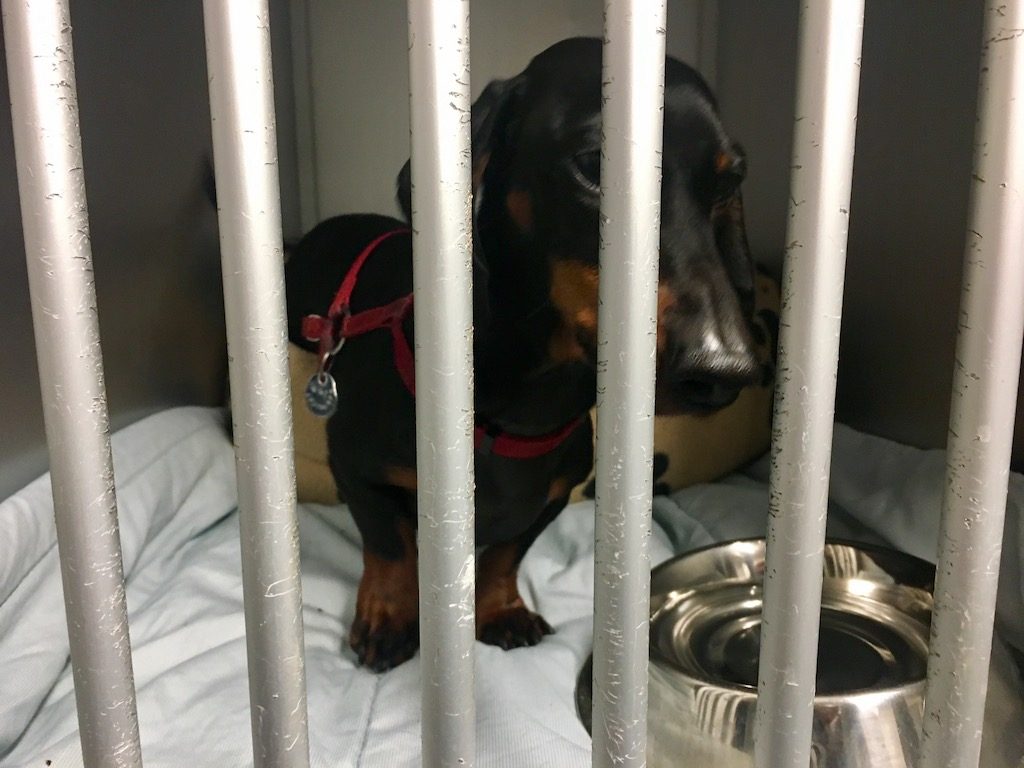 There is no additional fee for pets staying in a pet-friendly cabin, although the cabins themselves are more expensive. The charge for pets to stay in a kennel is £21. (Car passengers also have the option of leaving dogs in their car, with a fee of £18 applying.)
Read my review of travelling between London and Amsterdam with my dog on this ferry, on the overnight sailing. It is possible to book online; simply select a pet-friendly cabin if desired at the cabin step, then add your pet to your booking at the next step.
Recently, a limit of three pets per foot passenger has been imposed (or five pets per vehicle).
Click here to book this ferry
Ferry from Newcastle to Amsterdam (DFDS Seaways w/ Pet-Friendly Cabins)
This ferry service also offers dog-friendly cabins as well as kennels, with both available to foot passengers as well as car passengers. The pet-friendly cabins are four-berth sea-view cabins that can accomodate up to two medium-sized dogs.
This crossing is a more convenient option for dog owners travelling to or from northern England or Scotland. Note though that the journey time is much longer – nearly 16 hours.
There is a charge of £30 per pet in either a cabin or kennel. Foot passengers travelling with a pet need to book by calling the contact centre.
Read this review by someone else taking the ferry or find out more about the DFDS pet-friendly cabins and travelling with a pet on DFDS ferries in general.
Ferry from Hull to Rotterdam (P&O w/ Pet-Friendly Cabins)
This ferry service also connects northern England with the Netherlands, but this time the ports of Hull and Rotterdam. The journey time is about 11 hours, with the service generally operating overnight.
Recently, three pet-friendly cabins have been added on each ferry. Each cabin is a two-berth ensuite cabin with a window, although with a restricted view. Each cabin can accommodate two small or one medium/large dog. Naturally, they should be booked well in advance, plus they cost more than standard cabins.
The pet-friendly cabins are located on deck 7 close to the kennels and exercise area. It's also possible to book one of the air-conditioned kennels, with three sizes available. While the kennels cannot be visited during the crossing, they are regularly checked by staff members overnight.
There is a set fee of £22 per pet, charged regardless of whether your pet travels in a kennel or cabin. It's easy to add a pet to an online booking, for those travelling with or without a car, plus select a pet-friendly cabin if available.
Another way that P&O has made their crossings more pet-friendly is by setting up a pet exercise area at both the Hull and Rotterdam Ferry Terminals, for some last minute exercise before boarding the ferry.
Find out more about taking your pets on P&O.
Taking a Ferry with a Car and a Dog
It's a lot easier to travel in between England and continental Europe with a pet if you also have a car! The majority of ferries travelling between England and continental Europe allow passengers travelling with a car to also transport pets. Click here for the full list of approved ferries.
On most ferries, your dog (or other pets) will stay in your car for the voyage, although some ferries do offer kennel options or even pet-friendly cabins (including Brittany Ferries to Caen, Cherbourg, Roscoff, Bilbao and Santander, DFDS Seaways
between Newcastle and Amsterdam, Stena Line between Harwich and Hook of Holland, and P&O between Hull to Rotterdam).
Check out my full guide to pet-friendly cabins on ferries to Europe
Another recently development in 2023 has been the introduction of pet lounges on the P&O ferries between Dover and Calais. Instead of leaving your dog in your car, you can travel together in the lounge, with access to an outside exercise deck. A fee applies for access, with only dogs allowed. Additionally, only those with a vehicle can travel with pets, not foot passengers.
If your dog is staying in your car, it's best to choose one of the quicker ferry options, such as between Dover and Calais, particularly if travelling in the warmer months.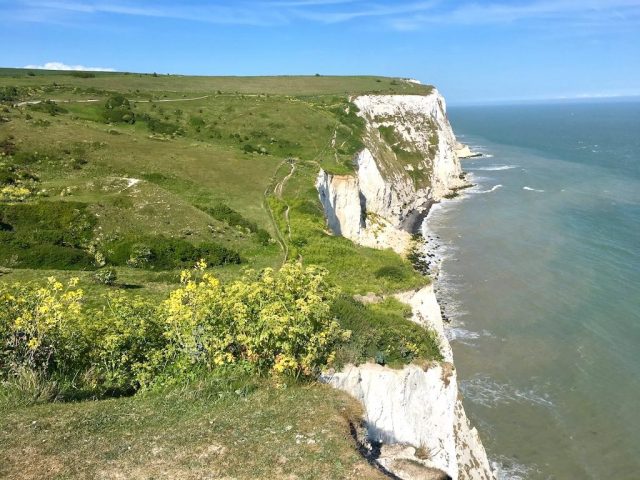 Most ferries charge a fee per pet, usually around £22 except on the longer voyages to and from Spain, although the exact fee varies between the different companies. Check out the websites of the individual ferry companies for more information.
I've also put together detailed guides on taking the ferry to France with a dog and taking the ferry to Spain with a dog, with a list of all options and their pet facilities.
Taking the Eurotunnel with a Dog
The second option available if you have a car, and probably the more convenient one, is to take the Eurotunnel car shuttle train. Your dog stays in your car along with you, and the actual crossing only takes 35 minutes. There is an additional charge of £22 per pet, in each direction.
At both Calais (France) and Folkestone (UK) you will need to report to the Pet Reception Centre, prior to checking in. Make sure you allow additional time for this step. Here your dog's paperwork will be checked.
See further details on the Eurotunnel website about transporting dogs via the Eurotunnel.
Note that the Eurotunnel doesn't take foot passengers, with or without a dog.
Flying to the UK with a Dog
If you're wanting to fly to the UK with a dog, the only option available is for your pet to fly as cargo. No dogs are allowed to travel to the UK in the plane cabin, except for assistance dogs, or as checked luggage.
Click here for the list of approved airlines, including the approved destination airports, or alternatively check the pet policy of the airline you intend to use, as many airlines that fly pets elsewhere in Europe don't offer the option of flying pets as cargo to the UK.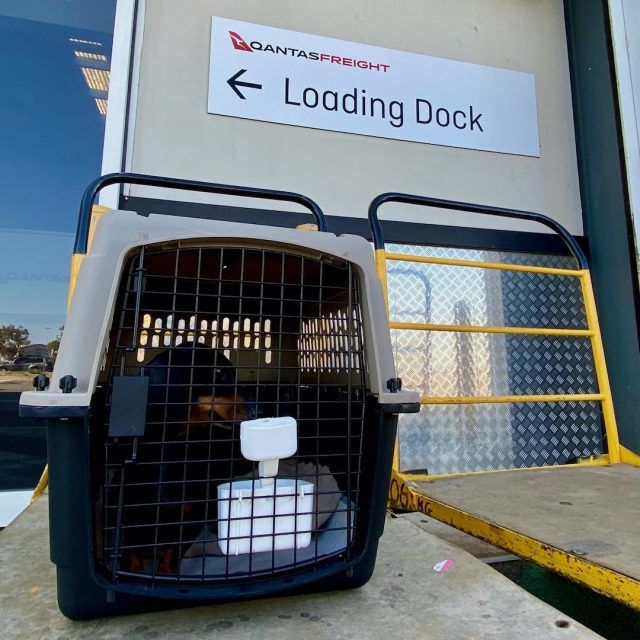 Depending on the airline, you may be required to use an animal transport company, meaning it can be quite expensive. Additionally, there is a large fee payable when you collect your pet from the quarantine office. On top of that, the process is reportedly quite time consuming and you need to make an advance booking – Heathrow in particular is often booked out in advance.
Is it any wonder that most people avoid flying to the UK with their pet?
Flying out of the UK with a Dog
While pets flying into the UK must travel as cargo, the rules are more relaxed for flying with pets out of the UK. Dogs are allowed to travel in the cabin or as checked luggage. However, there are only a limited number of airlines that offer this.
Check out my guide to the latest airlines that fly dogs out of the UK, whether in the cabin or as excess baggage. Two of the European airlines that clearly specify they allow this are Air Malta and TAP Air Portugal. Additionally, I've heard reports from fellow travellers of Air France, KLM and Lufthansa allowing this.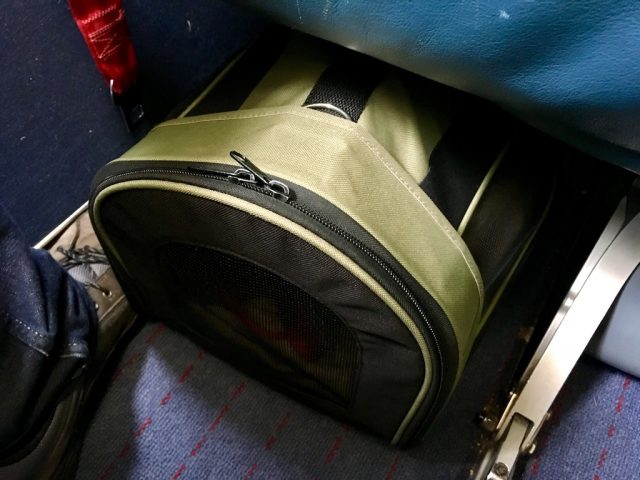 I recommend phoning up the airline you are considering using to find out if this is an option, plus noting down the details of who you spoke to and when if you do get the okay. Note that none of the UK airlines allow pets to fly in the cabin at all.
Taxi Services Across the English Channel
The other alternative if you're travelling between the UK and continental Europe without a car, and are struggling with the limited transport options available, is to utilise a taxi service. There are multiple providers that will basically take you on a taxi ride, along with your dog in the vehicle, but a slightly different taxi ride as you'll be taking the Eurotunnel with the taxi.
Generally you just take the taxi between Folkestone Central station and either Calais Ville or Calais Fréthun station, utilising trains on either end. Expect to be charged at least £100-200 in addition to the Eurotunnel cost.
There may also be the option to travel a further distance on each end, such as all the way from London, for a higher cost. A typical fee from Paris to central London is £700, including the Eurotunnel cost.
For further details on taking a dog taxi from the UK to France, contact:
Prefer to not pay the expense of a private taxi? Another more recent option is Le Pet Express, which has regular scheduled mini-bus crossings, between Ashford and Calais Frethun rail stations. The shared mini buses can transport up to five pets and six people, with you travelling beside your pet. At the moment there are crossings on Saturdays and Sundays.
Additionally, there are some companies that are specifically set up to transport dogs longer distances between European countries and the UK, not just across the channel. These companies can collect your pet from an airport or city in Europe, then transport your pet to your door in the UK.
One such company is Happy Saluki Pet Transport, which is DEFRA certified. Another alternative is Pet Courier, a Spanish company that specifically transports pets between the UK and Spain, and vice versa.
What Paperwork is Required for my Dog?
To travel with a pet from the UK to the EU, your dog or cat needs to be microchipped, vaccinated for rabies at least 21 days before your day of travel and either have an EU animal health certificate or a pet passport issued in the EU or Northern Ireland.
Additionally, if you are travelling to the Finland, Ireland or Malta (plus Norway), your dog now needs to receive a worming treatment from your vet. For full details, see the UK government website.
Note that following Brexit, Great Britain issued pet passports are no longer valid, and you will need to visit a vet before each trip for an animal health certificate. However, if you have an EU or Northern Ireland-issued pet passport (Northern Ireland is technically part of the EU for pet travel purposes), these are still valid.
Prior to Brexit, when heading from the UK across to continental Europe, generally no paperwork for pets was checked. However, this is no longer the case, so allow additional time.
For more tips on everything to organise and other parasite treatments to consider when travelling to Europe with your dog, check out the pet travel guide put together by The Daycare Vet.
When returning to the UK, similar requirements apply. The animal health certificate used to leave Great Britain can be used to return to Great Britain, with a validity period of four months. Alternatively, a pet passport, including a pet passport issued in Great Britain prior to 2021, can be presented. Otherwise visit the vet to get a Great Britain pet health certificate.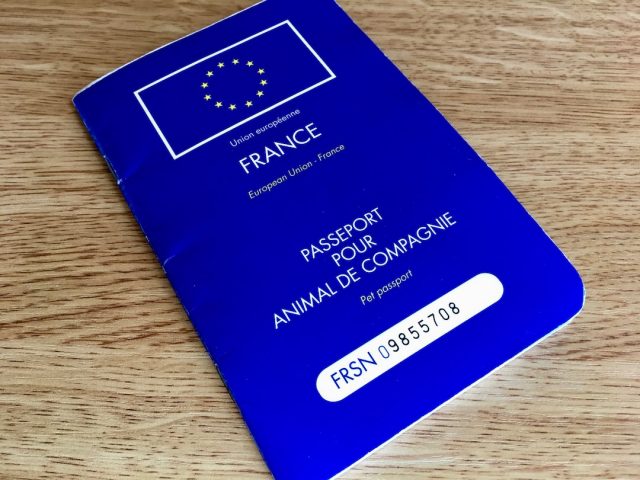 Note that all dogs (except for those entering directly from Finland, Ireland, Malta, Northern Ireland or Norway) will need to be administered a worming treatment by a vet between 24 hours and 5 days of entry into the UK, with this recorded in your dog's health certificate or pet passport.
Be prepared for your pet's paperwork to be carefully checked when returning to the UK. The UK is is very strict about dogs entering the country, so make sure everything is in order. The timing of the worming treatment is checked down to the hour, plus the rabies vaccine is carefully checked.
For more details on the paperwork required, see the UK government website.
Inspired? Pin this to your Pinterest board!