This is a guest post from Cathi Bert-Roussel.
Traveling through Europe with your pet is one of the most rewarding experiences a globe-trotter can have. While most European countries are incredibly pet-friendly, getting into Europe with a pet is not always so easy. Travelling around Europe and subsequent visits become a lot easier once you get an EU Pet Passport for your pet.
Note: Anecdotally, there have been reports that it is now more difficult to get EU pet passports in France, following Brexit and an influx of British citizens trying to obtain EU pet passports. Some vets will now only issue pet passports to French residents. However, there haven't been reports of this in other EU countries.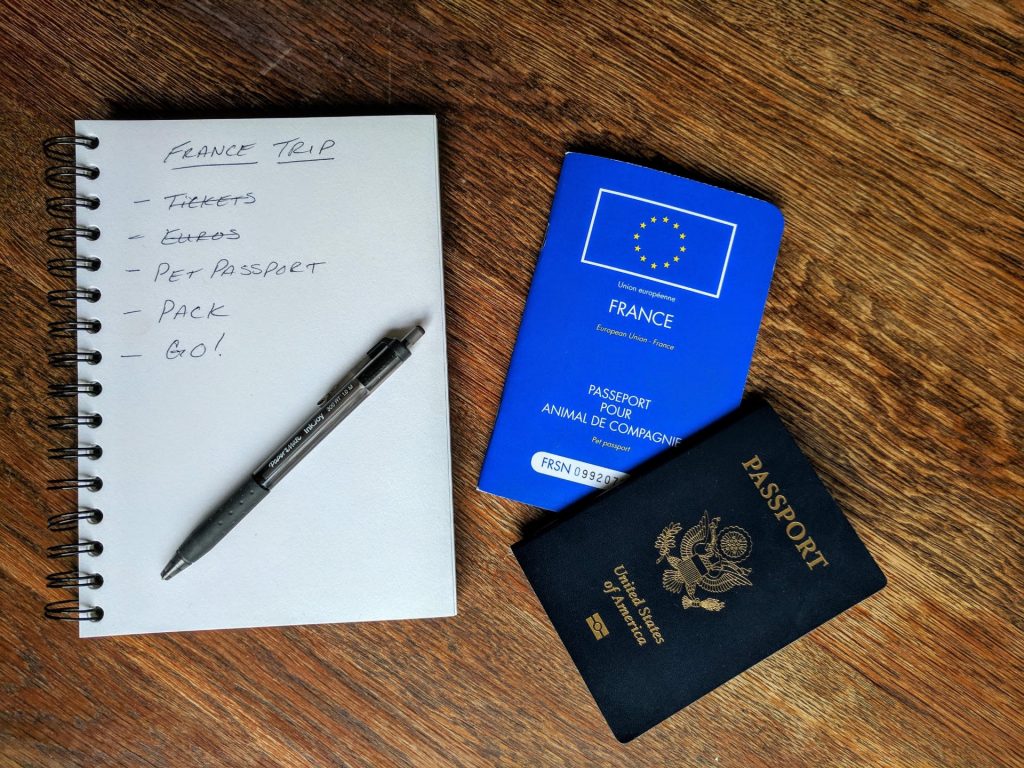 Travelling to Europe Without an EU Pet Passport
First-time pets traveling to the Continent must carry a seven-page EU pet import license (also known as EU Annex IV). This complex and confusing document must be filled out by your vet and endorsed by your country's animal regulatory agency no more than 10 days prior to departure.
Following all of the steps toward completion takes about seven to nine days. Timing is critical to having the document in hand prior to departure. The form can be found on most EU embassy websites.
Benefits of Getting an European Pet Passport
Once you arrive in Europe, an EU Pet Passport is relatively easy to acquire and can be used on return trips to the continent, eliminating the need for the horrible EU Annex IV. The European Union Pet Passport scheme allows holders to travel with their pets to and from the EU and between European Union countries.
The program was created to establish a standardized protocol for EU residents to transport their companion animals in and out of the region. The little blue passports are issued only by official EU veterinarians for dogs, cats and ferrets when transported for non-commercial purposes.
There are several benefits to having an EU Pet Passport including hassle-free border crossing with your pet, eliminating the need to fill out confusing paperwork and a convenient place to store your pet's inoculation record.
Traveling through Europe with a Pet Passport in hand means no additional required travel documents are needed for your pet.
What's Inside an EU Pet Passport?
The actual passport contains your pet's health status, your name and address, pet identifying information such as breed, physical traits and microchip number and an optional pet photograph. As long as your pet's rabies vaccination is kept current and recorded in the passport by a licensed veterinarian, this document never expires.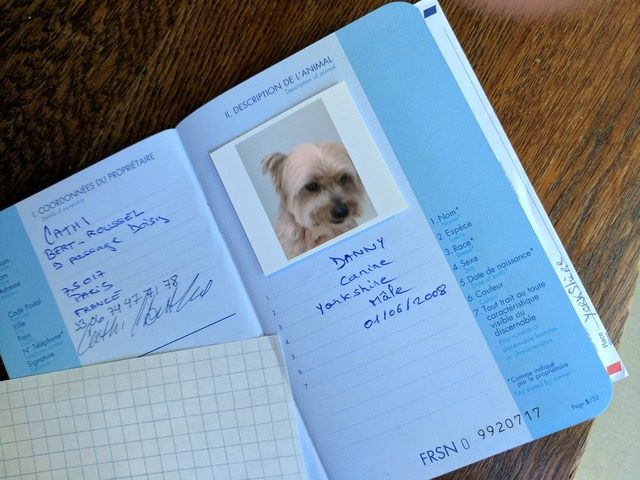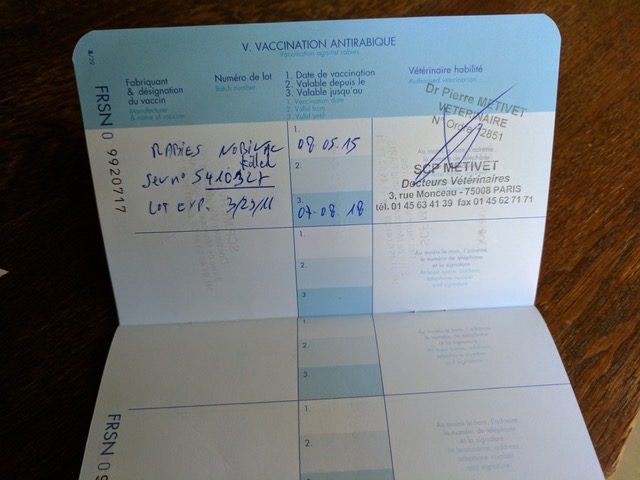 How to Get a Pet Passport
I obtained an EU Pet Passport for my dog during a six-month stay in Paris. At first, I was worried that not having EU citizenship or permanent resident status would disqualify me from applying. I found out this was not true.
It was an easy exercise and completed in a 30-minute visit to a veterinarian clinic. The cost was 70 Euros, and when compared to what I spent for Danny's Annex IV ($150 USD all in), very reasonable.
The steps to obtaining a pet passport are simple. The first is to make an appointment with an official EU veterinarian (nearly all practicing vets in Europe are "official").
A quick Google search for English-speaking vets led me to Dr. Pierre Metivet in Paris. When making the appointment, tell the office staff the purpose is to obtain an EU Pet Passport.
You will need to bring the following items when meeting with the veterinarian:
Annex IV form completed by your home vet and endorsed by your country's official veterinary regulatory body (USDA in the United States),
Your pet's current rabies certificate or rabies titre test results no less than 21 days old
Microchip information, date of implantation, chip number and issuing company information (this info is also on the Annex IV)
At the Vet Appointment
At the appointment, the attending veterinarian or staff will take your pet's vital signs, scan for a microchip and address any health concerns or questions you have. The veterinarian will perform a basic health exam on your pet, review your paperwork and fill out the passport book.
If you plan to travel to the UK, Ireland, Malta, Finland or Norway during your Europe stay, be sure to ask the veterinarian about additional entry requirements for these countries. Each requires a tapeworm treatment to be given within 1 to 5 days before arrival. Your EU vet can advise you on the appropriate timing of the medication dose.
And a Pet Passport Photograph!
The second step is to purchase one passport style photograph of your pet and affix it to the space provided in the book. The size should be 2 x 2 inches (50mm x 50mm). Including your pet's photo is optional but I was told by Dr. Metivet it is better to have one as you do not want to give any customs official a reason to deny your pet entry into a country.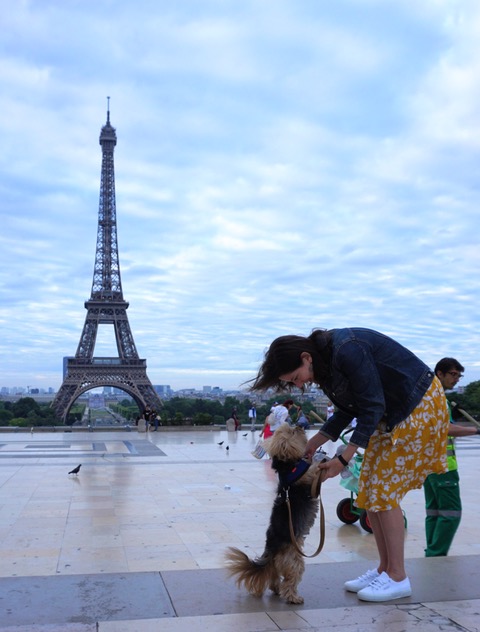 You may find you never need to show your pet's EU passport except upon entry to Europe. But having one means your pet has met all requirements for legal presence and is free to travel throughout Europe (with limited exceptions). An EU Pet Passport means the only thing you and your furry travel companion have to worry about is having a good time.
Bone Voyage!
About the Author
Cathi Bert-Roussel is a North Carolina based writer and editor of Triangle Paws Magazine. She is an avid world traveler with her dog, Danny, who has more stamps in his passport than she has. When not traveling, she and Danny sniff out dog-friendly establishments in her home-town of Raleigh.
---
Since originally publishing this post, I'd thought I'd go into a little more detail about some aspects of how to get a pet passport that come up repeatedly. So here's some more detailed information on two key aspects: how long it takes and the cost to get an EU pet passport.
How Long Does it Take to Get an EU Pet Passport?
Generally, an EU pet passport can be issued on the spot. However, it is best when you make an appointment that you advise the veterinarian staff that you want to get a pet passport, in case they don't currently have any blank passports.
The duration of the appointment will depend on the veterinarian needs to do to fill in the passport. If your dog already has a microchip and has been vaccinated against rabies, then the appointment will be quick, generally 10-30 minutes.
It may be longer if your dog needs to be microchipped and hasn't yet been vaccinated (or this may be done over multiple appointments).
How Much Does an EU Pet Passport Cost?
Cathi mentioned above that it cost her €70 to be issued a pet passport in Paris, including a basic health exam and using the Annex IV paperwork. However, the cost to get an EU pet passport can be more expensive or cheaper than this, especially between different countries.
Based on response in a Facebook group that I'm a member of, the cost of an EU pet passport can be as low as €10-€15. There were reports of EU pet passports costing this little from the Netherlands, France, Italy and Spain.
However, this is probably more likely if you visit your regular vet or if get a pet passport in addition to other vet services, charged separately.
Pet passports can sometimes be more expensive, especially if you combine it with a worming treatment or rabies booster. Here are more examples of charges:
When I visited a vet in Paris in May 2017 – €55 (including worming treatment for the UK)
Someone who visited a vet in the UK in November 2018 – £57 (€67)
Someone who visited a vet in Spain in April 2019 – €30 (plus €45 for yearly vaccinations and rabies booster)
Someone who visited a vet in Calais out-of-hours – €90
In Germany, according to The Points Guy – €75 (including re-vaccination for rabies)
In the UK, according to MoneySuperMarket – £60 (€70) (Or £112 including microchip and rabies vaccination)
You May Also Like
Inspired? Pin this to your Pinterest board