Germany is one of the most dog-friendly countries in Europe, with dogs welcome in many places, from public transport and restaurants to parks and even some historic sites. And what's a visit to Germany without visiting the capital, Berlin? Based on my own experience, these are my top recommendations for what to do when visiting Berlin with a dog…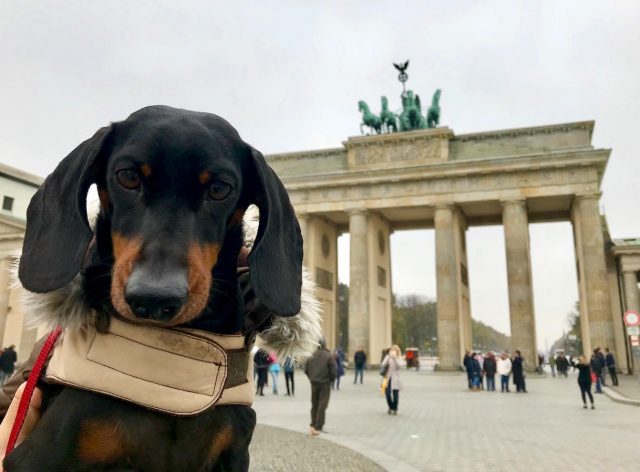 Dog-Friendly Sightseeing in Berlin
There's plenty of dog-friendly things to do when visiting Berlin with your dog. Take a pick from these amongst these ideas…
#1 Wander Along the Spree River
While not as iconic as say the Seine or the Thames, Berlin is also bisected from a major river, the Spree River. It's a great route to follow through the centre of the city, as it passes many significant buildings and sites along the way.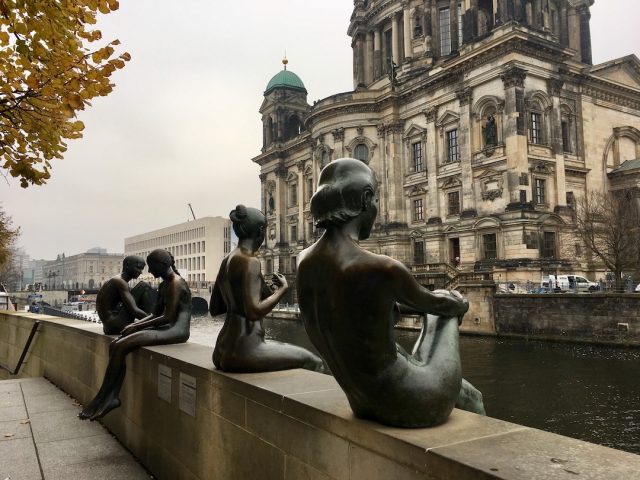 One of the top attractions next to the Spree is the Museuminsel, or "museum island" in English. Located at the northern end of Spree Island, it has been World Heritage listed thanks to its importance in the cultural development and architecture of museums.
While you won't be able to step inside the Pergamon Museum, Bode Museum, Altes Museum, Neues Museum or Alte Nationalgalerie with your dog, it's still worthwhile viewing their exteriors and the surrounding sculptures. (And perhaps return when you have a dog sitter.)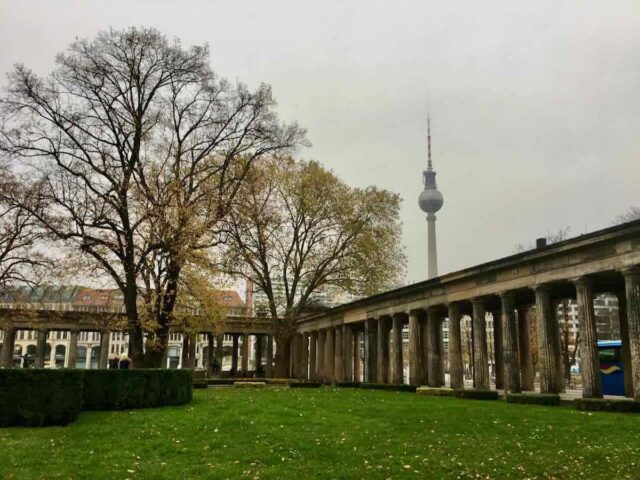 Nearby is the Berliner Dom, also on Spree Island, while close by on the northern bank is Alexanderplatz. Once part of East Germany, it's home to the Berliner Fernsehturm or TV Tower. Head downstream to the west where the Reichstag Building, the home of Germany's parliament, is not far from the banks of the Spree.
Dogs are welcome to join you on the river cruises operated by Reederei Riedel – dogs just need to be kept leashed. On the multiple cruises operated by STERN+KREIS, usually only small dogs up to 5kg are permitted, with discretion over larger dogs and a child's ticket required. Dogs need to be kept on a short leash and you should carry a muzzle.
#2 Check out the East Side Gallery
Berlin is famous for its street art, with many neighbourhoods of the city home to excellent open air murals, not to mention galleries devoted to street art and contemporary art in general. One of the best spots to visit is the East Side Gallery.
This gallery has been painted along the longest preserved stretch of the Berlin Wall, which once divided the city and has now been largely dismantled. However, this 1.3km-long section remains and has been decorated with a countless street art murals, some with historical themes.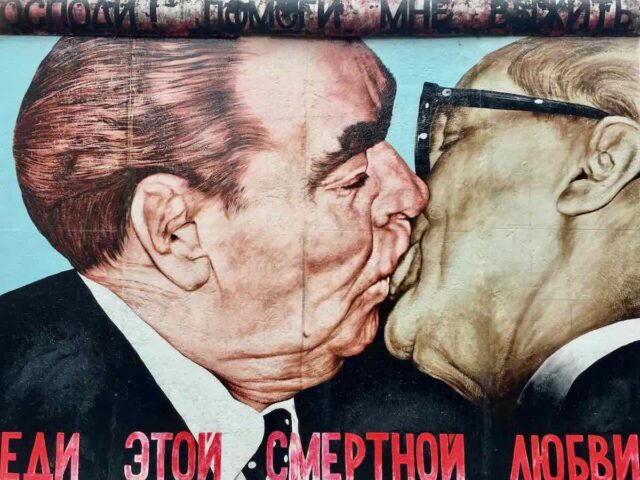 Go for a wander alongside the East Side Gallery with your dog at your side. Unlike traditional galleries, this is one form of art your can view with your dog, although don't expect them to be interested in the murals. Another great spot I visited on my last visit to Berlin was the courtyard in the Anne Frank Zentrum.
#3 Take a Selfie at the Brandenburg Gate
The Brandenburg Gate is an iconic symbol of Berlin. Completed in 1791, rules including Napoleon and Hitler have marched through the gate. During the Cold War years it was a symbol of division, bugt since 1989 it has become a symbol of a united Germany.
Make sure you head to Pariser Platz next to the gate and get a selfie together with your dog. It's also a great spot to visit at night, when its columns and the Goddess of Victory sculpture atop it are lit up with golden lights.
#4 Stroll Through the Tiergarten
Immediately west of the Brandenburg Gate lies the Tiergarten, or "animal garden". One of the largest city parks anywhere in the world, the rambling gardens received their name from when it was a hunting game park, before it was landscape in the 18th century.
These days there's countless paths to explore, sculptures to spot, including the Victory Column at its centre, and small gardens within the garden, including a rose garden and English garden. There's even a few beer gardens, including the Cafe am Neuen See and the Teehaus in the English Garden.
Dogs are welcome to join you in the Tiergarten, but this is one park where dogs need to be kept on leash at all times, with rangers ensuring the rules are being followed.
#5 Relax at Tempelhofer Feld
Another large recreational space in Berlin that's far newer, at least when it comes to public access, is the Tempelhofer Feld. Once a military parade grade and then an airport until it closed in 2008, the city has reclaimed this open space as a gigantic public park.
There's a 6km-long cycling, running and skating path, a large BBQ area and even coffee bikes and snack stands. There's also not one but three fenced off-leash dog exercise areas, one at the western end and two at the eastern end. (See the park map.) Note that dogs need to be kept leashed in other parks of the park, which is open from sunrise to sunset.
#6 Take a Day Trip to Potsdam
One of the most popular day trips in Berlin is a visit to Sanssouci Park at Potsdam, about an hour away by train. Known as the German Versaille, the park is home to many fine palaces, once the principal residence of the Prussian royal family.
Not surprisingly, dogs aren't allowed inside any of the palaces, but they can join you for a wander around the beautiful park. Make sure you allow at least a few hours, but you could easily spend the entire day here, exploring the park and the exterior of the palaces.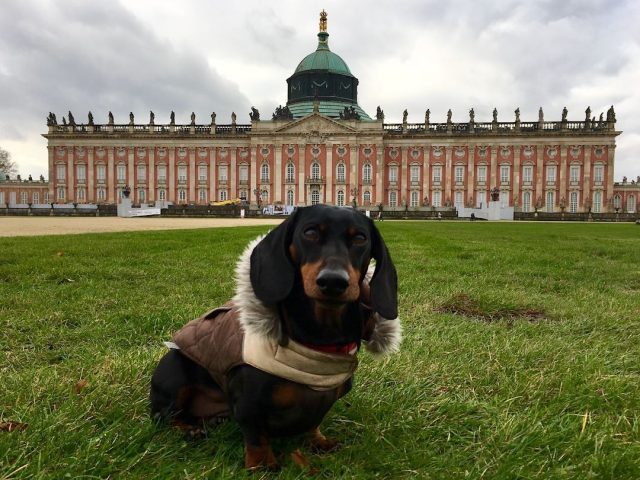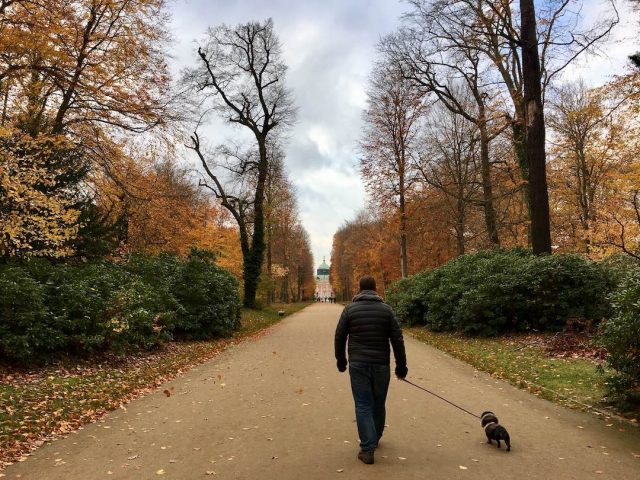 Check out more photos from our visit to Sanssouci Park
#7 Enjoy a Currywurst
It's not a visit to Berlin without enjoying at least one currywurst, one of the most popular fast food dishes in Germany and especially Berlin. This dish features chunks of sausage topped with a curry ketchup sauce, often with fries along side it.
Many restaurants and cafes in Berlin are dog-friendly (just keep an eye out for the sign "Hunde verboten"). But to enjoy a currywurst you don't even need to step inside, with plenty of take-away stands selling the dish all over the city. Just don't share it with your pup!
Dog-Friendly Parks in Berlin
By default, dogs are required to be on-leash in Berlin, including in many of the city's parks. (Leashes can be 2m in parks and woodland areas, but should be no longer than 1m on streets.) Check out the signs when visiting the parks and be sure to follow them – it's not part of the culture to break the rules and you may be fined.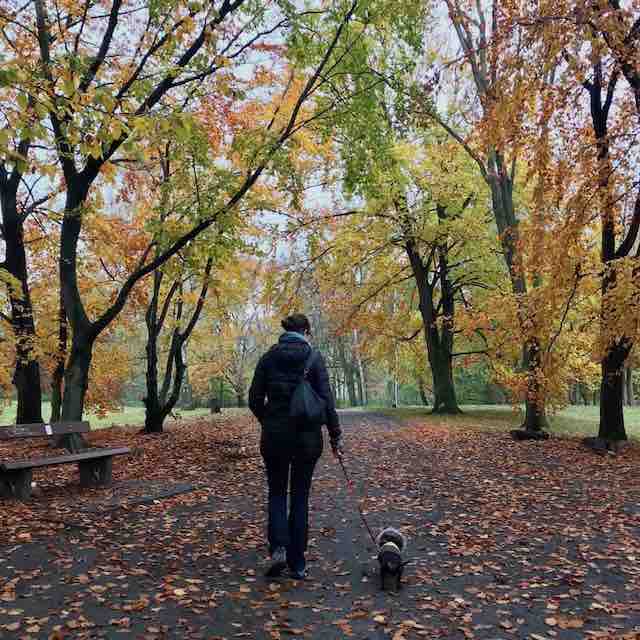 One of the most popular destinations to visit in Berlin with your dog and let them off-leash, in addition to Tempelhofer Feld, is the Grunewald Forest to the west of the city. Follow the trail around the lake with your dog off-leash, with the lake also a popular spot for dog paddling during the summer months.
There are also off-leash dog exercise areas at Humboldthain in Mitte, Mauerpark and Volkspark in Friedrichshain.
Dogs on Public Transport in Berlin
Berlin is quite relaxed when it comes to allowing dogs on public transport. Dogs of all sizes and other pets are allowed on public transport in Berlin, including the S-Bahn (trains), U-Bahn (underground), buses and trams, as long as they are not dangerous.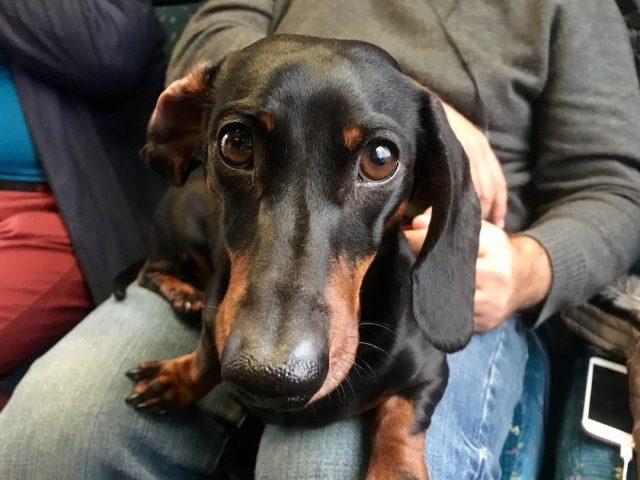 Small dogs travelling in an enclosed carrier or bag ride for free, while larger dogs need to be on a leash and wear a muzzle. (Although if you travel with a small dog not in a carrier, muzzles are not usually enforced.)
You also need to purchase a reduced fare ticket for larger dogs not in a carrier, if you buy a single ticket. However, if you use a day ticket, you can bring your dog along for free – an easy option if you are taking public transport multiple times.
Dog-Friendly Accommodation in Berlin
There are plenty of dog-friendly hotels in Berlin to choose from. During my research into pet-friendly hotels in European cities, I noted that 70% of hotels in Berlin allowed pets. Note however, that often you'll be charged a fee, starting from around €10 per night.
A great dog-friendly hotel to check out in Berlin is the 25hours Hotel Bikini Berlin. Located in the west of the city near the zoo, the hotel features a rooftop terrace with restaurant and bar.
Although I haven't had a chance to stay here, I've heard great things about the hip 25hours hotel chain, including that it warmly welcomes canine guests. When booking a room, simply add a dog package or specify as an additional request. An additional charge of €20 per night applies.
Note that there are restrictions on Airbnb in Berlin. Unless you're happy to share a house or apartment, it's better to look for dog-friendly hotels.
You May Also Like
About the Author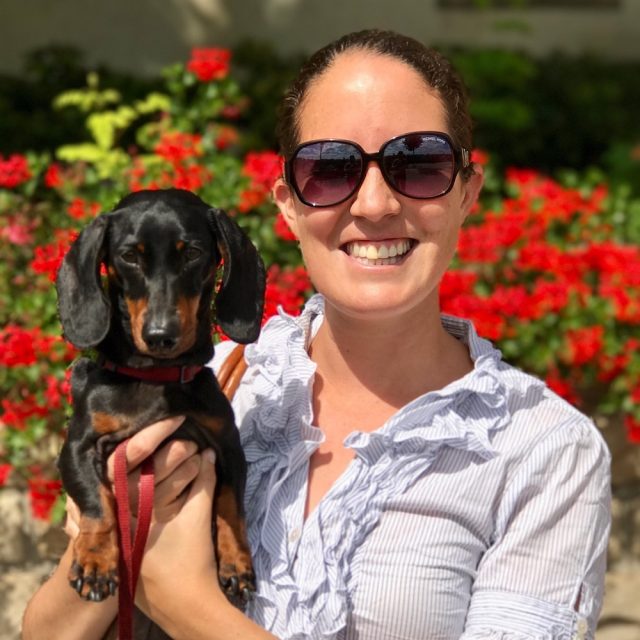 Shandos Cleaver is the founder of Travelnuity: Dog-Friendly Travel. She has travelled extensively with her Miniature Dachshund, Schnitzel, including to 33 countries across Europe, every state and territory of Australia except Tasmania, and 10 of the United States. She's passionate about providing inspiration and information to others wanting to travel with their dogs, whether close to home or internationally.