Just 90 minutes west of the Sydney CBD, the Blue Mountains region of NSW is a convenient and beautiful destination for a weekend getaway from Sydney. While many locations within the national park are off limits to dogs, find out about the many dog-friendly Blue Mountains lookouts, walks and more you can enjoy with your pup, along with some great dog-friendly accommodation options, from luxury resorts to farm stays. Every time I visit the Blue Mountains I discover something new!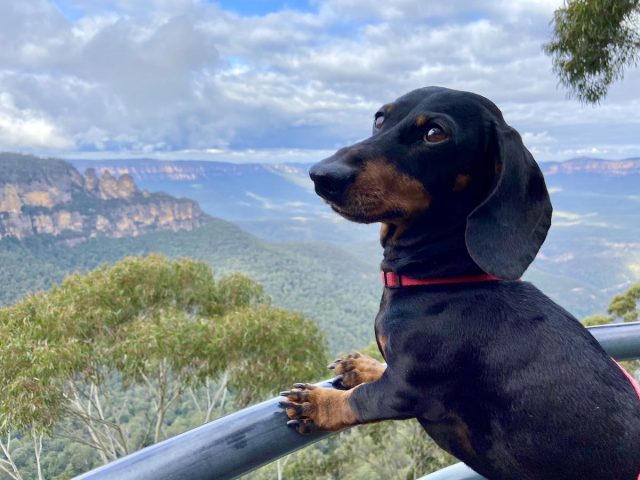 Are Dogs Allowed in the Blue Mountains National Park?
The same rules apply at the Blue Mountains National Park as for nearly all national parks in Australia: strictly no dogs are allowed inside of the park, even in your car. As the Blue Mountains National Park is extensive, wrapping around most towns in the region, this rules out many sightseeing options for dog owners, including many lookouts and hiking trails.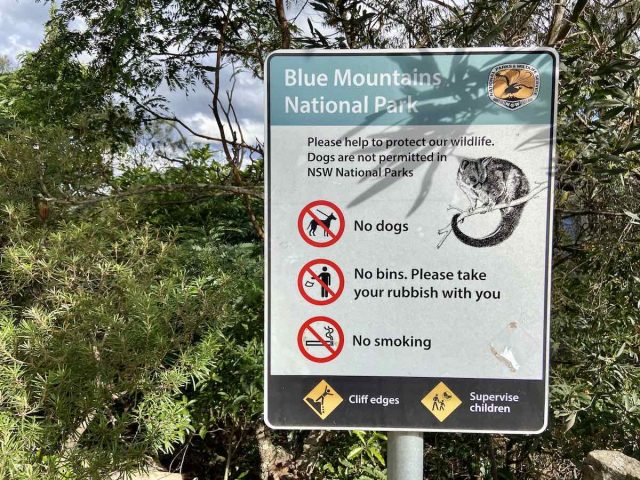 The one exception is when thoroughfares pass through the national park (distinct from access roads into the national park). For example, much of the Bells Line of Road, the northernmost road over the Blue Mountains, passes through the national park. Dogs are allowed in your vehicle in that case, but you shouldn't stop and use the facilities while passing through the national park.
Dog-Friendly Lookouts in the Blue Mountains
One of the top reasons for heading to the Blue Mountains is to take in the glorious mountain views from the many lookouts, the sandstone cliff faces shimmering in the sunshine, swathes of bushland stretching as far as the eye can see.
Just because you're visiting the Blue Mountains with a dog, doesn't mean you to have miss out on the views. While lookouts located inside the Blue Mountains National Park which surrounds many of the villages are off-limit (including Wentworth Falls, Evans Lookout and Govetts Leap Lookout), there are other lookouts that are looked after by the local council.
For dog-friendly views in the Blue Mountains head to one of these…
Echo Point Lookout: The most famous lookout in the valley, this lookout provides close-up views of the famous Three Sisters and dogs on a lead are allowed. However, it's not possible to walk up to the Three Sisters with your pup, as the walking path is on national park land. Note that parking on nearby streets is pricey.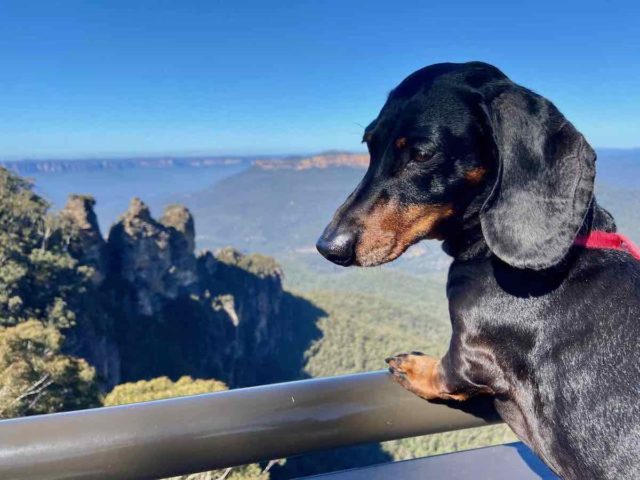 Eagle Hawk Lookout: Also in Katoomba on the other side of Scenic World, this lookout is a good alternative to Echo Point. It offers similarly amazing views of the Jamison Valley, but only a distant view of the Three Sisters. Parking is free, but there is only room for three cars, so it's best visit during quieter periods.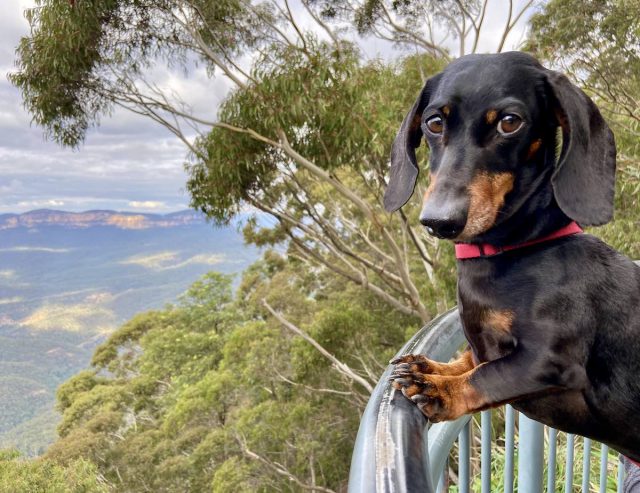 Sublime Point Lookout: Jutting out into the Jamison Valley from the village of Leura, Sublime Point is just outside of the national park. The lookout is a short 5 minute walk from the carpark and even has a few scenic picnic tables close to the tip of the point.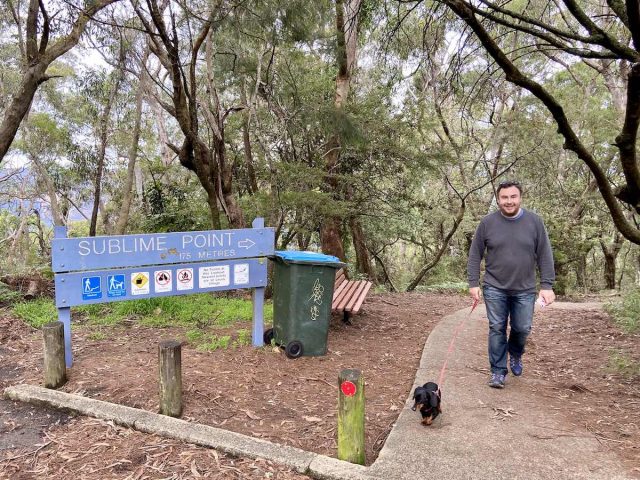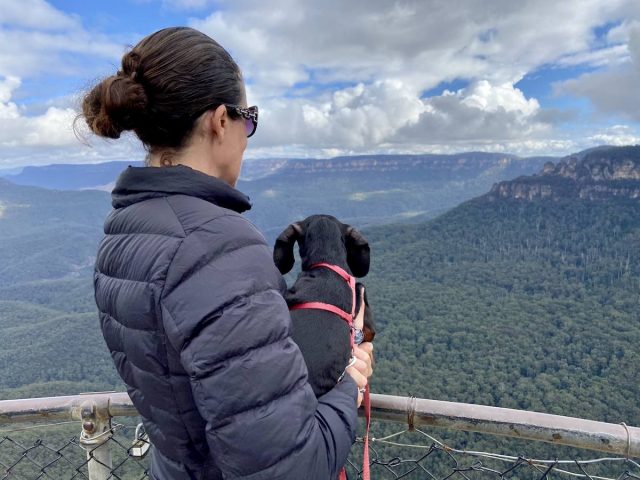 Cahill's Lookout: This lookout at the western end of Katoomba looks out over the Megalong Valley and its farmland. It's best known as a sunset lookout. Parking in the small carpark is free, and there's also some picnic tables. A sign next to the carpark lists local walks along the clifftops.
Dog-Friendly Sightseeing in the Blue Mountains
There's plenty more fun things to do with your dog on a visit to the Blue Mountains. If you're interested in spending more time exploring the natural scenery of the Blue Mountains, there are a number of dog-friendly hikes available. Or visit some of the region's beautiful gardens, particularly in the spring or autumn, or exploring its orchards and farms. Check out these ideas…
#1 Follow the South Lawson Waterfall Loop Track
One of the top reasons to visit the Blue Mountains is to go hiking on the many walking tracks in the region. While many of the most famous hikes are inside the national park, the more you look, the more dog-friendly options are uncovered. Check out my list of the best dog-friendly walks in the Blue Mountains.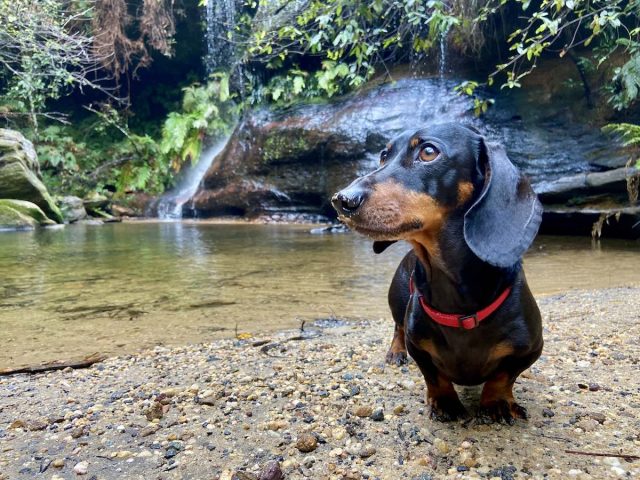 One of the most popular dog-friendly hikes is the South Lawson Waterfall Loop Track. I recommend starting from the point marked as the "Five Waterfall Walk Southern Carpark" on Google. From here, you can complete a short 600m return walk to Cataract Falls, or the full 2.5.km loop visiting four beautiful waterfalls.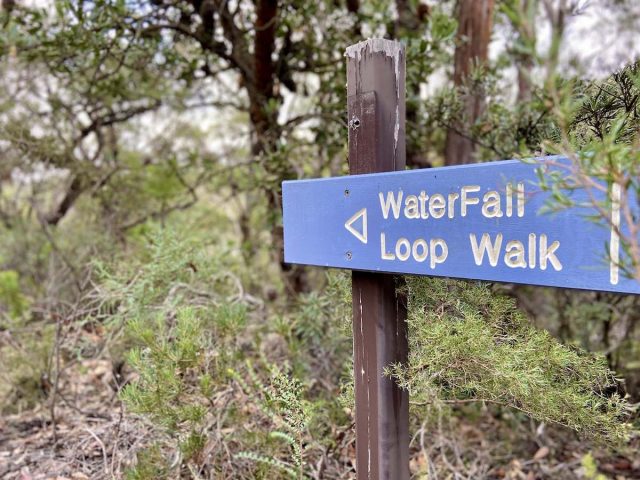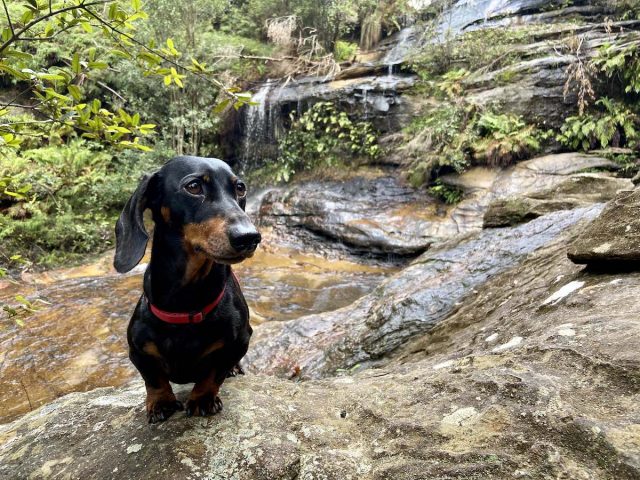 Be warned that it can get muddy, and smaller dogs are best carried on some of the many stairs. There's also a metal mesh bridge near the start, which most dogs will dislike, so consider letting them walk through the creek There's plenty of opportunities for pups to have a splash in the water, great for warm days.
NOTE: Since March 2022, a short section of the walking track has been temporarily closed due to a rock slide, but recent visitors have reported being able to bypass this.
#2 Or Hike to Horseshoe Falls
If you've already gone waterfall chasing at South Lawson with your dog, another great dog-friendly waterfall hike is the Horseshoe Falls Walking Track in Hazelbrook. Starting from Oaklands Road, it's a 700m medium-difficulty hike to Horseshoe Falls. Or walk a further 1km to reach Oaklands Falls and Burgess Falls.
Allow 2-hours for the return walk if walking all the way to Burgess Falls. Dogs need to be kept on a leash and the walk is best after rainfall, when the falls are flowing, but be prepared for a muddy track in return.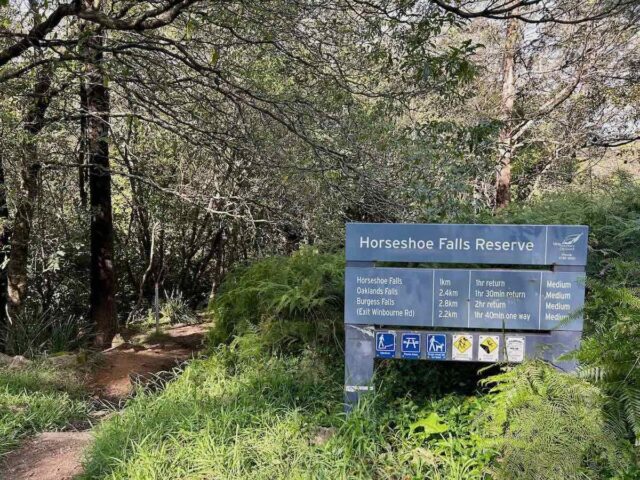 #3 Explore the Katoomba Falls Night-Lit Walk
For a paved, mud-free walk, instead consider checking out the western end of the Prince Henry Cliff Walk in Katoomba. The 1.3km section near Katoomba Falls, in between the old Katoomba Falls Kiosk and the Cliff View Lookout, is outside the national park, with dogs on a leash allowed.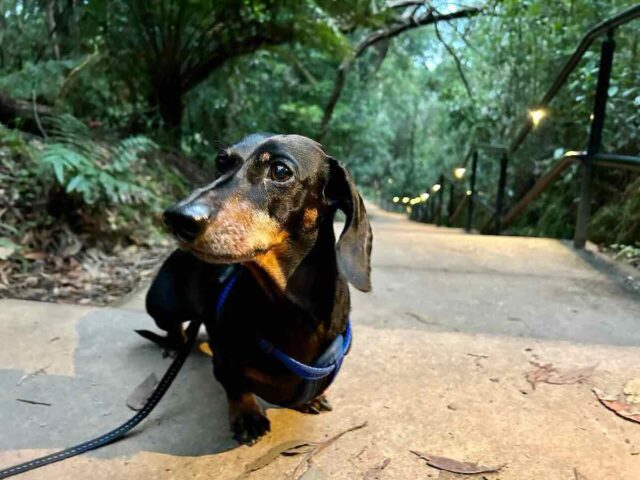 If you're in the Blue Mountains after dark, you can even do this walk at night, when it becomes the Katoomba Falls Night-Lit Walk. The lights switch on at dusk and stay on until 10:30pm, with the floodlit Katoomba Cascades a highlight.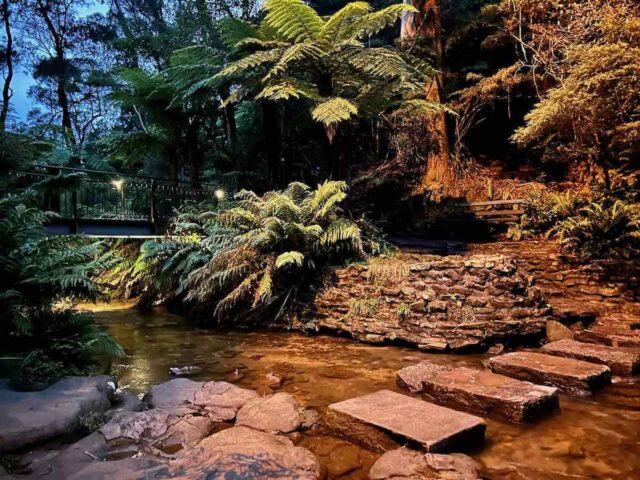 For more hiking ideas, check out my full guide to dog-friendly walks in the Blue Mountains.
#4 Visit the Campbell Rhododendron Gardens
The Blue Mountains is renown for its gardens, many featuring large displays of cool-climate loving flowers and deciduous trees, and some allowing dogs to visit.
Campbell Rhododendron Gardens is located in Blackheath and is open year round, with entry by donation. Prime flowering time for the rhododendrons is early October to mid-November, when the Rhodo Tea Rooms also operate.
The gardens contain many maple trees and other deciduous trees, making Autumn also a great time to visit, although we found late May to be too late in the season. Note that dogs must remain on a leash at all times.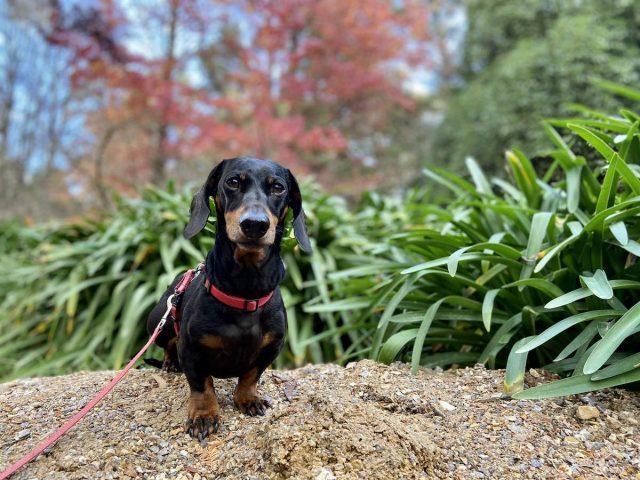 #5 Or Head to Breenhold Gardens
Another dog-friendly garden in the Blue Mountains that you can visit is Breenhold Gardens, on the northern edge of the Blue Mountains in Mt Wilson.
One of the most extensive privately owned gardens in Australia, the gardens are over 45 hectares in size and contain thousands of exotic and native species planted over the last 40 years. The focal points are six stone walled gardens, some with pools and fountains.
Check the website for the latest opening dates and entry fees (generally the gardens are only open in spring and autumn). Make sure you keep your dog on a leash and pick up after them.
#6 Visit the Orchards of Bilpin
The town of Bilpin on the Bells Line of Road is famous for its many orchards. Particularly during the autumn months, a popular activity is visiting the orchards that are open for pick-your-own, generally from January to June for apples, although the dates vary from year to year.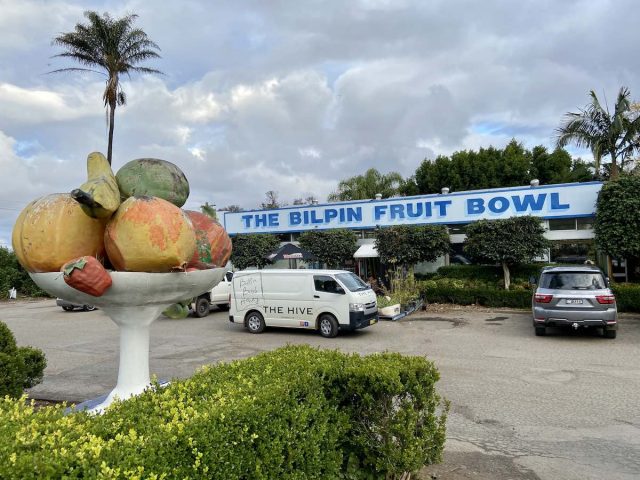 Pets aren't generally allowed inside the orchards when they are open, but I saw reports in 2023 of Shields Orchard allowing dogs to join you. Double check when they re-open for the 2024 picking season, before driving all the way!
Alternatively, you're always welcome to just visit the cafes in the area, including some spots that specialise in the local cider. Pull up a seat and sample the brew at Bilpin Cider, open daily, with their farm kitchen open on weekends and public holidays. Dogs are allowed in the large outdoor area and water bowls available.
Dogs are also welcome at Hillbillly Cider, where wood-fired pizzas are on the menu, plus tastings of their alcoholic and non-alcoholic cider. There's a large outdoor area with bowls for dogs, plus heaters in the sheltered section for cold days.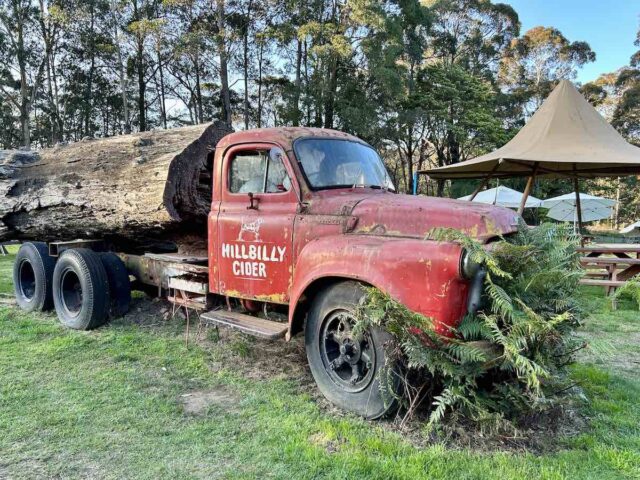 Most of the orchards also have roadside stalls where you can buy ready-picked fruit and locally made apple juice, apple pies and cider. Some of the options include the Bilpin Fruit Bowl and Pine Crest Orchard.
#7 Explore the Megalong Valley
The Megalong Valley on the far side of the Blue Mountains is an overlooked part of the region. Home to rolling farmland, the valley is accessed through a steep descent from Blackheath.
One of the top attractions in the valley are the Megalong Valley Tea Rooms. Established in 1956, the tea rooms are famous for their scones and apple pies. Open daily from 9am, they also offer an all-day breakfast and lunch menu. There's a large outdoor area where dogs are welcome, with plenty of room for dogs and kids, plus a small sheltered outdoor area.
The valley is also home to two wineries, Megalong Creek Estate and Dryridge Estate, both with dog-friendly cellar doors. On our recent visit to the Blue Mountains we stopped in at Megalong Creek Estate for a tasting. With beautiful views of the sandstone cliffs lining the valley, it's a wonderful way to spend a relaxing hour.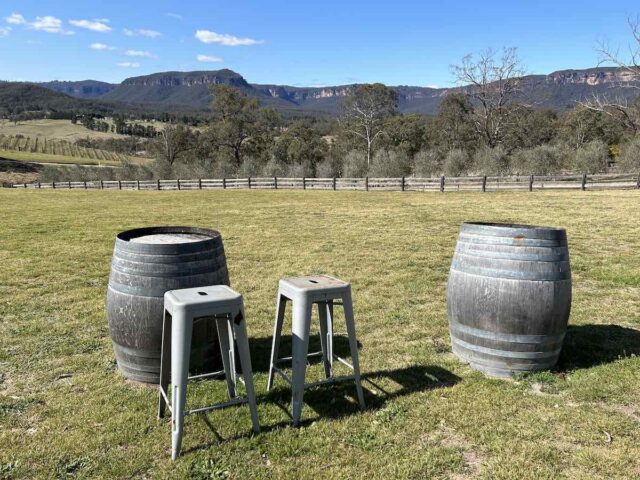 Both cellar doors are generally only open on Saturdays and Sundays. It's best to double check their opening hours in advance, with bookings recommended.
#8 Visit the Hartley Historic Site
On the far side of the Blue Mountains, just after you descend from the heights at Mount Victoria, you'll reach the historic village of Hartley, also know as the Hartley Historic Site. Despite being looked after by the National Parks and Wildlife Service, dogs are welcome to explore the the site with you, located either side of the highway.
Take a walk through the village, admiring the many historic buildings, including the fine sandstone former courthouse. You can pay to take a self-guided tour of the interior of the courthouse and St Barnabas's Church, although dogs aren't allowed to join you inside.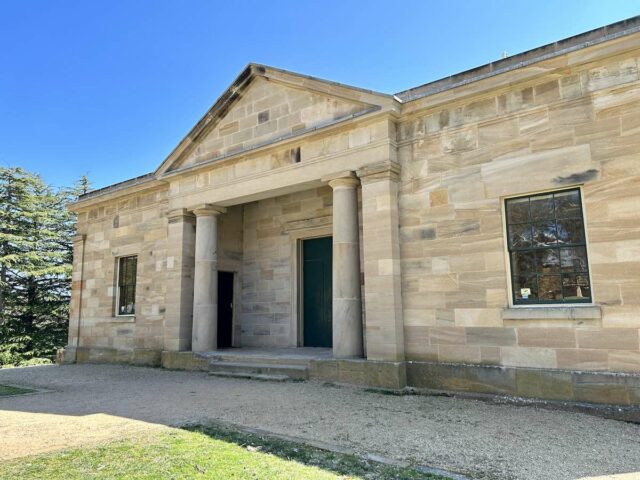 Don't miss following the Rowsons River Walk. This walk includes a delightful section of boardwalk alongside the beautiful river, which is particularly pretty during early spring when the wattle is blooming. There's also a few other short walks, that can be combined together into a walk around the village. Make sure you keep your dog on a leash.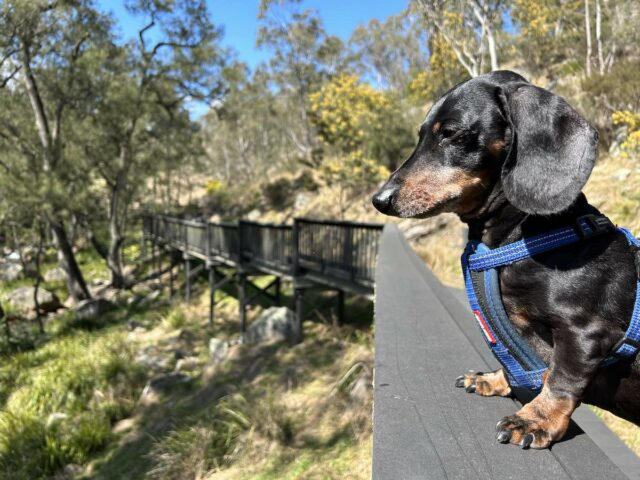 Dog-Friendly Parks in the Blue Mountains
There's a large number of off-leash dog parks in the Blue Mountains region.
One of the best options is at South Lawson Park, not far from the South Lawson Waterfall Loop Track. A former golf course, this park has been wonderfully redeveloped in recent years, with the addition of sealed walking tracks (including a 2.1km loop track) and a fenced dog park.
The fenced dog park is massive, with multiple sealed and dirt paths inside it, sections of tall trees and wide open expanses of grass, plus seating and water fountains. There's multiple gates around it. Note that dogs need to be kept leashed in the surrounding park, they are only allowed off-leash inside the fenced area.
Some other options around Katoomba include:
The Lower Oval of the Katoomba Falls Reserve (24-hour access unless booked, partially fenced, although note there are no signs next to it so it's not clear of the boundaries)
Whitley Park in Blackheath (24-hour access, fenced)
Medlow Bath Park on Railway Parade, Medlow Bath (24-hour access)
Leura Oval (Before 10am in the morning, after 3pm until dark)
For a full listing, see this page.
Dog-Friendly Cafes in the Blue Mountains
During one of our visits to the Blue Mountains, we dined at Lily's Pad Cafe and highly recommend this cafe to visitors with dog.
This dog-friendly cafe in Leura, just behind the Woolworths Carpark, is open 8am to 3pm except on Sundays. Choose between the all-day breakfast and lunch menus, as well as house-made breads and cakes. Dogs are welcome in the courtyard, which has heaters to keep you toasty warm during the winter.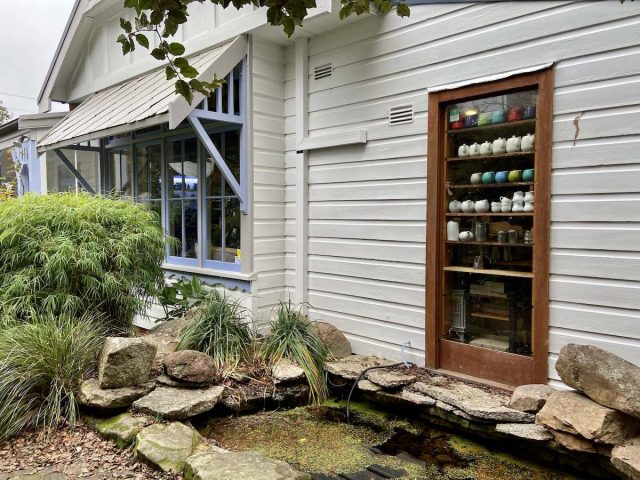 Other dog-friendly cafes in Katoomba include Little Paris Cafe, an accredited Slow Food Cafe, and Graze on Main, on the main street of Katoomba.
In the lower Blue Mountains, consider stopping by 2773 Cafe in Glenbrook. This cafe has a large outdoor seating area and delicious food – just be aware the service is often slow on busy days.
The cafe is also open Thursday, Friday and Saturday evenings, including a popular pizza oven. Naturally there's heaters, plus blankets for human visitors – bring one for your pup.
Dog-Friendly Pubs in the Blue Mountains
A great spot to enjoy a drink in the Blue Mountains with your pup by your side is Hillbilly Cider in Bilpin. As well as cider tastings from their range of alcoholic and non-alcoholic ciders, they also offer wood-fired pizzas.
Their outdoor dining area is huge, including a smaller under shelter area with heaters, plus there's water bowls for pups. From Friday to Sunday nights they're open until 6pm, handy for an early dinner.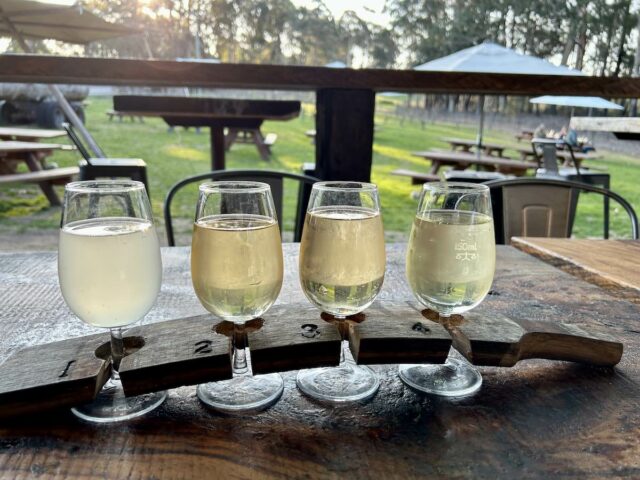 Dog-Friendly Accommodation in the Blue Mountains
There's a wide variety of pet-friendly accommodation options available in the Blue Mountains.
Note: This post contains affiliate links, which means I may receive commission if you make a purchase using the links. See my full disclaimer.
Pet-Friendly Luxury Hotels in the Blue Mountains
If you're after a luxurious stay, there's not one but three luxury hotel options in the Blue Mountains that are dog-friendly. First up is Lilianfels, that has been dog-friendly for many years. Not far from Echo Point, it's a grand country house set in 2 acres of English-style gardens.
Their Bring Your Own Dog Package includes overnight accommodation in a Deluxe Resort View Room, a dog bed and bowl for your dog plus a welcome treat, and room-service breakfast. A maximum of one dog is permitted per room, and they can't be left alone or taken into public areas where food is served.
I've previously has the pleasure of staying at Lilianfels and can highly recommend it. In particular, enquire about organising a pet-sitter so you can enjoy the fine-dining Darley's Restaurant. If bringing along your dog, you need to book the package directly by telephone or email.
In Leura, the Fairmont Resort & Spa Blue Mountains, an MGallery by Sofitel luxury hotel, also has two pet rooms available. These specially selected rooms are spacious Standard rooms, situated on the ground floor and connected to a fully-fenced courtyard. The rooms come with a pet bed for your four-legged friend, in addition to your king bed. Direct bookings are required.
Alternatively, consider a rejuvenating stay surrounded by nature at Spicers Sangoma Retreat, close to Kurrajong. Book a Pooch Package for a two-night or longer stay in a luxurious and private Bush Suite, with a plush dog bed and blanket, dog bowls, lead and dog treats provided. Note that only dogs up to 25kg are permitted.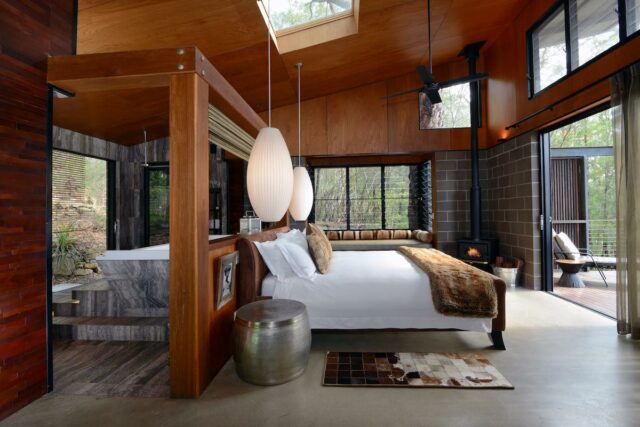 Pet-Friendly Farmstays in the Blue Mountains
For a more rustic stay, there are two great pet-friendly farmstay options along the Bells Line of Road.
Madison's Mountain Retreat is located in Kurrajong Heights, about an 80 minute drive from the centre of Sydney. Each of their one-bedroom self-contained cedar cottages are dog-friendly. The cottages can accommodate up to five people and each has a cosy log fire. There is an additional charge of $20 per night for pets, with only one pet permitted.
I've previously stayed at Bilpin Country Lodge as part of a large group for a wedding, but it also rents out individual rooms when not booked out. There's a variety of room sizes, all with ensuites, plus a shared kitchen and BBQs, 10 acres of gardens and bushland, a dam with canoes, farm animals, a hot tub and more.
If you're bringing a pet along, while they are not permitted inside, just on the verandahs, they can stay the night in the onsite kennels. There are two separate kennels, suitable for different sized animals. For cold winter nights, heated mattresses are provided. There's also a special day use dog yard where you can leave your pup during the day, plus they are allowed off-leash in the fenced grounds.
Pet-Friendly Holiday Homes in the Blue Mountains
There's a variety of charming cottages available to rent in the Blue Mountains that are pet-friendly, ideal for a quick weekend away or a longer stay.
The cute and homely TYGLAS Studio is centrally located in Katoomba. The recently renovated studio located at the rear of a larger house consists of three rooms, including a bedroom with a king bed and a sofa bed. It has it's own private courtyard, complete with a doggie house, with up to two dogs of any size permitted to join you.
This charming 120-year old two-bedroom cottage in Mt Victoria is a true Blue Mountains experience. Choose between the indoor fireplace and the outdoor firepit, with plenty of cafes, lookouts and hikes within walking distance. Up to two dogs or cats of any size are allowed.
Pet-Friendly Caravan Parks in the Blue Mountains
Finally, if you're looking to camp or have your own campervan, consider the Blackheath Glen Tourist Park. (Note that pets are not permitted at the Katoomba Falls Tourist Park.)
Pets are permitted on powered, unpowered and ensuite sites at the park, but not in cabins, and only during off-peak periods. Notify the office in advance of your pet's arrival, and make sure you keep them on a leash.
For more camping options, head further west to around Lithgow. Alternatively, there are some free campsites in the Megalong Valley – just follow any restrictions.
You May Also Like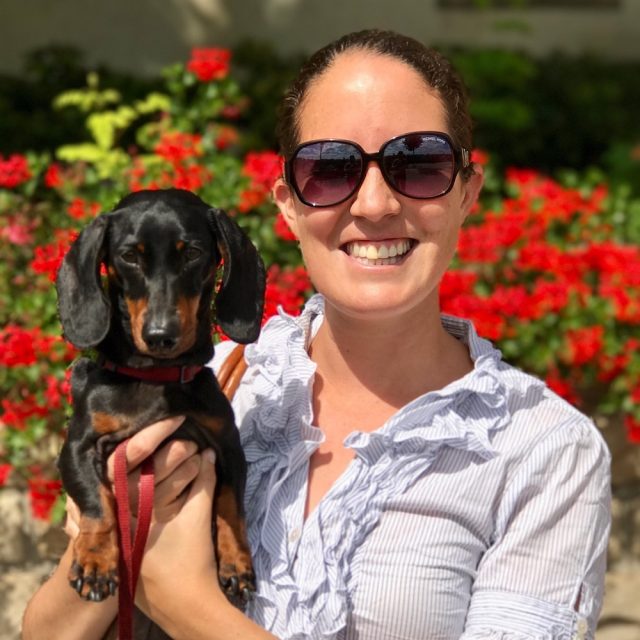 Shandos Cleaver is the founder of Travelnuity: Dog-Friendly Travel. She has travelled extensively with her Miniature Dachshund, Schnitzel, including to 33 countries across Europe, every state and territory of Australia except Tasmania, and 10 of the United States. She's passionate about providing inspiration and information to others wanting to travel with their dogs, whether close to home or internationally.
Inspired? Pin this to your Pinterest board!