Created in conjunction with BuildUp Bookings
Have you ever planned a vacation, packed all of your things, arrived at your destination and realized something isn't right? You start going through your packing list and checking if you remembered to pack everything, to only realize it is just you missing your pet?
It is hard to leave furry friends behind as they are a part of your everyday life. This is why we make it a priority to find the best pet- friendly accommodations and things to do, so everyone in the family can experience a vacation together. Here are some of our favorite dog-friendly attractions and accomodations on the East Coast of the USA.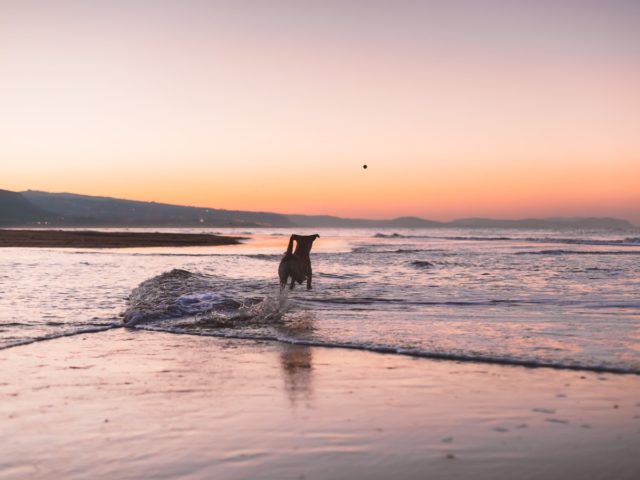 Dog-Friendly Virginia Beach, Virginia
Four-legged friends are always welcome in Virginia Beach no matter the season. You can even bring your furry friend on the beach before Memorial Day and after Labor Day, as long as it's before 10am or after 6pm. This ensures that your pup is safe, and has plenty of room to play without the crowds of people.
If you aren't interested in getting sand in every crevice of your dog, try out a brewery. There is just something about a bark and brew. A few favorites are Commonwealth Brewing and Smartmouth Pilot House. Enjoy a local beer while your dog meets new friends and hangs out on the patio.
You will be pleasantly surprised at the amount of restaurants that offer puppy menus, such as Simple Eats, that have a "Doggie Deck". You will certainly get your puppy fill here.
Dog-Friendly North Myrtle Beach, South Carolina
In North Myrtle Beach, there are at least three parks dedicated solely to dogs. There's Barc Park South and North, with each offering a different experience for your pup. You can choose to let your pup swim in the lake, chase other dogs, play fetch or just sniff until their hearts are content.
There are also many state parks and gardens that allow you to bring your pet. Vereen Memorial Gardens is a spectacular place to get your nature filled. Of course you can also take your dogs on the beach as long as they are leashed.
One special thing about North Myrtle Beach are the amount of boat rentals and watersports they have available. The best part is, many of the boats are pet-friendly, so you can enjoy a day out on the water with your pup. Check out the Living Large Party Barge for a wonderful experience.
Dog-Friendly St. Simons Island, Georgia
If you are interested in a serene, nature filled vacation with your family including your furry friend, this is the place for you. St. Simons Island is rich in history and culture with so many things to do and see while you are on the island.
You can take a visit to the St. Simons Island Lighthouse, and have your pup run around in the park right below it. With so much area to roam and explore they will never want to leave. You can also go on a few different hikes and trails like the St. Simons Island Trail System or the Alice Richards Botanical Trail.
There are many dog parks on the island as well as restaurants that welcome your four legged friend. You have to try the Half Shell, Brogen's, or the Sandcastle Cafe and Grill for some of the best seafood around.
Dog-Friendly St. George Island, Florida
St. George Island in Florida is a very special place because it is one of the few coastlines that does not have any hotels built on the oceanfront. This leaves the island with spectacular views and unbothered and inhabited beaches. Your pets will truly love the natural, raw beauty of the island.
If you are feeling adventurous, rent a kayak or paddleboard and hop on with your pup. It will be a balance and trust test for the both of you. You can find rentals at Island Outfitters, Jolly Roger Beach Show or Island Dog Outdoors.
Enjoy a nice dinner on the water with your pet at Paddy's Raw Bar or the Owl Cafe, or head to the beach and let your dog run until they can't anymore with the clear coastline.
Dog-Friendly Blue Ridge, Georgia
If your dog loves the outdoors and exploring, Blue Ridge is the perfect place for an off leash hike. Bask in the beautiful mountains as your dog explores all of the land beside your cabin and even inside of your cabin. Between doggy daycares, restaurants, shops and much more, your dog will feel like this vacation was for them.
Check out the Grumpy Old Man Brewing and bring your pet to make a few friends. You can also visit the Brew Ridge Brewery with your pups. Many restaurants feature a pet menu so your furry friend can wine and dine with you. Before heading home, take them into the Blue Ridge Cotton Company to find a souvenir for friends back home.
No matter where you decide to travel with your pup, you will have a great time. There is just something so special about having everyone in the family on vacation including pets. Everyone, including furry friends, could use a break every now and then. We hope you find these attractions and accommodations useful and happy traveling!
You May Also Like