No matter what your reason for visiting Melbourne, if you're visiting with a dog, you'll need to find a dog-friendly hotel. Luckily then an increasing number of hotels in Melbourne now welcome pets to stay with you.
Whether you're after a luxury five-star hotel, perfect for a pet-friendly staycation, or need an self-contained apartment for a longer stay, check out this comprehensive selection of dog-friendly hotels in Melbourne.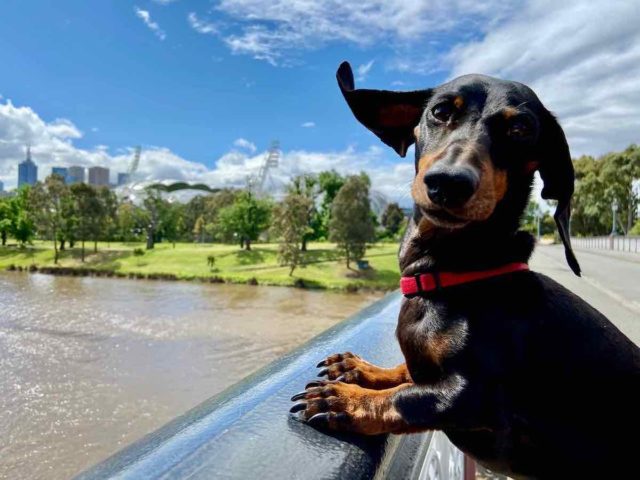 Note that many of these hotels require direct bookings if you are staying with a pet. Plus with many properties only having a limited number of pet-friendly rooms, it's best to book well in advance. Never stayed with your dog in a hotel before? Check out my tips for staying in a pet-friendly hotel.
Luxury Dog-Friendly Hotels in Melbourne
If it's a luxury hotel stay in Melbourne with your pup that you're after, consider these five-star hotels that have rolled out the red carpet to four-legged guests.
The Langham Melbourne
One of the most luxurious hotels in Melbourne is The Langham Melbourne. Situated just south of the city centre on the banks of the Yarra River, be greeted in the lobby by a grand marble staircase and one of the largest chandeliers in the Southern Hemisphere.
To enjoy a stay at the Langham with your dog or cat, book a Pampered Pets Staycation. Available both in Executive Terraces (dogs only) and Deluxe River Corner King rooms, the staycation package includes a Langham-branded pet bed and bowls for your pet to use while at the hotel, plus a Welcome amenity for your dog or cat.
While it is requested pets are not left alone in the room, thankfully breakfast in bed for up to two people is included in the package. Perhaps also consider ordering something off the Private Dining Pet Menu for your pet.
Note that there is limit of one pet per room, plus a size limit for dogs of 20kg. A pet fee of $150 is included in the Pampered Pets Staycation package.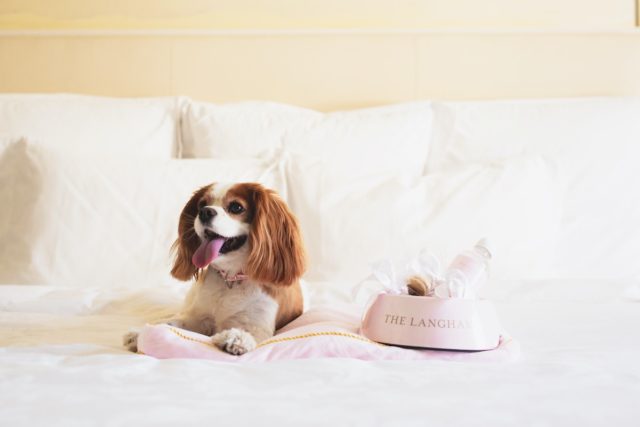 W Melbourne
When it opened in early 2021, W Melbourne claimed to be the first luxury lifestyle hotel in the city. Situated centrally on Flinders Lane and taking its cues from Melbourne's laneway culture, hotel highlights include the top-floor pool with poolside bar and DJ booth, onsite restaurant Lollo and a secret underground bar.
But if you're more interested in a stay with your pet, check out their P.A.W., or Pets Are Welcome, program. Pets are welcomed with a custom dog bed, along with bowls, toys, treats and local pet information.
Only one pet is permitted per room, with a weight limit of 18kg. There is a $30 pet fee charged per night, along with a $150 cleaning fee per stay.
QT Melbourne
The luxurious QT Melbourne can be found in the heart of the city on Russell Street. With the typical bold yet quirky style of the QT brand, their Melbourne hotel oozes industrial-chic, and is completed with an exclusive rooftop bar.
To stay with your pooch at QT Melbourne, book their Pup Yeah! package directly through the hotel. Included in the package is a designer dog bed, dog bowls, your dog's own mini-bar (full of dog treats, of course!) and their own in-room dining menu, specially selected by the "Head of Treats".
Enquire directly with the hotel whether they can book your dog into grooming or line up a dog walk. Plus of course, whether four-legged guests are welcome into Rooftop at QT.
Note that there is a limit of one dog per room, with a size limit of 20kg. There is an additional $150 cleaning fee for the stay and your dog is required to sleep on the provided bed.
Marriott Melbourne
The five-star Marriott Melbourne is located in Melbourne's East End, not far from some delightful parks for on-leash walks including Carlton Gardens and Parliament Gardens.
Not that your dog will need to leave the hotel to enjoy some fresh air, with each of the dog-friendly rooms at the Marriott Melbourne enjoying their own private outdoor courtyard. Your dog will also be treated to a Welcome Pawmenity on arrival, plus their own plush bedding and premium bowls in your room.
Don't miss ordering from the in-room doggy dining menu, which includes new puppy favourites including poached chicken and sweet potato in a rice bun. Alternatively, investigate the pet treats inside the mini-bar.
Dogs up to 25kg are welcome when you book a Dog Days Staycation package. An additional pet fee of $100 per stay applies.
Boutique Dog-Friendly Hotels in Melbourne
If it's a more boutique kind of hotel that you're after, select from these dog-friendly boutique stays, all close to the centre of Melbourne.
Ovolo Laneways, Melbourne
Ovolo Hotels is a pet-friendly hotel chain across all their Australian properties. The first of their two locations in Melbourne is Ovolo Laneways, located in the east end of Melbourne's CBD near Victoria's Parliament House.
Inside are a range of spacious suites and rooms, each with quality furnishings, luxurious bathrooms and original artwork. Some of the rooms even have their own rooftop terrace, complete with city views.
Select a dog-friendly room along with a V.I.Pooch package. For an additional $80 per dog per night, your dog will receive their own plush bed, an eating and drinking mat, food and water bowls, plus a "doggy bag", complete with toys, snacks and clean-up bags.
At Ovolo, up to two dogs are permitted per room, and there are no size limits, a rarity amongst more luxurious dog-friendly hotels in Melbourne.
Ovolo South Yarra
The second Ovolo luxury boutique hotel in Melbourne is Ovolo South Yarra, located just off the pet-friendly shopping strip of Chapel Street. (Keep an eye out for the Paw-on-the-Door stickers!)
A bold and creative property, the design ethos of Ovolo South Yarra is retro chic meets pop-art, with a heavy dose of rockstar glamour. Perhaps book a stay in one of the four Rockstar suites for a truly epic stay??
Like other Ovolo properties, to stay with your pup book a V.I.Pooch package. Up to two dogs are permitted to join you, for an additional $80 per dog per night. There are no size limits, but you'll need to provide proof of vaccination, flea and worming treatment.
Your dog will receive their own plush bed to sleep in, along with an eating and drinking mat, dog bowls and their own "doggy bag", full of toys, snacks and the ever-important clean-up bags. There's also pet-friendly staff on hand to provide assistance when needed.
Zagame's House, Carlton
Located on Lygon Street in the heart of Carlton, Zagame's House is designed as your home-away-from-home, and the welcome extends to your fur-babies too.
As long as your pet is on the Pre-furred Animals List (mainly dogs, but also unicorns and pandas just in case…) they are welcome to join you in selected pet-friendly rooms, plus will receive their own "Treat Yo Fur-baby" bag of goodies.
They're also welcome to join you in the Lounge Room and the outdoor tables of the Lord Lygon Wine Shop & Bar, with its over 300 wines to choose from. If you make use of the restaurant and gym where they're not permitted, or you need to head out without them, speak to the "Maître Z" about doggy daycare or dog walking. Room service is also available, including a pet in-room dining menu.
Note that a $140 cleaning fee is charged for pet bookings, along with a pre-authorisation, and prior reservations are required at the applicable Fur-friendly rate. Up to two pets are permitted per room. Check out the full pet policy or email Hugo, the resident Groodle, if you have any other questions.
SoYa Apartment Hotel, South Yarra
A trendy boutique apartment hotel in South Yarra (or SoYa for short), the SoYa Apartment Hotel has transformed a classic 1960's apartment complex into chic one- and two-bedroom apartments, complete with king beds, designer furniture, smart TVs and full kitchens.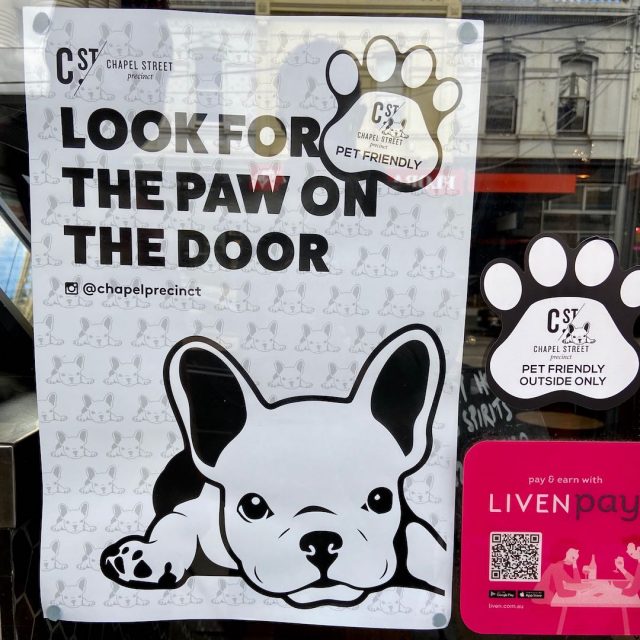 Selected apartments have been designated as pet-friendly, with both one- and two-bedroom options available. It's a must to specific that you need a pet-friendly room when booking, due to their limited availability.
Up to two dogs are permitted per room, with an additional charge of $60 per pet per night, plus a refundable deposit held. Naturally pets are expected to be well-behaved, and cannot be left unattended. An off-lead area is available, plus there is a courtyard with BBQ.
City Centre Dog-Friendly Hotels in Melbourne
There's plenty more hotels that welcomes dogs in the centre of Melbourne or close by. Consider staying at one of these excellent pet-friendly hotels.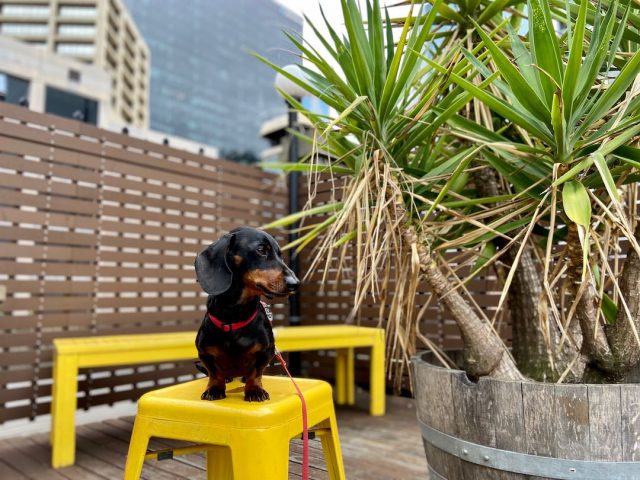 Best Western Melbourne City
One of the first pet-friendly hotels in Melbourne City was the Best Western Melbourne City. We stayed overnight at this hotel during our visit to Melbourne with Schnitzel in late 2019.
A reasonably priced option for a city hotel, it's quite conveniently located, in between Flinders Street and Southern Cross Stations. It's just a short walk from Southbank, where there's plenty of outdoor dining options. You can also hop on the free trams, as long as you have a small dog in a carrier.
Pets are permitted in the pet-friendly courtyard rooms, each with their own private courtyard. Our room had been recently redecorated, with modern lines and colourful accents. Plus we were permitted to briefly leave our dog in the room, as long as we left the provided sign on the door, so that we could duck out for breakfast at the onsite cafe.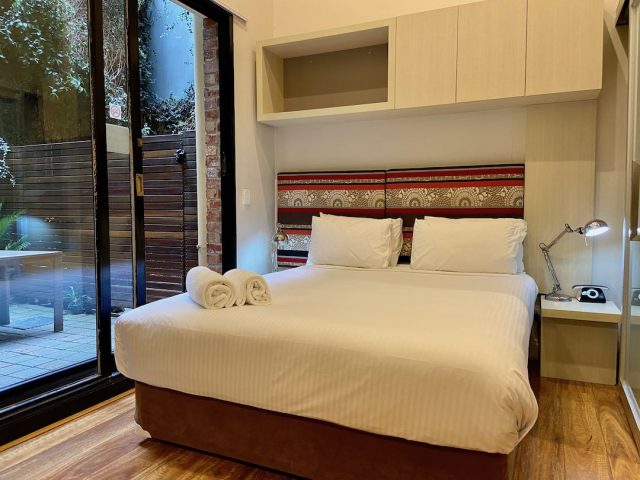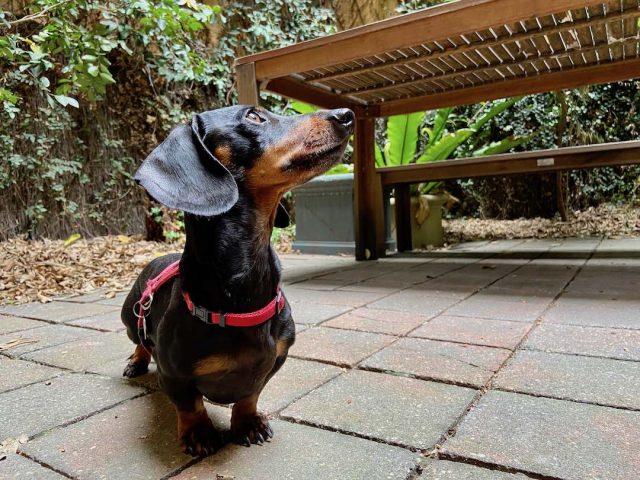 There is an additional charge of $30 per pet per night. Contact the hotel directly for the latest regulations.
Hyatt Centric Melbourne
The recently opened Hyatt Centric Melbourne is a large contemporary hotel located in the southwestern corner of the city, just a short walk from Southbank and it's dog-friendly dining options.
Its spacious, minimalist-style rooms feature Nespresso coffee machines and Mr Smith amenities, plus some include a private balcony. Up on the 25th floor is a bar and restaurant with terrific city views, while there is also an indoor 25m pool.
Pet-friendly rooms are located on the first to fourth floors. Choose between a room with a king-size bed or two twin beds, both a large 40 square metres and with their own balcony. Contact the hotel directly to enquire about their pet-friendly packages.
AC Hotel Melbourne Southbank
Recently opened in April 2022, the AC Hotel Melbourne Southbank is the first AC Hotel by Marriott to open in Australia. With a focus on thoughtful design and overthinking every element, the hotel is located close to the Southbank precinct.
Featuring an infinity pool with an adjacent pool bar, also onsite is a fitness centre, restaurant and an additional lounge bar. With a variety of Deluxe, Superior, Premium and Suite rooms, all feature stylish decor, Korres bath amenities, coffee machines and Melbourne skyline views.
Pets are welcome to join you at AC Hotel Melbourne Southbank in selected Deluxe rooms. There is a maximum of one dog or cat allowed per room, who is not permitted to be left unattended, and an additional charge of $90 per room per night. Don't miss out on the special pet menu from the in-house restaurant, able to be enjoyed by pups in the bar or lobby, or ordered through room service.
City Centre Dog-Friendly Apartment Hotels in Melbourne
Melbourne has a wide variety of apartment hotels, including many in the city centre. Perfect for a self-contained stay where you can relax with your dog in your apartment, take your pick from these dog-friendly apartment hotels.
Citadines on Bourke Melbourne
Ascott have two pet-friendly properties in the centre of Melbourne. Their Citadines on Bourke Melbourne property is located in the eastern end of Melbourne, in between Russell and Exhibition streets.
The four-star apartment hotel has a variety of pet-friendly studio and one-bedroom apartments, with an indoor pool and sauna on the premises. There's also a wonderful rooftop courtyard accessible to all guests, with room for dogs to enjoy a scamper.
To stay with your dog at Citadines on Bourke Melbourne, book a Happy HOUNDS package. Your dog will be provided with a suitably sized bed, their own bowls, and a welcome pack with treats, toys and a special gift. There are no size restrictions.
It's possible to book online at the above link, or else contact the reservations team directly via phone or email. There is a one-off $55 fee charged upon check-in, in addition to the nightly room rate. A maximum of one large- or medium-size dog or two small dogs is permitted per room.
Somerset on Elizabeth, Melbourne
Somerset on Elizabeth is a Ascott property located in the centre of Melbourne, close to Emporium Melbourne. Pets are welcome in selected studio, one- and two-bedroom apartments at the service residences, with one floor dedicated to pets and their owners.
Book a PAW-cation package, either directly online or by contacting the reservations team. Your dog or cat will be provided with a suitably sized bed and blanket, water and food bowls, toilet bags or a litter tray, along with a welcome pack, with a treat, toy and gift. You'll also have access to the pet-friendly outdoor courtyard, which features a BBQ.
Both dogs and cats are welcome at Somerset on Elizabeth, with no size restrictions. Make sure both you and your pet check in with the staff on arrival, when you'll be taken through the full pet rules.
Scape Living at Aurora, Melbourne
Scape Living properties combines the comforts of a hotel and home, and ideal for longer term stays. Out of the two Melbourne City properties, the Scape Living at Aurora location is pet-friendly.
Located on La Trobe Street and with direct access to Melbourne Central Station, this aparthotel includes a rooftop pool terrace, 24-hour gym, bookable screening room, and co-working spaces. Choose between a studio, one- or two-bedroom apartment, all with a kitchenette.
Selected rooms at Scape Living at Aurora are dog-friendly. Up to two dogs are permitted per room, with a weight limit of 10kg each. There is an additional pet fee of $90 per pet per stay, plus a $200 deposit is charged per stay. Food and water bowls can be provided.
lyf Collingwood
The recently opened lyf Collingwood is a co-living property aimed at young travellers situated close to Collingwood's ever-cool Smith Street. With a social lounge, community kitchen and bookable meeting rooms located on the ground floor, it's ideal for both short and long-term stays, combining work and play.
Dogs are welcome to join you at lyf when you book a CollingWOOF Canines Package. Your pup will receive a welcome pack on arrival, with a treat, toy and gift, plus be provided with their own bed, bowls and clean-up bags in your room.
The package can be booked by clicking the above link, or by contacting the property directly. There is an additional one-off cleaning fee of $55 charged at check-in, on top of the daily room rate. Pets are only permitted in the larger One of a Kind Plus and Two of a Kind rooms.
Make sure you ask the on-duty lyf guards for recommendations on local dog-friendly spots and nearby parks.
Suburban Dog-Friendly Hotels in Melbounre
If your business or plans require you to stay in the suburbs of Melbourne, there's still plenty of excellent dog-friendly hotels to choose from, many close to terrific off-leash dog parks. Take your pick amongst the following…
View Melbourne
The View Melbourne is situated conveniently on St Kilda Road, midway between the Melbourne city centre and St Kilda and its beaches, perfect for either work or leisure.
With stylish rooms kitted out with Smith & Co amenities and Chromecast streaming, some with their own balconies or city views, selected rooms are pet-friendly. Pets are generally provided with a bed, bowls, toy and treat, plus there's a Dog Concierge service that can recommend local dog-friendly options.
There are no size restrictions, but make sure you inform the hotel in advance of your pet's name, size and breed. There is an additional fee of $50 per night, and for any other questions, send an email to [email protected]
Element Melbourne Richmond
Just 6km east of the city centre, the Element Melbourne Richmond is the only Element by Westin hotel located in Australia. Each of the Element hotels has a focus on wellness, with nature-inspired spaces, in-room kitchens and excellent fitness facilities, plus eco-friendly features such as energy-saving lightning and water-saving taps.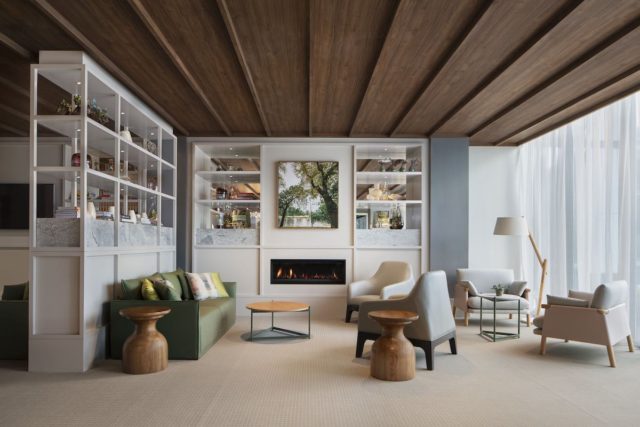 Each of the Element by Westin hotels is also pet-friendly as part of their Love that Dog program, and this extends to the Element Melbourne Richmond. There are five pet-friendly rooms, with two dogs up to 20kg welcome per room.
Dog beds can be provided (on request), along with food and water bowls, clean-up supplies and more. The hotel is conveniently close to the off-lead Fairview park. There is an additional pet fee of $30 per night, up to $90 per stay. Contact the hotel directly for further details.
Quest Apartment Hotels
Quest Apartment Hotels has a large number of hotels across Melbourne and Australia, including many that are pet-friendly. All hotel rooms include a fully equipped kitchen and in-room laundry facilities, while the guest services team can point you in the direction of nearby pet facilities.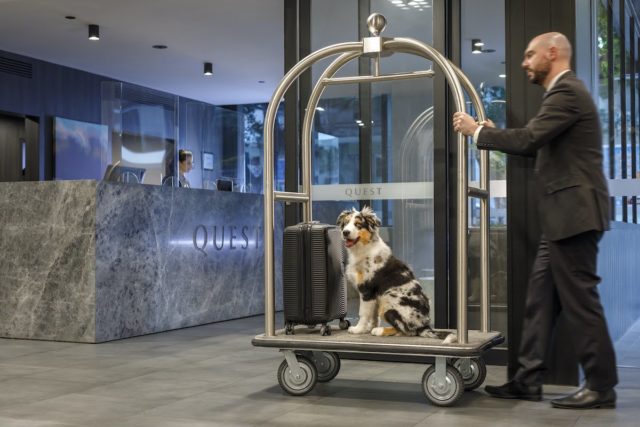 The following twelve Melbourne locations are pet-friendly:
Quest Brighton on the Bay
Quest Burwood East
Quest Caroline Springs
Quest Dandenong
Quest Dandenong Central
Quest Epping
Quest Mont Albert
Quest Narre Warren
Quest St Kilda Road
Quest Werribee
Selected rooms are pet-friendly at each property, with a pet bed, bowls, toys and treats provided. Generally a pet fee starting at $15 per pet per night is charged, along with a refundable deposit, although some properties charge higher fees or a flat fee per stay. Contact the hotel directly to find out more details and book a stay.
Punthill Caroline Springs
There are multiple Punthill Apartment Hotels located across Melbourne, both in the CBD and the suburbs, along with their sister brand Veriu Hotels & Suites. Selected properties are pet-friendly, for both short-term and long-term stay guests.
One of the pet-friendly properties is Punthill Caroline Springs, located on the western edge of Melbourne. This recently opened apartment hotel offers a mix of studio, one- and two-bedroom apartments, each with a kitchenette and balcony, some overlooking the adjacent lake. There's a business lounge in the lobby and onsite gym.
To find out more about the pet policy at each Punthill Apartment Hotel, it's best to speak directly to the specific hotel. An additional pet cleaning fee of $250 per stay is charged.
You May Also Like