Whether you're visiting Sydney with your dog or just looking for a fabulous pet-friendly staycation in the harbour city, luckily there's no shortage of pet-friendly hotels in Sydney. An increasing number of hotels have become pet-friendly in Sydney in recent years, both new and existing.
Whether you're after a luxury 5-star hotel that welcomes pets, something more boutique in style, a beachside apartment or something that's easy on the budget, there's sure to be a dog-friendly hotel to suit your needs! For a comprehensive listing of dog-friendly hotels in Sydney, scroll on…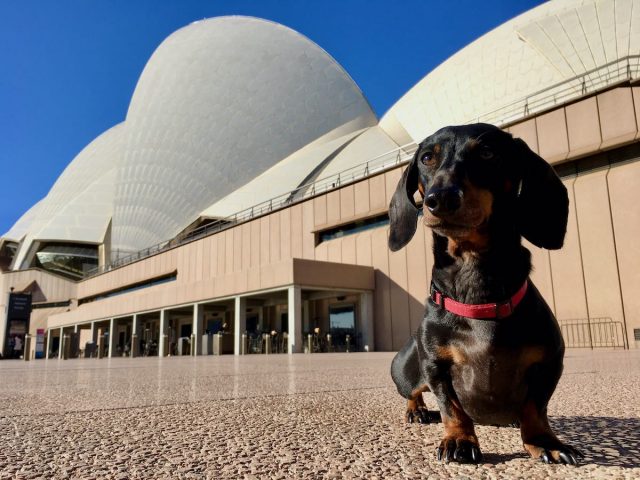 Note that when booking a pet-friendly stay in Sydney, it's best to book well in advance. There are a limited number of rooms designated as pet-friendly at many hotels, meaning they can easily book out, particularly during the busy summer months. Additionally, most hotels request that you contact them in advance for a pet booking, ideally booking direct.
Staying in a hotel with your dog for the first time? Check out my tips for staying in a dog-friendly hotel
Note: This post contains affiliate links, which means I may receive commission if you make a purchase using the links. See my full disclaimer.
Luxury Dog-Friendly Hotels in Sydney
Fancy treating your dog to a luxury stay in the heart of Sydney? Look no further than these luxury Sydney hotels that will welcome your pooch in style.
InterContinental Double Bay
The five-star InterContinental Double Bay, tucked away in the Eastern Suburbs enclave of Double Bay, rolls out their red carpet to four-legged guests with their Pet Stay Packages.
Choose between lazing around in the beautifully appointed, spacious rooms, with a bed and bowls provided for your dog. Or head to the rooftop bar and pool where pups are welcome, as long as they still leashed and aren't tempted to go for a swim.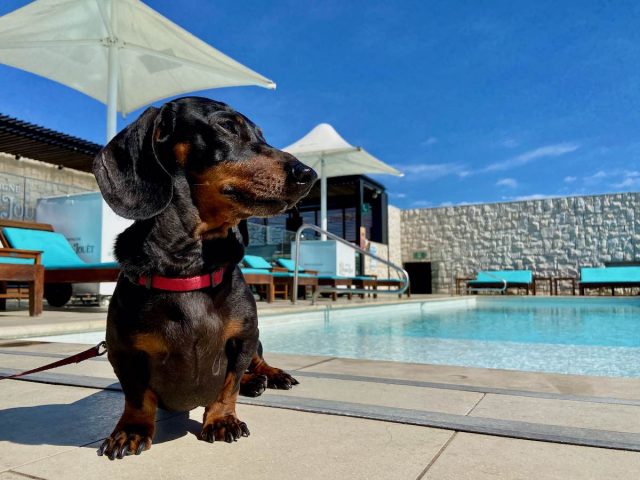 While the on-site restaurant doesn't permit pets, including for breakfast, it's fine to leave your pet in your room, although they should be left in a carrier or crate. There's also a special in-room dining menu of gourmet meals just for your pup, and you can enjoy a high tea together at the rooftop.
There's no size restrictions that apply, although only dogs are permitted.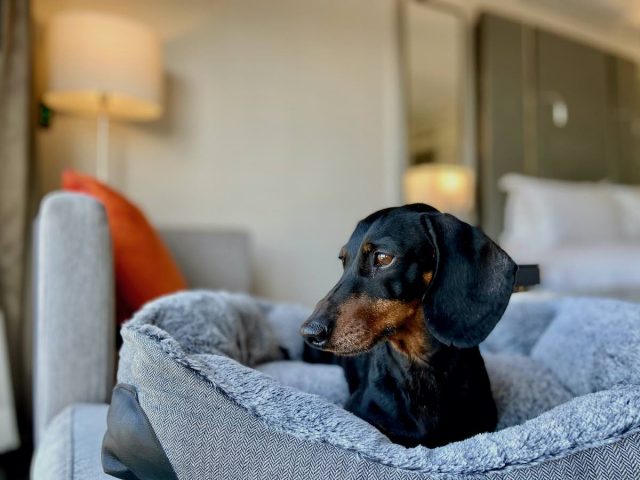 The Langham Sydney, The Rocks
One of the most luxurious hotels in Sydney, the Langham extends its five-star service to dogs as part of the Pampered Pets Program. In particular, pets have their own room service menu, with options ranging from slow cooked beef ragout to ocean trout sashimi.
Dog sitting and walking services can be arranged, if you're not tempted to head out for a stroll with your pooch around the historic Rocks precinct and the nearby lawns of Barangaroo Reserve. Even closer is Observatory Hill Park which permits dogs off leash.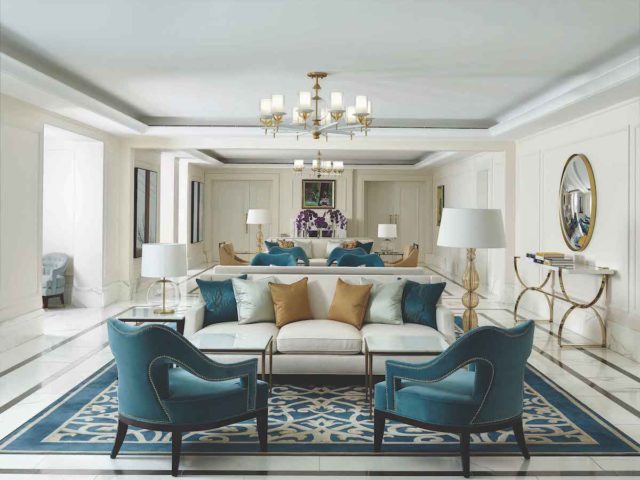 Pets are limited to a maximum weight of 20kg, and are not allowed to be left alone in your room. There is an additional charge of $120 per pet, pet night.
For the ultimate stay with your pet, check out the Pampered Pets Staycation package, which includes a Pet Afternoon Tea, breakfast in bed for both of you and a gift bag.
Four Seasons Hotel Sydney
The latest luxury hotel in Sydney to roll out the red carpet for dogs is the Four Season Hotel Sydney. Centrally located at the bottom end of George St, close to the harbour, book a Pet Paw-fection package for you and your pup.
As well as daily breakfast through In-Room Dining, perfect for relaxing with your pup at your side, the package also includes organic treats, a pet bath amenity, an eco-friendly toy for your dog to keep, plus stylish pet bedding with Indigenous designs for use during your stay.
Up to two dogs are permitted, each up to 11.5kg, although an additional charge will apply for a second dog. While pets are not permitted to be left behind in your room, pet-walking and pet-sitting can be organised through the concierge in advance.
Pier One Sydney Harbour, Walsh Bay
The very first pet-friendly hotel that I stayed at with my dog was the Pier One Sydney Harbour, where Schnitzel was treated like a celebrity! With a delightful location right on Sydney Harbour at Walsh Bay, this 5-star hotel is close to the Sydney Theatre and Barangaroo, but feels refreshingly removed from the bustle of city life.
A selection of ground-floor rooms are designated as dog-friendly, enabling easy access to the waterfront and nearby pet relief area. Take time to leisurely breakfast at the large outdoor seating area, where your dog can conveniently stay by your side in the Sydney sunshine, or book a Doggy Degustation at Gantry Restaurant.
Dogs are provided with a bed, food and water bowls, with no size restrictions. If staying with a pet, you must book a Puppy Package.
Ovolo Woolloomooloo
Prefer a waterfront luxury stay to the east of the Harbour Bridge? Instead consider the 5-star Ovolo Woolloomooloo, situated at the historical Woolloomooloo Wharf, tucked in between the Royal Botanic Gardens and Potts Point.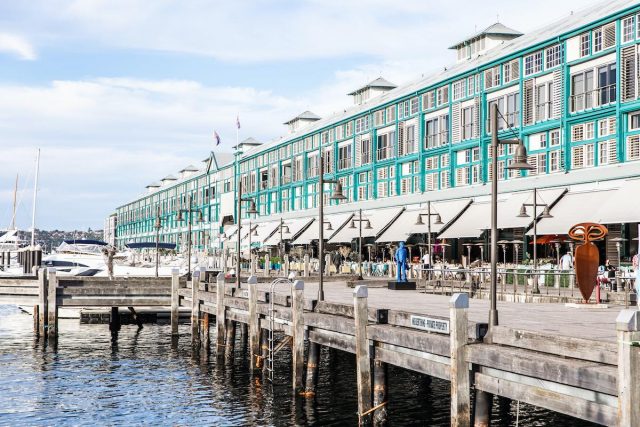 Rooms here are generously sized, including some fabulous loft suites, and the inclusions are especially generous for direct bookings: enjoy drinks at social hour, treats from the mini-bar and a complimentary breakfast. Naturally there's an indoor pool, restaurant, bar and fitness centre on site.
Of course, your dog is likely to be more interested in the inclusions of the V.I.Pooch Package. For an additional charge of $80 per pooch per night, your dog will receive their own bed and bowls, along with a "Doggy Bag" containing specially designed dog toy and treats. Up to two dogs are permitted per room.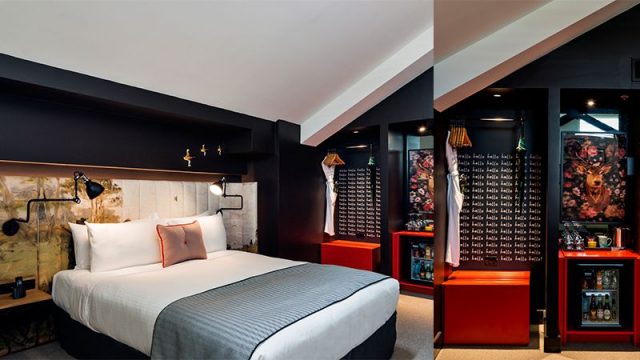 QT Sydney
QT Sydney is a glamorous hotel to stay at located right in the heart of Sydney, in between the Queen Victoria Building and Pitt Street Mall. Expect over-the-top touches at this 5-star hotel, from the moment you're greeted by the Director of Chaos.
Book a Pup Yeah! package at QT Sydney and your pup will enjoy a designer dog bed for the night, as well as their own mini-bar (full of treats!) and in-room dining menu. Highlights include Steak Tartare and Livers + Toast, plus naturally an Ice Cream Sandwich with bacon-flavoured ice cream. Enquire about the bespoke pupQ treatment menu or the option of doggie walks.
Dogs up to 20kg are welcome at the hotel. Note that dogs are not permitted to be left alone in your room, plus an additional cleaning fee of $150 per stay will apply.
Boutique Dog-Friendly Hotels in Sydney
For a more boutique-style stay, there's plenty of fabulous pet-friendly boutique hotels scattered around Sydney, from Woollahra to Surry Hills to Pyrmont.
The Hughenden Boutique Hotel, Woollahra
This 4-star hotel in a historic mansion in posh Woollahra is delightfully welcoming to pets and surprisingly affordable. It's located just a few kilometers from the Sydney CBD and adjacent to Centennial Park, which has wide expanses of off-leash dog areas.
Pets are permitted in four of the Queen rooms, each with their own private courtyard or enclosed verandah. There is an additional charge of $20 per room, per stay. There are no restrictions on breed, size or number of dogs, and cats are also welcome.
For the sociable pooch, enquire if their Pawsome High Teas are currently available. Treats including beef and liver risotto balls and mini peanut-butter donuts are served up to parties of at least three dogs, for $25 each. 14 Queen, the in-house cafe and bar, should also not be missed by human guests.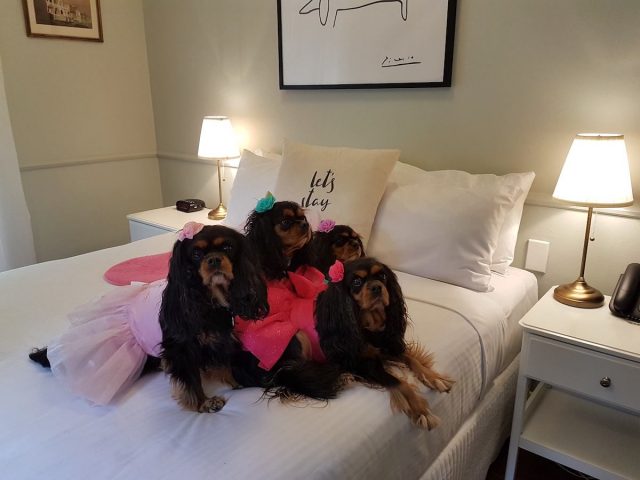 Kimpton Margot Sydney
The luxury boutique Kimpton Hotels from IHG are one of the most popular pet-friendly hotel brands in the USA, partially thanks to their "if it fits in the lift" policy. So thankfully the first Kimpton hotel to open in Australia, the Kimpton Margot Sydney, is also pet-friendly.
Located in the heart of Sydney, in the luxurious heritage-listed Art Deco surrounds of the former Sydney Water Head Office, it's the perfect spot for a pet-friendly stay, only two blocks away from Hyde Park, a terrific on-leash walking location.
Pets stay for free at the Kimpton Margot, with no pet deposit required, and no size restrictions. A pet nook will be set up in your room, with a luxurious pet bed, bottled water and a special treat. Double check any other rules directly with the hotel.
The Old Clare Hotel, Chippendale
The Old Clare Hotel is a fabulous place to base yourself for a city stay, not far from the newly redeveloped Central Park precinct. A stunning redevelopment of a heritage-listed building, the historic touches extend from the reception and bar to the individual rooms, although the rooftop swimming pool is thoroughly modern and chic.
Since I last stayed at the hotel, they have started to welcome pets, both in the petite Kent rooms and the more luxurious Abercrombie rooms (complete with a freestanding bath). Your pup will be pampered with a mini retro-style lounge, complimentary pet in-room dining, handmade bowls, a Fuzzyard toy, and their own pet directory.
Up to two pets can join you, for an additional charge of $100 per pet per night. Contact the Reservations team directly by phone or email to book.
Crystalbrook Albion, Surry Hills
A Crystalbrook Collection Boutique Hotel located in the hip neighbourhood of Surry Hills, this guesthouse is a beautifully restored former convent, but with all the modern amenities you could desire. On its doorstep are the many pet-friendly cafes of Surry Hills, plus only a few hundred metres away is the off-leash Harmony Park.
The king-size Urban rooms are pet-friendly, each located on the ground floor with hardwood floors and direct access outside. Both dogs and cats are welcome, with a bed, food and water bowls provided. There is an additional charge of $95 per room. Contact the hotel directly for pet bookings.
Ace Hotel Sydney
The recently opened Ace Hotel Sydney is the first Souther Hemisphere outpost from boutique hotel brand Ace Hotels. Bringing a touch of cool to Wentworth Avenue on the edge of Surry Hills, there's a range of room sizes available, from Small up to Suites.
Like many other overseas Ace Hotel locations, this one also welcomes pets to stay with you. Up to two dogs are permitted per guest room, with the FAQ advising to "get in touch if you have something strange or larger and we'll try to make it work". There is a pet fee of $120 per pet.
The Woolstore 1888 by Ovolo, Pyrmont
Ovolo also has a second location in Sydney, tucked away in Pyrmont behind Darling Harbour. This location is less waterfront views, more hip with historic touches. Rooms and suites feature exposed brick walls and bold, modern artworks.
Just like Ovolo Woolloomooloo, up to two dogs are welcome to join you and be treated to the V.I.Pooch Package. Your dog will receive their own plush bed and bowls, along with a "Doggy Bag" containing specially designed dog toy and treats. There is an additional charge of $80 per night.
Medusa, Darlinghurst
The Medusa Hotel is in inner-city Darlinghurst, close to Kings Cross Station. It's located on a quiet stretch of Darlinghurst Road, and but just a short walk to a range of trendy restaurants and bars, not to mention walking distance to the Sydney CBD. A true boutique hotel, the grand old terrace has just 18 rooms across three levels.
Dogs are welcome to join you in the rooms adjoining the downstairs courtyard, with Grand, Premium and Deluxe room options available. A maximum of two dogs are permitted per room, and you will be required to sign the pet policy and pay an additional fee.
The Ultimo, Chinatown
Located in the bustling Chinatown district in the heart of Sydney, the The Ultimo is situated in a heritage-listed building from 1911 that has been extensively refurbished. A distinctive touch is the Astrology Library in the lobby, plus the option to order Astrolo-tea specially selected to match your zodiac sign.
Pets are only permitted in the Ultimo Courtyard rooms. These are surprisingly located on the top floor on the building, and come with an artificially turfed courtyard. Both dogs and cats are welcome, up to 20kg in size. There is no additional charge for pets.
Modern Dog-Friendly Hotels in Sydney
Head just outside of the city centre for these modern city hotel offerings, each that welcomes your pet to join you.
Larmont Sydney by Lancemore, Potts Point
Head east of the city to the pet-friendly Larmont, located in the heart of Potts Point but within walking distance of the dog-friendly Rushcutters Bay Park. One floor of the modern luxe Larmont is pet-friendly, with four courtyard rooms with terrace access available to those travelling with pets.
Up to two pets are allowed per room, for an additional $55 per pet per night. Pets are supplied with their own bed, food and water bowls, plus a welcome treat.
Crowne Plaza Sydney Darling Harbour
On the western edge of Sydney, the Crowne Plaza Sydney Darling is just a few minutes walk from Town Hall Station and the QVB Building, but on the edge of the at the popular Darling Harbour precinct. There's multiple dining options on site, plus a heated rooftop swimming pool.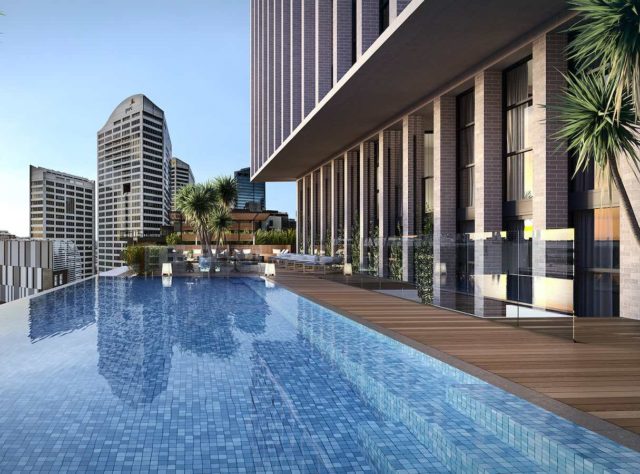 Dogs up to 20kg are permitted to join you at the Crowne Plaza Sydney Darling Harbour. Simply book one of their Pet Getaway packages, available for a variety of room types, with a Bonza Dog Treat included.
View Sydney, North Sydney
This hotel in North Sydney is one of the few dog-friendly options available north of the Harbour Bridge. Situated in the heart of North Sydney, View Sydney is true to its name, with glorious harbour views from most rooms.
At the hotel, selected rooms are pet-friendly, for an additional fee of $90 per night. Double check if there are any size restrictions, and make sure you email the property at least 24 hours in advance with the details of your pup, including name, breed and weight.
It's a short walk to the harbour with plenty of off-leash parks in the surrounding area. Or head to the nearby Greenwood Hotel for dinner or a drink, which has recently become dog-friendly.
Beachside Dog-Friendly Hotels in Sydney
Wanting a stay near the beach with your pooch in Sydney? Consider a stay at these hotels and apartments… (And don't forget to consult my guide to dog beaches in Sydney.)
QT Bondi, Bondi Beach
QT Bondi is perfect for year-round beachside fun – you don't get much more beachfront than directly opposite Bondi Beach! The typically luxe QT-style is melded with laidback, relaxed vibes at this hotel. There's a selection of studios and apartments, including kitchenettes and washing machines, perfect for a longer sojourn.
Book a Pup Yeah! package and your pup will enjoy designer bedding, as well as their own mini-bar (full of Woof Gateaux treats!) and an in-room dining menu. QT Bondi specially features a vet-approved vegan menu for pups, thanks to a partnership with Eden Bondi. Choose between Vegetable Terrine or Sweet Potato Meatballs with Pea Puree.
Dogs up to 20kg are welcome to join you. Note that your pup isn't permitted to be left alone, plus an additional cleaning fee of $150 per stay applies.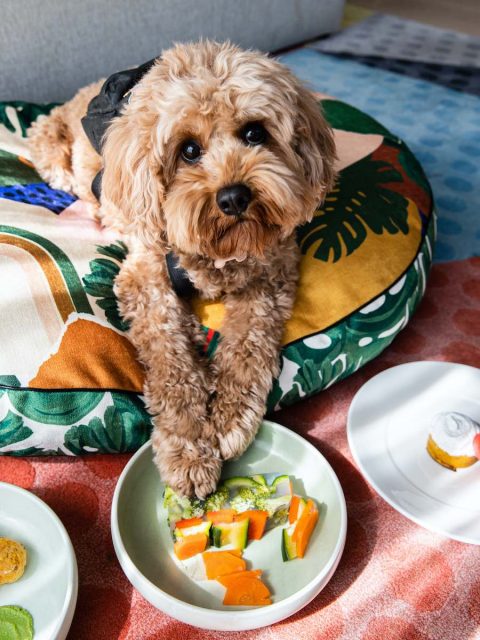 Manly's Hidden Gem is a family-run set of apartments plus one cottage located in the beachside suburb of Manly. All apartments come with a kitchen, that can vary in size.
Pets are permitted to stay in two of the apartments listed on their website: the Pet Friendly Double Apartment and the Pet Friendly Triple Apartment. It's best to book directly on their website, with additional fees applying for pets.
These apartments are better suited to a beach vacation rather than a city visit. Not far away is the off-leash Manly Lagoon Park, or instead take your dog for an on-leash walk along Manly Beach to Shelley Beach.
Manly Waves Accommodations, Manly
Another pet-friendly option in the beachside suburb of Manly is Manly Waves Accommodations, just 100m from the beach. It offers a wide variety of hotel rooms, studios, apartments and even a cottage.
If you'd like to stay with a pet, either a dog or cat, contact the management prior to making a booking. Additional fees will apply: $40 for the first pet and $20 for the second. Check out more details on their website.
Dog-Friendly Airport Hotels
If your pup is flying in or out of Sydney Airport, there're a number of dog-friendly hotel options nearby that are quite handy. I wish I'd stayed at one of these before our early morning flight with Schnitzel to Melbourne!
Citadines Connect Sydney Airport, Mascot
While the Citadines Connect Sydney Airport is an airport hotel, it's not your typical airport hotel, with stylish decor and quirky nods to the history of air travel. Located a short walk from the domestic terminals, head to the top floor on arrival for the bar cum reception, along with great views for plane spotters.
A selection of Premium Economy rooms are pet-friendly, complete with a balcony, dog bed, food and water bowls, and welcome pack. Just book a Penthouse Pups package. Pets are welcome in all public spaces except for when breakfast is being served. There's an additional one-off fee of $55.
ibis Budget Sydney Airport, Mascot
An alternative pet-friendly option also close to the Sydney Domestic Airport (and I mean close!) is the ibis Budget Sydney Airport. I've stayed in multiple pet-friendly ibis hotels before in Europe, but this is the first pet-friendly ibis I've come across in Sydney.
Only dogs are permitted to stay, in the new dog-friendly courtyard rooms which have their own entrance. There is an additional cleaning charge, and a pet bed and food bowls are provided.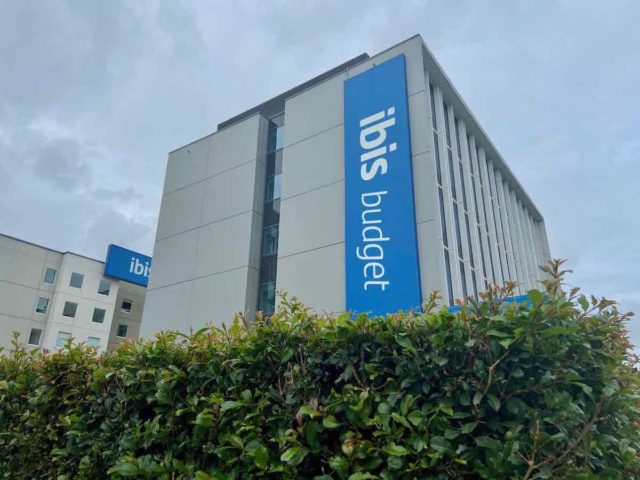 Affordable Dog-Friendly Hotels in Sydney
For a more affordable pet-friendly stay in Sydney, it's generally best to head out of the city. These two pet-friendly lodges are located in Kirribilli and Burwood.
Glenferrie Lodge, Kirribilli
The Glenferrie Lodge is a budget guesthouse located just north of the Harbour Bridge in the harbour-side suburb of Kirribilli. Its located in a 19-century heritage guesthouse, with a beautifully sunny garden. There are a wide range of modern clean rooms on offer for affordable rates. It's easy to reach the city centre via ferry.
Pets are allowed in a few specific rooms with balconies. There's a weight limit of 20kg per pet, and a surcharge applies per pet per night, payable on arrival. Contact Glenferrie Lodge directly to find out their full rules.
Boronia Lodge, Burwood
Head 10km west of the Sydney CBD to Burwood to find Boronia Lodge. This Federation Guesthouse was built in 1910 but has been renovated to welcome guests in the 21st-century.
There are 20 rooms that vary in size, some with a private ensuite while others share a bathroom. Prior guests note that the amenities on offer are quite basic and limited.
Pets are welcome to join you for an additional fee of $30 per night. Contact the property directly to request a pet-friendly room.
Dog-Friendly Apartment Hotels in Sydney
If you'd prefer the amenities of an apartment room during your stay in Sydney, whether for a short-term or longer stay, check out these two chains that offer pet-friendly apartment hotels.
Quest Apartment Hotels
Quest Apartment Hotels has multiple locations across Sydney and Australia, including many that are pet-friendly. Each hotel rooms includes a fully equipped kitchen, in-room laundry facilities plus the guest services team can point you in the direction of nearby pet facilities.
The following Sydney locations are pet-friendly:
Quest North Sydney
Quest at Sydney Olympic Park
Quest Penrith
Quest Campbelltown
Quest Cronulla Beach
Quest Mascot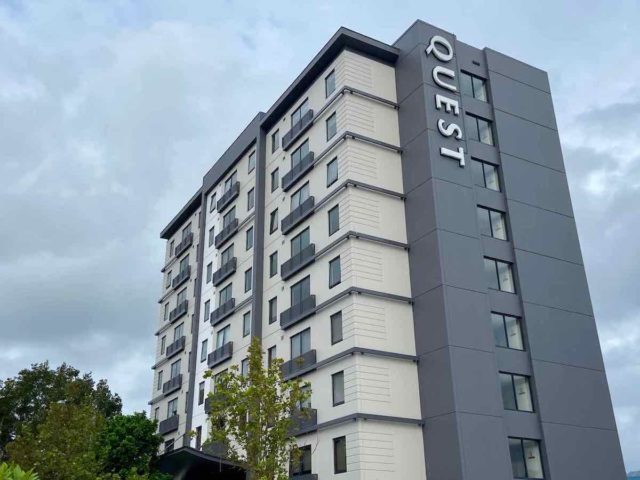 There is a small additional fee for staying with a pet, starting at $15 per pet per night, varying by property and duration of stay. There is also a $250 refundable deposit per pet per stay. Contact the property directly to make a booking with your pet and enquire about full conditions, which vary from property to property.
Veriu Hotels & Suites
With five bespoke properties close to the centre of Sydney, pets are welcome to stay at Veriu Hotels & Suites, although their pet policy varies between properties. A pet fee of $250 applies for all stays.
The following properties permit all guests to bring along their pet, both short and long-term stay guests:
Meanwhile, their other Sydney properties only permit pets for long-term stays, defined as a minimum of 14 days (with discount rates applying):
Veriu Green Square
Veriu Randwick
It's best to speak to the individual properties for full conditions.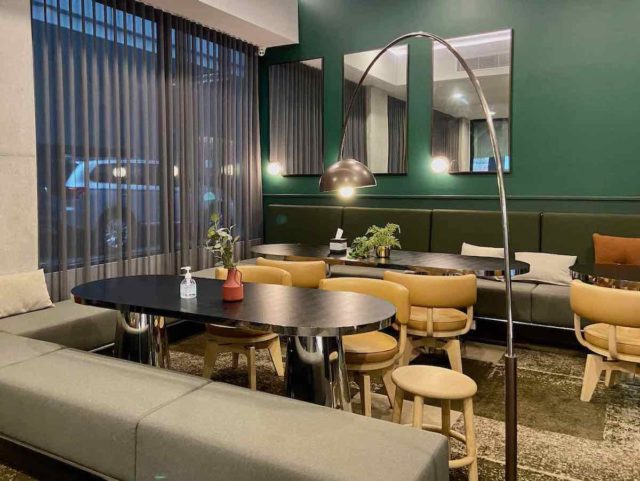 You May Also Like
Inspired? Pin this to your Pinterest board!