As a long-time Sydneysider, I'm usually compelled to say how much better Sydney is than Melbourne, as part of the long-standing rivalry between the two Australian cities. However, when it comes to dog-friendliness, Melbourne is way out in front and by far the most dog-friendly city in Australia.
Melbourne is a great destination to visit with your dog, whether on a short trip or as part of a longer lap around Australia. Read on for everything you need to know about visiting Melbourne with your dog.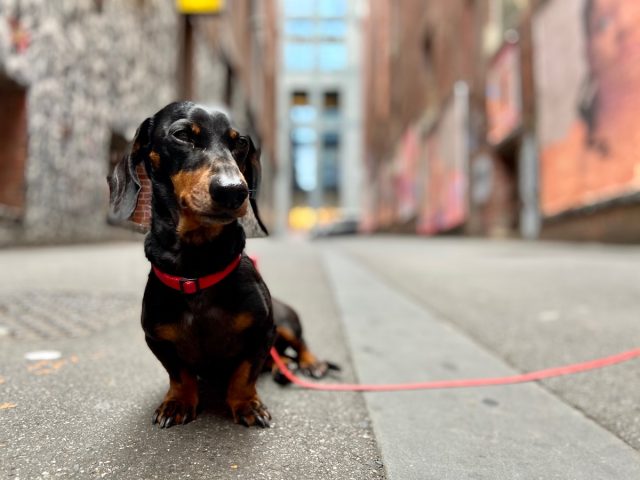 If you're spending a whole week in Melbourne (lucky you!), I love this itinerary for 7 days in Melbourne. Just double-check which attractions do and don't allow dogs.
Where to Stay with Your Dog
During my time in Melbourne, I stayed at the Best Western Melbourne City Hotel, the first hotel in Melbourne city to be pet-friendly. It's also a great value accommodation option for humans.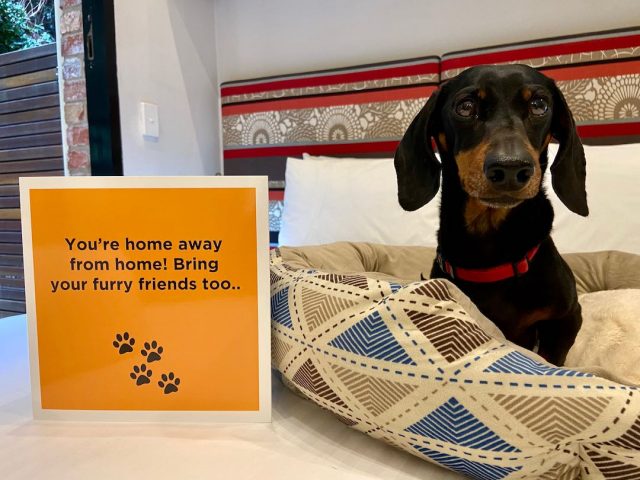 The hotel is conveniently located within walking distance of both Flinders Street and Southern Cross Stations (handy for if you're arriving with your pup by train, see more below). It's also within the free tram zone, meaning you can easily get around the city with a small pet in a carrier bag for free (more on this later).
If you're driving, the hotel can reserve you a discounted 24-hour parking space in the parking garage around the corner, with the option of starting the 24-hour period whenever you want. (We selected for it to start at 11am, so we could spend our arrival day exploring the city.)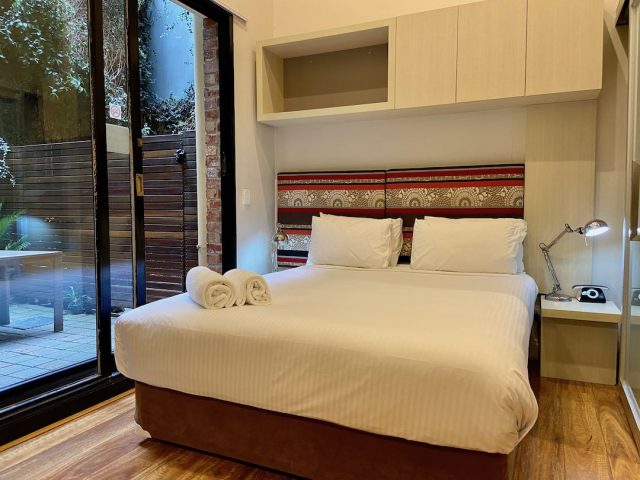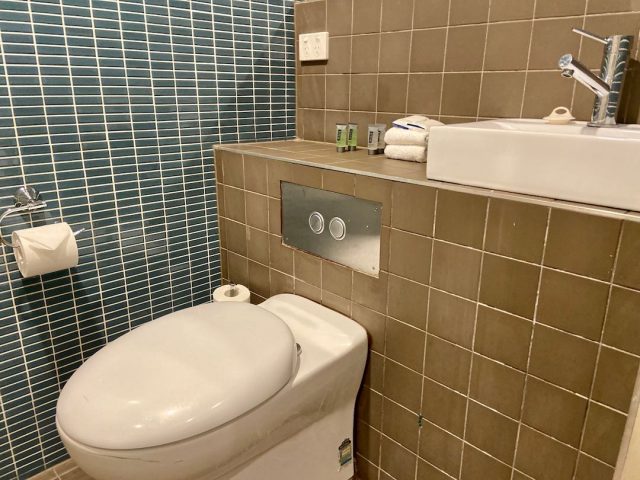 Inside the hotel, pets are allowed to stay in the courtyard rooms on the ground floor, for an additional fee (currently $30 per night). The rooms are spacious and have been recently redecorated, with modern lines and colourful accents. All the modcons you desire are included, including cable TV, tea and coffee facilities, and a rainwater showerhead.
While it was a little chilly during our visit, the courtyard would also be great to relax in on warmer evenings, enjoying a takeaway meal or a few beverages.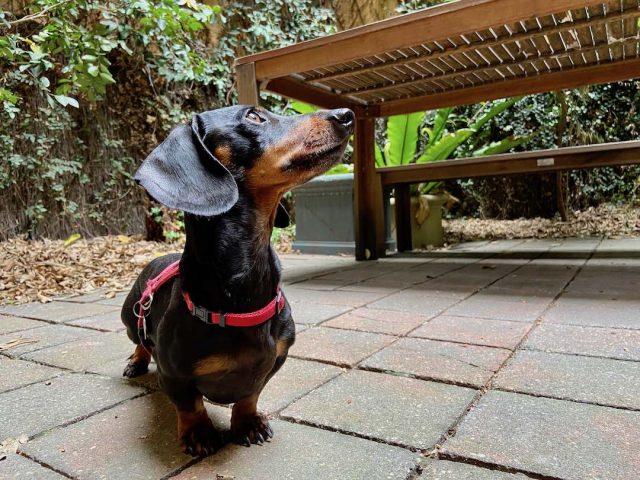 Onsite is Olivier's Cafe, open for breakfast daily or for an early lunch. We considered paying extra for room service and having breakfast delivered to our room, but instead opted to take-away the tasty Egg and Bacon Muffins.
There's also a continental buffet on offer, if you can trust your dog to remain behind in your room. (On the dog sign-in form, dogs are permitted to be left in the room as long as you put the do-not-disturb sign on the door.)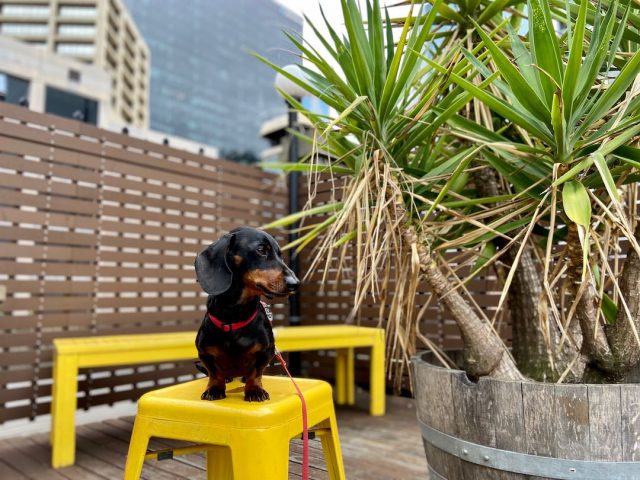 Dog-Friendly Dining in Melbourne
Melbourne has no shortage of restaurants, cafes and pubs that welcome dogs all over the city. If you're staying at the Best Western Melbourne City, I recommend heading over to the wide open spaces of Southbank for dinner, where there's plenty of dog-friendly outdoor dining spaces.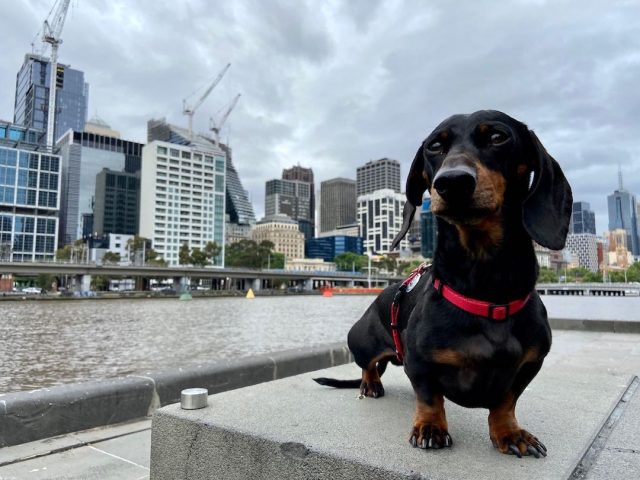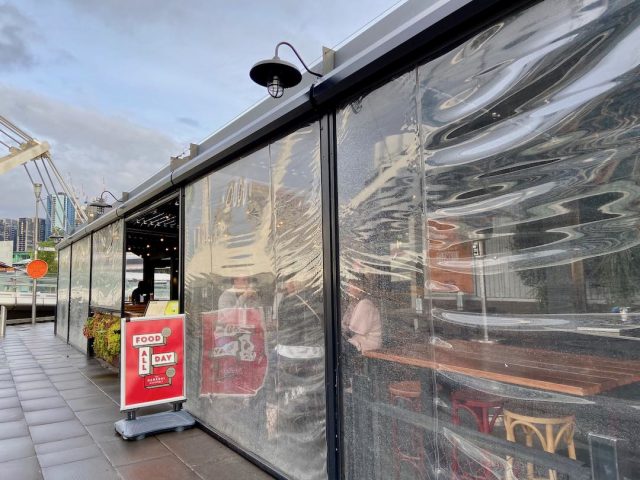 We choose to dine at The General Assembly, near the convention centre and less than 10 minutes walk from our hotel. Dogs are allowed in the outdoor area. But considering most of it is covered and fitted out with outdoor heaters, it's still a welcoming spot come the coldest and rainiest Melbourne night.
There's some great burgers options on the menu, and if you're visiting during the week make sure you arrive before 6pm to nab the Happy Hour drink specials.
Another dog-friendly option nearby on the northern bank of the Yarra is the The Wharf Hotel. Just check out their Instagram account (@wharf_hotel) for plenty of photos of contented pooches.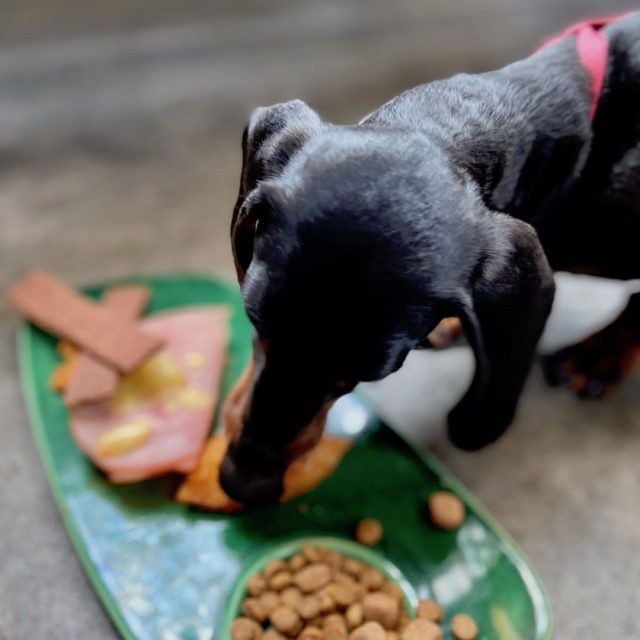 For something a bit more extravagant for your pooch, head to the Newmarket Hotel in St Kilda on a Tuesday night. Not only are both regular and large size parmas for humans discounted to $15, but they also have a parma special for dogs.
For just $5, your dog will be served up some chicken schnitzel topped with ham and cheese, along with some dog treats and dog biscuits. My Schnitzel was a big fan, although we saved some for later as he's such a little dog.
Dog-Friendly Beaches in Melbourne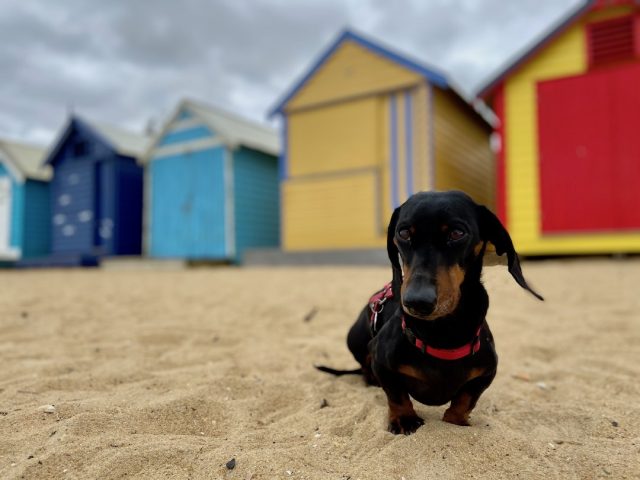 While Melbourne doesn't have any surf beaches like my home city of Sydney (instead head to the Great Ocean Road for the nearest surf beaches to Melbourne), it does still have some decent beaches along the shores of Port Phillip Bay, great for visiting with a dog thanks to their calm waters.
The rules for whether dogs can access beaches are up to the individual councils. Generally there are clear sign posts, but sometimes you may need to look online at the council websites. Often, dogs are allowed off-leash on beaches over the winter period, but come the summer months are restricted to just early and late in the day, if at all. However, there are quite a few beaches that allow dogs off-leash all year round.
For instance, if you're heading to St Kilda, dogs are allowed on the main stretch of St Kilda Bech only during the winter time, but are not allowed at all on the sand between the months of November and March. Instead, head to one of these options over the summer:
Southeast to the stretch between Brooks Jetty and the northern end of the St Kilda Marina car park
Northwest to the stretch between St Kilda Pier and the draining channel as its northwestern end
Or further west to St Kilda West, except for the sensitive dune area
Some other dog-friendly beaches around Melbourne include:
Brighton Dog Beach: At the end of Sandown Street in Brighton. This beach is also conveniently fenced, great for excitable pups.
Altona Dog Beach: Next to P.A. Burns Reserve in Seaholme
Considering driving along the Great Ocean Road with your dog? Read my Great Ocean Road with a Dog guide first to discover where dogs are and aren't allowed
Dog-Friendly Parks in Melbourne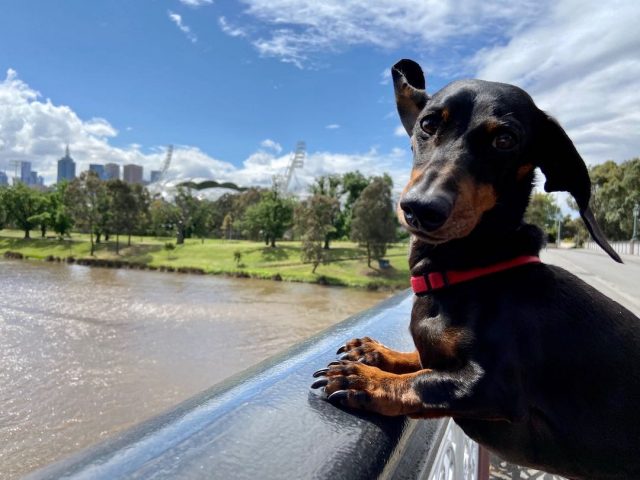 Many of the parks in Melbourne are dog-friendly, albeit with the caveat that they need to remain on a leash. As I mentioned above, dogs are welcome in the Royal Botanic Gardens and Carlton Gardens. Another on-leash option within the city is Flagstaff Gardens.
If you're wanting to find an off-leash park, your options are more limited and you'll have to head further afield. Two options close to the city are sections of Gosch's Paddock, just north across the Yarra from the Royal Botanic Garden, and Yarra Park, on the east side of the famous MCG stadium. See the maps on this website. In Richmond, head to Citizen Park when football isn't being played.
Further out of the city (a car is necessary), head to Aranga Reserve, just off the M3 motorway in Donvale. As well as large fenced grass expanse, there's also a dog agility course.
Dog-Friendly Shopping in Melbourne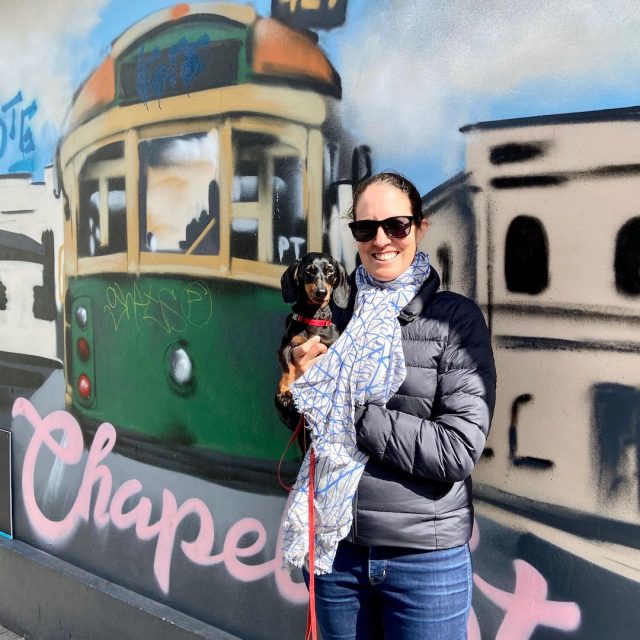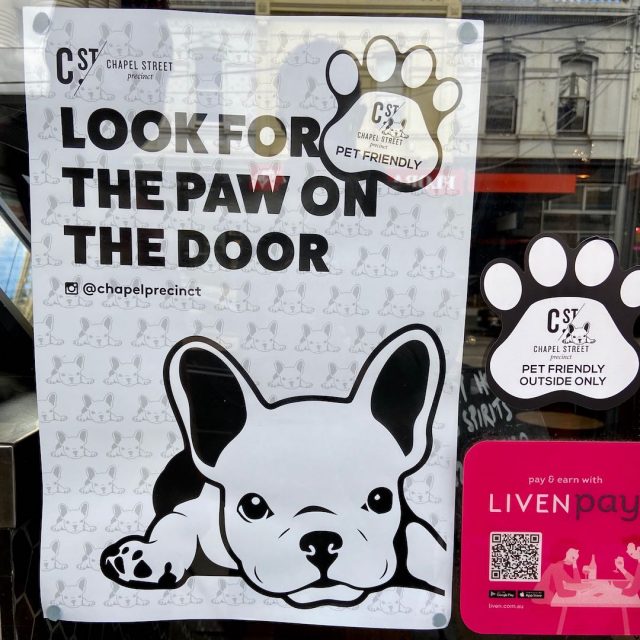 Just like most places in Australia, the majority of shops in Melbourne won't be happy if you try and take your dog inside. However, the rules have been relaxed when it comes to Chapel Street in South Yarra and Prahran, which has recently become Melbourne's first dog-friendly shopping precinct.
While walking along the street, keep an eye out for the Paw-on-the-Door stickers indicating pet-friendly businesses. Many fashion shops are pet-friendly (we dropped into Peter Alexander to check out their latest pyjama designs); even some of the local banks allow pets inside.
The stickers also handily indicate which local restaurants and cafes allow dogs in their outdoor dining areas. (There's a huge selection!) Check out the full listing of participating businesses here.
Dog-Friendly Transport in Melbourne
One area where Melbourne really shines as dog-friendly is their approach to public transport and pets. Unlike the majority of cities in Australia where pets on public transport are a no-no, pets are allowed on public transport in Melbourne with some caveats.
The most welcoming option are the metropolitan trains. Cats and dogs of all sizes are allowed on the metropolitan trains. Cats and small dogs need to travel in a container, while larger dogs are permitted if they are wearing a leash and muzzle.
On the regional V/Line trains, only small pets in a container are allowed onboard. The container is restricted to a maximum size of 56cm long x 30cm wide x 38cm high, with a maximum weight of 15kg. It needs to be stored in an assigned storage location and off-peak travel is recommended, but it's still a great option to explore the Victorian countryside with a small dog. For more information, see here.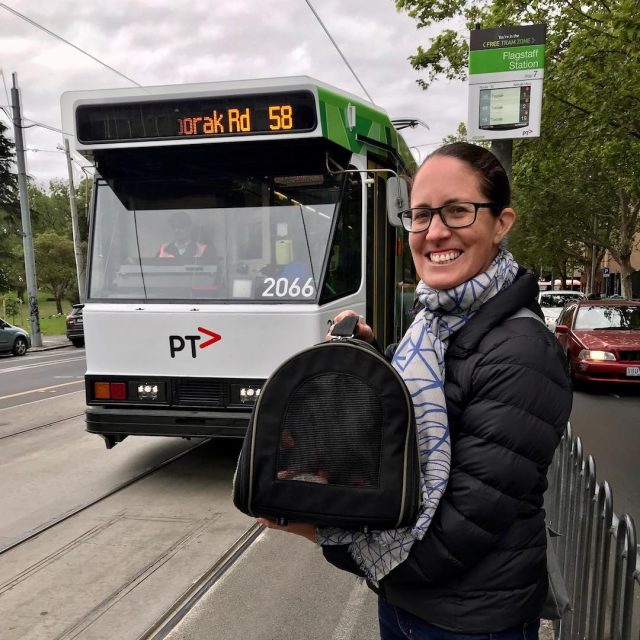 Similarly, only small pets in a container are allowed on trams and buses across Victoria, including Melbourne. The only public transport option that doesn't allow pets are the V/Line coach services. For more information, see the full guidelines.
With these generous rules, it means that a quick getaway to the Melbourne CBD using public transport with your pet is possible from within the metropolitan area (for dogs of all sizes) or from across the state (for those with small pets). Plus it's easy to get around the city with smaller pets.
Live interstate and want to fly to Melbourne with your pet? Find out more about flying in Australia with a dog
Dog-Friendly Sightseeing in Melbourne
While many popular attractions in Melbourne are off-limits if you're sightseeing with a pup, there are equally many things to do in Melbourne that are dog-friendly. Here are my top five recommendations.
1. Visit the Bathing Boxes at Brighton Beach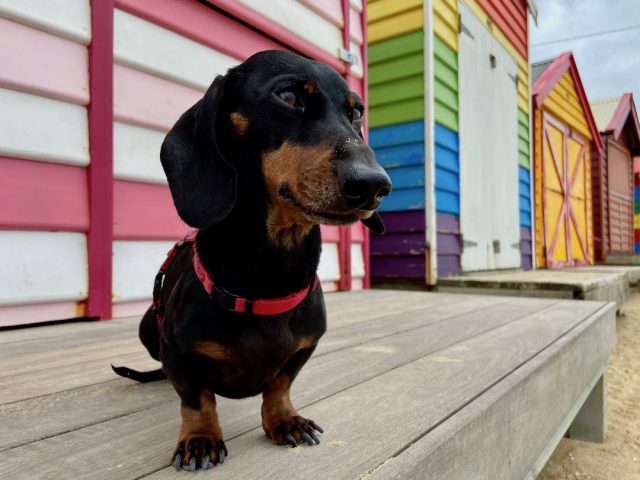 After missing out on visiting these famous colourful bathing boxes on previous trips to Melbourne, I was determined to visit them this trip. Luckily then it's dog-friendly!
Dogs are allowed off-leash here all day long from April to October, then between sunrise and 10am between November and March (with no dogs permitted at all between 10am and 7:30pm from November to March). (For full details, click here.)
In any case, it's best to head here early to avoid the crowds, and nab some great photos with your pup. It's easiest reached from the city with a car, just remember to pay for parking. If you're looking for a great beach nearby that is off-leash all day long, not much further north is the Brighton Dog Beach at Sandown Street.
2. Explore the Botanic Gardens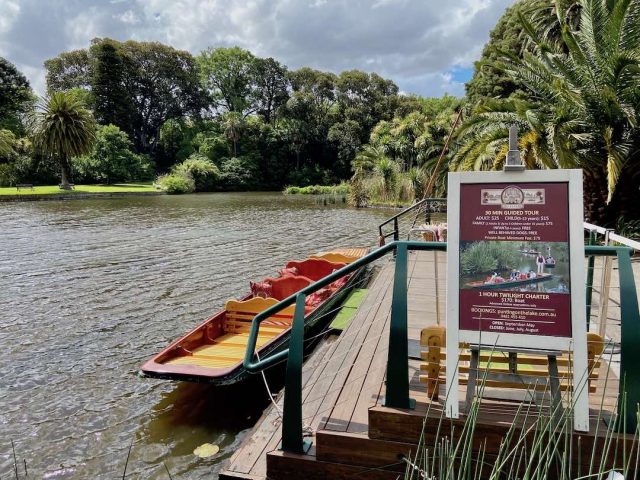 The majority of botanic gardens around Australia and in fact the rest of the world don't permit dogs in their grounds. However, the Royal Botanic Gardens Victoria in Melbourne are more welcoming.
Dogs are still not allowed off leash inside the gardens, but they are allowed to join you for a stroll on a leash. Additionally, if you decide to take a punt tour on the lake, well-behaved dogs can join you for free.
3. Check out the Street Art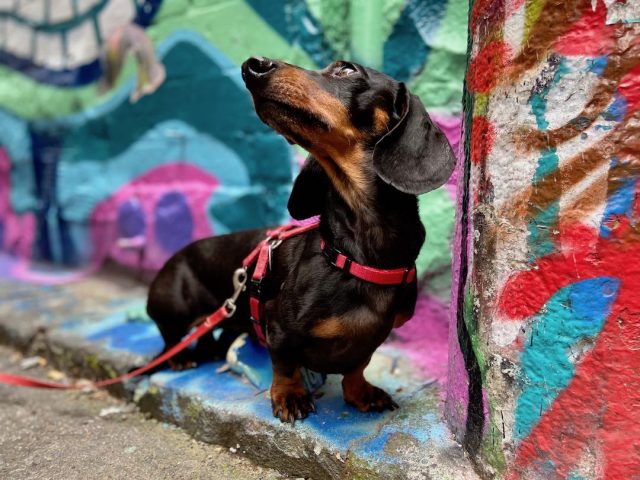 A trip to Melbourne isn't complete without exploring some of the city's famous yet ever-changing street art. Many of the inner city suburbs have great examples, but the most well-known destination is Hosier Lane in the city, not far from Federation Square.
Definitely stop by Hosier Lane, where you are likely to spot some new works being sprayed onto the walls. But as it can get quite crowded, which some dogs might not appreciate, I recommend heading a few blocks further east, to the less crowded ACDC Lane and Duckboard Place.
4. Visit a World Heritage Listed Building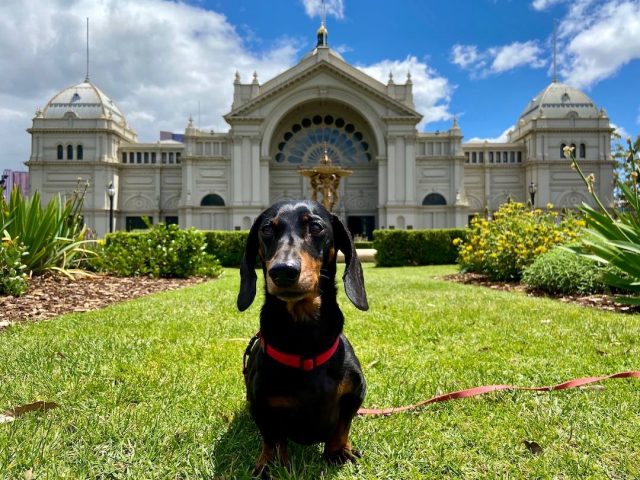 Melbourne is home to one of Australia's most unexpected World Heritage sites: the Royal Exhibition Building in Carlton Gardens, on the northern fringe of the city. The building is one of the few remaining examples of the exhibition buildings erected across the world in the late 19th century.
While dogs may not be able to head inside (and we weren't either during our visit, due to university exams), it's still a great spot to visit and view the imposing exterior (keeping your pup on a leash). The grassy lawns of Carlton Gardens are also perfect for a picnic.
5. Head to St Kilda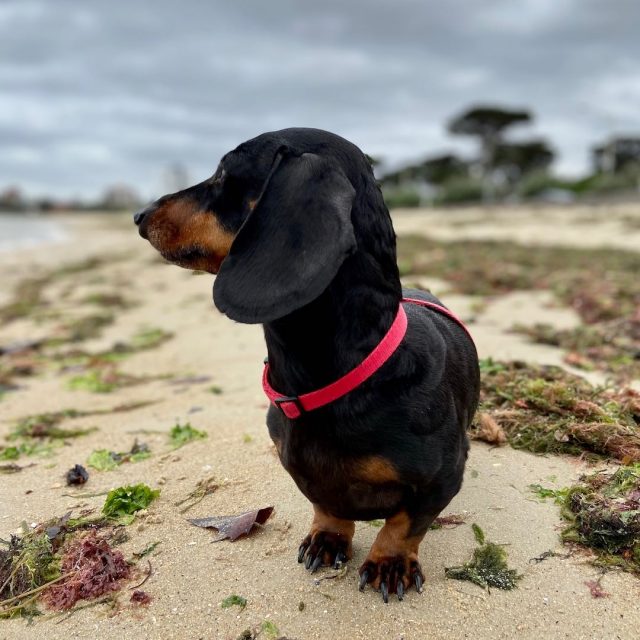 It's just a short tramride or drive from the centre of Melbourne to the bayside suburb of St Kilda. A popular beach destination close to the city, it has plenty of options for entertainment.
Your dog won't be allowed inside of the Luna Park amusement park (and wouldn't appreciate the screams), but instead take a walk out along the pier (dogs allowed on a leash) or visit one of the surrounding beaches.
St Kilda Beach to the east of the pier only permits dogs over the winter months, but instead head to the western side, near Pier Road, where dogs are allowed off-leash all day long, year round. For more details on surrounding beaches, see below.
If visiting on a Sunday, check out the market along the Esplanade. Otherwise stop off at one of the cafes along Acland Street for coffees and cake.
Thinking of heading to the Yarra Valley on a day trip or overnight? Check out my dog-friendly Yarra Valley guide
Note: The author received media rates at Best Western Melbourne City. However, all opinions are entirely her own.
Inspired? Pin this to Pinterest!