An increasing number of hotels in Australia have become pet-friendly in recent years. And not just single hotels, but sometimes entire hotel chains, or at least the majority of the hotels in a brand.
The advantage of booking with a pet-friendly hotel chain is that as well as the facilities and style being consistent from hotel to hotel, the pet policies are also usually identical. So whether you're after a luxury hotel or apartment-style hotel rooms, check out these dog-friendly hotel chains next time you're booking a hotel stay in Australia with your dog.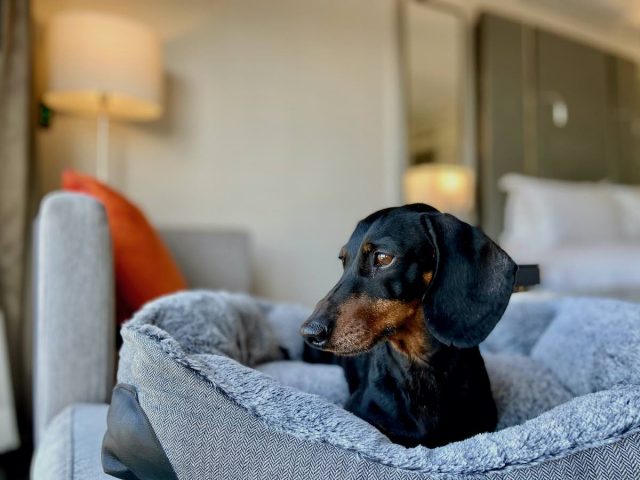 #1 Ovolo Hotels
Ovolo Hotels is a chain of luxury boutique hotels across Australia. After originating in Hong Kong, Ovolo now operates eight properties in Australia, both under the luxurious Ovolo Hotels brand and more unique properties under the By Ovolo Collection branding. A highlight of a stay at Ovolo are the many perks included, especially if you book directly.
Each of the Ovolo Australian hotels except for Nishi Apartments by Ovolo in Canberra offers their V.I.Pooch package. Included in the package is a plush dog bed and bowl for your pup, along with a "Doggy Bag" containing dog toys and treats. There's also pet-friendly staff on hand to provide assistance when needed.
At Ovolo Hotels, up to two dogs are permitted per room, and there are no size limits. No other animals are permitted. In addition to the V.I.Pooch package, there is an additional fee of $100 per night for a second pet.
Locations: Brisbane (x2), Canberra, Melbourne (x2), Sydney (x2)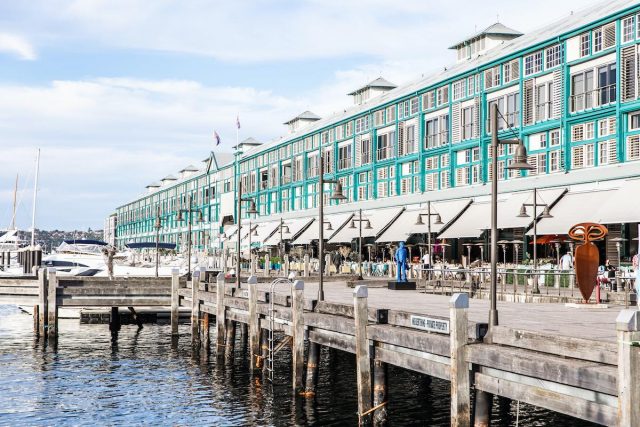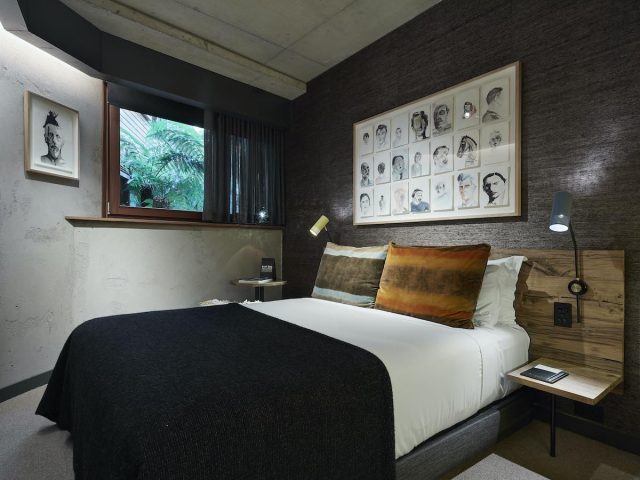 #2 QT Hotels & Resorts
QT Hotels and Resorts are luxury boutique hotels with a bold focus on art and style, offering a touch of quirk at each property. There are currently seven QT Hotels across Australia, as well as three properties in New Zealand.
Each of the QT Hotels, both in Australia and NZ, offer their Pup Yeah! package. Included in the Pup Yeah! package is a designer dog bed, along with your dog's own mini-bar (full of treats!) and their own in-room dining menu. Enquire at selected properties about the option of dog walks and grooming.
A limit of one dog is permitted per room, with a size limit of 20kg. There is an additional $150 cleaning fee for the stay and your dog is required to sleep on the provided bed, not the big bed!
Locations: Canberra, Gold Coast, Melbourne, Newcastle, Perth, Sydney (Bondi & CBD)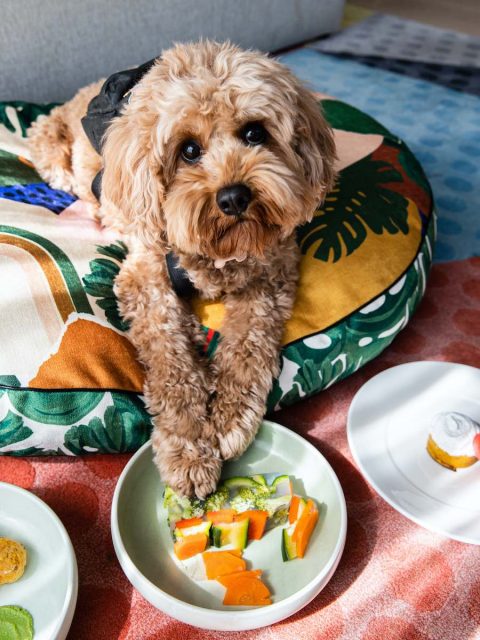 #3 Abode Hotels
If you're visiting Canberra with your dog, for many years the easy pet-friendly hotel to select has been an Abode apartment hotel. With multiple locations dotted around Canberra, plus a coastal outpost near Batemans Bay, each hotel location consists of stylish self-contained rooms of varying sizes, each with a small kitchenette.
All but two of the Abode Hotel locations are pet-friendly – only Tuggeranong and Woden don't have pet-friendly rooms. To book a pet-friendly room, select the Pet Package on their website for your preferred room size.Generally it costs about $50 extra per night compared to a room only.
Up to two pets are permitted per room, but an additional charge of $50 will apply for a second pet, to be organised directly with the hotel. You'll need to bring your pet's own bed.
In particular, I've heard excellent feedback for Abode Narrabundah, with pet-friendly rooms having access to a dog run.
Locations: Canberra (x5), Batemans Bay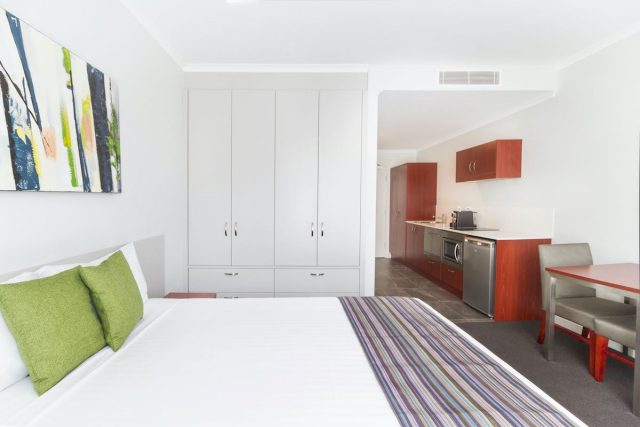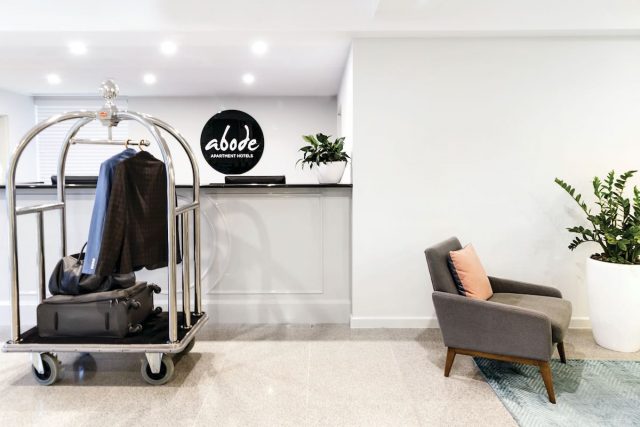 #4 Quest Apartment Hotels
Quest Apartment Hotels has around 120 apartment hotels scattered right across Australia, in a mix of CBD and suburban locations. While not all hotels or even a majority are pet-friendly, there are still a sizeable 30 or so properties that have pet-friendly rooms. All rooms are self-contained, with complete kitchens, varying from studios to multi-bedroom apartments.
To see the latest listing of pet-friendly locations, check out the Quest Apartment Hotel website. Each pet-friendly room comes with a pet bed, food and water bowls, toys and treats to help your pet settle in.
There is a small additional charge to stay with your pet, starting at $15 per pet per night, varying by property and duration of stay. A refundable deposit of $250 per pet is also charged per stay. To book a pet-friendly room, plus find out the full pet policy (which varies from hotel to hotel), contact the hotel you are wanting to stay at directly.
Locations: Albury, Brisbane (x3), Darwin, Gold Coast, Melbourne (x16), Orange, Perth (x5), Sydney (x4), Tamworth, Toowoomba, Whyalla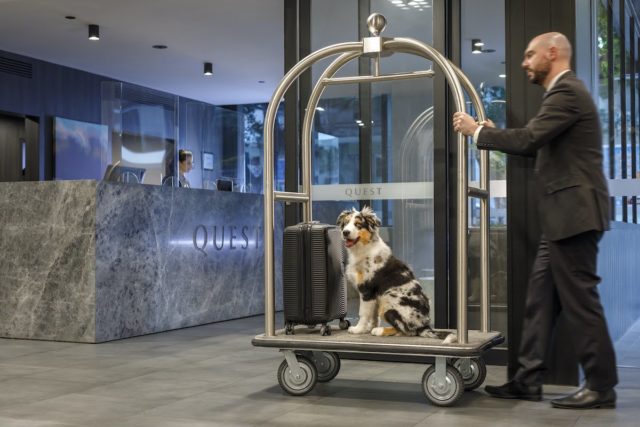 #5 Spicers Retreats
If it's a luxury retreat in Australia that you're after, look no further than Spicers, in particular if you'd like to bring your dog along. Spicers Retreats has nine locations scattered around NSW and southeastern Queensland, from the Blue Mountains to the Sunshine Coast Hinterland, and seven of the locations are now pet-friendly, offering Pooch Packages.
Choose between the Spicers Guesthouse or Spicers Vineyards Estate in the Hunter Valley, Sangoma Retreat in the Blue Mountains, the Balfour Hotel in Brisbane, Hidden Vale west of Brisbane, or the equally luxurious Clovelly Estate and Tamarind Retreat in the Sunshine Coast Hinterland.
Only selected rooms (or cottages) are pet-friendly, with the inclusions in the package differing by location, but including a dog bed and bowl. Only dogs up to 25kg are permitted, and while they are allowed inside they must stay off the furniture. For the full rules, see this page.
Locations: Blue Mountains, Brisbane (x2), Hunter Valley (x2), Sunshine Coast (x2)
#6 The Langham Hotels & Resorts
Two of the most luxurious hotels in Australia are The Langham Sydney and The Langham Melbourne. With a history dating back to the first European grand hotel to open in London in 1865, The Langham Hotels are the epitome of five-star luxury. And of course that five-star welcome is extended to your pet.
Both the Sydney and Melbourne locations offer Pampered Pet packages, although the details vary slightly. In Melbourne, one cat or dog up to 20kg is welcome. As part of the Pampered Pets Staycation package, which includes the $150 pet fee, your pet will receive a welcome amenity and use Langham-branded pet bed and bowls while in residence. They can also order off the private dining pet menu.
At The Langham Sydney, up to two pets are permitted per room, with only small to medium size dogs permitted. As part of the Pampered Pets Staycation package, your pet will receive a welcome amenity, Pawesome Pet gift bag and breakfast in bed for you and your pet in the morning. The $120 pet fee is waived for the first pet. You can also add on a Pet Afternoon Tea, a Pampered Pets birthday party, or pet-sitting.
Unfortunately, though, the Pampered Pets Program does not appear to be offered by the Langham Gold Coast, the latest Langham property to open in Australia in 2022.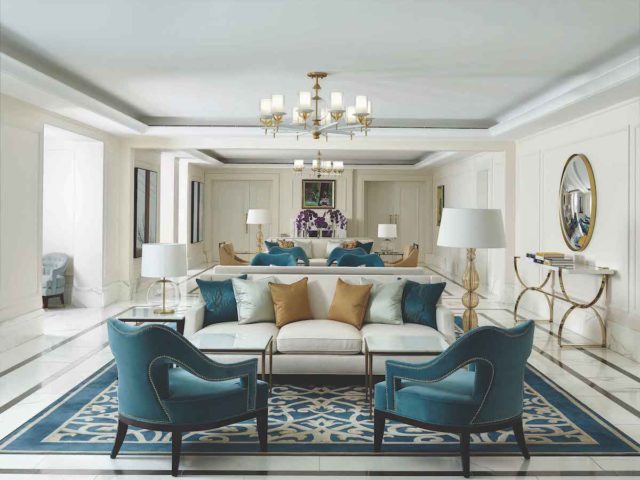 #7 W Hotels
W Hotels are synonymous with a different kind of luxury. Hip and glamorous, these five-star hotels are more of a lifestyle destination, complete with trendy bars and restaurants and gorgeous swimming pools.
Both of the W Hotels currently in Australia, W Brisbane and W Melbourne, roll out the welcome mat to pets as part of their P.A.W., or Pets Are Welcome, program. W Sydney, due to open in October 2023, will also be pet-friendly. A custom dog bed is provided, along with bowls, toys, treats and local pet information.
It's best is your pet is on the petite size, with a weight limit of 18kg applying, plus a one pet limit per room. There is a $150 non-refundable cleaning fee per stay, plus usually a nightly fee – $50 per night at W Brisbane and $30 per night at W Melbourne. The Sydney location will charge a one-off $120 fee, plus $30 per night.
Locations: Brisbane, Melbourne, Sydney (opening October 2023)
#8 View Hotels
Luxury hotels don't have a monopoly on city-centre pet-friendly stays in Australia, with the four-star View Hotels chain a more affordable option. Each of their hotels offers up great city fringe views, whether from North Sydney, St Kilda Road in Melbourne or Hamilton in Brisbane.
Selected rooms at each of the three hotels are pet-friendly, with no size restrictions. Pets are generally provided with a bed, bowls, toy and treat, plus there's a Dog Concierge service that can recommend local dog-friendly options.
There is an additional fee of $50 or $90 per night, depending on the hotel. Make sure you inform the hotel in advance of your pet's name, size and breed. For any additional questions, send an email directly to [email protected].
Location: Brisbane, Melbourne, Sydney
#9 Punthill Apartment Hotels / Veriu Hotels & Suites
Sister brands Punthill Apartment Hotels and Veriu Hotels & Suites between them operate 21 hotels across Brisbane, Melbourne and Sydney. In particular, there are 13 locations scattered across the Melbourne CBD and suburbs.
Each hotel offers a mixture of apartment-style hotel rooms and regular hotel rooms, varying by location, along with the option of discounted long stays. Depending on the location, pets may be permitted to stay, often for long stay guests, but also sometimes with short stay guests.
To find out the pet policy of a location, it is best to speak directly to the individual hotel. An additional pet cleaning fee of $250 per stay is charged.
Locations: Brisbane, Melbourne (x13), Sydney (x7)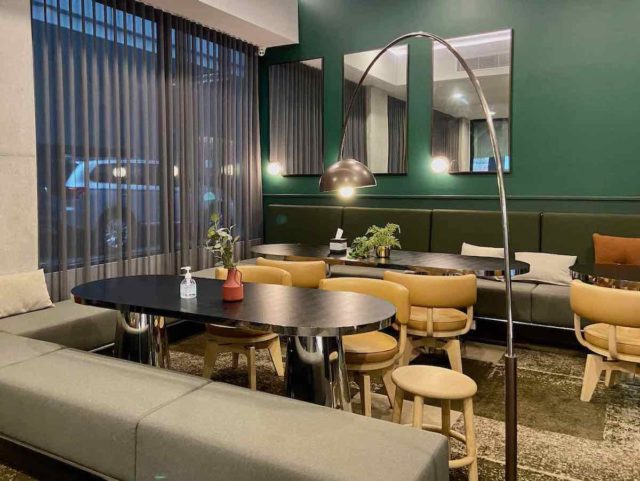 You May Also Like