Whether you're planning your next holiday with your dog or driving a lap around Australia and want to know what places not to miss, make plans to visit these towns and regions that are the most dog-friendly destinations in Australia.
Despite Australia having a reputation as being rather un-dog-friendly when it comes to travel, all of these destinations have a surprising number of dog-friendly tourist attractions. Add these to your list…
#1 Monkey Mia, WA
The remote resort of Monkey Mia on the shores of Shark Bay in Western Australia does not stand out as somewhere that would be one of the most dog-friendly destinations in Australia. After all, many natural attractions in Australia are located within national parks that nearly always don't allow dogs to visit.
However, dogs are welcome to join you at Monkey Mia and the nearby town of Denham. Get your wildlife fix by watching the daily dolphin feeding at Monkey Mia (dogs just need to stay off the surrounding beach, instead watch from the jetty), take a wildlife cruise on a catamaran or visit the local aquarium. Or perhaps just enjoy a stroll along the beach or a visit to the nearby Little Lagoon.
Read more about visiting Monkey Mia with a dog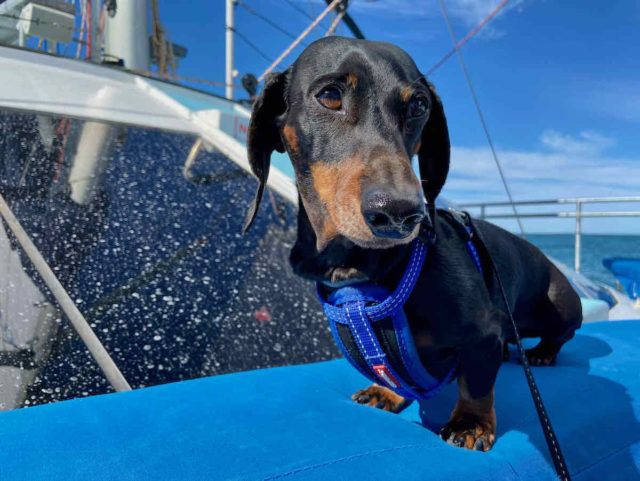 #2 Echuca, VIC
The historic town of Echuca on the banks of the Murray River in northern Victoria is a popular destination thanks to its wealth of historic attractions. And you don't need to leave your dog behind or at a kennel to enjoy many of them…
For starters, take a stroll with your dog through the Historic Port precinct, where dogs are allowed on a leash. They're even allowed inside the Discovery Centre, which has free entry for everyone, including leashed dogs. Don't also miss taking a paddlesteamer cruise on the Murray. Many of the cruises are dog-friendly, including our cruise on the PS Alexander Arbuthnot, with our dog receiving a K9 Cargo Ticket.
To explore the history of a different era, head around the corner to the National Holden Motor Museum. Well-behaved dogs are allowed to explore this impressive collection of vintage Holdens with you. Other pet-friendly attractions include the Great Aussie Beer Shed, dog-friendly wineries and the nearby Cactus Country.
Find out more about dog-friendly Echuca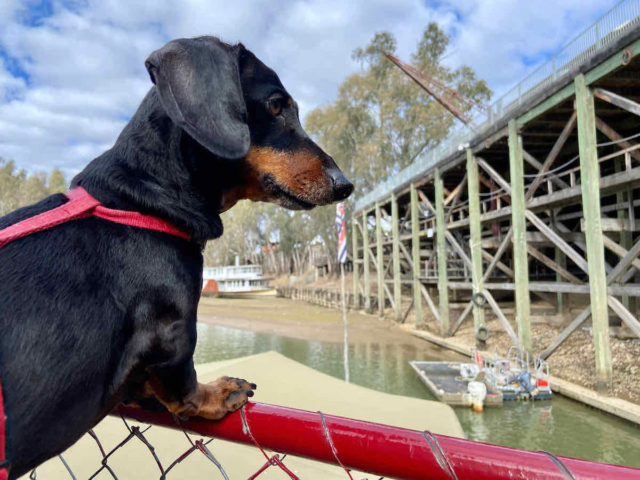 #3 Atherton Tablelands, QLD
If you're interested in history and want to explore a slice of Australiana with your dog by your side, one of the best dog-friendly attractions I've visited in Australia is the Historic Village Herberton. The largest privately owned historic village in Australia, over 60 buildings have been relocated onto the site, and filled up with a wide variety of Australian memorabilia.
Herberton is located on the Atherton Tablelands, a cooler region in the highlands just inland from Cairns. Other dog-friendly attractions of the region include the many fruit and vegetable stands, the dog-friendly Emerald Creek Falls and Crystal Caves. Enjoy a stroll through the local state forest and try to spot platypuses in the creeks.
Find out more about visiting the Atherton Tablelands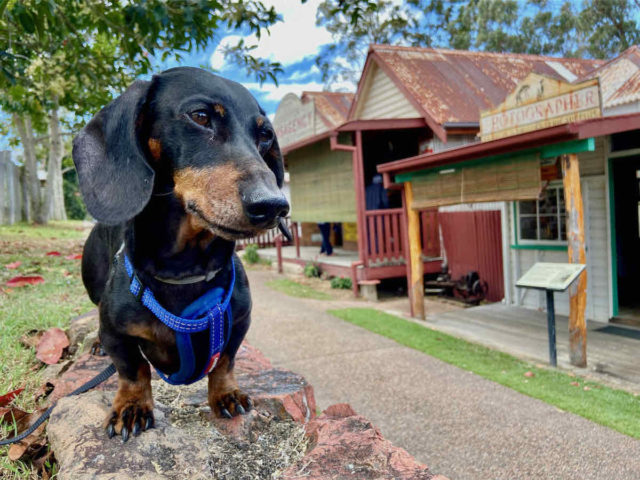 #4 Great Keppel Island, QLD
Queensland is home to many famous islands, from Hamilton Island to K'gari / Fraser Island, but most are definitely not dog-friendly. Alternatively, consider visiting the dog-friendly island of Great Keppel for the day.
Located just off the coast of Yeppoon, there are two regular ferries that will take pet dogs with your to the island. Spend the day walking along dog-friendly beaches, snorkelling the surrounding reef, or just enjoying lunch and a drink at the Great Keppel Island Hideaway.
Limited pet-friendly accommodation makes a day trip the better option. Just keep in mind there are plans to redevelop the island, so it may not always be as dog-friendly…
Read more about Great Keppel and other dog-friendly islands in Queensland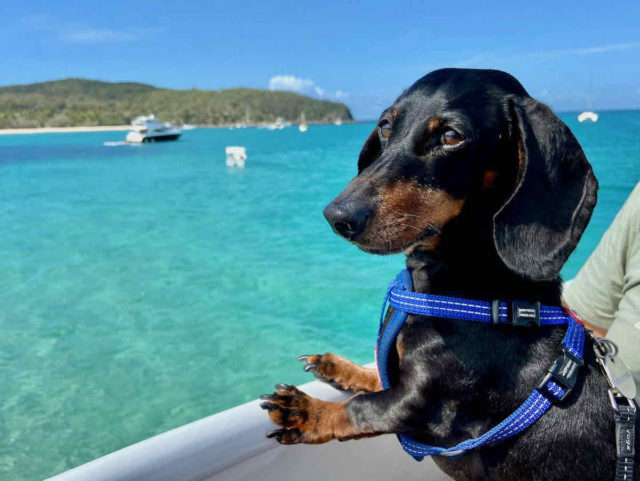 #5 Esperance, WA
For some of the most stunning beaches anywhere in Australia (and no crocodiles or stingers to worry about like in parts of Queensland…) head to the southern coastline of Western Australia and Esperance. While Lucky Bay is a nearby national park gets much of the attention, there's a long string of beaches closer to Esperance, most that allow off-leash dogs.
Hop in your car (or ride your bike along the start of the route) and follow the Great Ocean Drive for the day, stopping off at the beautiful beaches along the way. Some of my picks include West Beach (off-leash morning and evening), Blue Haven Beach and Ten Mile Lagoon. Afterwards, head to Lucky Bay Brewing and enjoy a tasting paddle.
Read more about visiting Esperance with a dog
#6 Batemans Bay, NSW
For more dog-friendly beaches, head to the South Coast of NSW and the popular tourist town of Batemans Bay. A popular destination for both Canberrans and Sydnersiders, the surrounding coastline is home to no less than twelve off-leash dog beaches, even more if you count beaches with time restrictions!
From the wide stretch of Durras Main Beach with waves breaking on its shores, to sheltered Sunshine Bay Beach and the shallow waters of Wimbie Beach, find the ideal beach for you and your pup. Outside of peak season you may even have the sand all to yourself…
Find out more about dog-friendly Batemans Bay and its beaches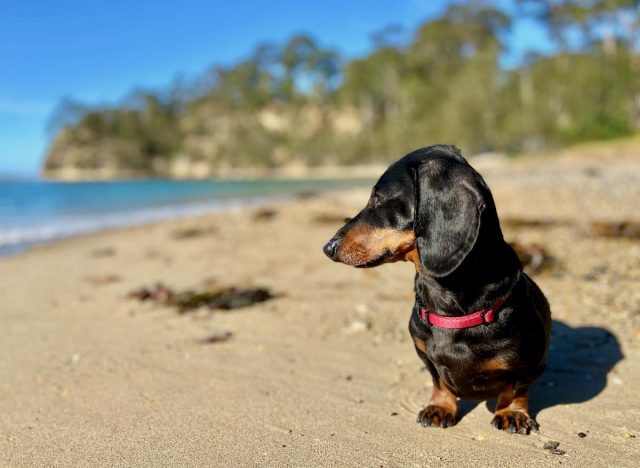 #7 Coober Pedy, SA
The quirky town of Coober Pedy in the South Australian Outback is not somewhere that you'd expect to be dog-friendly, but then again life isn't exactly normal in this town where most inhabitants live underground.
Enjoy the night underground with your pet by your side, with pet-friendly hotels, apartments and even the world's only underground campsite to choose between. Some of the local mining museums allow pets to join you, or else head to the nearby Kanku / Breakaways Conservation Park with its picturesque coloured hills. Or enlist your dog to help fossick on dirt heaps for your own opal!
Read more about visiting Coober Pedy with a dog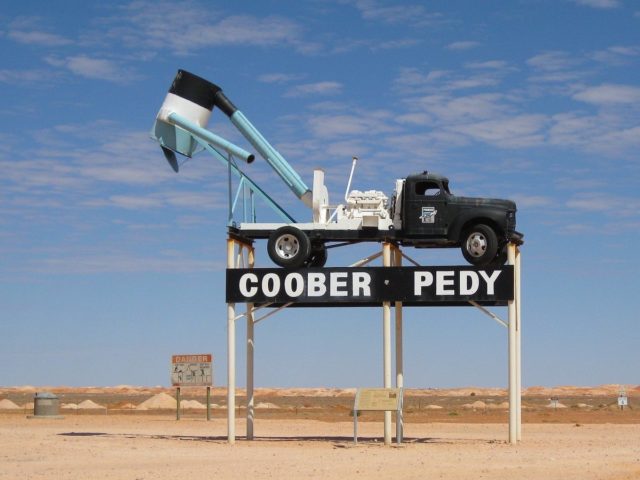 #8 Coffs Harbour, NSW
Coffs Harbour is a popular tourist destination on the North Coast of NSW, but luckily it's not just about attractions for humans here, with some of the region's best attractions welcoming dogs to join you in the fun.
Don't miss stopping at the Big Banana for a selfie with your pup (and a frozen banana treat in the cafe). The nearby Clog Barn is also dog-friendly, plus the Sealy Lookout with its Forest Sky Pier in the hills above.
Coffs Harbour is home to plenty of gorgeous beaches, including multiple dog-friendly beaches that allow pups off-leash. Don't also miss walking along the scenic Uranga Boardwalk, which even has a off-leash dog beach at the end. And if the sand is getting too much, choose between two excellent fenced dog parks in town.
Find out more about what to do in Coffs Harbour with a dog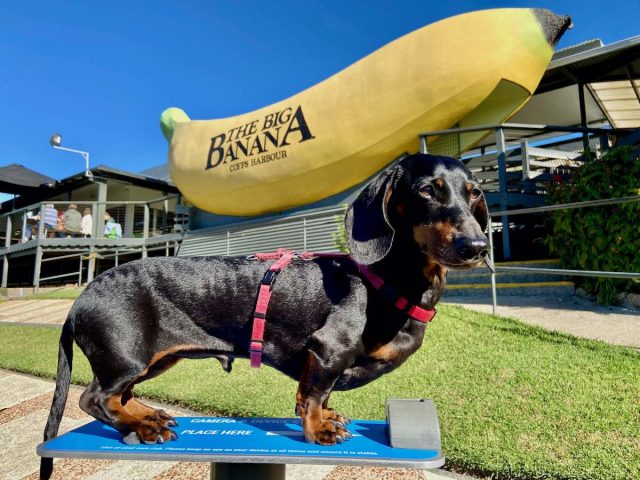 #9 Tasman Peninsula, TAS
Most travellers to Tasmania with dogs comment on how dog-friendly the state is, but if I had to choose just one part of the state of recommend to visitors with dogs, it's the Tasman Peninsula in the southeast of the state.
The Peninsula is home to one of the top attractions in Tasmania, the Port Arthur Historic Site, and yes dogs can join you on a visit, except for inside the house museums and the harbour cruise. Nearby, it's also possible to explore the Coal Mines Historic Site, also World Heritage listed, with your dog on a leash. And don't miss stopping at the Tessellated Pavement at the start of the Peninsula.
Read more about visiting Tasmania with a dog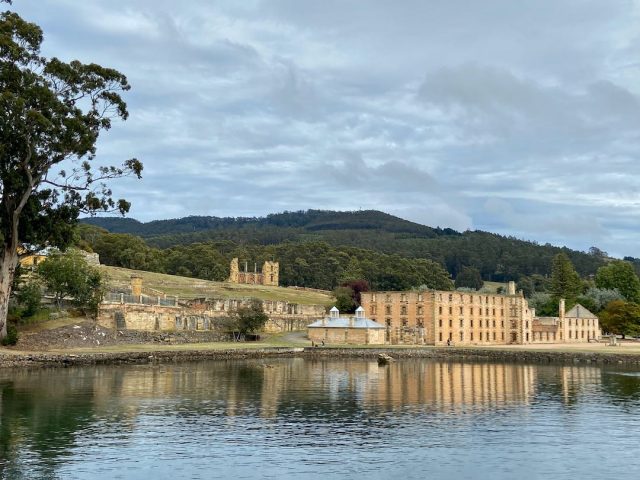 #10 Walhalla, VIC
The formerly thriving gold mining town of Walhalla in the mountains east of Melbourne is just a village these days, but there's plenty of historic attractions to explore, nearly all that are dog-friendly.
Make sure you time your visit for a ride on the Walhalla Goldfields Railway, one of the most charming dog-friendly train rides in Australia. You can also head underground together with brave dogs on a tour of the Long Tunnel Extended Gold Mine.
Make sure you also allow plenty of time to wander through the village, following the self-guided heritage walk. If you're after a longer walk with your dog, Walhalla is also the starting point of the 655km-long Australian Alps Walking Track – maybe just hike the first part!
Find out more about the historic town of Walhalla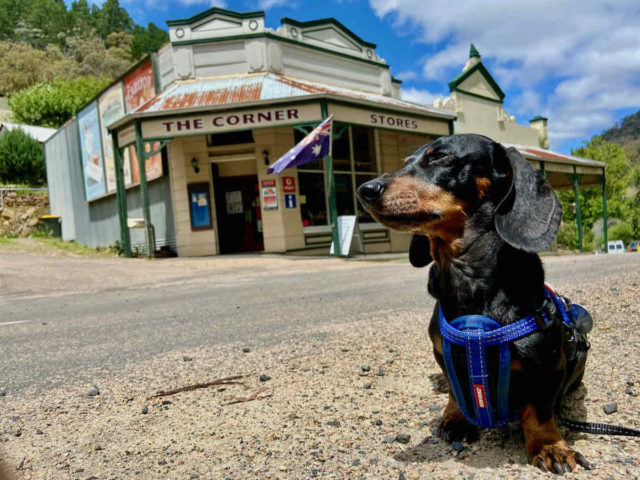 #11 Stanthorpe, QLD
Australia is home to countless wine growing regions, along with a large number of dog-friendly cellar doors. It's even possible to go on a dog-friendly winery tour with your dog in many areas.
One of the most dog-friendly wine regions that I've visited in Australia is the Granite Belt wine region in southern Queensland. The region surrounds the town of Stanthorpe – one of the few places in Queensland to occasionally receive a flurry of snow!
A rather laidback wine growing region, some of the cellar doors even allow dogs inside. Check with the local visitors centre for a list of dog-friendly wineries. Alternatively, head to the Granite Belt Brewery to taste the local beer, or sample the local apples and cheeses at farm gates.
Find out more about visiting Stanthorpe with a dog
#12 Melbourne, VIC
Out of the major cities in Australia, the most dog-friendly city is certainly Melbourne. This city is also home to the most dog-friendly public transport network in Australia (dogs of all sizes are allowed on trains, wearing either a muzzle or in a carrier), but there's also plenty of dog-friendly activities to enjoy.
Explore the Botanic Gardens and go for a punt on the lake, check out the laneways full of street art, or stroll along the St Kilda Pier. Don't also miss the terrific cafe scene in Melbourne, with plenty of cafes welcoming dogs at outside tables, and even some special dog-friendly venues, such as Chez Misty in St Kilda.
Melbourne is also the perfect gateway to the many dog-friendly attractions in the surrounding region. It's close enough for day trips to the Yarra Valley, Mornington Peninsula, Daylesford, Macedon Ranges and Geelong – with plenty more dog-friendly things to do!
Find out more about dog-friendly things to do in and around Melbourne
You May Also Like